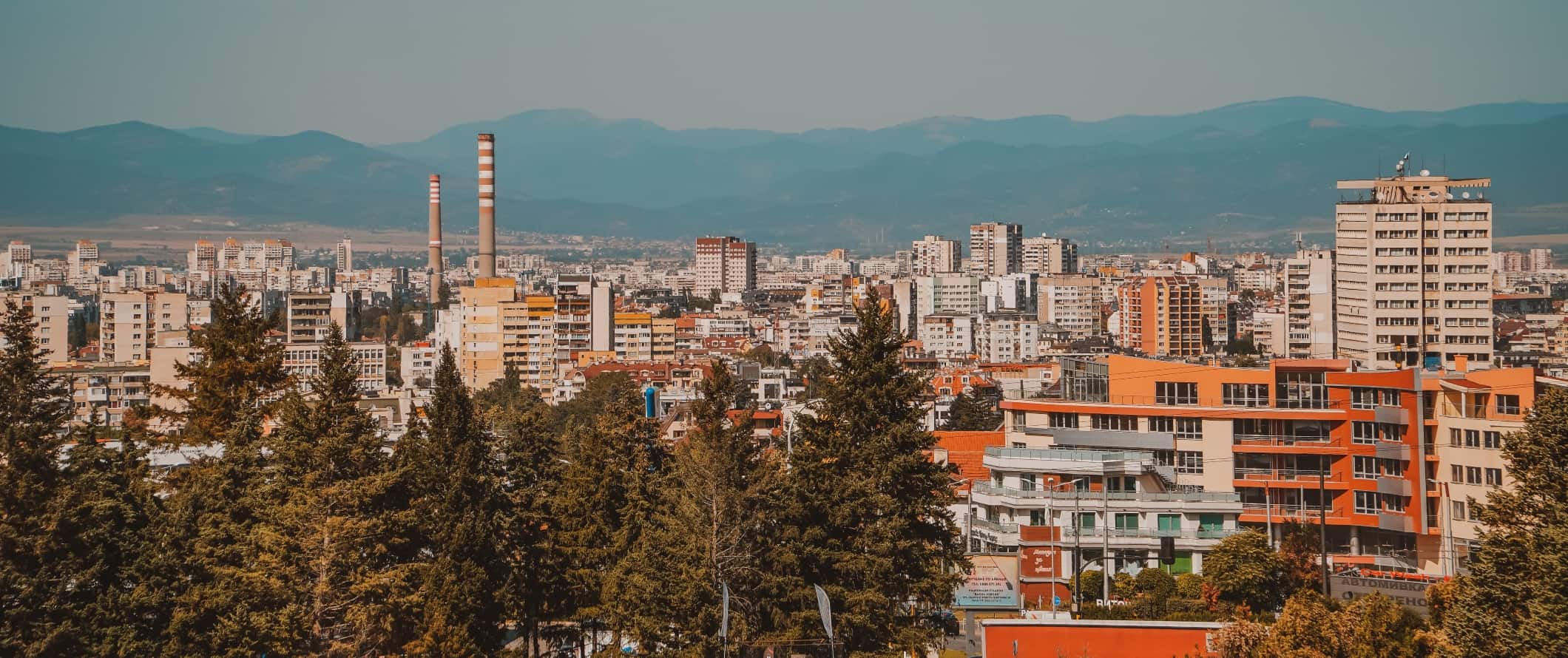 Sofia is the stylish capital city of Bulgaria, nestled beneath the towering peak of Mount Vitosha. While the mountain is the first thing you'll notice when you arrive, Sofia has so much more to offer than just the view. The city boasts a rich history, friendly people, cheap drinks, and delicious food.
In short, it's a budget traveler's paradise.
Admittedly, when I first arrived, I expected a dreary ex-communist city full of blocky architecture and a lack of personality.
Fortunately, I was way off.
Instead, I found a multicultural, fast-growing, and modernizing European hub popular with the backpacker crowd. In fact, Sofia impressed me so much that I ended up staying a few extra days! It's a perfect budget-travel destination that sees a fraction of the tourists you'll find in Western Europe.
This travel guide to Sofia can help you plan your trip, save money, and make the most out of your time in this incredible destination.
Top 5 Things to See and Do in Sofia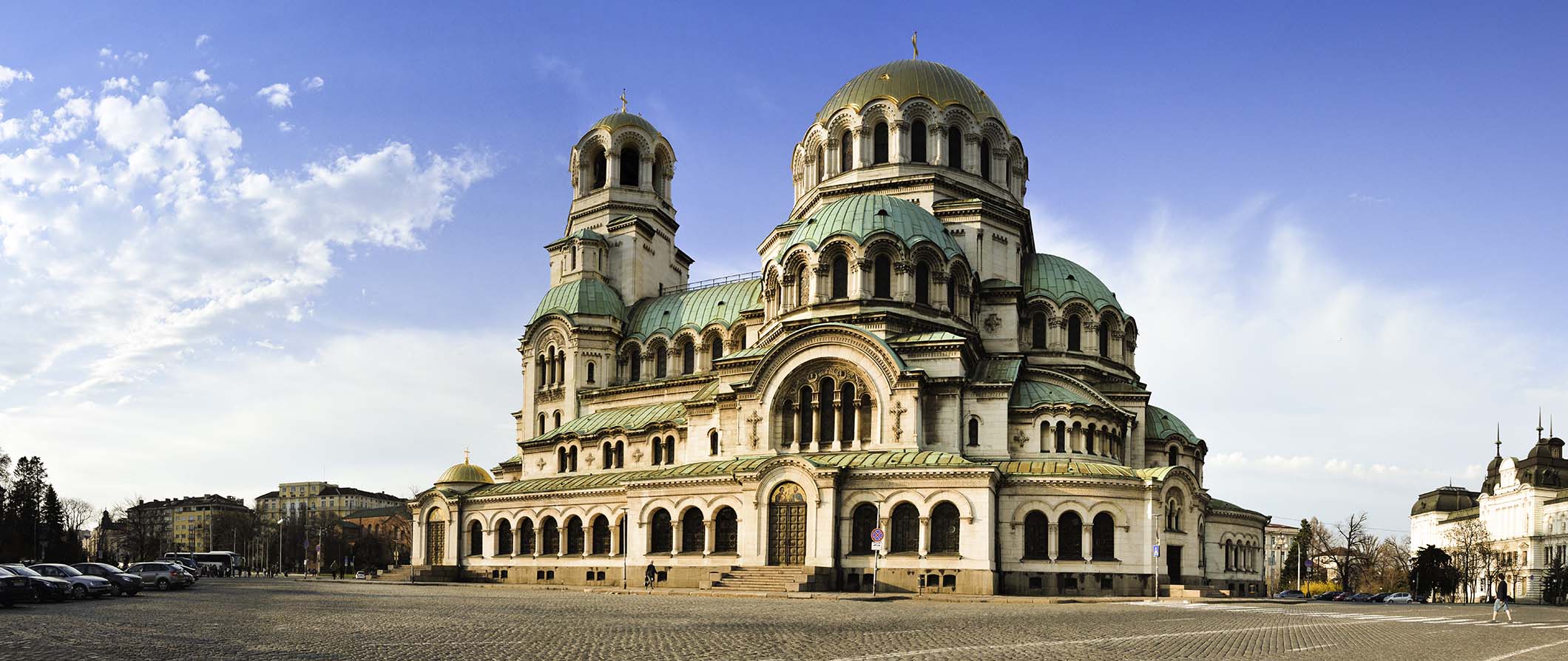 1. Visit the Alexander Nevsky Cathedral
Constructed in the early 20th century, this is one of the world's largest Eastern Orthodox cathedrals (it's even made the list of the 50 largest Christian churches in the world). The gorgeous cathedral can hold up to 5,000 people at a time. The cathedral was named after the Russian prince, Saint Alexander Nevsky and was intended to honor the Russian soldiers who lost their lives when fighting in the Russo-Ottoman war during the late 1800s as the war resulted in Bulgaria's independence from the Ottoman empire. Visitors can explore the stunning interior and the museum of Bulgarian religious icons in the cathedral crypt, famed to hold the most extensive collection of Orthodox religious icons in Europe. Topped with the characteristic gilded domes of the Neo-Byzantine style and with a beautiful Italian marble interior, it's my absolute must-see here. The bell tower holds 12 bells that weigh 23 tons!
2. See Sveti Georgi Rotunda
Dating to the fourth century, this tiny circular Roman building is the oldest preserved structure in Sofia and sits undisturbed amongst other Roman ruins. The red brick building was built in the 4th century on a site that was believed to be an even older pagan temple. Originally a bathhouse, the interior is painted with magnificent murals that date between the 6th and 14th centuries. In total there are five layers of ornate frescos that were painted over when the church was converted into a mosque during Ottoman rule. They were only uncovered during the church's restoration in the 20th century. The rotunda and the ruins are surrounded by modern government buildings and preserved in a large courtyard that remains open to the public. The small church holds weekday services so just dress respectfully.
3. Hike Vitosha mountain
Head for a hike to reach the summit and you'll be treated to incredible panoramic views over Sofia and the surrounding area. The highest summit is Cherni Vrah at 2,290 meters (7,513 feet). Most trails just take a couple of hours. It's surprisingly easy to reach Vitosha's trails, all you have to do is take a bus to the Simeonovo ski lift. Once you arrive, you'll feel worlds away from the hustle and bustle of the city, surrounded by craggy rocks and ancient pine trees. Vitosha mountain is part of Vitosha National Park, which is one of the oldest in the Balkans and includes a massive cave you can explore.
4. Visit the National Gallery Quadrat 500
This enormous gallery contains artwork from both the National Gallery and the former Museum of Foreign Art. Having opened in 2015, Quadrat 500 is the most recent admission to the National Gallery and contains 1,700 pieces of art. Wander through 28 halls and four levels filled with art from around the world and you'll find works from beloved Bulgarian 19th-20th century artists here (including Georgi Mashev and Vladimir Dimitrov) alongside African tribal masks and sketches from Renoir and Matisse. Admission is 10 BGN. You can receive discounted admission on Thursdays for 2 BGN. The museum also hosts a variety of lectures in both Bulgarian and English throughout the year.
5. Day trip to Rila Monastery
This is the most important Eastern Orthodox monastery in the country, having been a spiritual space for over 1,000 years. Rila was founded in the 10th century by Saint John of Rila. Then a simple hermit, the site of the monastery was believed to be the place where he lived and died. After his death, they were converted into a monastery that was a center of spiritual and social activity during the medieval period. The original building was destroyed in a fire in the early 19th century and later rebuilt in the Bulgarian Renaissance style in the mid-1800s. You'll find stunning religious art and colorful architecture, including golden domes and striped archways. Entrance to the monastery is free.
Other Things to See and Do in Sofia
1. Take a free walking tour
The first thing I do in a new city is take a free walking tour. It's the best way to see the main sights on a budget and connect with a local guide who can answer all your questions. Free Sofia tour runs regular free walking tours that cover all the main highlights. Just be sure to tip your guide at the end!
2. See the Presidency and the Guard Ceremony
The Bulgarian president's office lies within the eastern end of the same building that houses the Sheraton Hotel. The office isn't open for public viewing, but the changing of the guard occurs every hour. The stomping march of the uniform-clad men can be heard all around the area. It doesn't take long but it's worth stopping by to see.
3. See what's on at the National Palace of Culture
Usually referred to as the NDK, this building has 15 separate halls, making it the largest cultural complex in the country. During the summer, there is a regular schedule of various events and a diverse range of shows to check out, including concerts, dance performances, and theater. Check out their website to see what's on during your visit.
4. Attend an event at the Red House
Home to political debates, poetry readings, and dramatic performances, the Red House is an independent cultural center that's not as mainstream as the NDK. The building itself is a mansion from the early 20th century that once belonged to Bulgarian sculptor Andrey Nikolov. Events are usually free, and often in English. Check their website to see what's on during your visit.
5. Have fun in Kokolandia
This is an outdoor adventure activity center located inside Borisova Gradina park. There are all sorts of fun challenges here including rope climbing, rock climbing, mini-golf, and a tree-top obstacle course. This adventure park is considered kid- and adult-friendly (though it's mostly for kids; there are trampolines and bouncy castles too). Activities cost 6 BGN per person.
6. Go paintballing
Paintballing has become increasingly popular throughout Sofia. There are over half a dozen different places you can go that offer equipment rentals, paintballs, and both indoor and outdoor gaming areas. It's super fun and a great way to spend a couple of hours! Reservations are usually required and sessions cost 90 BGN.
7. Stroll Vitosha Boulevard
This is a high-end pedestrian street filled with fashionable boutiques and designer shops, but it's worth the stroll for the view of snow-capped Vitosha Mountain. Art Nouveau buildings line the street, and there are several small sidewalk cafes where you can grab a coffee and relax. Come here to browse, people-watch, and take in the local pace of life.
8. Check out the Museum of Socialist Art
This museum in Sofia showcases art from when the country was under Communist rule (1944-1989). A large outdoor sculpture park contains everything from a giant statue of Lenin that once stood in the center of the city to the red star that topped the socialist party headquarters. Inside you'll find propaganda paintings, documentary videos, photographic galleries, and more. Admission is 6 BGN.
9. See the National Museum of Military History
This is one of the most visited museums in Sofia. There are three floors, each featuring detailed exhibits on warfare in Bulgaria from antiquity and the Middle Ages to World War II. You'll see rebel flags, military uniforms, and artifacts, including the personal effects of actual soldiers. There's also a collection of vehicles, including tanks and fighter planes. Admission is 8 BGN.
10. Visit the Archaeological Museum
This museum is located inside a former mosque that dates to the 1400s. The museum is home to a collection of Roman and medieval items, including a delicate mosaic floor from the Church of Sveta Sofia. Other artifacts come from the Thracians, a group of Indo-European tribes living in the area since the 8th century BCE. The incredibly detailed Thracian gold burial mask from the 4th century BCE has an especially impressive life-like appearance. Admission is 10 BGN.
11. Tour the Sofia History Museum
Housed inside the former Central Mineral Baths from the Ottoman era, the history of Sofia — from prehistory to the modern day — is on full display here. The museum spans two floors and includes rooms dedicated to the Bulgarian royal families of the 19th and 20th centuries. These rooms provide a glimpse of the lavish lives they lived. There's even a horse carriage from Marie Antoinette here. Admission is 6 BGN.
12. Go skiing
If you're here during the winter, hit the slopes on Vitosha. Unlike in much of Western Europe, skiing is super affordable here. You can get a lift pass for as little as 50 BGN, making this one of the most affordable winter sports destinations on the continent!
For more information on other cities in Bulgaria, check out these guides:
Sofia Travel Costs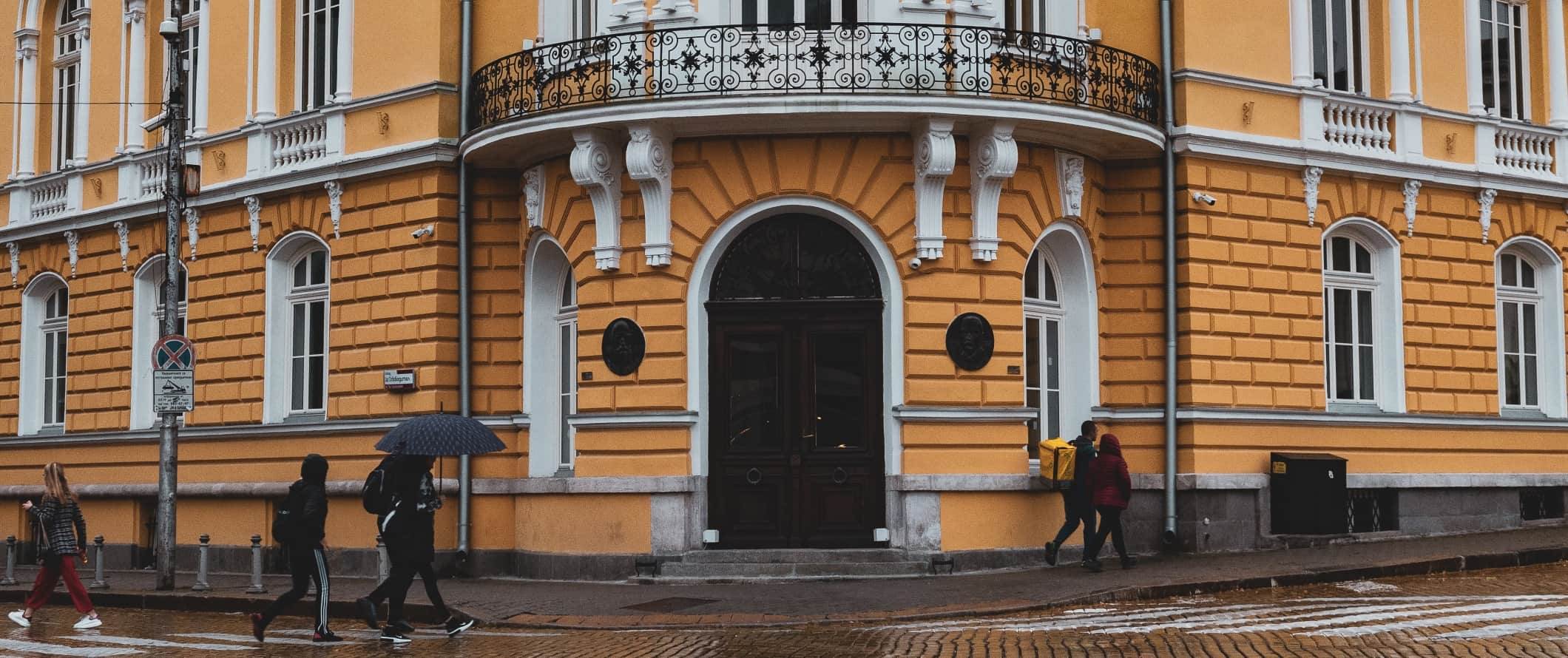 Hostel prices – A bed in a hostel dorm with 4-6 beds costs between 12-25 BGN per night. For a private room in a hostel, expect to pay between 35-75 BGN per night. Free Wi-Fi is standard and most hostels also have self-catering facilities.
If you're traveling with a tent, wild camping is illegal in Bulgaria. There are campgrounds outside the city, however, you can't book online or find prices in advance so you'll need to check on arrival.
Budget hotel prices – Budget two-star hotels cost around 40-65 BGN per night. Expect basic amenities like TV and free Wi-Fi.
Airbnb is available all over the city, with private rooms starting at 30-55 BGN per night. Entire homes and apartments start around 55 BGN though prices average double that.
Food – Bulgarian cuisine is hearty and similar to that of its Balkan neighbors. Meaty stews with lamb, goat, or chicken are common, as are sausages and all kinds of yogurts (dairy products are big here). Popular dishes include kebapche (grilled mincemeat), shopska salad (a salad with tomato, cucumber, and cheese; similar to Greek salad), and moussaka.
You can find foods like banica (cheese pastry) for as little as 1.50 BGN, or you can pick up a hearty shopska salad or kebab for about 5 BGN. Pizza slices and hot dogs are usually no more than 4 BGN, while a sandwich is between 4-5 BGN.
A combo meal at McDonald's costs 12 BGN while a meal at a mid-range restaurant with a drink shouldn't cost more than 15-20 BGN.
If you want to splash out, a three-course dinner with a glass of wine at an upscale restaurant ranges from 35-50 BGN.
Beer is around 4 BGN while a latte/cappuccino costs around 3.70 BGN. Bottled water is 1.60 BGN.
Grocery shopping is incredibly affordable here, costing around 50-65 BGN per week for basic staples like rice, pasta, seasonal produce, and some meat.
Backpacking Sofia Suggested Budgets
If you're backpacking Sofia, expect to spend about 60 BGN per day. On this budget, you'll be staying in a hostel dorm, cooking your meals, limiting your drinking, taking public transportation to get around, and sticking to mostly free activities like free walking tours and hiking. If you plan on drinking, add 5-10 BGN to your daily budget.
On a mid-range budget of 150 BGN per day, you can stay in a private Airbnb, eat out for most meals at cheap fast food joints, enjoy a couple of drinks, take the occasional taxi to get around, and do more paid activities like visiting museums and attending performances.
On a "luxury" budget of 275 BGN or more per day, you can stay in a hotel, eat out for all your meals, drink more, rent a car or take more taxis, and do whatever tours and activities you want. This is just the ground floor for luxury though. The sky is the limit!
Accommodation
Food
Transportation
Attractions
Average Daily Cost
Backpacker
25
15
10
10
60
Mid-Range
55
45
25
25
150
Sofia Travel Guide: Money-Saving Tips
Since Sofia is the capital city of Bulgaria, prices are a little higher here when compared to other parts of the country. However, it's still incredibly affordable as there are so many cheap and free things to do. Here are some ways to save money in Sofia during your visit:
Stay with a local – If you look early, you can likely find a Couchsurfing hosts in Sofia. This not only gets you free accommodation but you'll connect with a local who can share their insider tips and advice.
Take a free walking tour – Walking tours are a great way to get familiar with the city and its culture while on a budget. Just be sure to tip your guide at the end!
Look for free events – There are always free events and festivals happening in Sofia (especially in the summer). Be sure to ask your hostel staff or host about what's going on during your visit.
Enjoy nature – Hiking is free so get out and hit the trails nearby. It's a fun and affordable way to spend an afternoon!
Bring a water bottle – The tap water here is safe to drink so bring a reusable water bottle to save money and reduce your plastic use. LifeStraw is my go-to brand as their bottles have built-in filters to ensure your water is always clean and safe.
Where to Stay in Sofia
Sofia has several fun, clean, and affordable hostels. They fill up fast during the summer so book early. Here are my suggested places to stay in Sofia:
How to Get Around Sofia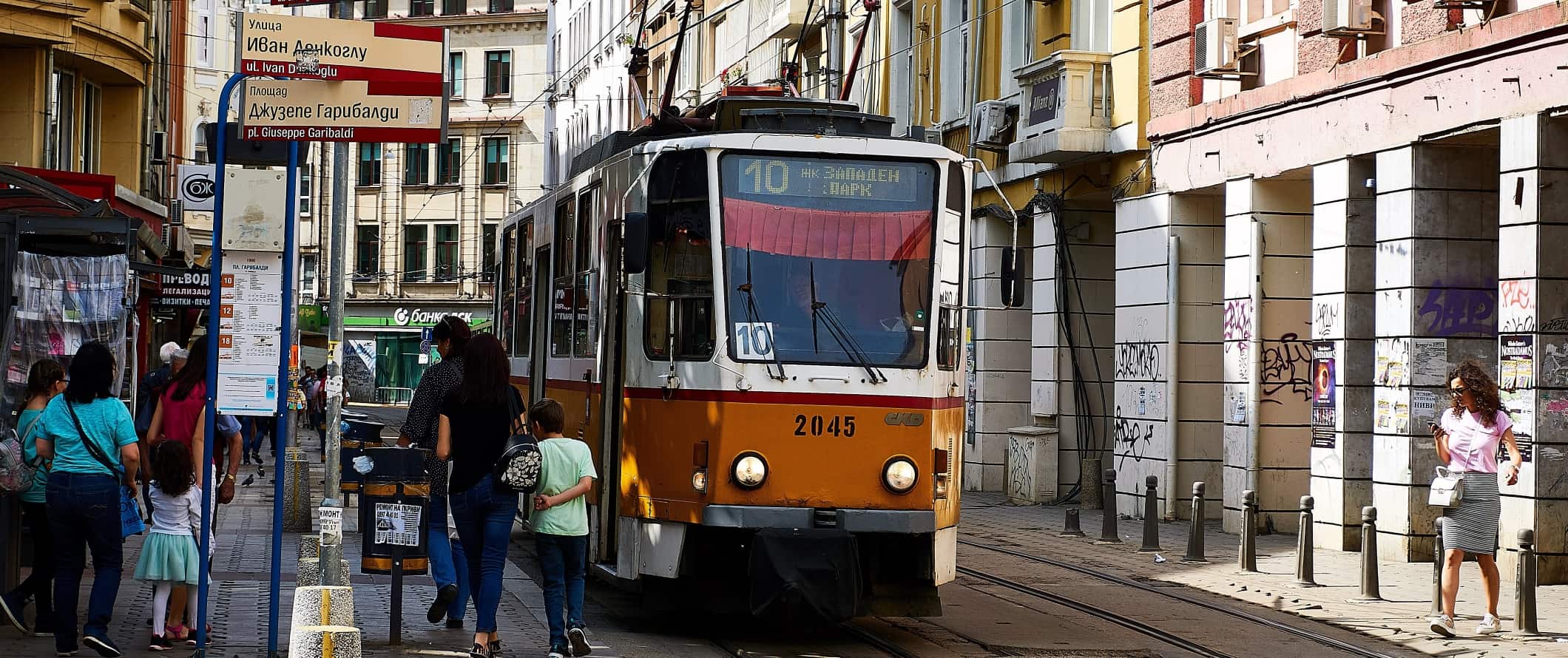 Public transportation – Sofia's metro has two lines connecting the city center and the airport, as well as the central bus and train stations. Individual tickets are 1.60 BGN each, but they can't be used on the buses, trams, or trolleybuses.
However, you can purchase a day pass for 4 BGN or a three-day pass for 10 BGN with unlimited rides on all public transportation. Use the official website (sofiatraffic.bg) to look up schedules and routes. This is by far the best deal for getting around the city.
Sofia's bus system is extensive and can get you just about anywhere you need to go using it. You can use the sofiatraffic.bg website or the Moovit app to help plan your journey. You'll need the exact change to buy a ticket from the driver on board the bus. Tickets are 1.60 BGN and you can purchase a 10-ride pass for 12 BGN.
Taxi – The normal start rate for a taxi in Sofia is 2 BGN, and then an additional 1-2 BGN per kilometer. The rate at night is 1.99 BGN per kilometer. While affordable, they can add up fast if you use them often so stick to public transportation if you can.
Bicycle – There are lots of bicycle rental services in Sofia. You can rent a bicycle for one full day for about 20 BGN. Sofia Bike Rental and Rent a Bike Sofia are two good options.
Car rental – Car rentals are super affordable here, costing as little as 25 BGN per day. You don't need one to get around the city, however, if you want to explore the region a car might be helpful. Drivers need to be at least 21 years old and have an IDP (International Driving Permit).
For the best car rental prices, use Discover Cars.
When to Go to Sofia
Sofia has four distinct seasons, of which summer (June-August) is the busiest. June can be quite rainy, but otherwise, the daily temperature is usually over 30°C (86°F). Keep in mind that this is the most expensive time to visit, as prices for hostels and hotels increase.
I personally think the best time to visit is spring (April-May) or fall (September-October). Both seasons have pleasant temperatures, fewer tourist crowds, and lower prices. The foliage around Mount Vitosha is spectacular during the fall, making for some excellent hiking. Temperatures range from 5-21°C (41-70°F) in the spring and 6-17°C (42-62°F) in the fall.
Winter (December-March) is the quietest time of year to visit, as temperatures drop below freezing. The weather can be snowy and unpredictable during this time. If you like winter sports, this is the best time to visit for skiing Mount Vitosha or nearby Bansko. Accommodations are cheapest during this time as well. If you're not coming for winter activities, though, I'd skip a visit during the winter.
How to Stay Safe in Sofia
Sofia is very safe. Scams and petty crimes like pick-pocketing are the most common danger you'll face, but those are rare. Nevertheless, always keep your valuables secure and out of sight just to be safe.
Solo female travelers should generally feel safe here, however, the standard precautions apply (never leave your drink unattended at the bar, never walk home alone intoxicated, etc.).
When it comes to scams, if a stranger stops to talk to you out of the blue, be aware that they may be working in a team to try and grab your wallet. The best thing to do is ignore them and keep walking. Some taxi drivers have been known to overcharge their customers, so make sure your driver has a metered cab before you get in it.
You can read about common travel scams to avoid right here.
Pedestrian safety can be a concern as some drivers do not give pedestrians the right of way. Take caution when crossing the street.
If you experience an emergency, dial 112 for assistance.
Always trust your gut instinct. Make copies of your personal documents, including your passport and ID. Forward your itinerary along to loved ones so they'll know where you are.
The most important piece of advice I can offer is to purchase good travel insurance. Travel insurance will protect you against illness, injury, theft, and cancellations. It's comprehensive protection in case anything goes wrong. I never go on a trip without it as I've had to use it many times in the past.
Sofia Travel Guide: The Best Booking Resources
These are my favorite companies to use when I travel. They consistently have the best deals, offer world-class customer service and great value, and overall, are better than their competitors. They are the companies I use the most and are always the starting point in my search for travel deals.
Skyscanner – Skyscanner is my favorite flight search engine. They search small websites and budget airlines that larger search sites tend to miss. They are hands down the number one place to start.
Hostelworld – This is the best hostel accommodation site out there with the largest inventory, best search interface, and widest availability.
Booking.com – The best all around booking site that constantly provides the cheapest and lowest rates. They have the widest selection of budget accommodation. In all my tests, they've always had the cheapest rates out of all the booking websites.
HostelPass – This new card gives you up to 20% off hostels throughout Europe. It's a great way to save money. They're constantly adding new hostels too. I've always wanted something like this and glad it finallt exists.
Get Your Guide – Get Your Guide is a huge online marketplace for tours and excursions. They have tons of tour options available in cities all around the world, including everything from cooking classes, walking tours, street art lessons, and more!
The Man in Seat 61 – This website is the ultimate guide to train travel anywhere in the world. They have the most comprehensive information on routes, times, prices, and train conditions. If you are planning a long train journey or some epic train trip, consult this site.
Rome2Rio – This website allows you to see how to get from point A to point B the best and cheapest way possible. It will give you all the bus, train, plane, or boat routes that can get you there as well as how much they cost.
FlixBus – Flixbus has routes between 20 European countries with prices starting as low 5 EUR! Their buses include WiFi, electrical outlets, a free checked bag.
SafetyWing – Safety Wing offers convenient and affordable plans tailored to digital nomads and long-term travelers. They have cheap monthly plans, great customer service, and an easy-to-use claims process that makes it perfect for those on the road.
LifeStraw – My go-to company for reusable water bottles with built-in filters so you can ensure your drinking water is always clean and safe.
Unbound Merino – They make lightweight, durable, easy-to-clean travel clothing.
Sofia Travel Guide: Related Articles
Want more info? Check out all the articles I've written on backpacking/traveling Bulgaria and continue planning your trip: