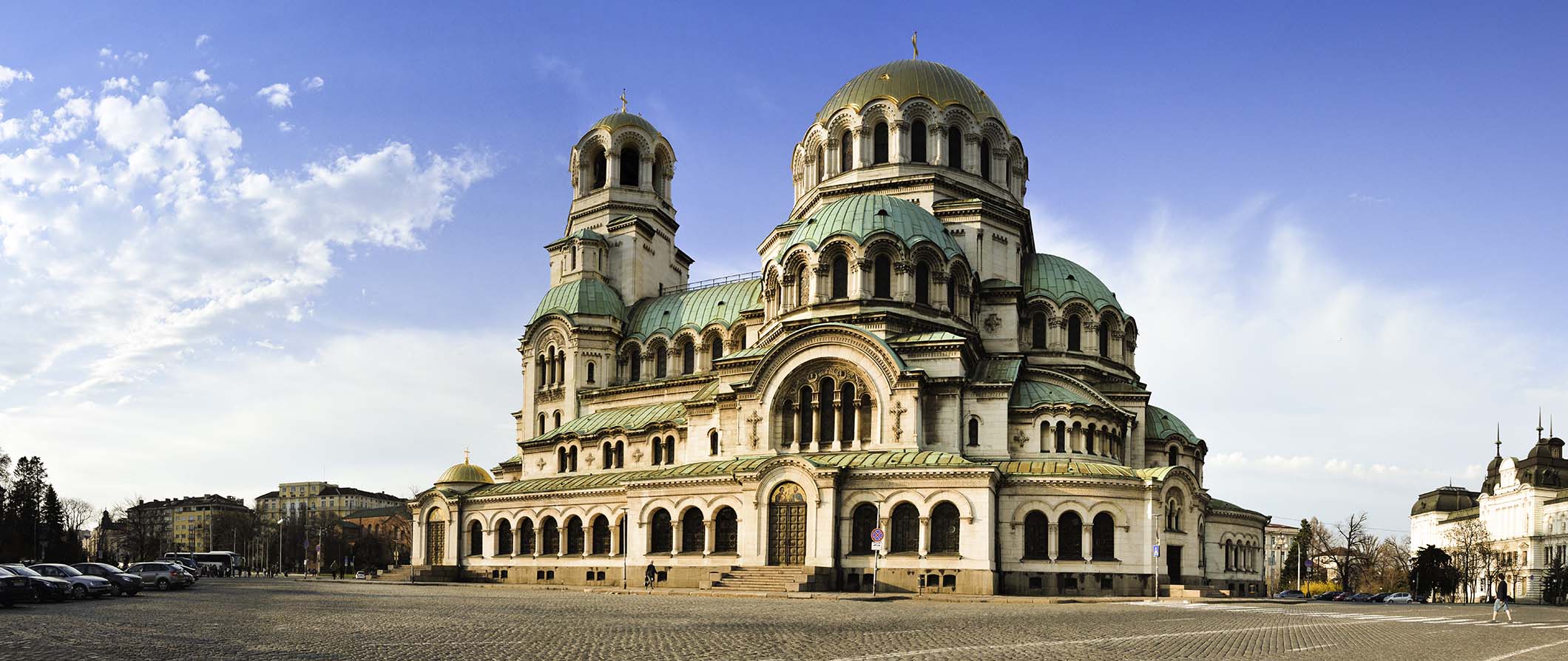 Sofia, the capital of Bulgaria, surprised me. I didn't know what I'd find when I visited. I expected a dreary, ex-communist city but instead found a multi-cultural, fast growing, and modernizing city with a rich history, cheap and delicious food and drinks, and friendly, outgoing people. I ended up extending my stay I loved it so much. From the great (free) walking tours, historic churches, museums, and baths, to the modern cafes, nightclubs, and restaurants, Sofia is a wonderful travel (and very budget friendly) destination. It should not be missed!
Top 5 Things to See and Do in Sofia
1. Alexander Nevski Cathedral
Constructed in the early 20th century, this is one of the world's largest Eastern Orthodox cathedrals. Topped with the characteristic round domes of the Neo-Byzantine style and with a beautiful Italian marble interior, it's my absolute must see here.
2. Sveti Georgi Rotunda
Dating back to the 4th century, this building is the oldest preserved structure in Sofia. The circular Roman structure was rebuilt in the 6th century and converted into a mosque during the 16th century. There are beautiful murals inside dating from the 10th and 14th centuries.
3. 1300 Years Monument
This structure was built in 1981 to celebrate the creation of the First Bulgarian Empire. It has been slowly disintegrating for several years and is even fenced off, but it is still an interesting sight to see. It is worth a quick stop.
4. National Art Gallery
This gallery is host to one of the most comprehensive collections of Bulgarian art in all of Bulgaria. Some of the masterpieces housed here include works by Vladimir Dimitrov, Goshka Datsov, Anton Mitov, and Georgi Mashev. Admission is 10 BGN. It's closed Mondays.
5. Day trip to the Rila Monastery
This is the most important Eastern Orthodox monastery in the country. It lies in the Rila Mountains, around 120 km outside of Sofia. With beautiful frescoes and interesting architecture, this 10th-century complex is one of the country's biggest tourist sites.
Other Things to See and Do
(Click the title to expand the text)
1. National Museum of Military History
This is one of the most visited museums within Sofia. There are three floors of exhibits, all featuring detailed information on warfare in Bulgaria over the past several hundred years. There is one particular display that showcases a parade of uniforms, with the personal the effects of soldiers—it is pretty cool. Admission is 8 BGN. It's open 10am-6pm from Wednesday to Sunday.
2. Presidency and the Guard Ceremony
The Bulgarian president's office lies within the eastern end of the same monolithic building that houses the Sheraton Hotel. The office isn't open for public viewing, but the changing of the guard occurs every hour here. The stomping of the Ruritanian uniform-clad men is hard not to hear.
3. National Palace of Culture
Usually referred to as the NDK, this place is host to 15 separate halls—making it the largest cultural complex in the country. During the summer, there is a regular schedule of various events and a diverse range of shows to check out. Since most theaters are closed during the summer, this is the place you will want to look into. It's open Monday-Friday from 9am-8pm and Saturday-Sunday from 10am-8pm.
4. Attend an event at the Red House
Host to political debates, poetry readings, and dance performances alike, this is a great venue to look into. The building itself is a mansion from the early-20th century and the interior is beautiful. Events are usually free, so it is definitely worth checking out.
5. Have fun in Kokolandia
This is an outdoor activity center, located inside Borisova Gradina. There are three challenging areas, which include: rope-climbing, rock climbing, mini-golf, and tree-top obstacle courses. This adventure park is considered kid and adult friendly—some areas are only 18+. Costs are 3-5 BGN per activity per person.
6. Go paintballing
Paintballing has become oddly popular throughout Sofia. There are several different places you can go that offers equipment rentals, paintballs, and gaming areas. Paintball Bulgaria offers sessions around Mt. Vitosha which is beautiful. Reservations are usually required.
7. Stroll through Pl Bulgaria
This is an elongated park, overlooked by the NDK and near the 1300 Years Monument. There are a few kiosks that can be found here, as well as some sociable bars offering cheap beers. A lot of skateboarders hang in the area, and the popcorn and ice cream stands are a big hit.
8. Check out the Museum of Socialist Art
This museum showcases art from the socialist period (1944-1989). A large outdoor sculpture park contains everything from the giant statue of Lenin that once stood in the center of the city, to the red star that topped the socialist party headquarters. Smaller pieces reveal a gentler side to the socialist ideals. The gallery inside has some excellent examples of 20th-century modern art as well as the socialist realism genre we know from the period. Admission is 6 BGN and it's open daily (except Mondays) from 10am-5:30pm.