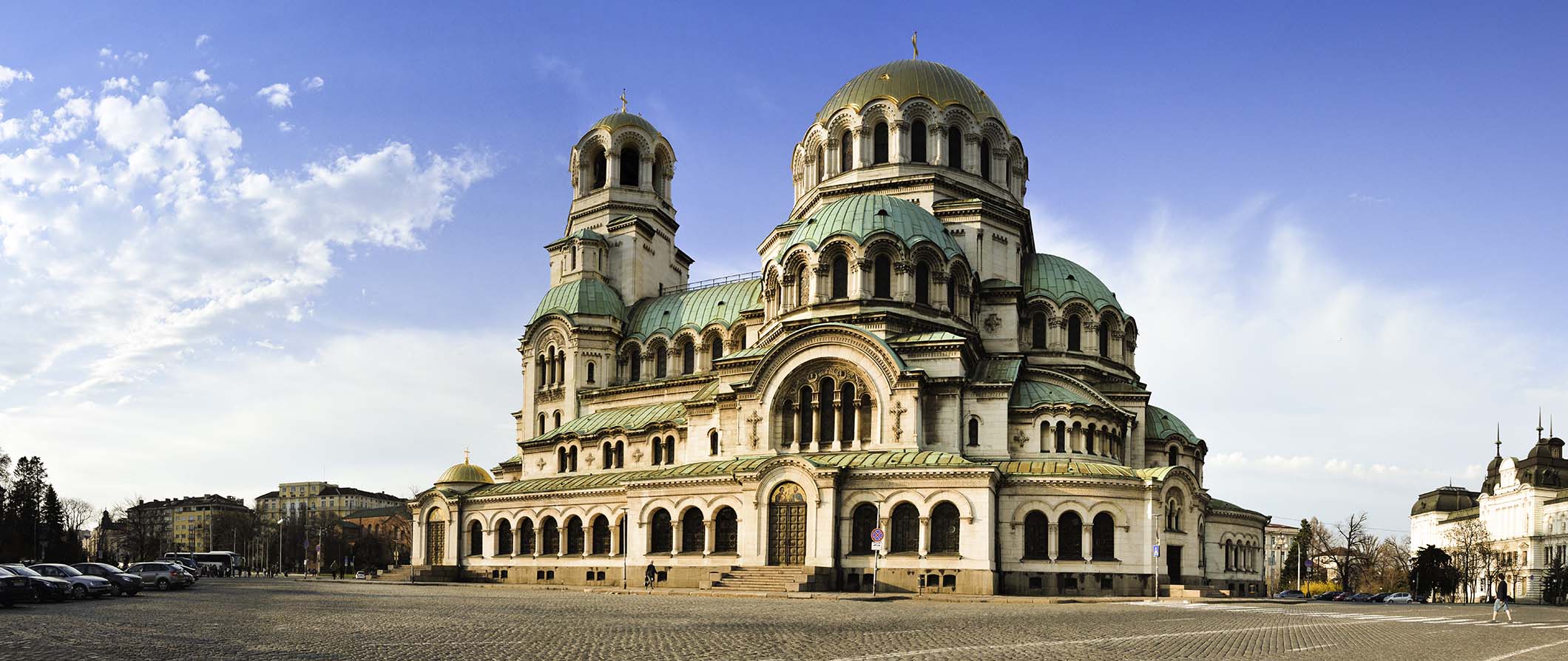 Sofia is Bulgaria's stylish capital city, sitting beneath the peak of towering Mount Vitosha. The mountain is the first thing you'll notice when you arrive, but Sofia has so much to offer: a rich history, friendly people, and cheap and delicious food and drinks.
Sofia was a city that surprised me. I expected a dreary, ex-communist city full of blocky architecture and a lack of personality, but instead, I found a multi-cultural, fast-growing, and modernizing European hub.
Sofia impressed me so much that I ended up staying a few extra days.
Moreover, the city's (free) walking tours, historic churches, museums, and easy access to the nearby mountains makes this place a perfect budget travel destination.
This travel guide to Sofia will help point the way by giving you tips on what to see, costs, suggested budgets, and ways to save money.

Sofia
Top 5 Things to See and Do in Sofia
1. Visit the Alexander Nevski Cathedral
Constructed in the early 20th century, this is one of the world's largest Eastern Orthodox cathedrals. Topped with the characteristic gilded domes of the Neo-Byzantine style and with a beautiful Italian marble interior, it's my absolute must-see here. The bell tower holds 12 bells, totalling 23 tons!
2. See Sveti Georgi Rotunda
Dating back to the fourth century, this tiny circular Roman building is the oldest preserved structure in Sofia. The interior is painted with magnificent murals stretching two meters tall into the dome. They were painted in the 13th and 14th centuries but were only uncovered during the church's restoration in the 20th century.
3. See the National Museum of Military History
This is one of the most visited museums in Sofia. There are three floors of exhibits, all featuring detailed exhibits on warfare in Bulgaria from 1876. You'll see rebel flags, military uniforms, and decorations, including the personal effects of soldiers. There's also a collection of Soviet hardware. Admission is 8 BGN ($4.50 USD). It's open 10am-6pm (Wed-Sun).
4. Visit the National Gallery Quadrat 500
This enormous gallery contains the artwork from both the National Gallery and the former Museum of Foreign Art, with hundreds of paintings displayed throughout 28 rooms. You'll find works from beloved Bulgarian 19th-20th century artists here (like Georgi Mashev and Vladimir Dimitrov) alongside African tribal masks and sketches from Renoir and Matisse. Admission is 10 BGN ($5.55 USD).
5. Day trip to the Rila Monastery
This is the most important Eastern Orthodox monastery in the country, having been a spiritual space for over 1,000 years. It's located about 75 miles (120 kilometers) outside of Sofia in the Rila Mountains, and inside you'll find stunning religious art and colorful architecture, like golden domes and striped archways. You can bus there from Sofia for about 22 BGN ($12 USD) return.
Other Things to See and Do in Sofia
1. See the Presidency and the Guard Ceremony
The Bulgarian president's office lies within the eastern end of the same building that houses the Sheraton Hotel. The office isn't open for public viewing, but the changing of the guard occurs every hour here. The stomping march of the uniform-clad men can be heard all around the area, and it's worth stopping by to see.
2. See what's on at the National Palace of Culture
Usually referred to as the NDK, this building has 15 separate halls which make it the largest cultural complex in the country. During the summer, there is a regular schedule of various events and a diverse range of shows to check out, including concerts, dance performances, and theater.
3. Attend an event at the Red House
Home to political debates, poetry readings, and dramatic performances, the Red House is an independent cultural center that's not as mainstream as the NDK. The building itself is a mansion from the early-20th century that once belonged to Bulgarian sculpture Andrey Nikolov. Events are usually free, and often in English.
4. Have fun in Kokolandia
This is an outdoor adventure activity center, located inside Borisova Gradina park. There are three challenging areas which include rope-climbing, rock climbing, mini-golf, and tree-top obstacle courses. This adventure park is considered kid- and adult-friendly, with activities costing between 3-5 BGN ($1.70-2.80 USD) per person.
5. Go paintballing
Paintballing has become increasingly popular throughout Sofia. There are several different places you can go that offers equipment rentals, paintballs, and gaming areas. Paintball Sofia offers sessions inside and outside, providing a scenic forest backdrop as you fire paint missiles at unsuspecting gamers. It's fun! Reservations are usually required, and sessions start from 20 BGN ($11 USD).
6. Walk Vitosha Boulevard
This is a high-end pedestrian street filled with fashionable boutiques and designer shops, but it's worth the stroll for the view of snow-capped Vitosha Mountain at the end. Art Nouveau buildings line the street, and there are several small sidewalk cafes where you can grab a coffee and relax.
7. Check out the Museum of Socialist Art
This new museum in Sofia showcases art from when the country was Communist (1944-1989). A large outdoor sculpture park contains everything from a giant statue of Lenin that once stood in the center of the city to the red star that topped the socialist party headquarters. Inside you'll find propaganda paintings, documentary videos, photographic galleries, and more. Admission is 6 BGN ($3.40 USD) and it's open daily (except Mondays) from 10am-5:30pm.
8. Hike Vitosha Mountain
It's surprisingly easy to reach Vitosha's trails — all you have to do is take a bus to the Simeonovo ski lift, which will take you to Aleko Hut, the starting point for all of the mountain's highest treks. You'll hike about 2,200 meters on a slight incline to reach the summit, and from there you'll be treated to incredible panoramic views over Sofia and the surrounding area. However, the lift to Aleko Hut only runs on weekends and holidays outside of the winter season. If you want to see what other hiking routes are available, check the VitoshaSki website to see what lifts are running and when, or talk to the Visitor Information Center to see what trails are open.
9. Visit the Archaeological Museum
This museum is located inside a former mosque dating back to the 1400s and is now home to a collection of Roman and medieval findings, including a delicate mosaic floor from the Church of Sveta Sofia. Other artifacts come from the Thracians — a group of Indo-European tribes living in the area since the 8th century B.C. The incredibly detailed Thracian gold burial mask from the fourth century B.C. is especially impressive for its life-like appearance. Admission is 10 BGN ($5.65 USD).
10. Visit the Sofia History Museum
Housed inside the former Central Mineral Baths from the Ottoman era, the history of Sofia from prehistory to modern day is on full display here over the building's two floors. The rooms dedicated to the Bulgarian royal families in the 19th and 20th centuries are some of the most interesting as you will get a glimpse of the lavish lives they lived — there's even a horse carriage from Marie Antoinette here. Admission is 6 BGN ($3.40 USD) and opening hours are 10am-6pm (Tue-Sun).
Sofia Travel Costs
Hostel prices – Most hostel dorms in Sofia cost between 18-27 BGN ($10-15 USD) per night for a four-six bed room. A dorm with eight beds or more costs about 14 BGN ($8 USD) per night.
Private single hostel rooms start from about 35 BGN ($20 USD) per night, while a double private room starts from about 44 BGN ($25 USD).
Budget hotel prices – Nightly rates for a budget two-star hotel room with a private ensuite bathroom start at about 44 BGN ($25 USD) near the city center. Accommodations a few miles/kilometers away from the city center start from about 35 BGN ($20 USD) per night.
Airbnb is available all over the city, with shared accommodation (like a dorm) starting at 16 BGN ($9 USD) per night. For a private room, expect to pay about 35 BGN ($20 USD) per night, while you can find a full studio apartment in the city center for about 53 BGN ($30 USD) per night.
Food – It's easy to find cheap eats in Sofia, and street food is everywhere. You can find food like banica (dough, cheese, and butter) or banitsa (a breakfast pastry) are as little as 1.50 BGN ($0.85 USD), or you can pick up a hearty shopska (like a Greek salad) or kebab for about 5 BGN ($2.80 USD). Pizza slices and hot dogs are often less than 3 BGN ($1.70 USD), while a sandwich is between 3-5 BGN ($1.70-2.80 USD).
A meal at McDonald's will cost about 12 BGN ($8 USD). A meal at a mid-range restaurant with a drink (like sausage and a salad) shouldn't cost more than 16 BGN ($9 USD), while a local beer at the bar is about 2.50 BGN ($1.40 USD). Dinner with a glass of wine at an upscale restaurant starts from about 45 BGN ($25 USD).
Grocery shopping is very cheap, costing about 35-44 BGN ($20-25 USD) per week for bread, meat, fruits, and other basics.
Backpacking Sofia Suggested Budgets
If you're backpacking Sofia, expect to spend about 58 BGN ($33 USD) per day. On this budget, you'll be staying in a hostel, eating local food, cooking some of your meals, and using local transportation to get around. You can visit some museums and historical attractions per day on this budget as well as check out a lot of free sites, like churches.
On a mid-range budget of about 126 BGN ($71 USD) per day, you can stay in a budget two-star hotel or private Airbnb room, eat out for all your meals, drink whatever you want, rent a bicycle to get around, and visit more attractions each day (including Rila Monastery).
On a luxury budget of 303 BGN ($170 USD) per day in Sofia, you'll stay in a four-star hotel, eat out for all your meals, drink whatever you want, take some day trips, and take taxis wherever you want. You won't want for anything on this budget!
You can use the chart below to get some idea of how much you need to budget daily, depending on your travel style. Keep in mind these are daily averages – some days you'll spend more, some days you'll spend less (you might spend less every day). We just want to give you a general idea of how to make your budget. Prices are in USD.
Accommodation
Food
Transportation
Attractions
Average Daily Cost
Backpacker
$10
$10
$3
$10
$33
Mid-Range
$20
$20
$11
$20
$71
Luxury
$70
$50
$20
$30
$170
Sofia Travel Guide: Money Saving Tips
Since Sofia is the capital city of Bulgaria, prices can sometimes be a little higher than in other parts of the country. Although it's still incredibly affordable (there are so many cheap or free things to do), things can add up. Here are some of my ways to save money in Sofia during your visit:
Couchsurf – There are lot sof really nice Couchsurfing hosts in Sofia. This way, you not only have a free place to stay, but you'll have a local host that can tell you the best places to go and things to see.
Take a free walking tour – Walking tours are a great way to get familiar with a city and the culture. Free Sofia Tour is an excellent company to try, as well as Strawberry Tours which has several different tours (including a hiking one). Balkan Bites is also a free food tour, although you'll pay for the samples. (Be sure to tip!)
Look for free events – There are always free events and festivals happening in Sofia. Be sure to ask your hostel staff or host about what's going on during your visit.
Pack a water bottle – A water bottle with a purifier will come particularly in handy here. Save money and thousands of plastic bottles and get a bottle that can purify the tap water for you. My preferred bottle is LifeStraw ($49.99).
Where To Stay in Sofia
Sofia has several clean and comfortable hostels, but you should book your accommodations in advance. Beds fill up quick. Here are my favorite and suggested places to stay in Sofia:
How to Get Around Sofia
Subway – Sofia's metro has two lines connecting the city center and the airport, as well as the central bus and train stations. The two lines intersect at the Serdica Metro Station. Tickets are 1.60 BGN ($0.90 USD) each, but they can't be used on the buses, trams, or trolleybuses. Use the official website (sofiatraffic.bg) to look up schedules and routes.
Bus – Sofia's bus system is extensive and will get you just about anywhere you need to go, and you can use the sofiatraffic.bg website or the Moovit app to help plan your journey. You'll need the exact change to buy a ticket from the driver on board the bus. Tickets are 1.60 BGN ($0.90 USD), but you can purchase a 10-ride pass for 12 BGN ($7 USD) or a day pass for 4 BGN ($2.25 USD) with unlimited rides.
Tram/Trolleybus – The tram and trolleybus network in Sofia works the same way as the bus system, although some of trams and trolleybuses will have ticketing machines onboard (some major stops also have ticketing kiosks). The cost is the same as the bus, and you can use your passes across the tram, trolleybus, and bus networks.
Taxi – The normal start rate for a taxi in Sofia is 0.80 BGN ($0.45 USD), and then an additional 0.80 BGN ($0.45 USD) per kilometer. The rate at night is 0.90 BGN ($0.51 USD) per kilometer. OK-Supertrans and Yellow Taxi are two reputable companies to use.
Bicycle – There are lots of bicycle rental services in Sofia! You can rent a bicycle for one full day for about 20 BGN ($11 USD). Sofia Bike Rental and Rent a Bike Sofia are two good options.
When to Go to Sofia
Sofia has four distinct seasons, of which summer (June to August) is the busiest with tourists. June can be quite rainy, but otherwise, the daily temperature is usually over 86°F (30°C). Keep in mind that this is the most expensive time to visit, as prices for hostels and hotels increase.
Winter (December to March) is the quietest time of year to visit, as temperatures go as low as 25°F (-4°C) and the weather can be more unpredictable, with lots of snow. If you like winter sports, this is the best time to visit for skiing Mount Vitosha or nearby Bansko. Accommodations are cheapest during this time.
The best time to visit is spring (April to May) or fall (September to November) for pleasant temperatures, fewer tourist crowds, and lower prices. The foliage around Mount Vitosha is also spectacular during this time, making for some excellent hiking.
How to Stay Safe in Sofia
Sofia is very safe. Scams and petty crime like pick-pocketing are the most common danger you'll face, but those incidences are rare. If a stranger stops to talk to you, be aware that he or she may be working in a team to try and grab your wallet. Some taxi drivers have been known to overcharge their customers, so make sure your driver has a metered cab before you get in it.
Pedestrian safety can also be a concern at night. Some drivers do not give pedestrians the right of way, so take caution when you're crossing the street.
If you're worried about getting scammed, you can read about the 14 travel scams to avoid right here.
Always trust your gut instinct. If a taxi driver seems shady, stop the cab and get out. If your hotel is seedier than you thought, move to a different one.
If you don't do it at home, don't do it in Sofia! Follow that rule, and you'll avoid being the victim of petty crime.
The most important piece of advice I can offer is to purchase good travel insurance. Travel insurance will protect you against illness, injury, theft, and cancellations. It's comprehensive protection in case anything goes wrong. I never go on a trip without it as I've had to use it many times in the past.
Sofia Travel Guide: The Best Booking Resources
These are my favorite companies to use when I travel to Sofia. They are included here because they consistently find deals, offer world-class customer service and great value, and overall, are better than their competitors.
Momondo – This is my favorite booking site. I never book a flight without checking here first.
Skyscanner – Skyscanner is another great flight search engine which searches a lot of different airlines, including many of the budget carriers that larger sites miss. While I always start with Momondo, I use this site too as a way to compare prices.
Airbnb – Airbnb is a great accommodation alternative for connecting with homeowners who rent out their homes or apartments.
Hostelworld – This is the best hostel accommodation site out there, with the largest inventory, best search interface, and widest availability.
Couchsurfing – This website allows you to stay on people's couches or spare rooms for free. It's a great way to save money while meeting locals who can tell you the ins and outs of their city. The site also lists events you can attend to meet people (even if you're not staying with someone).
Booking.com – The best all around booking site that constantly provides the cheapest and lowest rates. They have a no money down policy, great interface, and the widest selection of budget accommodation. In all my tests, they've always had the cheapest rates out of all the booking websites.
Intrepid Travel – If you want to do a group tour around Europe, go with Intrepid Travel. They offer good small group tours that use local operators and leave a small environmental footprint. If you go on a tour with anyone, go with them. And, as a reader of this site, you'll get a discount when you click the link!
The Man in Seat 61 – This website is the ultimate guide to train travel anywhere in the world. They have the most comprehensive information on routes, times, prices, and train conditions. If you are planning a long train journey or some epic train trip, consult this site.
Rome2Rio – This website allows you to see how to get from point A to point B the best and cheapest way possible. It will give you all the bus, train, plane, or boat routes that can get you there as well as how much they cost.
World Nomads – I buy all my travel insurance from World Nomads. They have great customer service, competitive prices, and in-depth coverage. I've been using them since I started traveling in 2003. Don't leave home without it!
EatWith – This website allows you to eat home cooked meal with locals. Locals post listings for dinner parties and specialty meals that you can sign up for. There is a fee (everyone sets their own price) but this is a great way to do something different, pick a local's brain, and make a new friend.
Sofia Gear and Packing Guide
If you're heading on the road and need some gear suggestions, here are my tips for the best travel backpack and for what to pack!
The Best Backpack for Travelers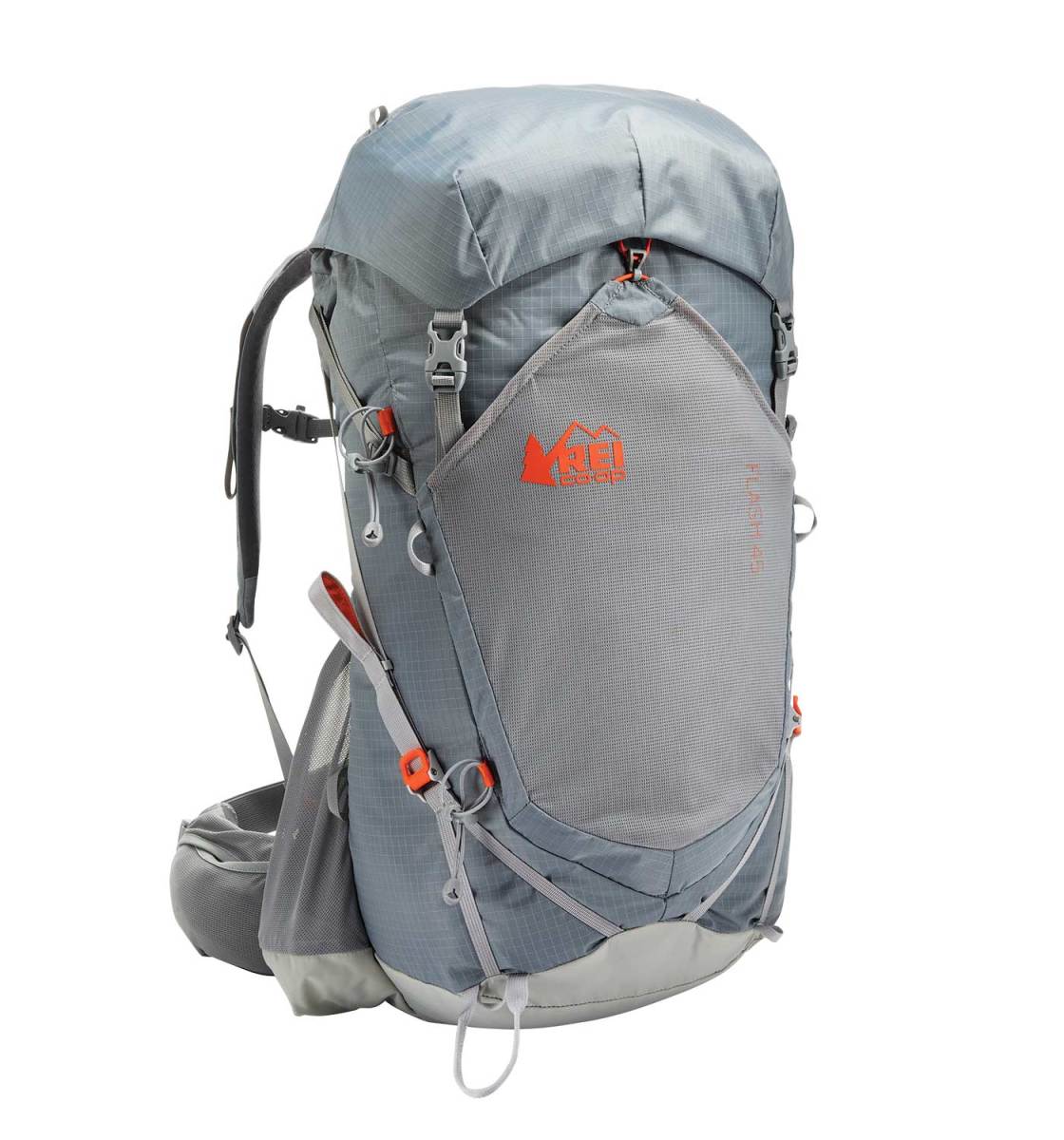 What's the best backpack for traveling long-term? I recommend the
REI Flash 45 Pack
. It's light and comfy, front loading, and fits perfectly in an airplane's overhead bin.
Size:
45-47L
Straps:
Thick and cushy with compression technology that pulls the pack's load up and inwards so it doesn't feel as heavy.
Features:
Removable top lid, large pocket at the front, hydration compatible, contoured hip belt
If you want something different, refer to my article on how to choose the best travel backpack for tips on picking a pack and other backpack suggestions.
What to Pack for Your Trip
Clothes
1 pair of jeans (heavy and not easily dried, but I like them; a good alternative is khaki pants)
1 pair of shorts
1 bathing suit
5 T-shirts (Unbound Merino is my preferred company. If you're a member of NM+, you can get 15% off your purchase)
1 long-sleeved T-shirt
1 pair of flip-flops
1 pair of sneakers
6 pairs of socks (I always end up losing half)
5 pairs of boxer shorts (I'm not a briefs guy!)
1 toothbrush
1 tube of toothpaste
1 razor
1 package of dental floss
1 small bottle of shampoo
1 small bottle of shower gel
1 towel
Deodorant
Small Medical Kit (safety is important!!!)
Miscellaneous
Female Travel Packing List
I'm not a woman, so I don't know what a woman wears, but Kristin Addis, our solo female travel guru, wrote this list as an addition to the basics above:
Clothing
1 swimsuit
1 sarong
1 pair of stretchy jeans (they wash and dry easily)
1 pair of leggings (if it's cold, they can go under your jeans, otherwise with a dress or shirt)
2-3 long-sleeve tops
2-3 T-shirts
3-4 spaghetti tops
1 light cardigan
Toiletries
1 dry shampoo spray & talc powder (keeps long hair grease-free in between washes)
1 hairbrush
Makeup you use
Hair bands & hair clips
Feminine hygiene products (you can opt to buy there too, but I prefer not to count on it, and most people have their preferred products)
For more on packing, check out these posts:
Sofia Travel Guide: Related Articles
Want more info? Check out all the articles I've written on backpacking/traveling Bulgaria and continue planning your trip:
Photo credit: 4 – Deensel