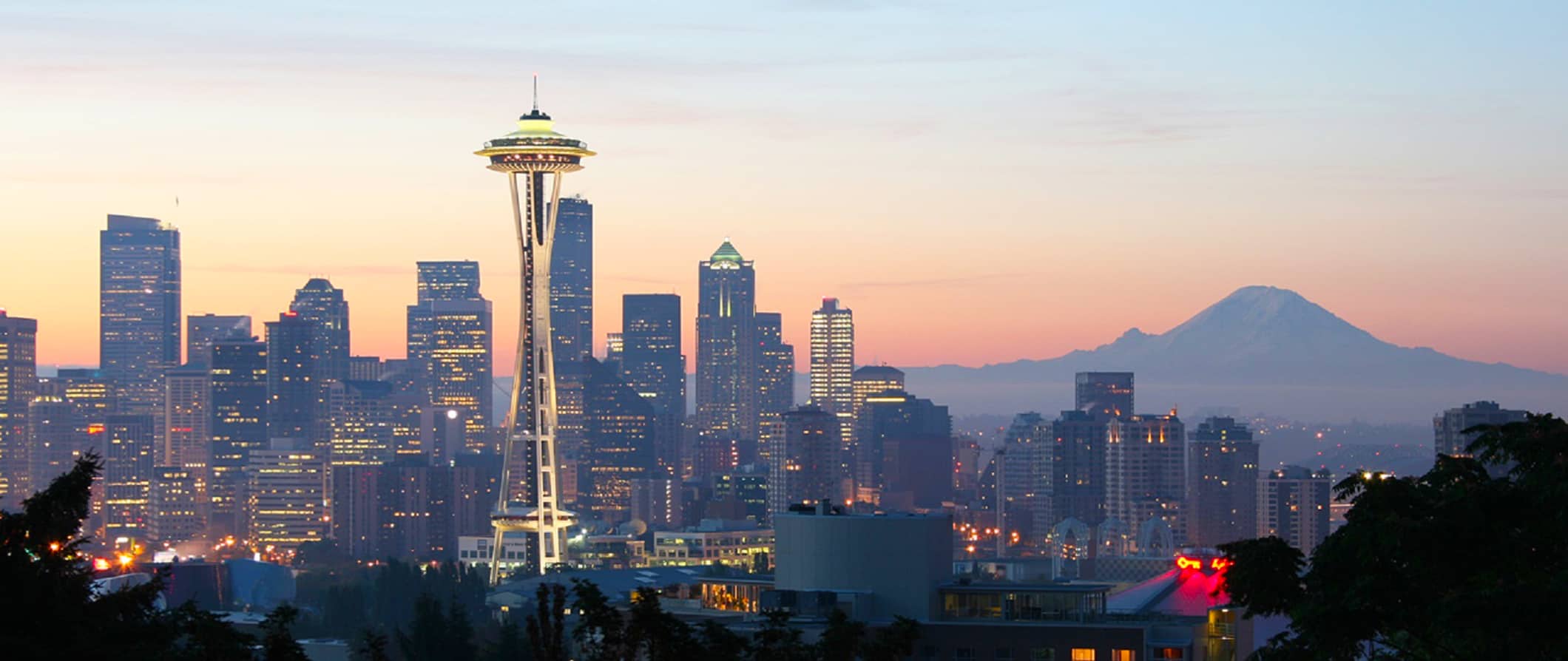 Famous for its addiction to caffeine (there are over 100 Starbucks coffee shops here – and Starbucks was founded in this city), and as the birthplace to bands such as Nirvana and Pearl Jam and the rock giant Jimi Hendrix, there is a lot to mark Seattle out as an important place on the map. Seattle has a very relaxed and friendly vibe. There's a robust music scene here, great bars, and world-class seafood. Plus, with lots of nature surrounding it, it's easy to see why so many people move here looking for a more balanced city scene.
Top 5 Things to See and Do in Seattle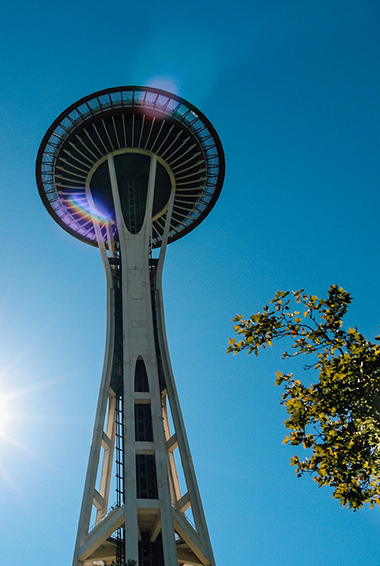 1. Visit the Seattle Center
Home to the Space Needle, the city landmark is a mini-entertainment complex. There is the International Fountain, the Experience Music Project, the Science Fiction Museum and Hall of Fame, the Pacific Science Center, Center House which includes its own theater, and the outdoor Mural Amphitheater.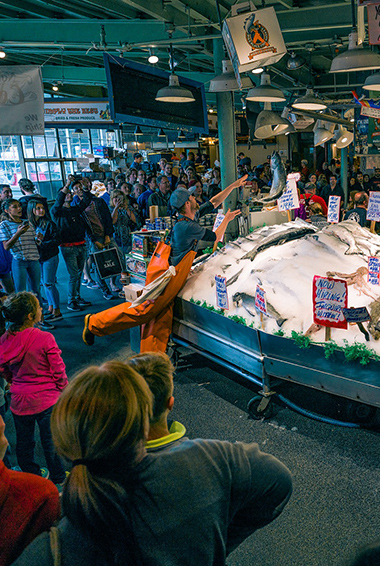 2. Stroll though Pike Place Market
Pike Place Market is one of the oldest farmers' markets in the United States. This nine-acre area is a vestibule of countless shops, stalls, galleries and cafes selling everything from crafts to fresh produce. I loved it here. Make sure you watch the fish throwers for some good entertainment.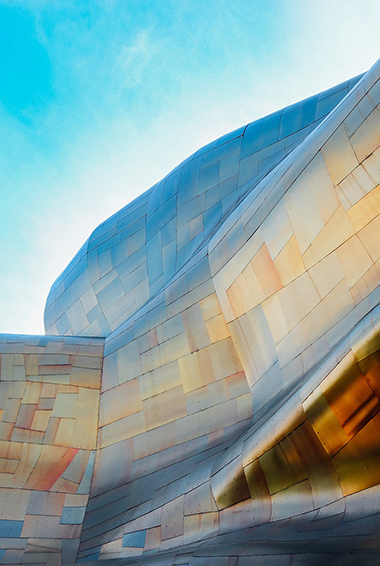 3. Visit the Seattle Art Museum Downtown
A 48-ft Hammering Man sculpture marks the outside of this vast museum. There are a lot of good art exhibits, with a heavy focus on modern art. There are always special exhibits (when I was there, it was Picasso). Try to visit their special museum nights where the museum offers live music, drinks, and interactive art activities.
4. Relax on Alki Beach
Sticking out onto Puget Sound, this is a great spot to kick back and relax on the shore, watch the cruise ships passing by or simply people watch. After all, that activity, treat yourself to a meal at one of the many restaurants around this area.
5. Take an underground tour
This tour is a humorous stroll through subterranean storefronts and sidewalks fromt when the city rebuilt after the Great Fire of 1889. The guided walking tour begins beneath Doc Maynard's Public House, over to historic Pioneer Square then underground for a view of the buried city. It's one of the best things in the city.
Other Things to See and Do
(Click the title to expand the text)
1. Head to Pioneer Square
Once in the heart of the city, Pioneer Square is the site where the city's founders first settled in 1852. History is all around with cobblestone streets and classic red brick buildings lining the 90-acre district. I highly recommend the underground tour. It provides a rich history into the early beginnings of Seattle.
2. Eat seafood at the Port of Seattle
Enjoy the beauty and cleanliness of the Port of Seattle at the Waterfront Park and the Bell Street Pier at Pier 66. It includes pavilions and restaurants which trace all the way along Elliott Bay almost until Pike Place Market. Bay Pavilion, in particular, is a cry back to the waterfront of yesteryear with original wooden design in place. Stop here to sample some great seafood.
3. Find music in Hing Hay Park
Visit the International District and go to Hing Hay Park, a district home to musical performances and cultural events or go to be a part of the atmosphere, chess players, and morning Tai-Chi are all a part of the park's regular activities. Or perhaps do like the locals and find a karaoke bar (this will not be difficult) and a place to drink bubble tea! If you want to find out more about this Asian-American community then consider a trip to the Wing Luke Asian Museum.
4. See the sea life at the aquarium
Whilst on the topic of friendly, (not so) furry things, perhaps a trip to the Seattle Aquarium is also in order. Set amongst the backdrop of Seattle's busy Waterfront area, here you can view inhabitants of Seattle's Puget Sound as well as creatures from all over the world. Admission is $23 and it's open daily from 9:30am-5pm.
5. Boeing Museum of Flight
If you like planes, this place is a must see. You'll see planes through the ages and get a chance to see the original Boeing "factory." You can see the original Air Force One too. Keep in mind this place is located out of the main part of the city. Admission is $21 and it's open from 9am-5pm.
6. Watch boats at the Ballard Locks
The locks provide a link for boats between the Puget Sound and the Ship Canal. Locals and tourists alike watch the parade of boats pass through as the locks' water levels are adjusted. I highly recommend the fish ladder which allows salmon to pass between the fresh and salt water. There are glass panels below the water line to watch the fish as they swim. It's pretty cool.
7. Learn about the Gold Rush
The Klondike Gold Rush Museum offers an interesting look at one of the formative periods in North American history – the Klondike Gold Rush. In 1897, news of the gold discovery in the Canadian Yukon sent throngs of Seattle prospectors up north. This, in turn, brought many people to Seattle, who used it as a gateway to the north. Admission to the museum is free, and it's definitely worth a visit. It's open from 10am-5pm.
8. Visit the Museum of Pop Culture
This amazing Frank Gehry-designed building looks like a smashed guitar from the sky. Inside there are colorful exhibits that cover everything from the history of indie video games and horror films to Nirvana, the Seahawks, and other local culture. Tickets are $28 ($19 for kids) but if you buy online, you'll save $2.
9. Visit the Starbucks Reserve Roastery
The Starbucks Reserve Roastery & Tasting Room is like wonderland for coffee addicts, and seeing as how Seattle is the birthplace of Starbucks, you should probably check this place out. There are exclusive drinks here, and you'll also find a coffee library and more. Learn about Starbucks' various brewing methods while you're visiting. Open daily from 7am-11pm.
10. Take a free boat ride
Seattle has a fun tradition: every Sunday, volunteers at the Center For Wooden Boats take people out on Lake Union for free. Boats generally set sail between 9am-3pm, and it's a first come, first serve basis, so show up early!
Typical Costs
Hostel prices
– Expect to pay around $35 per night in a dorm room with 6-8 beds. Private rooms cost a little more at around $90 per night for a room that sleeps two. Most hostels include free linens, free WiFi, and offer free breakfast. My suggested place is:
Budget hotel prices – Budget hotel prices start around $90 per night. Hotels at this price point offer free WiFi, private bathrooms, and air-conditioning. On Airbnb, you can find shared rooms for $30 per night and entire homes starting around $45 per night.
Average cost of food – You'll find a bounty of fresh, local food in Seattle (and not just seafood and coffee!). You can get a good dinner for about $25. Fast food and lunch will be a bit cheaper at around $7-15. There are many lunch places where you can get $5 meals, especially in Chinatown. You'll find cheaper eats in the residential neighborhoods, which have better prices. If you cook your own food, expect to pay $60 per week for groceries that will include pasta, vegetables, chicken, and other basic foods.
Transportation costs – Seattle's public transportation system operates on a zone system. In off-peak hours, all zones are $2.50. In peak hours, one zone is $2.75 and two zones are $3.25. You have the option of using the Transit Go Ticket app to buy tickets for transportation or you can use vending machines, find a transportation store, buy them via phone, or through the website. There is a regional day pass that costs $8 per day that can only be purchased using an ORCA card. The ORCA card costs $5 and you load it with money. You can buy it in person and it's also good for single fare transportation, too. Taxis will come in at about $15 for a ten-minute journey. A great alternative to taxis are Uber and Lyft, which provide rides for cheaper prices.
Suggested daily budget
$70 (Note: This is a suggested budget assuming you're staying in a hostel, eating out a little, cooking most of your meals, and using local transportation. Using the budget tips below, you can always lower this number. However, if you stay in fancier accommodation or eat out more often, expect this to be higher!)
Money Saving Tips
Cheap metro tickets – Metro tickets are $0.25 cheaper on a weekend and outside of the rush hour (6-9am and 3-6pm).
Pick up a CityPASS – This discount ticket offers entrance to six of Seattle's biggest tourist attractions for $75, saving you nearly 50% off.
Eat in Chinatown – For the cheapest food in the city, go to Chinatown and eat your heart out.
Couchsurf – Nothing's cheaper than sleeping for free. Couchsurfing connects you with locals who will give you not only a free place to stay, but also a local tour guide who can introduce you to all the great places to see.
Go on a free walking tour – This is a great way to learn the history behind the places you are seeing and to avoid missing any must-see stops. Seattle Free Walking Tours has a couple of walking tours that can teach you about the history of the eclectic neighborhoods or show you Pike Place Market. Tours are offered daily but require advance reservations.
Save money on rideshares – Uber and Lyft (my preferred company) are way cheaper than taxis and are the best way to get around a city if you don't want to take a bus or pay for a taxi. The shared/pool option (where you share a ride with other people) offers even better savings. You can save money off your first rides with the following codes: Lyft (MATTHEW999 to save $10) and Uber (jlx6v to save $15).
My Must Have Guides For Traveling to Seattle
Photo credits: 6