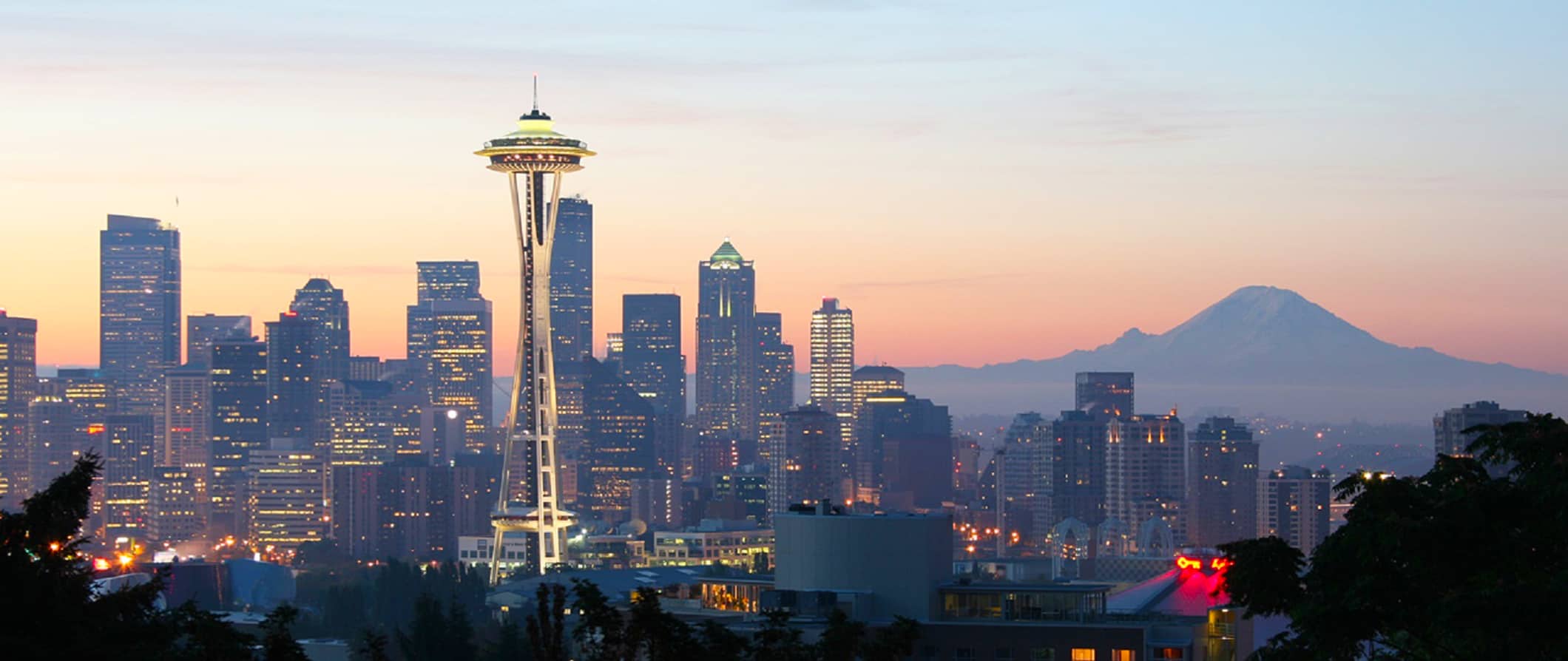 Famous for its addiction to caffeine (Starbucks was founded in this city and there are over 130 Starbucks cafes here), Seattle is the birthplace of Nirvana, Pearl Jam, and Jimi Hendrix. It's also one of the biggest tech hubs in the country, home to Amazon, Nintendo, Microsoft, and more.
I love visiting Seattle. The food is incredible and diver, there's a robust music and art scene, lots of great bars, a lot of history, and plenty of nature. The quality of life is just really high here.
And, while the city is famous for its cloudy days, if you can find a sunny day when you're here, you're in for a real treat as the city (and region) is gorgeous.
Try to spend at least four days here.
This travel guide to Seattle can help your trip, save money, and ensure you make the most of your visit.
Top 5 Things to See and Do in Seattle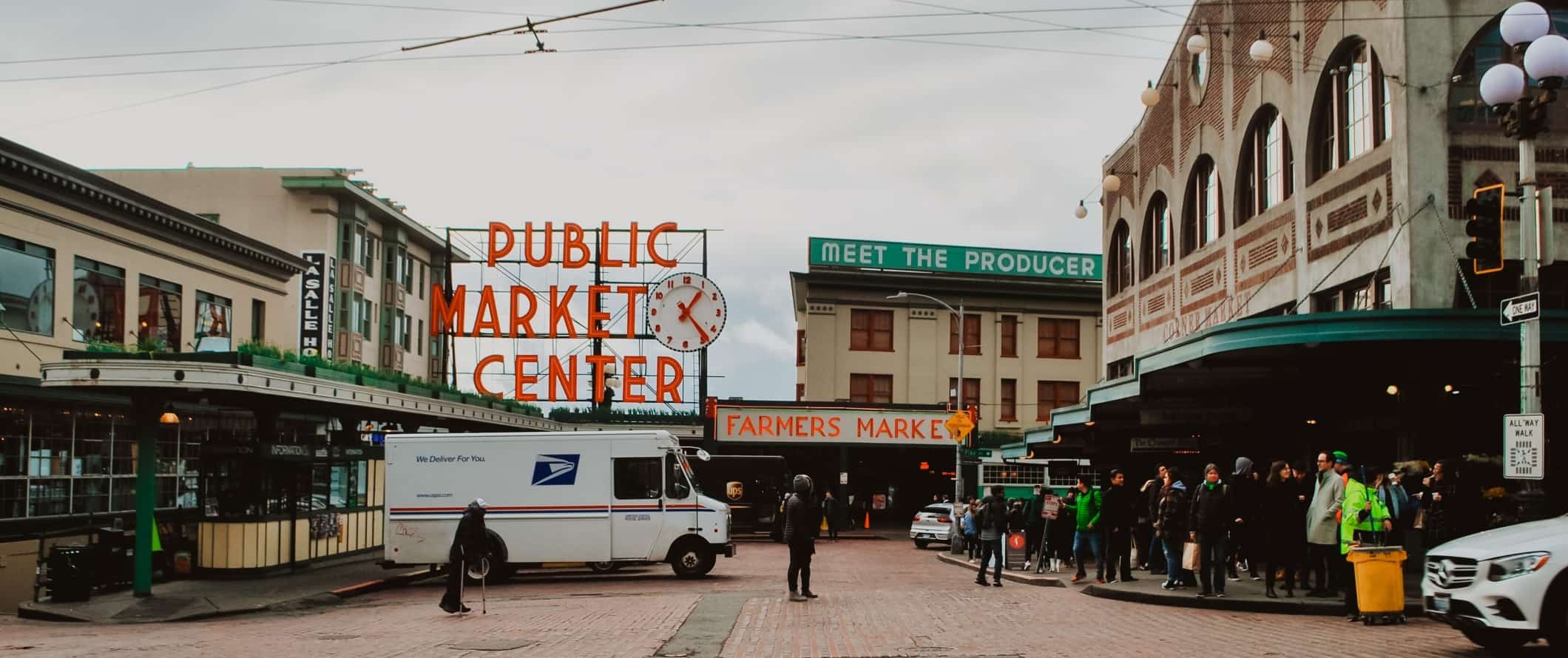 1. Visit the Seattle Center
Built for the 1962 World's Fair and home to the 605-foot (184-meter) Space Needle, this city landmark is a mini-entertainment complex. There is the International Fountain, the Experience Music Project, the Science Fiction Museum and Hall of Fame, the Pacific Science Center, the Museum of Pop Culture, and a variety of different gardens. Many different festivals take place here as well, including Seattle Pride, Bumbershoot (music festival), and Bite of Seattle (food festival). If you want to go up to the Space Needle's observation deck, admission is $35-39 USD depending on the time of day (before 11am is the cheapest while 11am-5pm is the most expensive).
2. Stroll through Pike Place Market
Pike Place Market is one of the oldest farmers' markets in the United States (it opened in 1907). This nine-acre area boasts countless shops, restaurants, stalls, galleries, antique dealers, and cafes selling everything from crafts and artwork to fresh produce. Make sure you watch the fish throwers (fish mongers who throw fish to each other when one is sold) or one of the countless buskers for some good entertainment!
3. Visit the Seattle Art Museum
With a heavy focus on modern works, you'll find a lot of great art here (there are over 25,000 items in their collection). There are always special exhibits (when I was there it was Picasso) and they have special museum nights with live music, drinks, and interactive activities. Admission is $20 USD when purchased in advance and $23 USD otherwise. Admission is free on the first Thursday of every month (including special exhibitions).
4. Relax on Alki Beach
Sticking out onto Puget Sound, this 2.5-mile (4-kilometer) long beach is where the first white settlers arrived in the area in the 1850s. Today, it's a chill spot to kick back and relax on the shore, watch the cruise ships pass by, enjoy a meal at one of the oceanfront restaurants, take a tour of the historic lighthouse, or just lounge away the day. Bring a book and enjoy the view!
5. Head to Pioneer Square
Once the heart of the city, Pioneer Square is the site where the city's founders first settled in 1852. History abounds with cobblestone streets and classic 19th-century red brick buildings lining the 90-acre (36-hectare) district. Today, there are lots of hip bars and trendy cafes in the neighborhood that make it a great place to relax and people-watch. The area is also home to the first art walk in the country, which started in 1981 and has been going strong ever since. Join in on the first Thursday of every month from 5pm-10pm!
Other Things to See and Do in Seattle
1. Take an underground tour
The Seattle Underground Tour offers a humorous stroll through subterranean storefronts and sidewalks from when the city was rebuilt after the Great Fire of 1889. Tours are 75 minutes and cost $22 USD. If you're into ghosts, they also run an Underworld Tour of Seattle's old red light district ($27 USD) and Paranormal Underground Tours where you even get to use paranormal investigative equipment to hunt for ghosts yourself ($33 USD).
2. Explore Hing Hay Park
Located in the Chinatown-International District, Hing Hay Park is where you can watch chess players in action or participate in morning Tai-Chi. There are also lots of events held here in the summer, including concerts and theater performances. Nearby are plenty of karaoke bars as well as lots of places to grab a bubble tea. If you want to find out more about Seattle's Asian-American community, visit the Wing Luke Asian Museum, which highlights the art, culture, and history of Asian Pacific Americans (admission is $17 USD).
3. Visit the Boeing Museum of Flight
This museum showcases air travel through the ages. As an avid traveler, it's super interesting. There are over 150 planes here, as well as the original Boeing "factory." They have the original Air Force One, a Concorde jet (one of only four on display outside Europe), a full mock-up of the first lunar lander, and more. Admission is $25 USD. Every first Thursday of the month from 5pm-9m, admission is free.
4. Watch boats at the Ballard Locks
Opened in 1917, these locks provide a link for boats between the Puget Sound and the Ship Canal. Over a million tons of cargo pass through the locks each year (they handle more boat traffic than any other lock in the US). Stop by the Fish Ladder Viewing Gallery where you can get an aquarium-like view of salmon migrating through the locks (migrations take place between June and September). There's an aquaculture museum attached, and you can also take tours of the locks. Admission to everything is free.
5. Learn about the Gold Rush
In 1897, news of the gold discovery in the Canadian Yukon sent throngs of prospectors up north. This, in turn, brought many people to Seattle, who used it as a gateway to the north. The Klondike Gold Rush National Historical Park offers an interesting look at this formative period in North American history. In addition to the two floors of exhibitions, there are also several films that shed light on the city's transformation and the impact of the gold rush on Seattle's development. Admission is free.
7. Explore the Museum of Pop Culture (MoPOP)
This amazing Frank Gehry-designed building looks like a smashed guitar from the sky. Inside are colorful and immersive exhibits that cover everything from the history of indie video games and horror films to Nirvana, the Seahawks, and other local pop culture. There's a massive pillar made out of guitars inside, as well as a Science Fiction section and a Hall of Fame for sci-fi and fantasy creators. Tickets start at $28 USD.
8. Visit the Starbucks Reserve Roastery
The Starbucks Reserve is a wonderland for coffee addicts. There are exclusive drinks on offer that you won't find at standard Starbucks stores, and you can learn more about the roasting process as well. It's one of the most unique Starbucks experiences you can have. You can also visit the original Starbucks just 9 blocks away at 1912 Pike Place (it opened in 1971), but there's not much to see and do here other than enjoy a cup of coffee. Be prepared for long lines at the Roastery.
9. Take a free boat ride
Seattle has a fun tradition: every Sunday volunteers from the Center for Wooden Boats (a living museum where you can rent a boat and learn to sail) take people out on Lake Union for free. Boats generally set sail between 11am-7pm and it's first-come, first-served — so show up early! The center also has several exhibits including displays of historic wooden boats and boat photography. From Wednesday-Sunday, you can take a row boat out on the water yourself for one hour, free of charge. Admission is to the center is also free.
10. Visit the Chihuly Garden and Glass
Located in Belltown, this gallery showcases the jaw-dropping work of Dale Chihuly, one of the most famous blown glass artists in the world. Intricate and multi-colored blown-glass work is displayed throughout a series of indoor and outdoor installations, including a lush garden filled with various colorful glass sculptures. Inside is a 100-foot long sculpture in reds and oranges — one of Chihuly's largest suspended works. There are also glass-blowing demonstrations throughout the day as well as special events and talks. Check the website for details. Admission is $30-35 USD depending on what time of day you visit (it's cheaper before 11am). You can also get a combination ticket to visit the garden and the Space Needle for $55-64 USD.
11. Relax on Bainbridge Island
Nearby Bainbridge Island offers a nice reprieve from the busy city. It's filled with over 150 acres (61 hectares) of gardens, meadows, ponds, and even a nature reserve. Make sure you stop for ice cream at the Mora Iced Creamery! You can take the 30-minute Bainbridge Island Ferry ($9.25 USD one-way; there is no charge to return to Seattle if you're a pedestrian) across and then get a bicycle rental for the day for about $35-45 USD (most bike rentals on the island require advance booking).
12. Take a food tour
If you're a foodie like me, Savor Seattle Food Tours offers an amazing overview of some of Seattle's best foodie areas, including Pike Place Market, for $49 USD. There's also a VIP tour of Pike Place Market for $56 USD, just in case you want to go a little more in-depth. Not only will you get to eat some great food but you'll learn about the food's history and the culture behind it too.
13. Take a trip to Vancouver
If you're here for a while, consider taking a trip to Vancouver, Canada. It's just a 2.5-hour drive away and is one of my favorite cities in the world. There are tons of amazing places to eat (including great sushi places), lots of nearby hiking (don't miss the Grouse Grind), and relaxing views of Stanley Park. It makes for a perfect weekend getaway.
For more information on other cities in the United States, check out these guides:
Seattle Travel Costs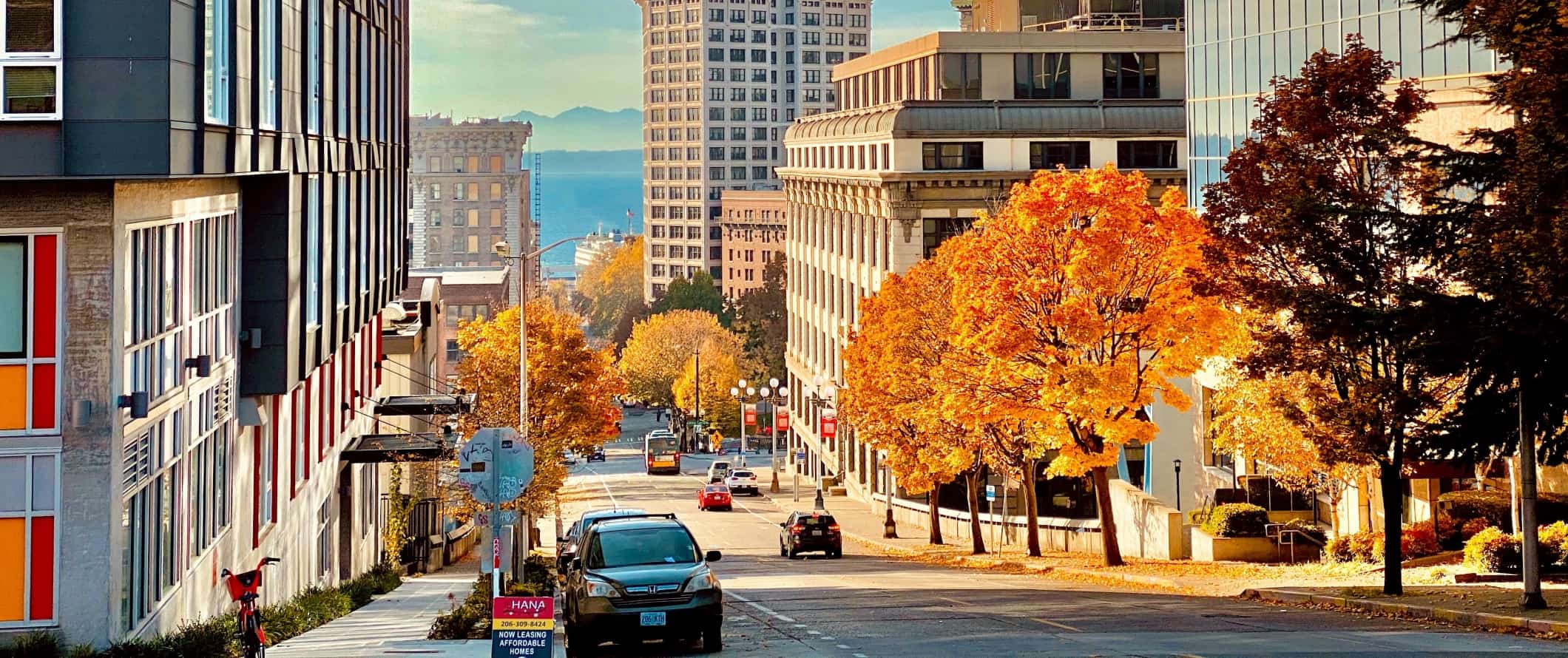 Hostel prices – A bed in a dorm with 6-8 beds costs around $50-59 USD per night in peak season and $37-47 USD off-peak. A basic double private room with an ensuite bathroom costs $159-209 USD in peak season, and $86-100 USD off-peak. Free Wi-Fi is standard and most hostels have self-catering facilities. My favorite hostel in the city, Green Tortoise, includes free breakfast.
Camping is available outside the city for those traveling with a tent. A basic plot for two people without electricity costs around $30 USD per night.
Budget hotel prices – Budget two-star hotels start at $175 USD per night in peak season and $125 USD in off-peak season. Expect basic amenities like free Wi-Fi, TV, and a coffee/tea maker.
Seattle has tons of Airbnb options. Private rooms start at $50-65 USD per night while entire homes/apartments cost at least $125 USD. Expect prices to be double (or more) if you don't book early.
Food – Seattle is known for its seafood (including fresh oysters and sushi) and Asian cuisine, especially Vietnamese and Japanese. You can really splurge on meals here, but luckily, the city also has plenty of cheap food options. Chinese food is your best bet for cheap eats as the Chinatown here is massive and has tons of restaurants. If you're on a budget, start your food search there.
A cheap meal at a sit-down restaurant costs around $15-20 USD, while a three-course meal with a drink costs at least $45-55 USD. For fast food, expect to pay around $10 USD for a combo meal. Large pizzas start at $16-18 USD.
Beer costs around $7 USD while a latte/cappuccino costs $5 USD (though, this is the land of coffee so you can easily spend more). Bottled water is $2 USD.
If you cook your own food, expect to pay between $55-65 USD per week for basic staples like rice, pasta, veggies, and some meat.
Backpacking Seattle Suggested Budgets
If you're backpacking Seattle, expect to spend about $75 USD per day. This budget covers a hostel dorm, public transportation, cooking your own meals, and doing free activities like hitting the beach or visiting the free museums. If you plan on drinking, add around $10-15 USD per day.
A mid-range budget of $175 USD per day covers staying in a private hostel room or Airbnb, eating out for some meals, having a couple of beers, taking the occasional Uber to get around, and doing more paid activities like the Space Needle or the art museum.
On a "luxury" budget of about $395 USD or more per day, you can stay in a hotel, eat anywhere you want, drink as much as you'd like, rent a car or take Ubers everywhere, visit Vancouver, and do more paid tours and activities, such as a food tour. This is just the ground floor for luxury though. The sky is the limit!
Accommodation
Food
Transportation
Attractions
Average Daily Cost
Backpacker
$40
$15
$10
$10
$80
Mid-Range
$85
$50
$20
$20
$175
Luxury
$200
$115
$40
$40
$395
Seattle Travel Guide: Money-Saving Tips
Seattle is one of the most expensive cities in the United States. A rising cost of living has made it more expensive than in the past. It's not going to be the cheapest place to visit but there are still some ways to cut your costs. Here are some ways to save money in Seattle:
Pick up a CityPASS – This discount ticket offers entrance to five of Seattle's biggest tourist attractions for $115 USD, saving you nearly 50%!
Eat in Chinatown – For the cheapest food in the city, go to Chinatown and eat your heart out. You'll find filling plates of food here for under $10 USD.
Get a cheaper aerial view of the city – Skip the Space Needle and head to the Starbucks on the 40th floor of the Columbia Tower downtown for a panoramic view over the city. It'll just cost you a drink!
Stay with a local – Nothing's cheaper than sleeping for free! Couchsurfing connects you with locals who can share their insider knowledge about the city while helping you save money by letting you sleep on their couch for free. It's the best way to meet locals and get inside tips.
Go on a free walking tour – This is a great way to learn the history behind the places you are seeing and to avoid missing any must-see stops. Seattle Free Walking Tours has a couple of walking tours that can teach you about the history of the city. Just remember to tip your guide at the end!
Save money on rideshares – Uber and Lyft are cheaper than taxis and are the best way to get around a city if you don't want to take a bus or pay for a taxi. The shared option (where you share a ride with other people) offers even better savings.
Bring a reusable water bottle – The tap water is safe to drink here so bring a reusable water bottle to save money and reduce your single-use plastic usage. LifeStraw makes reusable bottles with built-in filters that ensure your water is always clean and safe.
Where to Stay in Seattle
Seattle only has a few hostels but they are all budget-friendly. Here are my suggested places to stay:
For more hostel suggestions, here's a complete list of the best hostels in Seattle!
How to Get Around Seattle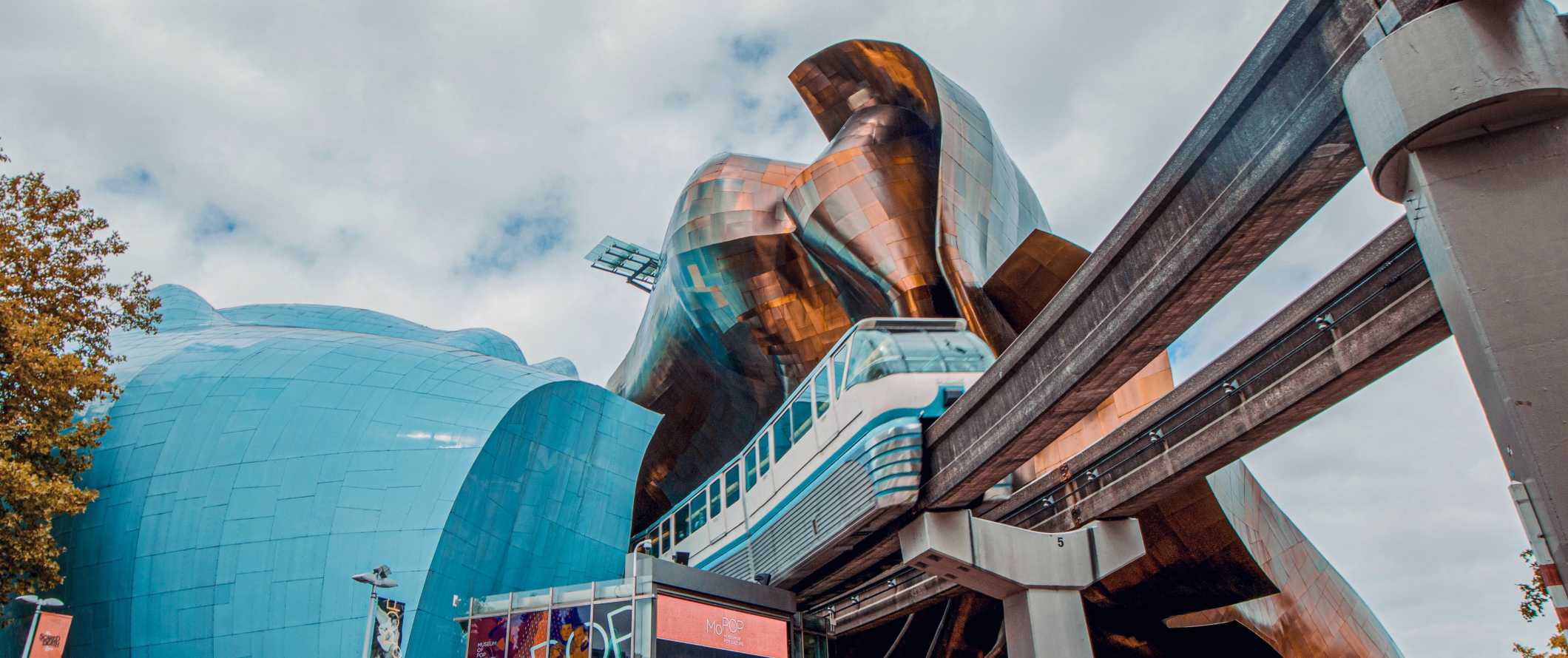 Public transportation – Seattle has a robust public transportation system, with buses, ferries, a streetcar, and a light rail. Fares are $2.25–3.50 USD, depending on where you're going.
You can purchase tickets at the station or via the Transit GO Ticket app. You can also purchase a reloadable ORCA card for $3 USD, which tracks different fares and transfers automatically. Day passes are $8 USD.
The Seattle Center Monorail runs between Westlake Center and Seattle Center at the bottom of Queen Anne hill. The monorail departs every ten minutes and the full trip only takes two minutes! A one-way fare is $3.25 USD. You can use your ORCA card for the monorail too.
Ferries vary in cost depending on where you're going. For example, a ticket from Seattle to Bainbridge Island is $9.25 USD one-way (no charge to return to Seattle if you're a pedestrian).
Bike rental – Seattle is very bike-friendly. Seattle's dockless bike share program is called JUMP. Bikes cost $1 USD to unlock and then $0.36 USD per minute.
Taxis – Taxis start at $2.60 USD, and then each miler after that is $2.70 USD. The flat rate taxi fare from the airport to downtown Seattle is $40 USD. If you're on a budget, skip them.
Ridesharing – Uber and Lyft are cheaper than taxis and are the best way to get around a city if you don't want to take a bus or pay for a cab.
Car rental – Car rentals can be found for around $35 USD per day for a multi-day rental. Unless you're heading out on day trips though you won't need a car. For the best rental car deals, use Discover Cars.
When to Go to Seattle
Personally, I think autumn is the best time to visit (September-October). The high season (summer) is over, so room rates have dropped and tourists have flocked elsewhere. It's still warm, with temperatures averaging 60°F (15°C) and with less rainfall than spring.
On the other hand, summer is a great time to visit if you don't mind paying a little more for your room. It's always warm, averaging about 75°F (23°C) and people are out enjoying the weather. There are always events and festivals going on too.
Winter is the coldest month, with temperatures ranging from 39-47°F (4-8°C). The plus side? There are almost no tourists around!
No matter what time of year you visit, you're likely to encounter some drizzle or rain. Pack some rain gear and a warm sweater.
How to Stay Safe in Seattle
Seattle is a very safe place to backpack and travel. Most neighborhoods are safe to explore, especially the touristy areas, but there are a handful of places to avoid because of higher than normal violence or mugging risks. This includes around King County Courthouse and Pioneer Square, as well as the area between Pike and Pine. Don't explore those places alone after dark.
Petty crimes like pickpocketing can occur in high-trafficked areas, like tourist attractions or on crowded public transit. Always keep your belongings secure and don't wave any flashy valuables around just to be safe.
There aren't a ton of scams here but if you're worried about getting ripped off, you can read about common travel scams to avoid here.
If you experience an emergency, dial 911 for assistance.
Always trust your gut instinct. Make copies of your personal documents, including your passport and ID. Forward your itinerary along to loved ones so they'll know where you are.
The most important piece of advice I can offer is to purchase good travel insurance. Travel insurance will protect you against illness, injury, theft, and cancellations. It's comprehensive protection in case anything goes wrong. I never go on a trip without it as I've had to use it many times in the past. You can use the widget below to find the policy right for you:
Seattle Travel Guide: The Best Booking Resources
These are my favorite companies to use when I travel. They consistently have the best deals, offer world-class customer service and great value, and overall, are better than their competitors. They are the companies I use the most and are always the starting point in my search for travel deals.
Skyscanner – Skyscanner is my favorite flight search engine. They search small websites and budget airlines that larger search sites tend to miss. They are hands down the number one place to start.
Hostelworld – This is the best hostel accommodation site out there with the largest inventory, best search interface, and widest availability.
Booking.com – The best all around booking site that constantly provides the cheapest and lowest rates. They have the widest selection of budget accommodation. In all my tests, they've always had the cheapest rates out of all the booking websites.
Get Your Guide – Get Your Guide is a huge online marketplace for tours and excursions. They have tons of tour options available in cities all around the world, including everything from cooking classes, walking tours, street art lessons, and more!
SafetyWing – Safety Wing offers convenient and affordable plans tailored to digital nomads and long-term travelers. They have cheap monthly plans, great customer service, and an easy-to-use claims process that makes it perfect for those on the road.
LifeStraw – My go-to company for reusable water bottles with built-in filters so you can ensure your drinking water is always clean and safe.
Unbound Merino – They make lightweight, durable, easy-to-clean travel clothing.
Top Travel Credit Cards – Points are the best way to cut down travel expenses. Here's my favorite point earning credit cards so you can get free travel!
Seattle Travel Guide: Related Articles
Want more info? Check out all the articles I've written on United States travel and continue planning your trip: