Porto is Portugal's second largest city, and the Ribeira district is a world heritage zone of winding streets and churches that maintain the old-world feeling you expect from such a historic city. While Porto lacks the same "wow!" factor of Lisbon, I think it's a beautiful riverside city filled with lots of good food, wine, riverfront cafes, and bed and breakfasts. Moreover, this is the best place to start your trips to the nearby Douro Valley where you can see the regions famous port vineyards!
Top 5 Things to See and Do in Porto
1. Wander the Jardim do Palácio de Cristal
This is a free garden in the center of Porto with stunning landscaping and a high-domed pavilion. There is an avenue of lime trees, a pretty river to wander along, and you might even catch a concert or exhibition at one of the buildings. All in all, a relaxing place to visit!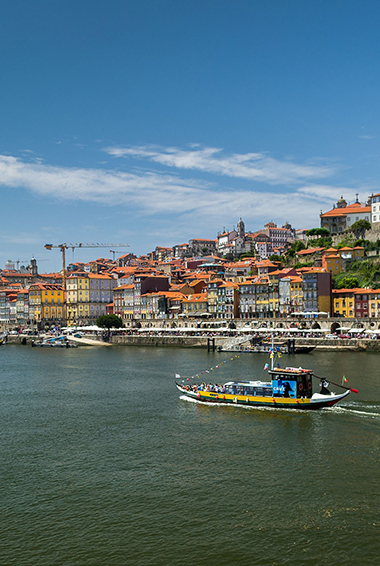 2. Take a boat trip on the Douro River
Take a boat trip up the Douro river, passing under the city's bridges from Porto to Regua. Tow hour tours start at 35 EUR and are a relaxing way to see the city. Bring a bottle of wine for the trip!
3. Drink port at Vila Nova de Gaia
Porto is the home of port wine and a visit here would not be complete without visiting the port wine lodges at Vila Nova de Gaia. You can learn about the history of port and its impact on the city in the Port Wine Museum.
4.Visit the Museu Nacional Soares dos Reis
Another impressive art museum housed in the Neoclassical Palácio das Carrancas. One of the permanent collections is the gallery of works by Portuguese sculptor António Soares dos Reis, after whom the museum is named. Admission is 5 EUR and it's open daily except Mondays from 10am-6pm.
5. Buy a book
If you're running out of vacation reading material, there's no better place to stock up than Porto. This city is home to a renowned, beautiful bookstore: Lello & Irmão. The store features a grand, red-carpeted staircase, stained-glass windows, and a neo-Gothic design. If you love pretty bookstores, you can't miss this one!
Other Things to See and Do
(Click the title to expand the text)
1. Visit the Stock Exchange Palace
Construction began in 1842 and took three decades to complete. The palace and its cathedral showcase the Neoclassical architectural style. You will find lots of commemorations of Prince Henry the Navigator in Portugal and this site is no exception. You can see a statue of the prince of Portugal during 1300s and 1400s. Admission is 8 EUR and it's open 9am-6:30pm with abbreviated hours in the winter.
2. Make a trip to Povoa de Varzim
The village of Povoa de Varzim is a small fishing town situated 30-km north of Porto. There is a newly-renovated casino in the northern end of the village, along with water slides, nightclubs, and beachside cafes. A direct bus ride there costs 2-4 EUR.
3. Listen to live music at Casa da Música
This state of the art concert hall offers a number of performances which include local music and theater. A complete range of classical and jazz events takes place here. Most tickets cost under 25 EUR and some performances are free.
4. See the exhibitions at Fundação Serralves
This is a contemporary art museum and park. The museum does not have any permanent collections, but rather several exhibitions that change throughout the year. The rest of the exhibitions can be found in the pink Art Deco "Casa de Serralves" on the grounds. The museum is open daily except Mondays from 10am-6pm except on the weekends when it closes at 7pm. Admission is 10 EUR.
5. Shop at Mercado do Bolhão
This quirky market is full to bursting with fresh food, including meat, fish, fruit and vegetables and bread. You can also buy flowers and crafts. Its variety makes for a fun morning, even for children.
6. Watch a football match
Pay a visit to Dragão Stadium to take in a football match. FC Porto's fans are some of the most passionate in Europe, and they have huge rivalries with other Portuguese teams. FC Porto has won the World Club Championship and Champions League twice and has also won the UEFA Cup.
7. Get lost in Ribeira
Porto's old town is full of medieval streets, characteristic boats, charming cafés, and neat architecture. Have some lunch, try to get purposefully lost, grab a glass of port, and stay awhile. It's my favorite part of the city!
8. Step inside São Francisco Church
From the outside, it looks like your run of the mill European church. Once inside, however, this Baroque and Gothic-style church will astonish you with its incredibly lavish decoration. Almost every inch of the place is covered in gold. Don't miss it!
Typical Costs
Hostel prices
– A dorm room with 12 beds costs about 9 EUR, while a dorm room with 4-6 beds costs 12 EUR. A double room that sleeps 2 costs around 45 EUR. Hostels tend to come with free linens and free WiFi and many provide free breakfast. Porto has some of the best hostels in the country. It's hard to go wrong here but my suggested place is:
Local art hangs on the wall and weekly dinners bring the hostel together. (The rooms are pretty sweet too!)
Budget hotel prices – You can find a room in a 2-star hotel starting around 32 EUR a night. These rooms have double beds, private bathrooms, free Wifi, and the hotels tend to offer free breakfast. On Airbnb, a shared room in Porto averages around 17 EUR per night, while an entire home averages around 41 EUR per night.
Average cost of food – You can find snacks in bakeries for around 3 EUR. Light meals and sandwiches usually go for around 7 EUR. Fast food (think McDonald's) will go for around the same price (6-7 EUR). If you want to sit-down meal with drinks, you're looking at spending closer to 23 EUR or more per a meal. If you cook your meals, expect to pay 30-35 EUR per week for groceries that will include pasta, vegetables, chicken, and other basic foodstuffs. Prices tend to be higher than in other cities so I would cook more and eat out less here!
Transportation costs – Tickets for Port's public transportation systems costs between 1.20 EUR to 5 EUR, depending on distance. You're allowed to put up to 10 trips on a single ticket on the metro. There are also zone-based day passes starting at 4.15 EUR for the metro and bus. If you want to head to another city in Portugal, expect to pay between 20-40 EUR each way. Buses and trains to Spain (Madrid) will cost you around 40-50 EUR each way.
Suggested daily budget
40-45 EUR / 41-47 USD (Note: This is a suggested budget assuming you're staying in a hostel, eating out a little, cooking most of your meals, and using local transportation. Using the budget tips below, you can always lower this number. However, if you stay in fancier accommodation or eat out more often, expect this to be higher!)
Money Saving Tips
Eat francescinha – These huge, filling sandwiches are a Porto specialty and are a real bargain as they cost around 7 EUR.
Avoid the taxis – Taxis are super expensive in Portugal, often adding fees for luggage and airport pick ups. Simply use the metro or bus system to go where you need to.
Get a metro pass – It's cheaper to get a day ticket than to buy the metro tickets for a single journey. You can also buy the reloadable Viva Viagem card. It costs .50 EUR and can be loaded with 5, 10, or 20 EUR. By using this card you'll receive a discount on all public transportation fees so definitely pick one up if you plan on using a lot of public transit.
Free museum visits – Most museums are free on Sundays. Check the specific museum's website before you go.
Look for alternative accommodation – Because this is such a popular tourist destination, many hotels have raise prices substantially during the summer months. However, many locals rent out apartments or run small guest houses on sites like Airbnb. These can be significantly cheaper or will at least offer you better value for your money.
Couchsurf – If you plan ahead, you can usually find really nice Couchsurfing hosts all throughout the country. This way, you not only have a place to stay, but you'll have a local host that can tell you the best places to go and things to see.
Take a free walking tour – To get a feel for the city and learn some of its history, be sure to take a free walking tour with Porto Walkers. This company offers two free tours per day which start at 10:45am and 3:30pm from Praça da Liberdade. If you're a history buff, this tour is a must!
Save money on rideshares – Uber is way cheaper than taxis and are the best way to get around a city if you don't want to wait for a bus or pay for a taxi. The Uber Pool option is where can you share a ride to get even better savings (though you can get your own car too). You can save $15 off your first Uber ride with this code: jlx6v.
My Must Have Guides For Traveling to Porto