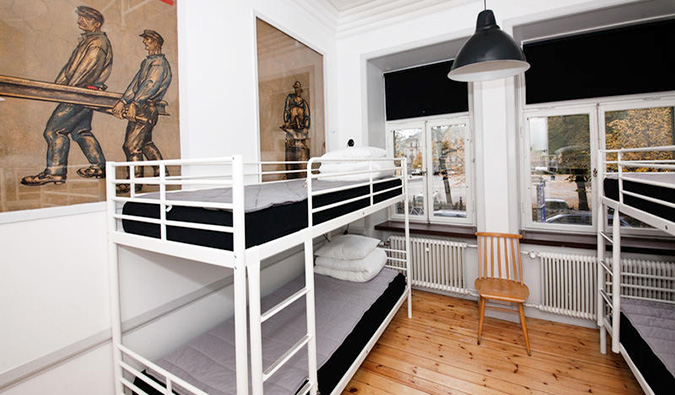 Last Updated: 2/6/23 | February 6th, 2023
I've been staying in hostels in Europe for almost 15 years. I've probably stayed at close to a thousand by now. Some were wonderful; others I couldn't leave quick enough.
Some have stood the test of time while others have long since vanished. The hostel scene is very popular and established in Europe, and the growing "luxury" hostel trend that incorporates more amenities (and higher prices) for travelers.
Hostels today aren't the hostels you found ten years ago. They are way nicer and offer a lot more amenities!
As I've been visiting Europe for so long, I've stayed in dozens upon dozens of hostels around the continent. There are a lot of things to consider when selecting a hostel. The top four when picking the best hostel in Europe are:
Location – Cities in Europe are huge and it can take some time to get around. Pick a place that is central to the sites and nightlife you want to see. All the hostels listed here are in central locations.
Price – In Europe, you really get what you pay for, so if you go with a really cheap one, you're probably going to get a hostel that is small, cramped, and doesn't offer great service.
Amenities – Most hostels offer free Wi-Fi and many include free breakfast, but if you want more than that, be sure to do your research to find the hostel that best meets your needs!
Staff – All the hostels listed here have amazing staff! They are super friendly and knowledgeable. Even if you don't end up staying at one of the places listed below, be sure to look up reviews to ensure you end up somewhere where the staff is helpful and friendly! They can make or break a hostel!
To help you plan your trip, here is my list of the hostels in Europe that I like the most. If you don't want to read the longer list below, the following hostels are the best in each category:
Best Hostel for Budget Travelers: Sophie's Hostel
Best Hostel for Families: Generator
Best Hostel for Solo Female Travelers: Goodnight Hostel
Best Hostel for Digital Nomads: Generator
Best Hostel for Partying: Greg and Tom's
Best Overall Hostel: Kabul or The Flying Pig
Want the specifics of each hostel? Here's my comprehensive list of the best hostels in Europe:
1. Generator Hostels

The Generator is a hostel chain with locations throughout Europe. I've stayed in a few of their locations but Dublin and Copenhagen are my favorites. The hostels have great bars and restaurants, clean showers, comfortable beds, laundry services, and highly competitive rates. My only complaints are that the Wi-Fi is often slow and they charge for breakfast, but having stayed in a few of their locations, I'd surely stay in others. (They also have karaoke at their Copenhagen location.)
Generator Hostels at a glance:
Great place to meet other travelers
Modern, clean design
Lots of common areas for relaxing and mingling
Beds from 22 EUR, privates from 95 EUR. HostelPass members get 10% off
Book Generator Hostel Dublin here!
Book Generator Hostel Copenhagen here!
2. City Backpackers (Stockholm)

I stayed here years ago and recently returned when my tour group was in Stockholm. The place was just as amazing as I remember. They still have a very nice café and an outdoor eating/sitting area. Their beds and pillows are still super cozy and comfortable, plus they have a huge kitchen, common room, sauna, and laundry facilities. And you can't turn a corner without bumping into a public computer. City Backpackers was and still is one of the top hostels in Europe.
City Backpackers at a glance:
Organizes tons of events
Lots of free perks (free coffee/tea, free pasta, free sauna)
Social outdoor patio for relaxing and meeting people
Beds from 23 EUR, privates from 80 EUR.
Book City Backpackers here!
3. St. Christopher's (Barcelona)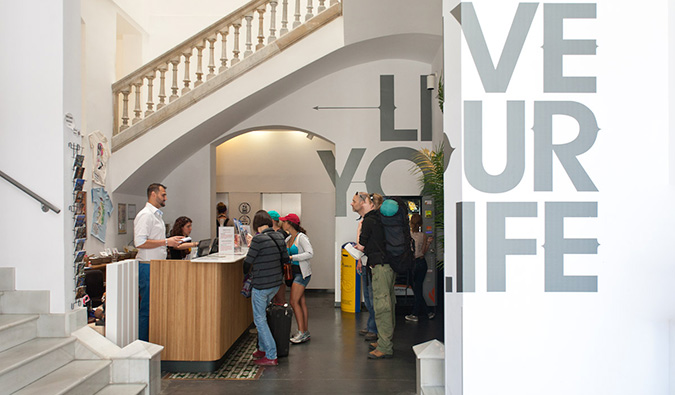 Located right near Barcelona's most famous thoroughfare, La Rambla, everything about this place was brand new when I last visited. I really love the curtains on the dorm beds and the gigantic bar/outdoor area next to the hostel. In general, I really like the St. Christopher's brand. They offer fun, clean, sociable, and modern hostels all over Europe.
St. Christopher's at a glance:
Huge bar/outdoor common area makes it easy to meet people
Fun, social atmosphere
Privacy curtains so you can get a decent sleep
Beds from 23 EUR, privates from 165 EUR.
Book St. Christopher's here!
4. The Flying Pig (Amsterdam)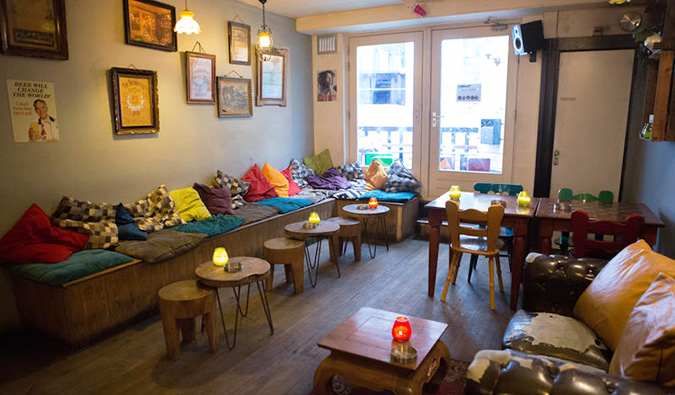 This is still one of my all-time favorite hostels. The facilities here are standard and the price a bit expensive, but I love the atmosphere. While this hostel is popular with travelers looking to chill and smoke, the bar area gets very busy at night with people who don't want to get high. The staff here is what really makes this place special. They hang out with guests, are experts on the city, and are always helpful.
Moreover, this hostel has some of the comfiest beds and fluffiest pillows of any hostel I've ever stayed at. The Flying Pig has three locations in Amsterdam (uptown, downtown, and the new beach location). I prefer the uptown location because it's smaller and easier to meet people.
The folks behind the Flying Pig also run Winston's, another hostel. That place has a great bar and is next to a rock club that showcases a lot of good local musicians. Tell Allen I say "hi!"
The Flying Pig at a glance:
Great place to meet people
Super fun and social atmosphere
Bar on-site
Beds from 37 EUR, privates from 130 EUR.
Book The Flying Pig here!
5. Goodnight Hostel (Lisbon)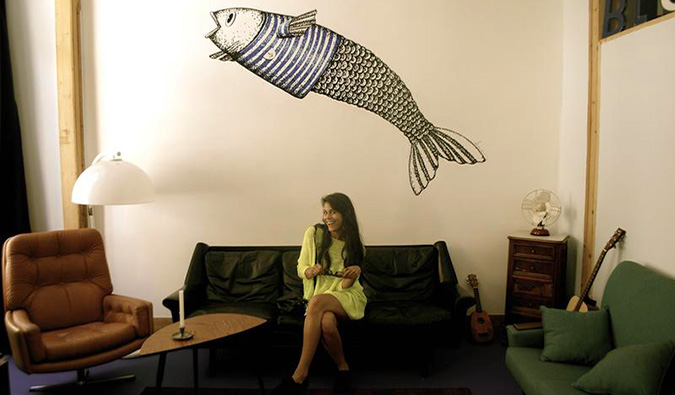 I stumbled across this hostel in Lisbon (mostly because it was super cheap), and I'm really glad I did. Conveniently located downtown, they offer free dinner and sangria and organize nights out. There's a small common area, and the showers had amazing water pressure. This small hostel becomes very intimate and makes it easy to meet fellow travelers.
Goodnight Hostel at a glance:
Organizes lots of activities (pub crawls, walking tours)
Free breakfast
Intimate atmosphere makes it easy to meet people
Beds from 15 EUR, privates from 49 EUR.
Book Goodnight Hostel here!
6. Skanstull (Stockholm)

My second favorite hostel in Stockholm after City Backpackers, this place was remodeled in 2013 and has a brand-new, larger kitchen and common area. They really did a good job, and the kitchen is one of the nicest I've seen in a hostel in a long, long time. The hostel is quite small overall, but that provides a close-knit setting for getting to know other travelers.
Skanstull at a glance:
Huge kitchen for cooking your own meals
Cozy atmosphere (it's a smaller hostel so it's easy to meet people)
Recently renovated so everything is clean and new
Beds from 27 EUR, privates from 44 EUR.
Book Skanstull here!
7. Gallery Hostel (Porto)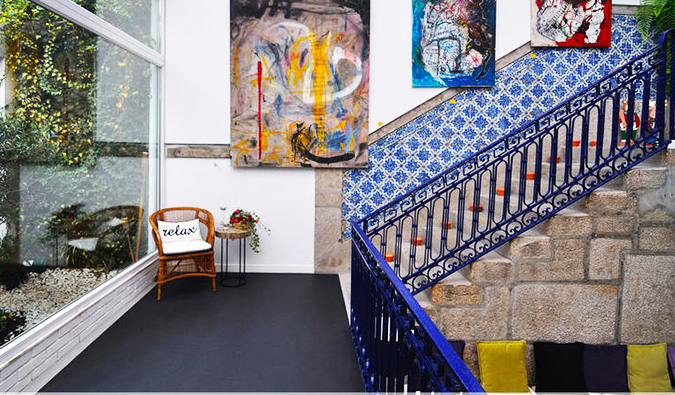 This "luxury" hostel in Porto, Portugal, is probably one of the best I've ever stayed in and is definitely a new addition to my "all-time favorite" list. It's not the cheapest in Porto, but this hostel/art gallery features home-cooked Portuguese food, a backyard, free after-dinner drinks, a game room, and friendly staff committed to making sure everyone gets to know each other. The art on the walls is from local artists and is for sale (for those not traveling on a budget). I loved the nightly dinners they organized the best.
Gallery Hostel at a glance:
Delicious communal meals
Great place to meet people
Free drinks
Beds from 25 EUR.
Book Gallery Hostel here!
8. Hostel Mostel (Bulgaria)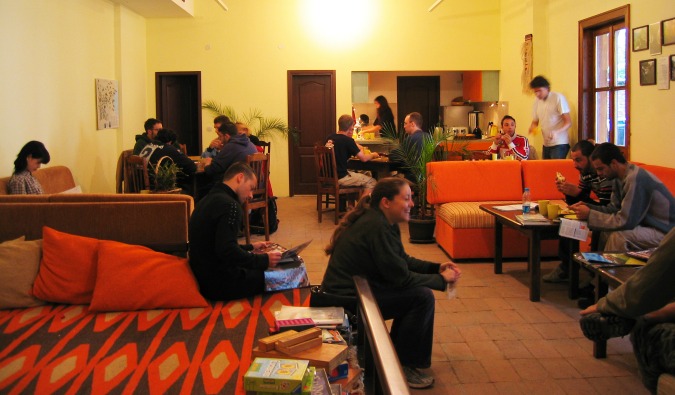 This hostel has locations in three cities in Bulgaria (Sofia, Plovdiv, and Veliko Tarnovo), and they all follow the same principles: comfy beds, free breakfast, free dinner, free beer, free shots, a pool table, and free, fast Wi-Fi. I honestly haven't ever seen a hostel offer so much free stuff to travelers.
Usually everyone stays at all the Hostel Mostel locations, so you run into the same people frequently. I found them booked up a lot, so book in advance if you want to stay here.
Hostel Mostel at a glance:
Social atmosphere so it's easy to meet people
Lots of free perks (free drinks, free breakfast)
Organizes lots of activities
Beds from 7 EUR, privates from 26 EUR.
Book Hostel Mostel Sofia here!
Book Hostel Mostel Veliko Tarnovo here!
9. YellowSquare (Rome)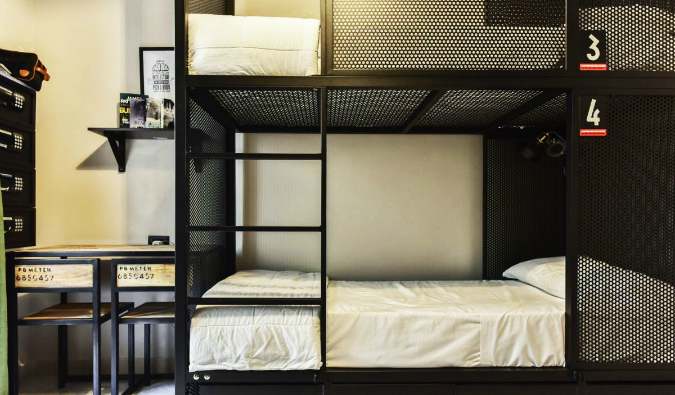 YellowSquare is just a fun hostel. There's no common area, so everyone hangs out in the bar downstairs. People come here to socialize and party. It's a loud hostel in that respect, but since the party is separated from the main area, you don't really hear much in the rooms. They have great security, high water pressure in the showers, comfy beds, and decent enough Wi-Fi. They also run walking tours throughout Rome.
YellowSquare at a glance:
Bar on-site makes it easy to meet people
Party vibe
Organizes lots of activities
Beds from 35 EUR, privates from 107 EUR. HostelPass members get 20% off.
Book YellowSquare here!
10. Central Station (Kiev)

Not so much a hostel as a series of apartments in the same building, Central Station is a true hostel's hostel. It's got gigantic dorm rooms, a few showers, a tiny kitchen, and a little common area. It's mostly the spirit of the place that makes it cool: activities every night, really friendly staff, and that tiny space that forces everyone to socialize and meet each other, not just sit behind their computers.
Central Station at a glance:
Organizes tons of activities
Lively social atmosphere
Super friendly staff make it easy to socialize
Beds from 8 EUR.
Book Central Station here!
Note: As of 2022, there is a war going on in Ukraine. While the hostel is still open, I don't recommend visiting at this time. However, I want to leave the hostel on this list so that when tourism returns we can support the hostel and the country.
11. Greg and Tom's Party Hostel (Krakow)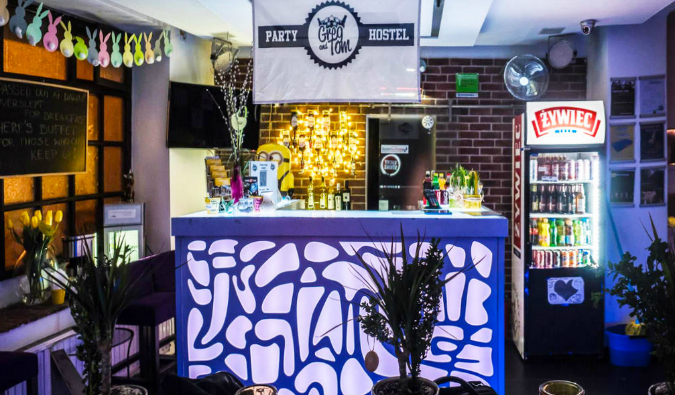 I came here on the strength of a friend's glowing recommendation. What I liked about this hostel was that on the one hand, there's a strong focus on taking full advantage of Krakow's lively nightlife.
On the other hand, they have two separate buildings, so if you want quiet at night, you can stay in the non-party building. They offer free breakfast, they cook you a meal every night (salad, potatoes, pasta, or meat), they have Nintendo Wii and Playstation, and there's a large movie collection. But what I loved the most was the massaging showers. It was the best shower I took in months.
Greg and Tom's Party Hostel at a glance:
Great place to meet people
Lots of free perks (free breakfast, free video games)
Separate building for non-partiers so you can get a good sleep
Beds from 13 EUR.
Book Greg and Tom's here!
12. Kabul (Barcelona)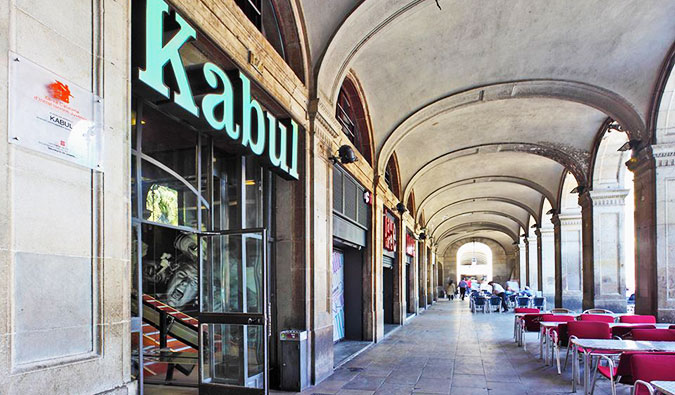 Kabul is tied with The Flying Pig as my favorite hostel in Europe. It attracts travelers who are looking for a good time. This isn't a quiet hostel where people go to bed. If you come to this hostel, be prepared to party.
They have a lively common room area and organize nightly outings. The dorms are very clean, the beds comfy, and the showers have good pressure. But what makes Kabul so wonderful is the downstairs common area. The common area takes up a whole floor of the building and comprises a café, bar, tables, internet kiosks, and a pool table. Here travelers eat, play pool, drink, and hang out – and the people here want to hang out. It's a good hostel for a solo traveler because everyone here wants to make friends. The hostel is booked out weeks in advance, especially during summer, so don't book last minute!
Kabul at a glance:
Lively party atmosphere
Organizes lots of activities
Really easy to meet people
Beds from 23 EUR, privates from 119 EUR.
Book Kabul here!
13. Archi Rossi (Florence)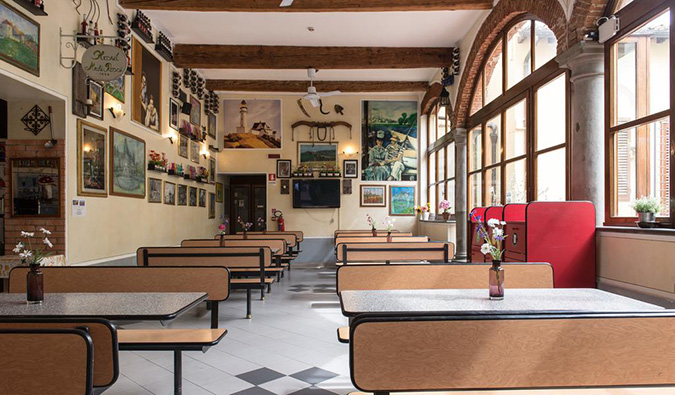 They had me at breakfast. I've never been to a hostel that had a menu for breakfast. You can get eggs, bacon, toast, pancakes – the works. It's not the normal European bread and coffee breakfast that makes me sad in the morning. It's a full-on hearty breakfast! More than the food, the hostel has character. You can sign your name or draw on the wall, their kitchen is the size of a cafeteria, and they have a great outdoor garden where you can kick back with a bottle of wine! And did I mention they have a full breakfast?
Archi Rossi at a glance:
Amazing breakfast
Laid-back outdoor garden for relaxing and mingling
Great place to meet people
Beds from 35 EUR, privates from 120 EUR.
Book Hostel Archi Rossi here!
14. Francesco's (Ios)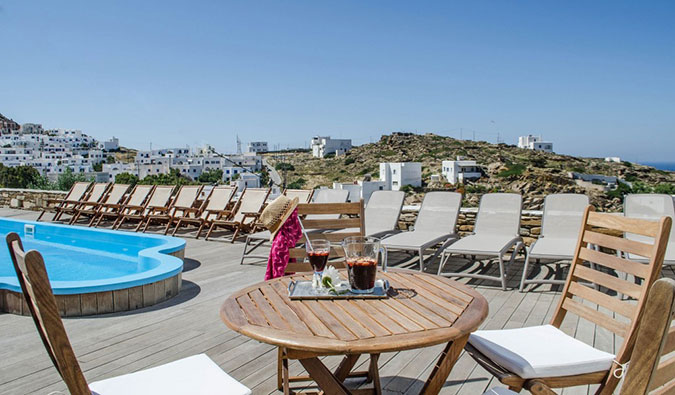 With a view like this, how could you not like this place? There's a pool, kitchen, very clean rooms, and comfy beds. The owners are super friendly and accommodating, the porch area is a great place to make new friends, and every night they have a hostel get together so everyone can meet people (free shot included). They also organize pub crawls (because it's Ios and everyone comes here to party). It's also the most centrally located hostel on the island so it's easy to walk home…even if you've had one too many drinks!
Francesco's at a glance:
Communal events every night
Pool
Convenient location (you can walk everywhere)
Beds from 16 EUR, privates from 30 EUR.
Book Francescos here!
15. Snuffel Backpacker Hostel (Bruges)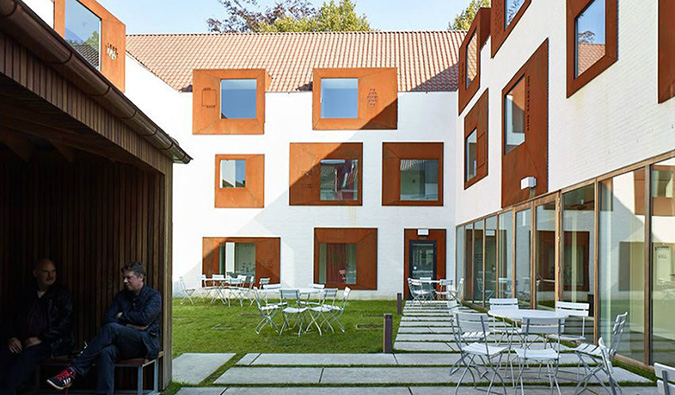 Close to the Bruges city center, this hostel is located in a very old building which means the rooms are small and it's pretty inconvenient to take a shower as you have to go downstairs and then into the back courtyard. However, they have a back courtyard, free wi-fi, an amazing selection of Belgium beers (watch out for the 13% alcohol ones!), and bikes.
Snuffel Backpacker Hostel at a glance:
Convenient location in the city center
Bar on-site makes it easy to socialize
Social backyard courtyard for relaxing and meeting people
Beds from 22 EUR, privates from 63 EUR.
Book Snuffel Backpacker Hostel here!
16. Castle Rock (Edinburgh)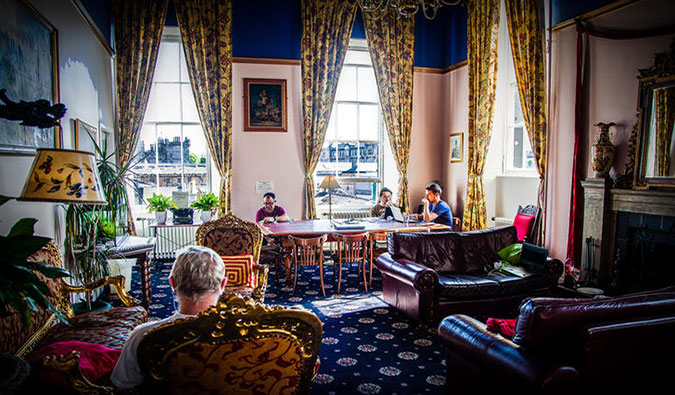 Located near Edinburgh's famous Royal Mile and (you guessed it) the castle, this hostel is gorgeous. The building is old, with beautiful wood interiors, stone staircases, and a very historic royal feel. It's like being in an ancestral family mansion. The common area features pool tables, T.V., newspapers, and free wi-fi. They organize events, dinners, and the staff is really nice.
Castle Rock at a glance:
Organizes tons of events
Spacious common area makes it easy to relax and mingle
Beautiful interior design
Beds from 17 EUR, privates from 82 EUR.
Book Castle Rock here!
17. Sophie's Hostel (Prague)

This more upscale hostel in Prague is one of my favorites. The rooms are quite modern with lovely bathrooms, comfy beds, and incredible water pressure. The bar is always lively, they serve a large breakfast, run lots of events, and the staff is super friendly, helpful, and knowledgeable.
Sophie's at a glance:
Organizes tons of events
Great place to meet people
Delicious breakfast buffet
Beds from 14 EUR, privates from 63 EUR.
Book Sophie's Hostel here!
***
So there you have it: my current favorite list of the best hostels in Europe. Europe has thousands of hostels – and god knows I feel like I've stayed in all of them. But only a few dozen follow the guidelines that make a hostel truly great, going out of their way to provide stellar services and making guests feel welcomed and at home.


Get Your In-Depth Budget Guide to Europe!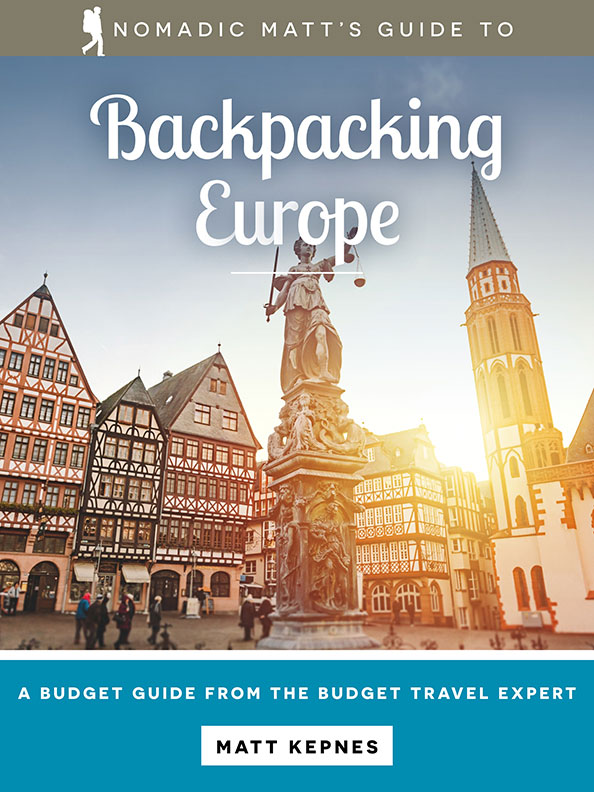 My detailed 200+ page guidebook is made for budget travelers like you! It cuts out the fluff found in other guides and gets straight to the practical information you need to travel while in Europe. It has suggested itineraries, budgets, ways to save money, on and off the beaten path things to see and do, non-touristy restaurants, markets, bars, safety tips, and much more! Click here to learn more and get your copy today.
Book Your Trip to Europe: Logistical Tips and Tricks
Book Your Flight
Use Skyscanner to find a cheap flight. They are my favorite search engine because they search websites and airlines around the globe so you always know no stone is left unturned.
Book Your Accommodation
You can book your hostel with Hostelworld as they have the biggest inventory and best deals. If you want to stay somewhere other than a hostel, use Booking.com as they consistently return the cheapest rates for guesthouses and cheap hotels.
Don't Forget Travel Insurance
Travel insurance will protect you against illness, injury, theft, and cancellations. It's comprehensive protection in case anything goes wrong. I never go on a trip without it as I've had to use it many times in the past. My favorite companies that offer the best service and value are:
Looking for the Best Companies to Save Money With?
Check out my resource page for the best companies to use when you travel. I list all the ones I use to save money when I'm on the road. They will save you money when you travel too.
Want More Information on Europe?
Be sure to visit our robust destination guide on Europe for even more planning tips!
Photo credits:
1 – City Backpackers
,
2 – Generator Hostel
,
3 – City Backpackers
,
4 – St. Christopher's Barcelona
,
5 – Flying Pig
,
6 – Goodnight Hostel
,
7 – Skanstull
,
8 – Gallery Hostel
,
9 – Hostel Mostel
,
10 – Kismet Dao
,
11 – The Yellow
,
12 – Tallinn Backpackers
,
13 – Central Station
,
14 – Greg and Tom's Party Hostel
,
15 – Kabul
,
16 – Archi Rossi
,
17 – Francesco's
,
18 – Snuffel Backpacker Hostel
,
19 – Castle Rock
,
20 – Sophie's Hostel