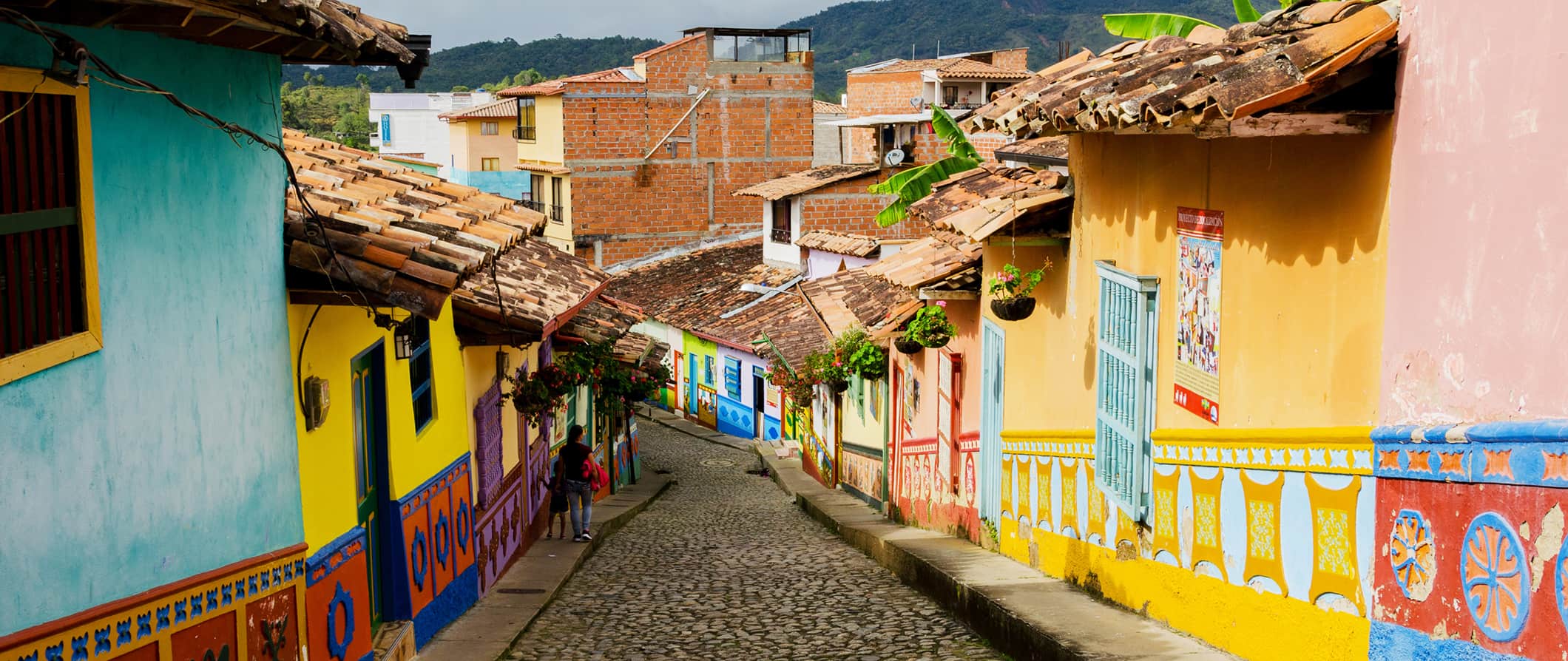 Colombia is fast becoming the highlight of many people's visit to South America: it's the new "it" spot to visit (and, it seems, to move to if you're a digital nomad). Many people now spend weeks backpacking Colombia or vacationing here along the coast.
I loved my time in the country. I had falsely assumed that six weeks would be enough to get a good sense of Colombia. After all, six weeks is a fair amount of time to spend anywhere.
But I was wrong. Given its size and the sheer number of activities, it was barely enough to scratch the surface. (Though I did manage to see a lot more than I thought I would!)
From unbelievable scenery and lush jungles (Colombia is home to 10% of the world's biodiversity), beautiful beaches, salsa dancing, delicious food, the ancient sites of Tierradentro, Lost City, and San Agustín, hip cities like Medellín and Bogotá, Colombia has it all.
I had such high expectations based on what I heard from other travelers, but the country lived up to all the hype. I wish I had more time there, but I guess I just have to come back again.
This comprehensive Colombia travel guide will help you plan your dream trip by giving you all the tips, tricks, and travel hacks you need. From things to do, costs, ways to stay safe, save money, get around, and more – we cover it all!
Top 5 Things to See and Do in Colombia
1. Get lost in Bogotá
Bogotá is Colombia's vibrant capital. The historic downtown, La Candelaria, is filled with bright colonial buildings, museums, restaurants, bars, historic churches, and centuries-old houses. The north end of town is home to boutique hotels and entertainment areas like Zona Rosa and Zona G. The foodie scene in the city is incredible, with a lot of international options and cutting-edge gastronomy.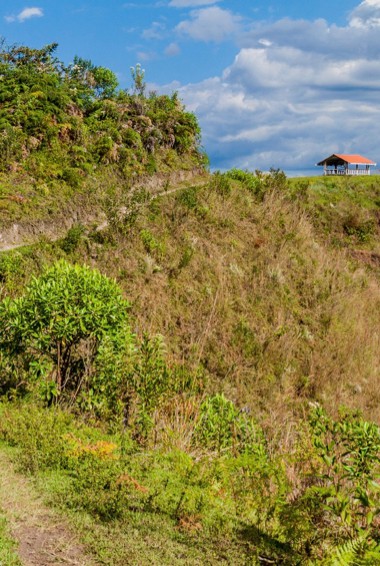 2. Explore Tierradentro National Park
Tierradentro is one of the most important archaeological sites in South America. It contains over 100 underground tombs dating from the 10th century BC and are the only examples of their kind in the Americas. It takes a day or two to hike all the paths around the tombs. Admission is 20,000 COP ($6 USD) for two days.
3. Walk the Corcora Valley
The Cocora Valley is home to Colombia's national tree, the wax palm, which grows to nearly 200 feet tall. This area has probably the most popular day hike in the country. You'll cross jungle rivers, visit a bird sanctuary, and enjoy some stellar views and forest scenery. The route is about five hours.
4. Fall in love with Medellin
Medellín is one of the fastest-growing cities in Colombia. It has enough activities and things to do to fill weeks on end: from microbreweries, museums, walking tours, spacious parks, street art, food tours and markets to incredible nightlife, and on and on and on. I spent a few weeks here. I loved it that much.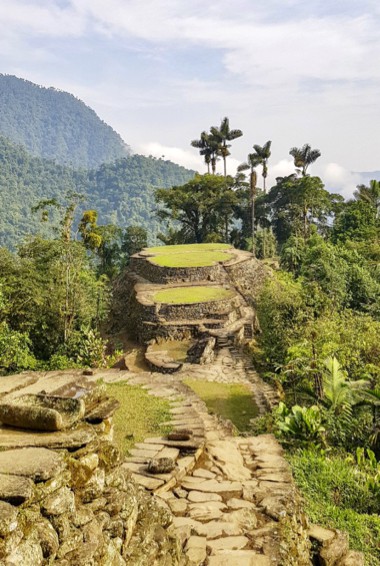 5. Trek to the Lost City
The Lost City was built around 800 CE and contains 169 terraces carved into the mountains. It's one of the most beautiful treks in the country, and the site is older than Machu Picchu! To visit, you need to hire a tour operator (you can't do it by yourself). Treks last 3-6 days and cost between 996,450-1,162,525 COP ($300-350 USD).
Other Things to See and Do in Colombia
1. Journey to Isla Gorgona
Once a prison island, Isla Gorgona is now part of a national park that lies 30 miles (48 kilometers) off the Pacific coast. You're likely to see snakes, bats, monkeys, and sloths and the boat journey also offers many chances to see humpback whales, sharks, and giant sea turtles. The remains of the prison can be seen too. Admission to the park is 31,000 COP ($10 USD) per person.
2. Visit San Agustín
A UNESCO World Heritage Site, San Agustín is a small mountain town that's home to hundreds of pre-Columbian statues and burial mounds. Its collection of religious monuments and megalithic sculptures is the largest in Latin America, for which you'll need at least one full day (two to see it all in depth). Admission to the park is 20,000 COP ($6 USD) per person.
3. Journey into the Amazon
The Amazon basin covers almost one-third of Colombia and is the perfect place to experience the jungle. Leticia is a town bordering Peru and Brazil and is generally considered the hopping off point for the nearby jungle accommodations and indigenous villages on the Amazon River. The regions of Guaviare, Putumayo, and Caqueta are also popular for birding, waterfall hikes, and white water rafting trips. For trekking, most tours involve taking a boat up the river from Leticia and a stop off with an indigenous tribe before arriving at Amacayacu National Park to begin your trek. Prices will vary depending on the duration of your trip but expect to pay at least 150,000 COP ($47 USD).
4. Go diving
Colombia may not be the first place you think of when planning a dive trip, but there are some excellent dive sites in the country. The tropical waters around San Andrés and Providencia are home to a myriad of fish and coral species. Tayrona National Park is an ideal place to go if you're interested in getting up close to some sunken ships, while Gorgona Island is another hotspot for marine life. Close encounters with humpback whales are common around Gorgona Island between August and October, and it's also the only place in Colombia to see whale sharks! Expect to pay around 305,000 COP ($95 USD) for a two-tank dive.
5. Indulge in all the coffee
Colombia is home to some of the world's best coffee, and a tour of a plantation is a great way to find out how your morning brew gets from coffee grain to coffee cup. You can also buy some freshly packed coffee at the end of most tours for a much lower price than at the supermarkets. Salento is the best base for doing coffee tours as its own of the oldest towns in the coffee-growing region. The Finca El Ocaso Salento plantation offers one of the best, most in-depth visits for learning about how the entire process works. Tours start from 20,000 COP ($6 USD).
6. Take in the chaos of Cali
As Colombia's third largest city, Cali is the center of the sugar and coffee industry for the country, as well as being host to a terrific nightlife. This hot, hot city is also the salsa capital of the world. Besides dancing, though, there are several parks, museums, and churches you can visit. Relax in the famous Plaza de los Poetas (Square of the Poets), a park filled with life-like statues of local poets. Visit the Iglesia de la Ermita (Ermita Church), one of the city's most striking pieces of architecture thanks to its 20th-century Gothic styling. Spend time at the Museum of Religious Art La Merced, a museum with different sections devoted to religious art and archaeology. Eat at the restaurants on Ave 9N in Granada, and try some chuleta valluna (a delicious Colombian dish of breaded and marinated fried pork cutlets).
7. Day trip to Popayan
Popayán rivals Cartagena as Colombia's most impressive colonial town. It's known as La Ciudad Blanca ("The White City") because all the buildings are painted white. Popayán is also a college town (there are three universities), and it has produced 17 presidents too! Though small, I really loved the slow pace of life and the surprisingly robust food scene here (eat at La Cosecha Parrillada, Restaurante Italiano y Pizzeria, La Fresa, and Mora de Castilla). While you don't need a lot of time (take the walking tour, climb the hill, see the churches, and you're done), I do suggest staying longer to enjoy the slow pace of life. So much of Colombia is go-go-go; it's nice to find a place that's more "stay and relax a while."
8. Dance and party through Carnival
It may not be Rio de Janeiro, but Colombia has a great Carnival season. Although the Carnival in Barranquilla (which is the largest) takes place in February, January is an equally good time to visit. Pasto and Manizales offer carnivals in the first week of January. The Carnaval de Blanco y Negro in Manizales is a wild few days of revelry — make sure you bring old black and white clothes, as you're certain to get doused in flour, paint, and foam!
9. Do some extreme sports in San Gil
San Gil is considered the outdoors capital of the country. Extreme-sports fans love it here. You can go white-water rafting, paragliding, caving, rappelling, trekking, and more from this city! Prices will vary but expect to pay around 60,000 COP ($19 USD) for paragliding and around 125,000 COP ($40 USD) for white-water rafting.
10. Relax in Tayrona National Park
Located on Colombia's Caribbean coast, Tayrona has long stretches of golden beaches lined with coconut palms and a dense rainforest with lots of easy day hikes. I highly suggest you start early at the big entrance at El Zaino and exit the park through Calabazo. This underused route takes a whole day, and once you pass the Cabo San Juan campground, you'll get the last half of the trail to yourself. Tayrona is also home to over 20 dive sites, including shipwrecks and coral reefs filled with colorful marine life, and two-tank dives are as little as 305,000 COP ($95 USD). For some beach time, head to picturesque Cabo San Juan. At the end of the sandy stretch of beach is a lookout point, topped with a hut of hammocks. Put up your feet and enjoy the view.
11. Head to the Providencia and San Andrés Islands
These islands are actually closer to Nicaragua than Colombia. They are also considered some of the most unspoiled places in the Caribbean. You'll find white-sand beaches, stunningly clear blue water, and few crowds (though, thanks to some recent press, Providencia is becoming a lot busier). Try to make it when tens of thousands of black crabs migrate to the sea. This happens twice a year for about a 1-2-week period between April and July, so it's not always easy to nail the timing.
12. Visit Guatapé
This pueblo is one of the most picturesque towns in Colombia and one of the most colorful in the world, as most of the traditional homes have murals painted on the bottom half of their façades that depict animals, people, and shapes. Just hanging out in one of the bright plazas, drinking coffee and people-watching, is one of the most pleasant things to do here. Most people, though, come to climb the steep (and difficult) staircase to the top of the monolithic Rock of Guatapé (La Piedra) for some of the best views in the country. Guatapé is a long day trip from Medellín (hostels in the city organize them throughout the week), so I recommend trying to spend at least a night here so you aren't as rushed and can enjoy the area little more.
13. Hike in Chingaza National Park
This is one of the biggest nature reserves in Colombia, home to more than 1,000 plant species and 187 bird species. Here you'll learn about the Páramo ecosystem and how it affects the global water system. (Fun fact: Nearly 80% of Bogotá's water supply comes from Chingaza.) If you're going to hike, one of the best routes is the challenging hike to the summit of Lagunas de Siecha.
14. Hike in Minca
Minca is located in the foothills of the Sierra de Santa Marta Mountains. Once a sleepy backpacker town, it's now a hot spot for tourists escaping the oppressive heat on the Caribbean coast and hoping to do some quiet hikes. One of the best hikes is to Los Pinos, but it isn't easy: it takes about three hours from the center of town, and it's a steady climb into the mountains but, like all things like this, it's worth it.
15. Visit Cartagena
Cartagena is one of the most visited destinations in Colombia (thanks to a lot of direct flights and cruise ship visits). The city dates back to 1533, and is famed for its Old Town: a maze of cobbled alleys, flower-covered balconies, and large churches on spacious plazas. But despite the crowds (and there are a lot of crowds), I really enjoyed Cartagena. While there aren't a lot of tourist activities (you can do most of them in a single day), what makes it a wonderful place to visit is just that: it's somewhere you can slow down, relax, and gorge on the phenomenal gastronomy.
Colombia Travel Costs
Accommodation – Most hostel dorm rooms in Colombia cost between 30,000-45,000 COP ($9-14 USD) per night, though in smaller cities and towns you can find them as low 23,048 COP ($7 USD) per night. You can sometimes find them that low in the big cities but the facilities tend to be pretty meh. Private hostel rooms start around 50,000 COP ($15.50 USD), though during the high season and in major metropolitan areas, you'll likely spend double that.
Budget hotels in Colombia start around 60,000 COP ($18 USD) per night. On the coast and in the high season, you'll find most places will be closer to around 120,000 ($36 USD) per night. If you're looking to stay at some of the really lovely boutique hotels the country has to offer, you should expect to pay around 658,533 COP ($200 USD) or more a night.
Airbnb is available in the larger cities, with shared accommodation prices starting around 35,000 COP ($11 USD) per night. For an entire home or apartment, prices start at 90,000 COP ($28 USD) but average closer to 250,000 COP ($78 USD) per night.
There aren't many campgrounds in Colombia, but hostels and guesthouses will sometimes let you pitch a tent on their property, but they'll charge you as much as a dorm bed for the privilege.
Food – A meal at a restaurant serving local food will cost between 10,000-15,000 COP ($3-5 USD) in the major cities and about 5,000-10,000 ($1.50-3 USD) in the countryside. You can also find a lot of cheap food like empanadas for like 200-500 COP ($0.06-0.15 USD) (they make the best snack food). An arepa on the street will be about 3,000 COP ($0.90 USD). Ceviche, which is popular throughout the country, is around 15,000 COP ($4.55 USD).
Most "Western" food will cost about 20,000-30,000 COP ($6-9 USD) each, or 15,000 COP ($4.55 USD) if you get fast food like McDonald's or Subway. You can find some costly food in the country, so prices just go up from that. Beer at the bar can be found for as little as 2,500 COP ($0.75 USD) but, on average, you're likely to pay double that a backpacker bar. Cocktails, which are becoming really popular here, cost around 20,000 COP ($6 USD).
Grocery shopping is very cheap, costing about 110,000 COP ($34 USD) per week if you plan on buying your own groceries. Most hostels have kitchens so you can make yourself breakfast and sandwiches to lower your food costs if you want.
.
Backpacking Colombia Suggested Budgets
If you're backpacking Colombia, expect to spend about 160,000 COP ($48 USD) per day. This is assuming you're staying in a hostel, eating local food, cooking some of your own meals, and using local transportation to get around.
On a mid-range budget of 306,000 COP ($92 USD) per day, you can get two star hotels (or a private Airbnb or hostel room), all the food you want, including a few of the fancy gastronomy the country is getting famous for, some taxis, guided tours, and any museum you want.
If you want to visit the country on a luxury budget, you'll spend at least 329,266 COP ($185 USD) and then go up from there. If you're spending this much money per day, you can really do whatever you want (and, in which case, don't read more. Just go and burn some cash!).
Use the chart below to get some idea of how much you need to budget daily, depending on your travel style. Keep in mind these are daily averages – some days you'll spend more, some days you'll spend less (you might spend less every day). We just want to give you a general idea of how to make your budget. Prices are in USD.
Accommodation
Food
Transportation
Attractions
Average Daily Cost
Backpacker
$18
$12
$5
$13
$38
Mid-Range
$30
$30
$12
$20
$92
Luxury
$75
$45
$25
$40
$185+
Colombia Travel Guide: Money Saving Tips
Colombia is already pretty cheap. Accommodation is inexpensive unless you are staying at major hotels chains. Hostels are cheap (especially when you leave the big cities), and there are a lot of great value local hotels throughout the country. There are a ton of markets with cheap food. Local attractions are cheap. Buses are cheap. If you travel as your average Colombian lives, you'll be hard pressed to spend a lot.
But if you're looking to save money in Colombia, here are a few hacks to cut down your costs:
Eat like locals – It's easy to eat on a budget here if you stick to local Colombian food. You can also find a lot of cheap food like empanadas for like 200-500 COP ($0.06-0.15 USD) (they make the best snack food). An arepa on the street will be about 3,000 COP ($0.90 USD). Ceviche, which is popular throughout the country, is around 15,000 COP ($4.55 USD). In the countryside, you can find meals closer to 10,000 COP ($3 USD)! In short: eat local, eat cheap. Sure, Colombian food isn't the healthiest (it's heavy on meat and fried food), but it is filling and inexpensive.
Skip the cocktails – Colombia has a lot of awesome cocktail bars now — especially in Medellín — but these drinks are expensive, usually costing around 20,000 COP ($6 USD) (sometimes up to 30,000 COP, or $9 USD). I mean, that's crazy, especially when a beer will cost you around 4,000 COP ($1.25 USD). If you're on a budget, you should skip the cocktails and stick to beer.
Cook your food – While local food is really cheap, you can also save some money by grocery shopping, although I didn't find it to be a great value. It cost me 50,568 COP ($15 USD) for three days of food (plus, the hostels had terrible cooking facilities). If you do shop, I recommend getting breakfast food or snacks and eating meals out. You get more bang for your buck that way.
Avoid the hostels on the Caribbean coast – The hostels on the Caribbean coast were pretty lackluster. They were expensive and didn't have great facilities, especially the bigger "resort" ones in beachside towns like Palomino. Instead, you can find comparatively cheap budget hotels on Booking.com for less than a private room and only slightly more than a dorm bed.
Avoid Gringolands – Everything where the gringos are is double the normal price. Avoid staying in areas with lots of tourists and expats, like Poblado in Medellín, Cartagena's Old Town, or Park 93 in Bogotá, since you'll end up paying more for everything.
Couchsurf – Nothing's cheaper than free. Couchsurfing connects you with locals who will not only give you a free place to stay but also serve as a local tour guide and introduce you to the cool stuff only locals know about in town! You'll find the most hosts in college towns and big cities.
Fly Viva Air – If you're planning to fly around Colombia, the best deals are on Viva Air. It has the cheapest fares in the country (though it flies to the fewest places). It's best to book a few weeks in advance. (LAN and Avianca, the two major carriers, also have deals sometimes.)
Use miles and points – You can use your miles on both LAN (part of Oneworld) and Avianca (part of Star Alliance). There are also a lot of hotel chains for which you can use points. If you have miles and/or points, you can burn through a lot of them in Colombia — and the redemption rates are excellent too!
Avoid the airline surcharge – Non-Colombians are charged higher ticket prices than locals. If you look at the non-local version of the website, you won't see the super saver cheap fares. To get around this, load up the local Spanish versions of an airlines' websites. Then use your browser extension to translate the pages and book away! You'll see the lower, Colombian prices, and no one will challenge you at check-in about your ticket fare.
Take Uber – Uber is by far the cheapest way to get around Bogotá, Cali, and Medellín. It's about 1/3 as much as taxis. (Note: Uber is actually illegal, so don't sit in the back seat or you might get stopped.) I also like to tip the Uber drivers here, since the fares are so cheap and they are taking a risk. But all the drivers I met did this out of necessity — they couldn't pay their bills if it weren't for Uber.
Haggle with taxi drivers – There are no meters in Colombia. While prices from the airports are regulated and non-negotiable, everything else is just a matter of your bargaining skills. If you're going to take taxis, haggle before you get in the car.
Take free walking tours – Most major and medium-sized cities in Colombia have free walking tours. They are a good way to see the city on a budget and learn by asking your guide questions. My favorites include Free Walking Tour Cartagena, Free Walking Tour Bogotá, and Real City Tours Medellin.
Where To Stay in Colombia
Here are some of my favorite places to stay in Colombia:
How to Get Around Colombia
Public Transportation – Local transportation is cheap. The metro in Medellín is only around 2,500 COP ($0.76 USD) for a one-way fare. Local buses are the most common type of transportation in towns and cities. The fare is usually between 1,000-2,5000 COP ($0.30-0.80 USD).
Taxis are everywhere, and they're very cheap. Most fares shouldn't cost you more than 20,000 COP ($6 USD). In the larger cities, taxis are metered – but fares are fixed in the smaller towns. You can use apps like Tappsi or Easy Taxi to ensure you get a reliable taxi service.
Uber (a ridesharing service) is way cheaper than taxis, and you can pretty much get anywhere for around 16,463 COP ($5 USD). You can save $15 off your first Uber ride with this code: jlx6v.
Colectivo – A colectivo in Colombia is a minibus, a shared taxi, or a large Jeep (and really, anything else that will get you around). These are run by private owners and are used mostly for short journeys between towns, and you will have to negotiate the price ahead of time. Since they're faster and more direct than regular buses, they're also about 30% more expensive.
It's very common for travelers to use a colectivo. Drivers will usually yell out destinations as they pass on the streets, or they'll approach you to see if you're going their way. It's easy!
Bus – Intercity buses are the best way to get around Colombia. A bus from Bogotá to Medellín will cost around 65,000 COP ($20 USD) while a bus to Quito, Ecuador from Bogotá will cost around 175,000 COP ($54 USD). Medellín to Manizales is 42,000 COP ($12.75 USD) and Salento to Cali is about 27,000 COP ($8.20 USD). On average, you'll probably spend 20,000-40,000 ($6-12 USD) for a bus, more if you're going over 9 hours.
Companies like Bolivariano, Expreso Palmira, and Trejos are all good companies, and they make it easy to research schedules and fares on their websites.
Flying – Budget airlines are often cheaper than buses in Colombia, so make sure to search for flights first. VivaColombia is a Ryan Air equivalent, with super cheap online deals and strict luggage restrictions. A flight from Bogotá to Medellín, for example, can be found for as little as 115,000 COP ($36 USD).
Train – There are no trains in Colombia.
Hitchhike – Do not hitchhike in Colombia!
When to Go to Colombia
Colombia's location near the equator keeps the climate pretty consistent throughout the year, with average daily temperatures being around 75°F (24°C) near the coast and 45–63°F (7–17°C) at higher elevations.
The peak season for tourism is from December to March, as well as the week before Easter (Semana Santa). Prices are most expensive during this time, but the country overall is fairly dry. If you've come to have fun, time your visit for the Carnival in Barranquilla, which takes place every February. This is the biggest Carnival, but Pasto and Manizales also both have carnivals in the first week of January.
Rainy season varies per region. In the mountainous Andean area, there are two dry and two wet seasons annually. The driest months occur from December-March and then July-August. In Southern Colombia, rainfall is more frequent, but the showers never last for long.
If you're planning on doing a bit of everything in Colombia – from hiking in the mountains to lounging on beaches and visiting ruins – December to March is definitely the best time to visit so you can take advantage of ideal conditions all across the country. Just be prepared for heavier tourism!
How to Stay Safe in Colombia
Colombia requires a lot of caution. On the whole, it's generally safe and you're not going to get kidnapped or anything. But there is still a lot of petty crime in the country, especially at night. Even locals will warn you about it.
Petty crime is common. Don't flash around your valuables. There's even a local expression about it in Colombia: "No dar papaya" (Don't give papaya). Essentially, it means that you shouldn't have something "sweet" out in the open (a phone, computer, watch, etc.) that would make you a target. Keep your valuables hidden, don't wander around places you shouldn't at night, don't flash money around, avoid coming out of nightlife spots alone at night, etc. Simply put: Don't put yourself in a position where people can take advantage of you.
Because of the current situation in Venezuela, it's a good idea to avoid the border towns of Cúcuta and Maicao.
Do not do drugs here. You're going to get a lot of offers but don't be one of those people. First, it's a huge insult to Colombians, who are trying to shed their drug-related past and don't want to be associated with the drug. Second, it's still illegal (although small amounts of cocaine and marijuana are decriminalized). Third, there's a lot of violence associated with it, and you can end up in some bad situations. Don't do drugs here.
Always trust your gut instinct. If a taxi driver seems shady, stop the cab and get out. If your hotel is seedier than you thought, get out of there. Make copies of your personal documents, including your passport and ID.
If you don't do it at home, definitely don't do it when you're in Colombia.
For more in-depth coverage of how to stay safe in Colombia, check out this post we wrote that answers some frequently asked questions and concerns.
The most important piece of advice I can offer is to purchase good travel insurance. Travel insurance will protect you against illness, injury, theft, and cancellations. It's comprehensive protection in case anything goes wrong. I never go on a trip without it as I've had to use it many times in the past. You can use the widget below to find the policy right for you: