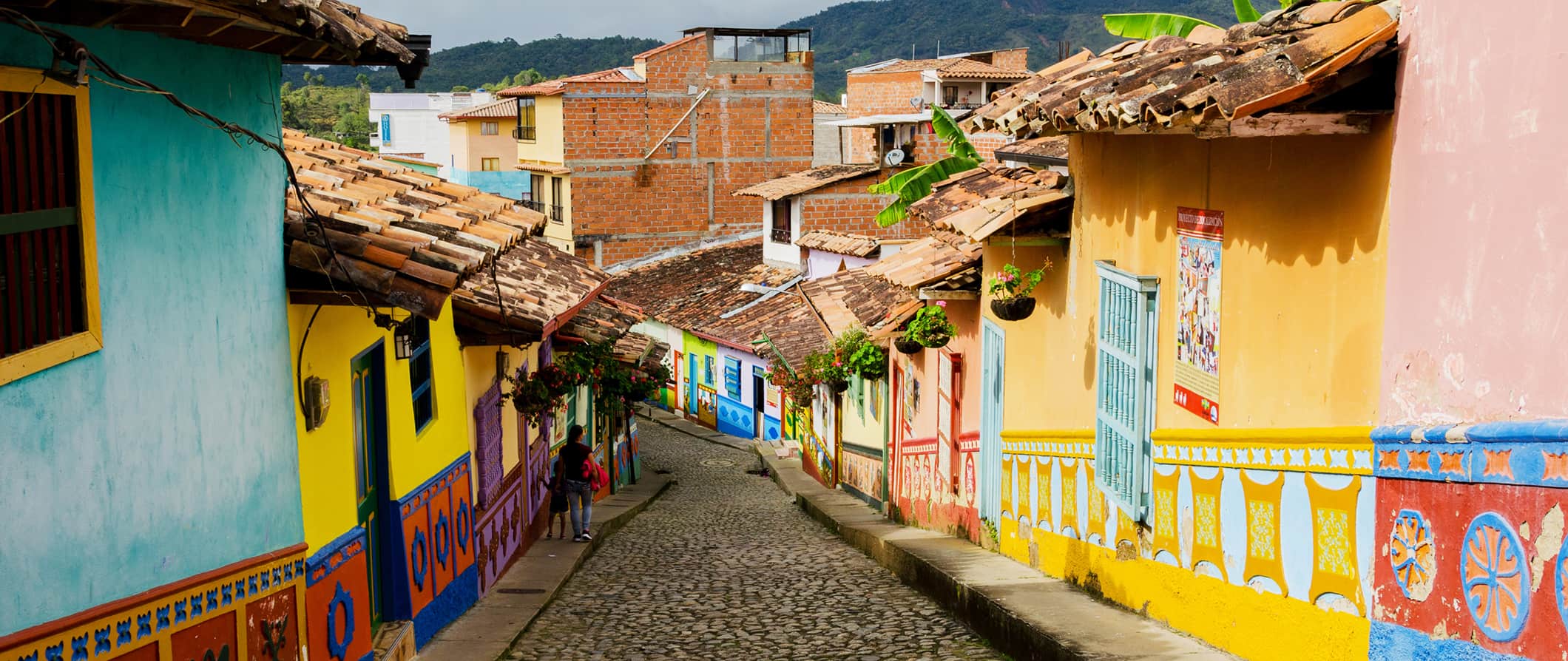 Colombia is South America's second most populated country and it is home to an astonishing 10% of the world's biodiversity. The country is emerging from the dark shadow of its reputation for kidnapping and drugs to become the highlight of many people's visits to South America. It's the new "it" spot to visit (and move to). Fans of history and archaeology will enjoy Bogota's many museums but will be truly impressed by the Tierradentro, Lost City, and San Agustín sites. Beyond the history, you can also find beautiful beaches, wild dancing, delicious food, and great nightlife in Colombia. You can use the travel tips here to plan your dream trip. Don't let the media fool you — Colombia is amazing!
Top 5 Things to See and Do in Colombia
1. Get lost in Bogotá
Colombia's capital is a mishmash of architecture: skyscrapers tower over intricate churches and cafe-lined plazas. Bogotá also has excellent museums with free entry on Sundays (be sure to see the Museo del Oro, one of the world's largest collections of gold). Take in incredible nightlife that goes late into the morning. Eat delicious food. No matter what you're into, you'll find it here!
2. Explore Tierradentro National Park
Designated as a UNESCO World Heritage Site, Tierradentro boasts two museums. One displays archaeological finds and the other is an ethnological museum. The main draw here is the 78 open burial tombs and accompanying paintings and sculptures. Admission is 20,000 COP for two days.
3. Walk the old town of Cartagena
Competing with Medellin for the title of Colombia's prettiest city is Cartagena, one of the country's fashionable seaside resorts. The cobbled streets of the Old Town are lined with balconies and have an old Spanish colonial feel to them.
4. Fall in love with Medellin
Medellin
is the second largest city in the country and is regularly revered as one of the most beautiful places in South America. Though it has a sordid past with drugs, the city is now a popular place for salsa and expats. It has totally changed its image and is now one of the top "it" places to visit in the world.
5. Trek to the Lost City (Ciudad Perdida)
Discovered in 1972, Ciuadad Perdida is the remains of an ancient city lying in the Sierra Nevada region of Colombia. Visitors make the lengthy trip through the jungle to see the 169 terraces built into the mountainside. A 6-day trek will cost around 850,000 COP per person (though if you speak Spanish you can potentially bargain lower.)
Other Things to See and Do
(Click the title to expand the text)
1. Journey to Isla Gorgona
Once a prison island, Isla Gorgona is now part of a national park which lies 48km from the Pacific coast. You're likely to see snakes, bats, monkeys, and sloths when you get here, but the boat journey offers many chances to see humpback whales, sharks, and giant sea turtles. The remains of the prison are also pretty cool. Admission to the park is 31,000 COP per person.
2. Visit San Agustín
The site is famous for its huge stone sculptures dating back to 100 and 1200 CE, some of which are over 3,200ft tall and weigh tons. The site was declared a World Heritage Site in 1995. Admission to the park is 20,000 COP per person.
3. Journey into the Amazon
The Amazon basin covers almost one-third of Colombia and is the perfect place to do some jungle trekking. Most tours involve taking a boat up the river and a stop off with an indigenous tribe before arriving at Amacayacu National Park to begin your trek. Prices will vary depending on the duration of your trip, but expect to pay at least 150,000 COP.
4. Go diving
Colombia may not be the first place you think of when planning a dive trip but there are some top-class sites in the country. The tropical waters tropical waters around San Andrés and Providencia are home to a myriad of fish and coral species. Expect to pay around 305,000 COP for a two-tank dive.
5. Drink coffee
Colombia is home to some of the world's best coffee and a tour of a plantation is a great way to find out how your morning brew gets from coffee grain to coffee cup. You can also buy some freshly-packed coffee at the end of most tours for a much cheaper price than at the supermarkets.
6. Take in the chaos of Cali
As Colombia's third largest city, Cali is the center of the sugar and coffee industry for the country, as well as being host to a terrific nightlife. It's a wild and bustling city that serves as a popular vacation spot for people in the country.
7. Day trip to Popayan
This tiny town is tucked into a beautiful valley and is one of the most culturally rich colonial towns in all of the country. It has been fully restored and is considered a national monument.
8. Go rural in Panaca
In this huge park you can learn how to milk a cow, ride horses, feed goats, and more. There are acrobatic shows as well as a rodeo, shops, and restaurants. It's a good family destination with lots of kid-friendly activities.
9. Dance and party through Carnival
It may not be Rio de Janeiro, but Colombia has a great Carnival season. Although the Carnival in Barranquilla (which is the largest) takes place in February, January is an equally good time to visit. Pasto and Manizales offer carnivals in the first week of January. The Carnaval de Blanco y Negro in Manizales is a wild few days of revelry — make sure you bring old black and white clothes, as you're certain to get doused in flour, paint, and foam!
10. Get extreme in San Gil
This is the outdoor capital of the country. Come here for paragliding, caving, trekking, rappelling, and white-water rafting. Prices will vary, but expect to pay around 60,000 COP for paragliding and around 125,000 COP for white-water rafting.