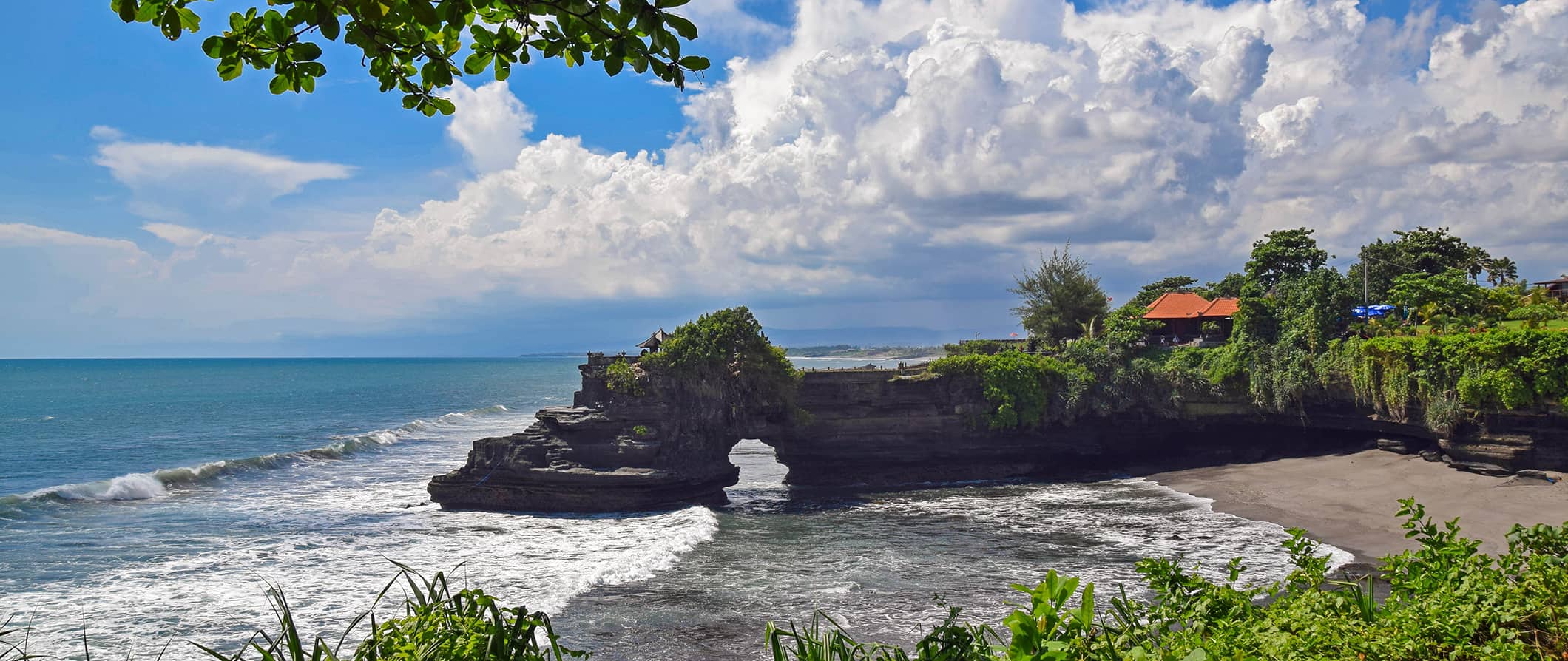 Bali is one of the most popular destinations in Indonesia, and there is a good reason why. Simply put, it's amazing. If it had better internet, I would live there in a heartbeat! The countryside is beautiful, the beaches (outside of Kuta) are picture perfect, there is great hiking, friendly locals, world-class dining, and it's inexpensive. Bali is the total package. There's a reason why so many people go here and never leave. I spent a month exploring this island and would happily go back and explore it again. If you are considering going here, just pull the trigger and go — you won't regret it. And once you leave the touristy southeast corner of the island, you won't be bothered with crowds of tourist who never venture past their bars and spas in Ubud and Kuta! This guide will show you how to make the most of your visit.
Top 5 Things to See and Do in Bali
1. Dip into some hot springs
There are several on the island. It is incredibly energizing to sit in these natural pools while you take in the lush, beautiful landscape all around you. In the northeastern mountains, there are some on the shores of Lake Batur. Another good spot is Air Banjar, which is located on the northern coast of the island near Lovina.
2. Visit a Hindu temple
The island of Bali is covered in temples. There are at least three to every city and they are considered to be the best-known attractions. The most prominent temples are the nine directional temples and The Mother Temple.
3. Take a trip to Nusa Lembongan
Located right off the coast of Bali, this little island is a good alternative to the craziness that is Bali. The beaches aren't great here but the surfing is really good, with some of the best breaks in Bali. The diving is also great here and it's cheaper than the mainland.
4. Learn about Balinese Culture in Ubud
Ubud is the second most popular tourist area but is still the best place to learn about Balinese culture. There are a number of beautiful temples, numerous historical sites, dance shows, and some of the best food on the island.
Here's an example of Balinese dancing
.
5. Hike Mount Batur
Many travelers hike up this 1,700m volcano for the sweeping vistas and stunning sunrise it offers. The climb only takes a couple hours, and there are plenty of guides available to lead the way. Expect to pay between 300,000-400,000 IDR for a guide, though you can share one amongst a small group.
Other Things to See and Do
(Click the title to expand the text)
1. Try some adventure sports
There are tons of adventurous activities to do. You can go bungee jumping, paragliding, hiking, mountain cycling, horseback riding, jungle trekking, and even treetop zip-lining. Prices will vary, though they are all quite affordable. Bungee jumping, for example, is just under 1,000,000 IDR while a tandem paraglide is around 1,300,000 IDR.
2. Scuba diving and snorkeling
While snorkeling is always an option here, Bali is most popular for its phenomenal dive spots. The reefs here are beautiful and there is an amazing variety of fish to see. The wreck of a US cargo ship, Liberty, is a highly recommended spot. Prices will vary, but expect to pay at least 2,000,000 IDR for a two-tank dive.
3. Visit the spa
Bali is the perfect place to re-energize, by pampering yourself and releasing bottled up stress and tension. Balinese massage is one of the most relaxing in the world, and there are a number of Balinese spa treatments which involve the use of various herbs and spices. Prices vary depending on what you purchase but expect to pay at least 275,000 IDR for a treatment.
4. Party in Kuta
Kuta is kind of like the Tijuana of Bali. The streets are narrow here and there are hundreds of stalls selling faux-brand ripoffs and novelty souvenirs. There are plenty of hostels and lots of bars that cater to the younger, backpacker set. If you're looking to party, this is the best spot on the island to do so. Personally, I hate Kuta and think there are a lot of better places on the island.
5. Go dolphin watching
There are various companies that offer sunrise boat trips — and you are likely to hear about them at every hotel you stay in. It's about a two-hour excursion and it's best to get a ticket the day before. Expect to pay around 800,000 IDR for adults and 560,000 IDR for kids.
6. Watch the monkeys
In Ubud, you can also visit the Ubud Monkey Forest, a nature reserve and sacred area with temples. It's very touristy, and a lot of people break the rules and feed the monkeys, which teaches them bad habits so don't do that! Still, it's exciting to watch all of the long-tailed macaques running around and playing with each other. Admission is 40,000 IDR for adults.
7. Watch a Buffalo Race
Chances are, after a few days in Bali, you will have seen the water buffalo working in the various fields. In Negara, locals riding chariots race buffaloes every second Sunday from July to October. Negara is a bit out of the way and the races take place at 7am, so you probably should arrange accommodation for the night before.
8. Visit the Mother Temple
Pura Besakih is a temple located on the sacred Mount Agung, an active volcano. The climb will take several hours, and most people arrange this as a tour since you need a vehicle to reach the trailhead. Prices start around 400,000 IDR per person. Since it is a holy mountain, climbing can be off limits during certain times of the year.
9. Stretch it out
There are tons of world-class yoga retreat centers all around Bali, offering both single classes and multi-day retreats. If you need to relax, destress, and stay healthy this is a great place to do it!
Typical Costs
Accommodation
– Cheap guesthouses and hostels usually cost around 120,000-200,000 IDR per night. Most hostels do not offer private rooms, though free WiFi and free breakfast are generally included. You can book your hostel with
Hostelworld
. Bali has some of the most expensive hotels in the world, many costing over 13,000,000 IDR per night. If you are looking for budget hotel, expect to pay around 300,000-700,000 IDR per night for a double room. This will generally include free WiFi and breakfast. For a hotel with a pool, expect to spend at least 550,000 IDR per night. Use
Booking.com
as they consistently return the cheapest rates.
Airbnb
is available in the area, with prices starting around 150,000 IDR per night for a shared room. If you want to book an entire home or apartment, expect prices to start at 350,000 IDR per night.
Food – Local food is extremely cheap, usually under 10,000 IDR for street food. A basic local meal will cost closer to 15,000 IDR. Western food is a lot more expensive but is still affordable at around 125,000 IDR. Fast food will cost around 60,000 IDR while a beer at the bar will be around 23,000 IDR. A bottle of water will be under 5,000 IDR. If you plan on cooking your own meals, a week's worth of groceries will cost between 275,000-400,000 IDR. Be sure to stick to local food items, as imported foods like wine, cheese, chicken, and beef are super expensive. Buying them often will ruin your budget.
Transportation – Transportation around Bali is very cheap. You can get taxis for around 65,000 IDR and private mini vans across the island for around 200,000 IDR. Flights from Bali to most of Asia and Australia can be found for as little as 1,000,000 IDR, one way. Scooter rentals are available around the island for as little as 135,000 IDR. Bicycles are also available for rent, usually costing around 60,000 IDR per day for a basic bike.
Activities – Most people on Bali go surfing, visiting a dancing show, or go hike a few mountains. Most of these activities cost between 135,000-350,000 IDR. The famous Mt. Batur hike costs between 300,000-800,000 IDR depending on the company you go with (you can usually split this cost up amongst a small group). Diving, bungee jumping, and paragliding will cost between 1,000,000-2,000,000 IDR per person, per activity. A guided visit to the Mother Temple will cost between 400,000-1,000,000 IDR. Yoga retreats start at 400,000 IDR.
Suggested daily budget
500,000-700,000 IDR / 40-50 USD (Note: This is a suggested budget assuming you're staying in a hostel, eating out at the cheaper restaurants, cooking some of your meals (if you can), doing a few activities, and using local transportation. Using the budget tips below, you can always lower this number but nicer accommodation, spa days, or some of the fancier restaurants, can drive your daily budget up!)
Money Saving Tips
Eat the local food – You can pick up tasty local fare for around 7,000 IDR. Stay far away from the western restaurants if you want to save money and experience the local cuisine!
Bargain – Nothing is ever at face value in Indonesia. Bargain hard and bargain often. Don't ever pay the first price you were quoted.
Head north – The southern area of Bali (Kuta, Ubud, Seminyak, etc) is the most popular and most expensive part of the island. If you head to the beaches in the north or northeast part of Bali, you'll find that prices are about half the cost and you'll be able to find better deals on accommodation.
Save money on rideshares – Uber is way cheaper than taxis and are the best way to get around a city if you don't want to wait for a bus or pay for a taxi. The Uber Pool option is where can you share a ride to get even better savings (though you can get your own car too). You can save $15 off your first Uber ride with this code: jlx6v.
My Must Have Guides For Traveling to Bali
Photo credits: 2