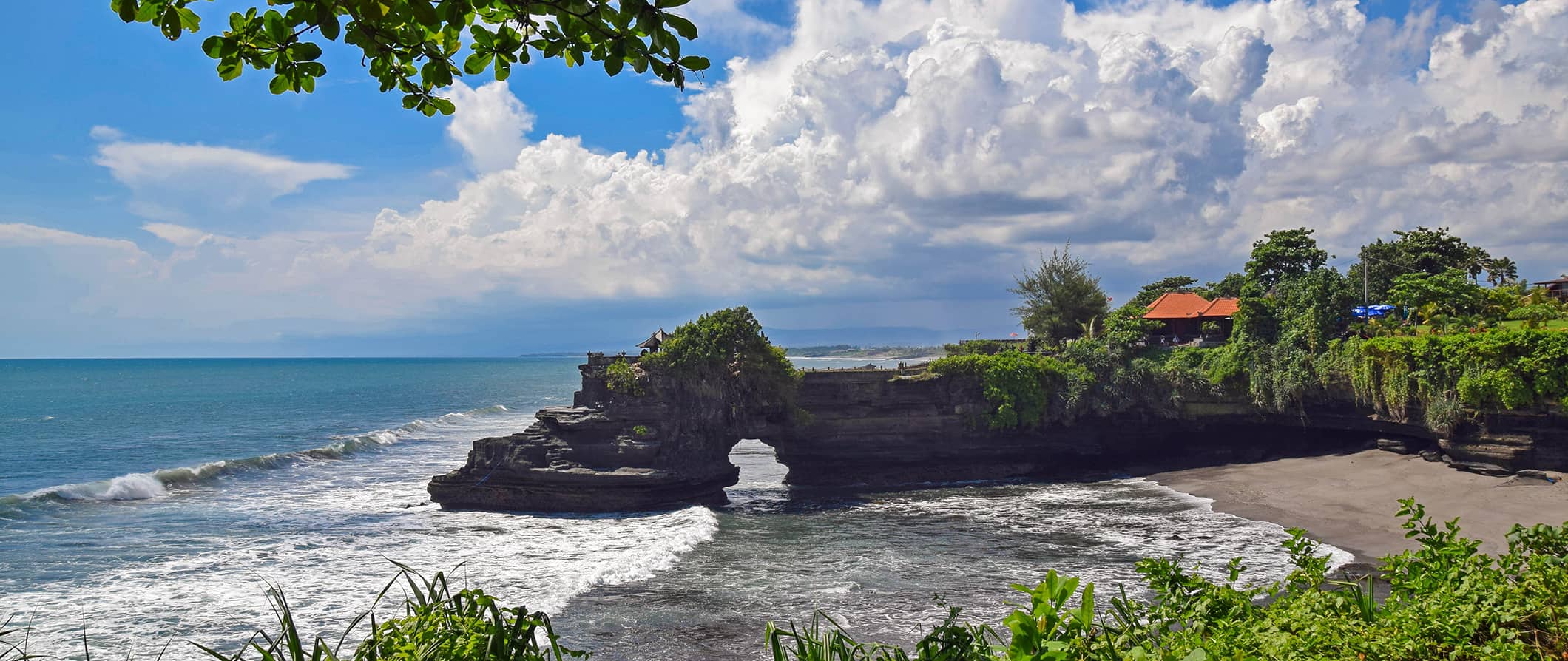 Bali is a budget backpacker paradise. It's one of the most popular destinations in Indonesia and a hub for travelers, yoga lovers, honeymooners, and digital nomads alike.
Not only does it cater to the budget-savvy vagabond, but the island offers plenty of options for the more affluent traveler as well.
While visiting Bali has become clichéd (many people visit to have an "Eat, Pray, Love" experience), I still find the island to be beautiful, budget-friendly, and full of things to do. The countryside is beautiful, the beaches (outside of Kuta) are picture perfect, there is great hiking, friendly locals, world-class dining, and it's inexpensive.
I spent a month exploring the island and would happily go back and explore it again.
The trick to traveling Bali is to get away from Ubud and Kuta. Once you do so, you find a much calmer, cheaper, and less-busy island worth exploring where the touts don't bother you and the empty beaches are yours to enjoy.
This travel guide to Bali can help you make the most of your visit, save money, get off the beaten path, and have the trip of a lifetime!
Top 5 Things to See and Do in Bali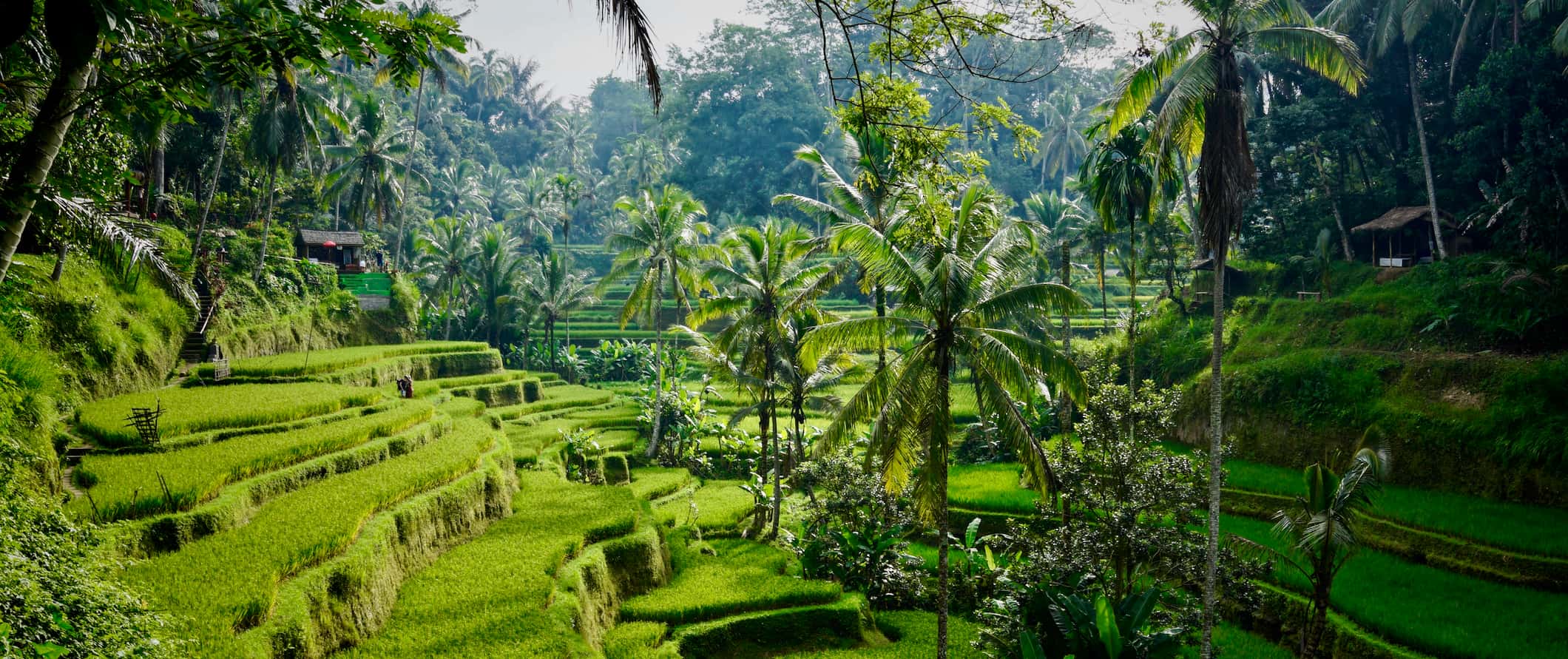 1. Go scuba diving
While snorkeling is always an option here, Bali is best known for its phenomenal dive spots. The reefs here are beautiful and there is an amazing variety of fish to see. The wreck of a US cargo ship, Liberty, is a highly recommended spot, as is Manta Point off Nusa Penida. Mola mola (ocean sunfish) season runs from July to October and is also very popular with divers. Prices vary depending on the dive site location and where you're staying, but expect to pay at least 1,500,000 IDR for a two-tank dive.
2. Visit a Hindu temple
The island of Bali is covered in temples. There are at least three in every city and they are considered to be the most iconic attractions. The most prominent temples are the nine directional temples (built for pilgrimages and which allow tourist entry except to the inner sanctum) and the Besakih Temple (Mother Temple) to the east of the island. Mother Temple is a huge temple complex located on the sacred Mount Agung, an active volcano. The climb takes several hours, and most people arrange this as a tour since you need a vehicle to reach the trailhead. Prices start around 320,000 IDR per person. Since it is a holy mountain, climbing can be off-limits during certain times of the year.
3. Take a trip to Nusa Lembongan
Located right off the coast of Bali, this little island is a good alternative to the craziness that is Bali. In fact, it's where lots of residents go to escape! Nusa Penida is the most developed of the three Nusa islands and you can actually cross to Nusa Ceningan via a bright yellow footbridge. The beaches aren't great here but the surfing is really good, with some of the best breaks in Bali. The diving is also excellent here and it's cheaper than on the mainland.
4. Learn about Balinese Culture in Ubud
Ubud is the second most popular tourist area and it can get crazy busy, but it's still the best place to learn about Balinese culture. There are a number of beautiful temples, numerous historical sites, dance shows, and some of the best food on the island. Head to Tegalalang Village to see the famous rice terraces as well as interact with the local farmers and artists who live there.
5. Hike Mount Batur
Many travelers hike up this 1,700-meter (5,577-foot) volcano for the sweeping vistas and stunning sunrise it offers. The climb only takes a couple of hours, and there are plenty of guides available to lead the way (you have to use a guide to be allowed to climb). Expect to pay around 400,000 IDR per person for a guide.
Other Things to See and Do in Bali
1. Try some adventure sports
There are tons of adventurous activities to do in Bali. You can go paragliding, white water rafting, hiking, mountain biking, ATVing, horseback riding, jungle trekking, and even treetop zip-lining. Prices vary, though they are all quite affordable. Paragliding, for example, costs around 650,000 IDR per person for a tandem glide while zip-lining costs around 1,300,000 IDR.
2. Visit the hot springs
There are several hot springs on the island where you can relax and pamper yourself. In the northeastern mountains, there are some on the shores of Lake Batur. Another good spot is Air Banjar, which is located on the northern coast of the island near Lovina. It is incredibly energizing to sit in these natural pools while you take in the lush, beautiful landscape all around you. Admission varies but expect to pay around 200,000 IDR.
3. Visit the spa
Bali is the perfect place to re-energize by pampering yourself and releasing bottled-up stress and tension. Balinese massage is one of the most relaxing in the world, and there are a number of Balinese spa treatments which involve the use of various herbs and spices. Prices vary depending on what you purchase but expect to pay at least 200,000 IDR for a massage (it should cost less on the beach).
4. Party in Kuta
Kuta is kind of like the Tijuana of Bali. The streets are narrow here and there are hundreds of stalls selling faux-brand ripoffs and novelty souvenirs. There are plenty of hostels and lots of bars that cater to the younger backpacker crowd. If you're looking to party, this is the best spot on the island to do so. Personally, I hate Kuta and think there are a lot of better places on the island. But if you want to party on a budget, this is the place.
5. Watch the monkeys
Located in Ubud, the Ubud Monkey Forest is a nature reserve and sacred area with temples. It's very touristy, and a lot of people break the rules and feed the monkeys, which teaches them bad habits so don't do that! Still, it's exciting to watch all of the long-tailed macaques running around and playing with each other. Admission is 80,000 IDR.
6. Watch a Buffalo Race
Chances are, after a few days in Bali, you will have seen the water buffalo working in the various fields. In Negara, locals riding chariots race buffaloes every second Sunday from July to October. Negara is a bit out of the way and the races take place at 7am, so you probably should arrange accommodation for the night before. Nevertheless, it's a peculiar spectacle and something you won't likely see anywhere else!
7. Stretch it out
There are tons of world-class yoga retreat centers all around Bali, offering both single classes and multi-day retreats as well as training courses. If you need to relax, destress, and stay healthy this is a great place to do it! Expect to pay around 4,750,000 IDR for a 3-day retreat and upwards of 40,000,000 IDR for a 200-hour teacher training course. Drop-in classes are usually around 150,000 IDR.
8. Take a surfing lesson
You don't even have to leave the airport to know that Bali is a surfing destination; you'll see tons of surfboards being picked up at baggage claim. The best thing about surfing in Bali is that there's something on offer for all abilities and on any stretch of the coast. Bring your own board or hire one for 150,000 IDR per day. If you're new to surfing, a one-hour lesson costs around 350,000 IDR (including a board rental).
9. Learn to cook
The food scene in Bali has developed a lot in recent years and you can easily find some really high-quality restaurants all over the island. Sometimes getting back to the basics is best, though, and nothing really beats learning how to make authentic local dishes liked nasi goreng (fried rice), satay (skewered grilled meat with a peanut sauce), or sambal (a chili sauce or paste) so you can recreate the dishes when you're back at home. Class lengths vary between a short 2-hour class all the way up to a 9-hour full-day class including a market visit. Classes cost around 350,000 IDR.
10. Join a beach clean-up
The amount of trash that ends up on Bali's beaches is infuriating. Use your time to give back to the local community by joining a beach clean-up. There are clean-ups all over the island so it's easy to find one close to where you're staying. If you're visiting in February, One Island One Voice organizes Bali's biggest annual clean-up, with some 70,000 people spread out over 560 locations.

For more information on other destinations in Indonesia, check out these guides:
Bali Travel Costs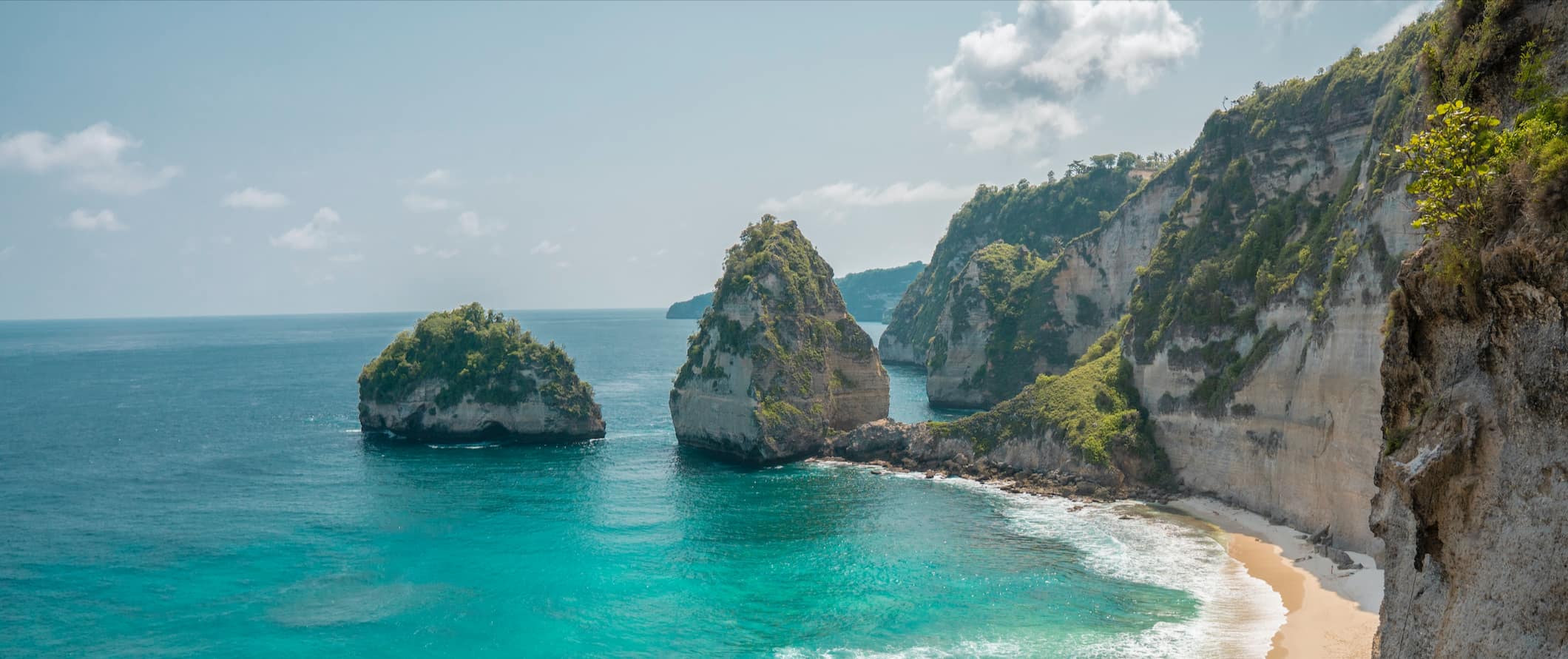 Accommodation – Hostels usually cost around 75,000-200,000 IDR per night but they can be found as low as 55,000 IDR in the shoulder-season. Most hostels don't offer private rooms, though free WiFi and free breakfast are generally included.
If you are looking for a cheap guesthouse or a budget hotel, expect to pay around 375,000-800,000 IDR per night for a double room. This generally includes free WiFi and breakfast. For a hotel with a pool, expect to spend at least 600,000 IDR per night.
Airbnb is available here too, with prices starting at around 350,000 IDR per night for an entire home or apartment. Private rooms cost around 180,000 IDR per night. Be sure to book your Airbnb in advance, otherwise, expect these prices to double (or triple).
If you're looking for luxury, Bali also has some of the most expensive hotels in the world, many costing over 13,000,000 IDR per night.
Food – Lots of dishes here have a rice (nasi) or noodle (mie) base and, in some cases, that's the whole dish, such as with nasi ayam (chicken rice). Be sure to try the Balinese take on satay (where the meat is minced and wrapped on skewers) and babi guling, a delicious suckling pig that is roasted for hours. Another popular choice is oxtail soup. Be mindful that the food here can be a little spicy.
Local cuisine is extremely cheap, usually under 10,000 IDR for street food. A basic restaurant meal costs closer to 25,000 IDR. Western food is a lot more expensive but is still affordable at around 125,000 IDR for a meal and a drink.
Fast food (think McDonald's) costs around 55,000 IDR for a combo meal deal while a beer at the bar is around 45,000 IDR. Expect to pay 17,000 IDR for a bottle of water.
If you plan on cooking your own meals, a week's worth of groceries costs between 500,000-700,000 IDR. Be sure to stick to local food items, as imported foods like wine, cheese, chicken, and beef are super expensive. Buying them often ruins your budget.
Bali Suggested Budgets
On a backpacker budget of 425,000 IDR per day, you can stay in a hostel dorm, eat some street food, cook some meals, rent a bicycle to get around, and do a few activities like hiking or seeing a Balinese dance. It's really easy to do Bali on a budget if you stay in cheap guesthouses, eat local, and stick to the less expensive activities.
On a mid-range budget of 1,100,000 IDR per day, you can eat out at more restaurants, stay in a budget hotel or a private hostel room, rent a scooter to get around, drink more, enjoy some massages, and take more tours.
On a "luxury" budget of 2,350,000 IDR or more per day, you can stay at a nicer hotel or villa, take taxis or private minivans around the island, eat Western food, drink more, and do any adventure activities you want. This is just the ground floor for luxury, however. The sky is the limit!
Accommodation
Food
Transportation
Attractions
Average Daily Cost
Backpacker
150,000
100,000
75,000
100,000
425,000
Mid-Range
350,000
300,000
200,000
250,000
1,100,000
Luxury
750,000
600,000
500,000
500,000
2,350,000
Bali Travel Guide: Money-Saving Tips
Bali can be as cheap or as expensive as you want it to be. This is the land of cheap backpackers, honeymooners, top-of-the-line expensive resorts, and yoga retreats. It caters to every travel style. If you're looking to save money while visiting, here are some tips and tricks that help you lower your costs:
Eat local food – You can pick up tasty local fare for around 10,000-15,000 IDR. Stay far away from Western restaurants if you want to save money!
Bargain – Nothing is ever at face value in Indonesia. Bargain hard and bargain often. Don't ever pay the first price you were quoted (but don't be a jerk either).
Head north – The southern area of Bali (Kuta, Ubud, Seminyak) is the most popular (and most expensive) part of the island. If you head to the beaches in the north or northeast part of Bali, prices are much cheaper and you can find better deals on accommodation.
Save money on rideshares – Uber and Grab are cheaper than taxis and are the best way to get around a city if you don't want to wait for a bus or pay for a taxi. Just be aware that Ubers can be much harder to find in quieter areas.
Drink cheap – Save money on alcohol by hitting the happy hours or just buying your drinks at a local store instead of the bar. This is the cheapest way to drink.
Bring a filtered water bottle – Bali has a waste problem, and much of it gets burned. You'll see (and smell) it during your visit. Bring a reusable water bottle with a filter to save money — and the environment. I like Lifestraw.
Where to Stay in Bali
Bali has tons of fun, affordable, and social hostels and guesthouses. Here are my favorites places to stay on the island:
For more recommendations, check out this list of the best hostels in Bali.
How to Get Around Bali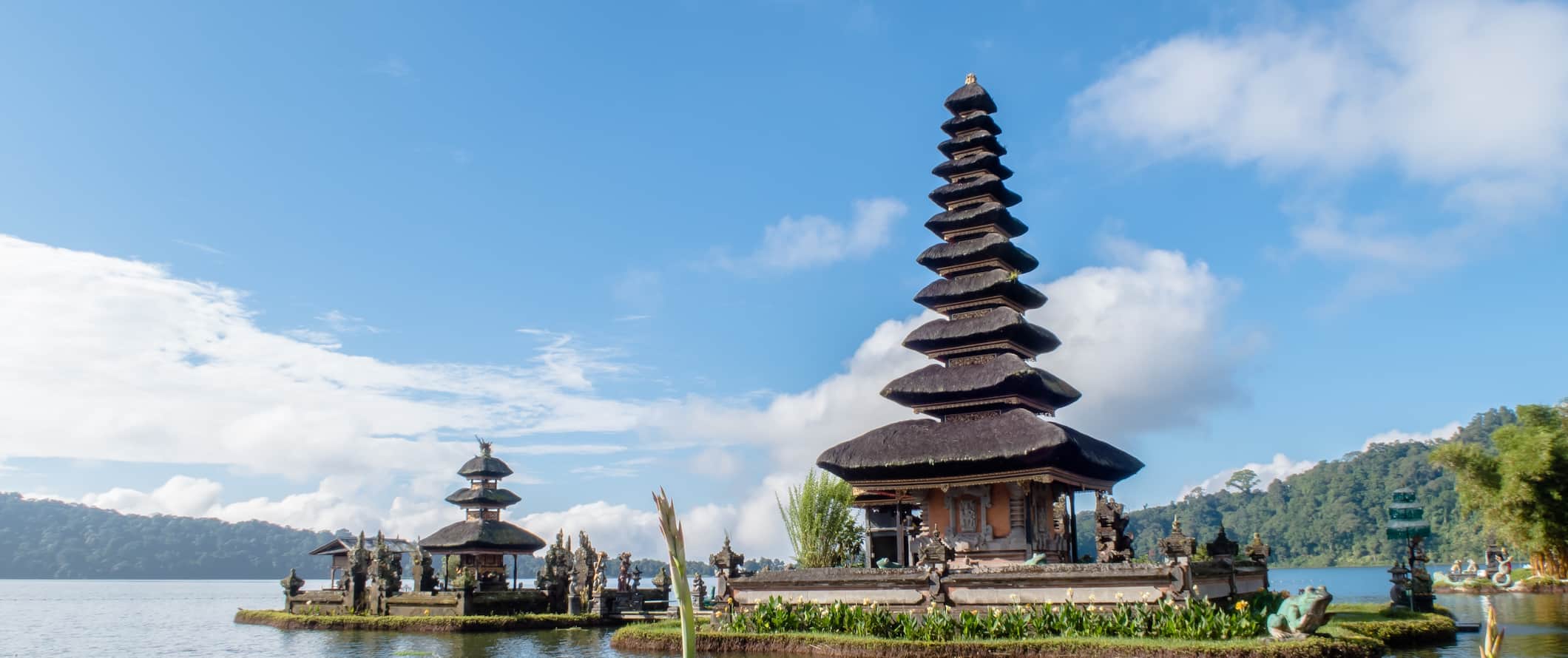 Bemos & buses – Bemos are a minibus or a van that carries around 12 people in very tight quarters. They're not widely used by visitors because they're usually real time consuming. However, they're cheap and most rides are around 5,000 IDR.
Tourist buses are a great way to get around, and they're very affordable. They usually have air-conditioning, and some have Wi-Fi. There are signs in most areas offering these services. Kura-Kura Bus and Perama are the two biggest tourist bus operators. Kuta to Lovina costs 250,000 IDR, while Denpasar to Kuta is just 30,000 IDR. Kuta to Ubud is 100,000 IDR.
Taxis – Taxis are essential for getting around Bali, and they're cheap. The starting rate is around 7,000 IDR and then 5,000-15,000 IDR per kilometer. You can also find drivers all over the island willing to take you wherever you want to go. A car from Ubud to Padangbai (where you get the boat to Lombok and Gili) costs around 300,000 IDR while an airport transfer to Seminyak or Canggu should cost around the same.
Bluebird Taxis are available in most places, and they're the most dependable company for metered taxis and English-speaking drivers. There's a smartphone app that makes ordering a taxi simple and convenient.
Grab (an Uber offspring) is a household name in Southeast Asia. It, too, is convenient, but it sometimes costs even more than a taxi. Go-Jek is a similar option and it also offers motorbike ride shares.
Bicycle – Bicycles are available for rent all around the island, usually costing 50,000 IDR per day for a basic bicycle.
Motorcycles and scooters – Motorbikes are quintessential to the Bali experience, and it's not uncommon to see whole families riding one together! Motorbikes are so common here because they make it easier to weave in and out of congested traffic.
Scooter rentals are available around the island for as little as 90,000 IDR per day while motorbikes cost about 300,000 IDR a day. You should be an experienced driver for this option though as accidents are very common.
Ferry – Getting to and from Bali is easy via ferry. Ferries start around 15,000 IDR for a ticket from East Java to West Bali, and the rates go up from there for other routes. Bali (Padang Bai) to Lombok is about 500,000 IDR (one way) on the fast ferry or 60,000 IDR on the slow boat (which takes around 8 hours), while Bali to the Gili Islands is 300,000-350,000 IDR (one way) on a speedboat.
While it's not necessary to book in advance it's a good idea during peak season or on more popular routes. You can buy tickets on the ferry company's website or via a ticket agent like 12go.asia.
When to Go to Bali
Bali has a warm, tropical climate year-round with just two seasons: wet and dry. The dry season lasts from April to September while the rainy season occurs from October to the end of March. The average daily temperature year-round is 28°C (80°F). The high season is from July and August as well as through the Easter holidays and Christmas holidays (about December 11th to January 1st). Bali is busiest during this time, and prices are the highest.
In Bali's mountainous areas, temperatures are much cooler and there is more rainfall than along the coast. If you plan on spending time in the mountains you need to pack appropriate clothing.
Overall, the best time to visit is between May and September when it's dry and sunny. It's still pleasant to visit during the rainy season as rainfall usually comes as fast and intense downpours that only last a few hours. In Bali, the extremes between seasons aren't drastic.
The dry season is the best time to climb the volcanoes, participate in water sports, and the best time to dive is from April to September.
How to Stay Safe in Bali
Bali is an incredibly safe place to backpack and travel — even if you're traveling solo — as violent crime is rare. Petty theft (including bag snatching) is the most common type of crime in Indonesia. Theft is also very common on public transit. It's easy for thieves to grab your wallet or purse when you're distracted by all the chaos around you. Stay alert and always keep your valuables out of reach.
Solo female travelers should generally feel safe here but the standard precautions apply (never leave your drink unattended at the bar, never walk home alone intoxicated, etc.). There's a lot of partying here so you'll want to keep an eye out at night. There are countless solo female travel blogs out there that can give you specific information on how to stay safe.
Credit card fraud is common in Indonesia so it's always best to pay with cash when possible. To avoid getting your information stolen at an ATM, enter a reputable bank to withdraw money from there.
When out and about, make sure you don't keep all your cash on you. Take what you need for the day and keep the rest secure in your accommodation just to be safe.
If you take a taxi, remember that not all prices in Bali are fixed. Make sure the driver turns on the meter when you get in, or agree on the price upfront to avoid any misunderstandings.
To avoid some of the common scams on the island, read about common travel scams to avoid here.
If you experience an emergency, dial 112 for assistance.
When in doubt, always trust your instincts. If a taxi driver seems shady, get out. If your hotel or accommodation is seedier than you thought, go somewhere else. Make copies of your personal documents, including your passport and ID, in case of an emergency.
The most important piece of advice I can offer is to purchase good travel insurance. Travel insurance protects you against illness, injury, theft, and cancellations. It's comprehensive protection in case anything goes wrong. I never go on a trip without it as I've had to use it many times in the past. You can use the widget below to find the policy right for you:
Bali Travel Guide: The Best Booking Resources
These are my favorite companies to use when I travel. They consistently have the best deals, offer world-class customer service and great value, and overall, are better than their competitors. They are the companies I use the most and are always the starting point in my search for travel deals.
Skyscanner – Skyscanner is my favorite flight search engine. They search small websites and budget airlines that larger search sites tend to miss. They are hands down the number one place to start.
Hostelworld – This is the best hostel accommodation site out there with the largest inventory, best search interface, and widest availability.
Agoda – Other than Hostelworld, Agoda is the best hotel accommodation site for Asia.
Booking.com – The best all around booking site that constantly provides the cheapest and lowest rates. They have the widest selection of budget accommodation. In all my tests, they've always had the cheapest rates out of all the booking websites.
Get Your Guide – Get Your Guide is a huge online marketplace for tours and excursions. They have tons of tour options available in cities all around the world, including everything from cooking classes, walking tours, street art lessons, and more!
SafetyWing – Safety Wing offers convenient and affordable plans tailored to digital nomads and long-term travelers. They have cheap monthly plans, great customer service, and an easy-to-use claims process that makes it perfect for those on the road.
LifeStraw – My go-to company for reusable water bottles with built-in filters so you can ensure your drinking water is always clean and safe.
Unbound Merino – They make lightweight, durable, easy-to-clean travel clothing.
Bali Travel Guide: Related Articles
Want more info? Check out all the articles I've written on Indonesia and Bali travel and continue planning your trip: