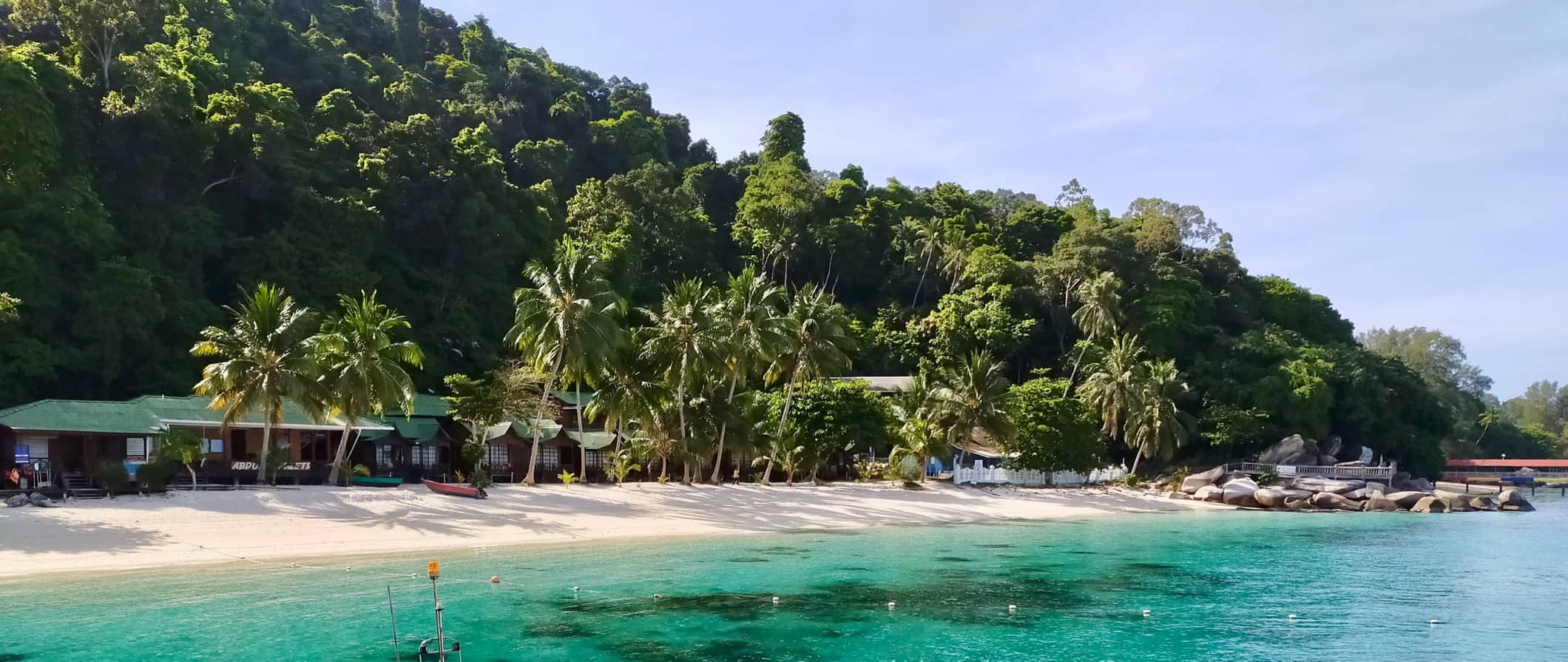 The Perhentian Islands in Malaysia are composed of two islands, Perhentian Kecil (small) and Perhentian Besar (big). Both are hugely popular with snorkelers and divers as the reefs and crystalline waters surrounding them are home to a wide variety of coral, sea turtles, sharks, and colorful fish.
The Malay word Perhentian roughly translates to "stopping point" — an appropriate name considering most travelers who visit here end up staying longer than anticipated.
If you're visiting these islands, don't expect much to do. These beautiful and rustic islands to relax, enjoy the beach, and slow down. The islands are more expensive than the rest of Malaysia — but they're worth it.
They're the perfect chill-out spot.
In this travel guide, I'll show you how to make the most of your visit and save money while you're here.
Click Here for City Guides

Perhentian Islands
Top 5 Things to See and Do in the Perhentian Islands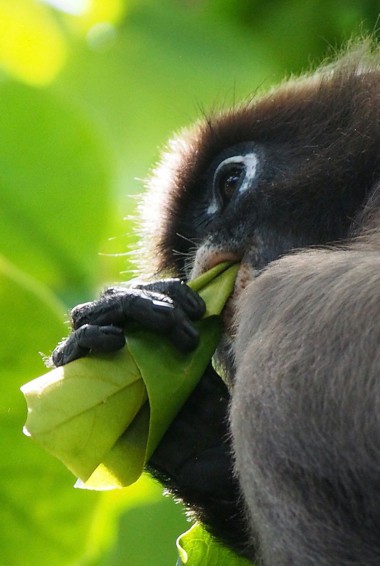 1. Go jungle trekking
Most beaches are accessible via jungle paths and offer the chance to see lizards, monkeys, and flying foxes. Long Beach to Coral Bay is popular as well as Besar Island north to south & the trail from Long Beach to D'Lagoon Windmill. No guides are needed.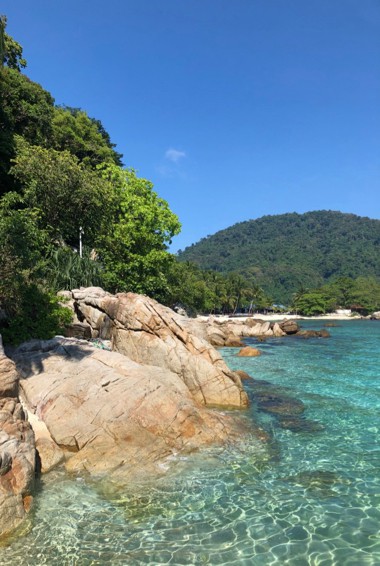 2. Relax at the beach
On Perhentian Kecil, Long Beach is the most popular while Coral Beach has a more laid-back atmosphere. On Besar, Teluk Dalam is quieter while Love Beach is livelier. You can easily rent snorkeling gear for just 20 MYR ($5 USD) per day. Long Beach is a good choice for snorkeling.
3. Go scuba diving
The Perhentians are home to sea turtles, sharks, and all kinds of coral and fish. Expect to pay around 85 MYR ($20 USD) per dive and 1,200 MYR ($282 USD) for an Open Water certification. Popular dive sites include Redang Island, Sipadan Island, and Lang Tengah.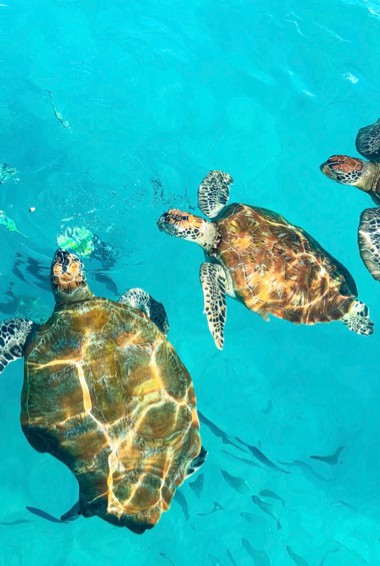 4. See the turtles
The islands are home to a significant turtle population. Head to Turtle Beach (on Besar) at night between June-September to catch a glimpse of them laying their eggs and of the baby turtles making their way to the sea.
5. Go snorkeling
Every resort rents snorkeling gear and arranges snorkeling tours. It's 20 MYR ($5 USD) to rent gear and popular snorkeling spots on Besar include Teluk Pauh, Shark Point, and Tanjung Basi. A guided snorkeling trip costs around 30-40 MYR ($7-9.50 USD) per person.
Other Things to See and Do in the Perhentian Islands
1. Watch the sunset
Coral Bay is the perfect spot to watch the sunset. It's just a few minutes away from the hotels and resorts. There are also a couple of small and private unnamed beaches next to D'Lagoon that you can visit if you'd prefer to take in the sight away from the crowds.
2. Join a "fire party"
Head to Long Beach at night for an evening of hula and fire dancing on the beach. There are no clubs in the Perhentians; everyone just sits on the beach drinking and watching the locals perform. It's every night from 10-11pm at Bubu Long Beach Resort. It's free and you can bring your food and drinks (there are food and drinks for sale too).
3. Volunteer to save the turtles
The nesting areas on the islands are frequently in danger due to oil spills, habitat destruction, and natural disasters. The Department of Fisheries and the Perhentian Turtle Project both accept volunteers. Volunteering isn't free as it's one of their man fundraising sources. But your money goes to preservation purposes. The Perhentian Turtle Project has a two-weeks volunteer program costing 3,621 MYR ($871 USD) and a 3-week program costing 4,560 MYR ($1,096 USD). Food and accommodation are included.
4. Go sea-kayaking
The waters around the islands are excellent for sea kayaking. Expect to pay 40-80 MYR ($9-18 USD) for a rental. Long Beach is good place to go kayaking and you can also kayak around the 14-kilometer (8.7 miles) coast of Kecil, which takes 3-5 hours.
5. Relax at Adam & Eve Beach
This is one of the quietest beaches on Kecil as people usually go here just to sunbathe and relax. It's tucked away in the northwest of the island, with clear water perfect for snorkeling. Few people make it here so you can escape the crowds.
6. See the Perhentian mosque
The A R Rahman Pulau Perhentian Mosque is built over the water on Perhentian Kecil. It's a large, mostly white mosque composed of several buildings and a minaret (the traditional tower where the call to prayer is played). It's possible to visit inside the mosque as long as you're dressed appropriately (knees and shoulders covered). Admission is free.
For more information on specific cities in Malaysia, check out these guides:
The Perhentian Islands Travel Costs
Hostel prices – There aren't any hostels on the islands. But rooms at the beach houses start around 30 MYR ($7 USD), but 75 MYR ($17.50 USD) is the average price. You won't find many options online so be prepared to book in person on arrival.
There are campsites available costing around 55 MYR ($13 USD) per night. Tents are included.
Budget hotel prices – There are a few hotels on the islands with prices starting at 150-285 MYR ($35-67 USD) per night for a double room. For a budget hotel with Wi-Fi and breakfast included, expect to pay at least 315 MYR ($75 USD).
Airbnb is available but you're going to find extremely limited options. A private room (of which there are few) costs around 100 MYR ($23 USD) per night while an entire apartment costs 500 MYR ($120 USD).
Average cost of food – Restaurants serve fresh seafood, fried rice, noodle-based dishes, and soups. Barbeque is a local favorite, serving up tasty grilled fish and seafood. These traditional meals are typically around 8 MYR ($2 USD).
For western food or meals at upscale resorts, expect to pay upwards 50 MYR ($12 USD) for a meal with a drink. There are no fast food options on the islands.
A coffee costs around 4 MYR ($1 USD), as does a bottle of water. A beer costs around 12 MYR ($3 USD) — relatively expensive since it's technically illegal (most places serve alcohol though, regardless of the laws). You can buy alcohol in hotels and resorts, and also small shops along the beach (especially Long Beach).
Most accommodations here don't include a kitchen. If you're planning to cook your own food, you'll want to buy most of it before you arrive as there are only small grocery stores here with limited supplies. Prices are also higher here than elsewhere. Expect to pay 115-166 MYR ($27-40 USD) for a week's worth of basic staples such as rice, seafood, and seasonal produce.
Backpacking the Perhentian Islands Suggested Budgets
If you're backpacking the Perhentian Islands, my suggested budget is 125 MYR ($30 USD) per day. This assumes you're staying in a budget beach house, eating out at restaurants that serve traditional cuisine, doing free things like hiking and swimming, and sticking to cheap activities like snorkeling.
On a mid-range budget of about 355-396 MYR ($85-95 USD) per day, you can stay in a budget hotel, eat out all your meals (including the occasional Western meal), take as many water taxis as needed, and enjoy a few activities like kayaking or diving.
On a luxury budget of about 812 MYR ($195 USD) per day, you can stay in a resort, eat at upscale restaurants and order Western meals, take water taxis as often as you want, do guided tours, and enjoy all the activities the Perhentian Islands has to offer. The sky is the limit!
You can use the chart below to get some idea of how much you need to budget daily. Keep in mind these are daily averages — some days you'll spend more, some days you'll spend less (you might spend less every day). We just want to give you a general idea of how to make your budget. Prices are in USD.
Accommodation
Food
Transportation
Attractions
Average Daily Cost
Backpacker
$10
$10
$5
$5
$30
Mid-Range
$40
$15-20
$10-15
$20
$85-95
Luxury
$85
$40
$20
$50
$195+
The Perhentian Islands Travel Guide: Money-Saving Tips
A little goes a long way in Malaysia and the Perhentians are no different. It's really hard to spend money here unless you're really splurging on food and alcohol. That said, here are some ways you can save money in the Perhentian Islands if you're on a super tight budget:
Shop around for dive prices  – Diving is hugely popular here, so shop around for a dive center that suits your budget.
Bring your own alcohol – There is very little alcohol on the islands, and what is available is expensive. Bring your own to save yourself some money!
Bring a water bottle – The water here is not safe to drink. Bring a reusable bottle with a filter to reduce your environmental impact and your reliance on single-use plastic. To ensure you water is safe to drink, use a filter like Lifestraw.
Visit during the shoulder season – April-June is the dry season and accommodation prices are a little cheaper than (July is the peak). Arrive before peak season to save money and beat the crowds.
Bring food with you – Food and groceries on the islands are pricey since they need to be shipped in. Save a few bucks by bringing food and snacks with you.
Where To Stay in the Perhentian Islands
There are no hostels in the Perhentian Islands and the cheapest hotels and guesthouses have poor reviews. Here are a few suggestions for more upscale accommodation in the 210 MYR/$50 USD per night range:
How to Get Around the Perhentian Islands
Foot – There are no roads on the islands, but there are tons of walking routes so be prepared to walk everywhere. It won't take more than one hour to walk from one main town to another
Bicycle and Motorbike- – Unfortunately, there are no bike rentals in the Perhentian Islands.
Water taxi- – Water taxis are the main form of transport, costing around 15 MYR ($3.50 USD) for most journeys.
Ferry – To get to the islands, a bus and ferry from Kuala Lumpur costs around 100 MYR ($23.50 USD) per person. The one-way ferry ticket from Kuala Besut to the islands cost around 35 MYR ($8.50 USD).
There are also speed boats available from the mainland for around 70 MYR ($16.50 USD) per person.
When to Go to the Perhentian Islands
There are two seasons in the Perhentian Islands: the dry season from early March to mid-November, and the rainy season from mid-November to early March.
During the rainy season, the islands are empty because almost all businesses close (restaurants, hotels, activities, boats, etc.). Avoid visiting during the rainy season.
July to mid-September is the peak season. With that in mind, April, May, and June are the best months to go to the Perhentians if you're on a budget as there are fewer crowds.
However, July and August offer the best diving conditions since the water is clearest during those months. It's always hot and sunny during the dry season too, with daily temperatures around 30°C (86°F).
How to Stay Safe in the Perhentian Islands
The Perhentian Islands are relatively safe. However, petty theft is an increasing problem. Make sure you keep your valuables tucked away and don't flash things like jewelry or cash. Most crimes are crimes of opportunity so if you take precautions you'll likely be fine.
There are no ATM machines on the islands. Since would-be thieves know everyone has lots of cash on them, make sure to keep your money stored in separate areas so you can't lose it all at once should your bag get lost or stolen. Always lock the doors and windows of your bungalow when going out. Don't leave valuables on your bungalow balcony and don't leave your stuff laying around on the beach when you go swimming. If you're traveling solo, ask someone to keep an eye on your valuables if you want to take a dip.
Solo female travelers should avoid walking alone after dark, especially in Perhentian Kecil. Although rare, assaults can happen.
Additionally, avoid the tap water as it's unsafe to drink and might get you sick.
Always trust your gut instinct. Make copies of your personal documents, including your passport and ID. Forward your itinerary along to loved ones so they'll know where you are.
Drugs are very illegal in Malaysia. Avoid using them here.
Follow the rule that if you wouldn't do it at home, you shouldn't do it here.
The most important piece of advice I can offer is to purchase good travel insurance. Travel insurance will protect you against illness, injury, theft, and cancellations. It's comprehensive protection in case anything goes wrong. I never go on a trip without it as I've had to use it many times in the past. You can use the widget below to find the policy right for you:
The Perhentian Islands Travel Guide: The Best Booking Resources
These are my favorite companies to use when I travel to the Perhentian Islands. They are included here because they consistently find deals, offer world-class customer service and great value, and overall, are better than their competitors. They are the ones I use the most and are always the starting points in my search for travel deals.
Momondo – This is my favorite flight search engine because they search such a wide variety of sites and airlines. I never book a flight without checking here first.
Skyscanner – Skyscanner is another great flight search engline which searches a lot of different airlines, including many of the budget carriers that larger sites miss. While I always start with Momondo, I use this site too as a way to compare prices.
Airbnb – Airbnb is a great accommodation alternative for connecting with homeowners who rent out their homes or apartments. The big cities have tons of listings!
Hostelworld – This is the best hostel accommodation site out there, with the largest inventory, best search interface, and widest availability.
Agoda – Other than Hostelworld an Airbnb, Agoda is the best hotel accommodation site for Asia as it has the largest inventory and offers the best rates. If you want a guesthouse or hotel, book it via this website!
12Go.asia – 12Go.asia is the best website for booking transportation around Southeast Asia. You will be able to research your journey ahead of time and figure out the best schedule and prices.
Intrepid Travel – If you want to do a group tour around Malaysia, go with Intrepid Travel. They offer good small group tours that use local operators and leave a small environmental footprint. If you go on a tour with anyone, go with them. And, as a reader of this site, you'll get a discount when you click the link!
Grassroots Volunteering – For volunteering, Grassroots Volunteering compiles a list of good local volunteer organizations that keep the money within the community.
World Nomads – I buy all my travel insurance from World Nomads. They have great customer service, competitive prices, and in-depth coverage. I've been using them since I started traveling in 2003. Don't leave home without it!
The Perhentian Islands Gear and Packing Guide
If you're heading on the road and need some gear suggestions, here are my tips for the best travel backpack and for what to pack!
The Best Backpack for Travelers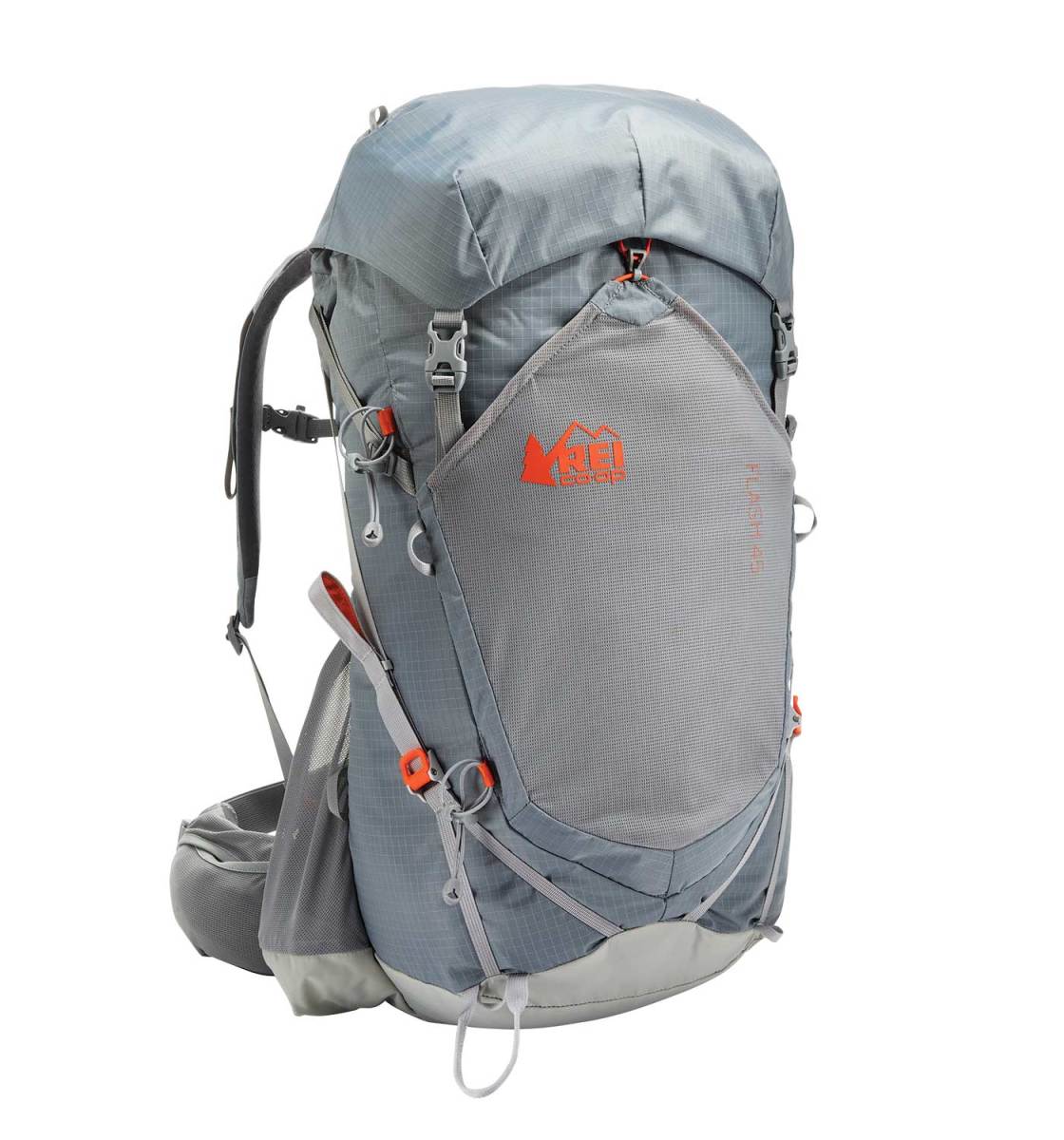 What's the best backpack for traveling long-term? I recommend the
REI Flash 45 Pack
. It's light and comfy, front loading, and fits perfectly in an airplane's overhead bin.
Size:
45-47L
Straps:
Thick and cushy with compression technology that pulls the pack's load up and inwards so it doesn't feel as heavy.
Features:
Removable top lid, large pocket at the front, hydration compatible, contoured hip belt
If you want something different, refer to my article on how to choose the best travel backpack for tips on picking a pack and other backpack suggestions.
What to Pack for Your Trip
Clothes
1 pair of jeans (heavy and not easily dried, but I like them; a good alternative is khaki pants)
1 pair of shorts
1 bathing suit
5 T-shirts (Unbound Merino is my preferred company. If you're a member of NM+, you can get 15% off your purchase)
1 long-sleeved T-shirt
1 pair of flip-flops
1 pair of sneakers
6 pairs of socks (I always end up losing half)
5 pairs of boxer shorts (I'm not a briefs guy!)
1 toothbrush
1 tube of toothpaste
1 razor
1 package of dental floss
1 small bottle of shampoo
1 small bottle of shower gel
1 towel
Deodorant
Small Medical Kit (safety is important!!!)
Miscellaneous
Female Travel Packing List
I'm not a woman, so I don't know what a woman wears, but Kristin Addis, our solo female travel guru, wrote this list as an addition to the basics above:
Clothing
1 swimsuit
1 sarong
1 pair of stretchy jeans (they wash and dry easily)
1 pair of leggings (if it's cold, they can go under your jeans, otherwise with a dress or shirt)
2-3 long-sleeve tops
2-3 T-shirts
3-4 spaghetti tops
1 light cardigan
Toiletries
1 dry shampoo spray & talc powder (keeps long hair grease-free in between washes)
1 hairbrush
Makeup you use
Hair bands & hair clips
Feminine hygiene products (you can opt to buy there too, but I prefer not to count on it, and most people have their preferred products)
For more on packing, check out these posts:
Perhentian Islands Travel Guide: Related Articles
Want more info? Check out all the articles I've written on Asia travel and continue planning your trip: