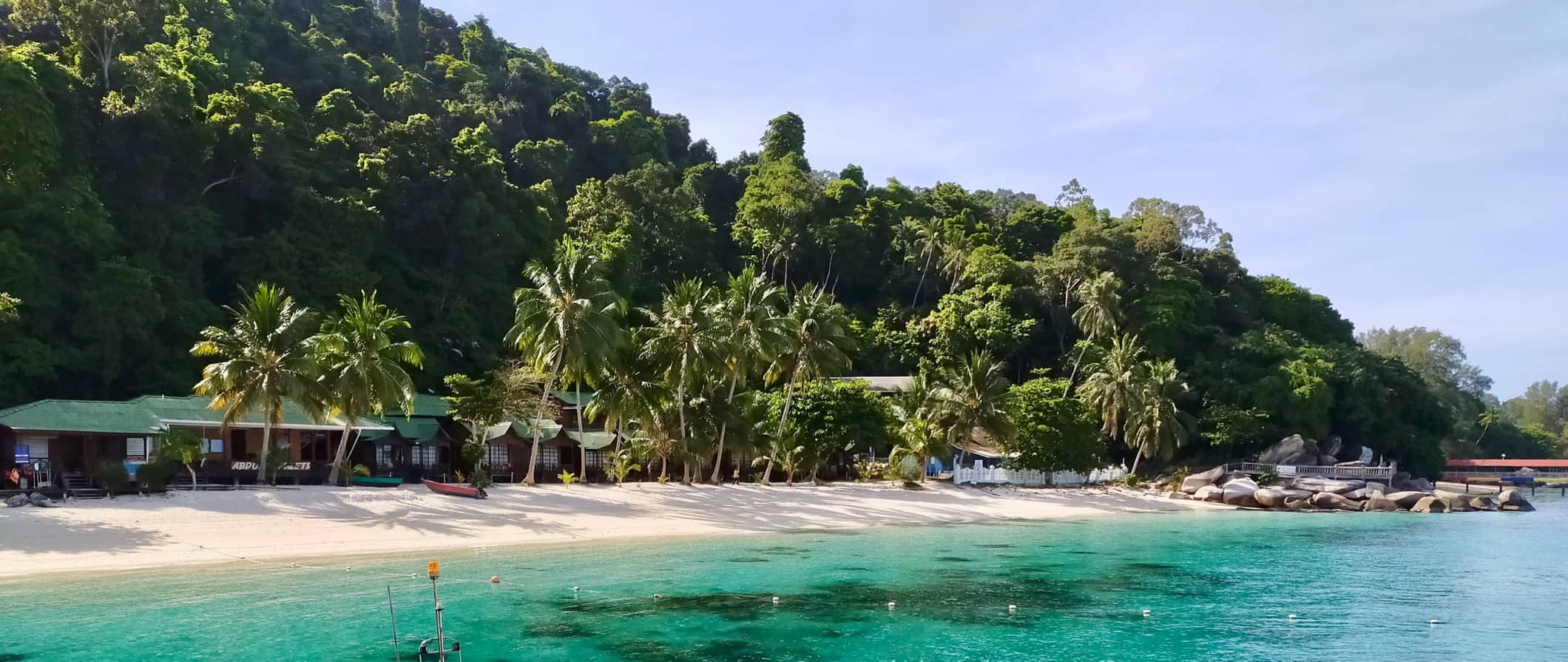 The Perhentian Islands in Malaysia are hugely popular with snorkelers and divers, as the reefs and crystalline waters surrounding them are home to a wide variety of coral, sea turtles, sharks, and colorful fish. The Malay word Perhentian roughly translates to "stopping point" — an appropriate name considering most travelers who visit here end up staying longer than anticipated.
The Perhentians are composed of two main islands, Perhentian Kecil ("Lesser Perhentian") and Perhentian Besar ("Greater Perhentian"), as well as three uninhabited islands. Despite being the smaller island, Kecil is the busier of the group, offering cheaper accommodation and more things to do. Besar has more resorts and caters to families, honeymooners, and upscale travelers.
These islands are where travelers come to slow down, relax, and enjoy the laid-back pace of island life. While the islands are more expensive than the rest of Malaysia, they are worth the price. They're the perfect chill-out spot to disconnect, soak up the sun, and lounge away the days.
The travel guide to the Perhentian Islands will show you how to make the most of your visit and save money while you're here!
Top 5 Things to See and Do in the Perhentian Islands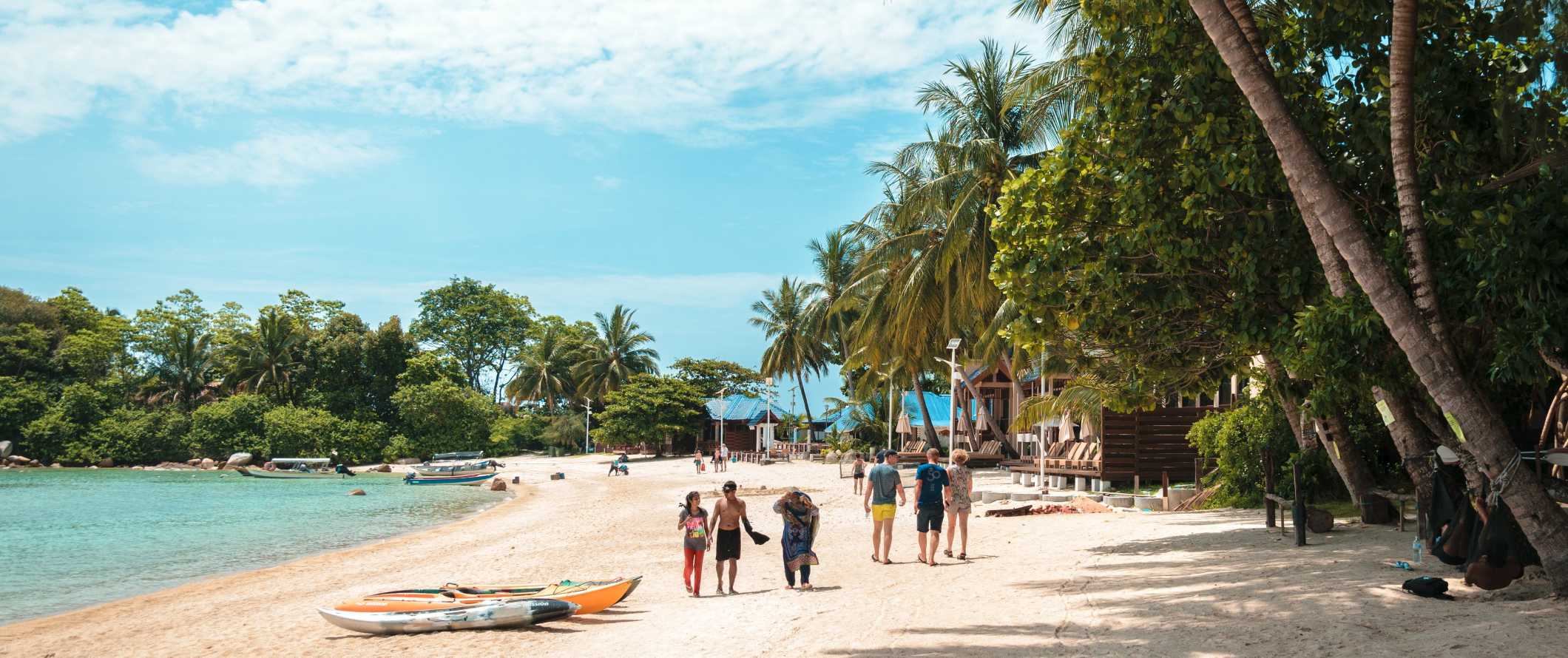 1. Go jungle trekking
Most beaches are accessible via jungle paths which offer the chance to see lizards, monkeys, and flying foxes. Long Beach to Coral Bay is a popular route, as is hiking Besar Island north to south and taking the trail from Long Beach to D'Lagoon Windmill. No guides are needed for these hikes.
2. Relax at the beach
On Kecil, Long Beach is the most popular, while Coral Beach has a more laid-back atmosphere. On Besar, Teluk Dalam is quieter while Love Beach is livelier. You can easily rent snorkeling gear for 20 MYR per day. Long Beach is a good choice for snorkeling.
3. Go scuba diving
The Perhentians are home to sea turtles, sharks, and all kinds of coral and fish. Expect to pay around 85-100 MYR per dive and 1,100 MYR for an Open Water certification course. Turtle Bay Divers, Bubbles, and Monkey Dives are some of the biggest dive schools.
4. See the turtles
The islands are home to a significant turtle population. Head to Turtle Beach (on Besar) at night between June-September to catch a glimpse of them laying their eggs and the baby turtles making their way to the sea. It's an amazing sight to see!
5. Go snorkeling
Every resort rents snorkeling gear and arranges snorkeling tours. It's 20 MYR to rent gear and popular snorkeling spots on Besar include Teluk Pauh, Shark Point, and Tanjung Basi. A guided half-day snorkeling trip costs around 30-40 MYR per person, including equipment.
Other Things to See and Do in the Perhentian Islands
1. Watch the sunset
Coral Bay, on Kecil, is the perfect spot to watch the sunset and it's just a few minutes away from the hotels and resorts. If you'd prefer to take in the sight away from the crowds, there are a couple of small and private unnamed beaches next to D'Lagoon where you can take in the view in a more laid-back setting.
2. Join a "fire party"
Head to Bubu Long Beach Resort at night between 10-11pm for an evening of hula and fire dancing on the beach. There are no clubs in the Perhentians; everyone just sits on the beach drinking and watching the locals perform. It's free and you can bring your own food and drinks, though there are food and drinks for sale too.
3. Volunteer to save the turtles
The nesting areas on the islands are frequently in danger due to oil spills, habitat destruction, and natural disasters. The Perhentian Turtle Project accepts volunteers for multi-week stays between April-September. Volunteering isn't free as it's one of their main fundraising sources, but your money goes to conservation and keeping the project running. The Perhentian Turtle Project has a two-week volunteer program costing 3,621 MYR and a 3-week program costing 4,560 MYR. Food and accommodation are included.
4. Go sea-kayaking
The waters around the islands are excellent for sea kayaking. Expect to pay 60-80 MYR for a rental. Long Beach is one of the most popular places to kayak, though you can also kayak around the 14-kilometer (9-mile) coast of Kecil in around 3-5 hours.
5. Relax at Adam & Eve Beach
This is one of the quietest beaches on Kecil as people usually go here just to sunbathe and relax. It's tucked away in the northwest of the island, with clear water perfect for snorkeling. Few people make it here so you can escape the crowds. Bring a lunch, a book, and lounge away the afternoon.
6. See the Perhentian mosque
The A R Rahman Pulau Perhentian Mosque is built over the water on Perhentian Kecil. It's a large, mostly white mosque composed of several buildings and a minaret (the traditional tower where the call to prayer is played). It's possible to visit inside the mosque as long as you're dressed appropriately (knees and shoulders covered) and there isn't ongoing worship. Admission is free.
7. Day trip to Redang Island
Established in 1994, Terengganu Marine Park is Malaysia's first marine park. Redang is the largest island in the park and a good starting point for underwater adventures. There are over 25 dive sites surrounding the island, which is located about an hour by boat from the Perhentian Islands. There are no regular ferries here, but you can take an organized day trip or hire a private boat to take you there. Day trips start at 700-900 MYR per person.
8. Admire the view from the D'Lagoon Windmills
These windmills, installed in 2007 to assist in creating more reliable electricity, offer one of the most spectacular views over the islands. You can hike up to the viewpoint from Long Beach in about 30-40 minutes. A metal staircase leads back from there to another (unnamed) beach, but if you choose to descend, be careful as the staircase has corroded badly over the years.
9. Disconnect from the world
Wi-Fi and even electricity can be spotty on the islands, making this a perfect place to truly disconnect. Don't fight it – enjoy it!

For more information on other destinations in Malaysia, check out these guides:
The Perhentian Islands Travel Costs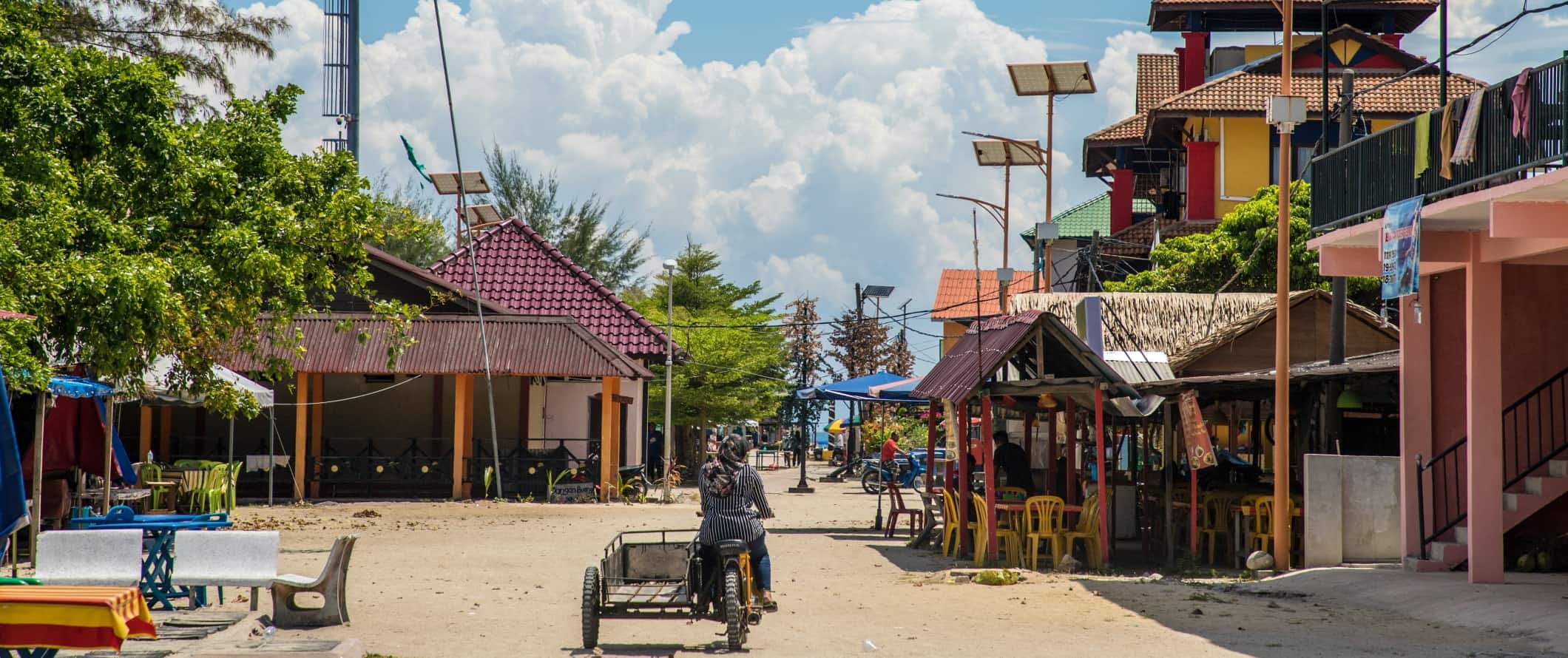 Hostel prices – There aren't any hostels on the islands, but rooms at the beach houses average around 75 MYR per night for a double. These homestays usually include private bathrooms and a shared kitchen or private kitchenette (usually a hot plate and/or electric kettle). Many have air-conditioning and Wi-Fi, though not all do.
There aren't too many options online so be prepared to book in person on arrival.
There are campsites available costing around 60-75 MYR per night. Tents are included, but sleeping bags normally are not.
Budget hotel prices – There are a few basic hotels on the islands with prices starting at 165-285 MYR per night for a double room with a private bathroom. These hotels may or may not include Wi-Fi and air-conditioning so be sure to check before you book.
For a budget hotel with Wi-Fi and breakfast included, expect to pay at least 350-465 MYR. These hotels offer air-conditioning, usually have a restaurant, and sometimes have a pool.
Airbnb is available in the Perhentian Islands, with most options being jungle bungalows or villas. An entire bungalow that sleeps two people costs 335-400 MYR.
Average cost of food – Malaysian cuisine reflects the country's multicultural makeup, taking influences from China, India, Indonesia, Thailand, Singapore, and other neighbors. Rice or noodles are the basis of most dishes. Seafood and fish feature prominently, as do halal chicken and beef. There is a wide variety of produce, with common ingredients being cabbage, bean sprouts, lotus root, sweet potatoes, taro, and long beans.
The unofficial national dish is nasi lemak, fragrant rice cooked in coconut milk and flavored with pandan leaf, usually served for breakfast. Other dishes include roti canai (a sweet or savory flatbread), ikan bakarlaksa (spicy noodle soup), and a plethora of fried noodle and fried rice dishes that vary depending on the region.
On the islands, restaurants serve fresh seafood, fried rice, noodle-based dishes, and soups. Barbeque is a local favorite, serving up tasty grilled fish and seafood. These traditional meals are typically around 8-15 MYR.
For western food or meals at upscale resorts, expect to pay upwards of 35-50 MYR for a meal with a drink. There are no fast-food options on the islands.
A coffee costs around 4 MYR, as does a bottle of water or a soda.
A beer costs around 12 MYR — relatively expensive since it's technically illegal (most places serve alcohol though, regardless of the laws). You can buy alcohol in hotels and resorts as well as small shops along the beach (especially Long Beach).
Most accommodations here don't include a kitchen. If you're planning to cook your own food, you'll want to buy most of it before you arrive as prices are higher here. Expect to pay 135-160 MYR for a week's worth of basic staples such as rice, seafood, and seasonal produce.
Backpacking the Perhentian Islands Suggested Budgets
If you're backpacking the Perhentian Islands, expect to spend about 160 MYR per day. On this budget, you're staying in a budget beach house, eating out at cheap restaurants that serve traditional cuisine, avoiding alcohol, doing free activities like hiking and swimming, and walking everywhere.
On a mid-range budget of 370 MYR per day, you can stay in a budget hotel, eat out for all your meals (including the occasional Western meal), take water taxis as needed, and enjoy a few activities like kayaking or diving.
On a "luxury" budget of 755 MYR per day or more, you can stay in a nicer hotel room (with A/C), eat out anywhere you want, take water taxis as often as you want, do guided tours, and enjoy all the activities the Perhentian Islands has to offer. This is just the ground floor for luxury though. The sky is the limit!
Accommodation
Food
Transportation
Attractions
Average Daily Cost
Backpacker
75
40
25
20
160
Mid-Range
1665
95
50
60
370
Luxury
350
150
125
130
755
The Perhentian Islands Travel Guide: Money-Saving Tips
A little goes a long way in Malaysia and the Perhentians are no different. It's hard to spend money here unless you're really splurging on food and alcohol. That said, here are some extra ways you can save money in the Perhentian Islands if you're on a budget:
Shop around for dive prices – Diving is hugely popular here, so shop around for a dive center that suits your budget. The more dives you do, the cheaper each one becomes.
Bring your own alcohol – There is very little alcohol on the islands, and what is available is expensive. Bring your own to save yourself some money!
Bring a water bottle – The water here is not safe to drink. To ensure your water is safe to drink, use a filter like Lifestraw. Bringing a reusable bottle with a filter also reduces your environmental impact and your reliance on single-use plastic.
Visit during the shoulder season – April-June is the dry season and accommodation prices are a little cheaper during these months. Arrive before peak season to save money and beat the crowds.
Bring food with you – Food and groceries on the islands are pricey since they need to be shipped in. Save a few bucks by bringing food and snacks with you.
Where to Stay in the Perhentian Islands
There are no hostels in the Perhentian Islands, though there are homestays and budget hotels available. Here are some suggested places to stay in the Perhentian Islands:
How to Get Around the Perhentian Islands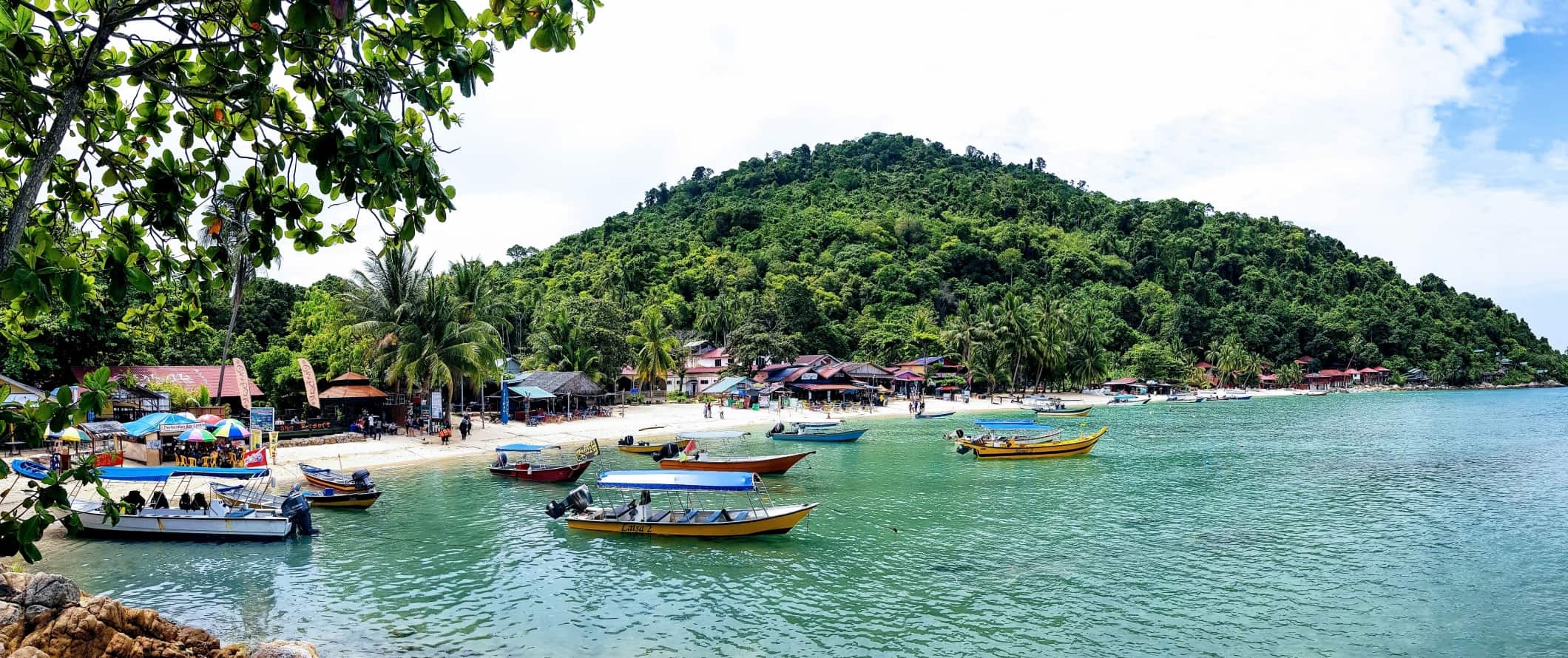 Walk – There are no roads on the islands, but there are tons of walking routes so be prepared to walk everywhere. It won't take more than one hour to walk from one main town to another
Bicycle/Motorbike – Unfortunately, there are no bike rentals in the Perhentian Islands.
Water taxi – Water taxis are the main form of transport, costing around 15-25 MYR for most journeys around the island. Ask your hotel/guesthouse staff for a price estimate so you don't get ripped off.
Ferry – To get to the islands, a bus and ferry from Kuala Lumpur cost around 100 MYR per person. The one-way ferry ticket from Kuala Besut to the islands cost around 35 MYR.
There are also private speed boats available from the mainland for around 350 MYR.
When to Go to the Perhentian Islands
There are two seasons in the Perhentian Islands: the dry season from early March to mid-November and the rainy season from mid-November to early March.
During the rainy season, the islands are empty because almost all businesses close (restaurants, hotels, activities, boats, etc.). Avoid visiting during the rainy season.
July to mid-September is the peak season. With that in mind, April, May, and June are the best months to go to the Perhentians if you're on a budget, as there are fewer crowds and prices are a bit lower.
July and August offer the best diving conditions since the water is clearest during those months. It's always hot and sunny during the dry season too, with daily temperatures around 30°C (86°F).
How to Stay Safe in the Perhentian Islands
The Perhentian Islands are relatively safe. However, petty theft is an increasing problem. Make sure you keep your valuables tucked away and don't flash things like jewelry or cash when you're out and about. Don't leave any valuables unattended when at the beach either.
Most crimes are crimes of opportunity so if you take precautions, you'll likely be fine.
There are no ATM machines on the islands, and would-be thieves know that everyone has lots of cash on them. Make sure to keep your money stored in separate areas, so you can't lose it all at once should your bag or wallet get lost or stolen.
Always lock the doors and windows of your bungalow when going out. Don't leave valuables on your bungalow balcony and don't leave your stuff lying around on the beach when you go swimming. If you're traveling solo, ask someone to keep an eye on your valuables if you want to take a dip.
There's not enough tourism yet to for scams to be common, but if you're concerned, here are some common travel scams to watch out for.
Solo female travelers should feel safe here, though they should avoid walking alone after dark, especially in Perhentian Kecil. Although rare, assaults can happen. As in any destination, solo female travelers should keep an eye on their drinks at all times and never accept drinks from strangers.
Drugs are very illegal in Malaysia. Avoid using them here or you risk stiff penalties and jail time.
If you experience an emergency, dial 999 for assistance.
Additionally, avoid tap water unless you have a water bottle and a filter as it's unsafe to drink and might get you sick.
Always trust your gut instinct. Make copies of your personal documents, including your passport and ID. Forward your itinerary along to loved ones so they'll know where you are.
The most important piece of advice I can offer is to purchase good travel insurance. Travel insurance will protect you against illness, injury, theft, and cancellations. It's comprehensive protection in case anything goes wrong. I never go on a trip without it as I've had to use it many times in the past. You can use the widget below to find the policy right for you:
The Perhentian Islands Travel Guide: The Best Booking Resources
These are my favorite companies to use when I travel. They consistently have the best deals, offer world-class customer service and great value, and overall, are better than their competitors. They are the companies I use the most and are always the starting point in my search for travel deals.
Skyscanner – Skyscanner is my favorite flight search engine. They search small websites and budget airlines that larger search sites tend to miss. They are hands down the number one place to start.
Hostelworld – This is the best hostel accommodation site out there with the largest inventory, best search interface, and widest availability.
Agoda – Other than Hostelworld, Agoda is the best hotel accommodation site for Asia.
Booking.com – The best all around booking site that constantly provides the cheapest and lowest rates. They have the widest selection of budget accommodation. In all my tests, they've always had the cheapest rates out of all the booking websites.
Get Your Guide – Get Your Guide is a huge online marketplace for tours and excursions. They have tons of tour options available in cities all around the world, including everything from cooking classes, walking tours, street art lessons, and more!
SafetyWing – Safety Wing offers convenient and affordable plans tailored to digital nomads and long-term travelers. They have cheap monthly plans, great customer service, and an easy-to-use claims process that makes it perfect for those on the road.
LifeStraw – My go-to company for reusable water bottles with built-in filters so you can ensure your drinking water is always clean and safe.
Unbound Merino – They make lightweight, durable, easy-to-clean travel clothing.
Perhentian Islands Travel Guide: Related Articles
Want more info? Check out all the articles I've written on travel in Malaysia and continue planning your trip: