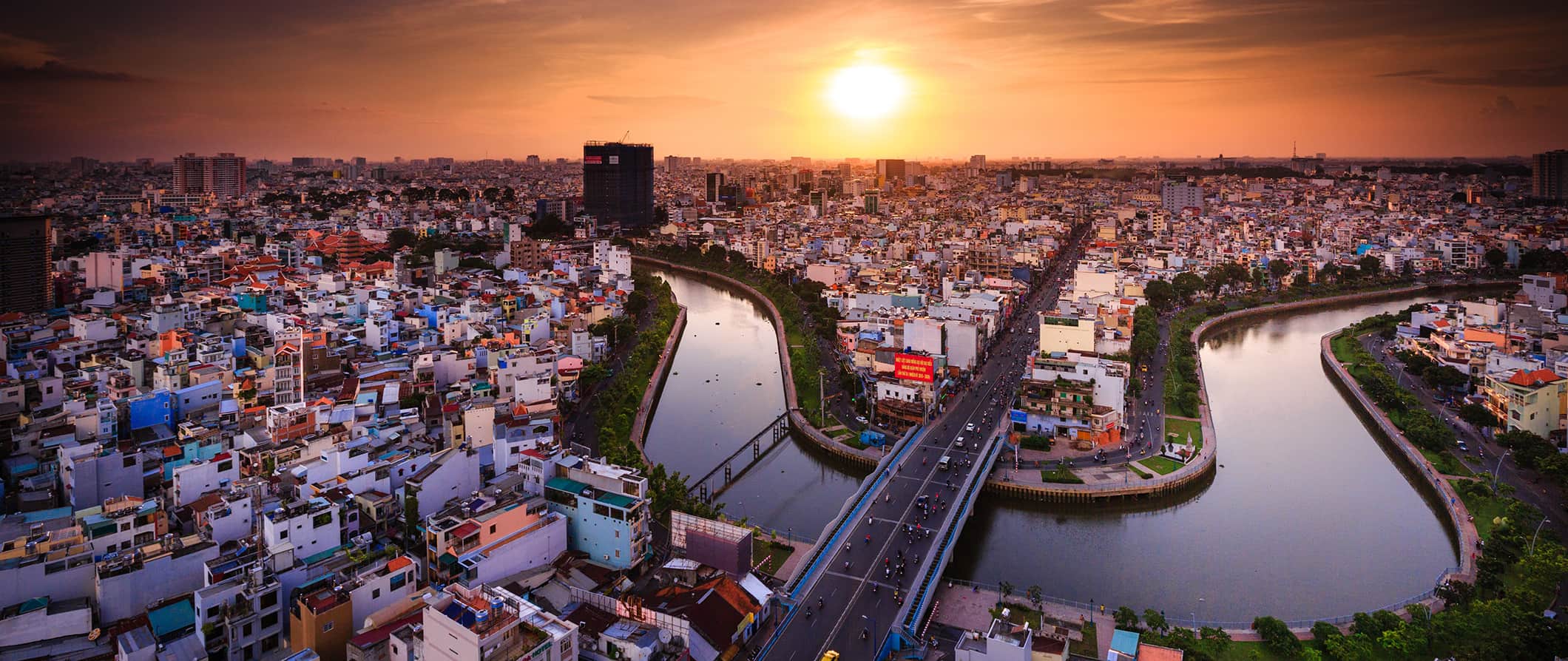 Ho Chi Minh City (or Saigon if you still want to use the old name) is Vietnam's largest and most chaotic city.
And it's one of the most popular places to backpack to by travelers exploring the area. (It's now also one of the hottest spot for digital nomads to move too thanks to its cheap cost of living.)
I love the chaos here. It's a city with a billion things happening at once. Motorbikes, bicycles, cars, and rickshaws go wherever and whenever they please, and lots of street stands and market spill into the traffic lanes.
The city has a lot to offer: wonderful shops, fantastic nightlife, and delicious food. After Hoi An, it is my second favorite city in Vietnam.
Additionally, you'll find some interesting (and propagandaish museums like the War Remnants Museum and the Cu Chi Tunnels.
This travel guide to Ho Chi Minh will give you the best places to visit, tell you how to save money, how to get around, give you costs, and help you plan the best trip to this city!

Ho Chi Minh City
Top 5 Things to See and Do in Ho Chi Minh City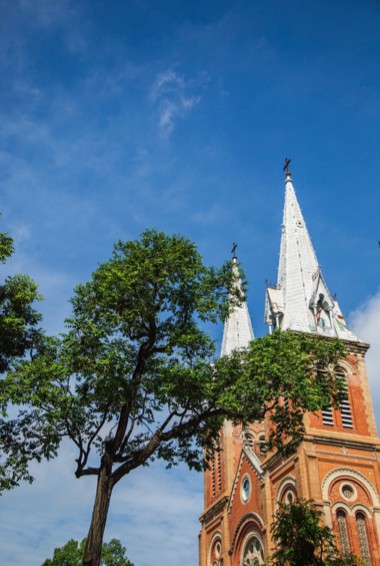 1. Admire the Notre Dame Cathedral
The Notre Dame Cathedral is an imposing red brick building built between 1877 and 1883. The two towers in the front of the cathedral rise above visitors at nearly 58 meters tall while the neon-lit statue of the Virgin Mary is also an intriguing sight.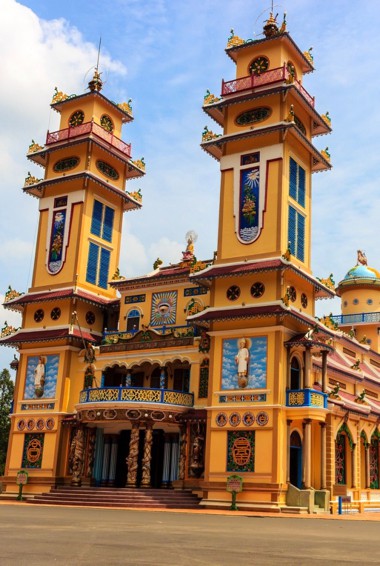 2. See the Cao Dai Holy See Temple
The Cao Dai religion is relatively new (it's less than 100 years old). This Cao Dai temple is the main temple for the religion and is hugely ornate and colorful, with a giant globe behind the main alter displaying the religion's "divine eye" symbol. Most people combine a trip to the temple with the Cu Chi Tunnels excursion.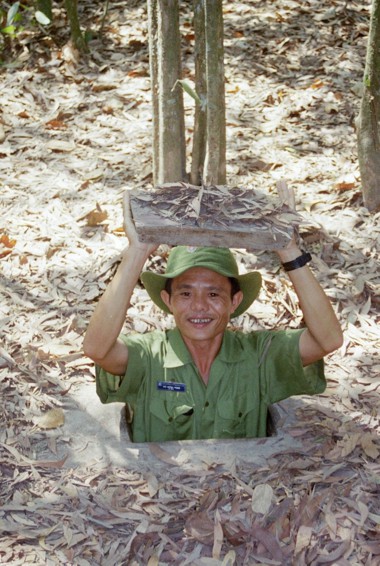 3. Crawl through the Cu Chi Tunnels
Crawl through the extensive network of tunnels used by the Viet Cong in the 1960s to fight American soldiers. Tours involve a walk through of the tunnels and chambers. It's a sobering experience and not one meant for anyone claustrophobic. The best way to do it is by guided tour. Tours cost about 348,310 VND ($15 USD).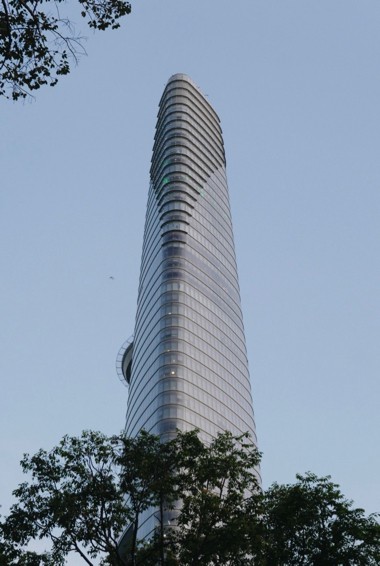 4. Ascend the Saigon Skydeck
For a 360-degree panorama of the city, you can head to the Saigon Skydeck Tower. The observation deck is on the 49th floor and entrance costs 200,000 VND/$8.60 USD (kids and seniors for 130,000 VND/$5.60 USD). Open daily from 9:30am-9:30pm.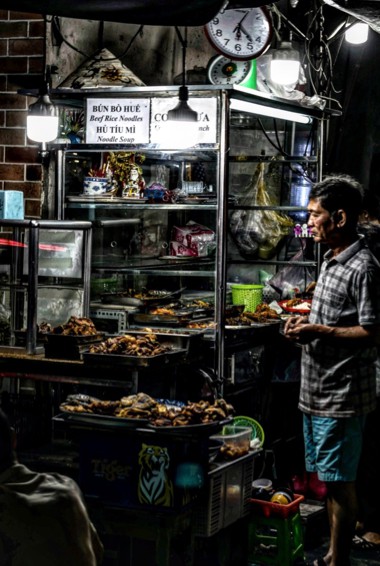 5. Take a food tour
If you would rather not get hands on with your food, take a tour through Ho Chi Minh's best foodie neighborhoods. With Street Food Adventure Tours you will safely try lots of street food, including everything from rice vermicelli with BBQ pork to coconut juice and Vietnamese coffee (and more!). Tours are typically around 818, 825 VND ($35 USD).
Other Things to See and Do in Ho Chi Minh City
1. Get lost in Chinatown
Chinatown is a hive of activity and a maze of temples, restaurants, jade ornaments, and medicine shops. Aside from the sprawling Binh Tay Market, you'll find some fascinating temples in the area including the Chinese Chua Quan Am Temple and Cha Tam, a Catholic cathedral.
2. Visit the Museum of Ho Chi Minh City
At one point or another, the city museum has been a Governor's Palace, committee building, and Revolutionary Museum. You'll find a collection of weaponry and memorabilia from the country's revolutionary struggle as well as captured U.S. fighter planes and tanks. Admission costs 30,000 VND ($1.30 USD).
3. See the Emperor Jade Pagoda
This temple was built in 1909 to honor the supreme Taoist god, Emperor Jade. It's one of the most impressive pagodas in Vietnam. The building is filled with intricate woodcarvings and statues of divinities and heroes, including Emperor Jade himself. The roof is also covered in detailed tile work showing characters from Buddhist and Taoist legends.
4. Shop at the Ben Thanh Market
Though this market in District 1 is crowded and rife with pickpockets, it is the ideal place to pick up some handicrafts or bargain souvenirs, or to try some traditional (and inexpensive) Vietnamese food. It's the largest market in Vietnam, so get lost in the chaos and enjoy it all.
5. Escape to Can Gio Island
The Can Gio Island is popular with tourists and locals looking to escape the chaos of the city. The beaches here aren't mind-blowing like they are in Thailand but it's a cool place to relax and one of Vietnam's better islands. The island's monkey sanctuary and mangroves are great for wildlife fans. It's about a two-hour drive to get there and you can take the #75 bus from 23/9 Park.
6. Unwind in Twenty-Three September Park
In the early morning and just after the work day is done, this park is packed with people exercising and playing games. Watch a Tai Chi class, play a game of badminton, or chat with one of the many students who hang out in the area.
7. Visit Ba Thien Hau Temple
Located in Chinatown, the Ba Thien Hau Temple is a Buddhist temple that was built in 1706 for the Chinese sea goddess, Mazu. It's believed she flies around on a cloud or a mat, rescuing people at sea. The outside of the temple doesn't look like much but the inside is filled with porcelain figures, and the roof is covered in colorful dioramas.
8. Visit the War Remnants Museum
The museum's best exhibit is the collection of bombs, tanks, planes and war machinery, including an American F-5A fighter jet at the front entrance. The museum has a very "pro-communist, down-with-the-capitalists" bend to it. It's as much propaganda as it is history. Entrance fee is 40,000 VND ($1.70 USD) per person.
9. Take a cooking class
There are many, many cooking classes in Ho Chi Minh City. You can easily shop around. I recommend Saigon Cooking Class by Hoa Tuc because it is led by chefs that love combining classic and contemporary Vietnamese dishes. You can even combine your cooking class with a market tour. Tours here start from 909,000 VND ($39.50 USD), but you can find them for cheaper elsewhere.
10. Catch a show at the Opera House
The Opera House in Ho Chi Minh City is one of the best-preserved examples of French colonial architecture in the country. It was built in 1897 for the opera but now also hosts lots of different performances, including ballet and Vietnamese traditional dances and plays. Check the website to see what's on during your visit.
Ho Chi Minh Travel Costs
Ho Chi Minh City is split into twenty four districts (i.e. neighborhoods) and each has a different vibe. For visitors wanting to be in the center of Ho Chi Minh City's nightlife scene book a hostel in District 1. For more budget-conscious travelers, book a hostel in District 5.
Hostel prices – Low-cost dorm beds start from 9,2885 VND ($4 USD) in a room with 8-10 people, but you'll pay about 139,325 VND ($6 USD) for a bed in a smaller dorm with 4-6 people. There are so many hostels in the city to choose from. Most offer free wifi and breakfast. Private rooms start around 348,310 VND ($15 USD) for a double room, but the average is around 464,415 VND ($20 USD).
Budget hotel prices – A night in a two-star budget hotel starts at around 200,000 VND ($9 USD), but, for something a little nicer and less bare bones, 300,000-650,000 VND ($13-28 USD) per night is the average. Hotel prices in Ho Chi Minh City don't really change by the season; they're pretty cheap all year round.
Shared rooms in an Airbnb accommodation start from 116,975 VND ($5 USD). Comfortable private rooms in an Airbnb apartment start from about 464,415 VND ($20 USD), while a full apartment is usually between 464,415-580,517 VND ($20-25 USD).
Average cost of food – Eat the local street food and you can get a meal for around 20,000 VND ($0.90 USD). Sit down restaurants are also inexpensive at around 80,000 VND ($3.45 USD) per meal. A western burger might cost around 40,000 VND ($1.70 USD). The backpacker area, Pham Ngu Lao, has a wide range of restaurants too.
I don't recommend cooking your meals here since there is plenty of delicious street food to eat at very cheap prices. You won't make it as good as they do and the food is too delicious to miss.
Backpacking Ho Chi Minh City Suggested Budgets
On a backpacker budget in Ho Chi Minh City, you'll spend about 696,620 VND ($30 USD) per day. This will cover a large hostel dorm, eating cheap street food, drinking cheap beer, public transportation, and a few attractions per day.
A mid-range budget of about 1,393,240 VND ($60 USD) per day, you can get a private two-star hotel room, food at just about any restaurant you want, a few taxis or motorcycle taxis around town, and more activities and paid tours. You won't be living the rich life here but you really won't want for anything on this budget.
On a luxury budget of 3,018,692 VND ($130 USD), you will stay at a nice four-star hotel (with a spa or swimming pool!), eat out for all your meals at any restaurant you want, drink everything you want, and take taxis or a Grab just about anywhere and as often as you like. At this budget or more, the city is your oyster.
You can use the chart below to get some idea of how much you need to budget daily, depending on your travel style. Keep in mind these are daily averages – some days you'll spend more, some days you'll spend less (you might spend less every day). We just want to give you a general idea of how to make your budget. Prices are in USD.
Accommodation
Food
Transportation
Attractions
Average Daily Cost
Backpacker
$5
$5
$5
$15
$30
Mid-Range
$15
$10
$10
$25
$60
Luxury
$50
$15
$15
$50
$130
Ho Chi Minh City Travel Guide: Money Saving Tips
You don't need to do much to save money in Ho Chi Minh City as it's super inexpensive to visit already. But, if you must, here are some ways you can cut down your costs in Ho Chi Minh:
Only take metered taxis – Make sure the taxi drivers turn on their meter, otherwise, taxi drivers can rip you off. Or better yet, skip them and walk. Or rent a bike and try to navigate the chaos of the city.
Ask your hostel staff – Before you leave the hostel, ask them to estimate how much what you want to do should cost. How much should a ride to the museum cost? How much should I pay to have a gown like this made? They will be able to give you bargaining guidelines.
Eat street food – Street food in Ho Chi Minh City is inexpensive and delicious. Be sure to try a banh mi, a Vietnamese sandwich popular in the south. You can find many different kinds of noodle soup at small street stalls.
Enjoy happy hour – The bars in the Pham Ngu Lao area have plenty of Happy Hour drink specials, from half-price drinks to dollar cocktails, to buy one get two free!
Save money on rideshares – Grab is the Uber equivalent in Asia and is way cheaper than taxis. It's the best way to get around a city if you don't want to wait for a bus or pay for a taxi.
Take a free walking tour – Free walking tours are one of the best ways to get oriented in a new city. I recommend Saigon Free Walking Tours.
Pack a water bottle – A water bottle with a purifier will come particularly in handy in Southeast Asia since you can't drink the tap water. Save money and thousands of plastic bottles and get a bottle that can purify the tap water for you. My preferred bottle is LifeStraw ($49.99).
Where To Stay in Ho Chi Minh
Here are some of my favorite places to stay in Ho Chi Minh City:
How to Get Around Ho Chi Minh City
Bus – Ho Chi Minh City has over 100 different bus routes, and you can reach all major tourist destinations this way. They're safe and affordable, costing between 3,500-10,000 VND ($0.15-0.43 USD) depending on the distance. You'll pay the driver in cash as you get on the bus. However, if you're going a short distance, this isn't the most practical way to travel, as traffic congestion is very high in this city. For longer distances, yes, go on the bus!
Bicycle – A common way to get around the city is by bicycle, which you can ride easily since the city is so flat. You can rent a bike for about 130,000 VND ($5.60 USD) per day. Some good companies to rent from include:
Mr. Biker Saigon
Saigon Bike Shop
Bike Cafe
Just a note of caution: traffic in Ho Chi Minh can be intense, so if you're not an experienced cyclist, you may want to skip this option.
Taxis – Taxis start at average at 12,000 VND ($0.52 USD) for the first kilometer and 10,000 VND ($0.43 USD) per kilometer thereafter. Grabbing a taxi from the airport to the center of the city should take about 30-minutes and costs about 200,000-330,000 VND ($8.60-14.20 USD). Do not take unmetered taxis!
Motorcycle Taxi – You can also catch rides from motorcycle taxis for about 10,000 VND ($0.43 USD) per kilometer or about 30,000 VND ($1.30 USD) per short ride. Remember to set the price beforehand and wear the helmet. These motorcycle taxis will get you places the quickest, as they're able to weave in and out of heavy traffic.
Cyclo – Cyclos are like tuk-tuks, except they run completely on man-power. Because cyclos are slow moving and often a nuisance in traffic, many roads in Ho Chi Minh City are entirely closed off to them. If you choose to go this route, your driver may have to navigate around prohibited roads and may not be able to drop you off right at your address. Because of this, I do not recommend cyclos. A short trip within the city center shouldn't cost more than 50,000 VND ($2.15 USD).
Ridesharing – Grab is Asia's answer to Uber. It works the same way: you hire a local to take you somewhere via the Grab app, and you can pay via the app or in cash. It's often more affordable than a regular taxi. A short 10-minute ride from District 1 to the Notre Dame Cathedral, for example, will cost you about 27,625 VND ($1.20 USD) for a shared Grab. Grab Bikes (motorcycle taxis) are even cheaper.
When to Go to Ho Chi Minh City
The driest months in Ho Chi Minh City are from December to March, making it one of the most popular times to visit. The temperatures are warm during this time, ranging between 70-93°F (21-34°C). If you can, come during the Tet Festival (Vietnamese New Year) at the end of January/beginning of February to enjoy the colorful celebrations. Prices are jacked up during this time, however.
The rainy season lasts from May to September, but as in other parts of Southeast Asia, the downpour doesn't tend to last too long. The days are sunny and warm otherwise. April and May are the hottest two months of the year with highs reaching 99°F (37°C). The humidity can make it feel a lot hotter, though.
Another thing to note about the monsoon season: there are several public holidays during this time that may affect your visit. The most important ones are Vietnam Reunification Day on April 30th, May Day on May 1st, and Vietnam national Day on September 2nd. Shops and restaurants may be closed and public transit is unreliable.
How to Stay Safe in Ho Chi Minh City
Ho Chi Minh City is a very busy city, but it's a safe place to backpack and travel – even if you're traveling solo or even as a solo female traveler. Violent crime against travelers is very rare, but petty crime and theft is not. In crowded places, you'll want to keep your purse/wallet close and be mindful of the activity around you. Don't keep your cell phone or money in your hand as you're walking around.
Traffic can be hard to navigate in Ho Chi Minh City. Motorbikes are everywhere, and as a pedestrian, crossing the street can be scary. Wait for a break in the traffic before crossing the road, but then don't slow down or adjust your gait. Make a beeline to the other side.
Be on alert for scams. Mostly people are really just going to try to nickel and dime you and try to get you to spend extra money since they know, as a tourist, you have more than they do. Just keep an eye out. Most people are very honest!
(Worried about travel scams? Read about these travel scams and make sure you don't fall for any!)
Always trust your gut instinct. If a taxi driver seems shady, stop the cab and get out. If your hotel is seedier than you thought, get out of there. Make copies of your personal documents, including your passport and ID.
If you don't do it at home, don't do it when you're in Ho Chi Minh City. Follow that rule and you'll be fine.
The most important piece of safety advice I can offer is to purchase good travel insurance. Travel insurance will protect you against illness, injury, theft, and cancellations. It's comprehensive protection in case anything goes wrong. I never go on a trip without it as I've had to use it many times in the past. You can use the widget below to find the policy right for you:
Ho Chi Minh City Travel Guide: The Best Booking Resources
Below are my favorite companies to use when I travel to Ho Chi Minh City. They are included here because they consistently turn up the best deals, offer world-class customer service and great value, and overall, are better than their competitors.
Momondo – This is my favorite flight search engine because they search such a wide variety of sites and airlines. I never book a flight without checking here first.
Skyscanner – Skyscanner is another great flight search engline which searches a lot of different airlines, including many of the budget carriers that larger sites miss. While I always start with Momondo, I use this site too as a way to compare prices.
Airbnb – Airbnb is a great accommodation alternative for connecting with homeowners who rent out their homes or apartments. The big cities have tons of listings!
Hostelworld – This is the best hostel accommodation site out there, with the largest inventory, best search interface, and widest availability.
Agoda – Other than Hostelworld an Airbnb, Agoda is the best hotel accommodation site for Asia as it has the largest inventory and offers the best rates. If you want a guesthouse or hotel, book it via this website!
Rome 2 Rio – This website allows you to see how to get from point A to point B the best and cheapest way possible. Just enter your departure and arrival destinations and it will give you all the bus, train, plane, or boat routes that can get you there as well as how much they cost. One of the best transportation website out there!
EatWith – This website allows you to eat home cooked meal with locals. Locals post listings for dinner parties and specialty meals that you can sign up for. There is a fee (everyone sets their own price) but this is a great way to do something different, pick a local's brain, and make a new friend.
Intrepid Travel – If you want to do a group tour around Asia, go with Intrepid Travel. They offer good small group tours that use local operators and leave a small environmental footprint. If you go on a tour with anyone, go with them. And, as a reader of this site, you'll get a discount when you click the link!
World Nomads – I buy all my travel insurance from World Nomads. They have great customer service, competitive prices, and in-depth coverage. I've been using them since I started traveling in 2003. Don't leave home without it!
Ho Chi Minh City Gear and Packing Guide
If you're heading on the road and need some gear suggestions, here are my tips for the best travel backpack and for what to pack!
The Best Backpack for Travelers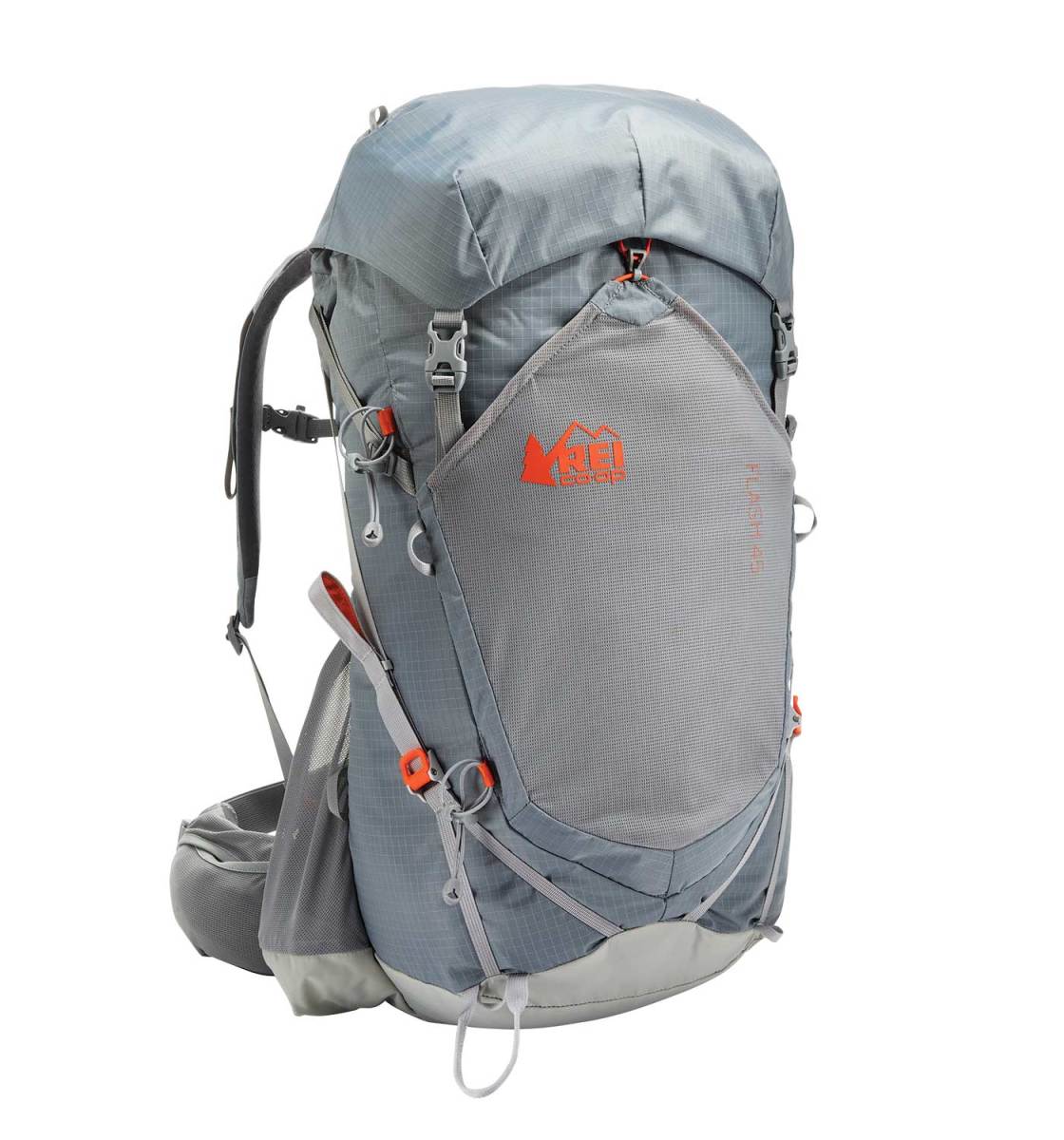 What's the best backpack for traveling long-term? I recommend the
REI Flash 45 Pack
. It's light and comfy, front loading, and fits perfectly in an airplane's overhead bin.
Size:
45-47L
Straps:
Thick and cushy with compression technology that pulls the pack's load up and inwards so it doesn't feel as heavy.
Features:
Removable top lid, large pocket at the front, hydration compatible, contoured hip belt
If you want something different, refer to my article on how to choose the best travel backpack for tips on picking a pack and other backpack suggestions.
What to Pack for Your Trip
Clothes
1 pair of jeans (heavy and not easily dried, but I like them; a good alternative is khaki pants)
1 pair of shorts
1 bathing suit
5 T-shirts (Unbound Merino is my preferred company. If you're a member of NM+, you can get 15% off your purchase)
1 long-sleeved T-shirt
1 pair of flip-flops
1 pair of sneakers
6 pairs of socks (I always end up losing half)
5 pairs of boxer shorts (I'm not a briefs guy!)
1 toothbrush
1 tube of toothpaste
1 razor
1 package of dental floss
1 small bottle of shampoo
1 small bottle of shower gel
1 towel
Deodorant
Small Medical Kit (safety is important!!!)
Miscellaneous
Female Travel Packing List
I'm not a woman, so I don't know what a woman wears, but Kristin Addis, our solo female travel guru, wrote this list as an addition to the basics above:
Clothing
1 swimsuit
1 sarong
1 pair of stretchy jeans (they wash and dry easily)
1 pair of leggings (if it's cold, they can go under your jeans, otherwise with a dress or shirt)
2-3 long-sleeve tops
2-3 T-shirts
3-4 spaghetti tops
1 light cardigan
Toiletries
1 dry shampoo spray & talc powder (keeps long hair grease-free in between washes)
1 hairbrush
Makeup you use
Hair bands & hair clips
Feminine hygiene products (you can opt to buy there too, but I prefer not to count on it, and most people have their preferred products)
For more on packing, check out these posts:
Ho Chi Minh City Travel Guide: Suggested Reading
Eating Vietnam, by Graham Holliday
While I don't love Vietnam (I didn't have a good experience there), I do love Vietnamese food… a lot! This is an awesome book about the history and culture behind the country's street cuisine. Author Graham Holliday has lived in Vietnam a long time, and he sure knows his food. In this engrossing and hunger-inducing book, you'll wander with him through the backstreets of Vietnam, learning about the street food you see all over the country and, in doing so, begin to understand the country and its people through their first love. The introduction is even written by Anthony Bourdain!



The Sympathizer, by Viet Thanh Nguyen
This is Viet Thanh Nguyen's first novel, and it won the Pulitzer Prize for Fiction. The story focuses on the narrator, a communist double agent who lives two lives — a half-French, half-Vietnamese army captain who comes to the United States after the Fall of Saigon, but while building a life with other Vietnamese refugees in LA is reporting back to his superiors in Vietnam. It's a unique look at post-war Vietnam, and one that'll have you gripped right from the beginning.



The Things They Carried, by Tim O'Brien

This is the second book of fiction about Vietnam from Tim O'Brien, and it's required reading in many classrooms. It's not exactly a novel or a collection of short stories, but a series of fictional episodes taking place in its characters' childhoods, from the Vietnamese jungles to America and back again. O'Brien writes with such raw honesty, you'll find this a gut-wrenching, incredible read. While the stories are fictional, it's clear O'Brien is writing personal war stories from experience.



At Home in the World, by Thich Nhat Hanh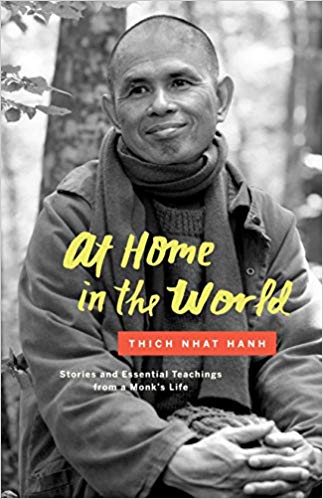 This book is a collection of Zen teachings and stories written by a Vietnamese monk (also a peace activist) named Thich Nhat Hanh. You'll learn about his life growing up in rural Vietnam, as well as his beginning years as a young monk, through to the time when war sent the country into chaos. Each teaching and story is short – sometimes just half a page – so it makes for a great travel read that you can pick up when you feel the need.
Ho Chi Minh City Travel Guide: Related Articles
Want more info? Check out all the articles I've written on Vietnam travel and continue planning your trip:
Photo credits: 2 – Jorge Láscar,6 – Tun Tun Win