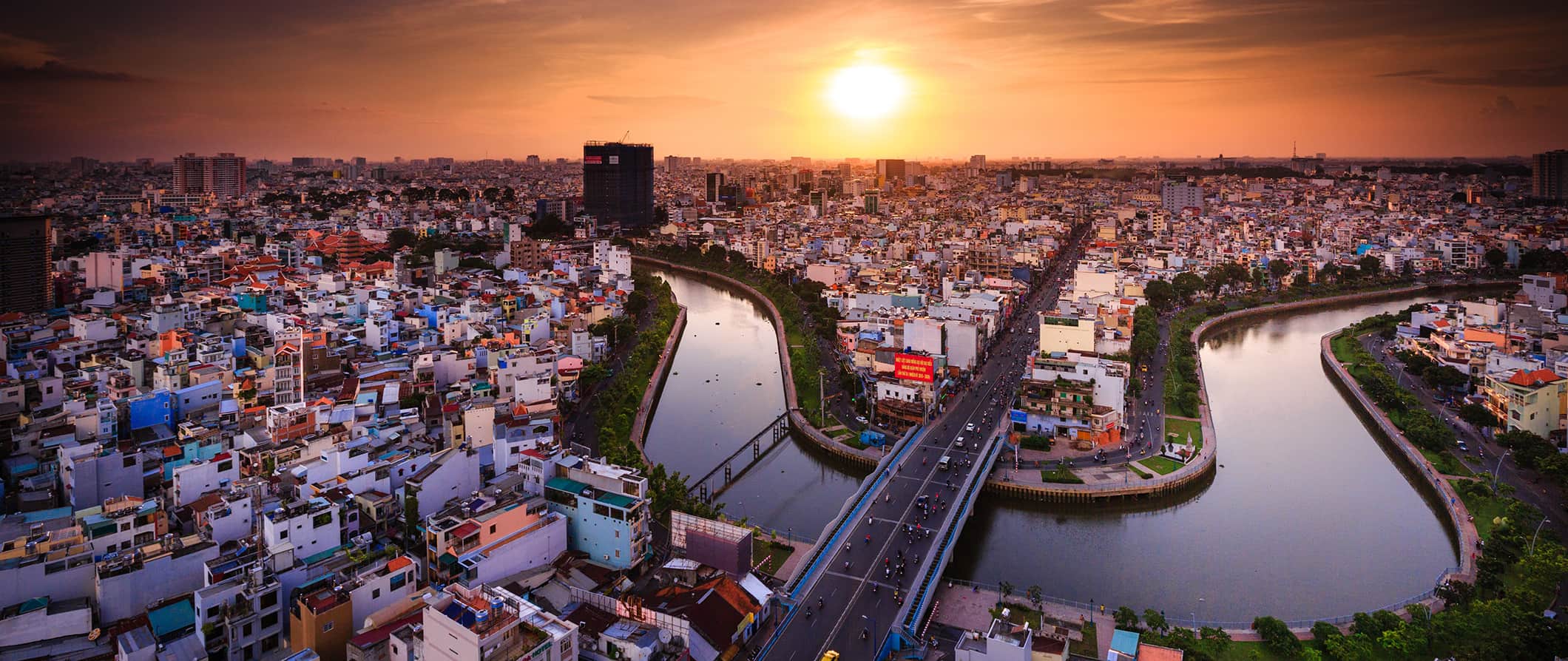 Ho Chi Minh City, or Saigon, is Vietnam's largest and most chaotic city. I love the chaos here, though you need to be careful (and patient) when walking across the street! Motorbikes, bicycles, cars, and rickshaws go wherever and whenever they please and lots of street stands and market spill into the traffic lanes. It's a city with a billion things happening at once. There is a lot of information here about the war, from the War Remnants Museum to the Cu Chi Tunnels. There's a great historical museum here, though the English translation leaves a lot to be desired. The city has a lot to offer: wonderful shops, fantastic nightlife, and delicious food. After Hoi An, it is my second favorite city in Vietnam.

Ho Chi Minh City
Top 5 Things to See and Do in Ho Chi Minh City
1. Visit the Museum of Ho Chi Minh City
At one point or another, the city museum has been a Governor's Palace, committee building, and Revolutionary Museum. Nowadays, its picturesque grounds attract newlyweds posing for photographs. You'll find a collection of weaponry and memorabilia from the country's revolutionary struggle as well as captured US fighter planes and tanks. Admission costs 15,000 VND.
2. See the Cao Dai Holy See Temple
The Cao Dai religion is relatively new at less than 100 years old. The "all-seeing eye" which dominates the architecture distinguishes the temples. This Cao Dai temple is the main temple for the religion and is hugely ornate and impressive. Most people combine a trip to the temple with the Cu Chi Tunnels excursion.
3. Crawl through the Cu Chi Tunnels
Crawl through the extensive network of nearly 500km of tunnels utilized by the Viet Cong in the 1960s to fight American soldiers. Tours involve a description and tour of the tunnels and chambers. It's a sobering experience and not one meant for anyone claustrophobic. However, if you want to better understand the terror of the Vietnam War, this is a must-visit.
4. Ascend the Saigon Skydeck
For a 360-degree panorama of the city, you can head to the Saigon Skydeck Tower. The observation deck is on the 49th floor and entrance costs 200,000 VND (kids and seniors for 130,000 VND). Open daily from 9:30am-9:30pm.
5. Visit the War Remnants Museum
The museum's best exhibit is the collection of bombs, tanks, planes and war machinery, which can be found in the courtyard. The museum has a very pro-communist, down-with-the-capitalist-pigs bend to it. It's as much propaganda as it is history. Entrance fee is 15,000 VND per person.
Other Things to See and Do
(Click the title to expand the text)
1. Get lost in Chinatown
Chinatown is a hive of activity; it is a maze of temples, restaurants, jade ornaments, and medicine shops. Aside from the sprawling Binh Tay Market, you'll find some fascinating temples in the area including the Chinese Chua Quan Am Temple and Cha Tam, which is a Catholic cathedral.
2. Admire the Notre Dame Cathedral
The Notre Dame Cathedral is an imposing red brick building built between 1877 and 1883. The two towers in the front of the cathedral rise above visitors at nearly 58 meters tall while the neon-lit statue of the Virgin Mary is also an arresting site.
3. See the Emperor Jade Pagoda
Emperor Jade is one of the most impressive pagodas in Vietnam. The intricate carvings and depictions of deities including Emperor Jade himself.
4. Shop at the Ben Thanh Market
Though the market is crowded and rife with pickpockets, it is the ideal place to pick up a bargain or try some traditional (and inexpensive) Vietnamese food. It's an ideal shopping place.
5. Escape to Can Gio Island
The Can Gio Island is popular with tourists and Ho Chi Minh locals as a way to escape the chaos of the city. The beaches here aren't mind-blowing like they are in Thailand but it's a cool place to relax and one of Vietnam's better islands. The island's monkey sanctuary and mangroves are great for wildlife fans.
6. Unwind in Twenty-Three September Park
In the hours just preceding and just after the working day, this park is packed with people exercising and playing games. Watch a Tai Chi class, play a game of badminton, or chat with one of the many students who hang out in the area.
Typical Costs
Hostel prices
– Low-cost dorm beds cost around 90,000–200,000 VND, while private rooms are around 220,000-650,000 VND for a double room. There are so many hostels in the city to choose from. Most offer free WiFi and breakfast. If you're looking to meet other travelers, look for a hostel with a big lobby a rooftop to hang out on. A great hostel (though a bit more expensive at 350,000 VND) in this city is called
The Common Room Project
in District 5. Ho Chi Minh City is split into 24 Districts (like neighborhoods) each with a different vibe. For visitors wanting to be in the center of Ho Chi Minh City's nightlife scene book a hostel in District 1, for more budget-conscious travelers book a hostel in District 5.
Budget hotel prices – A night in a budget hotel starts at 200,000 VND, but 300,000-650,000 VND is the norm. Hotel prices in Ho Chi Minh City don't really change by the season, they're pretty cheap all year round. While almost every hotel in the area offers free WiFi and air-conditioned rooms, there are not very many that have on-site swimming pools or fitness centers. Like for the hostels, stay in District 1 if you want to be close to the nightlife, and choose District 5 if you're looking for a more budget-friendly neighborhood.
Average cost of food – Eat the local food and you can get a meal for around 20,000 VND. Sit down restaurants are also inexpensive at around 80,000 VND. A western burger might cost around 40,000 VND. The backpacker area, Pham Ngu Lao, has a wide range of restaurants (at varying costs for foreigners) too. A week's worth of groceries will cost you about 300,000-500,000 VDN, which would include eggs, chicken, bread, milk, veggies, and fruit. I don't recommend cooking all of your meals here since there is plenty of delicious street food to eat that you can find at very cheap prices.
Transportation costs – A common way to get around the city is by bicycle, which you can ride easily and rent for about 130,000 VND per day. Public buses around the city cost 3,500 VND. You can also catch rides from motorcycle taxis for about 10,000 VND per kilometer (remember to set the price beforehand and wear the helmet) or about 30,000 VND per short ride. Taxis are more expensive (but still affordable) at 12,000 VND for the first kilometer and 10,000 VND per kilometer thereafter. Grabbing a taxi from the airport to the center of the city should take about 30-minutes and costs about 200,000-330,000 VND.
Suggested daily budget
680,000 – 900,000 VND / 30 – 40 USD (Note: This is a suggested budget assuming you're staying in a hostel, eating all the delicious street food, and using local transportation. If you stay in fancier accommodation or eat out more often, expect this to be higher!)
Money Saving Tips
Taxis – Make sure the taxi drivers turn on their meter, otherwise, taxi drivers can rip you off. Or better yet, skip them and walk. Or rent a bike and try to navigate the chaos of the city.
Be ready for market sellers – When shopping in any of the city's markets you may feel like a wallet on legs as the traders call out to you. Be firm and be ready to walk away.
Ask your hostel staff – Before you leave the hostel, ask them to estimate how much what you want to do should cost. How much should a ride to the museum cost? How much should I pay to have a gown like this made? They will be able to give you bargaining guidelines.
Eat street food – Street food in Ho Chi Minh City is inexpensive and delicious. Be sure to try a banh mi, a Vietnamese sandwich popular in the south. You can find many different kinds of noodle soup at small street stalls.
Enjoy happy hour – The bars in the Pham Ngu Lao area have plenty of Happy Hour drink specials, from half-price drinks to dollar cocktails, to buy one get 2 free!
Save money on rideshares – Uber is way cheaper than taxis and are the best way to get around a city if you don't want to wait for a bus or pay for a taxi. The Uber Pool option is where can you share a ride to get even better savings (though you can get your own car too). You can save $15 off your first Uber ride with this code: jlx6v.
My Other Must Have Guides For Traveling to Ho Chi Minh City