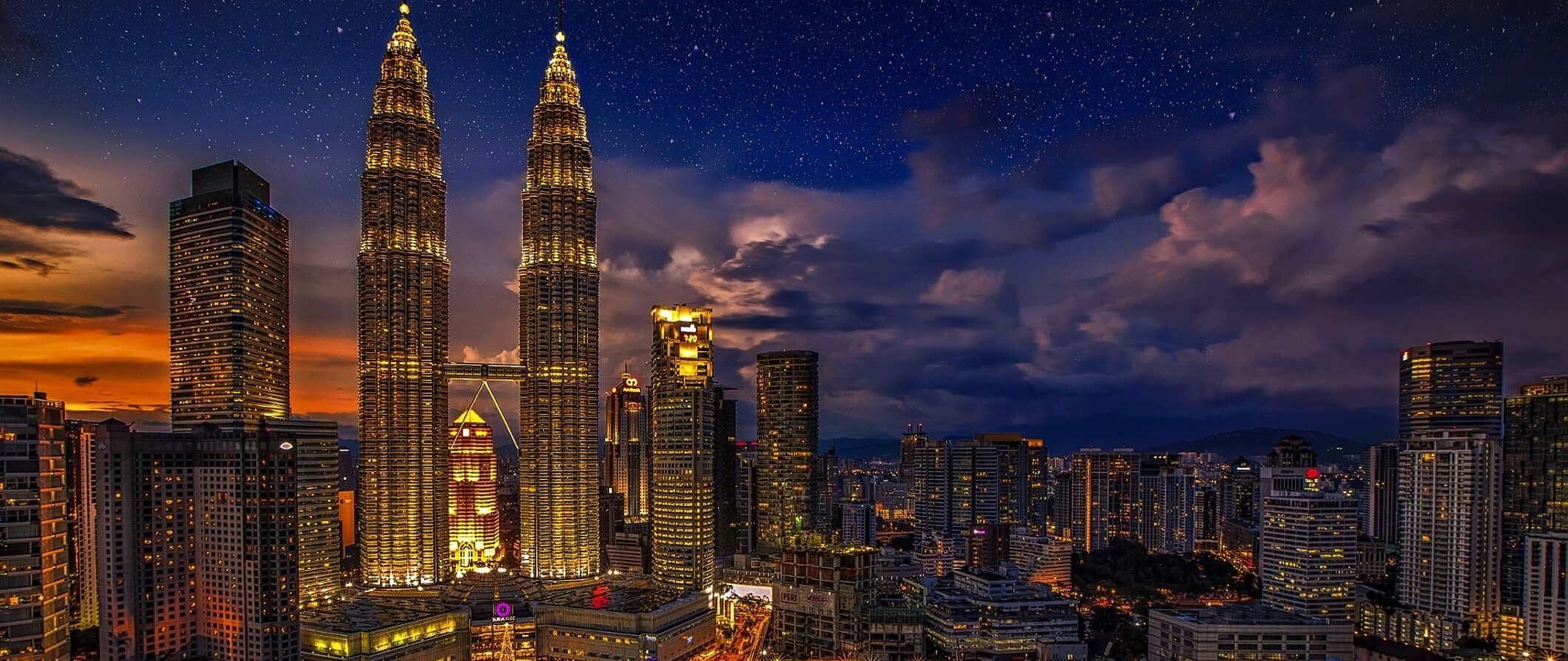 Kuala Lumpur. It's one of my favorite places to visit. Although more expensive than other parts of Malaysia, KL's mix of cultures (India, Chinese, Malay, and Western) creates a unique blend of food, shopping, culture, and nightlife.
Kuala Lumpur is one of the best cities in the world for good Indian food (outside of India that is). There's incredible street food throughout the city, the restaurants here are wonderful, the architecture beautiful, and the people very friendly. More and more people are tuning into the fact that this city is fabulous.
And, as someone who loves it, I'm very happy about that!
This travel guide to Kuala Lumpur can help you plan an affordable and off-the-beaten-path trip here!
Click Here for City Guides

Kuala Lumpur
Top 5 Things to See and Do in Kuala Lumpur
1. See the Petronas Towers
Standing 451m high, these towers dominate the Kuala Lumpur skyline. Visitors can take in the view from the deck on the bridge, which joins the towers on levels 41 and 42. There is only a limited number of tickets per day so you'll need to be there early.
2. Visit the Butterfly Park
The Butterfly Park is an enormous landscaped garden home to over 5,000 butterflies, plants, ferns, and flowers. It is a popular tourist attraction and is also home to an insect museum. AThere's an additional fee of 5 MYR ($1.20 USD) if you bring a video camera (tripods are not allowed).
3. Visit the Thean Hou Temple
One of the oldest and largest temples in Southeast Asia this six-tiered Buddhist temple is also known as the Temple of the Goddess of Heaven. Built in 1894 by Kuala Lumpur's Hainanese community, Thean Hou Temple sits on a hill with sweeping views of the city. Admission is free.
4. Visit Sri Mahamariaman
Built in 1873, the Sri Mahamariaman Hindu Temple sits just at the edge of Chinatown. This is the country's oldest and most beautifully decorated temple. The temple's most impressive feature is the gate tower which is adorned with depictions of Hindu Gods.
5. Duck into Batu Caves
After climbing up 272 steps, you'll be rewarded with the huge golden Murugan statue and the entrance to the largest of the three caves: Cathedral Cave. Once inside, you'll be amazed at its 100m-high ceiling and ornate Hindu shrines. Admission is free.
Other Things to See and Do in Kuala Lumpur
1. Visit the National History Museum
The National History Museum is a great place to familiarize yourself with Malaysia's history and culture. There are four indoor galleries that take you on a tour from the early history of Malaysia to today, including the skeleton of Silver Man, the oldest complete human skeleton found in Malaysia. The outdoor exhibit showcases transportation from over the decades, including a steam locomotive from 1921. Entrance to the museum is 5 MYR ($1.20 USD) for foreign adults and 2 MYR ($0.50 USD) for children 6-12 years old.
2. Eat until you explode
Indian, Chinese, Malay and Western foods are all common in KL. The multicultural social mix in Kuala Lumpur creates an extremely varied blend of food. The markets and roadside stalls are a great place to pick up hawker food. Jalan Alor is one of the most famous streets for street food and is a great starting point, just be ready to barter. Little India and Chinatown also have lots of inexpensive food stalls serving some of the most delicious food in the city. Try the Brickfields Morning Wet Market in Little India, or Petaling Street Market in Chinatown. Chinatown's Central Market also has plenty of food.
3. Go up Menara Kuala Lumpur
Another focal point in Kuala Lumpur's skyline is the Menara tower. At 421m tall, it dwarfs its surroundings and is the fifth tallest building in the world. You get another look at the city but, unlike the Petronas Towers, the floor in the Skybox is transparent so you can see down to the ground! Admission is 99 MYR ($24 USD) for adults and 52 MYR ($13 USD) for kids.
4. Visit Masjid Negara
This is Malaysia's national mosque and it's set within 13 acres of garden and has the capacity to hold 15,000 people. It's bright blue star-shaped dome represents the 13 states of Malaysia and the five pillars of Islam. Non-Muslims are welcome to visit the National Mosque outside of prayer time. Robes are given to visitors who are inappropriately dressed.
5. Wander through Lake Gardens Park
Also called the Tun Abdul Razak Heritage Park, Lake Gardens is located near Chinatown and the main train station. This urban park has Kuala Lumpur Bird Park, one of the largest free-flight walk-in aviaries in the world. It has more than 3,000 birds from approximately 200 different species. Admission is 63 MYR ($14.75 USD) for adults, 42 MYR ($9.83 USD) for children 3 – 11 years old.
6. Visit the Royal Malaysia Police Museum
This might sound like an odd museum to check out, but it's surprisingly interesting. The collection here features old uniforms, weaponry, and vehicles, which have been seized from old members of Malaysia's underground society of organized crime. It's free to visit.
7. Celebrate Deepavali
Deepavali is the Hindu festival of lights, and is one of the biggest celebrations for the Hindu community in Malaysia. It's celebrated in October or November for five days. Also known as Diwali, Dipavali, Dewali, Deepawali, or the Festival of Lights traditionally people will host open houses with fireworks displays, and Indian delicacies. Public celebrations can be found in the Brickfields neighborhood (aka Little India).
8. Explore the Islamic Arts Museum
The Islamic Arts Museum of Malaysia is Southeast Asia's largest museum of Islamic art. Within this vast space, you will find an extensive library of Islamic texts and art and the world's largest scale model of the Masjid al-Haram in Mecca. From jewelry and clothing to architecture and armour spend the day exploring over 7,000 artifacts in 12 galleries. Admission is 17 MYR ($4 USD) for adults and 7 MYR ($1.64 USD) for students, visitors under 18 and senior citizens.
9. Have a taste of Malaysia with a Street Food Tour
If you want someone to help you explore the food markets and understand the local food scene, take a tour with Simply Enak for 260-295 MYR ($61- 70 USD) for adults and 50 MYR ($11.73 USD) per child (ages 5-11). They have a variety of tours, including a walking tour through the Chow Kit market area, and a more generalized Street Food Tour.
For more information on specific cities in Malaysia, check out these guides:
Kuala Lumpur Travel Costs
Hostel prices – Dorms rooms cost between 35-55 MYR ($8-14 USD), while a private room costs between 65-106 MYR ($15-25 USD) per night.
Free breakfast, A/C, and WiFi are all common. Most hostels rarely have kitchens so be sure to double check if you require a place to cook your own meals.
Budget hotel prices – Budget hotels start around 77 MYR ($18 USD) per night for a basic double room with WiFi, breakfast, and A/C. For a hotel with a pool, expect to pay at least 213 MYR ($50 USD) per night.
Airbnb is available throughout the city (usually in serviced apartments designed specifically for travelers), with shared accommodation starting around 145 MYR per night ($34 USD) and entire apartments starting around 205 MYR ($48 USD) per night.
Food – Street food costs under 10 MYR ($2 USD) per dish. Local food in restaurants will cost between 5-20 MYR ($1-5USD) per dish. Budget bites are easy to find in this area. Traditional food like nasi lemak as well as various curries and dim sum are some of the cheapest options.
If you're going to a mid-range restaurant with table service, a meal with a drink will cost around 45 MYR ($10 USD). Western food is more expensive than local food but even still, a Western fast-food combo only costs around 15 MYR ($4 USD). A fun option on a late night is a Luk Luk, a streetside version of steamboat serving up snacks on a stick. There's a variety of vegetables you cook yourself by dipping them into boiling water or soup stock. You can also get meat cooked. Prices range from 2-20 MYR ($0.47- $4.69 USD).
Beer at the bar shouldn't be more than 15 MYR ($4 USD), while an espresso at a chain like VCR will start at 10 MYR ($2 USD).
There are lots of high-end dining options in Kuala Lumpur if you want a splurge. Bottomless brunches with champagne start from 450 MYR ($100 USD). A starter salad or soup starts from about 78 MYR ($18 USD) while an entree like salmon or chicken starts from about 128 MYR ($30 USD). If you want vegetarian or pasta, you'll pay from 88 MYR ($20 USD). A glass of wine starts from 28 MYR ($6.50 USD).
A week's worth of groceries will cost between 75-150 MYR ($18-35 USD), as long as you stick to local staples and avoid expensive western items (such as wine or cheese). However, given how cheap street food and local meals are and how few kitchens there are, you're better off buying snacks and eating out for your meals.
Backpacking Kuala Lumpur Suggested Budgets
If you're backpacking Kuala Lumpur, my suggested budget is about 190 MYR ($45 USD) per day. This budget will cover staying in a hostel dorm, eating street food, taking public transit, and visiting a few attractions.
A mid-range budget of about 423 MYR ($100 USD) will cover a room at a two-star budget hotel or a private Airbnb room, eating out at more sit down restaurants, drinking more, and taking private tours.
For a luxury budget of 1110 MYR ($260 USD) or more, you will stay in a four-star hotel, eat at restaurants for all your meals, and enjoy plenty of activities. The sky is your limit!
You can use the chart below to get some idea of how much you need to budget daily. Keep in mind these are daily averages – some days you'll spend more, some days you'll spend less (you might spend less every day). We just want to give you a general idea of how to make your budget. Prices are in USD.
Accommodation
Food
Transportation
Attractions
Average Daily Cost
Backpacker
$10
$10
$10
$15
$45
Mid-Range
$30
$30
$10
$30
$100
Luxury
$60
$100
$40
$50
$260
Kuala Lumpur Travel Guide: Money Saving Tips
Kuala Lumpur is pretty cheap if you stick to eating local street food, budget accommodation, and public transportation. You'll be really hard pressed to break the bank unless you're specifically traveling in luxury. But, just in case, here's some ways to save money in Kuala Lumpur:
Shop at Lot 10 – This shopping mall sells genuine designer clothes for bargain prices, among the cheapest you are likely to find in Southeast Asia.
Stay in Chinatown – Chinatown is one of the cheaper neighborhoods for lodging in the city and it is relatively close to many attractions.
Explore on foot – Chinatown and Little India or Brickfields, are the neighborhoods with the most tourist sites. They are right next to each other and can easily be explored in a day without spending money on transport.
Watch out for scams – Be aware how much attractions cost before you arrive. The Batu Caves, for example, are free to enter however there will be plenty of people outside trying to see you fake tickets.
Take a free walking tour – If you want to get a better feel for the city, be sure to take a free walking tour. They only last a couple of hours and are a great way to engage with the city's history. Kuala Lumpur Heritage Trail is a historical tour, but there are also lots of market tours and more specialized excursions. Strawberry Tours has a comprehensive list.
Couchsurf – If you're on a budget you'll definitely want to try couch surfing. It's an easy and enjoyable way to cut costs while connecting to the local scene.
Save money on rideshares – Grab is the Malaysian version of Uber and is way cheaper than taxis. Grab is the best way to get around a city if you don't want to wait for a bus or pay for a taxi.
Where To Stay in Kuala Lumpur
Still looking for a place to stay? Here are some of my favorite hostels in Kuala Lumpur:
How to Get Around Kuala Lumpur
Bus – Kuala Lumpur has a reliable public transit system of buses and light rail commuter trains.
RapidKL is the largest single bus network operator in Malaysia and it currently runs 177 routes around the city. Buses in KL are generally faster than trains. The price depends on distance and destination but can range between 2-35 MYR ($1-8 USD). Buses start at 3 MYR ($1 USD).
Train – LRT (subway) and monorail services the whole city and costs between 2-35 MYR ($1-8 USD).
Taxis – Taking a taxi can be tricky in KL. To start there are two different types, the red and white Budget Taxi and the Blue or Yellow Executive taxi. The ladder will cost you double. The best way to avoid this and other taxi scams is to order a Grab, the Uber of Southeast Asia.
Rideshare– The best way to avoid this and other taxi scams is to order a Grab, the Uber of Southeast Asia.
When to Go to Kuala Lumpur
Kuala Lumpur weather stays hot and humid most months, making it ideal for year round travel. On average you can expect temperatures of around 93.2°F (34°C) during the day, and 81.5°F (27.5°C) at night.
KL is affected by two major monsoon seasons yearly and during this time certain areas face some short rainfall and thunderstorms. It does cool down after heavy rain, but the city is one of the least affected states by monsoon winds coming from the east or west. From October to January and March to April Kuala Lumpur experiences rain so May to July is the best time to visit.
The busiest time for tourism is June through August. This also happens to be festival season, when Hari Raya Aidil Fitri and Sarawak Gawai Festival take place. So get ready for a crowd if you plan our trip during this time. Prices for hotels and flights often rise at this time of year.
How to Stay Safe in Kuala Lumpur
Kuala Lumpur is generally safe. You're not going to get kidnapped or anything, but petty crime and scams are very common. That means no walking around with your phone out, never keep anything in your pockets, especially when on public transport, and always keep hold of your bag! If you are eating out, keep your backpack on your lap or place your foot or a chair leg through your strap.
Look for hotels or hostels with 24-hour security. You always want someone around in case you need assistance. If you don't feel safe somewhere, don't hesitate to move on.
You should issue caution when getting money, try and avoid the ATMs on the street if possible and go into the bank to use the ATM, that way you can put your money away discreetly without being watched.
Travelers should also note that Malaysia is a modest country so revealing outfits will attract more attention.
The monkeys at Batu Caves can be a bit mischievous. As tourists get more comfortable with the adorable monkeys, the monkeys are overly comfortable around humans. Do not approach monkeys quickly or give them treats. These monkeys can become quite aggressive and will also grab anything within arms reach. So protect your belongings including keys, sunglasses, backpack or purse.
You can read about the 14 travel scams to avoid right here.
Always trust your gut instinct. If a taxi driver seems shady, stop the cab and get out. If your hotel is seedier than you thought, leave.
If you don't do it at home, don't do it in Kuala Lumpur!
The most important piece of advice I can offer is to purchase good travel insurance. Travel insurance will protect you against illness, injury, theft, and cancellations. It's comprehensive protection in case anything goes wrong. I never go on a trip without it as I've had to use it many times in the past. You can use the widget below to find the policy right for you:
Kuala Lumpur Travel Guide: The Best Booking Resources
These are my favorite companies to use when I travel to Kuala Lumpur. They are included here because they consistently find deals, offer world-class customer service and great value, and, overall, are better than their competitors. They are the ones I use the most and are always the starting points in my search for travel deals.
Momondo – This is my favorite booking site. I never book a flight without checking here first.
Skyscanner – Skyscanner is another great flight search engline which searches a lot of different airlines, including many of the budget carriers that larger sites miss. While I always start with Momondo, I use this site too as a way to compare prices.
Airbnb – Airbnb is a great accommodation alternative for connecting with homeowners who rent out their homes or apartments.
Hostelworld – This is the best hostel accommodation site out there, with the largest inventory, best search interface, and widest availability.
Couchsurfing – This website allows you to stay on people's couches or spare rooms for free. It's a great way to save money while meeting locals who can tell you the ins and outs of their city. The site also lists events you can attend to meet people (even if you're not staying with someone).
Booking.com – The best all around booking site that constantly provides the cheapest and lowest rates. They have a no money down policy, great interface, and the widest selection of budget accommodation. In all my tests, they've always had the cheapest rates out of all the booking websites.
Intrepid Travel – If you want to do a group tour around Malaysia, go with Intrepid Travel. They offer good small group tours that use local operators and leave a small environmental footprint. If you go on a tour with anyone, go with them. And, as a reader of this site, you'll get a discount when you click the link!
Rome 2 Rio – This website allows you to see how to get from point A to point B the best and cheapest way possible. It will give you all the bus, train, plane, or boat routes that can get you there as well as how much they cost.
EatWith – This website allows you to eat home cooked meal with locals. Locals post listings for dinner parties and specialty meals that you can sign up for. There is a fee (everyone sets their own price) but this is a great way to do something different, pick a local's brain, and make a new friend.
World Nomads – I buy all my travel insurance from World Nomads. They have great customer service, competitive prices, and in-depth coverage. I've been using them since I started traveling in 2003. Don't leave home without it!
Kuala Lumpur Gear and Packing Guide
If you're heading on the road and need some gear suggestions, here are my tips for the best travel backpack and for what to pack!
The Best Backpack for Travelers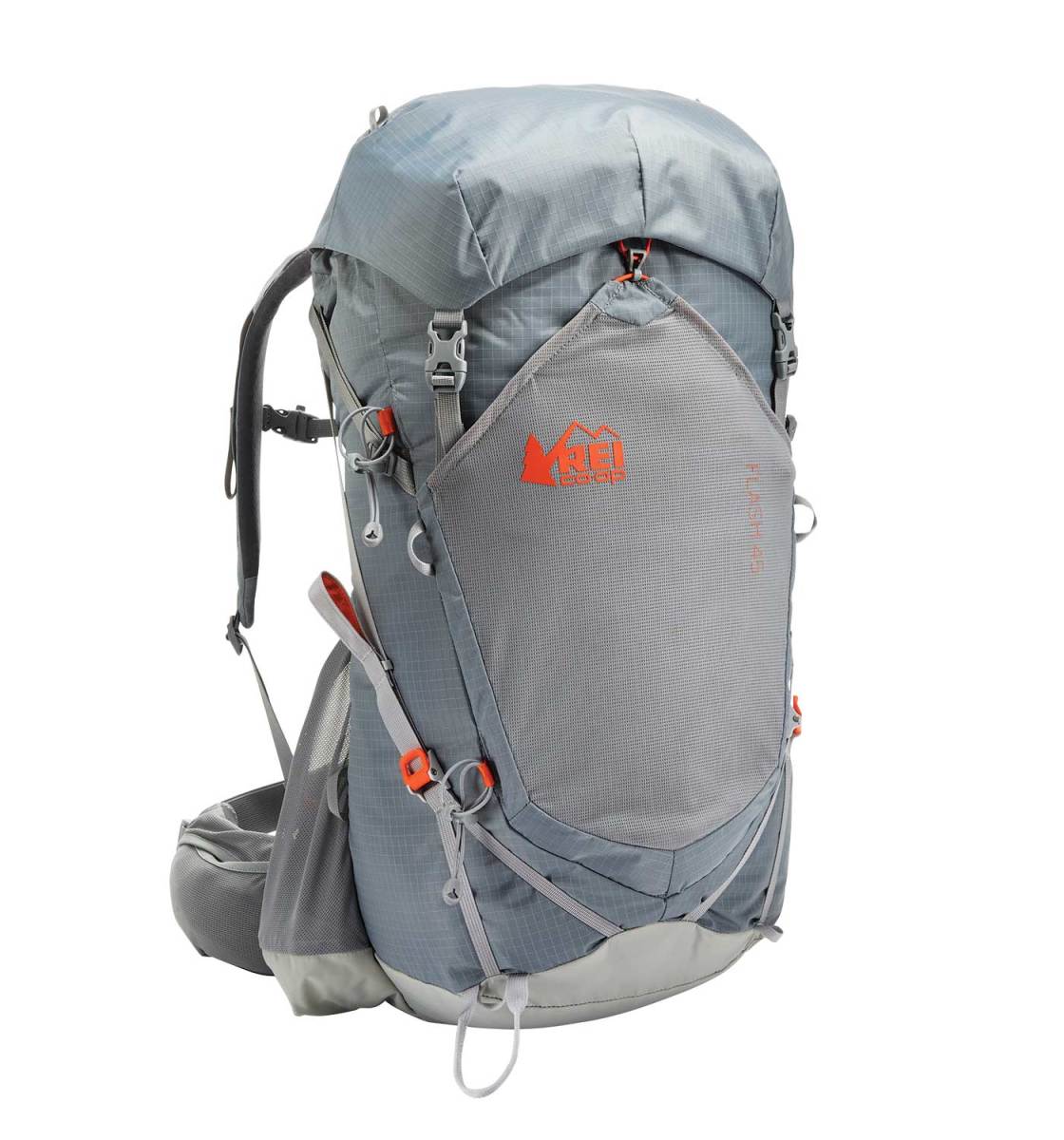 What's the best backpack for traveling long-term? I recommend the
REI Flash 45 Pack
. It's light and comfy, front loading, and fits perfectly in an airplane's overhead bin.
Size:
45-47L
Straps:
Thick and cushy with compression technology that pulls the pack's load up and inwards so it doesn't feel as heavy.
Features:
Removable top lid, large pocket at the front, hydration compatible, contoured hip belt
If you want something different, refer to my article on how to choose the best travel backpack for tips on picking a pack and other backpack suggestions.
What to Pack for Your Trip
Clothes
1 pair of jeans (heavy and not easily dried, but I like them; a good alternative is khaki pants)
1 pair of shorts
1 bathing suit
5 T-shirts (Unbound Merino is my preferred company. If you're a member of NM+, you can get 15% off your purchase)
1 long-sleeved T-shirt
1 pair of flip-flops
1 pair of sneakers
6 pairs of socks (I always end up losing half)
5 pairs of boxer shorts (I'm not a briefs guy!)
1 toothbrush
1 tube of toothpaste
1 razor
1 package of dental floss
1 small bottle of shampoo
1 small bottle of shower gel
1 towel
Deodorant
Small Medical Kit (safety is important!!!)
Miscellaneous
Female Travel Packing List
I'm not a woman, so I don't know what a woman wears, but Kristin Addis, our solo female travel guru, wrote this list as an addition to the basics above:
Clothing
1 swimsuit
1 sarong
1 pair of stretchy jeans (they wash and dry easily)
1 pair of leggings (if it's cold, they can go under your jeans, otherwise with a dress or shirt)
2-3 long-sleeve tops
2-3 T-shirts
3-4 spaghetti tops
1 light cardigan
Toiletries
1 dry shampoo spray & talc powder (keeps long hair grease-free in between washes)
1 hairbrush
Makeup you use
Hair bands & hair clips
Feminine hygiene products (you can opt to buy there too, but I prefer not to count on it, and most people have their preferred products)
For more on packing, check out these posts:
Kuala Lumpur Travel Guide: Related Articles
Want more info? Check out all the articles I've written on backpacking/traveling Asia and continue planning your trip:
Photo credits: 5 – Jorge Lascar