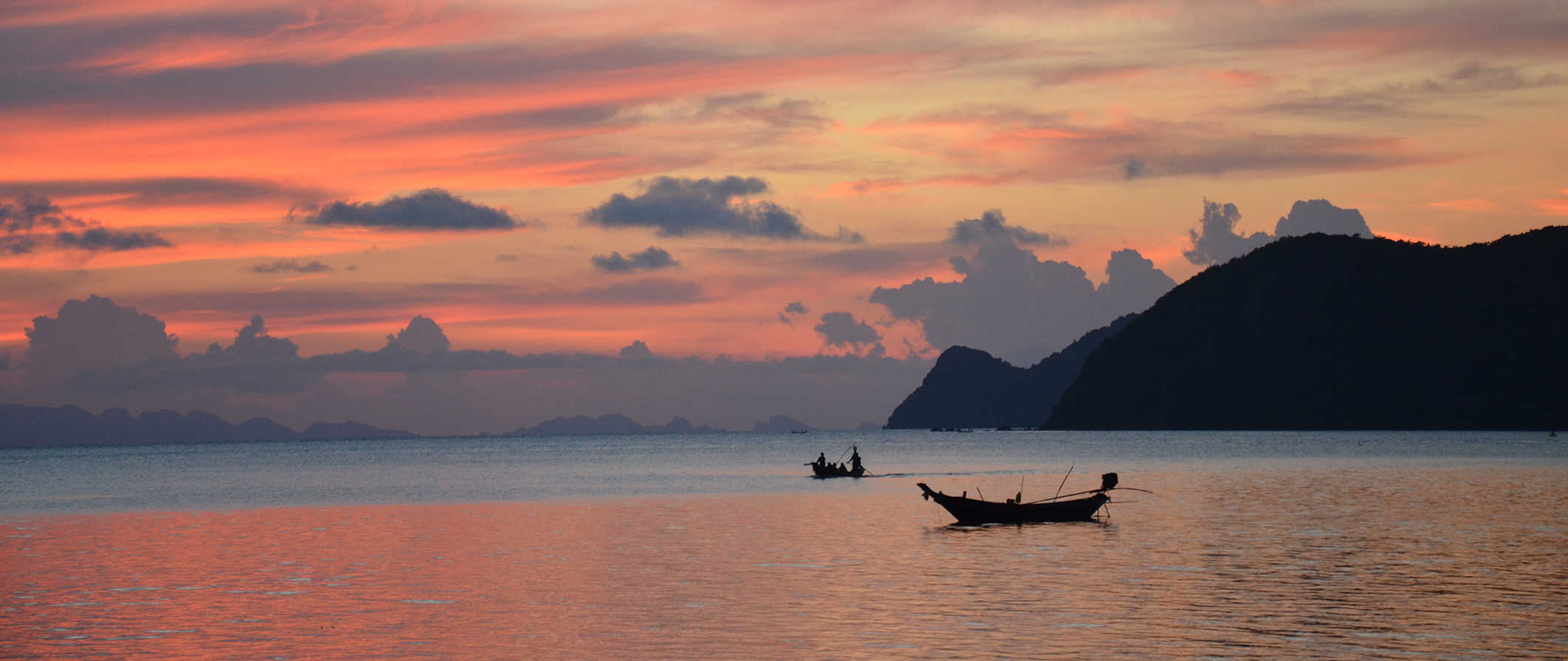 Ko Pha Ngan, located in the Gulf of Thailand, is one of the premier backpacking and party destinations in Southeast Asia.
Tourists started traveling to this area in the 1980s, and due to the popularity of its Full Moon Parties, it has been popular ever since.
This is a heavy party destination, especially around the madness that is Haad Rin (location of the Full Moon Party) but, if you head to the northern or eastern beaches on the island, they tend to be a lot more low-key and relaxed.
If you're not here just to party, there are plenty of yoga and nature resorts here to get away from it all and relax (or recover). So, while the island has become infamous for its chaotic and sprawling Full Moon Party (5,000-25,000 attend the party each month), there is actually a lot more to do here than just binge drink.
This Ko Pha Ngan travel guide can help you plan your trip, save money, and make the most of your time in this popular beachy getaway!
Top 5 Things to See and Do in Ko Pha Ngan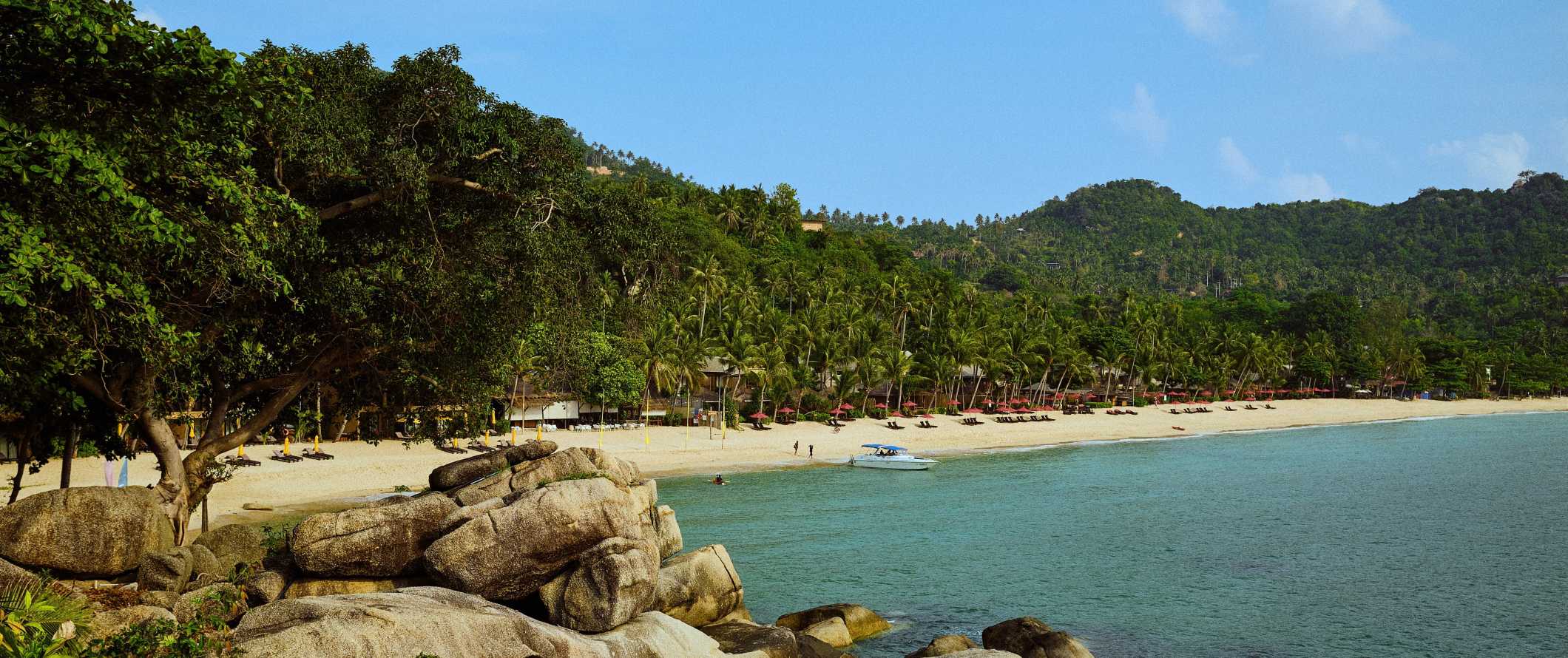 1. Go snorkeling
Snorkeling day trips usually run from 11am-5pm and include transportation, snorkeling, swimming, and lunch, for about 1,600 THB per person. You meet tons of people on these tours so they're great for solo travelers. There is also a tour called the Munchies Tour and another called the Reggae Tour.
2. Enjoy the famous Full Moon Party
The Full Moon Party is a giant beach rave with a lot of drinking, dancing, and partying. Each bar has its own sound system, and the beach is lined with people selling alcohol, fire dancers put on shows, and little booths sell glow-in-the-dark face paint.
3. Tour the temples
Thailand is covered with temples and Ko Pha Ngan is no exception. They are beautiful windows into Thai religion and make for great photo opportunities. Wat Phu Khao Noi and especially Wat Samai Kongka are two of the most beautiful temples on the island.
4. Lounge in the sun
Haad Rin is the most developed beach on the island but, with over 30 beaches to choose from, you can have anything from touristy and developed beaches to deserted and secluded beaches. Thong Nai Pan is one of my favorites, with its white sand and calmer waters.
5. Take a boat trip
Boat trips can be arranged through a variety of resorts and companies around the island. Some of the best itineraries include visits to the Than Sadet Waterfall, Thong Nai Pan, and Bottle Beach (Haad Khuat). Usually, lunch is included on these excursions. Day trips cost 1,600-2,200 THB.
Other Things to See and Do in Ko Pha Ngan
1. Swim in a natural mountain pool
Close to Haad Rin in the direction of Baan Tai, take a turn off to the right where you see the sign stating "river on stone" natural pool, and you will find yourself at the Sramanora waterfall. It is a little out of the way to get to, but definitely worth the trek. There is also a resort close by, with a little restaurant if you get hungry. Two days before and two days after the Full Moon Party, Waterfall Party takes place here. Dance the night away as DJs play electronica and jump in the natural pools when you need to cool off. Admission is 600 THB which includes a beer.
2. Do yoga
The island is home to a growing number of yoga schools where you can go to relax and revitalize your body. There are numerous options depending on how much time you have and how serious you are. You can go for a single lesson, attend a multi-day retreat, or stay there for six months learning to be a yoga instructor. The drop-in price for a single class (60-90 minutes) is generally around 300 THB. If you're planning on attending more than one class, a 10-class pass is around 2,200-2,500 THB. Wonderland Healing Center, Samma Karuna, and Pyramid Yoga are some of the most popular yoga studios on the island.
3. Rent a kayak
Just like on many of the other islands, it's possible to rent a sea kayak and get out on the water. Head out for an hour of paddling or be more ambitious and do an organized day tour. You can find kayaks on nearly every beach, with most starting at around 150 THB per hour. The west coast, from Wok Tum to Koh Ma, is the calmest and offers some of the best kayaking waters to beach hop.
4. Watch (or learn) Muay Thai
Muay Thai has gained international fame as Thailand's martial art and it's a thrilling and disciplined sport. It is known as "the art of using eight limbs," as fighters use fists, knees, elbows, and shins to pummel their opponent. You can catch a fight in one of the island's three stadiums or sign up for a lesson and learn it yourself. You can even attend a Muay Thai camp here! A private Muay Thai lesson starts around 600-700 THB, a 10-lesson pass is 5,000 THB, and a week's stay at a training camp starts from 5,000 THB, including accommodation and meals. Diamond Muay Thai and Phangan Muay Thai are the two biggest training gyms.
5. Learn to cook
Thai food is one of the best cuisines in the world. Many tourists come here to just eat and eat and eat. But why not take the extra step and sign up for one of the island's numerous cooking classes so you can bring the cuisine home with you? Classes begin with a visit to the local market (where you'll learn about local ingredients and how to select them) and end with a tasty meal of the few different dishes you've prepared. Classes cost 1,200-1,500 THB depending on how many dishes you want to make. The Phangan Thai Cooking Class is the preeminent cooking school on the island.
6. Visit the waterfalls
Ko Pha Ngan has its share of waterfalls, although some are only seasonal, drying up partway through the year. If you're up for some hiking, make your way to one of these for a secluded getaway from the beach party scene. Try Wang Sai and Than Prawet, a couple of the lesser-known waterfalls. July-October is the peak time for seeing the waterfalls with the most water, while November-June is the dry season.
7. Learn to dive
It's not the top place in Thailand for diving, but there are still some good options here if you want to dive (Ko Tao is a better choice though). The most well-known dive site in the area is Sailrock, a rock that pierces the water and creates the opportunity for a great wall dive down to 40 meters (130 feet). Day trips including two dives, gear, and meals cost around 2,650 THB. Many of the diving centers offer PADI courses as well, which cost 8,500 THB for a three-day certification course.
8. Soak in the culture
The C&M Culture Center offers a variety of classes that you can take to learn more about the traditions of the people of Ko Pha Ngan. Learn how to make pad thai in a cooking class, pick up a few words in a language class, try your hand at learning how to give a Thai massage, or strike a pose in a yoga class. Group classes are 700-1,500 THB, while private classes are 3,000-3,500 THB. The center also puts on special events for Thai holidays and national festivals too.
9. Zipline through the canopy
If heights are your thing, Just for Fun Canopy Adventure offers sweeping zip lines and tree bridges 22 meters (72 feet) in the air! The full course takes about 45 minutes, and you can grab a drink afterward at their Fish Spa. It costs 800 THB per person.
10. Eat your way through the Thong Sala Night Market
Night markets are incredibly popular around Thailand, and Ko Pha Ngan is no exception. The island's version (also called Phantip Night Market) takes place right by Thong Sala pier and is open daily from 4pm-11pm. Prices range from 20-100 THB. Every Saturday, the market expands onto the streets outside and includes vendors selling crafts and clothing.
11. Admire the views
Epic views can be enjoyed all over the island, whether from natural viewpoints or a jungle café. Ko Ma, Haad Rin, and Chaloklum have all-natural viewpoints that you can get to with varying degrees of difficulty. Some require hiking through the jungle, while others are turn-offs from main roads. Khao Ra is the highest point on the entire island and is only accessible via a steep hiking trail — but the views are worth it! Amsterdam Bar, a three-story bar complete with a pool, is a popular spot to watch the sunset over the water.
12. Explore Ang Thong National Marine Park
This national park, located just 32 kilometers (20 miles) from Ko Pha Ngan, is an archipelago of 42 islands, characterized by steep limestone cliffs and mountains, evergreen and mangrove forests, white-sand beaches with hidden coves, and cascading waterfalls. Animals on the islands include monkeys, macaques, leopards, fishing cats, wild boars, otters, kingfishers, sea eagles, and more. You must visit the park with a licensed tour operator that has a permit to access the archipelago and day trips usually cost around 2,000 THB, with most tours stopping at a few of the islands to go snorkeling, hiking, and/or kayaking. The park is closed from October 20th-December 20th.

For more information on other cities and islands in Thailand, check out the guides below:
(Hey there! Wait one second! Did you know I also wrote an entire guidebook to Thailand filled with – not only even more detailed information on the things included on this page but also itineraries, maps, practical information (i.e. hours of operation, phone numbers, websites, prices, etc), cultural insights, and so much more? It has everything you want in a guidebook – but with a focus on budget and cultural travel! If you want to go into more depth and have something to take on your trip, click here for more about the book!)
Ko Pha Ngan Travel Costs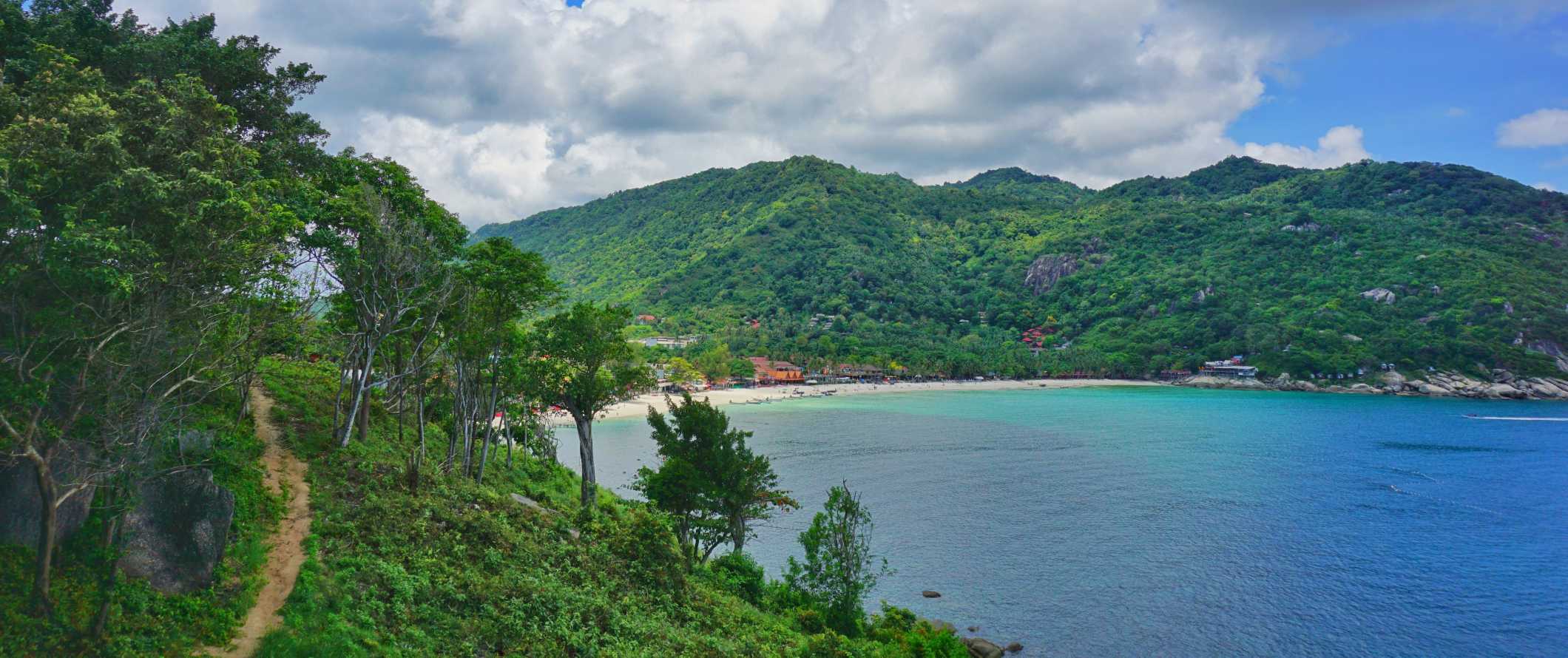 Hostel prices – In the high season, bed in a 4-6-bed dorm costs 600-700 THB per night while an 8-10-bed dorm costs 500 THB. Large dorm rooms with 12-18 beds cost 120-200 THB. Private rooms that sleep two people are 700-2,000 THB. In the low season, prices can sometimes drop by up to half. Free Wi-Fi and AC are standard, while free breakfast not.
As a party destination, most hostels on Ko Pha Ngan have outdoor pools and bars, offer free drinks, and generally have many extra amenities that center around socializing and partying. Many hostels are also located right on the beach. One of the most unique places to stay on the island is called The Sanctuary, which is a yoga retreat that also rents out beds to people looking for a nice beach view.
Note that many hostels require that you pay your balance in cash when you arrive at the property.
There are no designated private campgrounds on Ko Pha Ngan, though you can camp in the national parks. You can rent a two-person tent for 150 THB per night.
Budget hotel prices – Basic beachside bungalows with a fan cost 700-900 THB per night. For a more luxurious bungalow or villa, expect to spend about 1,200-1,800 THB. Cheap rooms can be found for around 400-600 THB per night.
Bungalows are usually located either right on the beach, or with great views of the beach or mountains. They generally have private bathrooms, AC, and Wi-Fi either in the bungalow or in common areas of the resort. Breakfast is sometimes included, though you can also usually add it for 200 THB per day if it's not.
During New Year's and the Full Moon Party, prices increase by upwards of 30%, so be prepared if you plan on attending.
On Airbnb, private rooms cost 800-900 THB per night. They're not very common though; most Airbnb offerings are private entire villas or bungalows and range wildly in price depending on how luxurious you want to get. Most nice (but not extravagant) villas cost 700-1,600 THB per night.
Average cost of food – Thai cuisine is aromatic and spicy with a variety of curries, salads, soups, and stir-fries. Many dishes are influenced by Thailand's many neighboring countries, including Malaysia, Laos, and Myanmar. Thai cuisine uses many ingredients to create layers of flavor. Typical spices and fresh herbs include garlic, basil, galangal, cilantro, lemongrass, kaffir lime leaves, chilies, shrimp paste, and fish sauce. Coconut milk is commonly used in curries and desserts, especially in central and southern Thailand. Seafood features heavily in Ko Pha Ngan's island cuisine.
Popular dishes include tom yum goong (hot and sour soup with shrimp), massaman curry, pad thai (a stir-fried noodle dish), som tam (spicy papaya salad), kao phad (fried rice), khao man gai (rice with boiled chicken), and satay (grilled meat on skewers, served with a peanut dipping sauce).
Dessert is usually fruit or various dishes comprised of coconut milk or glutinous rice, with mango sticky rice being a popular dessert.
Eating out in Ko Pha Ngan is quite affordable. Snacks, like a satay skewer or pancake at the night market, cost 10-20 THB. You can find traditional dishes, like curries or fried rice, for around 50-100 THB at a typical street vendor. A meal at most tourist restaurants, especially around Haad Rin, costs about 100-170 THB per meal. Go to Food Stall Park or Little Home Restaurant for some of the best and most affordable Thai cuisine.
Western meals are more expensive, costing 230-350 THB for a meal such as a pasta dish or burger, while a steak is around 450-600 THB. McDonald's combo meals cost 155 THB. I'd skip the Western food and stick with Thai food, as it's much cheaper and is much tastier.
When drinking, you can get cheap beers at 7-Eleven and bring them onto the beach to drink. It's around 50% cheaper this way compared to drinking at the bar. A cappuccino is 110 THB.
If you cook your own food, expect to pay between 1,100-1,400 THB per week for basic groceries like pasta, rice, vegetables, and some meat. However, eating out is so cheap here, it's much easier to just get food from street vendors and markets than it is to cook your own food.
Backpacking Ko Pha Ngan Suggested Budgets
On a backpacker budget, expect to spend 1,025 THB per day. This budget covers a hostel dorm, a few short-distance songthaews, street food, cheap beers from 7-Eleven, and mostly free activities like hiking and swimming. If you've come here to party, I'd probably budget closer to 1,640 THB a day.
On a mid-range budget, expect to pay 2,700 THB per day. On this budget, you can get a private Airbnb or cheap guesthouse, eat street food and the occasional sit-down meal, take some taxis to get around, drink more, and do more paid activities like diving or kayaking or a cooking class.
On a "luxury" budget, expect to spend about 5,500 THB per day. On this budget, you can stay in a villa or resort, eat out anywhere you want, drink more, rent a scooter or take more taxis, and do whatever tours and activities you want. This is just the ground floor for luxury though. The sky is the limit!
Accommodation
Food
Transportation
Attractions
Average Daily Cost
Backpacker
200
275
200
350
1,025
Mid-Range
850
700
350
800
2,700
Luxury
1,650
1,200
850
1,800
5,500
Ko Pha Ngan Travel Guide: Money-Saving Tips
Ko Pha Ngan can get expensive, especially if you're here to do a lot of partying or spending time at one of the expensive yoga retreats. That being said, you can still have a budget-friendly trip if you plan ahead. Here are some ways to save money on Ko Pha Ngan:
Find deals on a room – As a general guide, the further you walk along the beach, the better deal you get (and the quieter your accommodation will be). If you are coming near the Full Moon Party, arrive at least 3-5 days prior to secure a decent place.
Time your trip wisely – If you come during the Full Moon Party or Half Moon Party, expect prices to skyrocket! You can pay double or triple what you normally would. My favorite time to visit is about a week before the party when there is just the right number of people on the island.
Drink cheaply – Buckets, the famous alcohol-filled sand pails popular at the Full Moon Party, cost a lot of money. Save them until later (and save yourself from passing out too). You can get cheap beers at 7-Eleven and bring them onto the beach. It's much cheaper that way!
Stay with a local – Couchsurfing connects you with locals who can give you a free place to stay. It's the best way to get insider tips about a place and connect with people who actually live there.
Bargain hard – When shopping at the markets, use your negotiation skills. The rule of thumb is the more you buy, the cheaper the prices. So shop in groups for the best deals.
Use a water bottle with a purifier – It isn't safe to drink the tap water in Ko Pha Ngan, and although buying bottled water is cheap, it does add up. Pick up a LifeStraw, which have built-in filters to ensure your water is always clean and safe (it's good for the environment too!)
(Hey there! Wait one second! Did you know I also wrote an entire guidebook to Thailand filled with – not only even more detailed information on the things included on this page but also itineraries, maps, practical information (i.e. hours of operation, phone numbers, websites, prices, etc), cultural insights, and so much more? It has everything you want in a guidebook – but with a focus on budget and cultural travel! If you want to go into more depth and have something to take on your trip, click here for more about the book!)
Where to Stay in Ko Pha Ngan
Looking for accommodation in Ko Pha Ngan? Here are my suggested places to stay:
How to Get Around Ko Pha Ngan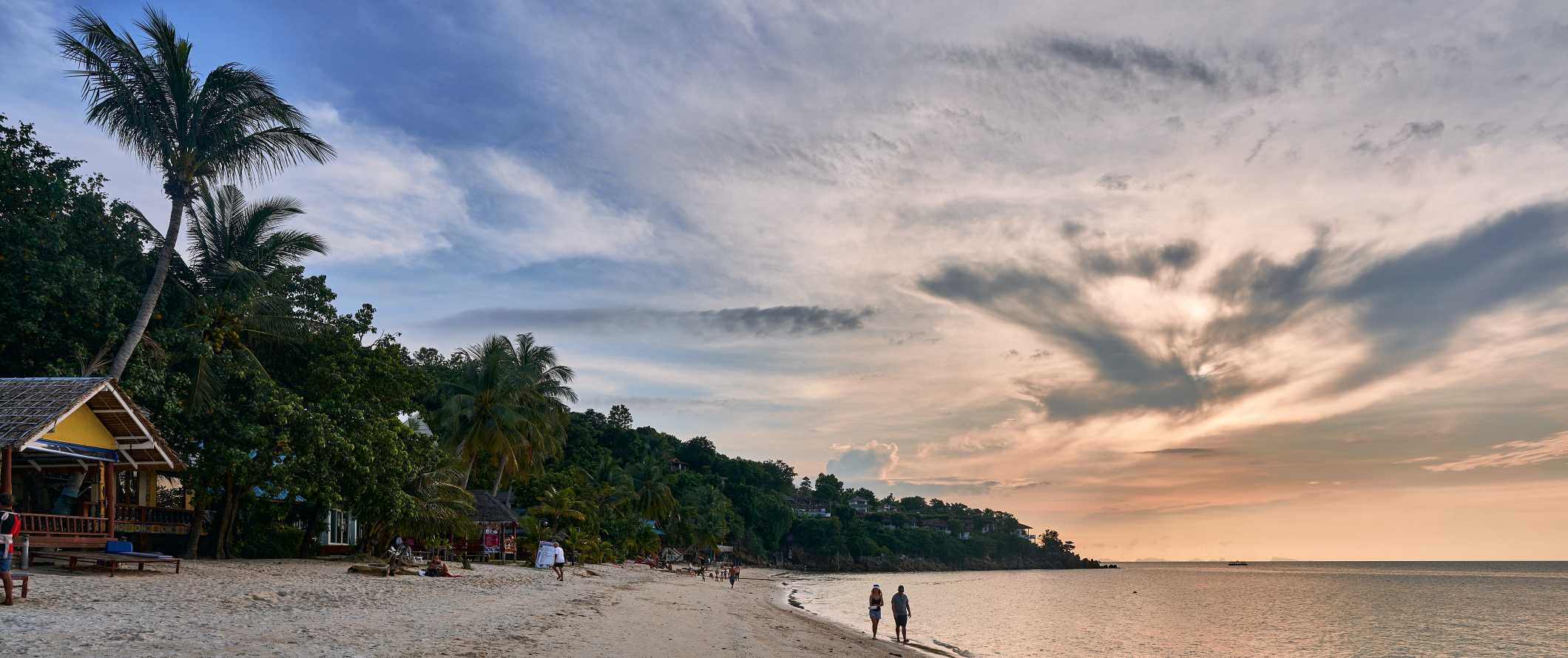 Songthaews – Songthaews (pickup trucks that have been converted to taxis) are the main way to get around. There are no set stops — you just flag one down — though there is usually a sign on the dashboard to let you know the final stop. Expect to pay around 100-400 THB a ride. They have set prices and don't really offer deals unless there are a lot of people involved.
Motorcycle Rental – You can rent motorcycles around the island for 150-350 THB per day. It's hilly, so don't make Ko Pha Ngan the place you learn how to ride a motorbike! There are a lot of accidents on this island because people underestimate the bad road conditions here. Always be sure to wear a helmet, not just for safety but because you can be fined up to 1,000 THB if you're caught without one!
Car Rental – Cars can be rented for around 850-1,000 THB a day. I only suggest doing this if you're with a family or a group that wants to split the cost. Make sure you drive carefully and have insurance too. Accidents are common here as traffic can be chaotic!
When to Go to Ko Pha Ngan
The average temperature in Ko Pha Ngan does not change very much throughout the year. The hottest months are from April to June, when temperatures hover between 26-32°C (79-89°F).
November to February are the coolest months and most popular time to visit, with temperatures between 23-30°C (73-86°F). February is the driest month and is the best time to come if you want to soak up the sun or enjoy some water sports. December and January in particular are the busiest months. Expect more crowds and higher prices.
Compared to other parts of Thailand, Ko Pha Ngan has a relatively short rainy season, only lasting from October through the beginning of December. Prices are a little cheaper during this time too.
(Hey there! Wait one second! Did you know I also wrote an entire guidebook to Thailand filled with – not only even more detailed information on the things included on this page but also itineraries, maps, practical information (i.e. hours of operation, phone numbers, websites, prices, etc), cultural insights, and so much more? It has everything you want in a guidebook – but with a focus on budget and cultural travel! If you want to go into more depth and have something to take on your trip, click here for more about the book!)
How to Stay Safe in Ko Pha Ngan
Ko Pha Ngan is an incredibly safe place to backpack and travel — even if you're traveling solo, and even as a solo female traveler. That said, petty theft and pickpocketing can occur so always keep your valuable secure. When at the beach, don't leave anything valuable unattended just in case. Always keep your valuables secure when out and about and only bring the cash you need with you when drinking/partying.
Solo female travelers should feel safe here, though the standard precautions apply (never leave your drink unattended at the bar, never walk home alone intoxicated, etc.)
If you're here to party, be aware that drugs are illegal in Thailand and drug use is punishable by time in some pretty bad prisons. Undercover police might try to sell you drugs, then arrest you. Locals might rat you out for a reward. Bottom line? Don't do drugs while you're here.
Also, be careful about your buckets of alcohol. Those things are lethal! I have a hard-and-fast rule that I and other experienced Full Mooners follow: no buckets before midnight. If you want to actually see the sunrise, I'd suggest you follow it too.
If you're worried about getting ripped off, read this post on common travel scams to avoid.
If you experience an emergency, dial 191 for assistance.
Always trust your gut instinct. Make copies of your personal documents, including your passport and ID. Forward your itinerary along to loved ones so they'll know where you are.
For more information about safety in Southeast Asia, check out this article.
The most important piece of advice I can offer is to purchase good travel insurance. Travel insurance will protect you against illness, injury, theft, and cancellations. It's comprehensive protection in case anything goes wrong. I never go on a trip without it as I've had to use it many times in the past. You can use the widget below to find the policy right for you:
Ko Pha Ngan Travel Guide: The Best Booking Resources
These are my favorite companies to use when I travel. They consistently have the best deals, offer world-class customer service and great value, and overall, are better than their competitors. They are the companies I use the most and are always the starting point in my search for travel deals.
Skyscanner – Skyscanner is my favorite flight search engine. They search small websites and budget airlines that larger search sites tend to miss. They are hands down the number one place to start.
Hostelworld – This is the best hostel accommodation site out there with the largest inventory, best search interface, and widest availability.
Agoda – Other than Hostelworld, Agoda is the best hotel accommodation site for Asia.
Booking.com – The best all around booking site that constantly provides the cheapest and lowest rates. They have the widest selection of budget accommodation. In all my tests, they've always had the cheapest rates out of all the booking websites.
Get Your Guide – Get Your Guide is a huge online marketplace for tours and excursions. They have tons of tour options available in cities all around the world, including everything from cooking classes, walking tours, street art lessons, and more!
SafetyWing – Safety Wing offers convenient and affordable plans tailored to digital nomads and long-term travelers. They have cheap monthly plans, great customer service, and an easy-to-use claims process that makes it perfect for those on the road.
LifeStraw – My go-to company for reusable water bottles with built-in filters so you can ensure your drinking water is always clean and safe.
Unbound Merino – They make lightweight, durable, easy-to-clean travel clothing.
Get the In-Depth Budget Guide to Thailand!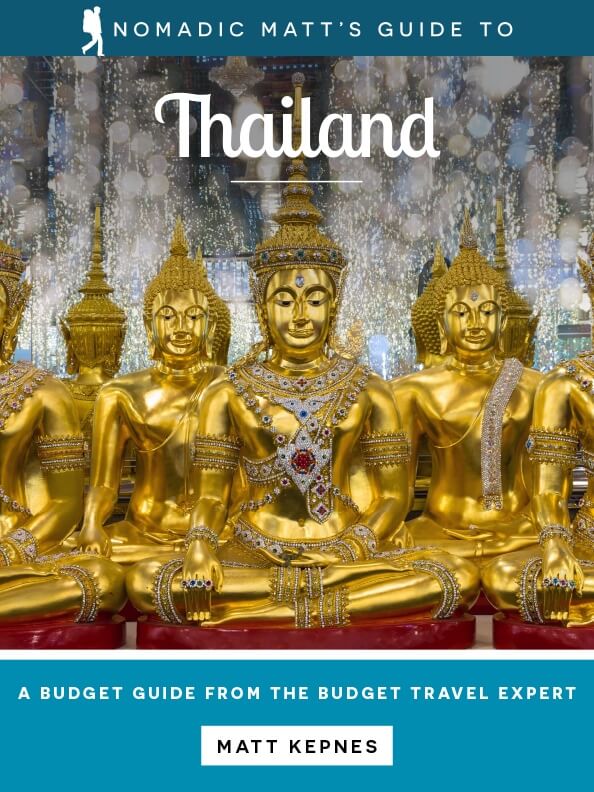 My detailed 350+ page guidebook is made for budget travelers like you! It cuts out the fluff found in other guidebooks and gets straight to the practical information you need to travel around Thailand. You'll find suggested itineraries, budgets, ways to save money, on and off-the-beaten-path things to see and do, non-touristy restaurants, markets, bars, safety tips, and much more! Click here to learn more and get your copy today.
Ko Pha Ngan Travel Guide: Related Articles
Want more tips for your trip? Check out all the articles I've written on Thailand travel and continue planning your trip: