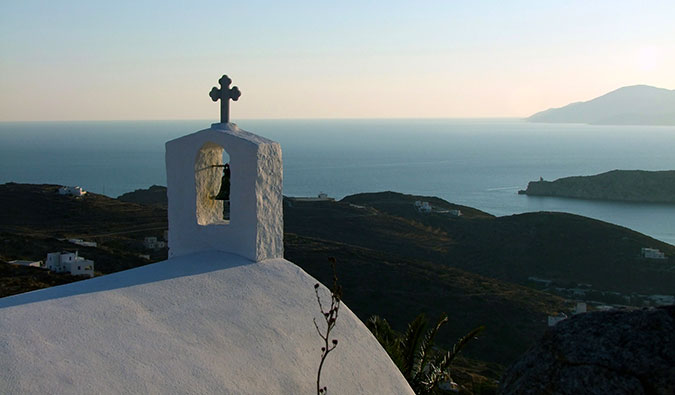 Updated: 03/15/19 | Original Posted: 5/25/2010 (Updated with new info on visiting Ios)
A few weeks from now, I turn one year closer to 30. It's a reality that isn't sitting well with me.
Thirty. It seems so old.
At the beginning of the year, I decided I'd spend the summer in Europe, with most of my time spent on the island of Ios in Greece.
During the summer months, the island becomes a haven for young backpackers seeking to soak up the sun, water, and the suds. I knew there wouldn't be another chance to do this pre-30. It was time to do it now before I became that "dirty old backpacker."
But like all the best-laid plans, this one fell through. I have to return to the US in June to speak at a conference, cutting my summer trip in half. Now there will be no spending the summer in Greece enjoying my "pre-30" crisis. My trip to the Greek islands will only last only a month before I move on to Italy, Hungary, and, finally, Sweden.
So, heavy heart in hand, I arrived in Ios more than two weeks ago to stay for four nights.
I stayed for seven.
Then, leaving for Santorini, I ended up returning two days later. I missed Ios too much. I stayed for another week before I left for Paros and Mykonos.
Now I'm back on Ios.
Again.
Pushing off the rest of my travels for some more precious time on this little rock.
I often talk about what travel is and what it means. What does it mean to travel? To backpack? Is one form better than the other?
Travel doesn't fit into a box.
It's a lot of things.
It's more than seeing a place or a style of travel.
But one thing that permeates all discussions about the nature of travel is that, at the end of the day, travel is about making connections.
Not only with places, but with people, too.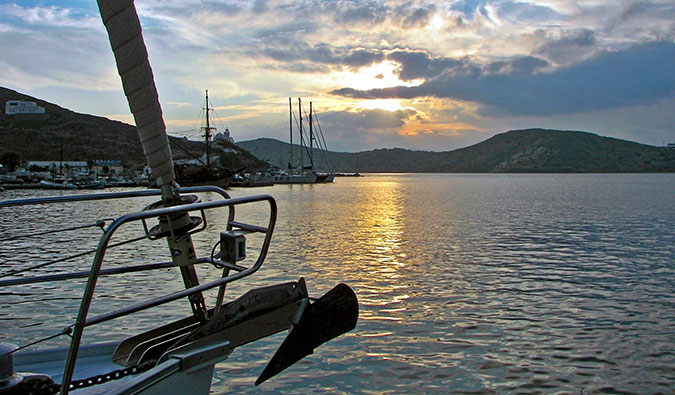 Ios is a rocky plot of land with a main town growing like a vine up a pointy, church-topped hill with quintessential blue and white houses, small cobblestones lanes, and tiny storefronts. The island's wide, yellow sand beaches are lapped by beckoning azure blue water. Small clusters of houses and terraced cliffs for wine and crops branch out from the main town. The island as a whole is a haven for young backpackers seeking to soak up the sun and to party.
There are more beautiful islands in Greece. (And, really, I prefer my islands to have more palm trees, jungle, and tropical fish.)
Ios' main draw is still the partying, beaches, and crowds. I came for that because I wanted to party a summer away in Greece, but I stayed because of the connections I made with the people here on the island.
And I'm pulled back there because of those connections.
Arriving in May that year, before the crowds, I found most of the other backpackers there were looking for work. Ios' economy in the summer runs on backpackers working the bars and restaurants in exchange for free food, drink, and enough money for a room.
I made friends with the owners of empty bars and restaurants. George at the Greek restaurant the Nest taught me some Greek. Alex from Blue Note Bar introduced me to a variety of Greek alcohol. Many nights, Demetri and Nicos from Slammers discussed the sad state of Greek politics with me over ouzo.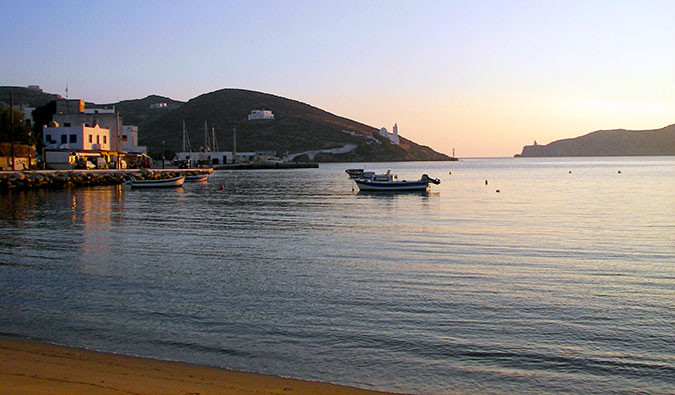 You meet a lot of people when you travel. Faces and names begin to blur after a while. You become friends on Facebook, but you rarely ever see each other again. I've met thousands of people on the road, but only a handful of people whose weddings I'll attend and babies I'll meet. It becomes a rare occurrence when you meet people you connect with on a deeper level.
It happened to me when I lived on the Thai island of Ko Lipe in 2006, where, four years later, all of us were having Christmas together. It happened on Haat Rin in 2007, where, two years later, I attended the wedding of my Australian friends.
It happened last year in Valencia, when three Americans, two Australians, and one Malaysian shared a dorm room for a week and clicked so well that people asked us how, when, and where we had became such good friends, given our different nationalities. "We just met three days ago," we'd say to their astonishment.
And so again on Ios, a group of strangers came together and acted as though they'd known each other for years. Some will work the whole season on Ios. Others leave in a few weeks. Some stay half the summer. Some left before me.
But all of us impacted each other in some way, and each day I see a common update on Facebook from those who have already left: "I miss Ios."
Most travelers stayed only a couple nights on Ios. They would party hard, sit on the beach, and, after a few days, stumble back onto the ferry, having checked Ios off their list.
My friends and I were here for the long term – them because they needed their travel plans depending on working and me because, having found a group of people I liked, saw no reason to leave. Staying put allowed us to create roots on a windy island where people blew in and out like leaves.
This was, at least temporarily, my family.
Days and nights together, we chatted little about our life back home and the memories there, and we laughed about our shared experiences. We gossiped over hookups, bickered over where to eat that night, traded book suggestions, and sparred over the politics of the Greek economic crisis.
Time is different on the road. Days feel like weeks and months like years. Two weeks on Ios felt like an eternity. When I left, people couldn't believe I was only there for two weeks. To them, and to me, it felt much longer.
I don't regret only spending two days on Santorini and Mykonos, though, because it gave me more time with friends on Ios. Now, I'm back and sad again I must say good-bye while they stay here.
Travel is about the people we meet more than the places we see.
And somewhere out there, other travelers are connecting and forming bonds that will last far into their futures, too. Somewhere in the world, they too are nicknaming themselves "a family" and just watching the world go by together…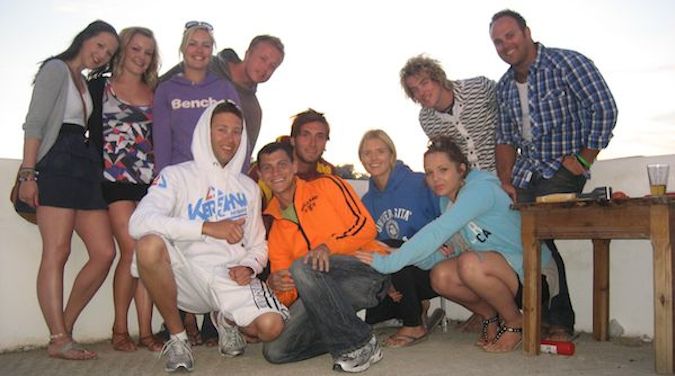 4 Tips for Visiting Ios
Accommodation
When it comes to accommodation, expect to pay at least 30 EUR per night for a private room (and even more in the high-season). This will usually include a private bathroom, AC, a TV, and a mini-fridge. On Airbnb, shared rooms usually start around 15 EUR per night while entire homes/apartments can be rented for around 40-50 EUR per night.
Food
You can find gyros (meat, cheese, sauce, onions, and tomatoes served on pita bread) and other street food for only under 5 EUR. For a budget restaurant, expect meals to cost between 10-15 EUR, including a drink. For a mid-range restaurant meal, expect to pay almost double that. If you're on a budget and want to cook your own meals, expect to pay 40-50 EUR per week for groceries (pasta, vegetables, chicken, and other basic foods).
Transportation
To get around the island, you can take the local bus. Just keep in mind that the local bus system only runs in the summer. Tickets cost 2 EUR and runs along the island's main road. The local bus only runs until early evening after which you'll need to take a taxi. More common for transportation are ATVs. You can rent ATVs for about 15-40 EUR per day to get to the beaches and parts of the island further afield.
To get to Ios you'll need to take a ferry (there is no airport here). Ios can be reached best from Naxos, Santorini, Crete, and Piraeus (which is near Athens). Expect to pay at least 30 EUR for a one-way ticket from Piraeus to Ios for a basic economy seat. The journey will take between 4-8 hours depending on which ferry you take (the high-speed ferry will cost more but is much faster).
A one-way economy ticket from Santorini to Ios will cost around 13 EUR and takes around 1 hour.
Book Your Trip to Greece: Logistical Tips and Tricks
Book Your Flight
Use Skyscanner or Momondo to find a cheap flight. They are my two favorite search engines because they search websites and airlines around the globe so you always know no stone is left unturned. Start with Skyscanner first though because they have the biggest reach!
Book Your Accommodation
You can book your hostel with Hostelworld as they have the biggest inventory and best deals. If you want to stay somewhere other than a hostel, use Booking.com as they consistently return the cheapest rates for guesthouses and cheap hotels. My favorite places to stay are:
Don't Forget Travel Insurance
Travel insurance will protect you against illness, injury, theft, and cancellations. It's comprehensive protection in case anything goes wrong. I never go on a trip without it as I've had to use it many times in the past. My favorite companies that offer the best service and value are:
Looking for the Best Companies to Save Money With?
Check out my resource page for the best companies to use when you travel. I list all the ones I use to save money when I'm on the road. They will save you money when you travel too.
Want More Information on Greece?
Be sure to visit our robust destination guide on Ios for even more planning tips!