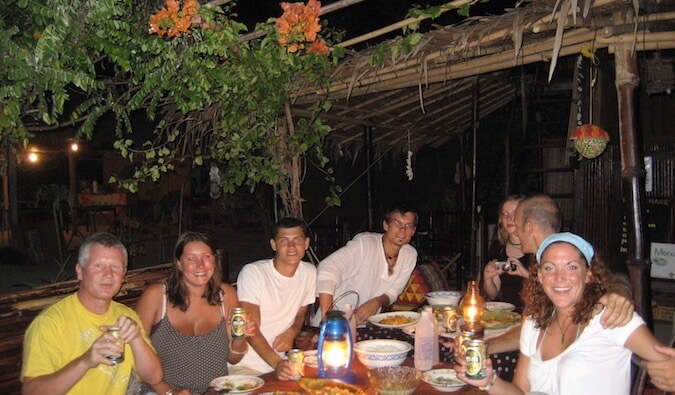 Posted: 06/09/2011 | June 11th, 2011
It's the people you meet that make travel the rich, vibrant experience that it is. They shape our memories more than the locations themselves. They can make a bad place good, or a great place bad. They teach us about what we like or don't like in others.
They shine lights on our ignorance and teach us about ourselves.
And as I approach five years of travel, I want to take some time to mention the five people (or groups of people) who have had the most impact on my journey:
Greg – Back in 2006, I spent a few months in Amsterdam playing poker. (Yes, you could have called me a professional.) There was always this local there who kept inviting me out.
Looking down at a large stack of his money in front of me, I was always suspicious about it — was he just going to rob me? However, after being reassured he was a good guy by the other players and seeing him around a lot, I realized he was just a nice guy and agreed to his invitation.
He and some other players took me out for drinks, to their weekly home poker games, and overall, just showed me the "local" take on Amsterdam. Greg taught me that strangers are not always out to get you. As someone who has been on the road for a while, this is obvious to me now. But when you are fresh-faced and new to traveling, it isn't so easy to let your guard down and let strangers in.
Sadly though, I can never tell Greg thank you. A few months after I left Amsterdam, he was killed during a robbery in his home. Wherever he is now, he is missed.
The Unknown Backpackers in Chiang Mai – There are small moments in life that shape the whole rest of your life afterward. Little events that ripple out to form huge waves.
I never thought my two-week trip to Thailand would be anything more than a respite from the cold Boston winter. Yet on that fateful trip in 2005, I met five backpackers on a bus to a temple in Chiang Mai. Over conversation about how absurd the two-weeks-per-year vacation system in America is, I realized there was more to life than a 401(k) and 50-hour work weeks.
That small event became one of the most pivotal moments in my life. A week later on the beach in Ko Samui, I turned to my friend and said I was going to backpack the world. The rest is history — all thanks to strangers on a bus.
The Ko Lipe Crew – Shortly after Amsterdam, on a whim I decided to go to Ko Lipe in Thailand. Someone told me it was good, cheap, and mostly tourist free — it sounded like paradise.
It was.
I ended up staying a month. While I was there, I met Paul and Jane, a couple from New Zealand. We hit it off right away and became fast friends. That was the first time on my trip that I had really bonded with people so quickly. I had thought of travel as a way to make friends, but never as a way to find "best friends."
But Ko Lipe proved me wrong, and years later they met me at the New Zealand airport and we picked up right where we left off. This experience opened me up to the idea that, even in a blink of an eye, you can make lifelong friends.
Anna the Ex – I don't often talk about my dating life, other than to mention that it is sometimes hard to date on the road. But I will say I had a relationship. I met Anna a few days after I moved to Taiwan. I saw her in a bar and simply went up to talk to her. (Lesson here men of the world: Just go up and say hi. It works.)
She was studying Chinese for the semester. We dated while I was in Taipei, which — knowing I was leaving in a few months — made things very…complex. After I left Taipei, we stayed "together" in a loose sense of the word.
Months later, I went to Europe and spent two weeks with her in Vienna. It was difficult: Anna didn't want to leave Vienna, and I wasn't ready to stop traveling. When I left, we both knew that I wasn't coming back. We just sort of left it there, though we do sometimes stay in touch.
However, my relationship with her taught me that there was no way I was ready for a relationship that required me to give up traveling, and that I was OK with that.
The La Tomatina Gang – Like the folks in Ko Lipe, this was a group of people that just clicked. There were six of us in a dorm room. Strangers from around the world, but we hit it off right away.
For the next week, we were all inseparable. When we moved on to Barcelona, people commented on how close we were, which, given that we were all from different parts of the world, was odd.
"How many years have you known each other?" they would ask.
"About a week," we replied.
But sometimes people just connect, and the gang from La Tomatina was a reminder that this is possible not just once when you travel, but often.
And in a perfect example of how things never change, over a year later I celebrated Thanksgiving with the twin brothers from this group and their family, and it was like we had been friends since childhood.
Of course, I would be there for Thanksgiving!
Life is filled with strangers who shape our lives, both good and bad. All the people you meet leave a piece of themselves with you. And often you don't realize it until much later on. You don't really think about it until some melancholy, reflective night in the future when you sit down to write a blog post like this.
Though I've seen many amazing places in my travels, they are largely irrelevant. It's the people I've encountered who have made my life better. They are what I think the most about.
And without meeting people like these on the road, I probably wouldn't have lasted so long.
So, as I turn 30 this weekend, I raise a glass to them and all the other people I've met over the last five years. Thank you, thank you, thank you.


Book Your Trip: Logistical Tips and Tricks
Book Your Flight
Find a cheap flight by using Skyscanner. It's my favorite search engine because it searches websites and airlines around the globe so you always know no stone is being left unturned.
Book Your Accommodation
You can book your hostel with Hostelworld. If you want to stay somewhere other than a hostel, use Booking.com as it consistently returns the cheapest rates for guesthouses and hotels.
Don't Forget Travel Insurance
Travel insurance will protect you against illness, injury, theft, and cancellations. It's comprehensive protection in case anything goes wrong. I never go on a trip without it as I've had to use it many times in the past. My favorite companies that offer the best service and value are:
Want to Travel for Free?
Travel credit cards allow you to earn points that can be redeemed for free flights and accommodation — all without any extra spending. Check out my guide to picking the right card and my current favorites to get started and see the latest best deals.
Ready to Book Your Trip?
Check out my resource page for the best companies to use when you travel. I list all the ones I use when I travel. They are the best in class and you can't go wrong using them on your trip.