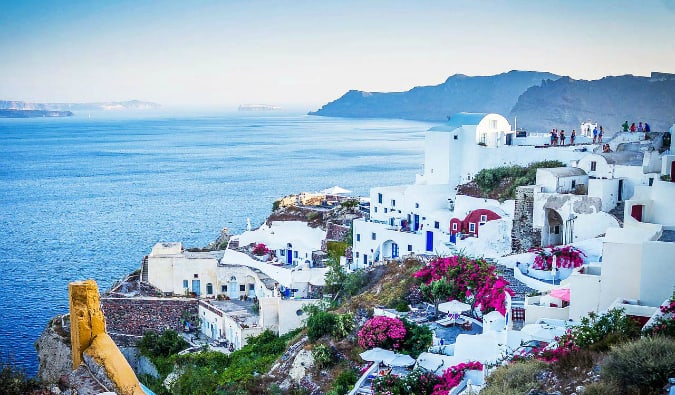 Last Updated: 7/19/21 | July 19th, 2021
Most travelers to Greece tend to focus on the Greek Islands — and for good reason. They're filled with any kind of nightlife you're looking for; have wonderful beaches with tranquil, blue water; have a wide variety of delicious seafood; feature incredible vistas; majestic orange and pink sunsets; and, overall, are just perfect.
With over 6,000 islands, Greece has a lot of options for travelers.
It's always been a dream of mine to spend a summer slowly moving from island to island, getting to know the character of each of them while also working on a great tan (I am someone who loves the sun). Like most travelers, on my first trip to Greece, I started the Cyclades, the main island chain closest to Athens.
Fast forward, a month later and I was still on Ios, a place I had found a home.
Fast forward, ten years later, and here I am again, bouncing from island to island, seeing how everything has changed (and still working on my tan).
The Cyclades island chain includes about 220 islands (most of them are uninhabited rocks). The name translates into "circular islands" because the chain forms a circle around the sacred island of Delos. Tourists stick to Amorgos, Anafi, Andros, Delos, Ios, Kea, Kimolos, Kythnos, Milos, Mykonos, Naxos, Paros (and Antiparos), Serifos, Sifnos, Sikinos, Syros, Tinos, and Santoríni.
That's a lot of islands, right? Well, I haven't been to them all and, in this post, I'm going to focus on just the major (and a few minor ones) that I've been to – and people to tend to visit the most.
Ios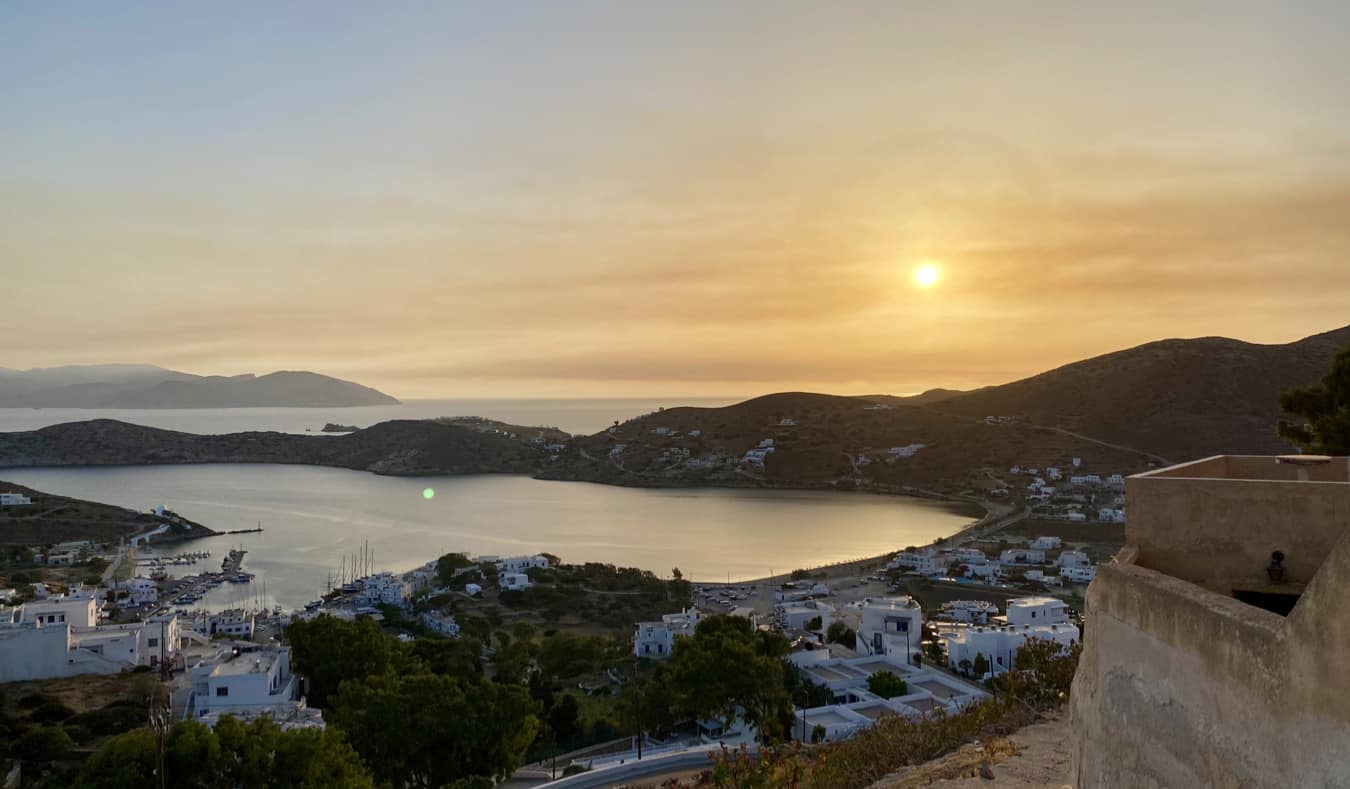 I've spent a lot of time on Ios. Back in 2010, I fell in love with the people here and simply couldn't bring myself to leave. I came back the following summer to do it all over again. Ios just has a special place in my heart.
While the island isn't the prettiest of the group, it's the cheapest. The majority of visitors coming here are backpackers so you easily find cheap food and budget accommodation.
If you're looking to party on a budget, this is the island to visit. Drink specials can be found for a couple of Euros (most hostels have their own bars as well).
However, even if hanging out with backpackers doesn't appeal to you, Ios has some of the best beaches out of all the islands I visited. All of them are spacious, white-sand beaches. Mylopotas, the closest to the town, is the most popular. On the far south and east side of the island, you'll find more resorts and deserted beaches.
Additionally, if you're a fan of history, you can also visit the legendary burial place of Homer, author of the epic poems The Illiad and The Odyssey. So rent an ATV, see the grave, and hit some of the more secluded spots!
If you come. don't miss staying at Francesco's — it's a hostel I've been visiting for years and the best one on the island. They have a pool, a bar, and are just a short walk from Ios' nightlife so you don't need to pay for taxis.
For food, be sure to stop by The Nest. They are my favorite restaurant in all of Greece! Say hi to George for me! Moonlight Cafe, next to Francesco's, has a great breakfast with stunning views of the harbor.
How to Visit Ios
Ferries leave from Piraeus (the port near Athens) several times each week. The journey takes between 5-7 hours with tickets costing around 26-60 EUR per person.

Paros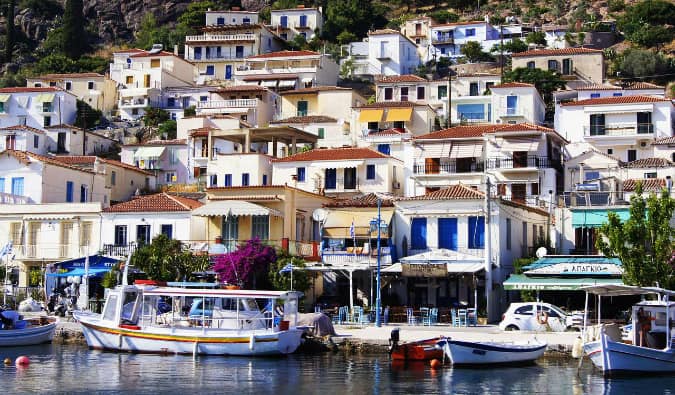 Outside of Ios, Paros is my favorite island in the chain. While there are just a few ruins, a cave to see, and a boat trip you can take (be sure to visit antiparos), overall, this island is for those who just want to relax. There's no nightlife, no crowds, no cruise ships docking at the port. It's the most tranquil of the islands.
More importantly, I think it is one of the prettiest islands in the group. The mountains and valleys had more color to them, the towns looked nicer, and the views were spectacular.
My favorite part is the port of Naoussa. Besides having delicious and inexpensive seafood, it was a simply stunning place to walk around. There's a small beach, and you can go out to an old fort and explore. Sitting on the breakers watching the fishing boats going in and out is a great way to spend some time and soak up the local way of life.
How to Visit Paros
Ferries leave daily from both Piraeus and Rafina, the two ports near Athens. The journey takes around 4 hours and costs 30-100 EUR per person. Flights to Paros take around 40 minutes and cost 60-130 EUR.

Mykonos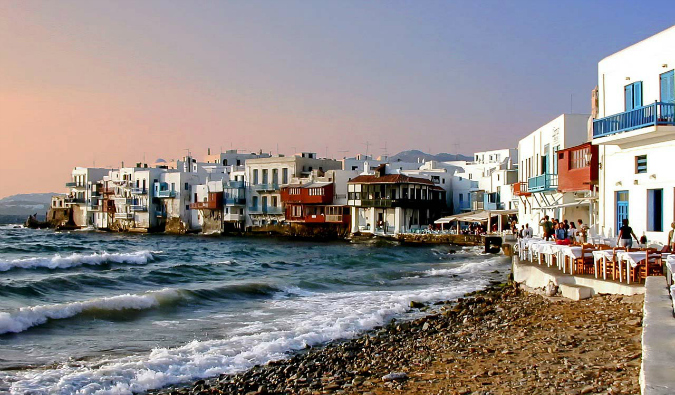 One of the main tourist destinations in Greece, this island attracts cruises, honeymooning couples, and rich people who want to party. It was the most expensive island I visited I visited on the chain. People come here to enjoy those crazy, beach clubs and techno DJs you see on Instagram.
The clubs charge a high cover (20 EUR) and the drinks are about 15 EUR (or more).
And the food here is super expensive. Even a light dinner of pasta and wine cost me over 30 EUR.
This is more of a "vacation/high end party" island rather than a "budget" getaway. Over the last few years, a lot of property has been bought up by rich foreigners looking to buy Greek citizenship (it only takes 250,000 Euros!) so prices on the island have skyrocketed. Throw in celebrities, honeymooners, and influencers, and you have the recipe for a very expensive place to visit. You come here to live the lux life. If that's not you, come for maybe a night or two just to see it.
The highlight for me was the town, with its quiet, winding streets and small alleys lined with whitewashed houses, and beautiful harbor. (Since everyone goes to the beaches, the town itself is surprisingly quiet.)
How to Visit Mykonos
Ferries are available from both Rafina and Piraeus, with the journey lasting between 2.5-5.5 hours. Expect to pay 38-60 EUR for a ticket. Flights are also available, lasting around 40 minutes and costing between 50-90 EUR.

Santorini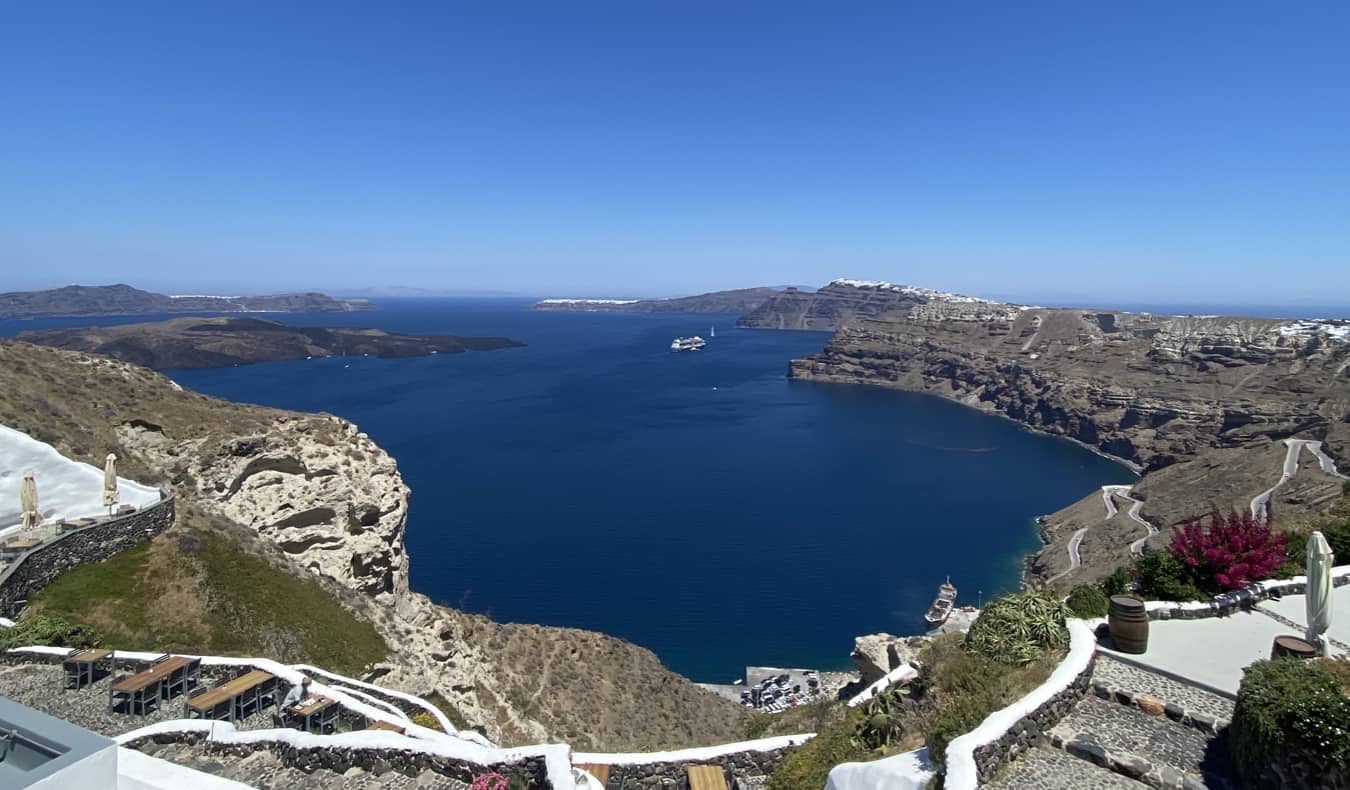 Like Mykonos, Santorini is very famous, sees a lot of older tourists, honeymooners (it was made famous as a honeymoon spot by the 1982 movie, Summer Lovers) and is a frequent stop for cruise ships. The cliffside towns of Oia and Fira are the two main towns on the inner side of the island. Both towns overlook the famous caldera and both these towns offer great sunset views and angles to get photos of blue-topped churches and blue-rimmed houses.
From either town, you take the day trips to the old volcano and relax in the hot mud baths. Near the beach area of Perissa, you'll find cheaper accommodation and restaurants. This is also home to the famous black sand beaches.
If you're looking for wine, Santorini wine is famous and there's a number of wineries on the island you can visit. If you want to take a tour, I highly suggest Santorini Wine Tours. I went with them and definitely felt I got my money's worth.
How to Visit Santorini
Ferries leave from Piraeus daily (and from Rafina daily in the summer). The ferry usually takes 4-5 hours (though some take up to 7 hours). Tickets average 30-60 EUR. Flights from Athens to Santorini cost around 40-120 EUR for a round-trip ticket.

Naxos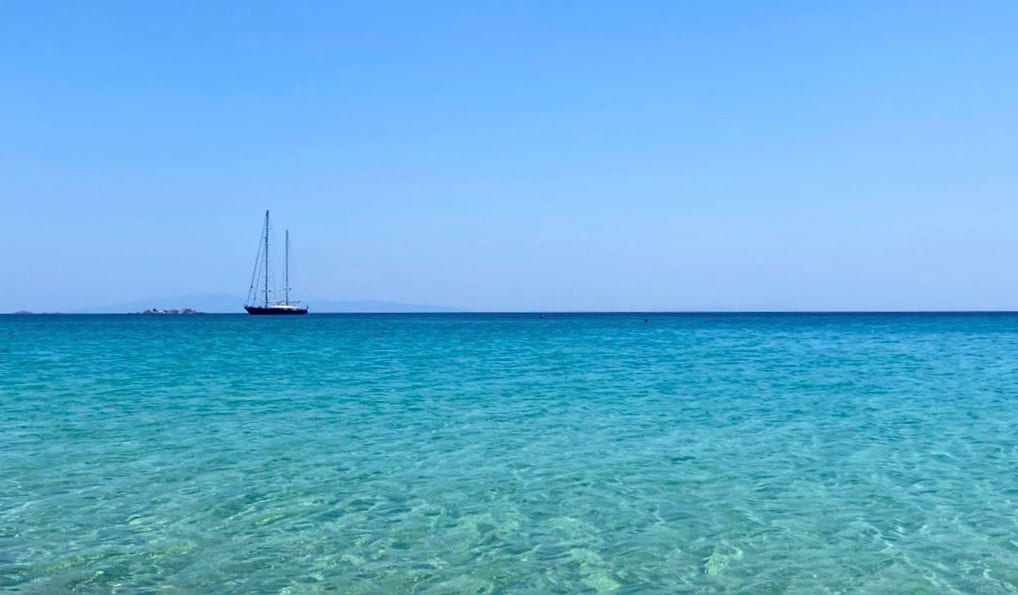 Naxos is just as gorgeous and picturesque as the more popular islands of Santorini and Mykonos, but without the crowds. Naxos is home to charming villages, lots of hiking trails, and pristine beaches. Here, you can take boat trips, sit on empty beaches, and hike around the island on well signed trails (including up the mountain Zeus was supposedly hidden in after his birth). There's also a Venetian fort here too.
It's one of my favorite islands in the chain.
My favorite places to eat here are Maro's, Elizabeth's Garden, Scirocco, To Elliniko, and Nissaki (for something fancy). For drinks, head to Like Home for cocktails and Cava Wine for wine.
How to Visit Naxos
Ferries from Athens take between 3.5-6 hours and cost around 30-55 EUR per person. Flights from Athens take around 40 minutes. Expect to pay between 50-150 EUR for a round-trip flight.

Milos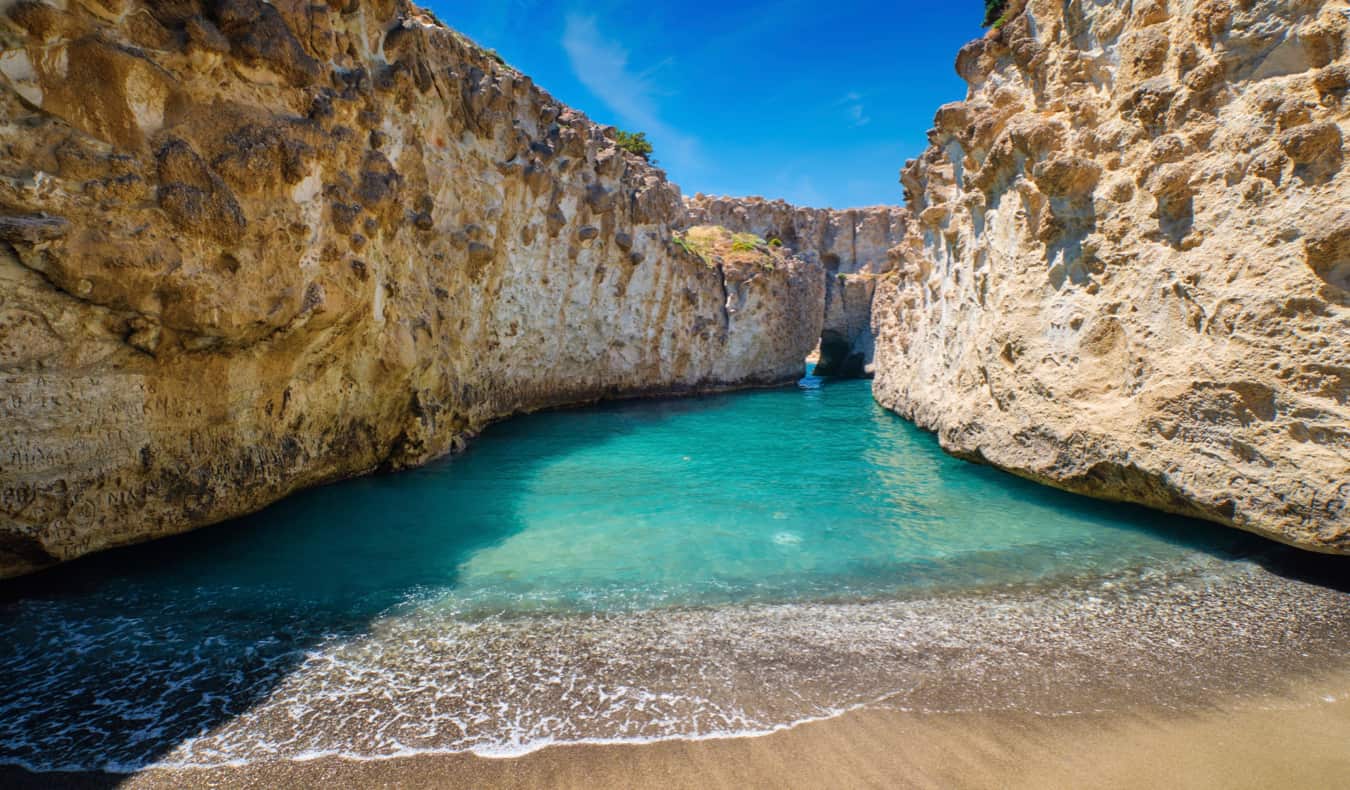 Milos sits on the southernmost part of the Cyclades. Thanks to its volcanic origin, Milos' landscape is pretty colorful (shades of red and black) and it has around 40 beaches. Thanks to thousands of years of wind and erosion, the landscape on the coast, especially on Sarakiniko beach, looks like you're on the moon (if the moon had water) as bright white rocks jut out of crystal clear blue water.
The island has seen a surge in tourism in recent years and is now home to boutique hotels and spas. There are no hostels here and most people come here to relax for a quiet vacation. But, like Naxos, the island is pretty large so you don't notice the crowds. It's easy to escape. There's a number of boat tours that will take you around the island.
Come here for a quiet luxury vacation. Think of it like Naxos meets Santorini but without the crowds.
How to Visit Milos
There are several ferries from Piraeus (near Athens) that depart to Milos multiple times per week. The trip takes between 3-7 hours. The faster ferries cost around 56 EUR each way while the longer ones are usually 36 EUR. Flights to Milos from Athens take around one hour and cost at least 200 EUR round trip.

Amorgos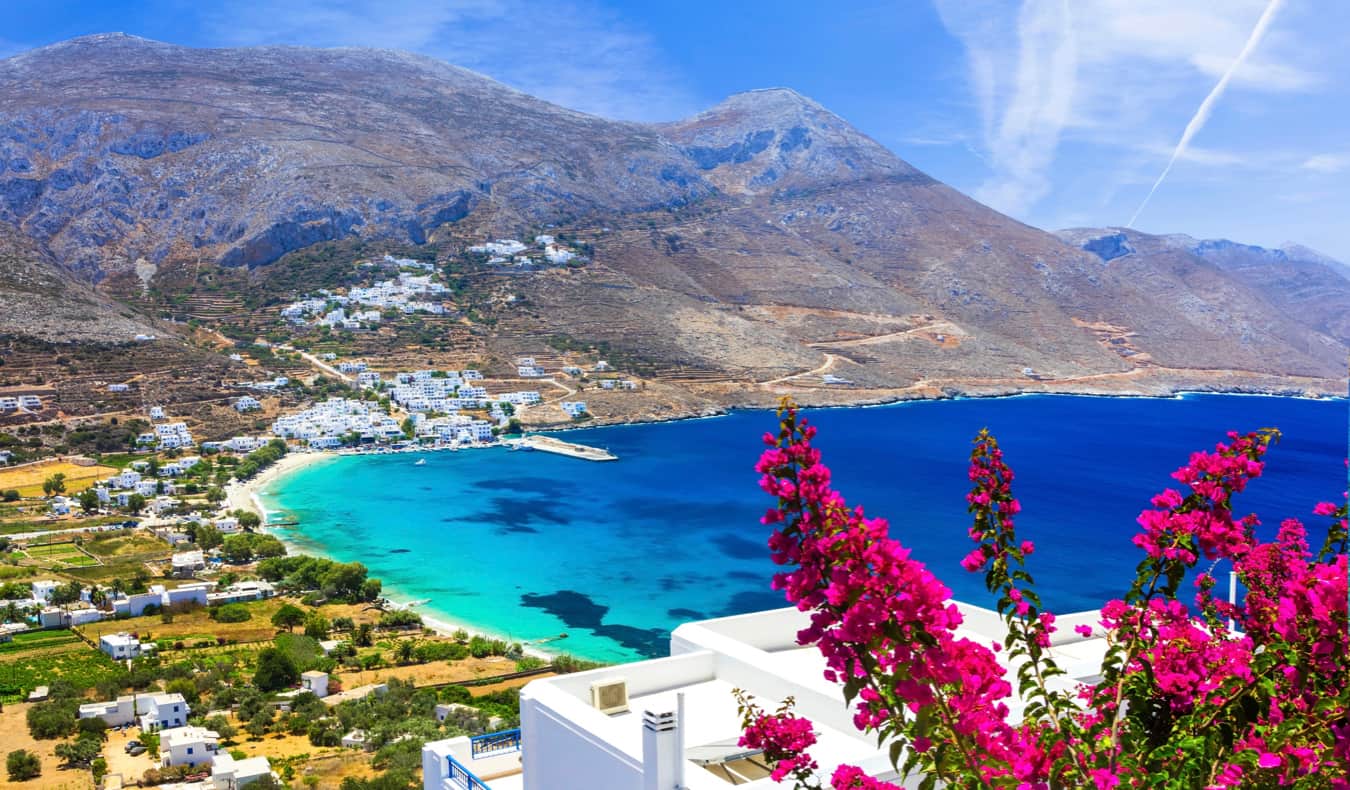 Amorgos became popular thanks to Luc Besson's movie, The Big Blue. It's one of the least visited islands in the area. If you want a really deserted island, cheap pensions, untouched beaches, and lots of caves and hiking trails, this island is for you. You're like going back to what the popular Greek islands were twenty-five years ago.
The main town has traditional whitewashed houses with colorful shutters, narrow alleys, beautiful churches. There's even a Venetian castle you can visit. The most popular site of the island is Panagia Hozoviotissa, a monastery perched on a rocky cliff above the sea. This 10th-century cliffside monastery is a great place to watch the sunset.
The other islands mentioned at the beginning of this post (Anafi, Andros, Delos Kea, Kimolos, Kythnos, Serifos, Sifnos, Sikinos, Syros, and Tinos) are all similar to Amorgos regards to crowds and costs.
How to Visit Amorgos
Ferries depart from Athens (Piraeus) and last between 5.5 and 9.5 hours. Tickets can be as low as 30 EUR though you should expect to pay closer to double that. You can also get here via Santorini. Ferries from Santorini to Amorgos take 1.5-5 hours and cost anywhere from 12 EUR (for the slow ferry) to 60 EUR (for the fast ferry).

How to Get Around the Islands on the Cheap
Getting around the islands is not cheap. Ferries really add up, especially if you want to take any of the high-speed ones. Moreover, prices are pretty static. Whether your booking one week, one more, or three months out, prices only seem to vary by a few Euros. So, how can you save money on ferries?
Well, there is one ferry hopper pass out there. It's offered by Eurail/Interrail and has a 4 or 6 trip option. The only caveat is that you can only take Blue Star Ferries and Hellenic Seaways ferries. Those tend to be the larger, slower ferries and, depending on the islands, might require you to connect somewhere. You'll need to research routes in advance to see if the ferry is worth it. I would search the routes on FerryHopper to see if it works for you.
You can purchase your pass on Eurail (non-EU) or Interrail (EU).
***
As a history lover, Greece offers a never-ending treasure trove of amazing ruins and incredible mythology. The Cyclades may all look the same on the surface, with their white buildings and similar landscapes. But each island has its own quirks and personality.
Book Your Trip to Greece: Logistical Tips and Tricks
Book Your Flight
Use Skyscanner to find a cheap flight. They are my favorite search engine because they search websites and airlines around the globe so you always know no stone is left unturned.
Book Your Accommodation
You can book your hostel with Hostelworld as they have the biggest inventory and best deals. If you want to stay somewhere other than a hostel, use Booking.com as they consistently return the cheapest rates for guesthouses and cheap hotels. Some of my favorite places to stay are:
Don't Forget Travel Insurance
Travel insurance will protect you against illness, injury, theft, and cancellations. It's comprehensive protection in case anything goes wrong. I never go on a trip without it as I've had to use it many times in the past. My favorite companies that offer the best service and value are:
Looking for the Best Companies to Save Money With?
Check out my resource page for the best companies to use when you travel. I list all the ones I use to save money when I'm on the road. They will save you money when you travel too.
Want More Information on Greece?
Be sure to visit our robust destination guide on Greece for even more planning tips!