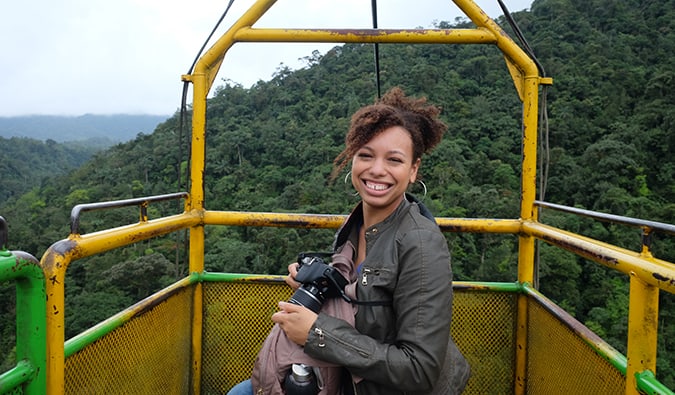 Posted: 2/20/18 | February 20th, 2018
What would you do with a free trip around the world?
Last year, I gave away a trip around the world. After going through thousands of entries, in the end, Heather was the winner. Her story was powerful. She's been on the road a little over a month now and it's time to catch up with her and find out about her trip, how the budgeting is going (is she doing $50 a day?), and the lessons learned.
Nomadic Matt: Heather, congrats on winning! You've been on your trip for about a month. First, how did you feel about winning?
Heather: Thanks, Matt! Winning was, in a word, surreal. I've never felt so dazed in my life. I've never won so much as a raffle prize before, so I didn't actually believe you for at least a solid week. I kept thinking it was a dream, and I was scared to tell people in case it was. My little sister asked me if I was sure it wasn't a human-trafficking scheme!
Overall, I feel so loved and supported by my friends and family and extremely, extremely lucky.
I've been trying to imagine what my mom would say if she were here to see this. I don't have much of a frame of reference, since I only really started traveling after she passed. However, I'm sure she would be shaking her damn head at this trip! She would definitely think I'm crazy. And I know she definitely wouldn't understand leaving my stable job to do this.
In the end, though, I know she wouldn't try to stop me or dissuade me. She would be happy for me; it just might not have been her first reaction. "Stop talking crazy" might have been the first thing!
Where are you going on this trip?
I'm spending the next few months in South America. I originally planned to stay in Peru for three weeks, but I might end up staying for six because there is so much I want to see here! I chose to spend a lot of time in South America because it's been my dream to backpack here for so long.
I also just love the huge diversity of life and cultures here, and the interaction between indigenous cultures and Spanish colonialism. There are also so many amazing sites (such as the Galápagos, the Amazon, Machu Picchu, etc.). There is so much to learn and soak in.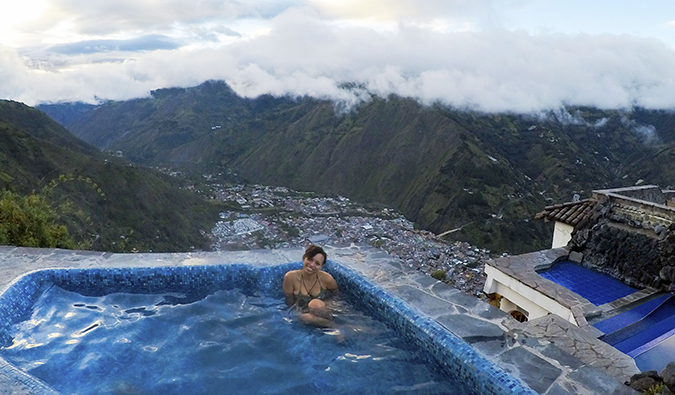 I leave for Lisbon on May 2nd, and then I want to see Morocco, Greece, Turkey, and East Africa before heading on to Southeast Asia.
It was really hard to choose which countries to visit — my list was originally about 36 countries long! But my friends talked me down and convinced me that it was better to go in-depth than to keep hopping around and tire myself out. I have the rest of my life to go and see the rest of the world.
Where have you been so far?
I spent a few weeks in Ecuador, including the Galápagos, before I moved on to Peru. I'm working my way south and east, eventually to Brazil.
The first week I spent in Quito. While there, I was hosted by friends of my family. I mainly rested and planned the trip, including getting my visa to Brazil at the consulate there.
I was so focused on closing up my life in LA and getting out quickly that I had put barely any thought into my trip. I just left. Taking the time to plan really calmed me. My hosts were really gracious and took great care of me.
After that, my sister came down and we spent a few days in Baños, Ecuador, which was fantastic! I jumped off a bridge and we went canyoning down some waterfalls. We also did a day tour of the Amazon. I had mixed feelings about the tour — I tend to hate planned excursions like that, and there was a part of the day that included an indigenous show that felt forced and disingenuous. It made me a little uncomfortable.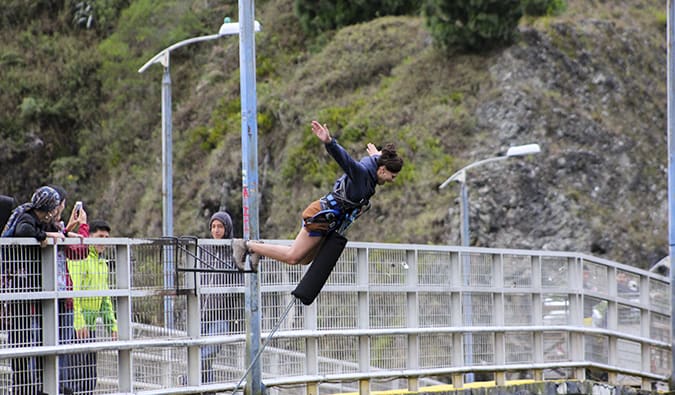 I also spent 10 days in the Galápagos, which was insanely beautiful. It was hard on the budget for sure, but the islands are so well protected. Now I'm in Cajamarca in the north of Peru enjoying the Carnaval celebrations. It's madness. I'm really not much of a partier. My host is so generous and accommodating, so I'm really enjoying my time here.
How's your daily budget going? Any big surprises?
I'm definitely running a deficit right now, because of the trip to the Galápagos, but I knew that going in. (Some other expenses too, such as paying for the visa to Brazil ($160 USD), contributed to that as well.) Everything is super expensive on the island. Last-minute cruises for four days are about $1,000 USD, and eight-day cruises start at about $1,700 USD. I opted out of a cruise and decided to do the self-tour, which was a bit more challenging but still an amazing experience.
Hostels on the island are basically $20 USD everywhere, which is about twice as much as on the mainland. But I did find some ways to save money. For instance, I found a restaurant on Santa Cruz Island that served a great $5 USD lunch.
I'm feeling OK about the splurge, though, because I'm saving in other ways. For instance, I bought my flight out of South America to Europe on points. That saved me about $700 USD. I plan on buying most of my flights on points. I'm also doing a lot of Couchsurfing in Peru (and Peru is cheap overall).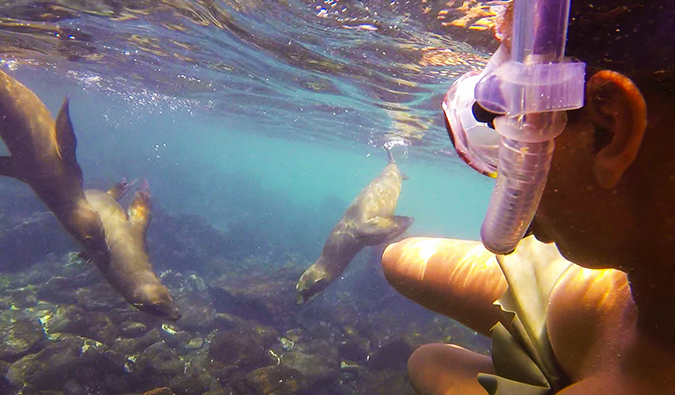 Not counting the Galápagos, in the first month, I spent about $600 USD, including my hostels, food, activities. Hostels are generally costing me $10 USD a night, and meals are rarely more than $10 USD each; lunch is usually much less.
In Baños, for instance, we met the owner of an arepas restaurant and just ate lunch there every day. Now, in Cajamarca, between Couchsurfing and the cheap cost of living, I would be surprised if I've spent more than $30 USD in the past five days. Breakfast is $1-2 USD, and we took a 30-minute ride bus outside of the city, which cost 5 soles, or about $1.50 USD, each.
Also, looking back on my journal of expenses, I would say I'm spending too much on transportation. I would attribute this to taxis. When I'm out and about, sometimes people tell me it's unsafe to walk and I should take a taxi. Or, for instance, when I was staying with my family friends in Quito, their house is pretty far from the city, so I would find myself taking a taxi rather than walk the 40 minutes to the bus stop.
If I'm feeling unsure about the situation I'm in (at night or if I don't see many solo walkers around), I take a taxi. So I think I could cut back or find other ways to avoid feeling unsafe.
Speaking of safety, how do you feel about your safety as a solo female traveler? Is South America safe?"
Yes, I generally feel safe. I've only had a few problems. The caveat is that I really don't go out at night that often (I'm more of a morning person) and tend to stick to the 'safe' areas. I get a lot of people warning me to be extra safe and that always freaks me out. I would like to be more adventurous and I'm trying to balance that desire with the practicality of being safe.
The first month is always an adjustment. How are you going to stay on budget in the future?
I'm a huge planner, and taking the time to think through my "must-haves" really helps. I've also found that not rushing and going slow helps cut down expenses. I'm trying to take my time and stick to the activities I will really enjoy. For instance, paying admission to see a cathedral almost never makes my list.
A lot of guides online mention churches as the must-sees. I ignore them completely unless there is something different about them. For example, I paid for a tour in Lima to see the catacombs but, other than that, I'd rather use the money elsewhere.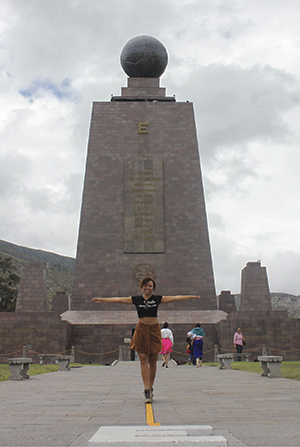 What are some of the lessons you've learned so far?
I am learning how to not stress about plans or money, which was something my mom was always trying to teach me. I'm literally living my dream, and it's foreign to me not to have something or someone to worry about. "If you're gonna worry, don't pray. If you're gonna pray, don't worry," is what she would always say. I was never very good at it (to her dismay), but I think she would be happy with how I currently am. My belly is always full and I'm seeing something new every few days. What more could I ask for? Next up, to work on my patience…
What's the worst thing that's happened? Do you think it could have been prevented?
Yes! My phone got pickpocketed! It was completely preventable. I was in Baños and I needed a rain jacket because it rains every other second there. I wasn't used to the pockets and my phone was hanging out slightly. I was just completely comfortable — it's very safe there, so I didn't think I had to worry. I noticed it was gone almost immediately. I was pissed because I just paid off that phone so that I could take it on the trip! Sigh…
Finally, what's been your favorite moment so far?
My favorite moment is a tie between jumping off the bridge in Baños and snorkeling with sea lions and turtles in the Galápagos. Both moments were surreal. I loved jumping from the bridge because I've always loved heights. When I watched the video of my jump, it seemed to happen so quickly. But in the moment, the fall felt like it took forever. It felt so long that I forgot I was tethered and almost felt like I was flying. I would do it a thousand more times.
The water in the Galapagos was so clear and beautiful and the animals were so unafraid and curious. The chance to observe up close and interact with them was so beautiful. I loved feeling as though I was part of a different world. I just want a million more moments like that.
In the following months, Heather will be navigating South America, Europe, Africa, and Southeast Asia. As she keeps going, we're going to follow along to get more details about her trip, experiences, roadblocks, budgeting, and everything in between! You can follow her journeys on her blog, Heather-Dannyelle.com, as well as on Instagram. She will also be sharing some of her experiences here!


Book Your Trip: Logistical Tips and Tricks
Book Your Flight
Find a cheap flight by using Skyscanner. It's my favorite search engine because it searches websites and airlines around the globe so you always know no stone is being left unturned.
Book Your Accommodation
You can book your hostel with Hostelworld. If you want to stay somewhere other than a hostel, use Booking.com as it consistently returns the cheapest rates for guesthouses and hotels.
Don't Forget Travel Insurance
Travel insurance will protect you against illness, injury, theft, and cancellations. It's comprehensive protection in case anything goes wrong. I never go on a trip without it as I've had to use it many times in the past. My favorite companies that offer the best service and value are:
Want to Travel for Free?
Travel credit cards allow you to earn points that can be redeemed for free flights and accommodation — all without any extra spending. Check out my guide to picking the right card and my current favorites to get started and see the latest best deals.
Ready to Book Your Trip?
Check out my resource page for the best companies to use when you travel. I list all the ones I use when I travel. They are the best in class and you can't go wrong using them on your trip.