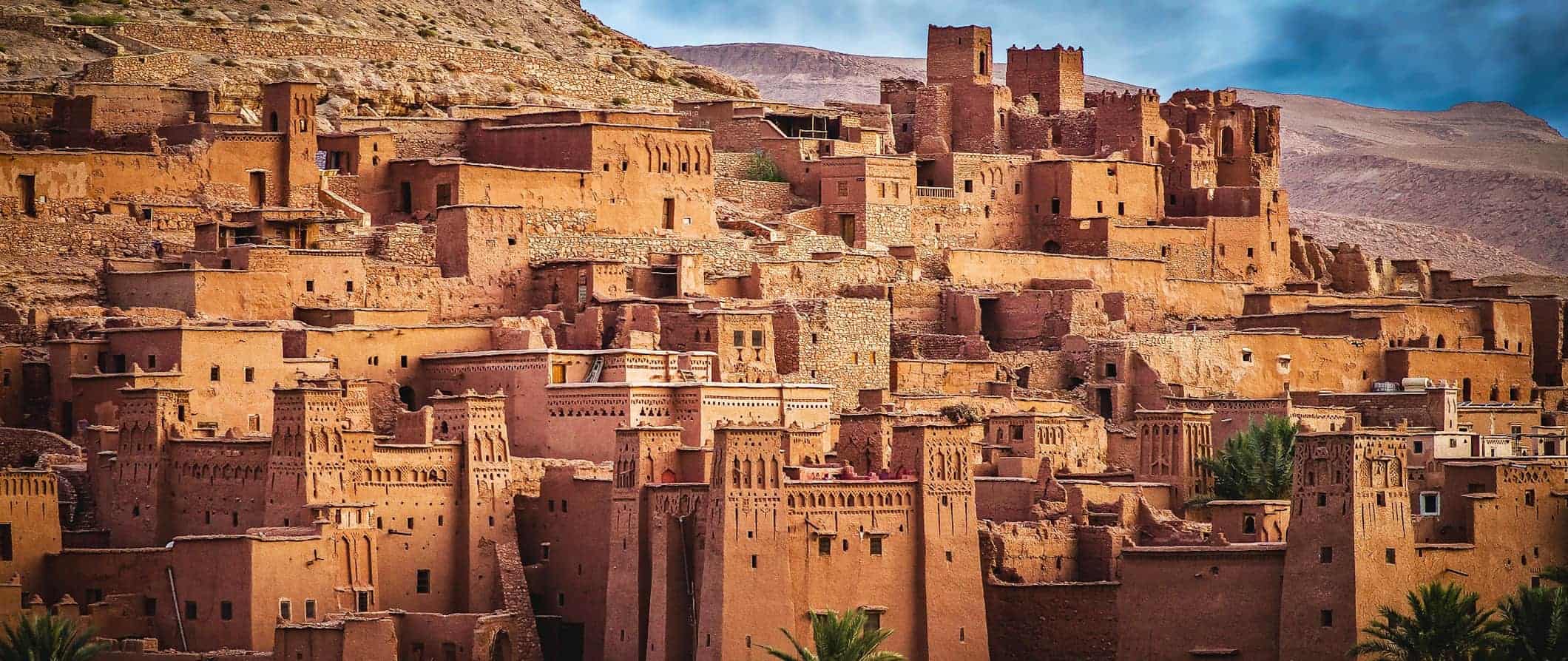 Traveling Morocco is an intense experience.
It's chaotic. It's colorful. It's fragrant. It's eye-opening.
It's an in your face sensory overload that travelers either love or hate.
My time traveling around Morocco was challenging but it was a reminder that the best part of travel is learning to be comfortable being uncomfortable.
I gorged on couscous, drank my body weight in mint tea, hiked, and absorbed the sights and sounds of Morocco.
From the high Atlas mountains to the desert to the coasts, Morocco is an amazing country that hits all a traveler's senses. You may love it or hate it but you'll walk away from a better traveler because you went.
Whether you are going bacpacking through Morocco, visiting on a tour, or own your own budget trip, Morocco will definitely leave an impression.
Use this Morroco travel guide to plan your trip, see the best the country has to offer, save money, and avoid common pitfalls that happen to travelers here!
Click Here for City Guides
Top 5 Things to See and Do in Morocco
1. Explore Marrakesh
Spend some time in the Djemaa el-Fna, where you can find exotic street performers, tattoo artists, musicians, and chefs. After that, wander around the medina, explore the souks, eat in the market, see the old city, and enjoy Morocco's most international city.
Marrakesh
has it all.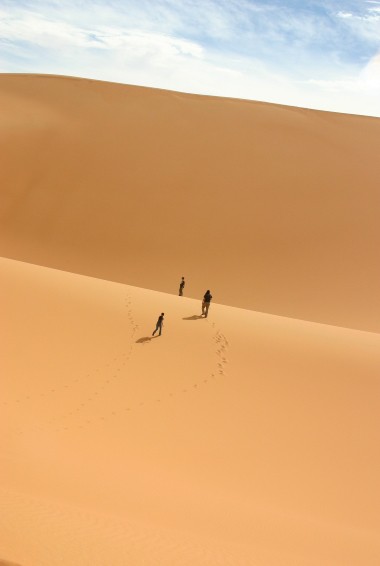 2. Sleep in the Sahara Desert
The Sahara is exactly how it is portrayed in the movies – vast, empty, and absolutely spectacular. You can spend the night in a simple tent in the dunes. This was my favorite activity while in the country and I highly recommend it. The stars go on forever and there's no light pollution to block them out. (The camel ride isn't that comfortable, though!)
3. Explore the blue streets of Chefchaouen
Chefchaouen is located in the middle of the Rif Mountains. It is very relaxed, offers reasonable accommodations, and is visually stunning. The streets and buildings are painted a vibrant sky blue, and the mountains in the backdrop are rugged and dramatic. It's a great place to wander, shop, and sip mint tea.
4. Visit Fez
This old and powerful city
is one of the best places in the country. Its narrow streets are filled with wonderful aromas, mosques, craft shops, and crowds upon crowds of people. Though Fez can be a bit overwhelming, once you get used to the pace of the city, it's simply magical.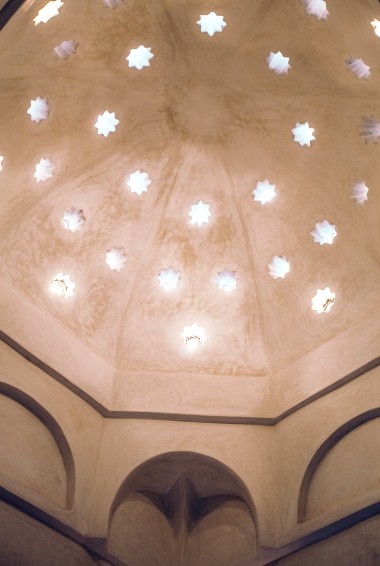 5. Relax in a traditional hammam
A hammam is a steam bath popular in North Africa. They are usually found near mosques or toiletry shops and can be upscale or public (traditional). Visit a no-frills traditional one for an authentic and enlightening experience. Public hammams cost about 10 MAD ($1 USD), while hotel hammams can cost 300-500 MAD ($31-52 USD).
Other Things to See and Do in Morocco
1. Get lost in the medinas
The medinas are the historic hearts of each city in Morocco: part residential area, part shopping center, part food market. Here you'll find twisting and turning streets where shops, restaurants, markets, and homes all line the streets in buildings seemingly too close together and too old to stay up much longer. As someone who loves to get lost, the medinas were heaven. Word of caution: The Fez Medina is a bit sketchy and unsafe, so do not go too far off the beaten path. Stick to streets with lots of people.
2. Trek the High Atlas
The rugged and beautiful Atlas Mountains stretch over 1,500 miles, from the West Coast of Morocco all the way to Tunisia. This mountain range is home to Jebel Toubkal, North Africa's tallest peak at 13,671 feet. You can hike all year round, but the best time is from April to May.
3. Trek through the Torda Gorge
This gorge is one of the most recognized in the world and has become very popular with travelers looking to hike the canyon. It's a challenging hike but if you're looking for something truly different and outdoorsy in Morocco, don't miss out on this.
4. Visit the Hassan II Mosque
The Hassan II Mosque, located in Casablanca, is a population attraction among tourists. It took thousands of Moroccan artists a total of five years to build this detailed architectural masterpiece. Its mosaics, plaster moldings, marble and stone columns and floors, and wood ceilings are utterly impressive. It is big enough for 105,000 worshipers, making it one of the largest mosques in the world! I was awed.
5. Learn to cook traditional food
Traditional Moroccan food is a blend of Berber, Arabic, Turkish, Middle Eastern, and French cuisine. Many riads (Moroccan house or palace) offer cooking classes in the big cities like Marrakesh and Fez. You'll be able to buy fresh produce from the local market and then make a traditional dish. Cafe Clock offers some of the best classes. It was recommended to me by many people and with locations in Marrakesh and Fez, this Western-influenced café is famous for its gigantic and delicious camel burger (which tastes a lot like spicy shawarma).
6. Wander thru Kasbah les Oudaias
Located in Rabat, this Kasbah is found in the oldest part of the city. It's tranquil, picturesque with its narrow streets of white houses, and a great place to wander around. Its elevation offers beautiful views of the river and ocean.
7. Catch some waves
Morocco is extremely popular among surfers. The best time to go is during the winter months when the waves are bigger and more consistent, and the air and water temperature is mild. Head to Taghazoute, the most popular surf town, to catch some waves and browse the surf shops.
8. Visit Tangiers
This major city in northern Morocco is located on the North African coast at the western entrance to the Strait of Gibraltar. The history of Tangiers is very rich, due to the historical presence of many civilizations and cultures. Almost 100 years ago, Tangiers was considered as having international status by foreign colonial powers and became a destination for many European and American diplomats, businessmen, writers, and spies. Today it's a hip must-see city.
9. See Atlas Studios
Named for its proximity to the Atlas Mountains, Atlas Film Studios in the city of Ouarzazate, is the largest film studio in the world covering more than 322,000 sq ft of the desert. Many big films have been shot here including: Lawrence of Arabia (1962), The Last Temptation of Christ (1988), The Mummy (1999), Gladiator (2000), Kingdom of Heaven (2005), Hanna (2011), and part of the TV series Game of Thrones. Be sure to visit the nearby Ksar of Aït Benhaddou kasbah too! It plays into what people think a ksar should look like. I enjoyed roaming the streets and climbing to the top for the view. It's used in all the movies listed above.
10. See the Ancient City of Volubilis
A major trading center and the southernmost settlement during Roman times, Volubilis is one of the best preserved (and least frequented) such ruins in the world. I found it empty of tourists, not built up, and open in a way that really lets you get up close and see the structures without being behind ten feet of barriers and jostled by crowds. Most of the city is still unexcavated so the site has a very raw feel to it. I've been to a lot of Roman ruins in my travels, but I love this one the best. It's a lovely day trip away from the crowds and noise of Fez. Entrance is 20 MAD ($2 USD).
11. Enjoy the Meknes Medina
Pleasantly stroll the Medina in Meknes without being pestered. This authentic market sells handicrafts made in Meknes such as the hand embroidery and Meknes "Damascene" ironwork. If the Medinas of Fez and Marrakesh overwhelm you, this is the place to go.
12. Explore Essaouira
Essaouira is located a few hours from Marrakesh on the Atlantic coast and is a popular beach destination for tourists, especially Brits. I loved the relaxed atmosphere of the city, the lack of pushy touts, the sea air, and all the fresh fish. Be sure to visit the wonderful fish market in town, where all the small fishermen sell their day's catch. Afterward, check out the small fish stalls nearby in the main square where you can enjoy fresh seafood grilled really cheap. Try stalls #5 and #11 for the best fish!
Be sure to visit our city travel guides for more detailed information about what to see and do in each place:
For more information on specific destinations, check out these guides:
Morocco Travel Costs
Accommodation – Dorm rooms are, on average, between 80-110 MAD ($8-12 USD) per night in the big cities like Marrakesh and Fez, and about 50 MAD ($5 USD) on the outskirts. Private rooms in hostels start around the 200-250 MAD ($21-26 USD) range in the cities and are much cheaper in smaller, less touristy areas. Budget hotels begin around 150 MAD ($16 USD) per night for a double room. Accommodation in Marrakesh and Fez will be pricier as they are the main cities.
Food – Eating in Morocco can be extremely cheap, especially if you eat at the many markets. A pot of mint tea costs between 8-10 MAD ($0.85-1 USD), you can indulge in local food, including the popular tagine, a meat and vegetables dish for about 35 MAD ($4 USD). Sandwiches, pizza, and most other dishes range between 30-50 MAD ($30-50 USD). You'll find more expensive, inside restaurants with table service to cost around 100 MAD ($10 USD). Fish in coastal cities like Essaouria cost about 100-150 MAD ($10-16 USD) while a lobster is about 350-400 MAD ($37-42 USD). Seafood dinners come with drinks, salad, and bread.
For more expensive touristy and Western restaurants, you'll be looking at around 150 MAD ($16 USD) or more per main dish. Beer and wine range up to 70 MAD ($7 USD) for a drink (however, there aren't that many opportunities to drink in Morocco, so I would factor much into your budget for it). There's no need to buy groceries here as the food is pretty cheap and it's far easier to eat out! But if you do, expect to pay 200 MAD ($21 USD) per week for groceries that will include pasta, vegetables, chicken, and other basic foods.
Activities – Popular tourist destinations, like Marrakesh, offer guided group tours which include a car that will take you to the most interesting attractions, shops, and around the medina (quarter). A full day tour costs about 900 MAD ($94 USD), while a half day will be about 500 MAD ($53 USD). A trip to the desert can be organized with a big tour company for a variety of prices depending on how long you go, and what is included. A visit to the local hammam (bathhouse) for a soak and spa treatment can cost as little as 10 MAD/$1 USD (low-end) and can reach 500 MAD/$53 USD (high-end). Specific attraction prices will range widely in price depending on activity and location.
Backpacking Morocco Suggested Budgets
On a backpacker's budget you'll pay 400-600 MAD ($40-60 USD) per day. This is a suggested budget assuming you're staying in a hostel, eating in the market stalls and cheap restaurants, limiting your drinking (which is very easy to do here), and using local transportation. You can also do some basic city tours or visits to a hammam.
On a mid-range budget of about 1,145-1,240 MAD ($120-130 USD) per day, you can stay in a budget hotel, eat out anywhere you want, take private tours and private transportation to and from the cities if you want!
For a luxury budget of 3,435+ MAD ($360+ USD) per day, you'll be able to stay in any hotel you want (or fancy riad), eat at all the fancy restaurants in the country, fly between destinations, and take any private tour you want!
You can use the chart below to get some idea of how much you need to budget daily (some days you spend more, some days you spend less):
Accommodation
Food
Transportation
Attractions
Average Daily Cost
Backpacker
$8-12
$15
$5-10
$20
$40-60
Mid-Range
$16-26
$30
$20
$40
$120-130
Luxury
$80
$70
$90
$80
$360+
Morocco Travel Guide: Money Saving Tips
It doesn't cost a lot of money to travel Morocco. It's relatively cheap! Where travelers go wrong is they eat Western meals, fancy food, and stay in expensive riads. If you avoid doing that, you can save a lot of money. Here are tips for saving money in Morocco:
Eat from street stalls – It's extremely easy to eat well cheaply in Morocco. While restaurant meals can typically cost as little as 30 MAD ($3 USD), street food is even less expensive. For just a few dollars, you can indulge in delicious kebabs, sausages, barbecued corn on the cob, hot roasted chicken, and huge sandwiches, among many other tasty options. Stick to eating at the local markets in the medina and you'll spend very little money on food.
Negotiate your cab fare – Be sure to negotiate a price before you get into the taxi. There aren't set prices and you'll need to bargain hard.
Avoid faux guides – Faux guides (or false guides) will linger in the medinas and offer you tour services. Be forceful in saying no and keep walking away. They are persistent but will eventually give up if you keep walking!
Be careful of thieves – Petty theft, mostly involving wallets, watches, and cameras, is prevalent in the crowded medinas around the country so stay alert and keep your valuables out of sight. Don't leave with anything that is too valuable to be replaced!
Avoid drinking – Even though drinking is frowned upon in the country, you can still find plenty of places that allow you to drink. They are overpriced (since alcohol is not common here) and the drinks aren't that good. Avoid drinking during your visit, save money, and align yourself closer to local norms.
Couchsurf – Nothing's cheaper than sleeping for free and Couchsurfing connects you with locals who will give you not only a free place to stay as well as be your local guide. There's a very small Couchsurfing community here in the big cities. You won't find a lot of hosts but if you look far enough in advance, you might find someone.
Where To Stay in Morocco
Looking for a place to rest your head in Morocco? Here are some of my favorite places to stay in Morocco for your next visit:
How to Get Around Morocco
Public Transportation – Public transportation can be hit or miss in Morocco. The bigger cities, like Marrakesh and Casablanca, have public bus services – but the buses are incredibly old and overcrowded, and the routes are hard to figure out.
Instead, most people use petits taxis to get around town. These are small vehicles that can hold up to three people, and they're prevalent all over the country. They're very cheap, although there may be a surcharge after 8pm. To ensure you get a fair fare, negotiate your price up front.
Metered taxis are also available in the bigger cities like Marrakesh. Fares start around 7 MAD ($0.75 USD) and then they charge 7 MAD ($0.75 USD) per kilometer.
Uber is available in Casablanca.
Grand Taxis – Grand taxis are shared taxis that can carry up to six passengers and are used to go longer distances between neighboring towns/cities. They won't leave until the taxi is full, but generally wait times aren't so bad. You can locate one near just about any taxi stand or bus/train station. If you have a lot of luggage you may be surcharged. You'll want to arrange your fare ahead of time.
Bus – Intercity buses are a cheap and efficient way to get around Morocco, especially compared to other methods of transportation. The four most popular operators are:
Supratours
CTM
SATAS (regional)
Ghazala (regional)
CTM and Supratours are the most reliable, and they have comfortable buses with air conditioning. You can book your tickets online, or simply show up at the bus station. The websites aren't terribly reliable or efficient to use. A 4-hour bus ride from Marrakesh to Casablanca is about 90 MAD ($9 USD), while a 6.5-hour ride from Marrakesh to Tangier is 110 MAD ($12 USD). Casablanca to Fez is 90 MAD ($9 USD) as well.
Train – Morocco's national rail network is operated by ONCF and services some the country's major cities like Marrakesh, Casablanca, Rabat, Meknes, and Fez. The trains are comfortable and they're usually on time, but disruptions do occasionally happen. There is now a high-speed rail running between Casablanca to Fez too. You can look up schedules and prices on ONCF.
A train ticket will cost around 30 MAD ($3 USD) per hour of travel for 2nd class, or 45 MAD ($5 USD) per hour for 1st class. A train from Marrakesh to Casablanca will cost you about 110 MAD ($12 USD), while Marrakesh to Rabat starts around 140 MAD ($15 USD). Casablanca to Fez is from 92 MAD ($10 USD). The journey from Fez to Marrakesh takes 7.5 hours and costs 160 MAD ($17 USD).
If you're planning to spend a lot of time on trains, a rail pass from ONCF may save you money. It's available for 7, 15 or 30 days of travel, with discounts for children and travelers under 26.
Flying – Royal Air Maroc is the main domestic airline and they sometimes have good sales. Zagora, Errachidia and Essaouira are also serviced. An hour flight from Marrakesh to Casablanca will start around 520 MAD ($55 USD), while Marrakesh to Essaouira starts from 850 MAD ($90 USD).
Car Rental – Car rental isn't typically recommended in Morocco. Drivers are aggressive and accident rates are high! But if you want to venture off the beaten path, it's a good way to go. You can find rentals starting from 240 MAD (25 USD) a day (sometimes cheaper).
When to Go to Morocco
The best time to visit Morocco typically is during the country's shoulder seasons, which run from April to May and September to November. The temperatures are nice and warm during this time, and there will be less tourist traffic. (However, this changes if you plan on spending most of your time surfing the coast or hiking the Atlas Mountains.)
Summer lasts from June to August, and it can be ridiculously hot all over the country during this time – especially the further south you go (including in Marrakesh and Fez). A lot of people head to the coast to enjoy places like Tangier, Rabat, and Essaouira.
Winters (from December to February) are mild, but it can get quite cold in the evenings. Temperatures drop as low as 27°F ( -3°C) in Marrakesh, and the Atlas Mountains receive a lot of heavy snowfall. Winters in the north and along the coast are very wet. Overall, it's not a great time to be here.
The best time to go hiking in the Atlas Mountains is from April to May (spring) and September to October (fall). It's mild during these months and there's little risk of severe weather. Summer is the best time to enjoy the coast, where temperatures go as high as 80°F (27°C) but the ocean breeze offers plenty of relief.
How to Stay Safe in Morocco
Morocco travel requires extra vigilance because it's easy to have something happen to you. You're unlikely to ever be in any real physical danger in Morocco, but the petty crime and harassment require you to stay on guard — more so than other countries. I wrote a whole blog post devoted to safety in Morocco.
Be on the look-out for people trying to rip you off. You can read about the 14 travel scams to avoid right here.
Always trust your gut instinct. If a taxi driver seems shady, stop the cab and get out. If your hotel is seedier than you thought, get out of there. Make copies of your personal documents, including your passport and ID. Forward your itinerary along to loved ones so they'll know where you are.
If you don't do it at home, don't do it in Morocco!
For more in-depth coverage of how to stay safe in Morocco, check out this post we wrote that answers some frequently asked questions and concerns.
The most important piece of advice I can offer is to purchase good travel insurance. Travel insurance will protect you against illness, injury, theft, and cancellations. It's comprehensive protection in case anything goes wrong. I never go on a trip without it as I've had to use it many times in the past. You can use the widget below to find the policy right for you: