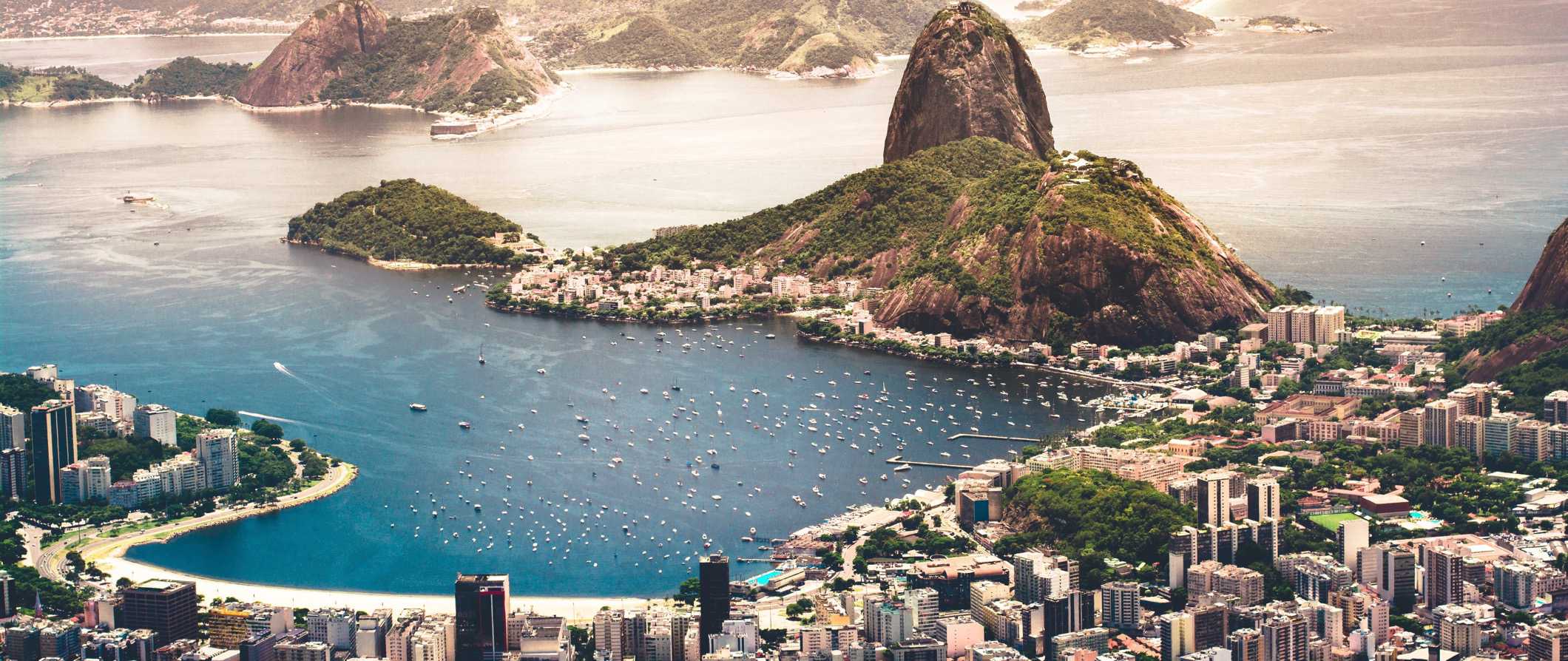 Brazil is impossible to summarize in just a few paragraphs. It's the largest country in South America and home to cosmopolitan cities like Rio de Janeiro and its Wonder of the World Christ the Redeemer statue, the rambunctious and world-famous Carnival, the Amazon River and rainforest, and an abundance of lush and untamed nature.
Brazil has more plant and animal species than anywhere else in the world, making it a paradise for travelers who love the outdoors. It's also home to the towering and awe-inspiring Iguazú Falls.
In other words, you're going to need longer than a week to visit this massive, diverse country.
Meet the locals at Copacabana Beach in Rio or spend an evening learning how to dance the samba. Cruise the wetlands of the Pantanal or the Amazon River while keeping an eye out for exotic wildlife like toucans and pink dolphins. Gorge on a barbecue feast, and cool off with caipirinha, Brazil's official cocktail of sugarcane liquor, sugar, and lime.
Throw in passionate fútbol (soccer) matches, beautiful people, and low prices, and it's easy to see why Brazil is one of the most popular destinations in the world.
This travel guide to Brazil will help you plan your trip, save money, stay safe, and make the most of your time in this amazing country.
Click Here for City Guides
Top 5 Things to See and Do in Brazil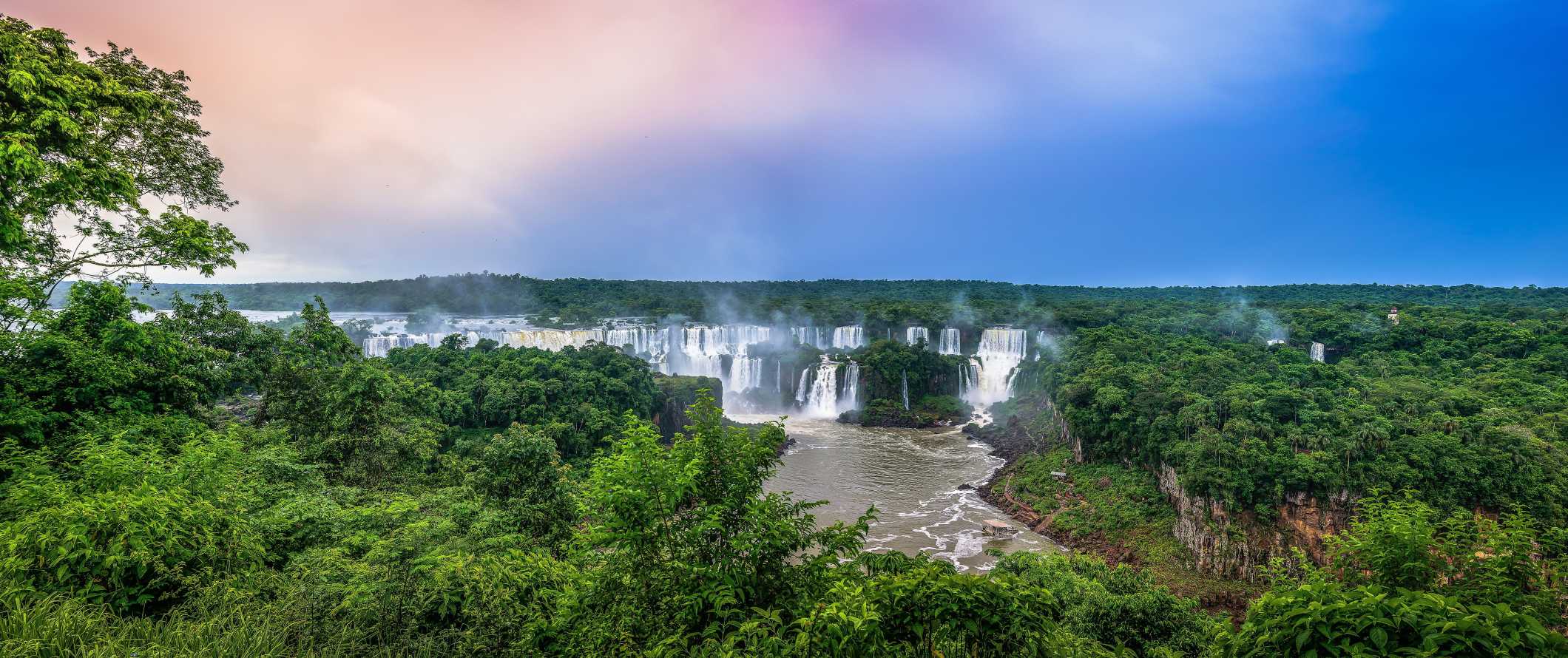 1. Visit Rio de Janeiro
Home to over 12 million people, Rio de Janeiro has dozens of museums, the world-famous sandy beaches of Copacabana and Ipanema, countless party spots, the towering Christ the Redeemer statue (a New Wonder of the World), Sugarloaf Mountain, Tijuca National Park (the largest urban rainforest in the world) right in the city's backyard, and so much more. No visit to Brazil is complete without a stop here. It's fun personified, especially if you come during Carnival!
2. Visit Florianópolis
Florianópolis is one of Brazil's most popular coastal cities, (especially for surfers taking advantage of big waves). Brazilians love to vacation here, and it's a big spot for backpackers too, thanks to its powdery beaches, cheap seafood, fantastic hiking, and awesome nightlife. Come here to party, lounge, hike, and enjoy the sunshine!
3. Spend time in the Amazon
The Amazon covers 8% of the earth's surface and is home to 50% of its biodiversity. There are so many ways to experience it: take a jungle cruise down the Amazon River, do a guided multi-day trek, or join a wildlife tour. You can also visit indigenous communities and learn how they live in such a unique place.
4. Go to Fernando de Noronha
Fernando de Noronha was Brazil's first national marine park and a UNESCO World Heritage Site. The sandy beaches with turquoise waters and excellent snorkeling (there are lots of dolphins here) will take your breath away. 70% of the island is protected, and less than 500 people are permitted at a time, meaning the island is largely empty. It's one of the most gorgeous places in South America, though be prepared to pay for it in higher accommodation and food costs, as well as a daily visitor tax (87 BRL per day, plus a 330 BRL 10-day visitor pass).
5. See Iguazú Falls
These waterfalls (which share a border with Argentina) are higher than Niagara Falls — and twice as wide! Every second, 12,700 cubic meters (450,000 cubic feet) of water thunder down the 275 cascades, which form a chain of hundreds of waterfalls that stretch for over a mile. They're a must-see. Admission is 83 BRL. You can also take a boat tour to get up close and personal with the falls.
Other Things to See and Do in Brazil
1. Attend a fútbol match in Rio
Fútbol (soccer) is a religion here, and the chaos and excitement during a match are contagious! Maracanã in Rio de Janeiro is one of the largest stadiums in the world, and it seats 100,000 supporters. The best games are the local teams (Flamengo, Vasco, Botafogo, and Fluminese) because you're guaranteed a game full of singing, cheering, and insult-slinging. You can buy tickets through the teams' websites or the FutebolCard site. Tickets can be as low as 20 BRL. To learn even more about the sport and stadium, you can take a stadium tour for 77 BRL.
2. Enjoy Rio Carnival
The Rio Carnival is an epic festival of music, samba, and revelers dressed in elaborate, colorful regalia as they take to the streets by the thousands. It's one of the biggest celebrations in the world (2 million people hit the streets every day during Carnival). The entire celebration is one last hurrah before the start of Lent's quiet period. Prices for accommodations triple during Carnival (held every February) so be sure to book far in advance for the best deals. You can reserve your 2024 Carnival tickets in advance here (highly recommended – they sell out quickly)!
3. Visit Brasilia
Brasilia is the often-overlooked capital of Brazil. This futuristic city was established in 1960 and is a hub for modernist architecture, including the National Congress, with its odd bowl-shaped structures, and Santuário Dom Bosco church which boasts long, narrow windows made of blue-colored Murano glass that represents a starry sky. Visit the 60,000-acre Parque Nacional de Brasilia and walk the trails between tall Cerrado trees while looking for wildlife like anteaters and pampas deer.
4. Explore the Pantanal
Located in Western Brazil, the Pantanal is the largest wetland in the world, stretching into parts of Bolivia and Paraguay. Over 11,000 species of animal live here, including the rare marsh deer, the giant anteater, and the hyacinth macaw. The two main access points are Cuiabá and Campo Grande. I recommend the latter as it tends to offer more affordable accommodations and tour options. Most wildlife and sightseeing tours are multi-day and cost a minimum of about 1,325 BRL per day.
5. Relax in Recife
Located on the eastern tip of the country, Recife is the place to be if you want to relax and enjoy some of Brazil's scenic beaches. Boa Viagem, the 7-kilometer (4-mile) stretch of sand between Pina to Piedade, is very developed with cabanas and sun chairs for rent. Piedade is equally as beautiful but less touristy, lined with restaurants and bars where the locals hang out. For an even more low-key beach area, head south to Porto de Galinhas, where the beach is virtually empty.
6. Visit Salvador
Salvador was Brazil's first capital city, and today it remains the country's cultural capital, thanks to its vibrant Afro-Brazilian community. Located down the coast from Recife, Nosso Senhor do Bonfim is a perfect example of this community's unique spirit: it's a church that peacefully combines Catholicism and Candomblé (a religion originating from West Africa). Furthermore, the pastel-painted colonial buildings and cobblestone scenes of the Pelourinho neighborhood are extremely photogenic, and if you stay in this area, you'll have easy access to shopping, restaurants, bars, and live music. Local tour operator Your Tour Brazil offers many different tours to help you dig deeper into Salvador's culture, including their African Heritage & Acarajé Tasting tour.
7. See São Paulo
São Paulo, the fourth-largest city in the world and the largest in South America, is home to over 23 million people. This sprawling metropolis is for anyone who loves wild nightlife, great museums, interesting street art, live samba music, and fine dining. Every area is like its own micro-city and it's a completely different vibe than Rio (taking a walking tour is one of the best way to get a handle on this gigantic city). São Paulo also has a flourishing art community, which you can discover through its many experimental theaters and art-house cinemas (including CineSala, an independent street theater founded in 1959).
8. Try capoeira
Capoeira is a combination of dance, music, and martial arts created nearly 500 years ago by enslaved West Africans to disguise their combat training. It kind of looks like breakdancing, emphasizing flow over specific stances. In Brazil's larger cities you can sign up for intro classes, including in Rio de Janeiro, where classes start from 70 BRL. Angola N'Golo is an affordable school to check out.
9. Unplug in Ilha Grande
You'd never know from the look of it that the tropical island paradise of Ilha Grande was once a pirate's hideout, a leper colony, and a high-security prison. Nowadays people (especially locals from nearby Rio) come here on the weekends to hang out on the pristine beaches, like Aventura Beach and Palmas Cove. There are a handful of hostels and accommodations here, but mostly the island is made up of undeveloped jungles and beaches. Come here to lounge, disconnect, and chill out.
10. Visit Ouro Preto
Ouro Preto, a 17th-century colonial town, is one of Brazil's most picturesque towns for its brightly painted houses, Baroque churches, and large leafy plazas. Located around 400 kilometers (250 miles) north of Rio, Ouro Preto sits in a valley at the foot of the Serra do Espinhaco, and up in the hills surrounding the town are 23 churches you can hike to visit.
11. Learn samba
Samba is a musical genre and dance born in Rio de Janeiro's Afro-Brazilian communities in the early 20th century. Today, it's an important Brazilian cultural symbol, but Rio remains one of the best places in Brazil to learn how to dance. Rio Samba Dancer is my favorite for its all-levels group classes, especially for the classes combined with social outings to samba clubs. Classes start from about 105 BRL.
12. Admire the Azorean fishing villages
Brazil has 7,400 kilometers (4,500 miles) of coastline with many historic fishing villages to explore. Florianópolis has a number of particularly beautiful ones, including Santo Antonio de Lisboa and Ribeirão da Ilha, where you can indulge in delectable oyster and seafood dishes and enjoy secluded beaches, cobbled streets, and jellybean-colored houses. Sights in Ribeirão da Ilha include the Acoriano Casario Church and museum Ecomuseu do Ribeirão da Ilha, where you can learn more about the natural and Azorean cultural history of the area. Museum admission is 5 BRL.
13. Hike in Tijuca National Park
Tijuca National Park is the largest urban rainforest in the world, stretching across 8,300 acres. The area is home to over 350 different species of mammals, birds, and reptiles, including howler monkeys, which only came back to the park recently after a 100-year hiatus. The Corcovado (Christo) hike through Parque Lage to the top of Corcovado is a steep climb, but it's shaded and only takes about three hours. Another scenic hike is to Tijuca Peak, starting in Rio's North Zone and going past waterfalls and through dense rainforest. This hike only takes about two hours, and you'll be rewarded with views over Niteroi and Guanabara Bay. Entrance to the park is free. This is a place where it's really worth it to go with a tour though. You'll not only have a more in-depth experience, learning history of the rainforest as well as how to recognize native flora and fauna, but get round-trip transportation to/from your accommodation as well. There are tons of tours available, from the popular jeep tours to full-day adventure hikes that go to lesser visited sections of the rainforest.
14. Visit Paraty
This incredibly well-preserved Portuguese colonial town and UNESCO World Heritige site is located almost halfway between São Paulo and Rio, making it an excellent place to stop and unwind for a few days as you travel between Brazil's two largest cities. The picturesque cobblestone-lined streets of the 16th-century town are lined with handicraft shops, bars with live music every night, and great restaurants (go to family-run Vinicius for a superb homecooked meal). Located on Brazil's Costa Verde (Green Coast), there's a lot of adventure activities to be had here too, including jungle tours of the Atlantic Forest (usually with stops to visit historic cachaca distilleries, as the area is famous for brewing Brazil's most popular spirit), and boat tours with snorkeling and beach stops. You'll be able to see and enjoy all the main things to do in about three days here.

For more information on specific cities in Brazil, check out these guides:
Brazil Travel Costs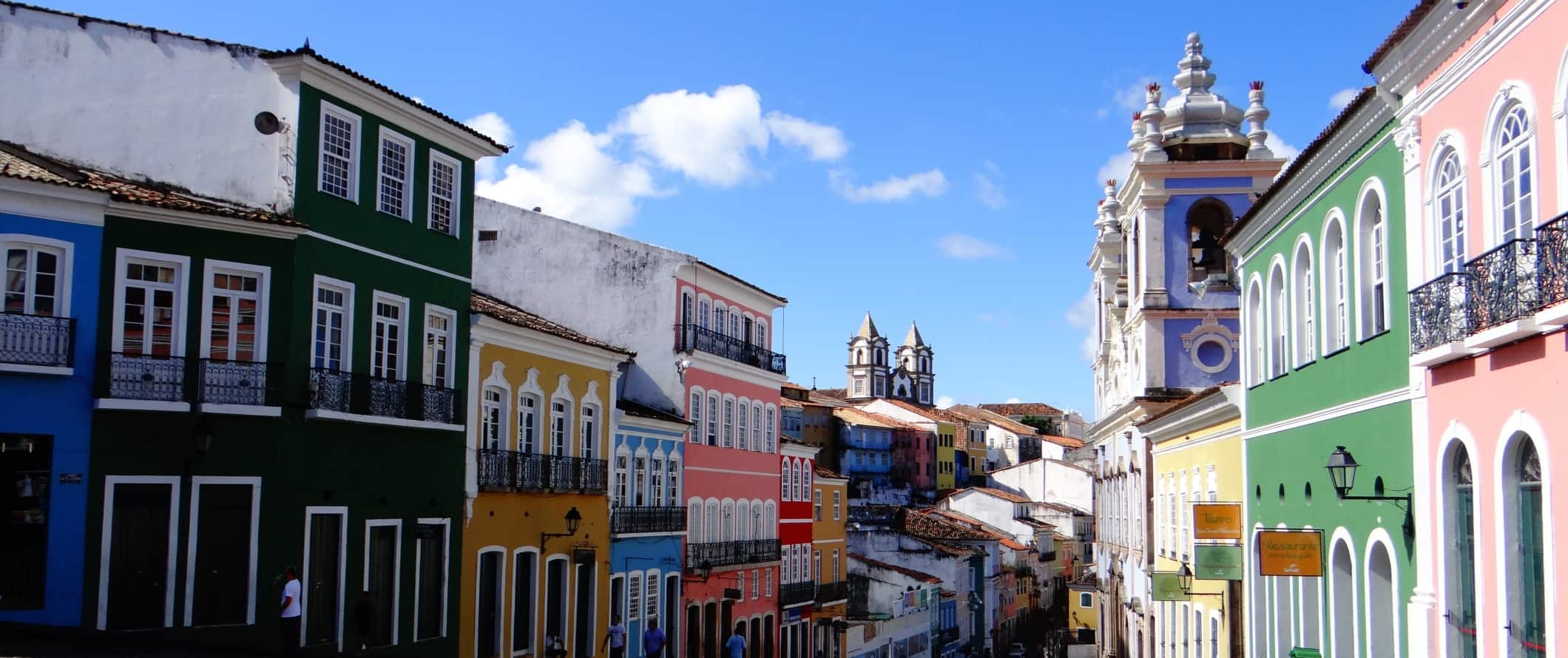 Accommodation – Brazil is a huge country (it's the 7th-largest in the world) and accommodation prices fluctuate from city to city and from season to season (with huge increases during Carnival). Prices in places like Rio de Janeiro and Salvador are pretty consistent, but for beachy destinations like Florianópolis, prices change dramatically depending on the time of year.
A 4-6 person dorm costs about 75-85 BRL per night, while a bed in a 8-10 person dorm costs 60-70 BRL. More remote places like Fernando de Noronha have higher prices, with dorms costing up to 150 BRL per night.
A private double room in a hostel costs about 225-300 BRL, but sometimes you can find rooms for as low as 150 BRL per night.
A budget two-star hotel room in the center of town costs 200-300 BRL per night with air-conditioning and breakfast included. If you're willing to leave the city center, you can sometimes find rooms for as low as 150 BRL per night.
Airbnb is another great budget option, with private rooms averaging around 100-150 BRL per night, while entire apartments or homes start around 275 BRL.
Campgrounds are plentiful by the beaches and national parks. Expect to pay around 40-70 BRL per night for a basic plot. Amenities generally include free Wi-Fi, bathroom facilities including hot showers, and charging stations.
Food – Brazilian cuisine — like the country itself — is a mix of many cultures, with European, Amerindian, African, and Japanese influences. As such a large country, food varies per region, with seafood plentiful on the coastlines and Brazilian barbeque dominating in the south. Rice and beans are a staple no matter where you are.
Common vegetables include tubers like cassava and yams, tomatoes, red peppers, okra, and more. Being a subtropical country, there's a huge variety of fruits, with the most famous being the superfood açaí, though cupuaçu, mango, papaya, guava, orange, passion fruit, and pineapple are all common as well.
Feijoada, Brazil's national dish, is a meaty bean stew that is traditionally eaten for Wednesday or Saturday lunch. Other popular dishes include moqueca (fish stew), polenta, and vatapá (a stew of bread, shrimp, coconut milk, and peanuts) among countless others.
Some popular street food snacks include pão de queijo (cheese bread rolls), acarajé (black eyed pea and shrimp fritters), coxinha (chicken croquettes), and pastéis (savory fried pies with assorted fillings).
All of this is to say that Brazil has such a variety of food and flavors that you never have to go far to find an affordable meal.
Street food like pastel (a deep-fried pastry with filling) or coxinha costs around 8-10 BRL. An açaí (served pureed and frozen, with toppings you can choose from) from a street stand or takeaway spot is 15-20 BRL. A sandwich and drink at a juice bar should be no more than 35-40 BRL, while a combo meal at a fast-food restaurant (think McDonald's) is around 30-35 BRL. A meal at a Chinese takeout restaurant costs about the same, at 35 BRL for a dish like fried rice. Burgers cost 25-30 BRL and pizzas are around 50-60 BRL.
Buffets, where you pay by weight, are very common throughout Brazil. You usually pay around 65-80 BRL per kilo.
A meal at an inexpensive restaurant serving typical Brazilian dishes costs about 20-40 BRL, depending on the region and city. A meal with two courses at a casual restaurant starts from 60 BRL, though prices at restaurants along the beach can go much higher, often starting at 80 BRL for a dish.
If you want to splash out, a three-course meal at a mid-range restaurant costs about 150-180 BRL, but you can expect to pay nearly double this price at some places in Rio de Janeiro or São Paulo.
Dishes at higher-end seafood restaurants cost 150-225 BRL and up. At many restaurants in coastal areas, seafood dishes and platters are meant for two (often served with an entire fish) – it's a huge portion of food that could easily be split between three people.
A domestic beer costs about 10-15 BRL, while a cocktail is 15-25 BRL. Wine is expensive (and not very good) in Brazil, so expect to pay at least 15-20 BRL per glass. A soda or juice is 5-8 BRL, and a cappuccino is 9-11 BRL.
Grocery shopping costs about 100-200 BRL per week for basic staples like fresh veggies, pasta, rice, and some meat or fish.
Activities – Admission to see the famous Iguazú Falls is 72 BRL while tickets to see a soccer game can be as low as 20 BRL. Tickets to popular attractions (like Sugarloaf Mountain or Christ the Redeemer in Rio) are 150 BRL. Multi-day wildlife tours cost around 1,325 BRL per day, while samba classes cost around 105 BRL. Capoeira classes are around 70 BRL. Museum admission is usually around 10-30 BRL.
Backpacking Brazil Suggested Budgets
If you are backpacking Rio de Janeiro, expect to spend about 215 BRL per day. This covers staying in a hostel dorm, eating street food, cooking some of your meals, limiting your drinking, using public transportation to get around, and doing mostly free activities like enjoying the beach and hiking.
On a mid-range budget of about 420 BRL per day, you can stay in a private hostel or Airbnb room, eat out for all your meals at cheap local restaurants, take the occasional taxi to get around, take buses between destinations, enjoy a few drinks, and do more paid activities like surfing or samba lessons.
On a "luxury" budget of about 750 BRL per day or more, you can stay in a hotel, eat out for all your meals, enjoy more drinks, take taxis everywhere, fly between cities, and enjoy all the tours and activities you want. This is just the ground floor for luxury though. The sky is the limit!
If you're coming during Carnival, expect prices for accommodations and activities to increase significantly (sometimes triple or even quadruple) — especially if you're booking last minute.
If you're staying in Fernando de Noronha, budget double the above suggestions.
Accommodation
Food
Transportation
Attractions
Average Daily Cost
Backpacker
80
70
25
40
215
Mid-Range
150
125
45
100
420
Luxury
300
175
100
175
750
Brazil Travel Guide: Money-Saving Tips
Brazil is one of the most expensive countries in South America, but prices depend on where in the country you are and what kind of activities you're doing. Brazil's main cities like Rio de Janeiro and Sao Paulo are more expensive than rural areas (unless you're seeking out less touristy locales, like Fernando do Noronha). Here are some money-saving tips to help you get started:
Agree on taxi prices – Agree on the price for your journey with the taxi driver before setting off. Many drivers refuse to use their meters and try to rip you off. It's much better to take a bus most of the time.
Stay with a local – Couchsurfing connects you with locals who can give you a free place to stay and share their insider tips and advice. It's the best way to meet locals and save money.
Visit off-season – December to March is a pretty busy time as people from the Northern hemisphere escape the winter. Try to avoid these dates if you want to keep prices low.
Skip Carnival – Carnival might be fun, but it's also super expensive. If you're on a budget, avoid visiting during Carnival.
Get an Airpass – If you book your domestic flights in advance, the Airpass can save you money on flights. It's the cheapest way to fly around the country (more on this below).
Cook your meals – Eating out here can easily blow your budget so try and stay somewhere with a kitchen so you can do some cooking. It's not glamorous, but if you live like the locals you'll save a fortune.
Pack a water bottle – The tap water here isn't safe to drink so bring a water bottle with a filter to save money and reduce your single-use plastic usage. My preferred bottle is LifeStraw as it has a built-in filter to ensure your water is always clean and safe.
Where to Stay in Brazil
Hostels are widespread all over Brazil. You'll also find a ton of B&Bs and cool Airbnbs. Basically, there are a lot of budget options here. My suggested places to stay in Brazil are:
How to Get Around Brazil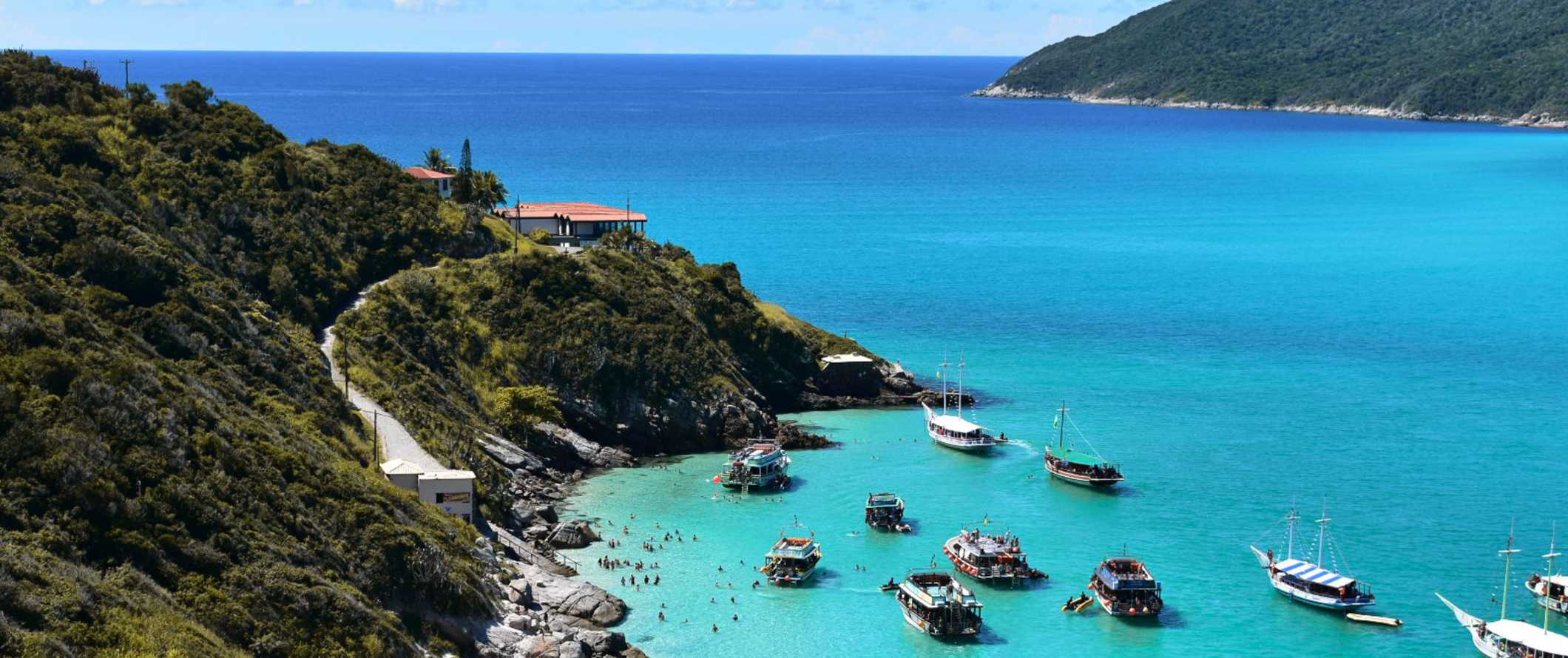 Public transportation – City transportation in Brazil is efficient and modern. Many places (like Rio and São Paulo) have an extensive subway system. Fares cost around 5 BRL per one-way ticket. In most places, you can pick up a multi-day metro card to save money.
Buses are everywhere. A one-way ticket costs about 3-5 BRL, and as with the subway, there are usually multi-day metro cards available.
Taxis – Taxis are recommended in the evening when public transportation may not be as safe. Fares start at 6-8 BRL and then go up to about 3-6 BRL per kilometer. Use an app like 99 (formerly 99Taxis) to ensure you get a licensed taxi. Ridesharing like Uber is also available and common here.
Bus – Long-distance buses are a convenient, economical, and comfortable way to travel in the country. There are hundreds of routes. You can use Brazil Bus Travel to check schedules and book your tickets.
A bus from Rio to São Paulo takes 6.5 hours and costs about 180 BRL, or you can book a sleeper bus with a bed for 420 BRL. Rio to Florianópolis is a 20-hour journey that costs about 520 BRL for a regular seat or 1,050 for a bed.
Train – Train service is limited to the tourist-oriented steam train that offers transport in between São Joao del Rei and Tiradentes. It's expensive, so I don't recommend doing this.
Flying – Air travel is useful if you're trying to get around the country on limited time (especially if you're traveling between the big cities, or between places like Rio and the Amazon). The country's major airlines are:
If you're booking a flight two months in advance from Rio de Janeiro to Manaus (the easiest way to reach the Amazon), you can find airfare for as low as 1,700 BRL (round-trip). Rio to Salvador is about 360 BRL (one-way), while flights between Brasilia and São Paulo can be as little as 155 BRL (one-way).
An Airpass is a practical option if you're going to take a lot of flights within 30 days (especially if you're going to the Amazon, which is far and expensive to get to). With GOL you can get a 90-day pass with four domestic flights in its network for 2,600 BRL. Azul offers something similar with four flights within three weeks for the same price. Brol.com can help you find the right pass.
Just keep in mind that you have to book in advance for these passes so this doesn't allow for flexible travel. You also cannot use these passes during popular time periods, like during Carnival and Christmas/the New Year.
Car rental – Car rentals cost around 65-90 BRL per day for a multi-day rental. However, the road conditions aren't great here and drivers are aggressive. Moreover, since break-ins and carjackings are common, I'd likely skip the rental here just to be safe.
Hitchwiki – Hitchhiking here isn't super popular and not really recommended. Drivers here aren't the most cautious and pedestrians are often hit. For more information, check out Hitchwiki.
When to Go to Brazil
Brazil covers such a large territory that the country is broken up into different climate areas. The "coldest" part is in the far south and southeast, with the winter season lasting from June to September. Brazilians will complain about the cold here, but it rarely dips below freezing. The summer months from December to March are hot.
If you're sticking to Brazil's coastal areas, the weather is warm year-round. During the winter (December to March), the temperature is always higher than 25°C (77°F). There's near-constant sunshine, but there is also a rainy season, which lasts from October-January. The rainy season often starts earlier in Salvador and Recife.
The northeast (around the Amazon) is always hot, with temperatures often climbing to 40°C (104°F). There's no real winter season. In Manaus and the central Amazon, the dry season is from July-October. This period is also the best time to visit wildlife in the Amazon as the water recedes and animals gather at watering holes. The same goes for the Pantanal.
If you come during the Brazilian winter, you'll find much fewer crowds and lower prices. I consider this the best time to be here, but only if you're not trying to escape the North American winter.
If you're super budget-minded, don't come during February when it's Carnival and prices skyrocket!
How to Stay Safe in Brazil
Travelers need to be vigilant in Brazil. Pick-pocketing and other petty crimes are common here, especially in Rio. Don't flash expensive belongings and always keep your phone and wallet secure and out of reach. Don't bring anything valuable to the beach either. Be sure to lock up your valuables before leaving your accommodation, whether you're staying in a hostel dorm or in a private hotel/Airbnb room.
Avoid going out alone in the evenings after dark. If you do need to travel at night to get back to your accommodation, take a taxi (use the 99 app to call one) or an Uber.
Solo female travelers will want to exercise caution here. Avoid walking around alone when possible and definitely avoid walking around at night. Always keep an eye on your drink (even when it's being poured) and never accept drinks from strangers.
Use ATMs inside a bank or have a friend with you to keep an eye out while you withdraw cash.
To learn which scams to be on the lookout for, read about this post about common travel scams.
Carjacking and break-ins are common, so I'd probably avoid renting here just to be safe.
When hiking, always bring a lot of water and sunscreen. Be sure to check the weather before you depart and dress accordingly. Don't pick fruit off a tree and eat it without knowing what it is (it might be poisonous). There is also a risk of the Zika virus and/or Malaria in certain areas. Carry bug spray and use it often.
Always trust your gut instinct. Make copies of your personal documents, including your passport and ID. Forward your itinerary along to loved ones so they'll know where you are.
If you experience an emergency, dial 190 for assistance.
For more in-depth coverage of how to stay safe in Brazil, check out this post that answers some frequently asked questions and concerns.
The most important piece of advice I can offer is to purchase good travel insurance. Travel insurance will protect you against illness, injury, theft, and cancellations. It's comprehensive protection in case anything goes wrong. I never go on a trip without it as I've had to use it many times in the past.
Brazil Travel Guide: The Best Booking Resources
These are my favorite companies to use when I travel. They consistently have the best deals, offer world-class customer service and great value, and overall, are better than their competitors. They are the companies I use the most and are always the starting point in my search for travel deals.
Skyscanner – Skyscanner is my favorite flight search engine. They search small websites and budget airlines that larger search sites tend to miss. They are hands down the number one place to start.
Hostelworld – This is the best hostel accommodation site out there with the largest inventory, best search interface, and widest availability.
Booking.com – The best all around booking site that constantly provides the cheapest and lowest rates. They have the widest selection of budget accommodation. In all my tests, they've always had the cheapest rates out of all the booking websites.
Get Your Guide – Get Your Guide is a huge online marketplace for tours and excursions. They have tons of tour options available in cities all around the world, including everything from cooking classes, walking tours, street art lessons, and more!
SafetyWing – Safety Wing offers convenient and affordable plans tailored to digital nomads and long-term travelers. They have cheap monthly plans, great customer service, and an easy-to-use claims process that makes it perfect for those on the road.
LifeStraw – My go-to company for reusable water bottles with built-in filters so you can ensure your drinking water is always clean and safe.
Unbound Merino – They make lightweight, durable, easy-to-clean travel clothing.
Top Travel Credit Cards – Points are the best way to cut down travel expenses. Here's my favorite point earning credit cards so you can get free travel!
Brazil Travel Guide: Related Articles
Want more info? Check out all the articles I've written on backpacking/traveling Brazil and continue planning your trip: