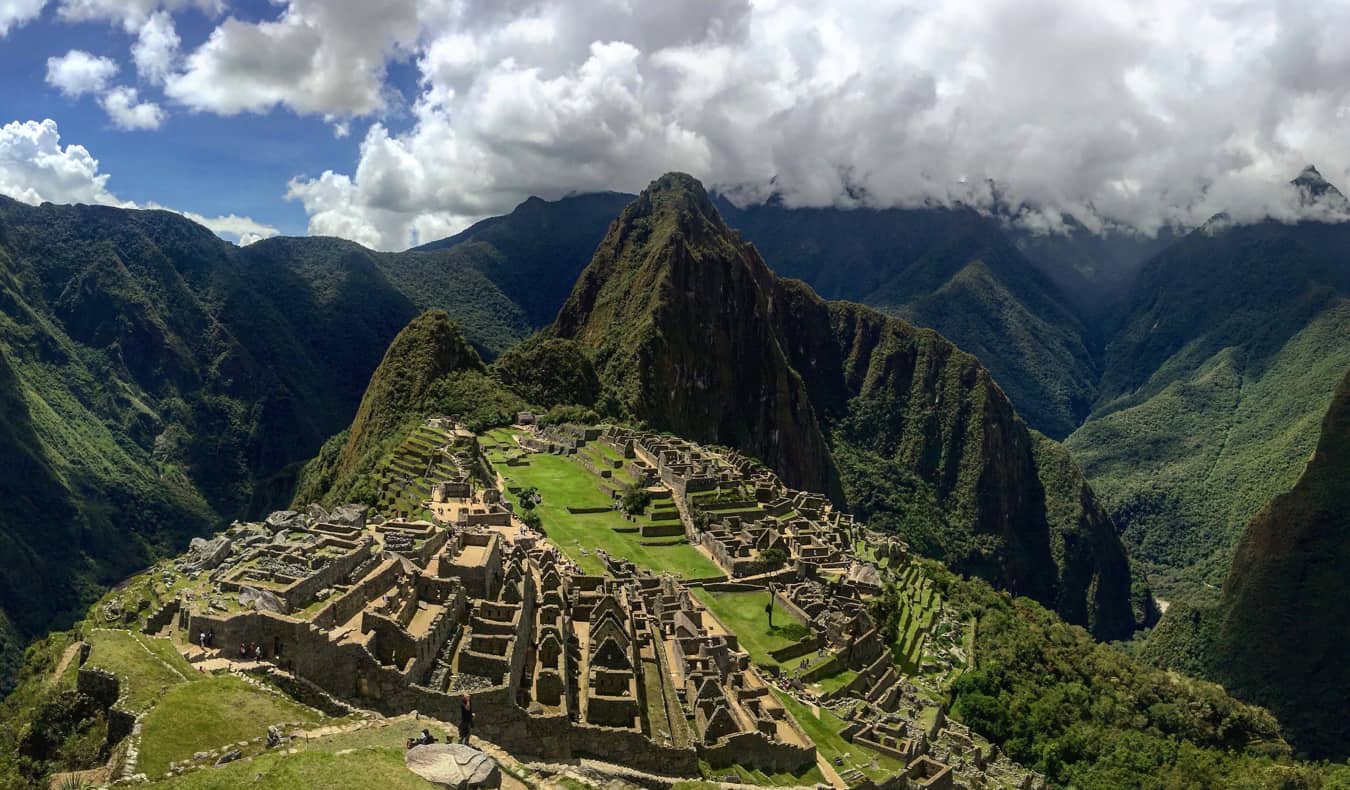 Last Updated: 11/7/20 | November 7th, 2020
Machu Picchu is one of those bucket-list activities people dream about. While most people visit on a day trip, you can also visit via the Inca Trail, a challenging multi-day hike through the jungles of Peru. In this guest post, Gillian divulges the details of her trek while sharing some tips and suggestions to help you plan your trip to Machu Picchu.
Hiking to Machu Picchu along the Inca Trail in Peru remains the highlight of my year traveling. It's that amazing. Looking out over the peaks of the Andes, and knowing that I hiked to get there, filled me with joy and awe. I didn't want to be anywhere else. I won't lie, though — it took some work. A lot of work, in fact. But it was totally worth it.
Sitting some 2,500m above sea level, Machu Picchu was an Inca citadel that was built in the 15th century. The citadel was built as a royal estate, though it was used for less than 100 years before being abandoned when due to the arrival of the Spanish, who were set on conquest.
It wasn't until 1911 when the ruins were re-discovered by archeologist Hiram Bingham III. While the locals were familiar with the ruins, it wasn't until Hiram trekked up the mountain for himself that he realized just how spectacular his (re)discovery was.
To slow the damage caused by tourism, the entrance of Machu Picchu is "limited" to 6,534 people per day, divided in morning tickets and afternoon tickets. While that seems like a lot, tickets often sell out months in advance (especially for the hike). For that reason, you'll want to make sure you plan ahead, do your research, and book early!

Hiking the Inca Trail: Itinerary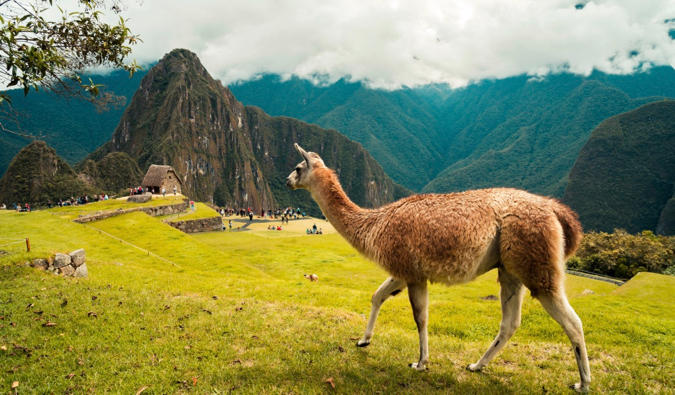 To start things off, here is a detailed overview of what the actual hike is actually like:
Day 1
They broke us in easy on the first day with a gentle start along a wide path that passed through the Sacred Valley. Described as "Inca Flat," the trail starts alongside the Urubamba River and meanders through the trees and scrub brush, slowly gaining altitude.
Our guide, Marco, stopped us at various points along the way to tell us the history of the trail, the ruins along the trail, and also the Incan people and their struggle to survive. Marco was passionate about his ancestors' story, and as time went on, we realized that he was not just telling us stories that come from guidebooks but that his knowledge was much deeper. He had spent time at university studying and also in the mountains with the Incan descendants and so had a unique perspective on the area.
Day 2
We awake at 5 am to the sounds of hustle and bustle outside. As I rubbed the sleep out of my eyes, a porter appeared with hot tea and another brought a bowl of hot water and soap for me to wash up with. I drank my tea, washed up, and packed up the few things I was responsible for (the porters dismantle and carry everything except your personal belongings).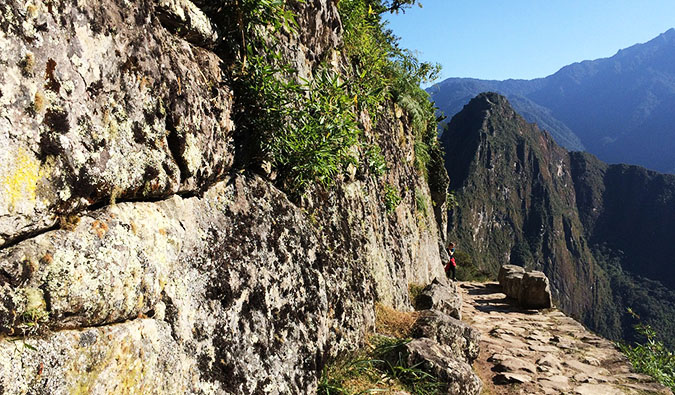 It was cold as we set out on the day's hike – frost clung to the sides of the trail and I could see my breath with every labored exhalation. We were already feeling the altitude and still had more than a thousand meters ahead of us. We quickly climbed above the tree line and were rewarded with the stunning views of mountains and valleys that would be our companion for the rest of the day.
The climb to Dead Woman's Pass was relentless. Up and up and up and up along the ancient Inca pathway made up of enormous stone steps. My heart was beating wildly, my lungs were tight and seemed too small for the task, and my legs felt like cement as I tried to lift them over and over again up onto the next step.
Then it was down the other side – a 600-meter drop along a beautiful stone pathway cutting down into the valley below. If I thought this was going to be the easy part, I was wrong. Controlling those floppy, leaden legs was an exercise in concentration. The afternoon saw us climb another 400 meters before dropping into another valley that was more jungle than scrub. We crossed the valley to find our campsite overlooking a set of astrological ruins.
Fog set in just as the light faded, lending an eerie feel to the landscape but also providing some insulating warmth. After 16 kilometers of hiking through two passes, it didn't take much of the special "rum tea" to send us all off to a restful night's sleep.
Day 3
As much as Day 2 was about climbing, Day 3 was about descent — overall we dropped almost 800 meters. I'm not sure which is more difficult, but I know that my legs were sorer after a day of going down than they were after Day 2. This is where the walking stick I had been carrying all along really proved its worth! We dropped backed down through the tree line, entering into jungle-like scenery, where we could start to understand how Machu Picchu was hidden by jungle for so many years.
We shared camp that night as other groups joined up at the campsite before entering the site. We enjoyed much-needed showers and beer before a late dinner and early bedtime. Tomorrow would take us to the Sun Gate and our first glimpses of the lost city.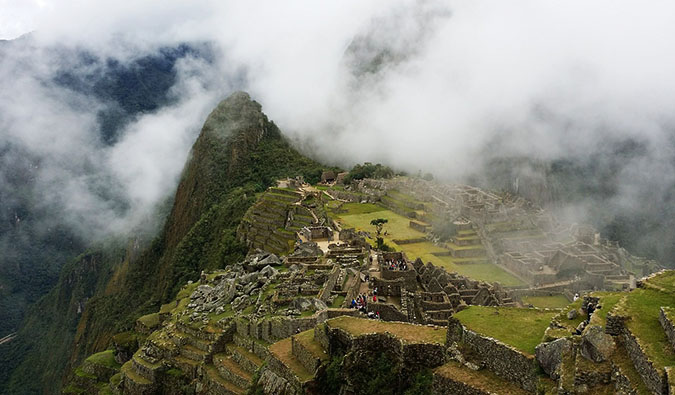 Day 4
Reaching the Sun Gate was amazing. Looking through it to the sight of Machu Picchu below made all the difficulties of the trek disappear. Sitting on a plateau below, the site looked just as beautiful and mysterious as I had expected.
Wandering around Machu Picchu for the rest of the day, I was left in awe as to how the ancient Incans could have built such a formidable city with no modern machinery. The ingenuity and precision were astounding and the level of detail amazing. The buildings and stonework are stunning displays of form, function, and astounding astronomical and geographic knowledge. Stones are placed or carved, to match exactly with the sun's winter and summer solstice positions or to line up along the ordinal geographic lines.
Seeing a rock carved into the shape of the Incan Cross and then shown how the points match up with a compass, I was amazed at the knowledge that the Incans must have had. The whole city and the mountain backdrop took my breath away.
Tips for Hiking the Inca Trail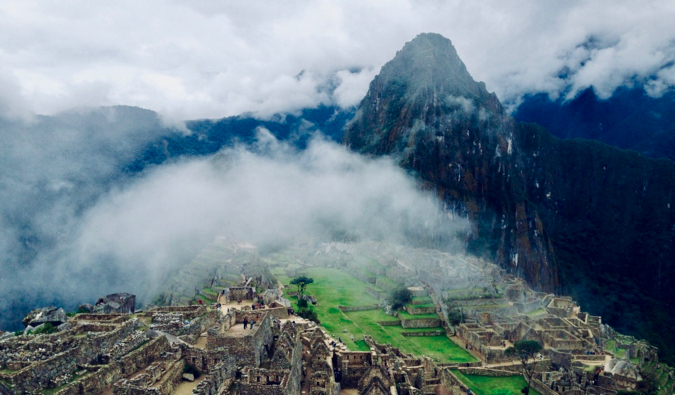 Here are some tips to help you make the most of your trip and avoid some of the more common pitfalls:
Arrive early – Try to get to Cusco 3-5 days before your hike so you can acclimatize to the altitude before hiking. It will make your hike much easier!
Use trekking poles – Bring trekking poles or rent them from your tour company. You'll need them.
Chew coca leaves – If the altitude is giving you trouble, chew coca leaves. It's the local remedy and is what many of the guides and porters use. You can chew the leaves or buy coca gum. (You can also get altitude medicine from your doctor before you go. Just keep in mind that it will make you have to pee a lot!).
Break in your boots – Make sure you buy and break in your footwear at least 1-2 months before your trip. That will help you avoid blisters.
Bring sunscreen and bug spray – The last thing you want is a sunburn when you're hiking up a mountain. And the mosquitoes here are plentiful (and their bites are super itchy!) so prepare accordingly and apply both each day.
Bring Bandaids/Blister kits – Your feet around going to take a beating. Having some minor first aid supplies will help.
Carry extra snacks – You'll get plenty of food on the trail, but bringing along some of your favorite snacks is a great morale booster for those challenging sections.
Go the extra mile – For an amazing view of Machu Picchu, hike the extra hour to Huayna Picchu. It's a bit of a scramble and the path is quite narrow but the views are worth it!
Train before you go – This is a challenging hike. You don't need to be an Olympic athlete to finish it but the more you train the easier your hike will be.
Don't expect to shower – Showers are available partway into the hike but the water is painfully cold. Skip the showers and just embrace your well-earned BO.
Have extra batteries – Bring an external charger for your phone and extra batteries for your camera. It would be tragic to arrive at Machu Picchu and not be able to snap a photo or two!
Bring earplugs – The Inca Trail can get busy and there will be dozens and dozens of hikers at each camp. Bring earplugs for the noisy nights.
Consider the Salkantay – For a less-busy route, consider hiking the Salkantay. It has views just as epic and sees 1/3 of the tourists that the Inca Trail does. Plus, it's a fraction of the price!
Bring money for the bathroom – Make sure you have some money for the bathroom. There is only one bathroom at Machu Picchu and it will cost a couple of soles.
Get stamped – You can get your passport stamped with a unique Machu Picchu stamp to commemorate the journey. It makes for a fun souvenir if you have some space in your passport.
Check your bag – You can only bring a day bag under 20L into Machu Picchu. If your bag is larger than that you'll need to pay to check it at the gate.
How to Get to Machu Picchu: Prices, Tours, and Logistics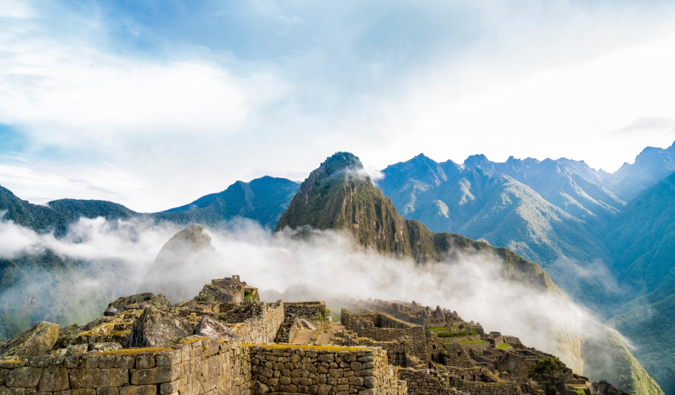 If you don't plan on hiking the Inca Trail, the easiest way to get from Cusco to Machu Picchu is to take the train to Aguas Calientes. It's a scenic 3.5-hour trip each through Sacred Valley that leaves from Poroy (which is near Cusco). Tickets range from 275-1,800 PEN ($77-500 USD) depending on how luxurious of a ride you want. The Expedition (which is the cheapest option) is perfectly fine and likely suitable for most travelers. You can buy drinks and snacks and you get a panoramic view.
You'll need to take a bus from the train station to the gates of Machu Picchu, which will cost around 86 PEN ($24 USD) per person (round trip). Tickets to Machu Picchu cost 235 PEN ($65 USD). If you want to also visit Machu Picchu Mountain or Huayna Picchu you'll need to buy an extra ticket. Combination tickets for Machu Picchu and either the Machu Picchu Mountain or Huayna Picchu (but not both) will cost 200 PEN ($80 USD).
Both of these additional areas have set times to hike, so you'll need to plan your trip accordingly.
Discounts are available for students under 25 and children under 18. You can purchase your tickets at Peru's Ministry of Culture website.
You can buy tickets for Machu Picchu for either a morning entry or an afternoon entry (full-day tickets are not available).
The other way to get from Cusco to Machu Picchu is to walk as part of a multi-day Inca trail tour, which is the far more scenic and rewarding way. Most hikers choose to do the hike over 5 days, though you can opt for less if you don't have time.
You can also combine the Inca Trail with other hikes if you want something longer and more challenging. Prices will vary depending on how long you hike for and the quality of your gear and guides. Expect to pay anywhere from 2,500-7,000 PEN ($700-$2,000 USD) for a multi-day hike, gear rentals, transportation, and tickets/fees.
Note: Make sure the company you choose pays their porters well and treats them fairly. Porters have an incredibly challenging job so you want to make sure the company you choose is an ethical one. With that in mind, remember you'll also need some cash to tip your porters. Most estimates range from 17-23 PEN ($5-7 USD) per person per day for each porter, and then 20-33 PEN ($6-10 USD) per person per day for the guides, though your company will likely provide additional tipping guidelines. Tips are paid in the local currency.
My preferred tour company for that is Intrepid Travel. They offer small group tours with local guides and have a small environmental footprint. I've been on their tours all around the world and can't praise them enough!
***
While hiking the Inca Trail is no easy feat, it is definitely worth the effort. The well-earned views you take in as you hike combined with the incredible vistas and history of Machu Picchu itself make this a once in a lifetime experience worthy of any bucket list. No visit to Peru is complete without seeing Machu Picchu, and the best way to do that is via the Inca Trail — one step at a time!
Book Your Trip to Peru: Logistical Tips and Tricks
Book Your Flight
Use Skyscanner or Momondo to find a cheap flight. They are my two favorite search engines because they search websites and airlines around the globe so you always know no stone is left unturned. Start with Skyscanner first though because they have the biggest reach!
Book Your Accommodation
You can book your hostel with Hostelworld as they have the biggest inventory and best deals. If you want to stay somewhere other than a hostel, use Booking.com as they consistently return the cheapest rates for guesthouses and cheap hotels. My favorite places to stay are:
Don't Forget Travel Insurance
Travel insurance will protect you against illness, injury, theft, and cancellations. It's comprehensive protection in case anything goes wrong. I never go on a trip without it as I've had to use it many times in the past. My favorite companies that offer the best service and value are:
Looking for the Best Companies to Save Money With?
Check out my resource page for the best companies to use when you travel. I list all the ones I use to save money when I'm on the road. They will save you money when you travel too.
Want More Information on Peru?
Be sure to visit our robust destination guide on Peru for even more planning tips!