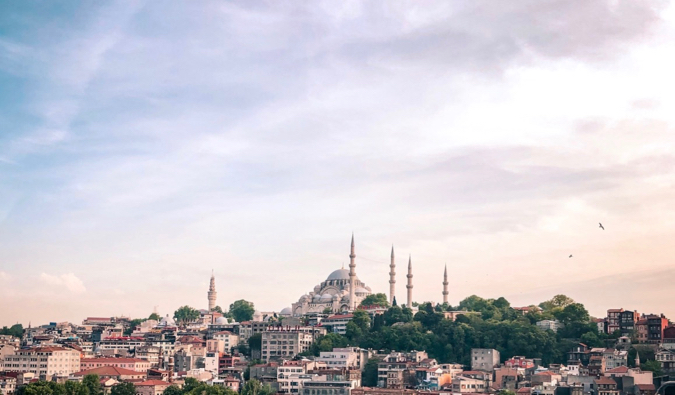 Updated: 2/2/2020 | February 2nd, 2020
Istanbul is home to some famous historical sites — the Blue Mosque, Hagia Sophia, Grand Bazaar, and Spice Market. They are stunning, important historical sites to see and experience. But the city also offers lots of fun things to do that have fewer crowds and are a bit off the beaten path.
As important as it is to visit culturally significant historical sites (after all, there's nothing wrong with being a tourist) there is so much more to every destination than just the main tourist bullet points.
Of course, you shouldn't miss Istanbul's major sites. But once you've done them, there are plenty of offbeat things to see and do here. Here are my favorites to help you get started and make the most out of your trip:
1. Descend into the Basilica Cistern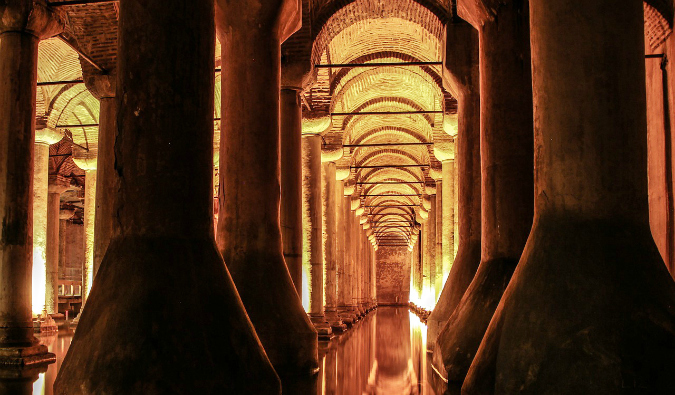 Most travelers walk on top of this ancient cavern for days without realizing it. After entering an unassuming doorway you'll climb down a gloomy set of stairs, ending up in an underground former water reservoir built in the sixth century. It's filled with centuries-old columns and statues and the space is eerily lit in shades of orange. Koi fish swim in the standing water, and you have to walk on wooden planks to get around. You can hear drips echoing, and there are two mysterious statues with the head of Medusa. It kind of feels like you're in a scary movie.
Alemdar, Yerebatan Cd. 1/3, +90 212-512-1570 yerebatansarnici.com. Open daily from 9am-5:30pm (except religious holidays). Admission is 20 TRY for foreigners.
2. Explore the Asian Side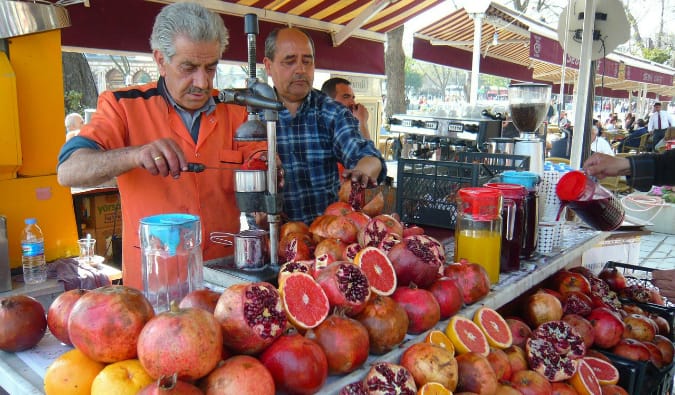 Istanbul is the only city in the world to straddle two continents; it spans from Europe to Asia. The Asian side (also called the Anatolian side) is separated from the European side by the Bosphorus Strait. You can take a bus over the famous Bosphorus Bridge, or you can ride over on a ferry. The city's main tourist sites are on the European side, but if you've never been to Asia, it's fun to cross over so you can say you've been there. If you're interested in shopping, check out the popular markets in Kadiköy.
Other worthy activities include touring the Beylerbeyi Palace, riding up to the top of Çamlica Hill for incredible views of the city, and strolling along Bagdat Caddesi to explore the many restaurants, cafés, and shops.
The ferry will cost 3 TRY for a one-way ticket.
3. Visit a Real Hammam
(Picture not available—everyone was naked inside!)
Many of the swanky hotels in Istanbul have hammams, otherwise known as Turkish baths, but they usually aren't the real deal. They're made for Westerners looking for a cushy and modest experience. Real hammams have been a Turkish tradition for thousands of years, and they have served as both a place to cleanse and to socialize. Most hammams are separated by gender, and women generally go topless. You transition through several different rooms of different temperatures, one being a hot steam room much like a sauna. You can opt to pay an attendant to give you a thorough scrub-down — it's rough but invigorating! Çemberlitai Hamami is a good option for visitors looking to give the experience a try; another popular one is Cagaloglu. Both are located in the Old Town.
Vezirhan Cad. No. 8, +90 552-381-1584, cemberlitashamami.com. Open daily from 6am-12am. Admission starts at 160 TRY per person and goes up from there depending on what treatments/services you want.
4. Go to the Prince Islands
This chain of nine islands off the coast of Istanbul provides a unique getaway from the crowds. An easy day trip during the warm months, the islands are just a quick ferry ride from the city. Most travelers visit the four larger islands (Büyükada, the biggest and most popular, Burgazada, Heybeliada, and Kinaliada). You can explore historic buildings, eat at tasty cafés, and see beautiful homes as you wander about.
What makes these islands special is that no cars are allowed on the islands, making them quite peaceful and quiet and a nice break from the noise of the city. You can get around by walking, bicycle, or horse and carriage.
Try to take one of the early ferries in the day so you explore the islands before our visitors arrive.
The journey by ferry will take around 1 hour and 30 minutes depending on what island you are going to. Tickets are 5 TRY per person for a single journey ticket.
5. Take a Ferry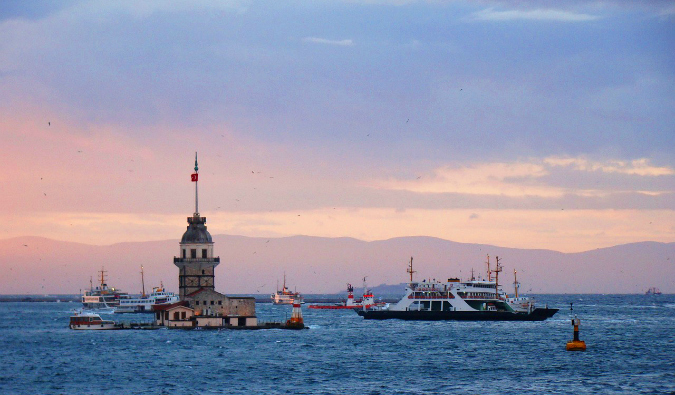 A great way to explore this massive city is by boat. You'll see many boats that offer paid tours of the Bosphorus, but if you want to save money and have more flexibility, take a regular ferry ride instead. The fare will be cheaper, and you won't be competing for space with other tourists trying to take photos.
You'll pass by Topkapi Palace, the Bosphorus Bridge, gorgeous mansions, mosques with massive minarets, other castles and palaces, and more. You can hop off, eat some fresh seafood, and then head back. It's a budget-friendly way to explore without bumping into other tourists.
Round-trip ferry tickets will cost 25 TRY per person.
6. Explore Jewish History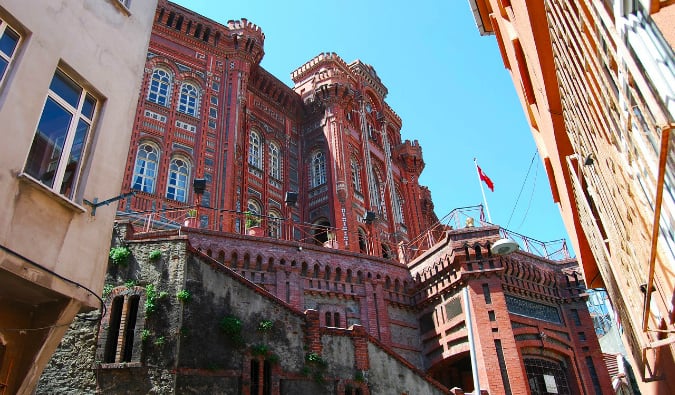 While Turkey is predominantly a Muslim country, it has a surprisingly long Jewish history. There are Jewish heritage tours you can take, or you can explore the stops on your own. Jews have lived in Turkey for thousands of years, but the population really grew during the Ottoman Empire in the 1400s. Growth increased in 1492 when Spain expelled its Jews and the Ottoman Empire welcomed them as they were stereotyped as having good business skills and wealth.
Istanbul's Galata and Balat quarters are steeped in Jewish history and you can find historic synagogues in both areas of town. Istanbul also has a Jewish museum (The Museum of Turkish Jews) that does a good job of illustrating the contributions and struggles of Jews in Turkey.
Bereketzade Mahallesi, +90 212-292-6333, muze500.com. Open Sunday-Thursday from 10am-5pm and Fridays from 10am-1pm (closed Saturdays). Admission is free, though donations are encouraged. Passport (or other official ID) is required to enter.
7. Watch the Fishermen on Galata Bridge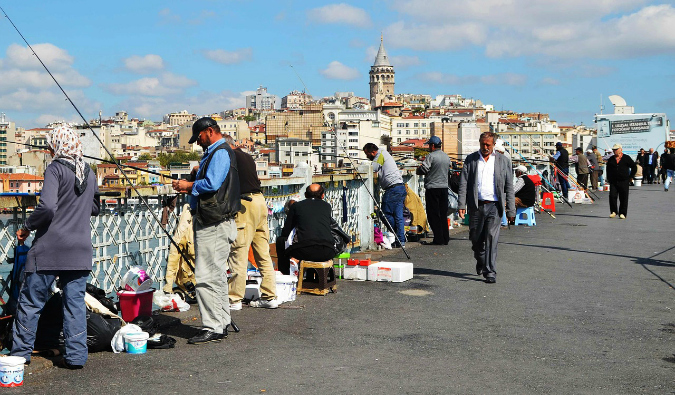 Every day, dozens, if not hundreds, of local men form a row along the top level of the Galata Bridge and fish over the edge. It's an incredible sight. They spend hours hoping to catch fresh seafood, and some of them will sell it to you while they're still out there fishing. Many of the men don't even make a catch; they seem to enjoy just standing there hanging their pole over the water.
There's also a fish market at the base of the bridge, and the many booths of fresh-caught fish are fun to look at (though it can also be a bit gross).
8. See the Obelisk of Theodosius
This Egyptian obelisk was carved around 1500 BCE near Luxor before it was pillaged by the Romans and moved to Alexandria. Not long after, it was moved to Constantinople (now Istanbul) where it has remained ever since. There are well-preserved hieroglyphs on all four sides which depict Tutmoses III's victory during a battle on the Euphrates River.
The obelisk is usually surrounded by locals relaxing and chatting, and there are often buskers performing here as well. It's a good place to sit back and people-watch while appreciating this incredible historical relic.
9. Snap a Photo with Tombili
Chances are you already know you Tombili is — you just don't realize it. Tombili was a street cat from Istanbul who went viral in a meme that showed the cat lounging on the stairs like a person would sit on a bench (the meme was called "chill cat" if you want to look it up).
When Tombili died in 2016, the local mayor had a statue commissioned and it now sits where Tombili's famous photo was taken. Thieves immediately stole the statue but, after a huge public outcry, it was returned.
10. Visit Miniaturk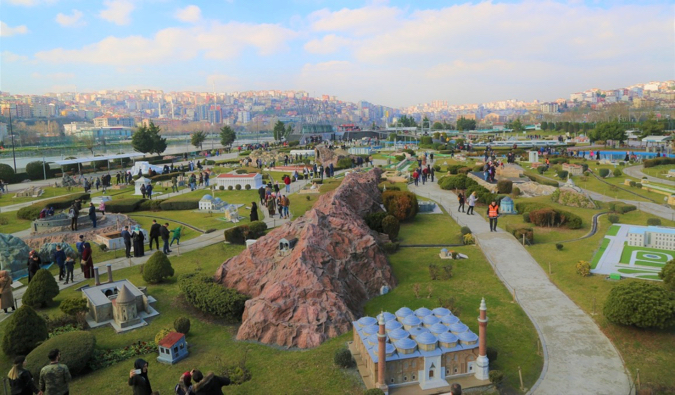 Miniaturk is a miniature park located in Istanbul — and it's one of the largest miniature parks in the world. To be honest, I didn't even know what miniature parks were before encountering this place. In short, the park is full of small replicas of famous sights and attractions, made to a 1/25 scale. There are over 100 models in the park including the Obelisk of Theodosius, the Mostar Bridge, and the Hagia Eirene Church. The park spans almost 15 acres and there are audio guides available around the park so you can listen and learn more about each individual attraction.
Örnektepe, +90 212-222-2882, miniaturk.com.tr. Open daily from 9am-6pm. Admission is 15 TRY.
***
Istanbul is a very large and crowded city and it can definitely be intimidating to visit. But it's also home to some fascinating history and tons of unique sights and attractions — many of which don't get the attention they deserve.
By adding some of these less-visited attractions into your itinerary you'll be able to have a much more unique and authentic experience while still being able to see all the wonderful sights that make Istanbul the eclectic, beautiful city that it is.
Book Your Trip to Istanbul: Logistical Tips and Tricks
Book Your Flight
Use Skyscanner or Momondo to find a cheap flight. They are my two favorite search engines because they search websites and airlines around the globe so you always know no stone is left unturned. Start with Skyscanner first though because they have the biggest reach!
Book Your Accommodation
You can book your hostel with Hostelworld as they have the biggest inventory and best deals. If you want to stay somewhere other than a hostel, use Booking.com as they consistently return the cheapest rates for guesthouses and cheap hotels. My favorite places to stay are:
Don't Forget Travel Insurance
Travel insurance will protect you against illness, injury, theft, and cancellations. It's comprehensive protection in case anything goes wrong. I never go on a trip without it as I've had to use it many times in the past. My favorite companies that offer the best service and value are:
Looking for the Best Companies to Save Money With?
Check out my resource page for the best companies to use when you travel. I list all the ones I use to save money when I'm on the road. They will save you money when you travel too.