Updated: 1/5/2019 | January 5th, 2019
Festivals. A place where people looking to have a great time can dance, listen to great music, celebrate, party, have fun, and relax. They happen all over the world for many different reasons. Some celebrate religion, some the new year, some art, some the harvest- whatever the reason, every month, somewhere in the world, you'll find people descending on a location to celebrate and share a common experience. If you don't like crowds, they probably aren't for you. But if you feel like getting wet, dirty, staying up late, dancing, or just want to enjoy the energy of tens of thousands of people, check out some of these festivals:
Carnival (February)


Carnival is a giant party held right before the Christian holiday of Lent. Originally, Carnival was a food festival because it was the last time people could eat abundantly before Lent. Legend says the word 'Carnaval" was derived from the Latin expression 'carne vale' which translates as 'farewell to the meat' (which, to me, would be a sad affair.)
Brazilian Carnival is the most famous in the world and attracts the most people with their dancing, parades, and floats, music, and drinking. The biggest Carnival takes place in Rio de Janeiro. In Brazil, social conventions are turned upside down during this event and anything goes. It has a well earned party reputation.
Holi (March)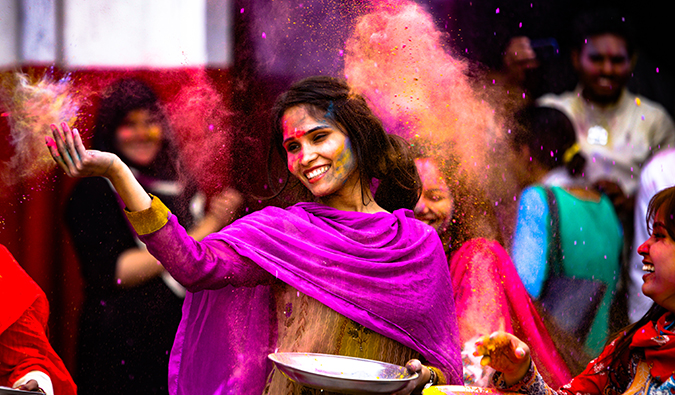 Holi is a Hindu holiday celebrated on the day after the full moon in early March and glorifies good harvest and fertility of the land. Moreover, Holi also celebrates the triumph of good over evil, at least according to a legend involving the god Krishna.
Holi can last up to 16 days, depending on where in the world you celebrate it. There is music, food, and, of course, throwing paint on each other. For the most traditional Holi experience, visit the temple towns of Mathura and Vrindavan. However, you can find Holi celebrations anywhere in the world with a vibrant Indian community.
Songkran (Mid-April)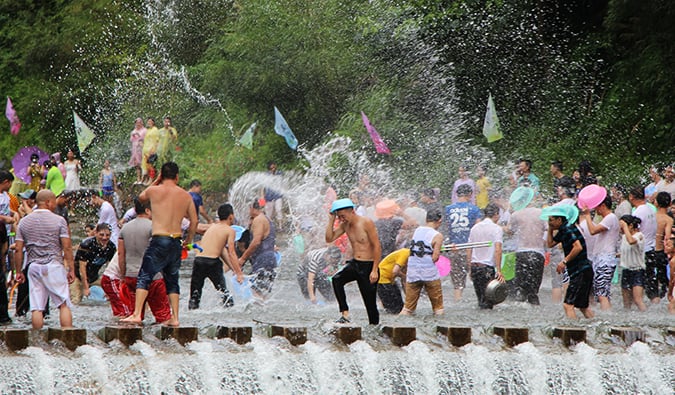 Thai New Year is one of the most fun events I've ever been to. For three days the country basically shuts down to party. Songkran is three day water fight that engulfs the whole country, you can't walk two seconds out of your house without getting wet. No one is safe. The young and the old participate equally and there is nothing like having a little old lady say sorry and then dump a bucket of cold water on you. The most fun I ever had was riding in a Tuk Tuk and having a mobile water fight with the people in the lane over. The date was originally set by astrological calculations, but it is now fixed on April 13th – 15th.
Bay to Breakers (May)


(baytobreakers.com) – Bay to Breakers is an annual footrace which takes place in San Francisco, California on the third Sunday of May. A quintessential San Francisco experience since 1912, the race is a seminal event in the city. The complete course is 7.46 miles long. The footrace is more of an excuse to drink and dress in weird costumes along the way. It's a very large event and is more like a moving party than a footrace. Also, expect to see a lot of people running in the nude. Registration is necessary and starts at $69 but most people just party around the city and watch the racers! You don't need to register to get involved in that
Glastonbury (June)


(glastonburyfestivals.co.uk) – Every summer in June, Pilton, England becomes the stage for one of the largest music festivals in the world. Glastonbury is best known for its contemporary music, but also features dance, comedy, theater, circus, cabaret and many other arts. About 175,000 people come to this area for a few days of music, mud, and mayhem. The fields turn into giant tent cities as everyone camps out looking to have some fun! You need to register to buy tickets. Tickets cost around £238.
Swedish Midsummer (June)


Swedes like the world to be well-ordered, so Midsummer Eve is always a Friday between 19 and 25 June. People often begin the day by picking flowers and making wreaths to place on the maypole, which is a key component in the celebrations. Local Swedes head out into nature, dance around a pole, eat lots of fish, drinks lots of beer, and stay up to enjoy the longest day of the year. After all, the sun doesn't set until about midnight. (The Swedes also have a good festival to celebrate spring too.)
Running of the Bulls (July)


(bullrunpamplona.com) – During July, Pamplona is filled with white clothed and red scarf wearing people who quench their thirst with sangria and the daring few try to outrun some angry bulls. Officially, this is the "fiestas of San Fermin" are celebrated every year from July 6th to the 14th. The run usually lasts between three and four minutes. It's usually a recipe for one or two people getting hurt and not something I'd ever consider doing but the atmosphere is not to be missed.
La Tomatina (August)


(latomatina.org) – For one hour, 20,000 people engage in a tomato fight in Bunol, Spain during the last Wednesday of August. Tens of thousands of participants come from all over the world to fight in this giant food fight. The whistle blows and the tomatoes of La Tomatina fly. It's fun, it's dirty, it's the food fight we all dreamed about as a child. After you have your fill of tomatoes, you go wash off in the river and then join the dance party in town where the sangria and food flow. The event is now ticketed to limit the number of people going and costs 30 Euros.
Burning Man (August)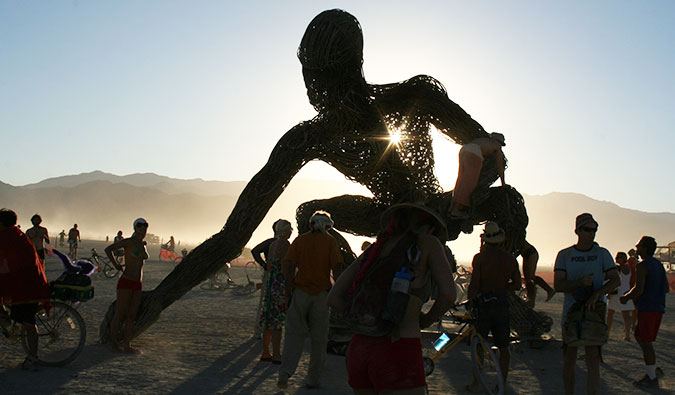 (burningman.org) – At the end of August, tens of thousands of people head out in the Nevada desert for 6 days of alternative living. Burning Man brings out the arty, the alternative, and the eccentric. In this crucible of creativity, all are welcome. It's 6 days of camping (bring lots of water!), art, and music. At the end, a giant wooden man is set on fire (hence the name). This is one of the most popular events in the entire world and "Burners" as participants are known are really into the event. There are mini-burns all around the world too! Tickets generally start at $495 and go up to $1,200.
Oktoberfest (September)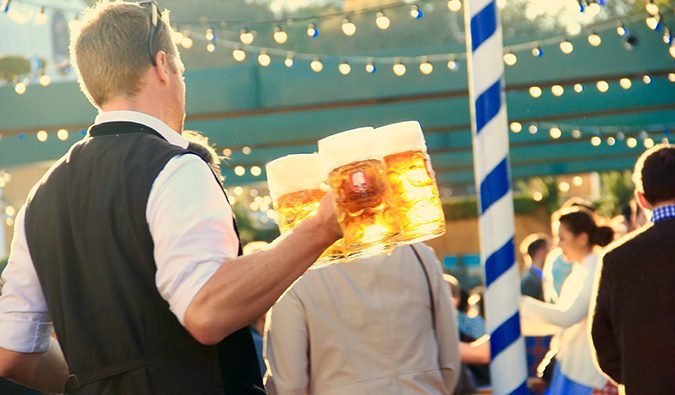 (oktoberfest.de/en) – Though really in September this two week beer festival in Munich attracts people from all over the world with its beer halls, lederhosen, giant steins of beer, and huge pretzels. No one I know ever lasted the whole two weeks but the 3 or 4 days you are there will be the haziest of your life.
Day of the Dead (November)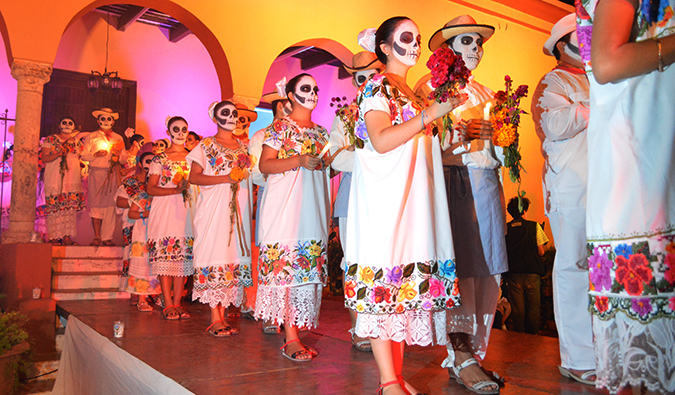 With paper mache skeletons and candy skulls, Mexico's carnavelesque Day of the Dead is one of the world's most familiar festivals. Día de los Muertos, or Day of the Dead, is not a Mexican version of Halloween. Participants devote a day to cleaning their family graves, decorating them with candles and flowers, having picnics and dancing to mariachi bands. It's an odd combination of remembrance and festivity. It's a festival that celebrates life and respect for deceased family members. It's beautiful, festive, and fun.
***
All around the world and no matter what month of the year, you'll find people celebrating. I've been to a large number of these festivals and my goal is to see them all. Not only are festivals fun they are also a great way to do something different than the normal sightseeing we do when we visit places. The next time you are looking for something wild, crazy, and festive,
plan your trip around these celebrations of life
.