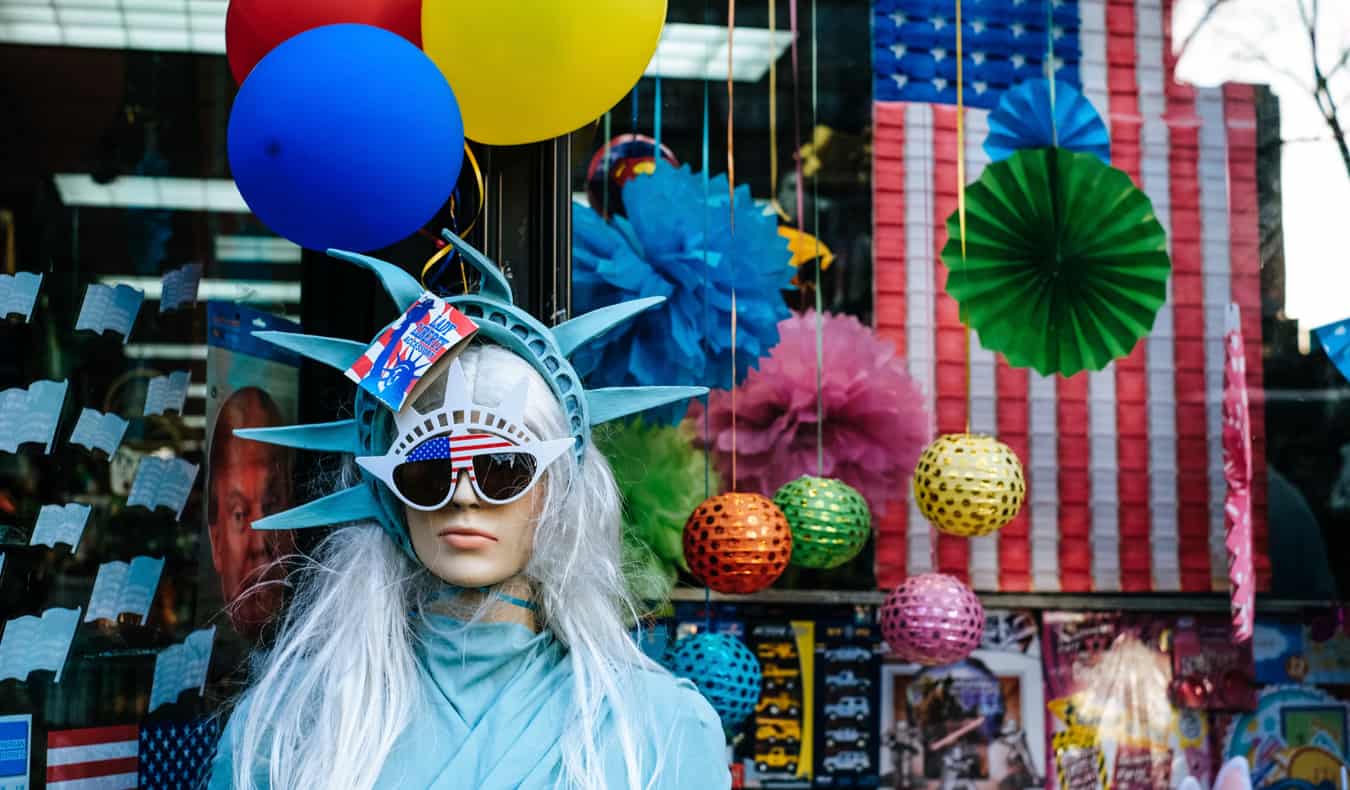 Last Updated: 2/2/2020 | February 2nd, 2020
Festivals. A place where people looking to have a great time can dance, listen to great music, celebrate, party, have fun, and relax. They happen all over the world for many different reasons. Some celebrate religion, some the new year, some art, some the harvest or the full moon — whatever the reason, every month, somewhere in the world, you'll find people descending on a location to celebrate and share a common experience.
Now, if you don't like crowds then these events probably aren't for you. But if you feel like getting wet, dirty, staying up late, dancing, or just want to enjoy the energy of tens of thousands of people, check out some of these festivals:

1. Up Helly Aa (January)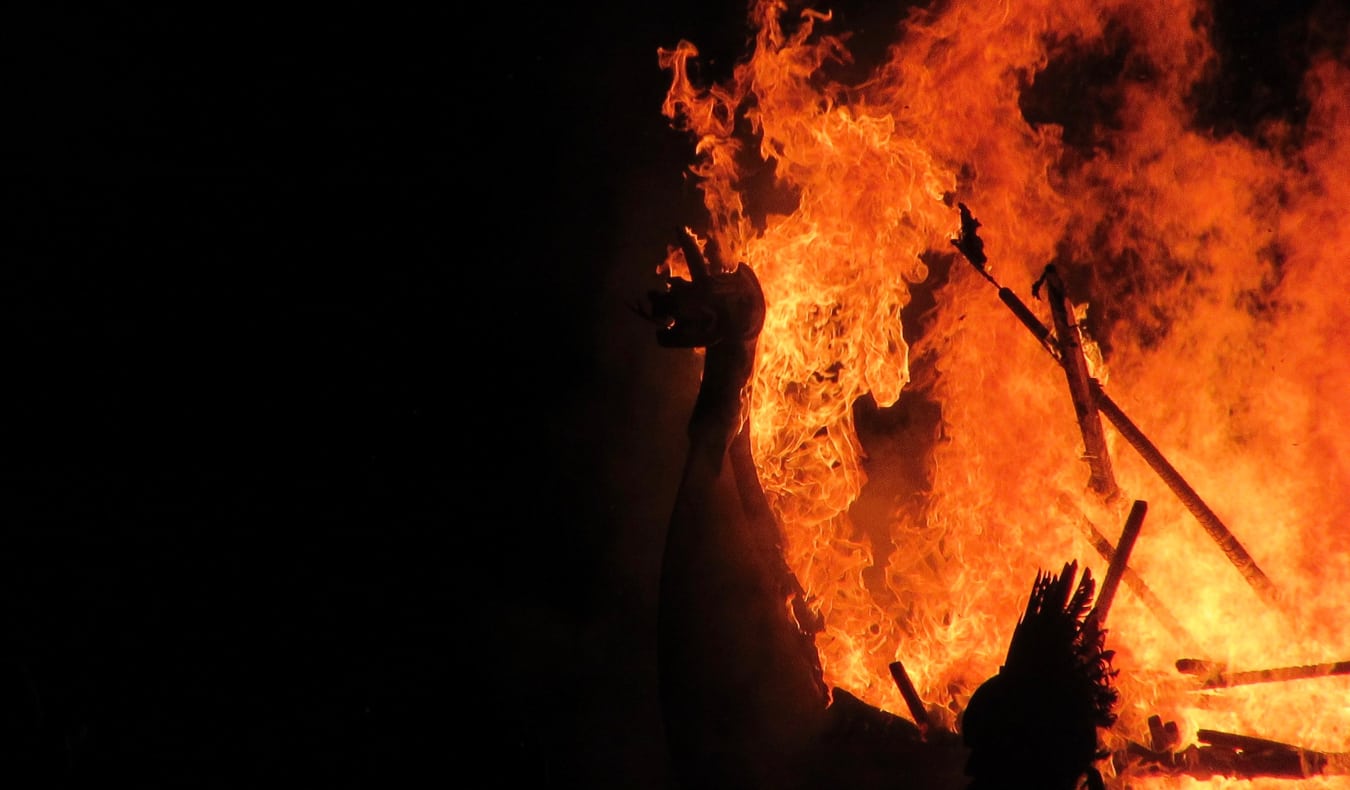 The Shetland Islands in Scotland were once territories owned and inhabited by Scandinavian Vikings. Dating back to the 1880s, Up Helly Aa is a celebration of that heritage. It's a huge procession and fire festival that takes place in Lerwick, Scotland in the middle of winter. Men dress up as Vikings and parade around the town carrying torches, with the procession ending in the burning of a traditional Viking longship.
Participants need to have been residents of Shetland for 5 years before they are allowed to take part, and the lead Viking (known as the Guizer Jarl) is chosen years in advance. With limited space for visitors, this is definitely a once and a lifetime festival to attend!
Date: Last Tuesday in January.
Cost: Free!
Fun Fact: The Viking procession can involve up to 1,000 torch-bearing locals, making it quite the spectacle!
More Info: uphellyaa.org

2. Harbin Ice and Snow Festival (January)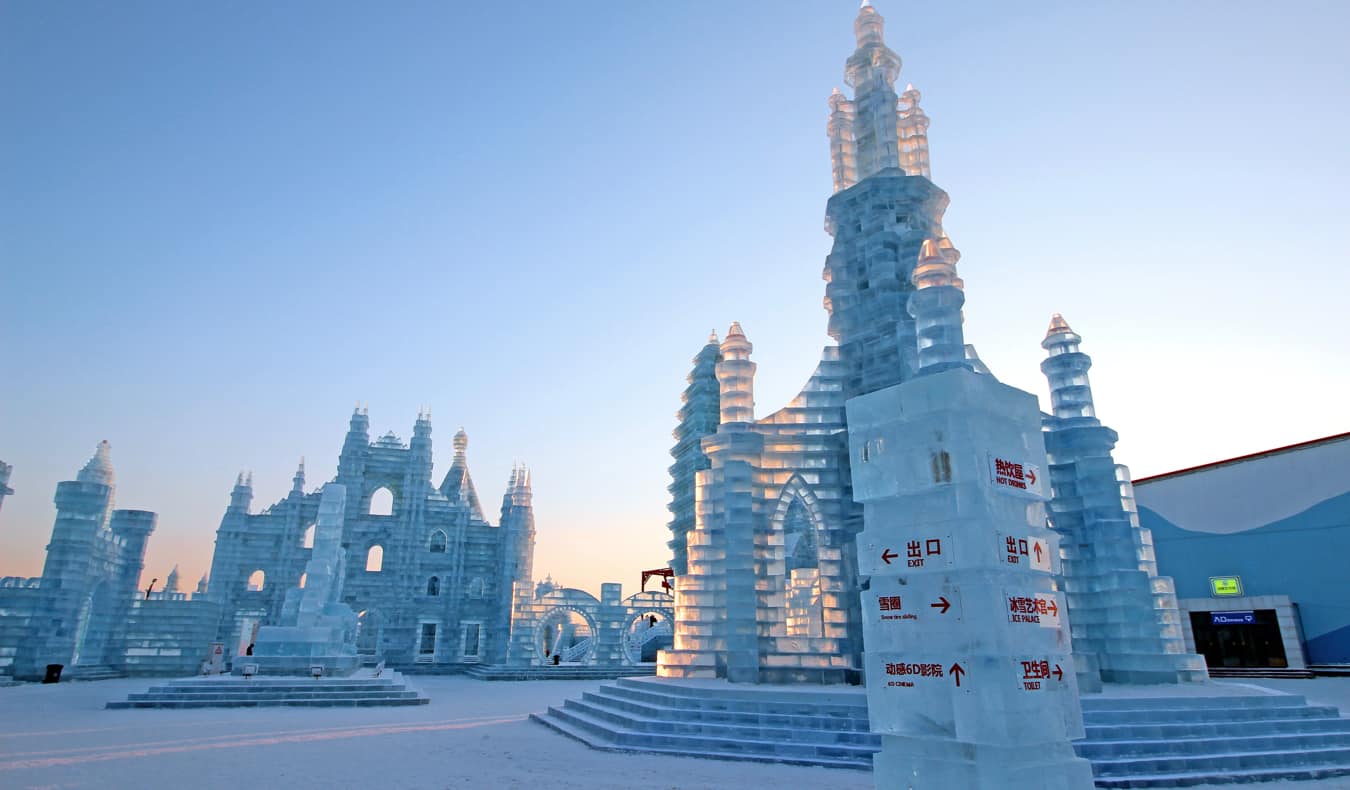 The Harbin International Ice and Snow Sculpture Festival takes place every year in Harbin, China. It's the largest ice and snow festival in the world, attracting almost 20 million visitors each year.
The festival lasts around 1 month (weather permitting) and attracts artists from all around the world to compete and showcase their works. Every year there is a new theme, with over 200,000 cubic meters of snow and ice used for the festival.
Date: January 5.
Cost: There are usually multiple parks, with admission to each costing between 135-330 RMB per person.
Fun Fact: The festival's works are known for breaking records, like a recent 48m-tall (157ft) sculpture!

3. Carnival (February)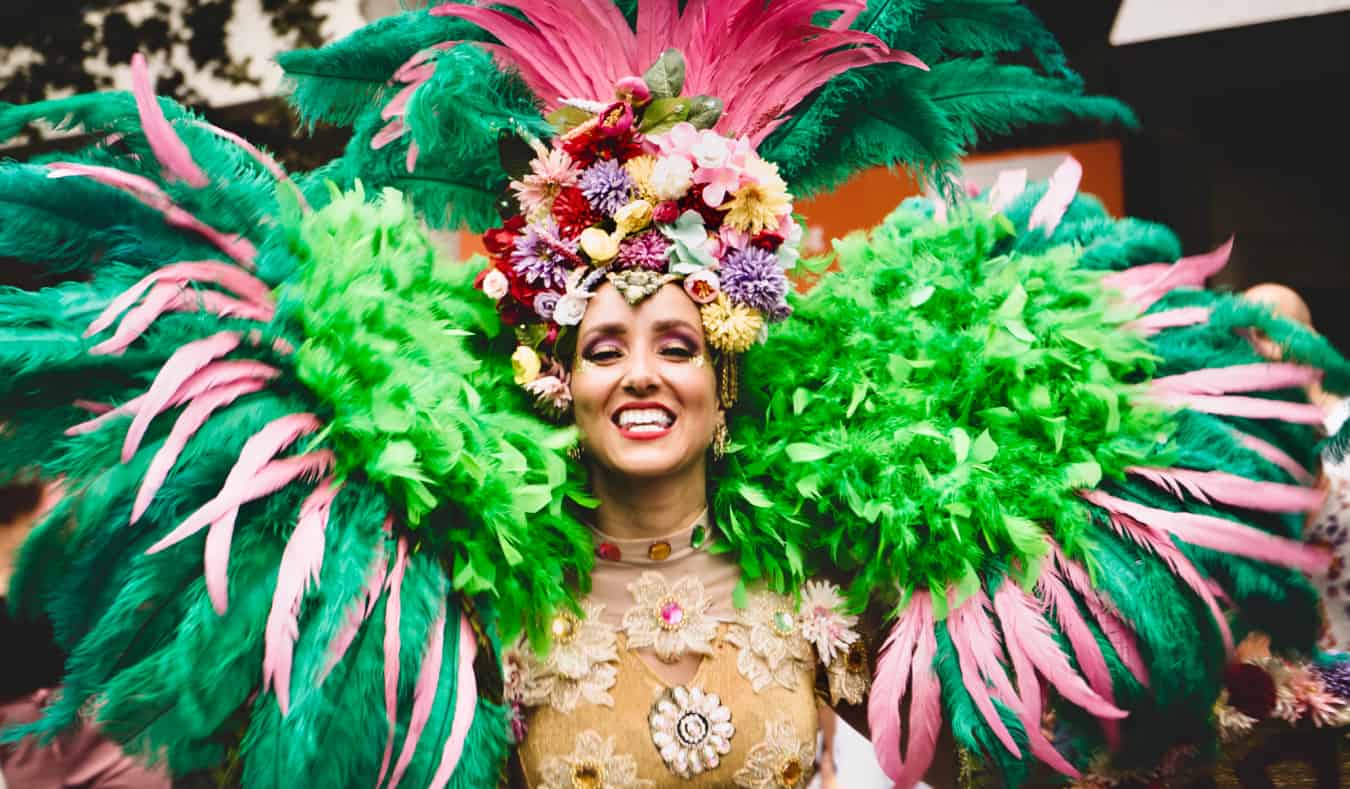 Carnival is a giant party held right before the Christian holiday of Lent. Originally, Carnival was a food festival because it was the last time people could eat abundantly before Lent. Legend says the word "Carnaval" was derived from the Latin expression 'carne vale' which translates as 'farewell to the meat' (which, to me, would be a sad affair.)
Carnival in Brazil is the most famous in the world and attracts the most people with their dancing, parades, and floats, music, and drinking. The biggest Carnival takes place in Rio de Janeiro. In Brazil, social conventions are turned upside down during this event and anything goes. It has a well-earned party reputation.
Date: Begins the Friday before Ash Wednesday (February/March)
Cost: Tickets for the parade in the Sambadrome start at $35 USD.
Fun Fact: During Carnival, over 2 million people are in the streets celebrating every single day!
Tickets/More Info: liesa.globo.com

4. Mardi Gras (February)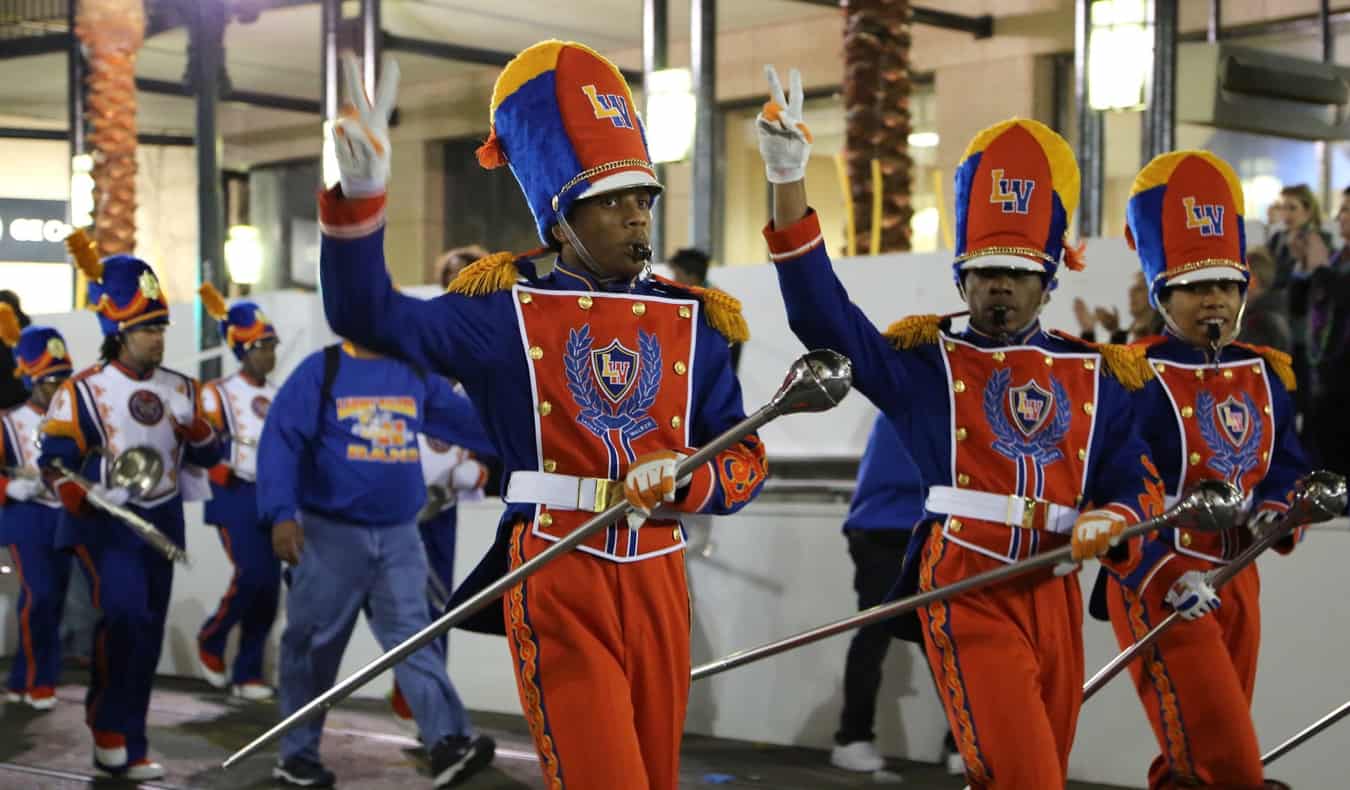 Much like Carnival in Brazil, Mardi Gras in New Orleans takes place right before Lent. Parades, music, drinking, costumes — NOLA has it all! Over 1.2 million people visit the city each year to take part in the festivities, three times the population of New Orleans itself! In fact, Mardi Gras is the most attended annual event in the entire country! The first Mardi Gras took place in 1699, and the party has been going strong ever since! Be sure to learn more about the festival with a behind the scenes tour!
Date: Shrove Tuesday/Fat Tuesday
Cost: Free!
Fun Fact: Anyone riding a float in the parade is required by law to wear a mask. This rule was created so that people of different social classes could mingle without any pressure/stigma.
More Info: nola.gov/city/mardi-gras

5. Holi (March)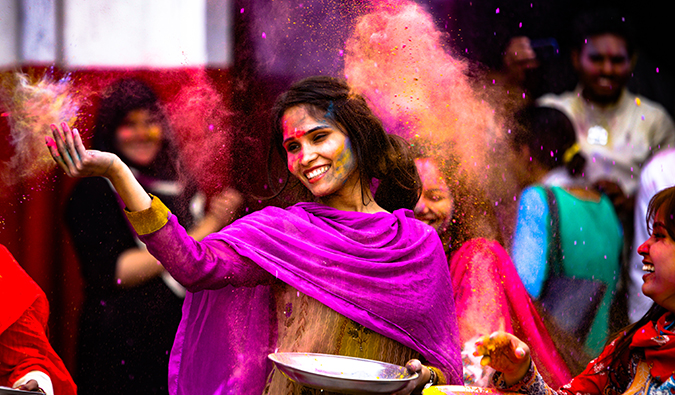 Holi is a Hindu holiday celebrated on the day after the full moon in early March and glorifies good harvest and fertility of the land. Moreover, Holi also celebrates the triumph of good over evil, at least according to a legend involving the god Krishna.
Holi can last up to 16 days, depending on where in the world you celebrate it. There is music, food, and, of course, throwing paint on each other. For the most traditional Holi experience, visit the temple towns of Mathura and Vrindavan in India. However, you can find Holi celebrations anywhere in the world with a vibrant Indian community.
Date: Begins the day after the full moon in February/March.
Cost: Free! (Though you might spend a few dollars on paint).
Fun Fact: Bhang, a popular drink made from cannabis, is a popular beverage during Holi. Drinkers beware!
More Info: Festivities take place all across India (and all around the world). To see when and where events are taking place near you, check with your hostel/hotel staff.

6. St. Patrick's Day (March)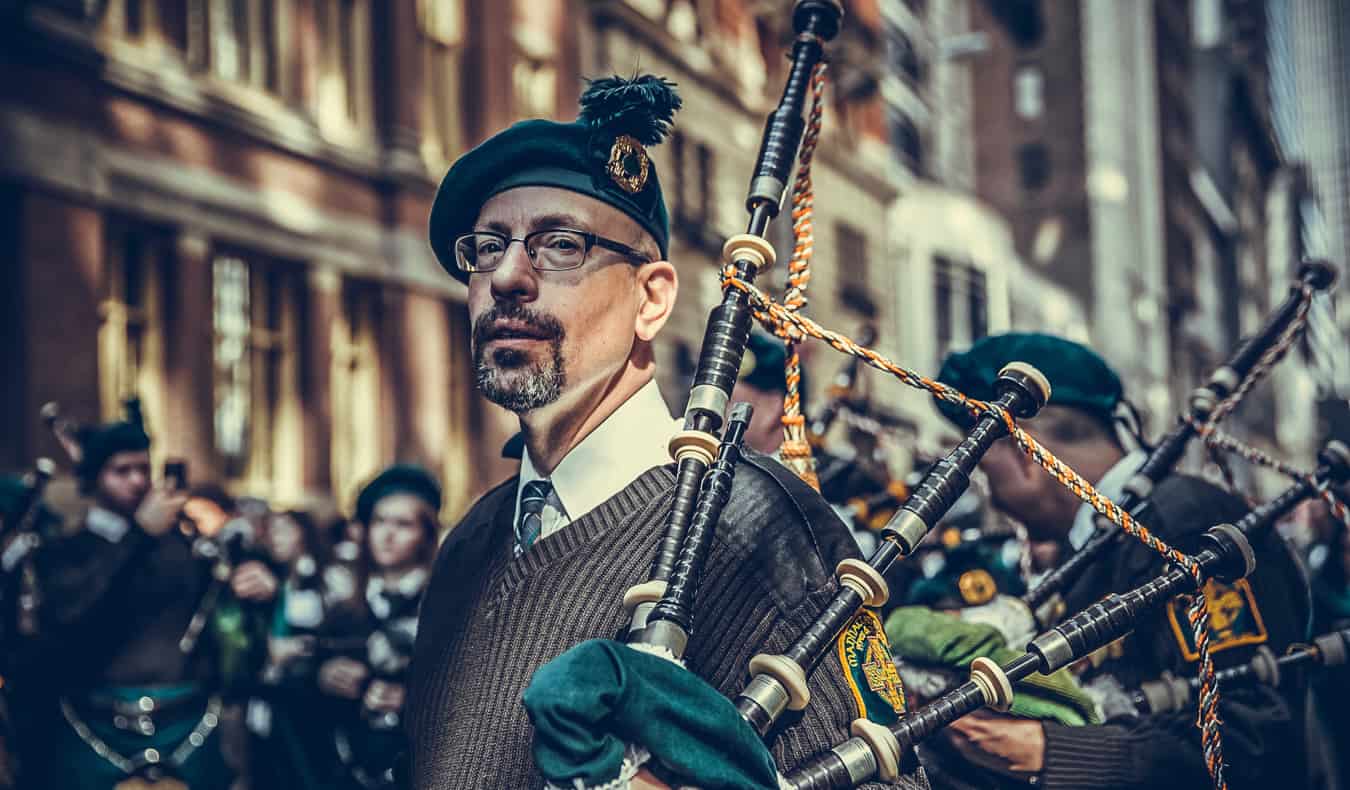 St. Patrick's Day may be celebrated all around the world, but nowhere pays homage to the Patron Saint of Ireland better than Dubliners. The holiday is a multi-day festival that's more than just drinking your weight in Guinness (though that is definitely a key element!).
Dress up in all your green attire, wander the city, watch the parade, and then revel the night away in a cozy bar with some locals. If you're a fan of a good party, this is one not to be missed!
Date: March 17.
Cost: Free!
Fun Fact: The color associated with St. Patrick's Day was originally blue, but green eventually took over due to its association with Ireland as "the Emerald Isle."
More Info: stpatricksfestival.ie

7. Songkran (Mid-April)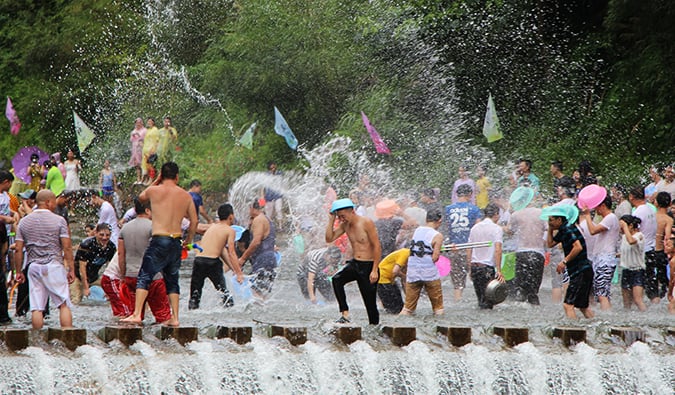 Thai New Year is one of the most fun events I've ever been to. For three days, Thailand basically shuts down to party. Songkran is three-day water fight that engulfs the whole country, you can't walk two seconds out of your house without getting wet. No one is safe. The young and the old participate equally and there is nothing like having a little old lady say sorry and then dump a bucket of cold water on you.
The most fun I ever had was riding in a tuk-tuk and having a mobile water fight with the people in the lane over.
Date: The date was originally set by astrological calculations, but it is now fixed on April 13th-15th.
Cost: Free! (Though you might spend a few dollars on a water gun).
Fun Fact: Over 4 million tourists will flock to Thailand to take part. Will you be one of them?
More Info: tourismthailand.org/home

8. Bay to Breakers (May)
Bay to Breakers is an annual footrace which takes place in San Francisco, California on the third Sunday of May. A quintessential San Francisco experience since 1912, the race is a seminal event in the city. The complete course is 7.46 miles long. The footrace is more of an excuse to drink and dress in weird costumes along the way.
It's a very large event and is more like a moving party than a footrace. Also, expect to see a lot of people running in the nude. Registration is necessary and starts at $69 but most people just party around the city and watch the racers! You don't need to register to get involved in that
Date: The third Sunday of May.
Cost: $69 to take part in the official race, with early bird discounts are available if you register well in advance.
Fun Fact: Some people dress up as salmon and run the course backwards just for fun!
More Info: baytobreakers.com

9. Fez Festival of World Sacred Music (May/June)
This massive music festival is held in Morocco. It was started in 1994 and designed to bridge the gaps between cultures and bring people from different religions together. While this won't be a festival on everyone's list, if you're interested in religion and music then this is one of the biggest festivals on the continent.
Date: May/June.
Cost: 215-3,700 MAD (depnding on what you want tickets to).
Fun Fact: The event has been praised by the United Nations for promoting dialogue between cultures and religions.
More Info: fesfestival.com

10. Glastonbury (June)
Every summer in June, Pilton, England becomes the stage for one of the largest music festivals in the world. Glastonbury is best known for its contemporary music but also features dance, comedy, theater, circus, cabaret, and many other arts. About 150,000 people come to this area for a few days of music, mud, and mayhem. The fields turn into giant tent cities as everyone camps out looking to have some fun!
Date: The last weekend of June (though every 5th year is usally a "fallow" year with no festival. 2018 was the most recent fallow year).
Cost: Tickets cost around £238
Fun Fact: Even with 150,000 tickets and 900 acres of land, the event still sells out in under an hour!
More Info: glastonburyfestivals.co.uk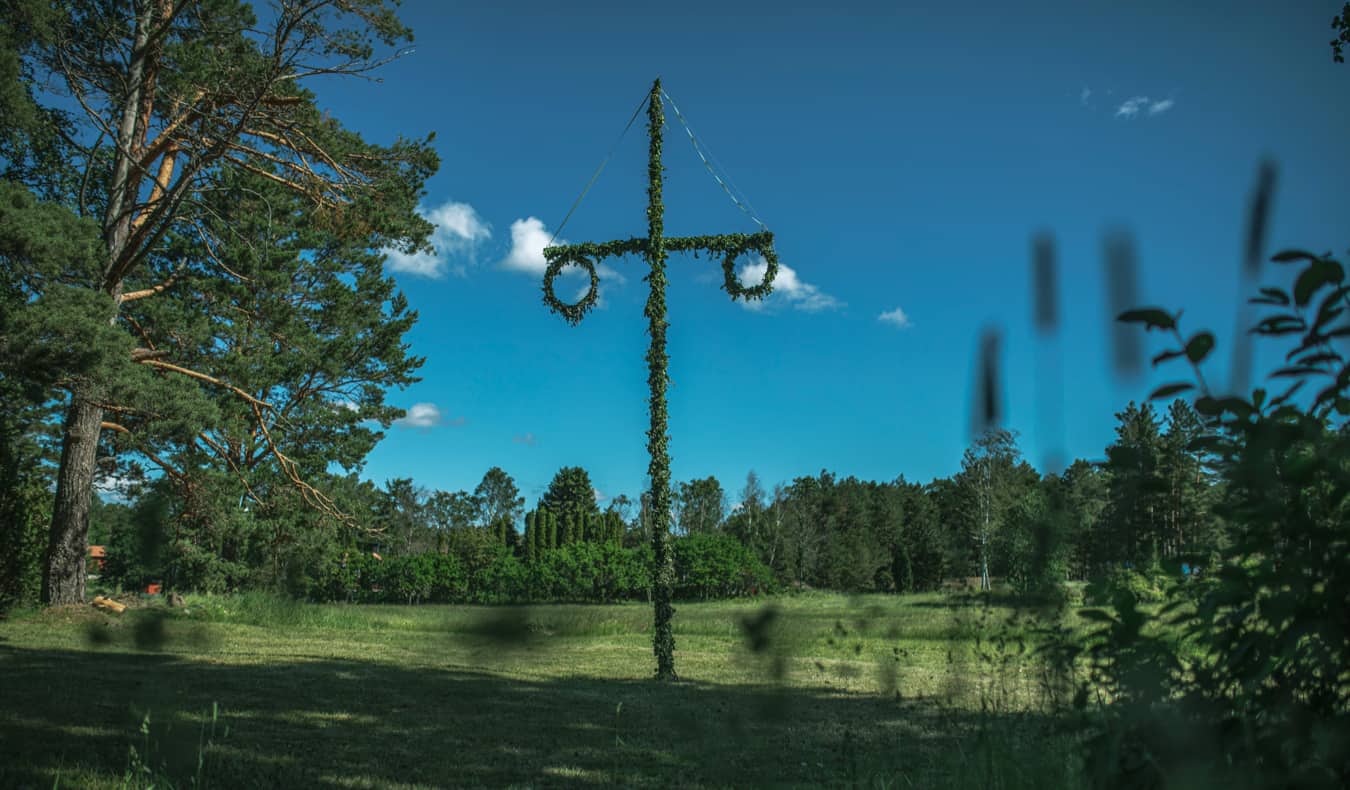 Swedes like the world to be well-ordered, so Midsummer Eve is always a Friday between the 19th and 25th of June. People often begin the day by picking flowers and making wreaths to place on the maypole, which is a key component in the celebrations.
Local Swedes head out into nature, dance around a maypole, eat lots of fish, drinks lots of beer, and stay up to enjoy the longest day of the year. After all, the sun doesn't set until about midnight. (The Swedes also have a good festival to celebrate spring too.)
Date: The Friday between June 19th and 25th.
Cost: Free!
Fun Fact: One of the traditional foods eaten during the festival is pickled herring (usually with schnapps). It's not my favorite but it's worth trying once!
More Info: Every municipality and city will have their own festivities, so talk to your hotel/hostel staff to find out more!

12. La Tomatina (August)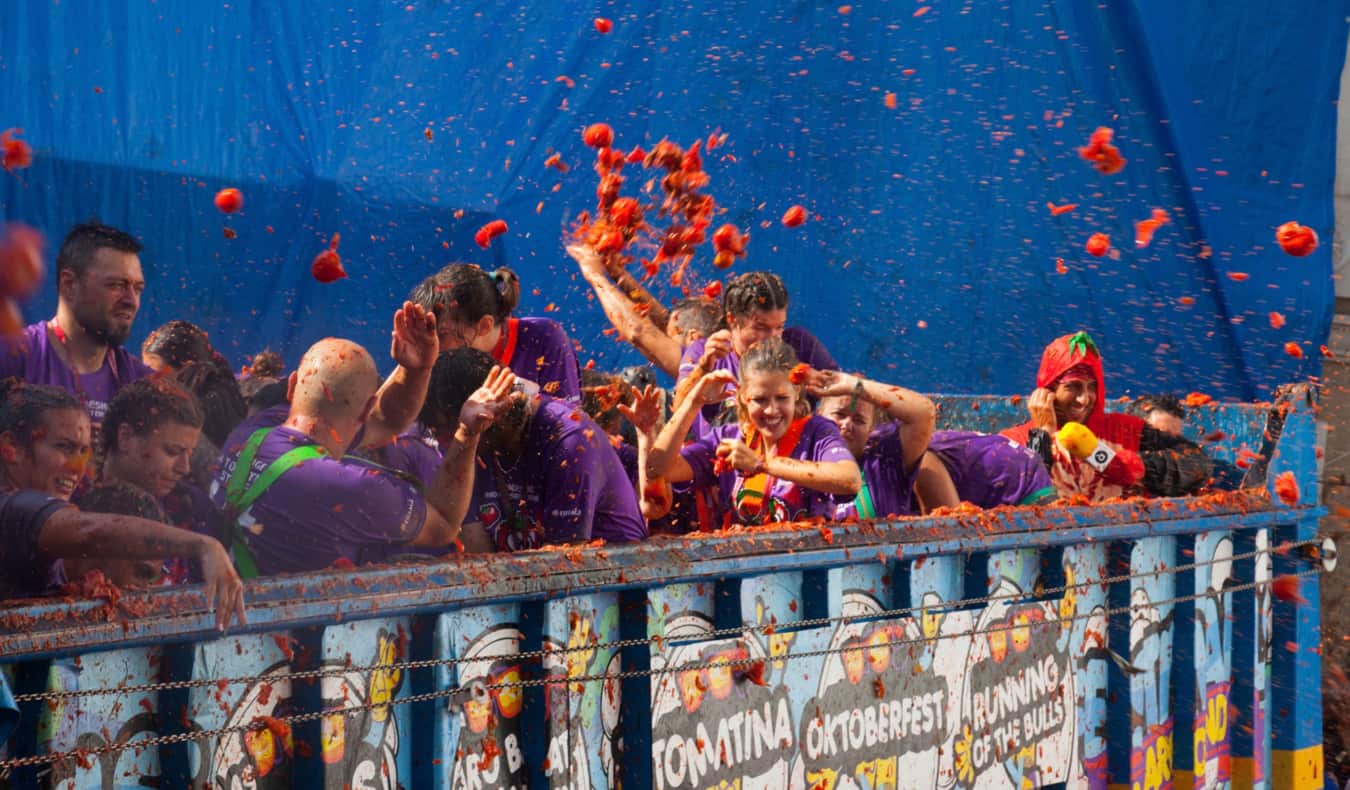 For one hour, 20,000 people engage in a tomato fight in Bunol, Spain during the last Wednesday of August. Tens of thousands of participants come from all over the world to fight in this giant food fight. The whistle blows and the tomatoes of La Tomatina fly. It's fun, it's dirty, it's the food fight we all dreamed about as a child. Just make sure to bring some goggles!
After you have your fill of tomatoes, you go wash off in the river and then join the dance party in town where the sangria and food flow!
Date: Last Wednesday of August.
Cost: 30 EUR.
Fun Fact: Over 120,000 pounds of tomatoes are used for the festival — and it only last 1 hour!
More Info: latomatina.info
13. Burning Man (August)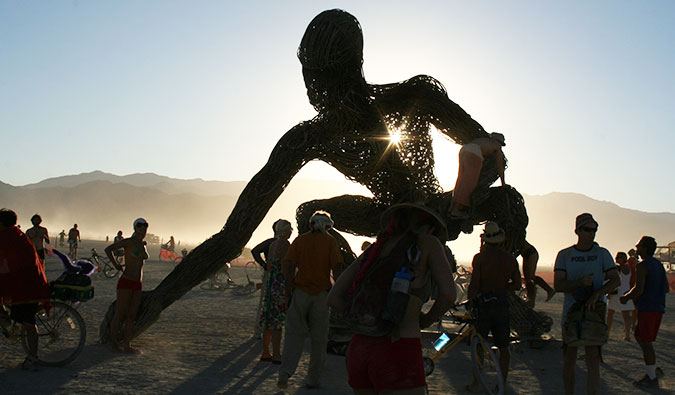 At the end of August, tens of thousands of people head out in the Nevada desert for 6 days of alternative living. Burning Man brings out the arty, the alternative, and the eccentric. In this crucible of creativity, all are welcome. It's 6 days of camping (bring lots of water!), art, and music. At the end, a giant wooden man is set on fire (hence the name). This is one of the most popular events in the entire world and "Burners" as participants are known are really into the event. It part festival, part social experiment. And if you can't make it to Nevada, there are mini-burns all around the world too!
Date: Begins on the last Sunday in August.
Cost: Ticket start around $390 (plus additional fees for parking).
Fun Fact: The first sculpture burned at Burning Man was only 8 feet tall. In 2014, it was 105 feet tall!
More Info: burningman.org
14. Oktoberfest (September)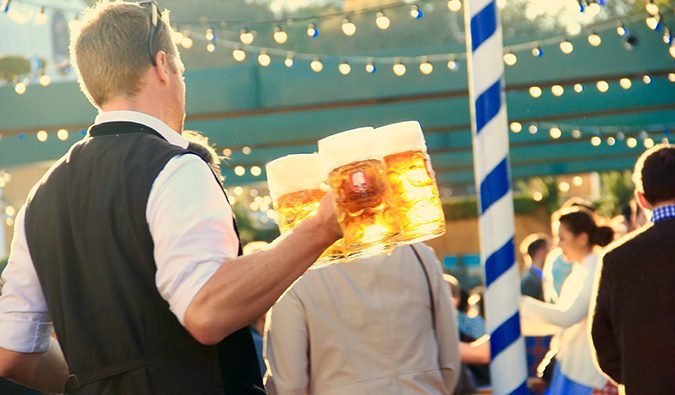 Though really in September this two week beer festival in Munich attracts people from all over the world with its beer halls, lederhosen, giant steins of beer, and huge pretzels. Over 6 million people flock to Munich each year over the course of the two-week festival, making this a literal non-stop party!
No one I know ever lasted the whole two weeks but the 3 or 4 days you are there will be the haziest of your life.
Date: Beginning in late September and lasting for over 2 weeks.
Cost: Admission is free but you'll have to pay for beer (around 12 EUR) and for reservations if you want to visit a specific tent.
Fun Fact: Over 7.3 million liters of beer was consumed at the 2019 Oktoberfest!
More Info: oktoberfest.de/en
15. Day of the Dead (November)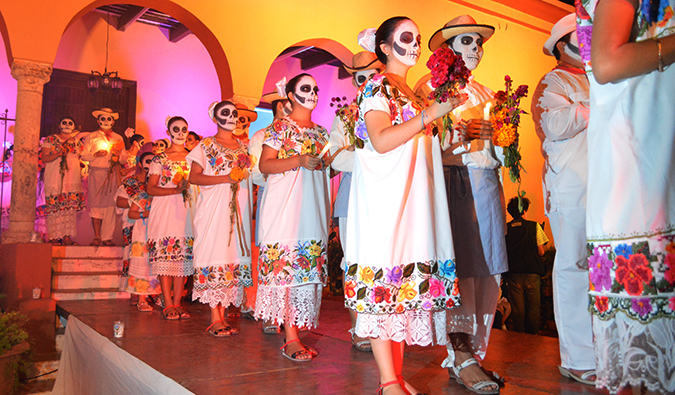 With paper mache skeletons and candy skulls, Mexico's carnival-esque Day of the Dead is one of the world's most familiar festivals. Día de los Muertos, or Day of the Dead, is not a Mexican version of Halloween. Participants devote a day to cleaning their family graves, decorating them with candles and flowers, having picnics and dancing to mariachi bands. It's an odd combination of remembrance and festivity. It's a festival that celebrates life and respect for deceased family members. It's beautiful, festive, and fun.
Date: October 31-November 2.
Cost: Free (though you may want to buy some face paint).
Fun Fact: The holiday has its origins in pre-Hispanic civilization, dating back almost 3,000 years!
16. Hogmanay (December)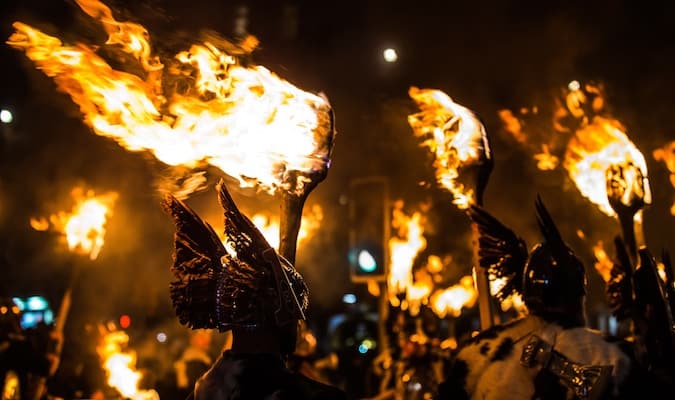 New Year's Eve celebrations happen all around the world, but few places rival Edinburgh and its Hogmanay festival. I've been to lots of celebrations and festivals all around the world, and Hogmanay is one of the most fun parties I've ever been to.
Each December, over 100,000 people take part in the two-day celebration. Hogmanay involves a Viking procession (similar to Up Helly Aa), bonfires, fireworks, concerts, and a huge carnival. It's nonstop fun. It does get crowded and you'll need to buy tickets to the shows. Be sure to book in advance (including your accommodation).
Date: December 31st
Cost: 30 GBP for the street party. Additional fees for concerts.
Fun Fact: The Loony Dook is a part of the celebration where everyone dresses up in funny costumes and jumps into the freezing water of the Firth of Forth.
More Info: edinburghshogmanay.com
***
All around the world and no matter what month of the year, you'll find people celebrating. I've been to a large number of these festivals and my goal is to see them all. Not only are festivals fun they are also a great way to do something different than the normal sightseeing we do when we visit places. The next time you are looking for something wild, crazy, and festive, plan your trip around these celebrations of life.


Book Your Trip: Logistical Tips and Tricks
Book Your Flight
Find a cheap flight by using Skyscanner. It's my favorite search engine because it searches websites and airlines around the globe so you always know no stone is being left unturned.
Book Your Accommodation
You can book your hostel with Hostelworld. If you want to stay somewhere other than a hostel, use Booking.com as it consistently returns the cheapest rates for guesthouses and hotels.
Don't Forget Travel Insurance
Travel insurance will protect you against illness, injury, theft, and cancellations. It's comprehensive protection in case anything goes wrong. I never go on a trip without it as I've had to use it many times in the past. My favorite companies that offer the best service and value are:
Want to Travel for Free?
Travel credit cards allow you to earn points that can be redeemed for free flights and accommodation — all without any extra spending. Check out my guide to picking the right card and my current favorites to get started and see the latest best deals.
Ready to Book Your Trip?
Check out my resource page for the best companies to use when you travel. I list all the ones I use when I travel. They are the best in class and you can't go wrong using them on your trip.