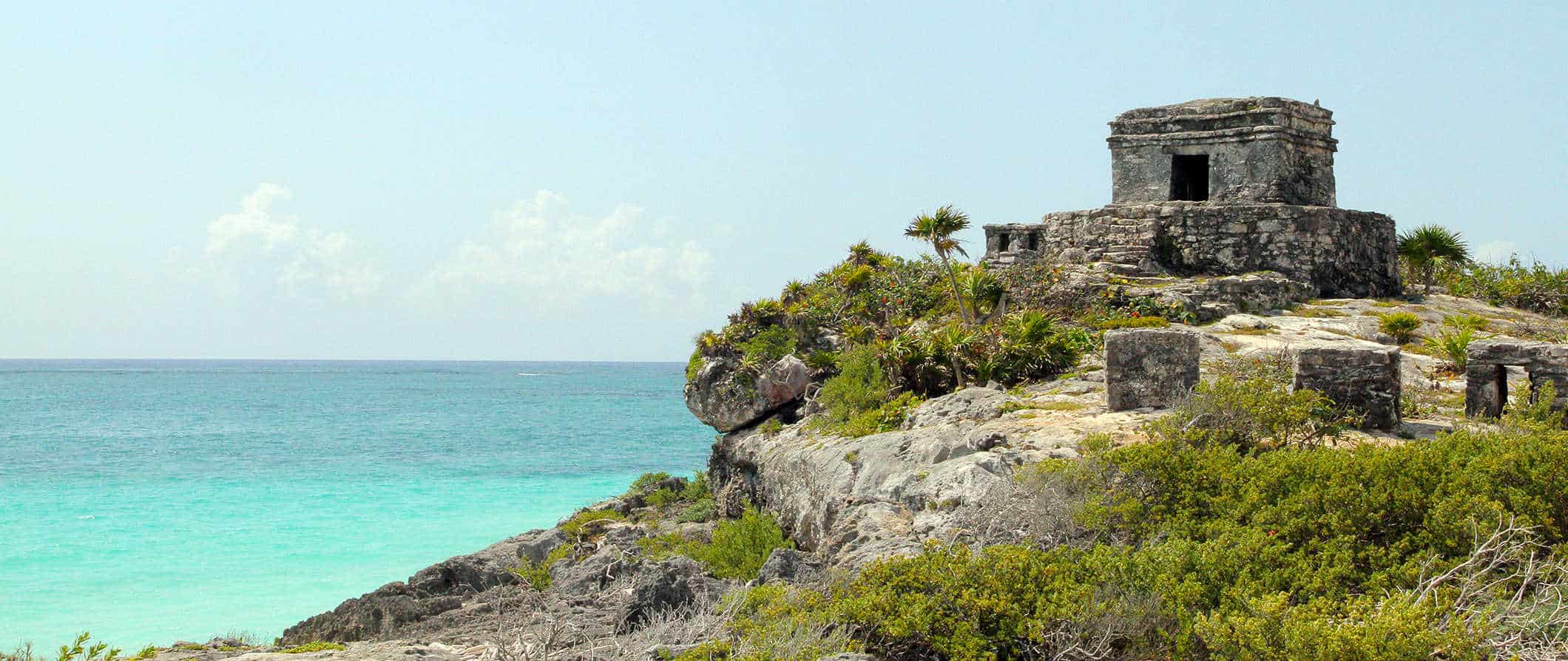 I love Mexico. It's a vibrant, beautiful country filled with friendly people, a vibrant energy that makes you have a zest for life, stunning architecture, a long history, and delicious, delicious food. I mean who doesn't love Mexican food? And Mezcal! I mean how can you go wrong with either? From Mayan ruins and jungles filled with parrots, to the bustling nightclubs of Cancun and the seediness of Tijuana and everything in between, Mexico has a lot to offer travelers. Most travelers jet into the resort towns of Playa del Carmen or Puerto Vallarta but there's so much more to Mexico than that. Get out of the touristy towns, see Mexico, and fall in love! It's hard not too.
Top 5 Things to See and Do in Mexico
1. Trek Around Tulum
I loved these ruins.
There's nothing like being on a beach and swimming near Mayan ruins. The ruins are well preserved and you can find a lot of guides to show you around. The nearby town (same name) has become a backpacker/expat hotspot in recent years.
2. Visit Mexico City
As one of the largest cities in the world,
Mexico City
has a lot to do. You'll find world-class museums, sprawling markets, tons of historic buildings, squares, parks, and sights. Despite Mexico City's huge scale, most of its tourist attractions are all centered around a fairly small geographical area so it's easy to see everything.
3. Relax on the Pacific Coast
While the beaches may not be as beautiful as the east coast, the Pacific side of Mexico has just as many resorts and opportunities for partying and surfing. Puerto Vallarta, Los Cabos, Huatulco, and Sayulita are popular vacation spots. Diving is better on the Gulf of Mexico, however.
4. See Chichén Itzá
Chichen Itza is a large Mayan archaeological site located in the north of the Yucatan Peninsula. The most impressive structure on the site is the 78 feet tall Temple of Kukulkan or the "Castillo" as it is often known. The site also boasts elaborate wall carvings, a ball court, and intricately-designed columns.
5. Visit a volcano
Mexico has over active 30 volcanoes. Most volcanoes are found within national parks, and these offer some of the best hiking and mountain biking in the country. Popocatepetl frequently features in the top 10 lists of must-see volcanoes in the world but it is closed to climbing since it is so active, so tourists favor Paricutin and Orizaba.
Other Things to See and Do
(Click the title to expand the text)
1. Wander through Chapultepec Park
Chapultepec is one of the largest city parks in the world, encompassing the Mexico City Zoo, La Feria amusement park and the world-class Museum of Anthropology. The park is a must if you are visiting Mexico City.
2. Visit the markets
Mexico's markets are a great place to experience traditional food, pick up a bargain, and purchase plenty of souvenirs. Head to the Ciudadela market in Mexico City or Oaxaca for folk art.
3. Zócalo (Plaza de la Constitución)
The Zócalo is at the heart of Mexico City and it encompasses the Templo Mayor and the Palacio Nacional. Situated just off the Zócalo is La Catedral Metropolitana a magnificent cathedral fortified with gold and a beautiful example of Spanish colonial architecture.
4. Go diving
The seas surrounding Mexico make for some of the world's best diving spots with their diverse marine life, coral reefs (including the second largest reef system in the world, the Great Maya Barrier Reef) and excellent visibility. Aside from diving, the waters are popular with snorkelers, sports fishermen, and more or less any other watersport enthusiast.
5. Party in Cancun
Depending on what you're looking to do, Cancun can offer you a crazy-fun party in the sun or some quiet and hidden local markets and restaurants. On the one hand, you have spas, resorts, and picturesque beaches. On the other, you have Mayan ruins, archaeological sites, and little nearby villages.
6. Get active
Laying around on the beach is great and all, but there is a ton of stuff to do. Consider surfing, snorkeling, SCUBA diving, sea kayaking, zip-lining, caving, and more. Mexico is a great country for the adrenaline junkie.
7. Get lost in Guadalajara
This urban sprawl has a major downtown and plenty of culture to check out. There are many museums to explore, nightclubs for dancing, and colonial streets to wander.
8. Ex-Hacienda San Gabriel de Barrera
Outside of Guanajuato, this is a great place to escape to for an afternoon. Now a museum, complete with beautiful, manicured gardens, this was once the home of descendants from the Conde de Rul during the 17th century. This home is another product of the prosperous mining of the surrounding area. It's open daily from 9am-6pm and costs 30 MXN.
9. Get your Aztec history fix
Mayan culture gets all the glory for being found along the touristy coast, but the Aztec empire was equally impressive and has left an enormous mark on Mexico. Check out the awe-inspiring Aztec pyramids at Teotihuacan, located 30 miles outside of Mexico City. It's hot and unsheltered here, so bring sunscreen and a hat.
10. Visit the chilling Island of Dolls
Known as "La Isla de la Munecas" in Spanish, this is perhaps one of the creepiest tourist attractions in the world. Decades ago, a hermit named Don Julian Santana moved here, learned a girl drowned in the nearby lake, and started collecting and hanging dolls all over the island. Many visitors are overwhelmed by the dead childish faces that seem to haunt this place. It's creepy. Like beyond creepy. But there's also nothing like it in the world!
11. Honour the Day of the Dead
On November 1st and 2nd, Mexico celebrates this yearly festival: Dia de los Muertos. Contrary to its name the festival is a vibrant and lively affair with celebrations for those who are gone but not forgotten. If you want a real taste of Mexican culture then the sights and sounds of this festival are an interesting experience.
12. Enjoy tequila and mariachis
The province of Jalisco is home to Tequila and Mariachis, as well as tortas ahogadas (a food similar to a Sloppy Joe). Take all three of these in combination and you have the perfect recipe for a memorable night out.
Typical Costs
Accommodation
– In Mexico, the lowest price you'll find for hostels is about 125 MXN per night for a bed in a dorm. In bigger cities, like Mexico City and Cancun, expect to pay around 140-200 MXN. Private rooms in hostels start around 400 MXN per night. Many hostels offer free WiFi and breakfast. As for budget hotels, expect to pay at least 300 MXN for a basic room in a 2-star hotel that sleeps two. You can book your hostel with
Hostelworld
. Use
Booking.com
as they consistently return the cheapest rates.
Airbnb
is also an option in Mexico, with shared rooms starting at 210 MXN and entire homes (including studio apartments) starting at 640 MXN. In the larger resort towns (Cancun, Playa del Carmen, Cozumel, Puerto Vallarta, etc), accommodation costs are going to start around 600 MXN and go up from there!
Food – Food in Mexico is super affordable. You'll find a lot of rice, beans, fruits, and veggies like tomatoes, corn, avocado, and peppers in Mexican cuisine. Some typical Mexican dishes are tacos, mole (a sauce with lots of ingredients, many include chocolate), salsa, enchiladas, tamales (stuffed corn pockets), guacamole. By purchasing food on street stalls or in markets you can expect to spend around 240 MXN per day or less, with a less restrictive budget coming in at around 400 MXN if you choose to eat at reasonably priced sit-down restaurants. A combo meal at McDonald's costs around 75-85 MXN. A meal at a nicer sit-down restaurant is around 300-600 MXN. You can get some pretty bad-ass tequila for as cheap as 240 MXN. If you cook your meals, expect to pay 500-585 MXN per week for groceries that will include rice, vegetables, chicken, and other basic foods.
Transportation – Most of Mexico is served by buses. On longer journeys, make sure to take an express bus (called a "directo") if you can as they are much faster and stop less. A bus from Puerto Vallarta to Guadalajara (5.5 hours) costs around 480 MXN. For very long journeys, consider taking a budget airline. For instance, a bus from Cancun to Mexico city (15 hours) costs around 1,450 MXN but a flight starts around 720 MXN and only takes 2.5 hours. As for transportation within the cities, buses are common in all cities but some bigger cities have subway (metro) systems. Taxi fares start from 16 MXN in most cities. Uber operates in 30 cities in Mexico.
Activities – Diving is likely to be the most expensive activity you choose to do here, with day trips usually costing over 2,400 MXN. Entrance to the many Mayan sites in the country is around 160 MXN.
Suggested daily budget
830 MXN / $40 USD (Note: This is a suggested budget assuming you're staying in a hostel, eating out a little, cooking most of your meals, and using local transportation. Using the budget tips below, you can always lower this number. However, if you stay in fancier accommodation or eat out more often, expect this to be higher!)
Money Saving Tips
Eat market food – Mexico's markets are a great place to eat inexpensively and also to stock up on food for day trips.
Travel off-season – By traveling between late April and early December, you can pick up bargain accommodation, food and travel rates.
Venture inland – Mexico's coasts are the most famous, most touristy parts of the country, but the interior has an amazing amount to offer. Prices are cheaper, and you'll be more likely to meet some locals if you head away from the coast.
Couchsurf – Use Couchsurfing to stay with locals and meet the great people living in Mexico. When you get to see a home in a country you're visiting, it's a very unique experience and gives you a whole different perspective.
My Must Have Guides For Traveling to Mexico