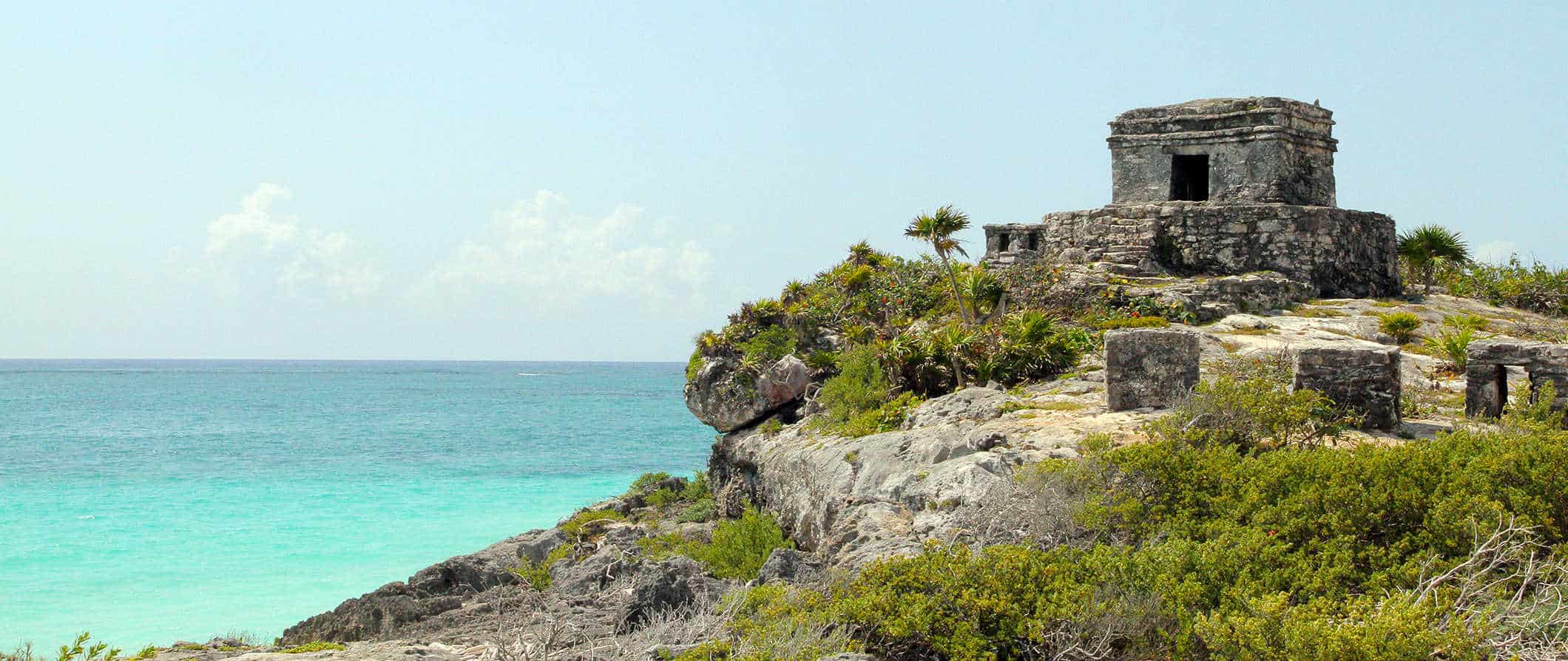 While most people visit Mexico for its big tourist centers like Tulum, Cabo, Cancun, or Cozumel, there's a lot more to the country than just its luxurious resorts.
Now, I'll be honest: I was late to visiting Mexico.
But when I did, I fell in love with it. Mexico is an incredible destination with a rich history, amazing food, and friendly people.
It's an awesome country to backpack around, drive through, or just vacation in. There's a ton of stuff to do here, and the locals are some of the friendliest people on the planet.
From Mayan ruins to pristine beaches to Mexico City's art and food and Oaxaca's mezcal scene, Mexico has it all.
And the food? World-class. Gorge yourself on delicious tacos, tostadas, tamales, sopas, seafood, and mole (to name a few items from Mexico's very long list of traditional dishes).
I could go on forever as to why I love this country. Whatever amount of time you're planning to visit is not enough — you'll always leave wanting more.
This Mexico travel guide will help you get out of the touristy towns, explore the country, and fall in love with what you discover!
Click Here for City Guides
Top 5 Things to See and Do in Mexico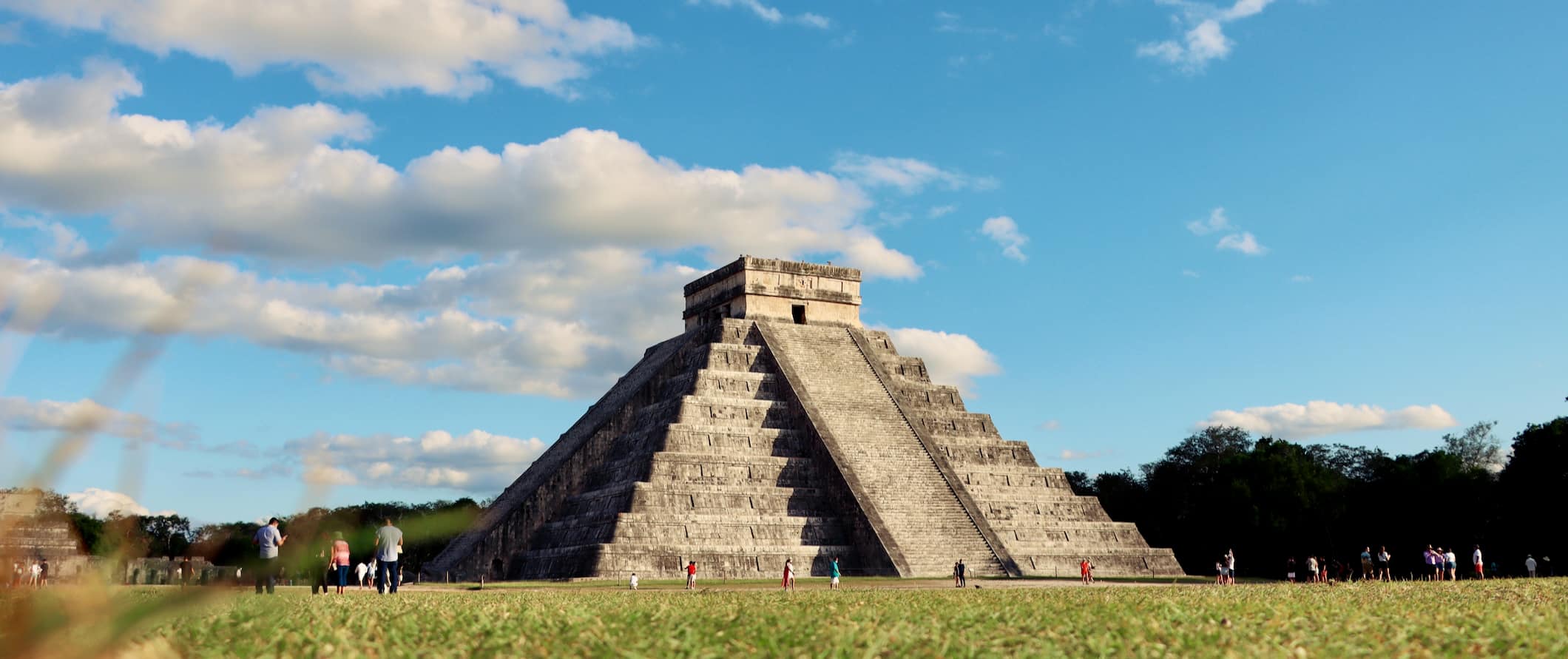 1. Explore Oaxaca
Located in a valley surrounded by craggy mountains in southwestern Mexico, Oaxaca and its surrounds have been inhabited for thousands of years by indigenous Zapotec and Mixtec peoples. A city of colorful buildings, scenic rooftop restaurants and bars, street art, historic Spanish colonial churches, cobblestone streets, and many parks, it's a center for heritage tourism. It's also one of the gastronomic hotbeds of Mexico as well as the hub of mezcal production too. With fascinating museums, bustling markets, historic buildings, delicious food and much more, there really is something for everyone in Oaxaca. I loved my time there! You must visit!
2. Tour Mexico City
Found in the Valley of Mexico at an altitude of around 2,225 meters (7,300 feet), Mexico City is a sprawling, chaotic, messy city in the best way possible. Originally built over a lake, it has some 150 world-class museums, sprawling markets, tons of historic buildings, city squares, and more. In the historic center, you can visit the impressive main square (the only one bigger in the world is Red Square in Moscow). To the south of the city there's a network of beautiful canals, and Teotihuacan, the City of the Gods, is just a 45-minute drive away. The city also has an incredible foodie scene and is fast becoming one of the centers of gastronomy in the world.
3. Relax on the Pacific Coast
Vacation spots like Puerto Vallarta, Los Cabos, and Sayulita on Mexico's Pacific Coast offer just as many epic beaches and resort properties as the Caribbean Coast. Go to Puerto Vallarta or Los Cabos to hang out on the pristine white sandy beaches, or head to Sayulita to check out the busy surf scene. Surf and enjoy watersports, visit historical monuments, and check out all the local art by day. By night, you can indulge in sunset cocktails, enjoy fresh shrimp tacos or seafood skewers, and salsa the evening away.
4. See the Mayan Ruins
Mexico is filled with ruins. You have Chichén Itzá, which dates back to 550 CE and is one of the largest (and most popular) Mayan sites in Mexico for its enormous Kukulkan Pyramid (which is considered one of the new Wonders of the World). Other ruins worth visiting are the Tulum Archaeological Zone, the Palenque Archaeological Zone, the Calakmul ruins (which are inside the huge Calakmul Biosphere Reserve), the ruins at Ek Balam, and so many more! Admission is 571 MXN for the Wonder of the World Chichén Itzá while the rest cost anywhere from 80-500 MXN.
5. Visit a volcano
Mexico has over 30 active volcanoes. One of the best to explore is the 2,800-meter (9,186-foot) Volcán Paricutín, a volcano less than 80 years old that literally emerged from the ground between 1943-1952 near Uruapan. There's also Pico de Orizaba (also known as Citlaltépetl) at the border of Puebla and Veracruz and which, at 5,636 meters (18,490 feet), is Mexico's highest mountain. And northwest of Mexico City, in the north part of the Taluca Valley, is Jocotitlán, which is 3,910 meters tall (12,828 feet). Full-day guided volcano hikes start at 1,730 MXN.
Other Things to See and Do in Mexico
1. Wander through Mexico City's Chapultepec Park
Chapultepec is one of the largest city parks in the world, spanning over 1,700 acres. It encompasses the Mexico City Zoo, La Feria amusement park, and the Museum of Anthropology, which houses a vast collection of sculptures, jewels, and artifacts from ancient Mexican civilizations. The museum costs 85 MXN, as does the Chapultepec Castillo (Castle) which houses the National History Museum. You can also rent a rowboat or paddle boat and go out on Chapultepec Lake for 60 MXN. Entry to the park itself is free.
2. Visit the markets
Just about every town in Mexico has a busy, diverse market where you can enjoy traditional food, pick up some bargain items, and purchase souvenirs. Two of the best are the Mercado Ciudadela in Mexico City (for handmade textiles and artwork), and Oaxaca's Mercado Benito Juárez (for local foods like fresh ground coffee beans, juices, and grasshopper tacos). If you're in Merida, check out Mercado Santa Ana for their Yucatecan cuisine, like cochito horneado, a marinated pork dish that is slow-cooked in underground pits, or head to El Mercado Lucas de Galvez for their specialty seafood cocktails (the locals swear by it to cure your hangover).
3. Explore Zócalo (Plaza de la Constitución)
Zócalo is the main plaza in the heart of Mexico City. It dates back to the Aztecs, encompassing both the Templo Mayor (an ancient Aztec temple) and the Palacio Nacional (a colonial palace with offices of Mexico's president). Situated just off the Zócalo is La Catedral Metropolitana, a magnificent cathedral with a gold altar. It's a perfect example of Spanish colonial architecture.
4. Go diving
The seas surrounding Mexico have some of the world's best diving spots thanks to their diverse marine life, large coral reefs (including the second largest reef system in the world, the Great Maya Barrier Reef), and excellent visibility. The Gulf of Mexico is home to five different species of sea turtles, blue whales, lemon sharks, and dolphins, and so much more! Aside from diving, the waters are popular for snorkeling, sports fishing, waterboarding, surfing, and more or less any other watersports. A two-tank dive starts at 2,800 MXN. Some of the best places to dive in Mexico are Discovery Bay, Cenote Dos Ojos, Revillagigedo Islands, and Isla Mujeres.
5. Relax in Cancún
Depending on what you're looking to do, Cancún can offer you a crazy-fun party in the sun or some quiet and hidden local markets and restaurants. You have spas, resorts, and picturesque beaches as well as Mayan ruins, archaeological sites, and little nearby villages. There's a ton to see and do here if you leave the resorts!
6. Get lost in Guadalajara
Guadalajara is the second-largest city in Mexico and is known for its tequila and mariachi. It's chock full of museums, such as Cabañas (a UNESCO building with incredible murals), MUSA (paintings & sculptures by local artists), and the Páramo Galeria (contemporary art); nightlife venues, and a labyrinth of old colonial streets. Visit the Hospicio Cabañas, a hospital built in the 19th century, and then spend some time at the Guadalajara Cathedral. The cathedral's Gothic interior features artworks from famous Mexican artists like Murillo (a Baroque painter).
7. See Teotihuacan
The Aztec empire left an enormous mark on Mexico. Don't miss the awe-inspiring Aztec pyramids at Teotihuacan, located 48 kilometers (30 miles) outside of Mexico City. Teotihuacan was founded as early as 400 BCE, but its biggest structures weren't completed until around 300 BCE. Its three giant pyramids are known as the Temple of the Sun, the Temple of Moon, and the Temple of the Feathered Serpent, and they dominate the landscape. If you're going to visit just one Aztec site, this is it. It's unsheltered here, so bring sunscreen and a hat. Admission is 85 MXN. Full-day guided tours from Mexico City cost 880 MXN.
8. Visit the bizarre Island of Dolls
Known as "La Isla de la Muñecas" in Spanish, this is perhaps one of the creepiest tourist attractions in the world. Decades ago, a hermit named Don Julian Santana moved here, learned a girl drowned in the nearby lake, and started collecting and hanging dolls all over the island to please the drowned girl's spirit. It's creepy. Like beyond creepy. You'll have to hire a boat from Xochimilco to get there but it's worth it!
9. Honor the Day of the Dead
Yearly on November 1st and 2nd, Mexico celebrates a major festival: Día de Los Muertos. The festival is a vibrant and lively affair with celebrations for those who are gone but not forgotten, including parades and elaborate and colorful costumes. Families also commemorate their dead relatives by setting up ofrendas, or altars, with pictures of the deceased, candles, yellow marigold petals, and food. This meant to encourage the deceased to cross back over into the land of the living and join in the celebrations. Oaxaca or Mexico City are the two best places to experience this celebration.
10. Visit the UNAM Botanical Garden
If you need to escape the hustle and bustle of Mexico City for a little while, the Botanical Garden at the National Autonomous University of Mexico is the perfect place. Keeping with the Aztec traditions of having gardens for both medicinal and ornamental purposes, there is also an added focus on conservation and environmental education here. Built on top of and around lava formations from the eruption of the volcano Xitle (which happened over 2,000 years ago), visitors can explore the naturally formed grottoes, ponds, and waterfalls. This garden has the most diverse cactus collection in the world (800 different kinds!), and ponds full of koi and turtles, an orchidarium, and a medicinal garden. Admission is free.
11. Relax on Isla Holbox
Holbox is an island located off Mexico's Yucatan Peninsula and is home to white sand beaches and crystalline waters. It is a relaxing, slow-paced island that's easy to get stuck on. One day can easily turn into a week. It's an island paradise where you can relax in a hammock on the beach, hike in the jungles, swim, dive, snorkel, and everything in between! While it used to be a hidden gem, it's slowly becoming more and more popular (and developed). Be sure to see bioluminescent waters here. From Cancún, you can get to the ferry port at Chiquilá in around two hours by bus. The ferry takes 25 minutes and costs 220 MXN. If you just want to visit for the day, full-day tours from Cancún/Playa del Carmen cost 3,000 MXN.
12. Visit Mérida
Mérida is one of my favorite places in all of Mexico. It is a safe and wonderful city filled with history, cool mezcal bars, and some of the best food in the country. Some of my favorite places to eat and drink in town are La Chaya Maya Casona, Acervo Mezcalero, La Negrita Cantina, and Café Créme. Also, don't miss the nearby Uxmal ruins, which are just one-hour away. There are also some cool museums here, like the Folk Art Museum of Yucatan, the Yucatan Music Museum, and the City Museum (which has all kinds of Mayan artifacts).
13. Enjoy San Cristóbal de las Casas' architecture
San Cristóbal is a highland town known for its charming colonial architecture. There are narrow cobblestone streets, local craft markets, and the entire area is enveloped in pine forests. Don't miss the town's 16th-century cathedral, and if you want to get out and explore the nearby nature, take a boat tour of the Cañón de Sumidero. You'll see tons of birds, monkeys, and crocodiles. For a view of the town and surrounding area, visit the Guadalupe Church to enjoy the view from the roof. Free Walking San Cristóbal offers daily tours if you want a guide to show you the highlights.
14. Sample the Cenotes of Yucatan
Cenotes are natural sinkholes that are full of groundwater. They were used by the Mayans as sources for freshwater, however, today they are popular swimming holes for locals and tourists alike (you can even scuba dive in some). There are tons of them all around the Yucatan Peninsula. Some are completely exposed, some are walled in by cliffs, and some are covered entirely by caves. Calavera, Cristalino, Casa Cenote, Yaxmuul, Choo-Ha, and Escondido Cenote are some of the most popular cenotes in the region. If you'd rather do a tour, you can join a cenote tour for around 1,350 MXN. We also visit several secluded cenotes on our TNN group tour of the region.
15. Visit Sayulita
Located on the Pacific coast, Sayulita is a hip beach town with a lively community of expats and surfers. The town has a laid-back vibe owing to the sizable surfing and yoga community. It's a great place to surf and there are plenty of yoga retreats available here. You can also take a jungle trek, go zip lining, ride ATVs along the coast, and simply soak up the sun on the beach. It's the perfect place to chill for a few days. Canopy tours start at 1,800 MXN.
16. Explore Campeche
Campeche is located just south of Merida on the Yucatan. It's home to UNESCO World Heritage colonial architecture, including fortified walls and over 2,000 historic buildings. Visit the Museo De La Arquitectura Maya for Mayan history and antiquities, see the Mayan ruins at Edzná (which is just 45 minutes away and sees very few tourists), and wander the old city wall to take in the view.

For information on specific cities in Mexico, check out these guides:
Mexico Travel Costs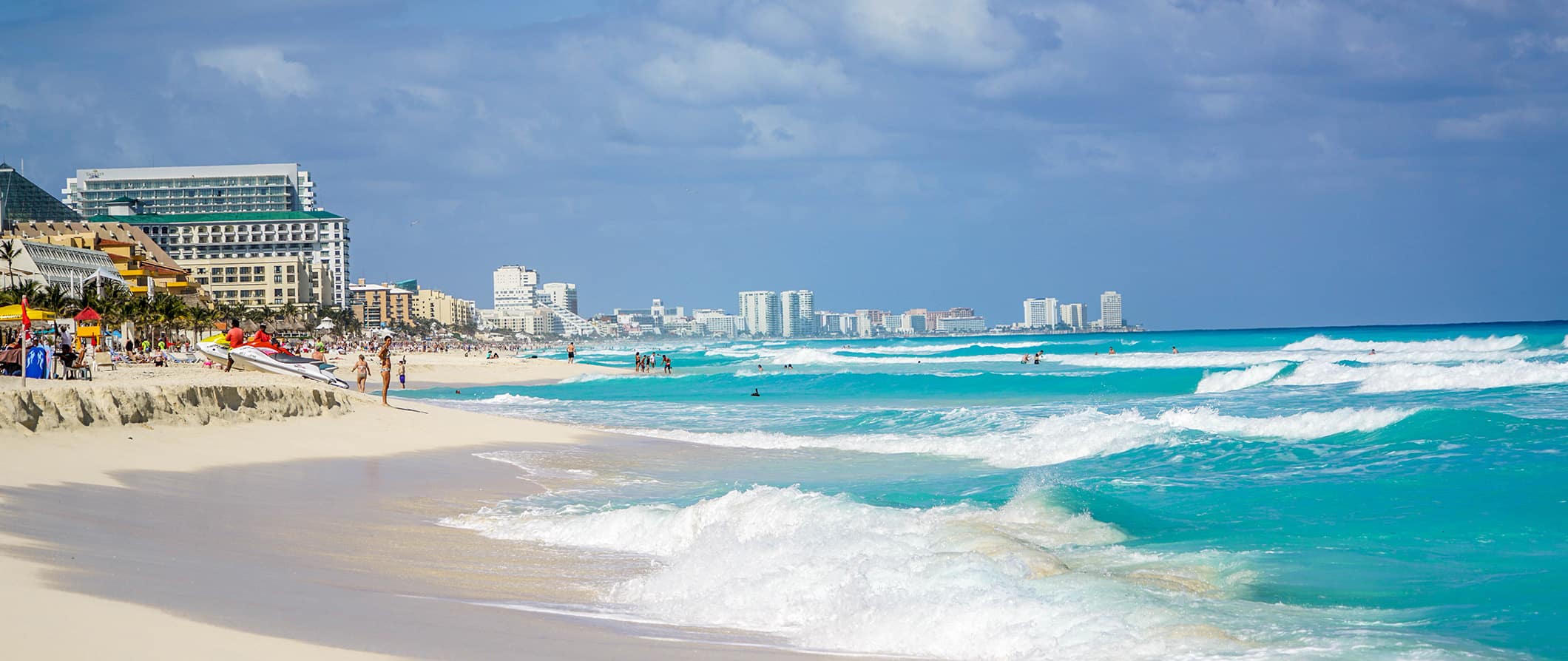 Accommodation – In Mexico, hostels start at 250 MXN per night for a dorm bed, but average closer to 300 MXN. Private hostel rooms cost anything from 600-1,900 MXN per night. Prices are usually a bit lower in the low-season or shoulder-season. Free Wi-Fi and free breakfast are both common, as are self-catering facilities.
For those traveling with a tent, a basic plot for two people without electricity costs around 200 MXN per night.
For budget hotels, expect to pay 700 MXN for a basic room in a two-star hotel. These two-star rooms typically include an en-suite bathroom and free Wi-Fi, but not always air conditioning.
Airbnb is also an option in Mexico, with private rooms starting around 300 MXN but averaging much more (usually between 600-1,200 MXN). Entire homes and apartments average around 1,000-1,800 MXN although you can find them for as little as 600 MXN if you book early.
Food – You'll find a lot of rice, beans, fruits, and veggies like tomatoes, corn, avocado, and peppers in Mexican cuisine, which is a mix of Mayan, Aztec, and Spanish traditions. Typical Mexican dishes include tacos, mole (a sauce with lots of ingredients, often including chocolate), salsa, enchiladas, tamales (stuffed corn pockets), pozole (hominy stew topped with onion, avocado, and chili), and guacamole.
Street stalls and markets are the best way to go for authentic and inexpensive food. Tacos, quesadilla, sopas, tortas, and other street foods are generally 15-45 MXN. Sometimes, you'll find tacos for as cheap as 10 MXN. In Mexico, street food is the best — and most affordable — option.
A meal at a local Mexican restaurant serving traditional cuisine costs around 150 MXN. Look for the ones filled with locals as that is generally a sign that the food is really good. Expect to pay around 300 MXN for a multi-course meal in a mid-range restaurant.
A beer is about 20 MXN in the street but double that at a restaurant, while a cocktail shouldn't cost more than 80 MXN in most places. A combo meal at McDonald's costs around 120 MXN and a cappuccino costs around 50 MXN.
Tap water is not safe to drink in Mexico. If you're buying bottles of water, expect to pay 15 MXN (less if you buy in bulk but a more environmentally friendly (and cheaper) solution is to bring a portable water purifier (LifeStraw makes a good one.
If you plan to cook your meals, expect to pay between 750 MXN per week for groceries including rice, vegetables, chicken, and beans.
Backpacking Mexico Suggested Budgets
If you're backpacking Mexico, expect to spend around 800 MXN per day. This budget gets you a hostel dorm, street food and self-cooked meals, public transportation, and a few attractions (such as museums and galleries) each day. If you plan on eating out more or drinking, you'll need to add another 100 MXN per day.
On a mid-range budget of about 1,800 MXN per day, you can stay in a private hostel room or Airbnb, eat out at restaurants serving cheap traditional cuisine for every meal, visit more attractions, enjoy a few drinks, and take the occasional taxi to get around.
On a "luxury" budget of 3,600 MXN or more per day, you can stay at a hotel, eat out for all your meals, enjoy plenty of drinks, take taxis everywhere or rent a car, and do some guided trips and tours. This is just the ground floor for luxury though. The sky is the limit!
Accommodation
Food
Transportation
Attractions
Average Daily Cost
Backpacker
300
200
100
200
800
Mid-Range
600
500
200
500
1,800
Luxury
1,000
1,400
400
800
3,600
Mexico Travel Guide: Money-Saving Tips
Mexico is incredibly budget-friendly. Unless you're splurging on food or resorts, it's really easy to visit on a budget. That said, it never hurts to save more money! Here are some ways to save in Mexico:
Shop at the markets for food – Mexico's markets are a great place to eat inexpensively and stock up on food for day trips. Most towns have a local market selling fresh fruits, veggies, and other goods for cheap.
Eat street food – Street food is the best food in the country — and the cheapest. Stick to street stalls to save money and enjoy the country's best eats.
Take a free walking tour – Many cities have free walking tours that give you a solid introduction to the main sights. Both Mexico City and Oaxaca have excellent free tours — just be sure to tip your guide!
Travel off-season – By traveling between late April and early December, you can pick up bargain accommodation, food and travel rates as this is low season.
Venture inland – Mexico's coasts are the most famous, most touristy parts of the country, but the interior has an amazing amount to offer. Prices are cheaper, and you'll be more likely to meet some locals if you head away from the coast.
Stay with a local – Use Couchsurfing to stay with locals and connect with people who can share their insider tips and advice. Just make sure to send your requests early.
Embrace "comida corrida" – This hearty mid-day meal option is usually available between 2pm-4pm and is often quite affordable. It's a set menu, but it's much cheaper than most lunch or dinner options. If you plan on eating out on a budget, aim for places that offer comida corrida.
Drink less – Alcohol is cheap in Mexico, but it's definitely more expensive at bars and clubs. Try to buy your alcohol from a local store instead of drinking at the bar if you're on a budget.
Skip the taxis – Taxis are overpriced and not always safe. Skip them. If you do need a taxi, don't just hail one on the street. Head into a nearby hotel/hostel and ask them to call one for you. Only get in taxis that use a meter.
Being a water filter – Since the tap water here isn't safe to drink and single-use plastic is bad for the environment, bring a water bottle with a built-in filter. LifeStraw makes reusable bottles with a built-in filter so you can ensure your water is always clean and safe.
Where to Stay in Mexico
Hostels are plentiful in most of Mexico's cities. Here are some of my favorite places to stay in Mexico:
How to Get Around Mexico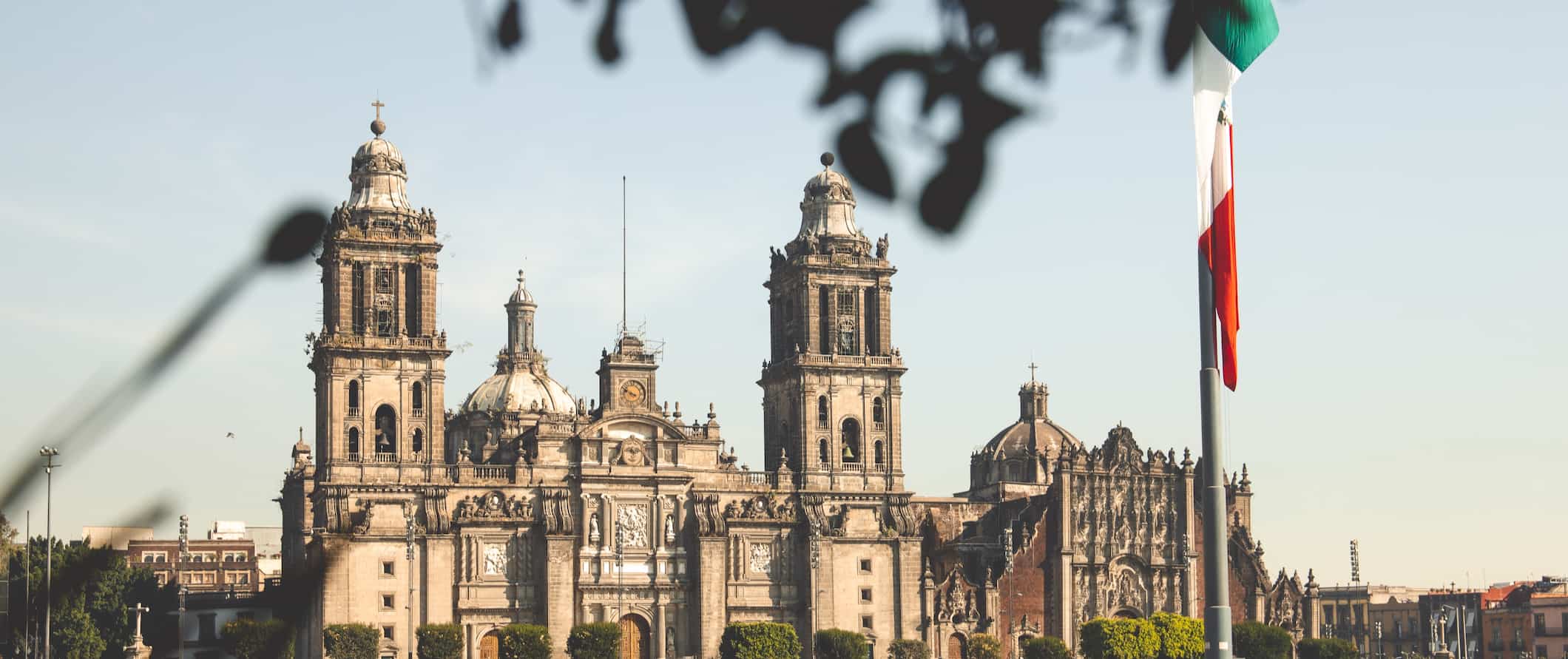 Public transportation – Public buses (also known as camiones) are the most common way to get around in cities and towns (and to nearby villages). These buses are also the cheapest, costing no more than a few pesos per journey. In some cities, smaller microbuses have replaced the older buses, but the cost is still the same.
Mexico City and Guadalajara have subway systems. One-way tickets for the subway and the bus system are around 5 MXN. In Mexico City, you'll have to buy a rechargeable Metro Card at any of the Metro stations for 15 MXN, and you can use the card for the Metro, Metrobús, Light Rail, Ecobici, Trolleybus, RTP buses, and on Cablebús.
Bus – Most of Mexico is served by buses. On longer journeys, make sure to take an express bus (called a "directo") if you can as they are much faster and stop less. A bus from Puerto Vallarta to Guadalajara (5.5 hours) costs around 585 MXN. A bus from Cancún to Mexico City (27 hours) costs around 1,800 MXN. A bus from Puebla to Mexico City (2 hours) costs around 200 MXN.
Some of the biggest and most reliable bus companies include:
ADO
Primera Plus
Estrella de Oro
Omnibuses de Mexico
ETN (Enlaces Terrestres Nacionales)
Most cities have a central bus terminal from where all long-distance buses depart. You can show up to buy your ticket, or research routes and ticket prices via each company's website.
Train – There are virtually no passenger train services remaining in Mexico. For long-distance travel, you'll need to fly or take the bus.
Flying – For long journeys, consider flying. The route from Cancún to Mexico City by bus takes 27 hours and costs around 1,800 MXN but a flight starts around 470 MXN and only takes two hours. A one-way fare from Mexico City to Guadalajara is about 525 MXN. Even a four-hour flight from coast to coast from Cancún to Puerto Vallarta is just 1,200 MXN one-way.
Aeroméxico is the biggest airline in Mexico, but low-cost carriers are becoming more popular. These include:
Interjet
VivaAerobus
Volaris
Mayan Air
Car rentals – Car rentals are surprisingly affordable in Mexico. You can find week-long rentals for around 3,000 MXN. Renters must be 21 years of age and have had their license for at least two years. Some companies require renters to be over 25 and it's best to carry an International Driving Permit (IDP). Avoid driving at night, when crimes against drivers are more likely to occur. Also, don't leave any valuables in your vehicle overnight as break-ins can occur.
For the best car rental prices, use Discover Cars.
Hitchhiking – Hitchhiking is not advised in Mexico. It's not very common and it's very unsafe. Avoid it.
When to Go to Mexico
Summer (June to October) is the rainy season in Mexico, but this is mostly just in the center of the country. You can expect it to rain each day heavily, but the downpour is usually short. It hardly ever rains in the northern part of the country, and humidity is thick in the south and along the coastal areas. Temperatures during this time hover somewhere between 26-32°C (79-90°F).
September to the middle of October is hurricane season and is not a good time to visit.
December to the end of April (winter) is the busiest tourist season as temperatures are hot, but the coastal areas provide plenty of relief for vacationers. This is the best time to visit if you're looking to take advantage of Mexico's tropical environment. It's the dry season, so you'll experience very little rain. You can expect big crowds as people flock to the resort areas around Cancún and Puerto Vallarta.
The average daily temperature during this time is 28°C (82°F). But if you're in the mountains, pack lots of layers! It can get frigid, especially in the evenings.
How to Stay Safe in Mexico
The media (especially the American media) likes to paint Mexico as a dangerous place to visit but the reality is far more complex. While petty theft is very common in Mexico, most of the serious conflicts occur between the authorities and Mexican drug cartels. The people who tend to be involved in major incidents are usually doing drugs or taking part in sex tourism. Avoid those, and you'll drastically increase your chances of staying safe.
Moreover, where you are greatly influences how safe you are. Yucatan and Oaxaca are incredibly safe states to visit while states near the US border are less so and more likely to experience violence and crime.
Officials looking for bribes are pretty common in Quintana Roo, as is drug-related violence due to tourists looking for drugs there. States near the southern border can also be sketchy and it's wiser to keep an eye out on your stuff there though violent crime is pretty uncommon.
So don't believe the media that "Mexico is unsafe." Mexico is like any big country – some parts are safe, and some parts aren't. Use some common sense when you travel: don't flash your money, avoid wearing expensive watches or jewelry, don't walk along drunk at night, make copies of your passport and official documents, and tell people where you are regularly.
Another important safety tip to keep in mind is about the water. While Mexico's water purification and treatment systems have improved, it still is not safe to drink ordinary tap water when visiting. Luckily, bottled water is available everywhere. Bringing water filter like LifeStraw is advised as it has a built-in filter so your water is always clean and safe.
Keep an eye out for common scams against tourists, such as fake ATMs, taxis that don't use a meter, and questionable tour operators.
The emergency services number in Mexico is 911. However, if that doesn't work (since it isn't in use in every region of Mexico), try 066.
The most important piece of advice I can offer is to purchase good travel insurance. Travel insurance protects you against illness, injury, theft, and cancellations. It's comprehensive protection in case anything goes wrong. I never go on a trip without it as I've had to use it many times in the past.
Mexico Travel Guide: The Best Booking Resources
These are my favorite companies to use when I travel. They consistently have the best deals, offer world-class customer service and great value, and overall, are better than their competitors. They are the companies I use the most and are always the starting point in my search for travel deals.
Skyscanner – Skyscanner is my favorite flight search engine. They search small websites and budget airlines that larger search sites tend to miss. They are hands down the number one place to start.
Hostelworld – This is the best hostel accommodation site out there with the largest inventory, best search interface, and widest availability.
Booking.com – The best all around booking site that constantly provides the cheapest and lowest rates. They have the widest selection of budget accommodation. In all my tests, they've always had the cheapest rates out of all the booking websites.
Get Your Guide – Get Your Guide is a huge online marketplace for tours and excursions. They have tons of tour options available in cities all around the world, including everything from cooking classes, walking tours, street art lessons, and more!
SafetyWing – Safety Wing offers convenient and affordable plans tailored to digital nomads and long-term travelers. They have cheap monthly plans, great customer service, and an easy-to-use claims process that makes it perfect for those on the road.
LifeStraw – My go-to company for reusable water bottles with built-in filters so you can ensure your drinking water is always clean and safe.
Unbound Merino – They make lightweight, durable, easy-to-clean travel clothing.
Top Travel Credit Cards – Points are the best way to cut down travel expenses. Here's my favorite point earning credit cards so you can get free travel!
Mexico Travel Guide: Related Articles
Want more info? Check out all the articles I've written on backpacking/traveling Mexico and continue planning your trip: