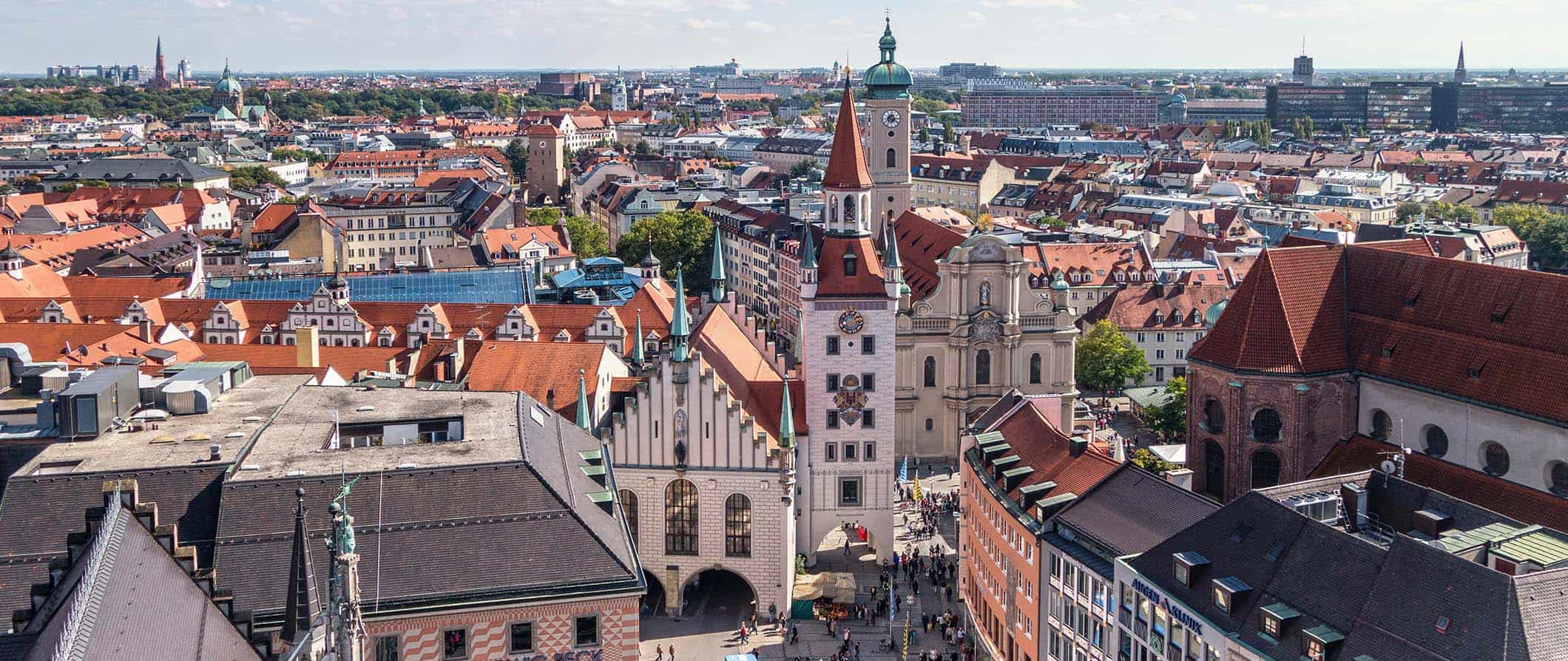 Munich, the largest city in southern Germany and the capital of Bavaria, is famous for its annual beer festival, Oktoberfest. But there's a lot more to visiting Munich than drinking steins of beer.
The city is host to a beautiful historic city center, an old castle, large parks and gardens, hearty German food, and beer halls galore. There is also Munich's famous clock, a detailed history museum, and the famous English Garden. In short, the city has something for everyone.
While settlements in the area date back to the Bronze Age, Munich as we know it today traces its roots back to 1158. Over the centuries, the city grew into an important cultural and economic hub. After World War I, it was here where the Nazi party took root (their first concentration camp was nearby in Dachau). The city was heavily bombed during the war, though it was completely rebuilt in the post-war era following the same grid pattern.
Today, Munich is a place of beauty, art, and history. I love traveling there. The city has a lot to offer travelers and is also an incredible base for visiting other places in Bavaria. It may lack the youthful edge of Berlin but, to me, that's a benefit!
This travel guide to Munich can help you plan your trip, get off the beaten path, and help you make the most of your visit!
Top 5 Things to See and Do in Munich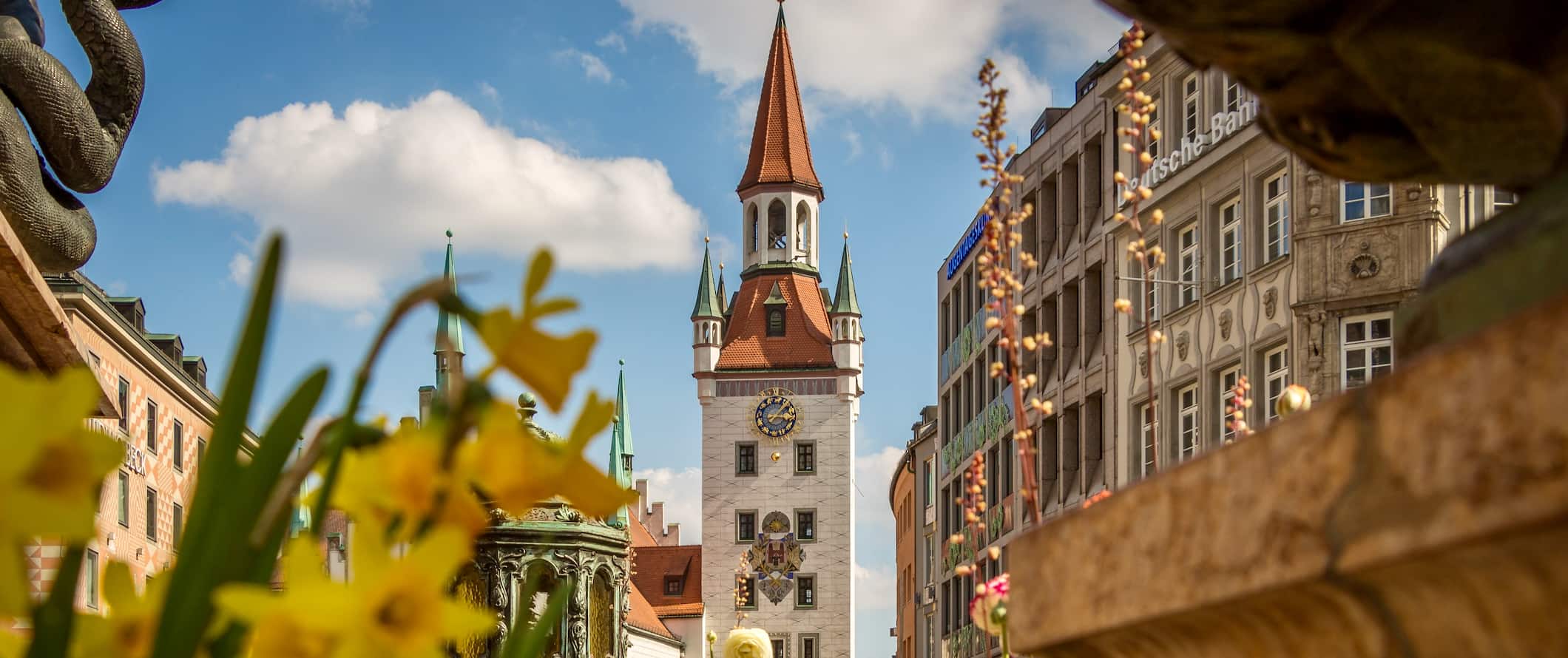 1. See Alte Pinakothek
This important art museum is home to over 800 works from 14th-18th century German masters. It features one of the world's largest exhibits of Rubens' paintings as well as works by Titian, Frans Hals, Altdorfer, Albrecht Dürer, and others. Admission is 7 EUR (1 EUR on Sundays).
2. Stroll the English Garden
With nearly 80 kilometers (50 miles) of trails, the English Garden is a massive park that offers numerous places to picnic, hike, and relax. Near the entrance is a river where people can "surf" as the water flows out under the bridge. There's also a great beer garden in the center too with a Chinese tower (a wooden building resembling a pagoda).
3. Experience Oktoberfest
Oktoberfest is a two-week-long drinking festival that occurs at the end of September. Every year, an estimated 6 million people descend on the city to spend the time dressed in Bavarian clothes, drink huge liter-sized beers called Maß, and eat roasted chicken and massive pretzels. It's a huge, huge party. Here's an example.
4. Tour the Dachau Concentration Camp
Dachau was the site of Germany's first Nazi concentration camp, opening in 1933. You can come and bear witness to this tragic episode in human history. There are over 30,000 documented deaths in the camp, though the number is likely much, much higher. It is a very sad place to visit but one that everyone should see. It's located 16 kilometers (10 miles) outside the city and takes a full day to see. Entry is free.
5. Visit the Nymphenburg Palace
This Baroque palace was the summer residence of Bavaria's royalty. It features a lavishly decorated interior, a breathtaking banquet hall, and is surrounded by extensive gardens. Two of its most famous features include the "Gallery of Beauties" and the former bedroom of King Ludwig II (1845-1886). It's a nice place to wander around enormous gardens and the locals often picnic here.
Other Things to See and Do in Munich
1. Visit the Church of St Peter
Munich's oldest parish church features art dating back six centuries, including ceiling frescoes and a giant gilded altar. You can also climb the 299 steps for lovely views of the city from the tower. On a clear day, you can see all the way to the Alps. Admission is 5 EUR.
2. Tour the BMW Museum & BMW Welt Munich
The BMW Museum is housed next to BMW's head office in northern Munich. The company was founded in 1916 and the museum features exhibits about the history of BMW cars and motorcycles, with historic vehicles and prototypes, plus displays on alternative fuel and traffic management. It's a bit out of the city but if you're a car lover, I highly recommend a visit. Admission is 10 EUR.
3. Hang out at the Hofbräuhaus
The world's most famous beer hall is one of Munich's top attractions and a visit here is a must if you love beer. The Hofbräuhaus was built in 1607 and was originally used as a brewery, with the restaurant portion opening in 1828. Beer was produced here until 1896, at which point, the brewery outgrew its original home and beer production moved to a new, bigger site in the suburbs. While much of the beer hall was damaged or destroyed during World War II, reconstruction in 1958 restored the building in its original style. More than 100 active groups of regulars visit Hofbräuhaus, and the oldest regulars have held their table for 70 years. It's the most popular beer hall during Octoberfest too and regularly hosts year-round events and live music.
4. Shop at the Viktualienmarkt
This food market in the middle of the city has been operating for over 200 years. With over 100 vendors, this popular local shopping spot is a great choice of fresh fruit and vegetables, cheese, and antipasti. It's not very expensive either so stock up here if you are cooking for yourself. The market is open Monday-Saturday from 8am-8pm, though some stalls close earlier than the official closing time. Some stands are also closed on Mondays.
5. Visit the Deutsches Museum
One of the largest technical museums in the world, this museum is host to a huge array of exhibits focused on science and technology. For anyone interested in construction, engineering, aerospace, and the natural sciences, this is a great attraction. There are sailing ships, windmills, space probes, robots, lifeboats, submarines, interactive exhibits, and more! It's a great place to visit if you're traveling with kids. Admission is 15 EUR.
6. Partake in Maibaumaufstellung
The first of May is a public holiday in Germany, and every year, maypoles are erected all over the country amidst many festivities. May Day is especially important in Bavaria, with many traditions particular to the region. Small villages go head-to-head, attempting to steal the maypole of rival villages. If one is stolen, it must be "purchased" back with beer and food. Another Bavarian tradition involves a competition in which climbers try to scramble up a Maypole that's been slicked down with soap. Whoever reaches the top gets the prize of pretzels and sausages hanging there. As the capital of Bavaria, Munich always has an interesting array of activities on this day, including plenty of music and dancing. A giant maypole depicting Munich's traditions and culture is erected in Viktualienmarkt each year as well.
7. Shop at Kaufingerstrasse
This pedestrian-exclusive shopping area stretches for several blocks between Marienplatz and Karlsplatz. There is a mix of independent boutiques and large-scale department stores to peruse, as well as a slew of restaurants, bars, cafes, and beer gardens to enjoy. Wander down the side alleys for some interesting specialty shops and great people-watching.
8. Bayerische Staatsoper
This is one of the best opera companies in the world and as such, is considered one of the top attractions not just in Munich but all of Bavaria. The company was formed in the 1650s and performs today in the Neoclassical Munich National Theatre. The pieces put on here are primarily composed by Mozart, Wagner, and Strauss. Prices vary depending on the show, dates, and seats, with tickets ranging from 10-200 EUR.
If you want to save money and you don't mind being less comfortable, you can purchase standing tickets in the upper levels for a hugely discounted price. There are often breaks so if you'd like to get the opera experience without blowing your budget try this option. Be sure to dress up as you'll see everyone in Munich has put on their best clothes for the opera house.
9. Attend a "Blade Night"
Since 1999, every Monday from May to September is "Blade Night Munich," which is basically code for a giant street party on rollerblades/roller skates. While these nights started informally, now they're highly organized events with thousands of participants at each one. Over the course of 1.5-2 hours, the massive group skates together along various pre-determined routes ranging from 12-24 kilometers (7.5-14 miles). There are even "bladeguards" who help any skaters that need assistance. The routes vary each time to keep things interesting too. You can usually rent skate and protective gear for a few euros.
10. Visit Munich Residenz
From 1508 to 1918, the Munich Residenz was the seat of government and residence of the Bavarian dukes, electors, and kings. What started out as a 14th-century castle for the Wittelsbach monarchs has since been converted into a museum. The complex, like much of Munich, was significantly damaged in World War II but was restored in the 1980s. It is the largest city palace in Germany, with ten courtyards and 130 rooms, all offering something different to see. You can visit the opulent royal apartments, serene court chapel and gardens, grand halls, and gilded staterooms, as well as see the art collections from the Renaissance, Baroque, Rococo, and Neoclassic periods. Make sure you see the Italian Renaissance Grotto Courtyard and the Baroque Ancestral Gallery. Tickets for the Residence Museum and Treasury are 9 EUR each.
11. See the Glockenspiel
Munich's town hall (the Neues Rathaus) in Marienplatz was completed in 1874 and is now the focal point of the city. Its main attraction is the Glockenspiel (a clock), which chimes each day at 11am, 12pm, and 5pm. 32 life-sized figurines tell 16th-century stories about Munich's history, twirling around in a fun show each time the clock chimes (like a giant cuckoo clock). Shows last around 12-15 minutes depending on the story. The clock contains 43 bells and is solar-powered.
12. See the Asam Church
The Asam Church, built between 1733-1746, is named for its 18th-century designers, the Asam brothers (one was a sculptor and the other a painter). Its Late Baroque interior is extravagant and considered to be one of the best examples of this period. The stuccowork along the church's naive as well as the colorful frescoes make for some fantastic photography. The church is quite small but the brothers made use of every inch of the interior, covering the confined space in allegorical statues and paintings. The exterior is magnificent as well, with a huge wooden door, multi-story windows, intricately carved reliefs, and golden, star-shaped ornaments. The brothers originally intended to keep the church for their own personal use, but heavy pushback forced them to open it to the public and it was inaugurated in 1746. Admission is free.
13. Bavarian National Museum
The Bavarian National Museum is one of the largest art museums in Germany and one of the most important decorative arts museums in all of Europe. Inaugurated by King Maximilian II in 1855, much of the collection comes from the Wittelsbach family, who ruled Bavaria for centuries. The 40+ rooms showcase items dating from Late Antiquity through the Art Nouveau period, including weapons, armor, porcelain, oil paintings, musical instruments, and more. Their Bollert Collection has an impressive collection of Late Gothic and Renaissance sculpture and the folklore department on the lowest floor hosts a collection of Alpine nativity scenes from the 18th-20th centuries. Admission is 7 EUR and 10 EUR for special exhibitions.
14. Take a Bavarian food tour
Munich Walk Tours offers several specialized tours of the city, with their Bavarian Food and Market Tour being the most delicious. Over the course of 2.5 hours, guides lead you through the historic district, making seven stops to sample and share the history behind Bavarian delicacies. The food you'll get depends on the season but might include homemade sausages, cheese, pastries, fresh bread with spreads, and pretzels. Tickets are 35 EUR and include the food.
15. Day trip to Neuschwanstein Castle
This 19th-century Neo-Romantic palace is a must on any Germany travel itinerary. It was the model for the Disney castle and is one of the most popular tourist attractions in Europe, with over 1.5 million visitors each year. Perched on a rugged hill in Bavaria near the town of Füssen, the palace was commissioned by "crazy" Ludwig II of Bavaria as a retreat and homage to Richard Wagner. Visitors can walk around outside and admire the stunning exterior for free, but the interior is only accessible by guided tour at specific times, which must be booked in advance. While the palace is 6,000 square meters (65,000 square feet) in size, only 14 of those rooms were ever finished. Interestingly, the majestic rooms were fitted with very modern technology for the time, including central heating, hot and cold running water, automatic flush toilets, and telephones. Admission is 17.50 EUR.
16. Day trip to Zugspitze
Many people don't realize that just outside of Munich, Bavaria offers stunning mountains and glacial lakes, including Germany's highest peak, Zugspitze. You can reach this incredible 2,962-meter-tall plateau by taking public transport to Garmisch-Parkinkirchen and getting the Zugspitzbahn train. This incredible scenic journey takes you via Grainau to reach Eibsee, a stunning turquoise Alpine lake. From here the cable car takes you up to the summit for a breathtaking 360° panoramic view at the Panorama 2962 restaurant. Tickets are 63 EUR return and are only available in summer.
17. Day trip to Tegernsee
An hour's train ride outside of Munich lies the beautiful postcard-worthy Bavarian lakeside village of Tegernsee. The traditional Bavarian homes have colorful flowers cascading from the balconies and the lake itself is surrounded by lush mountains. Anywhere you sit you will have beautiful views of the water. If you're a beer lover, try one of the local Tegernsee beers at the Herzogliches Schloss Tegernsee brewhouse.
18. Experience the Winter or Summer Tollwood Festival
The Tollwood Festival takes place twice a year during the December Christmas market season at Theresienwiese (where Oktoberfest is held) and in the summer at Munich's Olympiapark. Unlike Oktoberfest and other local festivals that honor Bavarian tradition, this modern festival is a unique artistic mix of food from all over the world, live music, handmade eclectic crafts, and activities. The Christmas Tollwood is a giant Christmas market with both outdoor places to grab a glühwein (mulled wine) and tasty snacks as well as huge tents inside where you can warm yourself and admire the changing art themes and decorations every year. The summer Tollwood (held in June/July) has live bands and activities where you can enjoy the summer sun sitting outside enjoying Bavaria's best beer.
19. Hang out like a local by the river Isar
Munich is not known for its cheap bars, so if you want to do what the locals do, pick up some food and beers at the Reichenbachbrücke Kiosk and enjoy the view down by the Isar river. There aren't any tables or chairs, so bring something to sit on and people-watch at one of Munich's most popular hangouts.
20. Day trip to Regensburg
Located about 1.5 hours away from Munich, Regensburg is a UNESCO-listed medieval town that's recently become increasingly popular as a tourist destination. Major sites include St. Peter's Cathedral, a Gothic cathedral with a treasury featuring relics and reliquaries; the 13th-century stone bridge which was once the only way to cross the Danube in this area; and Porta Praetoria, a Roman gate dating from 179 CE. Train tickets from Munich are 19-26 EUR one way.

For more information on other cities in Germany, check out these guides:
Munich Travel Costs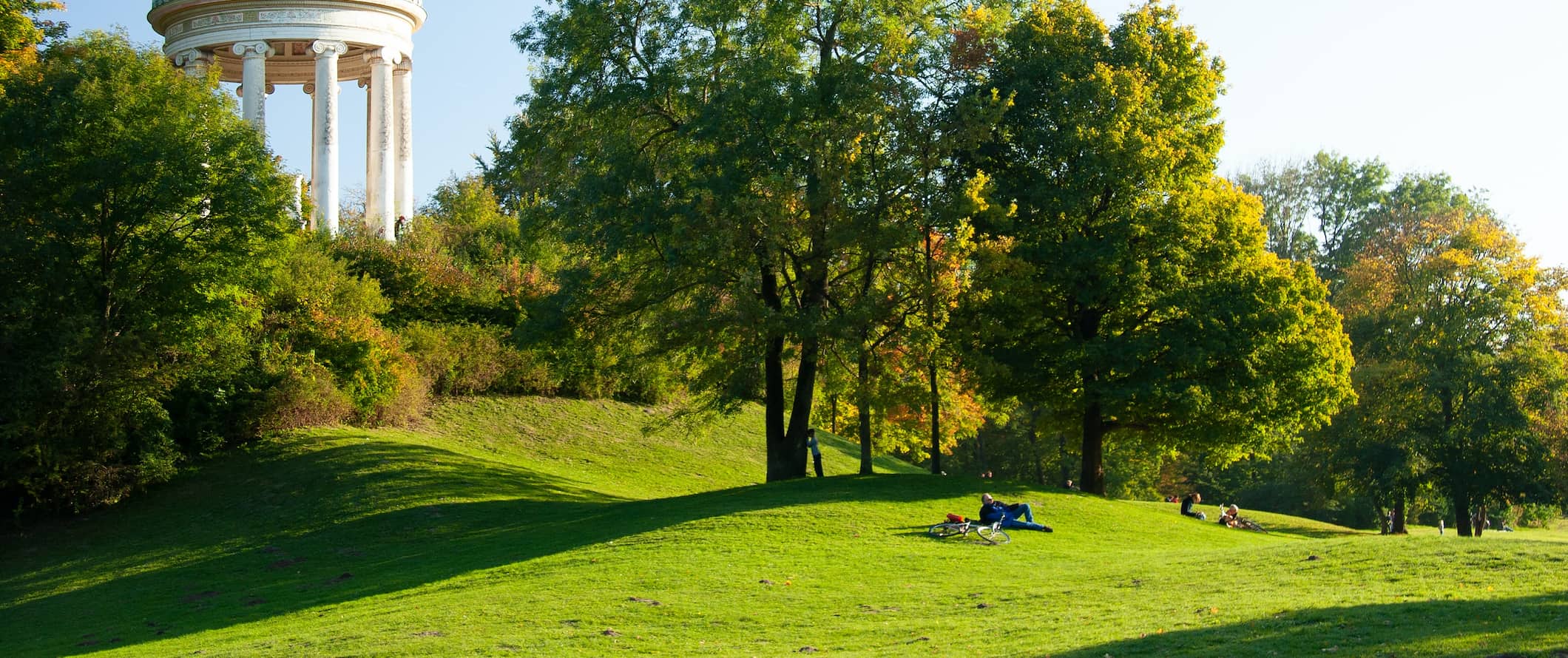 Hostel prices – A bed in a 4-6-bed dorm costs 35-43 EUR per night, while a bed in an 8-12-bed dorm costs 18-22 EUR per night. You can usually find cheaper prices during the winter. Private double rooms cost 70-100 EUR. Free Wi-Fi is standard, and a few hostels also include free breakfast. Self-catering facilities are not too common in the city's hostels, so if you need a kitchen for your stay be sure to double-check before you book.
Be aware that prices double or triple during Oktoberfest, so book several months ahead if you're planning on visiting during this time.
The cheapest option during Oktoberfest is The Tent, which is basically one huge communal accommodation with cots but during Oktoberfest cheapest is usually around 50 EUR a person. If you can't find anything cheap in Munich during that time, consider staying in one of the neighboring cities that are around one hour away, such as Nuremberg, Regensburg, Garmisch, Mittenwald, or Tegernsee. The last trains back to these towns are around 11pm-12am depending on location.
(Be sure to check this before heading into town for Oktoberfest so you don't end up hanging out at the station until the first trains start around 5am.)
For those traveling with a tent, there are a handful of campgrounds outside the city. They offer basic facilities and prices range from 5-10 EUR per night for a basic plot for two without electricity.
Budget hotel prices – Budget hotels cost around 50-75 EUR per night for a double or twin room. Wi-Fi is generally included, and in many cases, free breakfast as well. If you plan on booking a hotel for Oktoberfest, book well in advance (as in several months ahead) as hotels sell out fast.
There are a lot of Airbnb listings in Munich (though they are more expensive than in other parts of Germany), with private rooms starting at 40 EUR per night. Entire homes/apartments begin at around 85 EUR per night. Prices double when not booked in advance, however, so book early no matter when you visit.
Food – Food in Germany is very cheap (and hearty). Meat is a staple of most meals, especially sausages; there are over 1,500 different kinds of sausages in Germany (sausages here are known as "wurst"). Stews are also a popular traditional choice, as are potato dumplings and sauerkraut. Breakfast is usually composed of bread, cold cuts, cheese, and boiled eggs or Bavaria's favorite weisswurst and soft pretzels.
Munich is not the cheapest city when it comes to food, but it doesn't have to break the bank if you're smart about it. There's a good variety of street food, from snack bars to food trucks, offering hot dogs, sausages, falafel, and kebab for around 3-6 EUR. A pastry is around 1-2 EUR, which can make a good cheap grab-and-go breakfast.
McDonald's and other fast-food places cost around 8-10 EUR for a combo meal. Local fast-casual spots offer burgers for around 6-10 EUR and sandwiches for 4-7 EUR.
International eateries, like the many Turkish, Thai, or Vietnamese restaurants, offer affordable fare, with main dishes costing 6-9 EUR.
For German sit-down restaurants, you can generally eat for under 16-18 EUR (the beer halls provide the best value). A homemade sausage dish is around 10-12 while a larger dish such as wiener schnitzel or spätzle (German noodles) is 15-17 EUR. Traditional soups are 5-7 EUR while a huge Bavarian pretzel is 3-5 EUR. I really enjoy eating at the beer hall Augustiner Bräustuben.
For drinks, a pint of beer starts at 4 EUR, a glass of wine is around 4.50 EUR, and a soft drink is 3 EUR. A cappuccino is generally around 3.40 EUR.
Many restaurants also have a "Mittagsmenü" (special prices for lunch on a working day), where you usually pay about 7-12 EUR, choosing from select dishes. This is a great deal and usually quite hearty.
For higher-end dining, a three-course menu starts at 65 EUR per person and goes up from there.
If you plan on cooking for yourself, a week's worth of groceries including basic items like pasta, rice, seasonal produce, and some meat costs between 50-55 EUR. To save money, go to grocery store chains like Aldi, Lidl, Netto, and Penny.
Munich Suggested Budgets
On a backpacker budget, expect to pay around 65 EUR per day. This covers staying in a hostel dorm, cooking all of your meals, using public transportation to get around, limiting your drinking, and sticking to free activities like free walking tours and enjoying the parks.
For a mid-range budget of 130 EUR per day, you can stay in a private Airbnb, eat out for most meals at cheap restaurants and food stalls, enjoy a few drinks, take the occasional taxi to get around, and do more paid activities such as museum visits or a day trip.
On a "luxury" budget of 235 EUR or more per day, you can stay in a hotel, drink as much as you want, rent a car for day trips, eat out for all your meals, and do whatever tours and activities you want. This is just the ground floor for luxury though. The sky is the limit!
Accommodation
Food
Transportation
Attractions
Average Daily Cost
Backpacker
20
25
10
10
65
Mid-Range
40
45
20
25
130
Munich Travel Guide: Money-Saving Tips
There are plenty of ways to save money in Munich, especially if you skip some of the fancier hotels and more luxurious meals the city has to offer. Here are my tips on saving money in Munich:
Visit museums on cheap and free days – On Sundays, many museums in Munich offer 1 EUR admission, including the Bavarian Museum, Alte Pinakothek, Pinakothek der Moderne, Museum Brandhorst, and Sammlung Schack, among others. The Haus der Kunst offers free admissions on the first Thursday of the month and the Villa Stuck offers free admission on the first Friday evening of the month. Visit Munich's tourism website for a full list of museum offers.
Get a Munich City Card or PassIf you don't want to worry about visiting museums on specific days, get a Munich City Card or Pass. Both offer free unlimited rides on all forms of public transport, while the Card offers discounts on museums and the Pass offers free admission to all the main attractions. The Card starts at 13.90 for a 1-day pass, while the Pass is 47.90 for a 1-day pass.
Eat cheap – The quick sausage stands and shawarma places offer a chance to eat for only 3-5 EUR. Food near the central train station is also inexpensive and quick.
See a cheap movie – On Tuesday, it's "Cinema-Day" and movie tickets are cheaper (the big cinema at Stachus only is only 7-10 EUR). Munich Opera and ballet tickets for people under 30 years old are only 10 EUR with proof of ID and go on sale at the end of each month for the next month if you can plan ahead.
Cook your own meals – Eating at restaurants for every meal can really destroy your budget very quickly in Munich. Try and cook some of your meals to save yourself some cash. It's not fancy, but it's affordable!
Avoid bars and beer gardens Beer gardens are fun but expensive. To save money, buy your drinks at the supermarkets and kiosks in Munich and sit outside if the weather is nice. Sit outside like the locals do and have a picnic. Head to English Garden, Isar River by Isartor, Frauenhoferstrasse, and Thalkirchen (by the Zoo).
Embrace free walking tours – Free walking tours are a great way to explore the city on a budget while learning about its history and culture. Sandeman's New Europe Munich tour is a good one to start with. Best of all, they are free! Just be sure to tip your guide at the end.
Stay with a local – The best way to save money on accommodation is to stay with a local via Couchsurfing. Not only will you save a few bucks but you'll get insider access to the city itself. This is the best way to discover all the hidden gems Munich has to offer!
Bring a water bottle – The tap water here is safe to drink as it comes from the foothills of the Bavarian Alps, so bring a reusable water bottle to save money and reduce your plastic use. LifeStraw is my go-to brand as their bottles have built-in filters to ensure your water is always clean and safe.
Where to Stay in Munich
Munich has plenty of fun and affordable hostels. Here are my suggested places to stay:
How to Get Around Munich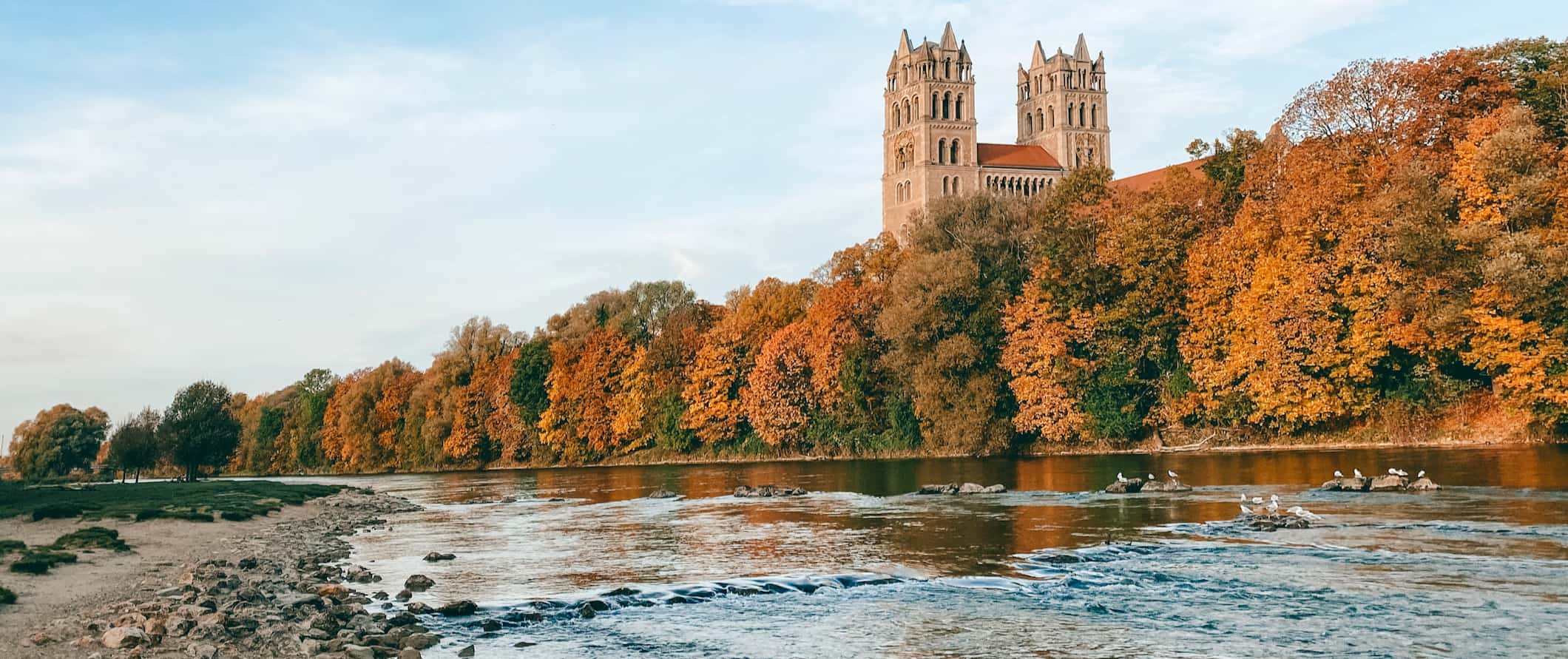 Public transportation – Public transportation in Munich is fast, reliable, and safe. One ticket can be used on all the public transportation options: the U-Bahn (underground), S-Bahn (above ground, also goes outside of the city), tram, and buses.
A one-way fare is 3.70 EUR, while a short-trip ticket (valid for 1 hour) is 1.90 EUR. A one-day unlimited pass is 8.80 EUR, which is by far the best deal. You can also get a week-long pass for 18.60 EUR. If you're in town for 3-4 days, this deal is cheaper than buying day passes.
If you have to switch from the tram to the subway in one journey, you can do so with a single ticket. Just keep in mind that the fare increases the more zones you travel through.
Bicycle – Munich is incredibly bike-friendly. In fact, it's considered the cycling capital of Germany. You can rent bicycles starting around 16 EUR per day.
If you want more than just a rental, check out Fat Tire Tours. They offer insightful and fun bike tours all around the city. They're perfect if you want to see a lot of sights and chat with an expert local guide.
Taxi – Taxis aren't cheap in Munich, with some of the highest tariffs in Germany. The base rate is 5.50 EUR plus an additional 2.30 EUR per kilometer. I'd skip them if you can!
Ridesharing – Uber is available here, but it's not any cheaper than taxis. In short, stick to public transportation if you're on a budget.
Car rental – Car rentals can be found for as little as 40 EUR per day for a multi-day rental. You won't need one to get around the city, though it would be helpful to have one if you plan on exploring Bavaria and doing some day trips. Renters need to be at least 21 years of age.
For the best car rental prices, use Discover Cars.
When to Go to Munich
Munich has so much happening year-round that it's always a good time to visit. Spring is nice because flea markets are opening and there are several festivals that take place during this time (such as Wannda, an arts festival). However, the weather can sometimes be cold and rainy. Pack some layers and rain gear.
Summer tends to be the most popular time to visit. Temperatures are hot and everyone's outdoors enjoying the sunshine. People flock to beer gardens or to the nearby lakes for some swimming. This is also the peak season when accommodation prices are much higher. During this time, temperatures are usually around 24°C (75°F) or higher.
Thanks to the famous Oktoberfest, autumn is also a very popular time to visit. From the end of September to early October, millions of people flock here from all over the world to enjoy the most epic beer-drinking festival in the world. The weather during this time is usually just as pleasant as in summer. If you're planning on attending Oktoberfest, book your accommodations in advance. Way, way in advance. If you want to avoid the chaos, come in early September or late October.
Winter in Munich can be cold, with temperatures as low as -5°C (23°F), but Germany is known for its Christmas spirit and the markets in Munich are no exception. The weather is more unpredictable, and you should prepare for snowfall, but there are plenty of places around the city for sledding and skiing. Accommodation prices are a lot cheaper during this time.
How to Stay Safe in Munich
Munich is a safe city and violent attacks against travelers here are incredibly rare. As in any major city, theft and pickpocketing can still occur so always keep your valuables secure and out of sight (especially in busy tourist areas, at markets, and on crowded public transportation).
Solo female travelers here should generally feel safe, though the standard precautions apply (don't leave your drink unattended at the bar, never walk home alone intoxicated, etc.)
While scams here are rare, you can read about common travel scams to avoid if you're concerned.
If you experience an emergency, dial 112 for assistance.
The most important piece of advice I can offer is to purchase good travel insurance. Travel insurance will protect you against illness, injury, theft, and cancellations. It's comprehensive protection in case anything goes wrong. I never go on a trip without it as I've had to use it many times in the past.
Munich Travel Guide: The Best Booking Resources
These are my favorite companies to use when I travel. They consistently have the best deals, offer world-class customer service and great value, and overall, are better than their competitors. They are the companies I use the most and are always the starting point in my search for travel deals.
Skyscanner – Skyscanner is my favorite flight search engine. They search small websites and budget airlines that larger search sites tend to miss. They are hands down the number one place to start.
Hostelworld – This is the best hostel accommodation site out there with the largest inventory, best search interface, and widest availability.
Booking.com – The best all around booking site that constantly provides the cheapest and lowest rates. They have the widest selection of budget accommodation. In all my tests, they've always had the cheapest rates out of all the booking websites.
HostelPass – This new card gives you up to 20% off hostels throughout Europe. It's a great way to save money. They're constantly adding new hostels too. I've always wanted something like this and glad it finallt exists.
Get Your Guide – Get Your Guide is a huge online marketplace for tours and excursions. They have tons of tour options available in cities all around the world, including everything from cooking classes, walking tours, street art lessons, and more!
The Man in Seat 61 – This website is the ultimate guide to train travel anywhere in the world. They have the most comprehensive information on routes, times, prices, and train conditions. If you are planning a long train journey or some epic train trip, consult this site.
Rome2Rio – This website allows you to see how to get from point A to point B the best and cheapest way possible. It will give you all the bus, train, plane, or boat routes that can get you there as well as how much they cost.
FlixBus – Flixbus has routes between 20 European countries with prices starting as low 5 EUR! Their buses include WiFi, electrical outlets, a free checked bag.
SafetyWing – Safety Wing offers convenient and affordable plans tailored to digital nomads and long-term travelers. They have cheap monthly plans, great customer service, and an easy-to-use claims process that makes it perfect for those on the road.
LifeStraw – My go-to company for reusable water bottles with built-in filters so you can ensure your drinking water is always clean and safe.
Unbound Merino – They make lightweight, durable, easy-to-clean travel clothing.
Top Travel Credit Cards – Points are the best way to cut down travel expenses. Here's my favorite point earning credit cards so you can get free travel!
Fat Tire Tours – For bike tours, use this company! They have fun, interactive tours led by expert local guides. You'll get to see all the main sights without breaking the bank!
BlaBlaCar – BlaBlaCar is a ridesharing website that lets you share rides with vetted local drivers by pitching in for gas. You simply request a seat, they approve, and off you go! It's a cheaper and more interesting way to travel than by bus or train!
Munich Travel Guide: Related Articles
Want more info? Check out all the articles I've written about travel in Europe to continue planning your trip: