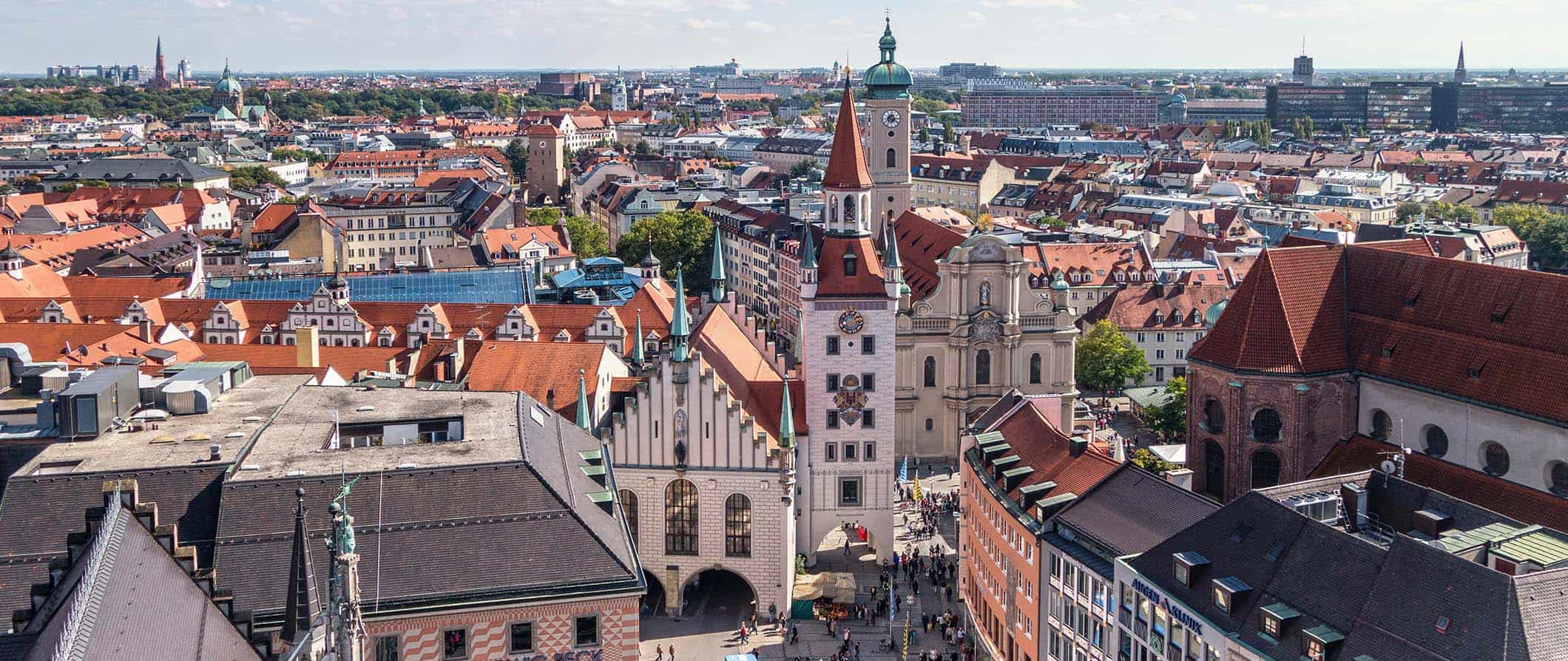 Munich is the largest city in southern Germany and is famous for its annual beer festival, Oktoberfest, which brings in huge drunk crowds. But there's a lot more to Munich than drinking steins of beers. The city is host to a beautiful historic city center, large parks and gardens (with surfing), hearty German food, and beer halls filled with friendly people. There is also Munich's famous clock, art collection, the palace, and the famous English Garden. The city wasn't bombed during the war like Berlin was so a lot of the history is still visible in the city. Munich is also a smart base for people visiting other places in Bavaria. While Munich may lack the edgy feel Berlin has, it's still an awesome a place to visit. Don't skip Munich!
Top 5 Things to See and Do in Munich
1. See Alte Pinakothek
This important art museum is home to over 800 works. It features one of the world's largest exhibits of Rubens' paintings as well as works by Titian, Frans Hals, Altdorfer and Albrecht Dürer. Admission is 4 EUR (and 1 EUR on Sundays). A day ticket to all three Pinakothek museums plus the Museum Brandhorst and Schack-Galerie is 12 EUR.
2. Stroll the English Garden
The English Garden is a massive park that offers many places to picnic, hike, and relax. Moreover, near the entrance is a river where people surf as the water flows out under the bridge. There's also great beer garden in the center where you can relax on a beautiful day. (Check out
this video
of locals "surfing.")
3. Experience Oktoberfest
Oktoberfest
is a two-week drinking festival that occurs at the end of September. Thousands of people descend on the city to spend the time dressed in Bavarian clothes, drink huge steins of beer, and eat face sized pretzels. I barely made it out alive! 'Nuff said.
Here's an example
.
4. Visit the Dachau Concentration Camp
Dachau was the site of Germany's first Nazi concentration camp. You can come explore and bear witness to this tragic episode in human history. It is a very sad place to visit and one that reminds us that evil wins when good men do nothing. It is located outside the city and takes a full day to see. Entry is free.
5. Visit the Nymphenburg Palace
This impressive baroque palace was the summer residence of Bavaria's royalty. It features a lavishly decorated interior and a breathtaking banquet hall. The palace is also surrounded by extensive gardens. During the high season, admission is 11.50 EUR. From October-March, it's only 8.50 EUR.
Other Things to See and Do
(Click the title to expand the text)
1. Visit the Church of St Peter
Munich's oldest parish church features art dating back six centuries. You can climb the 306 steps for lovely views of the city from the tower.
2. BMW Museum & BMW Welt Munich
The BMW Museum is housed next to BMW's head office in northern Munich. It features exhibits about the history of BMW cars and motorcycles with historic vehicles and prototypes, plus displays on alternative fuel and traffic management. It's out of the city but if you're a car lover, I highly recommend this place. Admission is 10 EUR, and discounts are available for seniors, students, and families.
3. Hang out at the Hofbräuhaus
The world's most famous beer hall is one of Munich's top attractions and a visit here is a must if you love beer. The Hofbräuhaus was built by in 1607 and was originally used as a brewery. It was remodeled after the brewery moved to a new site in the suburbs. It's the most popular beer hall during Octoberfest too.
4. Shop at the Viktualienmarkt
This market is in the middle of the city and has a great choice of fresh fruit and vegetables, food stores, cheese, antipasti. It's not very expensive either so stock up here if you are cooking for yourself!
5. Visit the Deutsches Museum
One of the largest technical museums in the world, this museum is host to a huge array of exhibits. For anyone interested in construction, engineering, aerospace, and the natural sciences, this is a great attraction. You could easily spend the entire day here. Admission is 11 EUR for adults and 4 EUR for students.
6. Partake in Maibaumaufstellung
The first of May is a public holiday in Germany, and every year, there is a festive erection of Maypoles all over the country. Small villages will go head to head, attempting to steal the maypole of rival villages. If one is stolen, it must be "purchased" back. There is always an interesting array of activities on this day.
7. Shop at Kaufingerstrasse
This is a shopping area that stretches for several blocks, which is exclusively designate for pedestrian traffic. There is a great mix of independent boutiques and large-scale department stores to peruse. When you get tired of shopping, there is a slew of restaurants, bars, cafes, and beer gardens to stop at.
8. Bayerische Staatsoper
Considered to be one of the top attractions in Munich and Bavaria alike, this is also one of the best opera companies in the world. The pieces put on here are primarily composed by Mozart, Wagner, and Strauss. Seeing a show here is definitely one for the to-do list. Prices vary depending on what you see and when with tickets ranging from 10-200 EUR.
9. Go skating
Olympiapark and the English Garden are two popular spots for rollerbladers — and there are more here than you might imagine, especially from May to August. Every Monday is "Blade Night" in the parks, which basically is code for a giant street party.