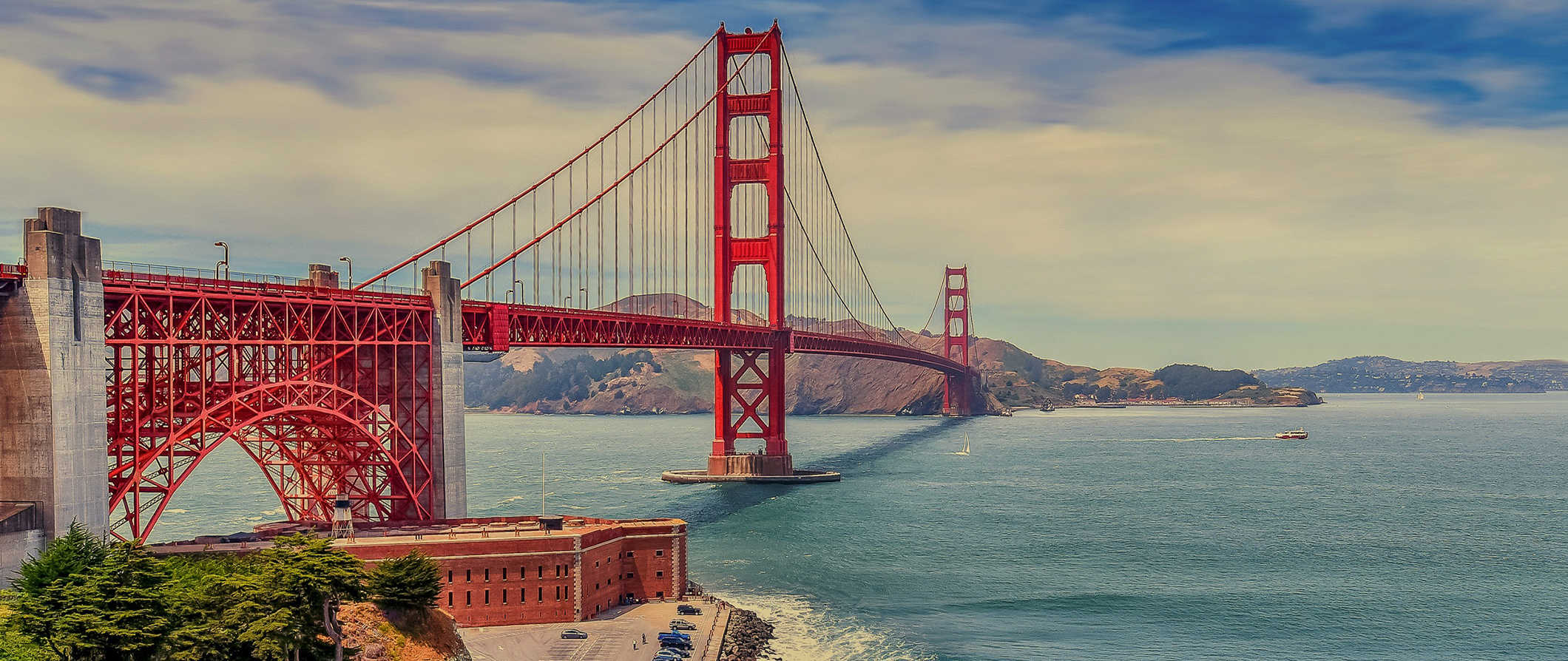 Known for culture, music, diversity, tech, and picturesque views, San Francisco is an eclectic city to visit. Here you'll find hippies, college students, tech giants, artists, immigrant enclaves, and everything in between. I'm always amazed at the diversity of the city.
To me, this visiting San Francisco is all about the outdoors and the food. You got to come here to dine on some of the best Asian, cafes, and Mexican in the country and then head out to the parks and hiking around the city.
While one of the most expensive cities in the United States, there are still plenty of ways to visit on a budget because even I, a person used to living in NYC, get sticker shock when I visit!
This travel guide to San Francisco can help you plan an affordable and enjoyable trip here!
Click Here for City Guides

San Francisco
Top 5 Things to See and Do in San Francisco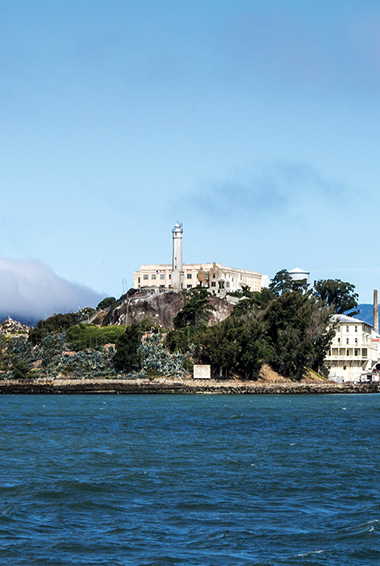 1. Tour Alcatraz
This is a former federal prison on Alcatraz Island. I'd suggest taking a tour so the rangers can provide you with some historical context of the island. Be sure to book the ferry early as it gets very full! A day-tour ticket is $40, a night-tour ticket is $48, and a behind-the-scenes tour is $93.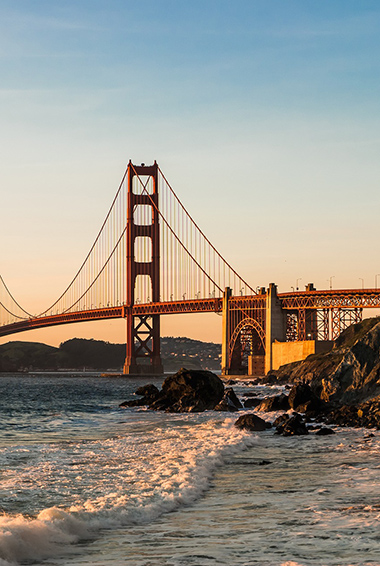 2. Walk the Golden Gate Bridge
The Golden Gate Bridge is be one of San Francisco's most famous landmarks as well as a piece of engineering art. You can walk across the bridge, visit the visitor's center to be briefed on the history of the park, or just stare at it from every angle and take a stupid amount of pictures like I did.
3. Visit Golden Gate Park
This gigantic park features a Japanese garden, a museum, an arboretum, and tons of hiking and walking trails. At three miles long and stretching about 30 blocks to the sea, it's 20 percent bigger than New York's Central Park. Walking from end to end will take half a day.
4. Visit Wine Country
Near the city are the world famous Napa and Sonoma wine regions. If you love wine and have time to leave the city, you obviously need to come here. Some companies run day trips to Napa valley since it is closer but you're a bit rushed. It's far better to spend at least a night.
5. Visit the Palace of Fine Arts
The Palace of Fine Arts is a Roman-style remnant of the 1915 Panama-Pacific International Exposition. The outdoor rotunda (and its lagoon) is one of the city's most photographed sights. Take a leisurely stroll around the lagoon, relax under the rotunda, or enjoy a picnic on the grass.
Other Things to See and Do in San Francisco
1. Hang out in the Mission
The mission district is a fabulous place to spend your night. After your busy day, go relax in Dolores Park for great views of the city (including the famous "Full House" house), incredible Mexican food, cool bars, and an eclectic food scene thanks to all the hipsters!
2. Ride the cable cars
Riding the cable cars is an excellent way to tour the city and experience the various neighborhoods in San Francisco. Catch the cable cars from Market Street. They are fun to ride and will save you lots of time instead of walking up and down those hills. A one-way fare on a cable car is $8, or a 1-day pass is $13.
3. Visit Lombard Street
While riding the cable cars, make sure to get off at Lombard Street and see what's claimed as the world's "crooked-est" street. Watch the cars and bikers navigate the sharp turns as the tourists gawk at them.
4. Head up Coit Tower
Another major city landmark is Coit Tower. It was built in 1933 to help beautify the city. It features 27 fresco murals by different artists. From the top, you'll get panoramic views of the city (it's $9 to go to the top). Otherwise, you can explore the monument and murals at the ground level.
5. Head to Chinatown
Next to NYC, this is the most famous Chinatown in the United States (it's also the biggest). Immigrants from China first came to the west coast and set up shop in San Francisco. Due to racial segregation, this neighborhood became predominantly Chinese, and though the segregation is over, the area has remained Chinese. Chinatown here has some of the best places to eat Chinese food in the country as well as wonderful teahouses, bars, souvenir stalls, and fortune cookie makers.
6. Go on a harbor tour
Take an afternoon cruise of the bay to see the city from the water. There are many tour companies, but a cheap budget way to see the harbor is to take the public ferries for $13: same views, lower price. You can find prices and routes on the ferry's website. If you really want to do a tour though, go with Red and White Fleet. Their tours start from $34.
7. Hang out in the Castro
The Castro is known as the LGBTQ district of San Francisco. The area has lots of restaurants here (locally-sourced organic food is the thing here). Plus, there are a plethora of fun clubs that cater to the LGBTQ community (but are fun for everyone).
8. Explore Haight-Ashbury
The birthplace of America's counter-culture, the Haight was ground zero during the summer of 1967, a.k.a. The Summer of Love. Hippies used to live here, but yuppies have since moved in, buying up all the colorful Victorian homes and replacing head shops with high-end boutiques, chic restaurants, and hip cafés. It's still a fun place to visit, and Flower Power Walking Tours run in-depth and informative tours throughout the neighborhood from $20.
9. Take a walking tour
Free Walking Tours of San Francisco has a number of interesting walking tours that can teach you about the history of the eclectic neighborhoods or show you all the scrumptious food the city has to offer, offered daily throughout the day.
10. Eat at the ferry building
My top place to eat in San Francisco, this place is a foodie dream. On the weekdays, you'll find are a lot of food stands outside the building and, on the weekends, a big farmers market. Inside, you'll find restaurants and food vendors selling specialty food items as well as butchers, cheesemongers, a wine bar, and more.
11. Visit Crissy Field
Also near the bridge as you walk along the harbor towards the center of the town, is this park that features a beautiful beach, restaurants, piers for fishing, and parks for Frisbee. You'll find a lot of locals running, walking their dogs, or laying out on the beach. It offers sweeping views of the entire harbor.
12. Relax with a drink
After all that traveling, you should probably explore some of the city's amazing brewhouses. The Mission and Castro are two of the best spots for nightlife, but you'll find amazing bars and clubs throughout the city.
13. Explore Japantown
Come here for amazing sushi, Japanese food, Korean food, and kitchen ingredients. Shabu Sen has amazing ramen. You can also take a food tour with Edible Excursions for $110.
15. Explore Fisherman's Wharf
Fisherman's Wharf, Pier 39, and Ghirardelli Square covers numerous blocks along the waterfront and is one of the most popular (touristy) things to do in the city. There are street performers, souvenir shops, and tons of overpriced restaurants. This is a good place to wander and explore for people watching, but don't eat here. The food is overpriced and, to be honest, not that good. If you want to try some of the mouthwatering seafood that San Francisco is famous for, I liked Waterbar and the Anchor Oyster Bar.
16. Visit Muir Woods
Muir Woods is the closest place to San Francisco where you can see giant redwood trees. You don't get to encounter the huge, huge iconic redwoods (which are sequoias and further away at Sequoia National Park), but if you're looking to see something close to the city, this is as good as it gets.
17. Explore Oakland
Just across the Bay Bridge, Oakland is considered the Brooklyn to San Francisco's Manhattan. With its own history and community (rife with arts, music, festivals, food, and popular sports teams), Oakland has become popular with hipsters and their bars and specialty restaurants.
18. Visit Berkeley
Across the bay and close to Oakland is the city of Berkeley, home to music, hippies, students, and the University of California – Berkeley. Here you'll find even more vegan and vegetarian restaurants, street performers, and eclectic shops (including makeshift booths of jewelry and other goods on the streets).
19. Take a walking tour
San Francisco has some really interesting tours on offer. My favorite company is Take Walks. They use expert local guides and can get you behind the scenes at the city's best attractions (their Alcatraz tour is awesome!). You'll learn much more than you would on your average free walking tour!
San Francisco Travel Costs
Hostel prices – During peak season, a bed in a four-six bed room will cost from about $52. For a room with eight beds or more, expect to pay around $47. During the off-season, a bed in a room with eight beds or more will cost from about $40 each night, while smaller rooms will cost about $50.
A basic private room with a shared or ensuite bathroom for two costs from $130 per night during peak season. Prices are about $120 in the off-season.
Budget hotel prices – Nightly rates for a budget two-star hotel room start at about $169 in peak season. In the off-season, budget rooms start from $130.
There are lots of Airbnb options in San Francisco. A shared room (like a bed in a dorm) averages about $33 per night, while a private room is about $82 per night. A full apartment averages about $189 per night.
Food – Although eating out here can be expensive (there are lots of fancy restaurants and rich techies driving the cost of food and rents up), you can keep your spending in check by going to the local supermarkets, markets, food trucks, and mom-and-pop restaurants. It's easy to find street food like burritos for $6, or falafel for $8. You'll find empanadas for $4 and full pizzas for $10. Eating Chinese food is a must in San Francisco because it's good and is less expensive than other choices (a meal can cost $8-12). For comparison, McDonald's is about $10.
Bars and cafés are the cheapest options for full meals, costing about $8-12 for lunch and a drink. Restaurants with table service are around $15 for lunch and $30 for dinner (starter, main, and drink) to start.
There are lots of high-end dining options in San Francisco. You can find a 6-8 course tasting menu for about $150 (but some go for nearly double that). A plate of pasta or fish starts from about $25, while a steak dinner costs from about $45. A glass of wine starts at about $10.
If you cook your own food, expect to pay $80 per week for basics like pasta, sandwich ingredients, sauce, rice, eggs, and fruits and vegetables.
Backpacking San Francisco Suggested Budgets
If you're backpacking San Francisco, expect to spend about $97 per day. This budget will cover a hostel dorm, using the bike-sharing program or walking everywhere, cheap local eats and cooking a lot of your meals, and mostly free attractions. If you stick to only free attractions, you can reduce this budget by about $20 per day.
A mid-range budget of about $228 will cover staying in a private hostel or hotel room, some paid tours and attractions, public transportation, and eating out at moderately priced restaurants for all your meals.
On a luxury budget of about $560 or more per day, you can do what you want! You can get a four-star hotel near the city center, any meal you want, drinks, and a few Uber rides.
If you book an Airbnb accommodation, you can save up to 50% on your room, no matter what time of year it is.
You can use the chart below to get some idea of how much you need to budget daily, depending on your travel style. Keep in mind these are daily averages – some days you'll spend more, some days you'll spend less (you might spend less every day). We just want to give you a general idea of how to make your budget. Prices are in USD.
Accommodation
Food
Transportation
Attractions
Average Daily Cost
Backpacker
$47
$25
$5
$20
$97
Mid-Range
$130
$45
$13
$40
$228
Luxury
$350
$80
$30
$100
$560
San Francisco Travel Guide: Money Saving Tips
San Francisco is easily one of the most expensive cities in the United States. You're going to spend a lot of money here if you go out a lot, see lots of attractions, and decide to drink! But, like any major city, there are lots of ways to save money if you just know where to look. Here are some ways to save money in San Francisco:
Get the CityPASS – This pass is good for three days and costs $94. It includes unlimited transportation on the cable car and MUNI bus system, as well as admission to a bunch of attractions like the Aquarium and a Blue and Gold Fleet Bay Cruise Adventure.
Eat cheap in Chinatown – Chinatown here has some of the best places to eat Chinese food (dim sum) in the country, with teahouses, bars, souvenir stalls, and fortune cookie makers. Eat your heart out here. I do. You'll get big plates of food for $8, dumplings for $1 apiece, and pork buns for less than $2.
Hit up happy hour for food and drink – Booze will really wreck your budget, so take advantage of San Francisco's many happy hours (usually between 4-6PM). For example, Two Sisters has $3 beers and $5 cocktails and wine. Alta Ca has $5 wines, and Lightning Tavern's drinks drop as low as $1. Food is also heavily discounted during happy hours.
Find the oyster happy hours – There are lots of restaurants throughout S.F. that do an oyster happy hour at least once a week for about $1 per oyster. Ichi Sushi, Waterbar, and Waterfront Restaurant are good places to start.
Seek out the free events – Union Square is a prime hot spot where you will find exhibits or various other forms of free entertainment. This is also a good area to see the works of local artists. Also check the dothebay.com/free website. They have updates daily and there's always something going on.
Take a free walking tour – Free Walking Tours of San Francisco has several interesting walking tours that can teach you about the history of the eclectic neighborhoods or show you all the scrumptious food the city has to offer, offered daily throughout the day.
Couchsurf – Couchsurfing started in the United States and is now based in San Francisco. There are a ton of hosts in this city eager to show people a good time! Since accommodation is so expensive, try to use this and get a free place to stay, a local guide, and maybe even a new friend!
Get free refills – If you order a drink, most restaurants allow free refills while you eat your meal or refills at a low cost. If you ask, water is usually provided for free.
Save money on rideshares – Uber and Lyft (my preferred company) are way cheaper than taxis and are the best way to get around a city if you don't want to take a bus or pay for a taxi. The shared/pool option (where you share a ride with other people) offers even better savings. You can save money off your first rides with the following codes: Lyft (MATTHEW999 to save $10) and Uber (jlx6v to save $15).
Fly into Oakland Airport (OAK) – OAK is nearly as close to downtown S.F. as SFO is, and sometimes flights there are cheaper. Make sure you make a comparison before you book your trip.
Get a Go San Francisco pass – If you're going to be doing a lot of sightseeing, this card will save you a LOT of money. The All-Inclusive Pass is good for up to five days and offers free admission to 25+ attractions, starting from $78. You can also build your own pass to cover only the things you really want to do!
Where To Stay in San Francisco
Accommodations are expensive in San Francisco. Before you book, make sure you have a hostel in the location where you want to spend most of your time. Here are my recommended places to stay in San Francisco:
For more hostel suggestions be sure to check out my list of the best hostels in San Francisco!
How to Get Around San Francisco
Subway – It's super easy to get around San Francisco. The subway BART system will get you all over the city, as well as to the airport and eastward to places like Oakland and Berkeley. Fares depend on where you're going. You use either a pre-loaded BART ticket or a Clipper card to tap in and tap out, and the fare is automatically deducted from your balance. Although the Clipper card is $5 to purchase, it's cheaper in the long run because a regular ticket comes with a small surcharge of $0.50.
You can use the fare calculator (bart.gov/tickets/calculator) to figure out the fare. For example, one-way fare from Montgomery Street to 24th St. Mission is $2.10 with a Clipper card and $2.60 with a BART ticket. 24th St. Mission to Downtown Berkleey is $4.50 with the Clipper card and $5 with the BART card. Balboa Street to Downtown Oakland is $4.40 with the Clipper card and $4.90 with the BART card.
Bus – San Francisco's MUNI bus system is even more extensive than the subway. If you want to save money, download the MuniMobile ticket app or use a Clipper card. One-way rides are $2.50 each, or you can pay $3 in cash when you board (exact change is required).
You can also get a 1-day Visitor Passport for unlimited use across the bus, cable car, and streetcar network. If you purchase the Visitor Passport through the MuniMobile app or Clipper card, it only costs $13. If you purchase a paper Visitor Passport, it'll cost you $24. A 3-day passport is $31 ($36 for the paper Visitor Passport), and a 7-day passport is $41 ($47 for the paper Visitor Passport).
Cable Cars – This system is limited, but it's a fun way to travel between the waterfront and Union Square. The MUNI website (sfmta.com) has a listing of all routes and schedules. All single rides cost $8, no matter if you're paying with cash, MuniMobile, or Clipper. However, a Visitor Passport will give you unlimited rides.
Streetcars – The historic streetcars are an excellent way to see certain parts of San Francisco, especially the touristy places along the Embarcadero (which stops at Fisherman's Wharf, the Ferry Building, etc.). Streetcars are also part of the MUNI system, so prices are the same as for the bus.
Ferry – You can get a Golden Gate Transit ferry to Sausalito or Tiburon for $13. A Blue and Gold Fleet ferry to Tiburon will cost the same.
Bicycle – Bay Wheels (operated by Lyft) is San Francisco's biggest bike-sharing program and the cheapest way to get around the city at just $2 per ride! When you're using your Lyft app, you'll see a bicycle icon show up on your app's home screen when you're in the bike service area. Just return your bicycle to the nearest Bay Wheels station when you're done.
Taxis – Taxis are expensive. Everything is meter-based starting at $3.50 for the first 1/5th of a mile, and then it's an additional $0.55 per one-fifth of a mile after that. Some companies will also charge you for waiting in traffic.
Ride-Sharing – Uber and Lyft are way cheaper than taxis and are the best way to get around a city if you don't want to take a bus or pay for a cab. The shared/pool option (where you share a ride with other people) offers even better savings. You can save money off your first rides with the following codes: Lyft (MATTHEW999 to save $10) and Uber (jlx6v to save $15).
When to Go to San Francisco
September to November is one of the best times to visit San Francisco, with some of the warmest temperatures of the year (averaging 70°F/21°C in September!) but with much fewer tourism crowds compared to the summer months. Summer (June to August) is the busiest time of the year as people flock to Cali for some fun in the sun.
Winter is an excellent time to come for the lowest accommodation prices and the least number of visitors. It can be pretty chilly during this time, though, with temperatures averaging about 57°F (14°C) in December and January.
Regardless of the time of year, bring some rain gear and pack some warm clothing for when temperatures dip.
How to Stay Safe in San Francisco
San Francisco is a very safe place to travel and has a much lower crime rate than other major U.S. cities. Petty theft is the most common crime here, with a particularly high rate of car break-ins. If you have a rental car, make sure it is locked at all times.
There's a serious drug and homeless problem in downtown San Francisco, and there's no way to sugar coat this situation. It's not uncommon for visitors to witness drug use in the streets, crime scenes, and mental health episodes. The city is making moves to resolve these issues (although the ethics of these actions are questionable), but you'll still need to stay aware of your surroundings. If you mind your own business, you'll most likely be fine. If someone approaches you, walk away—if they follow you, step into a local business and wait it out.
The Tenderloin is especially known for its street drug activity, and it's near enough to the city's touristy areas that you might find yourself in the neighborhood at some point. If panhandlers approach you, turn them down politely. You're better off avoiding it altogether at night (especially the intersection of Turk and Taylor).
You might encounter petty crime, like theft, especially around famous tourist landmarks. Keep an eye on your belongings at all times, especially while taking public transportation.
You can more about the 14 major travel scams to avoid when you travel.
Always trust your gut instinct. If a taxi driver seems shady, stop the cab and get out. If your hotel is seedier than you thought, move. Make copies of your personal documents, including your passport and ID.
If you don't do it at home, don't do it when you're in San Francisco. Follow that rule, and you'll be fine.
The most important piece of advice I can offer is to purchase good travel insurance. Travel insurance will protect you against illness, injury, theft, and cancellations. It's comprehensive protection in case anything goes wrong. I never go on a trip without it as I've had to use it many times in the past. You can use the widget below to find the policy right for you:
San Francisco Travel Guide: The Best Booking Resources
Below are my favorite companies to use when I travel around San Francisco. They are included here because they consistently turn up the best deals, offer world-class customer service and great value, and, overall, are better than their competitors.
San Francisco Gear and Packing Guide
If you're heading on the road and need some gear suggestions, here are my tips for the best travel backpack and for what to pack!
The Best Backpack for Travelers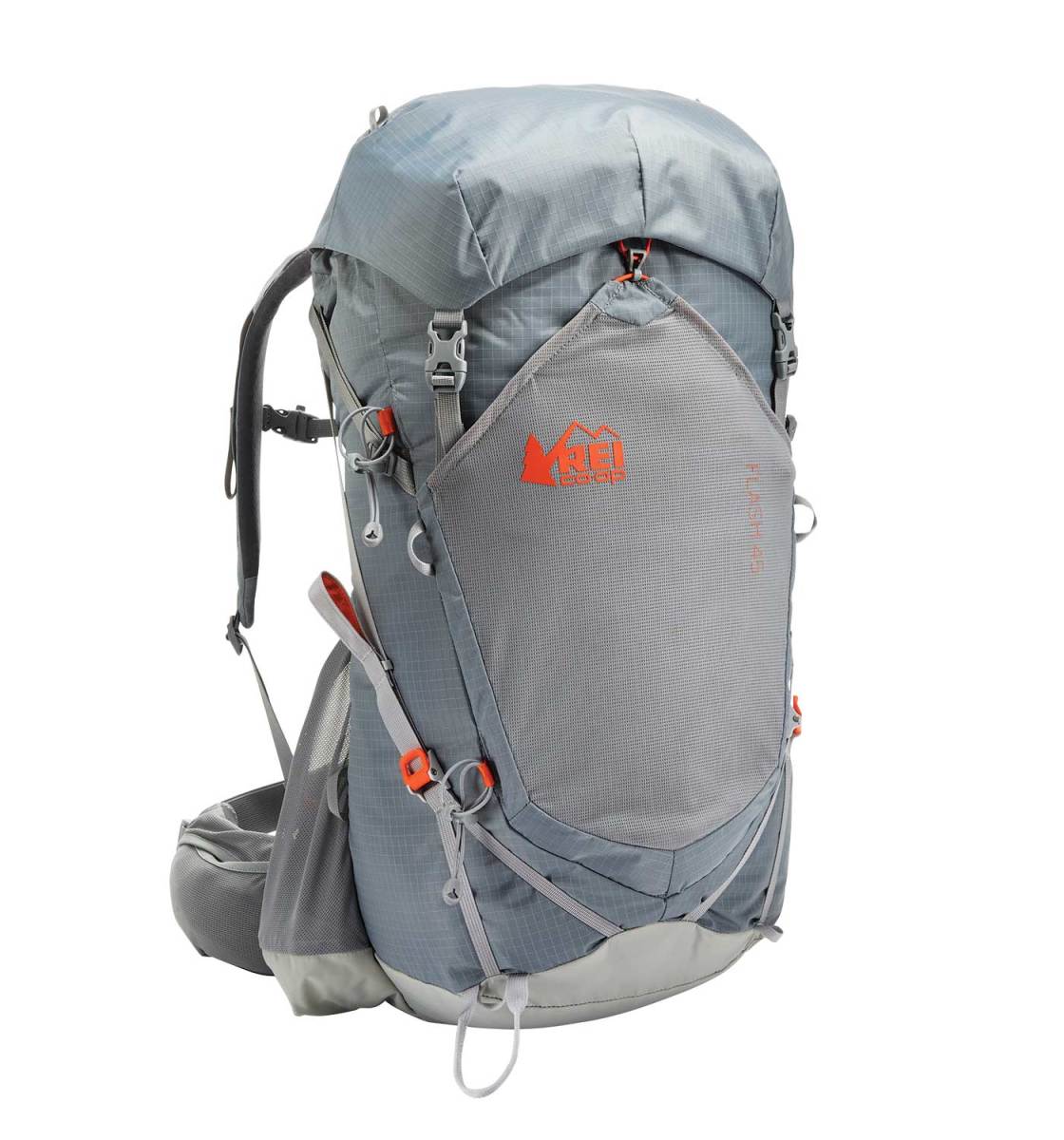 What's the best backpack for traveling long-term? I recommend the
REI Flash 45 Pack
. It's light and comfy, front loading, and fits perfectly in an airplane's overhead bin.
Size:
45-47L
Straps:
Thick and cushy with compression technology that pulls the pack's load up and inwards so it doesn't feel as heavy.
Features:
Removable top lid, large pocket at the front, hydration compatible, contoured hip belt
If you want something different, refer to my article on how to choose the best travel backpack for tips on picking a pack and other backpack suggestions.
What to Pack for Your Trip
Clothes
1 pair of jeans (heavy and not easily dried, but I like them; a good alternative is khaki pants)
1 pair of shorts
1 bathing suit
5 T-shirts
1 long-sleeved T-shirt
1 pair of flip-flops
1 pair of sneakers
6 pairs of socks (I always end up losing half)
5 pairs of boxer shorts (I'm not a briefs guy!)
1 toothbrush
1 tube of toothpaste
1 razor
1 package of dental floss
1 small bottle of shampoo
1 small bottle of shower gel
1 towel
Deodorant
Small Medical Kit (safety is important!!!)
Miscellaneous
Female Travel Packing List
I'm not a woman, so I don't know what a woman wears, but Kristin Addis, our solo female travel guru, wrote this list as an addition to the basics above:
Clothing
1 swimsuit
1 sarong
1 pair of stretchy jeans (they wash and dry easily)
1 pair of leggings (if it's cold, they can go under your jeans, otherwise with a dress or shirt)
2-3 long-sleeve tops
2-3 T-shirts
3-4 spaghetti tops
1 light cardigan
Toiletries
1 dry shampoo spray & talc powder (keeps long hair grease-free in between washes)
1 hairbrush
Makeup you use
Hair bands & hair clips
Feminine hygiene products (you can opt to buy there too, but I prefer not to count on it, and most people have their preferred products)
For more on packing, check out these posts:
San Francisco Travel Guide: Suggested Reading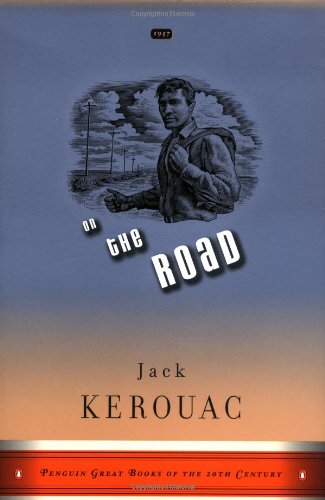 On the Road, by Jack Kerouac
Written in 1957, Jack Kerouac's Beat Generation classic is a classic travel novel. Kerouac's character's (who he modeled after himself) frustration, desire to see the world, and adventures resonate with all of us who need a little relief from modern life. The story follows his character, Sal, as he leaves New York City and heads west, riding the rails, making friends, and partying the night away. He finds thrills, adventure, love, sex, drugs, poverty, and excitement while moving from a weak character into someone whose life experience brings confidence. It's a true American classic.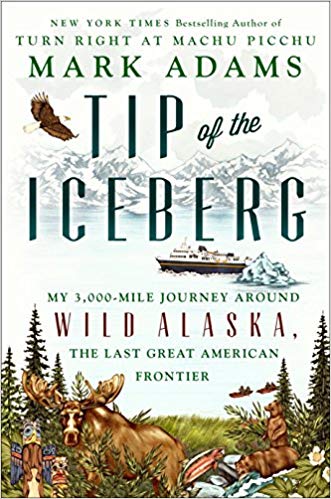 Tip of the Iceberg, by Mark Adams
1899, Edward H. Harriman (a rich railroad magnate) converted a steamship into a luxury cruise for some of America's best scientists and writers and embarked on a summer voyage around Alaska. Now, author Mark Adams retraces that expedition, traveling over 3,000 miles along the coast of the state. Mark is one of my favorite writers, and this book is very reminiscent of Turn Right at Machu Picchu. Mark brings insight into the people, history, and culture of the state in a way he did with his other book.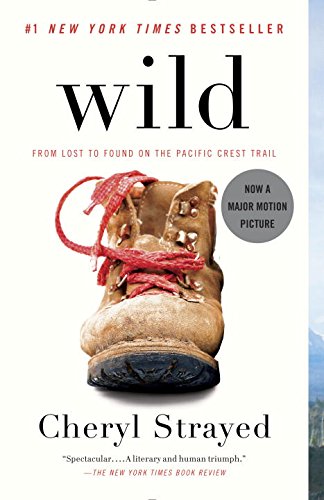 Wild, by Cheryl Strayed
Forgetting the hype of the book (and the subsequent movie), I really did like this book. Cheryl Strayed's book is about her journey along the Pacific Crest Trail when she was 26. She sets off in hopes of finding herself and coming to grips with the death of her mother, break-up of her marriage, and drug use. She's looking for a fresh start. Along the way, she encounters kindness, happy fellow hikers, and a deep sense of belong. Filled with wonderful prose, I found this book deeply moving. It's easy to see why the book became such a hit.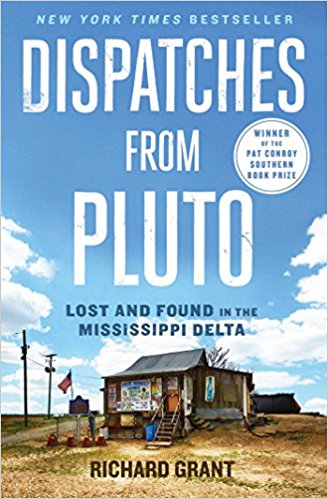 Dispatches from Pluto: Lost and Found in the Mississippi Delta, by Richard Grant
As a big fan of the state of Mississippi, I was really keen to read this book. The state is an often-overlooked tourist destination with eccentric but wonderful people; beautiful parks, rivers, and swamps; stunning architecture; and a complex and rich history for history buffs like myself. In this book, English writer Richard Grant and his girlfriend move to rural Pluto, Mississippi, to live a better life, escape the big city, lower their cost of living, and try something new. They learn to hunt, garden, fend off wild animals, handle snakes, and befriend interesting characters along the way.



The Not-Quite States of America, by Doug Mack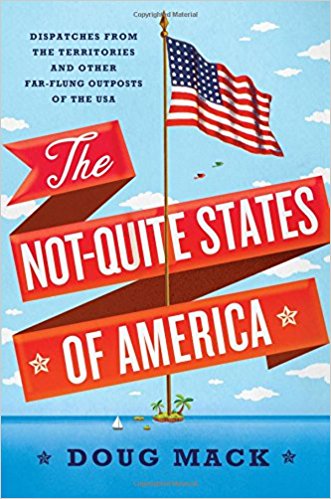 The United States of America is more than just 50 states. There's also the non-states of American Samoa, Guam, the Northern Mariana Islands, Puerto Rico, and the US Virgin Islands. In this funny, detailed, fact-rich book, Doug Mack explores these territories largely forgotten by the rest of the country, which play a more important role in our country than we realize. I had the pleasure of listening to Doug talk about his book in NYC, and he's a wealth of knowledge — just like his book! This one of those travel books that expands your mind about the place you don't really know.


Blue Highways: A Journey into America, by William Least Heat-Moon

This is a deep dive into America's unknown tiny towns scattered across the country map, like New Hope (Tennessee), Remote (Oregon), Why (Arizona), and Whynot (Mississippi). Yes, those are real town names! Heat-Moon's book is considered a masterpiece in American travel writing, and you'll love his adventures and the incredible people he encounters as he reveals the "real" American experience.
San Francisco Travel Guide: Related Articles
Want more info? Check out all the articles I've written on United States travel and continue planning your trip: