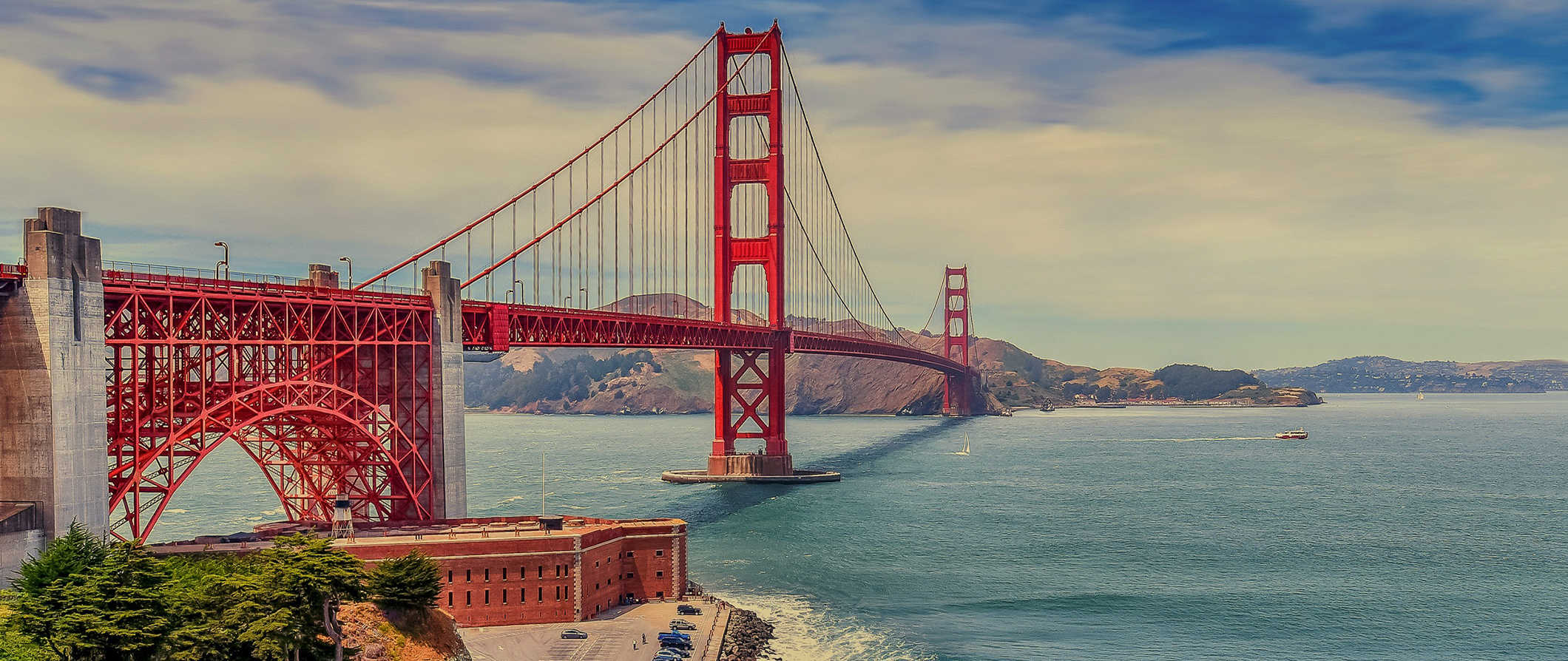 Known for its counter-culture roots, eclectic music scene, startup tech companies, booming immigration populations, and picturesque views, San Francisco is an exciting city to visit. Here you'll find hippies, college students, tech giants, artists, immigrant enclaves, and everything in between. I'm always amazed at the diversity of the city.
To me, visiting San Francisco is all about the outdoors and the food. You come here to dine on some of the best Asian food in the country, relax in a chill cafe, and then head out to the parks to lounge away the day.
While it is one of the most expensive cities in the United States, there are still plenty of ways to visit on a budget (even I, a person used to living in New York City, get sticker shock when I visit).
This travel guide to San Francisco can help you plan a fun and affordable trip!
Top 5 Things to See and Do in San Francisco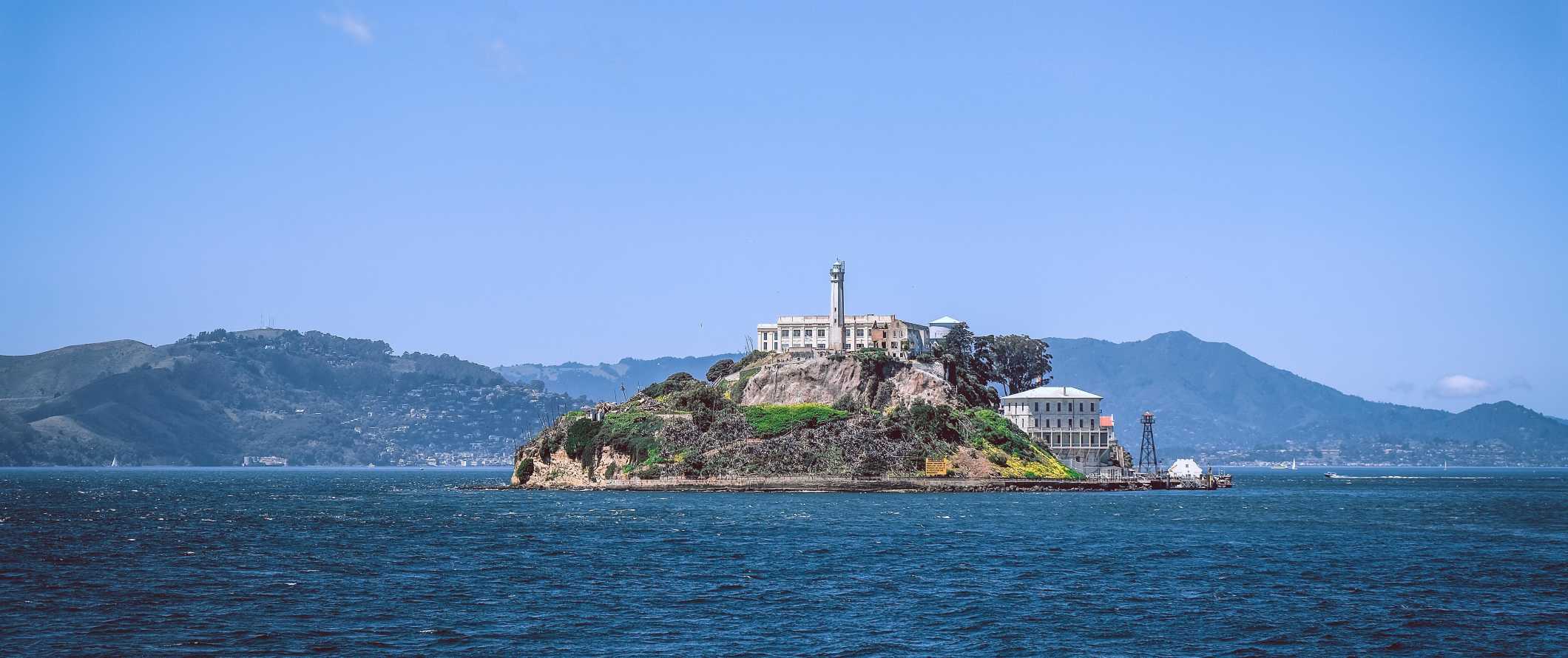 1. Tour Alcatraz
Alcatraz Island is the site of an abandoned federal prison, the oldest operating lighthouse on the west coast (built in 1909), and 19th-century military fortifications. Its best known for Alcatraz Federal Penitentiary, a notorious maximum security prison that operated from 1934-1963. Take a tour to learn about the island's past and its famous inmates (including mobster Al Capone and George "Machine Gun" Kelly). Be sure to book the ferry early as it fills up fast. Day-tour tickets cost $41 USD, night-tours are $51 USD, and behind-the-scenes tours cost $96 USD.
2. Walk the Golden Gate Bridge
The Golden Gate Bridge is an engineering marvel and one of San Francisco's most iconic landmarks. When it opened in 1937, it was the longest and the tallest suspension bridge in the entire world and was named one of the Seven Wonders of the Modern World. You can walk the 1.7 miles (2.7 kilometers) across the bridge, visit the visitor's center to learn the history of the bridge, or just stare at it from every angle and take a stupid amount of pictures like I did.
3. Visit Golden Gate Park
This gigantic park spanning 1,017 acres features a Japanese garden, an art museum, an arboretum, a tulip garden, a herd of wild bison, and tons of hiking and walking trails. At 3 miles (4.8 kilometers) long and stretching some 30 blocks, it's 20% bigger than New York's Central Park! Walking from end to end can take half a day! The park itself is free to visit, though most of the museums and gardens charge admission.
4. See Wine Country
Near the city are the world-famous Napa and Sonoma wine regions. If you love wine and have time to leave the city, you obviously need to come here. Organized day trips with Tower Tours cost $145 USD. That said, at around 1.5 hours one-way from the city, it's far better to spend the night. It can be a pricey place to visit, but I've found that it is indeed possible to visit Napa on a budget.
5. Visit the Palace of Fine Arts
The Palace of Fine Arts is the only remaining remnant of the 1915 Panama-Pacific International Exposition. Meant to emulate a decaying Roman ruin, the outdoor rotunda (and its lagoon) is one of the city's most photographed sights. Take a leisurely stroll around the lagoon, relax under the rotunda, or enjoy a picnic on the grass. Admission is free.
Other Things to See and Do in San Francisco
1. Hang out in the Mission
The Mission District is one of the oldest neighborhoods in San Francisco; in fact, the oldest building in the city is located here (Mission San Francisco de Asís, built in 1791). The neighborhood is the epicenter of the city's Mexican community and has long been an alternative artist enclave as well. After a busy day, relax in Dolores Park for great views of the city (the famous "Full House" house is here), grab a drink at the cool bars, and dig into incredible Mexican food. There's an eclectic food scene in general in the area, including several Michelin-starred restaurants.
2. Ride the cable cars
Riding the cable cars is an excellent way to tour the city and experience the various neighborhoods of San Francisco. Originally built in 1823, the city's cable cars are the last manually operated system in the entire world. Of the 22 lines that were originally created in the 19th century, only three are still in operation. They are fun to ride and will save you lots of time since the city is so hilly. A one-way fare on a cable car is $8 USD and a single-day pass is $13 USD.
3. Visit Lombard Street
This is the world's windiest street. Surrounded by gardens and flowers, it's made up of eight hairpin turns. The roads were made this way during the 1920s when people in San Francisco were beginning to drive around in automobiles. Since many of the city's famous hills were too steep to navigate, the idea of using a curved street to help vehicles move downhill was embraced. This took the hill's incline from 27% to 16%. Today, you can watch cars and bikers navigate the sharp turns as tourists gawk at them.
4. Head up Coit Tower
Perched atop Telegraph Hill, this art deco tower was built in 1933. Standing 180 feet (55 meters) tall, it's home to over 25 murals and offers a panoramic view of the city. The murals here were painted in 1934 by local artists and depict life in San Francisco during the Depression. The tower became a San Francisco Designated Landmark in 1984 and was added to the National Register of Historic Places in 2008. It's free to visit the ground floor, though if you want to take the elevator to the top and see more artwork on the second floor it's $10 USD.
5. Head to Chinatown
After New York City, this is the most famous Chinatown in the United States (it's also the biggest). Immigrants from China first arrived on the West Coast and set up shop in San Francisco. Due to racial segregation, this neighborhood became predominantly Chinese. Though mandatory segregation is over, the area has remained Chinese and the area has some of the best places to eat Chinese food in the country, as well as wonderful teahouses, bars, souvenir stalls, and fortune cookie makers.
6. Take a harbor tour
Take an afternoon cruise of the bay to see the city from the water. There are many tour companies available, but a budget way to see the harbor is to take the public ferries starting at $7 USD (prices vary depending on which route you take). Same views, lower price. If you really want to do a tour, go with Red and White Fleet. Their tours start at $38 USD.
7. Hang out in the Castro
Since the 1960s, the Castro has been known as the LGBTQ district of San Francisco. The area has lots of trendy restaurants serving local and seasonal food, as well as the GLBT Historical Society Museum ($10 USD admission) and the Rainbow Honor Walk, a walk of fame for LGBTQ members who left a significant impact on society. Plus, there are a plethora of lively bars and clubs that cater to the LGBTQ community (but are fun for everyone!).
8. Explore Haight-Ashbury
The birthplace of America's counter-culture, the Haight was ground zero during the summer of 1967, a.k.a. The Summer of Love. Hippies used to live here (including Janis Joplin and the Grateful Dead), but yuppies have since moved in, buying up all the colorful Victorian homes and replacing head shops with high-end boutiques, chic restaurants, and hip cafés. Flower Power Walking Tours run in-depth and informative hippie history tours throughout the neighborhood for $25 USD.
9. Take a walking tour
Free SF Tours runs daily free walking tours that can show you the main sights of the city. You'll not only get to learn about the city but you'll have access to an expert local guide who can answer all your questions. Just be sure to tip at the end! For more in-depth paid tours, check out Take Walks.
10. Eat at the Ferry Building
This iconic historic building on the San Francisco waterfront used to be one of the busiest transportation terminals in the world. Today, it's home to a massive food marketplace and is my top place to eat in San Francisco. This place is a foodie dream. Inside, you'll find restaurants and food vendors selling specialty food items as well as butchers, cheesemongers, a wine bar, and more. On the weekdays, food stands set up outside the building and on the weekends, there's a big farmer's market. Come here with an appetite!
11. Visit Crissy Field
This park located near the Golden Gate Bridge used to be a US Army airfield. After its closure in 1974, it was derelict for years until it reopened in 2001 as a park. Today, it has a beach, some restaurants, piers where you can see locals fishing, and plenty of green space to relax. It offers sweeping views of the harbor, making it a laid-back place to come in the summer to have a picnic, lounge in the sun, read a book, and watch life go by.
12. Explore Japantown
Come here for amazing sushi, Japanese food, Korean food, and kitchen ingredients. Shabu Sen has amazing ramen, and Yama-chan has delicious onigiri (rice balls) and takoyaki (octopus balls). To learn more about the food and the neighborhood, you can take a food tour with Edible Excursions for $122 USD (they have a specific Japantown tour, as well as other food tours around the city). Tours last around 3 hours.
13. Explore Fisherman's Wharf
Fisherman's Wharf, Pier 39, and Ghirardelli Square cover numerous blocks along the waterfront and visiting this area is one of the most popular (touristy) things to do in the city. There are street performers, souvenir shops, and tons of overpriced restaurants. This is a good place to wander and explore for people watching, but don't eat here. The food is overpriced and, to be honest, not that good. If you want to try some of the mouthwatering seafood that San Francisco is famous for, I liked Waterbar and the Anchor Oyster Bar.
14. See Muir Woods
Named after famed naturalist John Muir, Muir Woods is the closest place to San Francisco where you can see giant redwood trees (it's just 17 miles/27 kilometeres outside of the city). You don't get to encounter the huge, iconic redwoods (which are sequoias and further away at Sequoia National Park), but if you're looking to see something close to the city, this is as good as it gets. Admission is $15 USD in addition to either a parking reservation ($9 USD) or a shuttle reservation ($3.50 USD round-trip). You can also do a guided tour with Get Your Guide for $89 USD (including transportation).
15. Explore Oakland
Just across the Bay Bridge, Oakland is considered the Brooklyn to San Francisco's Manhattan. In recent years, Oakland has developed a niche for craft beer and specialty restaurants. There are tons of bars and breweries, and they even have their own "Ale Trail" if you want to wander the city and sample its best drinks. You can also visit Oakland Redwood Regional Park, Lake Merritt, or catch a baseball game at Oakland Coliseum. There's a lot you can do in Oakland and you can easily spend a day or more here!
16. Visit the Beat Museum
Dedicated to the Beat Generation (the 1950s counter-culture), here you'll find original manuscripts, rare books, letters, and more from authors like Jack Kerouac and Allen Ginsberg. Founded in 2003, the museum has over 1,000 pieces of memorabilia including Ginsberg's typewriter and a first edition copy of Kerouac's novel The Town and the City. They also hold regular events (and walking tours) so check the website to see if anything is happening during your visit. Admission is $8 USD.
17. Visit Berkeley
Across the bay and close to Oakland is the city of Berkeley, home to music, hippies, students, and the University of California – Berkeley. Here you'll find a plethora of vegan and vegetarian restaurants, street performers, and eclectic shops (including booths selling jewelry and other goods on the streets). Don't miss the University of California Botanical Garden, which has over 10,000 plants! Admission is $15 USD and advance reservations are required.
For more information on other cities in the United States, check out these guides:
San Francisco Travel Costs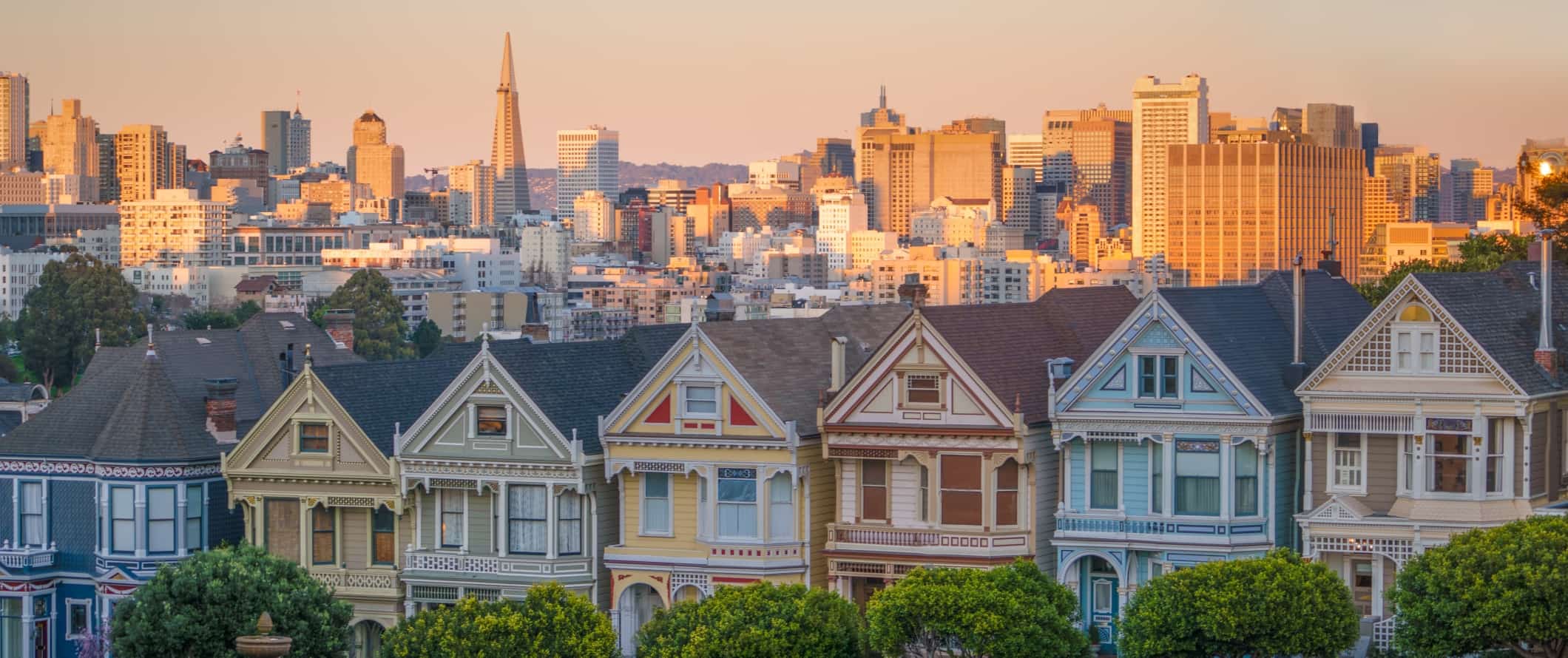 Hostel prices – In peak season, a bed in a 4-6-bed dorm costs around $46-57 USD, while off-peak season costs $35-46 USD. For a dorm with 8-10 beds (or more), expect to pay $42-44 USD in peak season and $32-35 USD in off-peak season. Private double rooms cost $130-160 USD per night in peak season and $100-130 USD in off-peak season. Free Wi-Fi is standard and most hostels have self-catering facilities. Quite a few of hostels include free breakfast as well.
Campgrounds are available outside the city starting at $30 USD per night for a basic plot for two people without electricity.
Budget hotel prices – Budget two-star hotels start at $125 USD per night. Expect basic amenities like free Wi-Fi, TV, AC, and a coffee/tea maker.
There are lots of Airbnb options in San Francisco. A private room averages about $105 USD per night while an entire home/apartment starts at $160 USD. Expect to pay double (or more) if you don't book early.
Food – Although eating out here can be expensive (there are lots of fancy restaurants and rich techies driving the cost of food and rents up), you can keep your spending in check by going to the local supermarkets, markets, food trucks, and mom-and-pop restaurants. It's easy to find street food like burritos and falafel for $10 USD. Pizza costs around $15 USD while fast food (think McDonald's) is $10 USD for a combo meal.
Eating Chinese food is a must in San Francisco because it's delicious and also less expensive than other choices. Expect to spend $10-15 USD for a main dish.
A meal at an inexpensive casual restaurant costs around $20 USD. A three-course meal with a drink costs closer to $50 USD (if not more).
There are lots of high-end dining options in San Francisco. You can find a 6-8 course tasting menu for about $150 USD (but some go for nearly double that). A plate of pasta or fish starts from about $20 USD, while a steak dinner costs about $45 USD. A glass of wine costs at least $12 USD.
Beer is around $8 USD, cocktails are $13-16 USD, and a latte/cappuccino is $5 USD. Bottled water is $2 USD.
If you cook your own food, expect to pay around $60-70 USD per week for basics like pasta, rice, vegetables, and some meat.
Two restaurants you shouldn't miss are Naan 'N' Curry and Old Siam.
Backpacking San Francisco Suggested Budgets
If you're backpacking San Francisco, expect to spend about $75 USD per day. This budget covers a hostel dorm, cooking all of your meals, using public transportation to get around, and sticking to mostly free activities like the parks and free walking tours. If you plan on drinking, add $10-20 USD per day to your budget.
A mid-range budget of $210 USD you can stay in a private hostel or Airbnb room, eat out for most meals at Chinese restaurants and fast-food chains, have a few drinks, take the occasional taxi to get around, and do more paid activities like museum visits and visiting Alcatraz.
On a "luxury" budget of about $390 or more per day, you can stay in a hotel, eat out anywhere you want, drink more, rent a car to do some day trips, and do more guided tours. This is just the ground floor for luxury though. The sky is the limit!
Accommodation
Food
Transportation
Attractions
Average Daily Cost
Backpacker
$40
$15
$10
$10
$75
Mid-Range
$110
$55
$20
$25
$210
Luxury
$175
$125
$40
$50
$390
San Francisco Travel Guide: Money-Saving Tips
San Francisco is one of the most expensive cities in the United States. You're going to spend a lot of money here if you go out a lot, see lots of attractions, and decide to drink. But, like any major city, there are lots of ways to cut costs if you know where to look. Here are some ways to save money in San Francisco:
Get the CityPASS – Getting a city sightseeing card is always a good idea if you plan on seeing a lot of attractions. CityPASS is good for nine days and costs $76 USD. It includes admission to 4 of the city's main attractions (California Academy of Sciences and Blue & Gold Fleet San Francisco Bay Cruise along with your choice of 2 others). If you want to see these more expensive attractions, this will save you money.
Get a GoCity Pass – If you want a more inclusive option than the above CityPASS, GoCity offers all-inclusive options in 1-5-day increments. The one-day pass costs $67 USD while the 5-day pass is $156 USD.
Eat cheap in Chinatown – San Francisco's Chinatown has some of the best places to eat Chinese food (especially dim sum) in the country, with teahouses, bars, souvenir stalls, and fortune cookie makers. Eat your heart out here!

li>Hit up happy hour for food and drink – Booze will really wreck your budget here so take advantage of San Francisco's many happy hours (usually between 4pm-6pm). Ask your hotel/hostel staff for suggestions near where you're staying.

Find the oyster happy hours – There are lots of restaurants that offer an oyster happy hour at least once a week for about $1-1.50 USD per oyster. Waterbar and Waterfront Restaurant are good places to start.
Take a free walking tour – This is the best way to see the main sights on a budget. I always do one when I visit a new city. Free SF Tours has a great tour that provides a solid intro to the city. Just be sure to tip your guide at the end!
Stay with a local – Couchsurfing is the best way to meet locals and save money. You'll get to meet a local whose brain you can pick for tips and suggestions all while getting a free place to stay. Just be sure to send your request well in advance.
Save money on rideshares – Uber and Lyft are way cheaper than taxis and are the best way to get around a city if you don't want to take a bus or pay for a taxi.
Fly into Oakland Airport (OAK) – OAK is nearly as close to downtown as SFO is and sometimes flights there are cheaper. Make sure you make a comparison before you book your trip.
Bring a reusable water bottle – The tap water here is safe to drink so bring a reusable water bottle to save money and reduce your plastic use. LifeStraw is my go-to brand as their bottles have built in filters to ensure your water is always clean and safe.
Where to Stay in San Francisco
Accommodation is extremely expensive in San Francisco. Before you book, make sure you have a hostel in the location where you want to spend most of your time. Here are some recommended places to stay in San Francisco:
For more hostel suggestions, be sure to check out my complete list of the best hostels in San Francisco!
How to Get Around San Francisco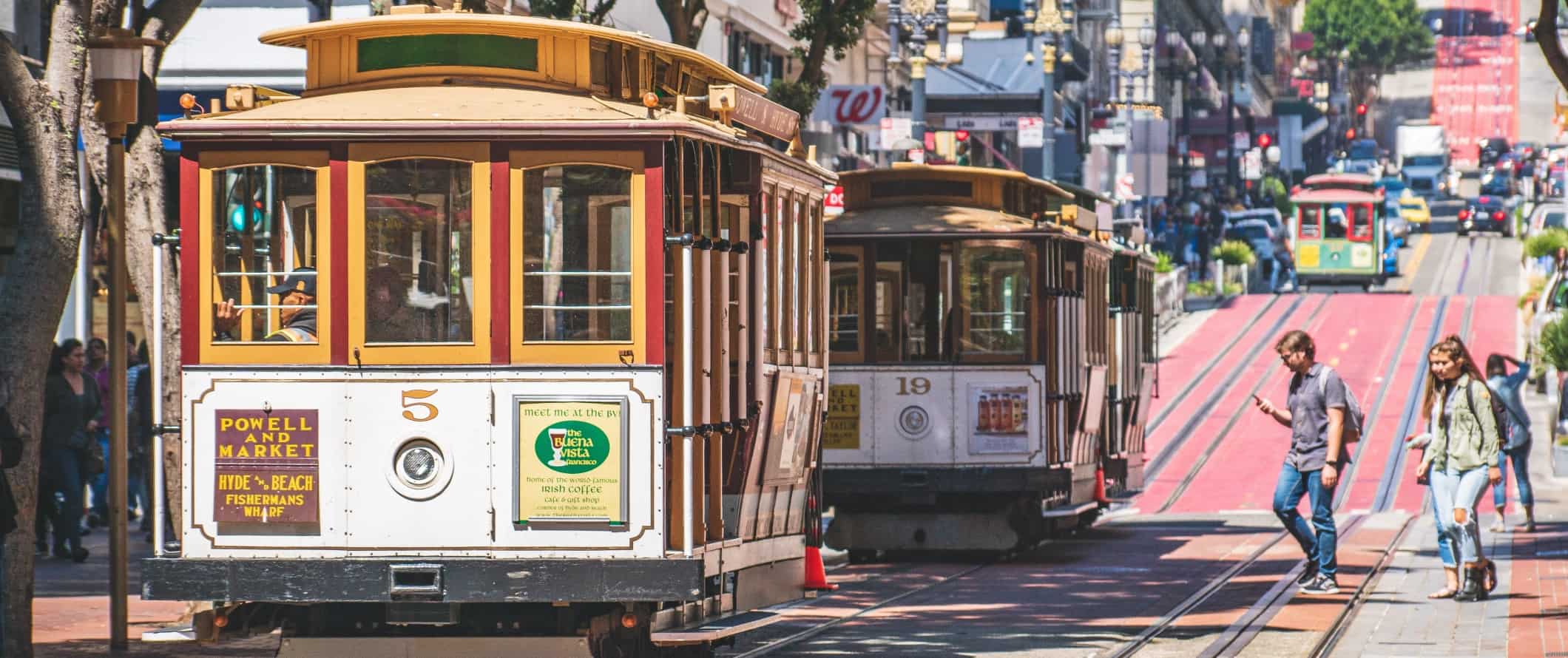 Public transportation – The subway can get you all over the city, as well as to the airport and eastward to places like Oakland and Berkeley. Fares depend on where you're going but cost at least $2.75 USD. You can use either a cash ticket or a Clipper card to tap in and tap out. Although the Clipper card is $3 USD to purchase, it's cheaper in the long run because each regular ticket costs $0.50 USD more than a fare purchased with a Clipper card. You can also download the Clipper app, load your fare, and use tap-to-pay.
San Francisco's bus system is even more extensive than the subway. If you want to save money, download the MuniMobile ticket app or use a Clipper card. One-way rides are $2.50 USD with the Clipper card or $3 USD cash (exact change is required).
You can also get a single-day Visitor Passport for unlimited use across the bus, cable car, and streetcar network. If you purchase the Visitor Passport through the MuniMobile app or Clipper card, it costs $13 USD. If you purchase a paper Visitor Passport, it costs $24 USD. A 3-day passport is $31 USD ($36 USD for paper), and a 7-day passport is $41 USD ($47 USD for paper).
Cable cars are a fun way to travel between the waterfront and Union Square. Their website (sfmta.com) has a listing of all routes and schedules. Single rides cost $8 USD, however, a Visitor Passport gives you unlimited rides.
The historic streetcars are an excellent way to see certain parts of San Francisco, especially the touristy places along the Embarcadero (which stops at Fisherman's Wharf, the Ferry Building, etc.). Streetcars are part of the MUNI system, so prices are the same as for the bus.
Ferry – You can get a Golden Gate Transit ferry to Sausalito or Tiburon for $13.50 USD. A Blue and Gold Fleet ferry to Tiburon costs $14.25 USD. The ferry to Alcatraz is included with your ticket ($41 USD).
Bicycle – Bay Wheels (operated by Lyft) is San Francisco's biggest bike-sharing program. To unlock a bike, it's $3.49 USD, which includes 30 free minutes (past that, it's a hefty $.30 per minute, which adds up quickly). When you're using your Lyft app, you'll see a bicycle icon show up on your app's home screen when you're in the bike service area. Just return your bicycle to the nearest Bay Wheels station when you're done.
Taxis – Taxis are expensive. Everything is meter-based, starting at $3.50 USD and then an additional $3 USD per mile after that. Avoid them!
Ridesharing – Uber and Lyft are cheaper than taxis and are the best way to get around a city if you don't want to take a bus or pay for a cab.
Car rental – Car rentals start at $35 USD per day for a multi-day rental. Unless you're doing some day trips outside the city (such as Muir Woods or Napa Valley) you won't need one. Renters need to be at least 21 years old. For the best rental car deals, use Discover Cars.
When to Go to San Francisco
Summer (June-August) is the busiest time of the year as people flock to Cali for some fun in the sun. The weather averages around 65-68°F (18-20°C) during this time.
Winter is an excellent time to come for the lowest accommodation prices and the least number of visitors. It can be chilly during this time, though, with temperatures averaging about 57°F (14°C) in December and January.
Personally, I think September-November is the best time to visit San Francisco. It offers warm temperatures (70°F/21°C) but with much fewer crowds compared to the summer.
Spring starts out cool and rainy, but temperatures eventually get a bit more comfortable, ranging from 57-64°F (14-18°C) from the beginning and end of the season.
Regardless of the time of year, bring some rain gear and pack some warm clothing for when temperatures dip.
How to Stay Safe in San Francisco
San Francisco is a relatively safe place to travel but you have to keep a vigilant eye. Petty theft is the most common crime here, with a particularly high rate of car break-ins. If you have a rental car, make sure it is locked at all times. Don't leave any valuables in it overnight. Keep an extra eye out at night.
Keep an eye on your belongings at all times, especially while taking crowded public transportation.
If you're concerned about getting ripped off, you can read about common scams to avoid here (there aren't many here though).
Unfortunately, there's a serious drug and homeless problem in San Francisco though, and there's no way to sugarcoat this situation. It's not uncommon for visitors to witness drug use in the streets, as well as mental health episodes. The city is making moves to resolve these issues, but you'll still need to stay aware of your surroundings. The soituation has only gotten worse since COVID and, while there's not a lot violence, you're going to be careful of where you walk, especially at night.
The Tenderloin (one of the city's neighborhoods) is especially known for its street drug activity, and it's near enough to the city's touristy areas that you might find yourself in the neighborhood at some point. You're better off avoiding this area altogether at night (especially the intersection of Turk and Taylor).
If you experience an emergency, dial 911 for assistance.
Always trust your gut instinct. Make copies of your personal documents, including your passport and ID. Forward your itinerary along to loved ones so they'll know where you are.
The most important piece of advice I can offer is to purchase good travel insurance. Travel insurance will protect you against illness, injury, theft, and cancellations. It's comprehensive protection in case anything goes wrong. I never go on a trip without it as I've had to use it many times in the past. You can use the widget below to find the policy right for you:
San Francisco Travel Guide: The Best Booking Resources
These are my favorite companies to use when I travel. They consistently have the best deals, offer world-class customer service and great value, and overall, are better than their competitors. They are the companies I use the most and are always the starting point in my search for travel deals.
Skyscanner – Skyscanner is my favorite flight search engine. They search small websites and budget airlines that larger search sites tend to miss. They are hands down the number one place to start.
Hostelworld – This is the best hostel accommodation site out there with the largest inventory, best search interface, and widest availability.
Booking.com – The best all around booking site that constantly provides the cheapest and lowest rates. They have the widest selection of budget accommodation. In all my tests, they've always had the cheapest rates out of all the booking websites.
Get Your Guide – Get Your Guide is a huge online marketplace for tours and excursions. They have tons of tour options available in cities all around the world, including everything from cooking classes, walking tours, street art lessons, and more!
SafetyWing – Safety Wing offers convenient and affordable plans tailored to digital nomads and long-term travelers. They have cheap monthly plans, great customer service, and an easy-to-use claims process that makes it perfect for those on the road.
LifeStraw – My go-to company for reusable water bottles with built-in filters so you can ensure your drinking water is always clean and safe.
Unbound Merino – They make lightweight, durable, easy-to-clean travel clothing.
Top Travel Credit Cards – Points are the best way to cut down travel expenses. Here's my favorite point earning credit cards so you can get free travel!
San Francisco Travel Guide: Related Articles
Want more info? Check out all the articles I've written on United States travel and continue planning your trip: