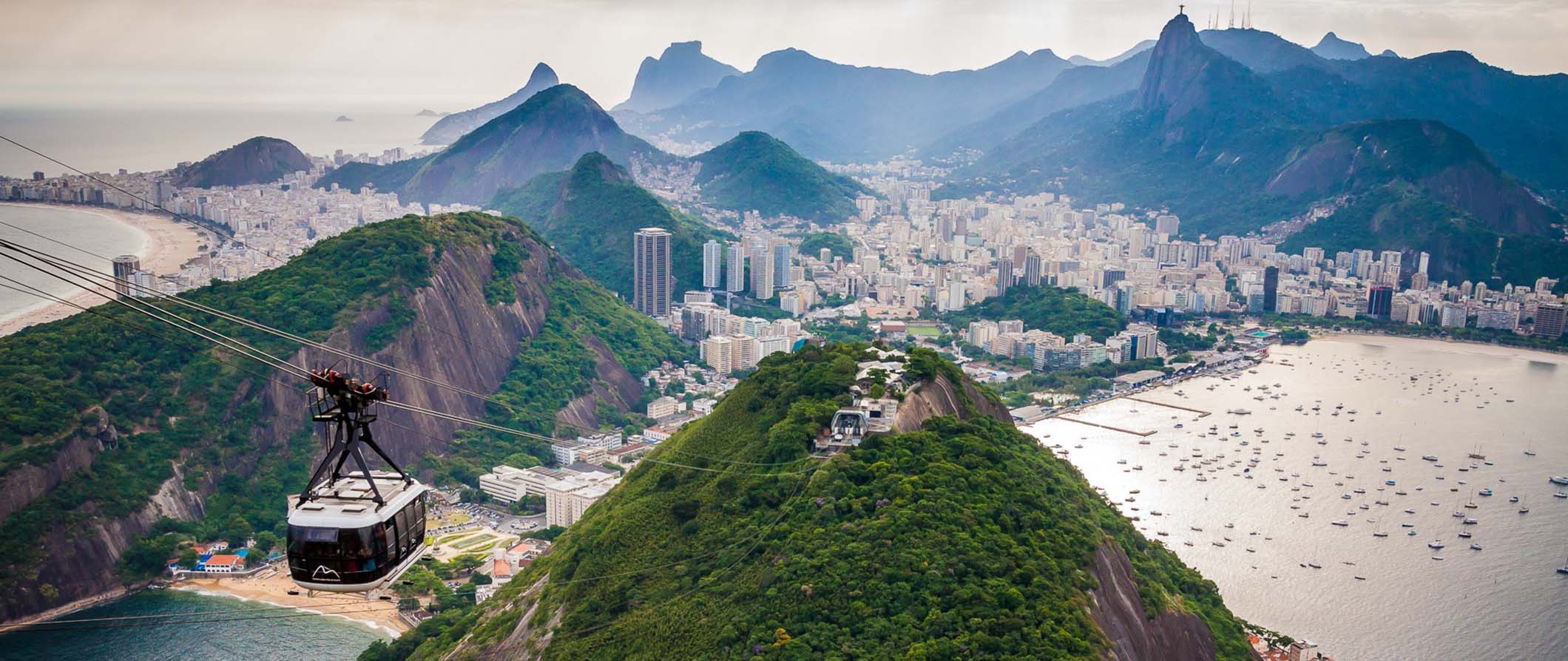 Rio de Janeiro is the second largest city in Brazil and the third largest in Latin America. From the world-famous beaches of Copacabana and Ipanema to the magnificent summits of Corcovado (who can forget the Christ the Redeemer statue?) and Sugarloaf, Rio combines natural attractions with a sprawling metropolis. This is a party city and one that you really can't miss if you love a good time. Most people spend their days on the beach and their nights dancing at the clubs. Rio is getting its act together and becoming much safer and easy to get around but with the 2016 Olympics and recent developments, the city has become very expensive. This travel guide can help you plan better and keep your costs low.

Rio de Janeiro
Top 5 Things to See and Do in Rio de Janeiro
1. Celebrate Rio Carnival
The Rio Carnival is one of the most famous in the world with people coming together from all corners to see the parade, dance, and party for days! The streets come alive as thousands of people wander in festive costumes. It's amazing, but book many, many months in advance!
2. Sugarloaf Mountain
The world famous Sugarloaf Mountain is one of the city's most popular tour destinations. It's 1300 feet tall, and at its peak, the entire city unfolds below you. There are spectacular views of Ipanema and Guanabara Bay. Try to get here at sunset or sunrise as the sun unfolds upon the city.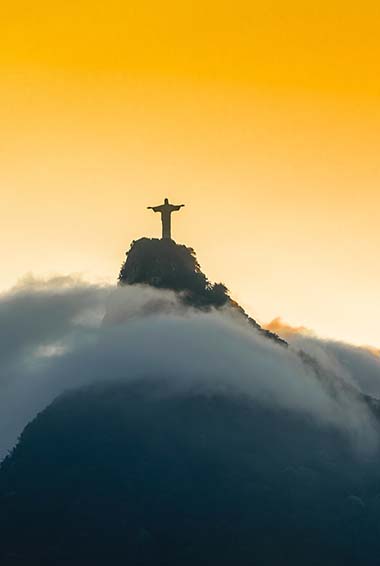 3. Christ the Redeemer
The 100 foot high statue of Christ the Redeemer sits atop the Corcovado mountain and can be seen from any point in Rio. The statue is also one of the new Seven Wonders of the World. From its vantage point, you can take in the mountains, the bay, and the entire cityscape from the favelas to the skyscrapers.
4. Hit the beaches
Ipanema and Copacabana are the two largest beaches. The words "the beautiful people" will take on a new meaning here as Rio's residents are simply stunning and like to flaunt it in tiny bathing suits. Ipanema has classy restaurants and nightlife, while Copacabana has more to do during the day.
5. Maracaná Stadium
Maracaná is one of the largest stadiums in the world, seating 100,000 supporters. It was also the site of the historic World Cup final in 1950 between Brazil and Uruguay (Uruguay won!), which is still a touchy matter for Brazilians. Come for a game here, and see what really fires locals up.
Other Things to See and Do
(Click the title to expand the text)
1. The Botanical Gardens
For a moment of calm, head to the city's botanical gardens. Walk along the meandering paths and trails or take a guided tour (they're free!) of the gardens. Be sure to check out the carnivorous greenhouse filled with Venus flytraps and pitcher plants. Just don't stick your finger in them.
2. Rio City Zoo
If your travels don't include a trip to the Amazon or a National Park, you can still experience Brazil's indigenous animals at the Rio City Zoo. Over 2000 species live here, in addition to a particularly impressive reptile house and open aviary. This isn't the place to come if you're scared of birds like macaws, toucans, and tropical birds flying freely around you. Admission costs 6 BRL. The zoo is open daily from 9am-4:30pm except on Mondays.
3. Learn the Samba
You can't escape Brazil's national dance, the Samba. From the Rio Carnival to street performers, you'll be hearing rhythms wherever you go in the city. You can take Samba lessons in town, but the best way to learn is to visit a bar and let a local show you.
4. Paquetá Island
The island of Paquetá in Guanabara Bay is a favorite with families trying to escape the hustle and bustle of the city center on weekends. It's an hour ferry ride away and fairly small, made up of mainly beaches, a few historical sites, and a park. It's not going to be a major part of your stay, but it's the most relaxed you'll feel on a trip to Rio de Janeiro. The ferry costs 5 BRL.
5. Ride the Santa Teresa tram
This tram has been running since 1859 and is the only remaining metropolitan system in South America, as well as the oldest in operation. It's painted banana yellow and is open-sided —quite the interesting ride.
6. The Selaron Stairway
Located in the Santa Teresa, this stairway has hundreds of steps, all painted different colors and motifs. The lead artist that constructed this stairway gathered contributions from artists all around the world.
7. Arcos da Lapa
For those of you that love nightlife, this is an awesome district to head out to on a Friday night. There are many clubs to choose from in the area and street food carts to snack at as you progressively throw back more drinks.
8. Sitio Roberto Burle Marx
This 100 acre home belongs to one of Brazil's most celebrated landscape designers. There are over 3500 plant species on the grounds and a huge collection of art within the home. This is one of the more fascinating, yet little seen historical sites to check out. It costs 10 BRL and they do tours by appointment only.
9. Sao Bento Monastery
Completed in 1641, this baroque monastery is painted gold and covered in ornaments. The traditional Gregorian chanting that occurs on Sundays is really neat.
Typical Costs
Hostel prices
– Hostels start around 30 BRL for a night for a dorm (8-18 beds), though prices can be twice that depending on the location. A private room that sleeps two with a shared bathroom starts around 80 BRL, although most are closer to 160 BRL per night. Hostels are abundant but become more expensive the closer you get to the beaches. Free WiFi is standard, and most hostels also include free breakfast. You can book your hostel with
Hostelworld
.
Budget hotel prices – Centrally-located 2-star hotels with free WiFi start at 110 BRL per night, though expect to pay closer to 150 BRL. Use Booking.com as they consistently return the cheapest rates. Most shared rooms on Airbnb start around 75 BRL and private apartments start around 160 BRL.
Average cost of food – Small, locally owned restaurants here cost 14 BRL for a meal that includes a drink. Nicer meals at a more casual restaurant will cost around 35 BRL. Places near the famous beaches and tourist attractions will cost more. Grocery shopping is very cheap and will cost about 70-100 BRL per week, so this is a good option in order to save costs throughout the trip.
Transportation costs – The metro is the easiest way to get around Rio. A ride costs 2.8 BRL. There are public buses around the city will cost about 2.5-3.5 BRL. The bus system can be confusing, so if you don't speak Portuguese make sure you have your destination written down. A cab is one of the best ways to move around Rio, especially at night when things get a bit shady. All legal cabs are yellow with a blue stripe. Uber is also available in Rio with a base fare of 2 BRL and costs 0.15 per min/1.4 per km.
Suggested daily budget
Suggested daily budget – 170-250 BRL / 50-75 USD (Note: This is a suggested budget assuming you're staying in a hostel, eating out a little, cooking most of your meals, and using local transportation. Using the budget tips below, you can always lower this number. However, if you stay in fancier accommodation or eat out more often, expect this to be higher!)
Money Saving Tips
Por kilo – Throughout Brazil, a great way to find cheap eats is to look out for restaurants which say "por kilo". Pile your plate and pay by weight for usually around 24 BRL.
Couchsurf – Although accommodation is Rio is affordable, the best way to avoid spending money is to Couchsurf or use Craigslist to find homestays with locals.
Eat street food – Restaurants in Rio are fairly expensive so if you want to save money on food, avoid eating on the beaches, stick to the local fare, and eat at street food vendors whenever you can.
Save money on rideshares – Uber is way cheaper than taxis and is the best way to get around a city if you don't want to wait for a bus or pay for a taxi. The Uber Pool option is where you can share a ride to get even better savings (though you can get your own car too). You can save $15 off your first Uber ride with this code: jlx6v.
My Must Have Guides For Traveling to Brazil
Photo credits: 2