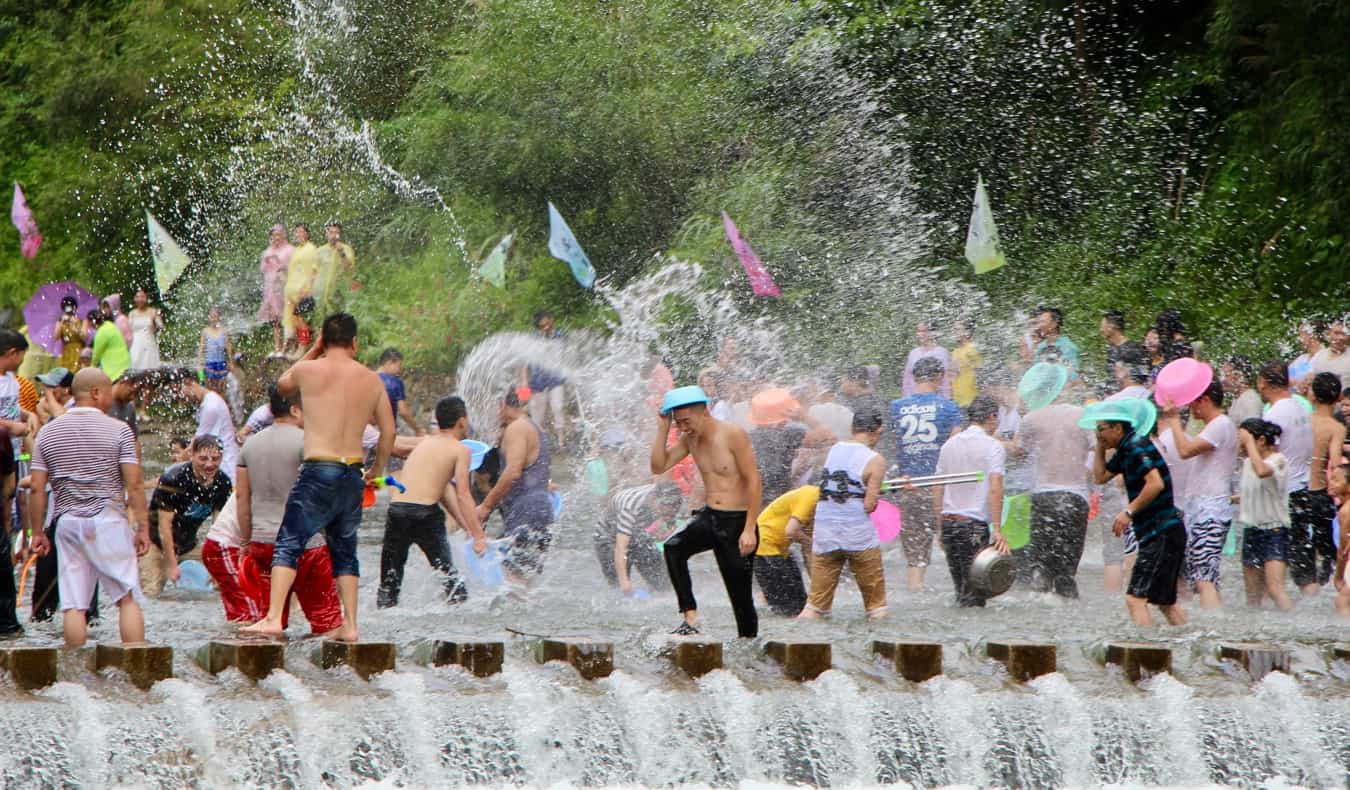 Last Updated: 3/1/23 | March 1st, 2023
Songkran is a three-day Buddhist holiday and water fight that celebrates the Thai New Year in Thailand. It occurs between April 13th to 15th (which coincidentally is the hottest month of the year). Songkran is one of the most popular festivals not only in Thailand but in the world, marking the beginning of a new solar year and is a time of renewal and rebirth.
If you want to take part in this epic festival and water fight, here's everything you need to know to plan your trip, stay safe, and have fun!

The History of Songkran
The word Songkran comes from the Sanskrit language and means "the passage of the sun from one sign of the Zodiac to another." The date was originally set by astrological calculations, but it is now fixed on 13 April. The country closes down for the holiday, focusing entirely on the festival and the accompanying holiday rituals.
Songkran is particularly important for Buddhists, and many make pilgrimages to temples throughout the country. Water is poured over statues of the Buddha and onto the hands of the monks as a sign of respect and honor. Many locals take this time to return to their hometowns and visit loved ones.
On the first day of the festivities, it's common to give the home a thorough cleaning to refresh the space. There are also large processions and parades with statues and images of the Buddha in many cities.
The second day is known as Wan Nao, which is the traditional New Year's Eve. Many of the more spiritual rituals take place on this day and practicing Buddhists visit temples and build special 'sand chedis' or sandcastles made to look like miniature temples.
The third day of the festivities is the 15th, and on this day, offerings are left at the temples and the final festivities are held in cities across Thailand. Throughout the entire three-day event you'll find people celebrating in the streets, enjoying performances, and pouring water over one another.
Over the years, Songkran has become a massive tourist draw. Travelers and backpackers alike flock to the country to take part, with tens of thousands of people taking to the streets to ring in the new year by dumping buckets of cold water on each other.
Bangkok sees the largest of Songkran parties. The festivities begin with an official opening ceremony at Wat Pho, one of Thailand's most beautiful Buddhist temples. Afterward, the party commences throughout the city, with bathing Buddha statues and imagery in water, delicious food, performances, and water throwing. The busiest streets are Silom road, Khao San road, and RCA. The holiday is meant to wash away the old year and bring in the new year and it's awesome to see little kids, seniors, and even police get involved.
In fact, my favorite moment involves the police: a cop and I got into a water fight and I sprayed his partner who was not wet. He looked at me like I was about to get arrested. I was the stupid foreigner who took it too far. He walked over to me, took my squirt gun, stepped back, and the two of them teamed up on me. We all had a good laugh!
It's a very high-spirited holiday and everyone is just out to have a great time.
The only way to really understand the craziness that is Songkran is to see it in person so here's my video of the event to give you an idea:
Tips for Attending Songkran
To help you make the most out of this epic water fight — and stay safe in the process — here are some tips:
Chiang Mai and Bangkok have the biggest celebrations but you'll find little celebrations all over the country.
In Bangkok, Khao San Road and Silom hold the two biggest celebrations.
Plan to be wet — all the time. Even if you have a backpack or bag, people will still spray you with water. There's no escape unless you are inside.
The only way to avoid being wet is to have a camera or cigarette. If people see you with one, they won't spray you with water. Make sure your camera is waterproof though, just in case.
Just have fun. There's no malice involved here so if you get wet and you didn't want to, just go with it. They even pour water on people driving motorcycles — so embrace it.
One of the most fun things to do is get in a tuk-tuk or truck and ride around the city spraying people with water. You get into some of the most amazing water fights and meet a lot of people. I highly recommend this for at least one day.
Wear goggles. People are going to be shooting or throwing water at you all day long. You never know when the next attack will come, so get some goggles to protect your eyes. It will save you from squinting all day long!
Don't pay for water. 99% of locals will offer buckets of water for you to refill your water gun with for free, but there are a few people out there who will try to charge you for a refill. Just ignore them until you find someone sharing their water for free. You won't have to go far.
Road deaths double during Songkran, with up to 50 people dying in car accidents each day (the majority of which are motorcycle accidents). During the 2020 festival, for example, there were 2,748 crashes and 316 deaths. Stay safe and keep off the bike — whether it's yours or someone else's!
Attending Songkran: Logistics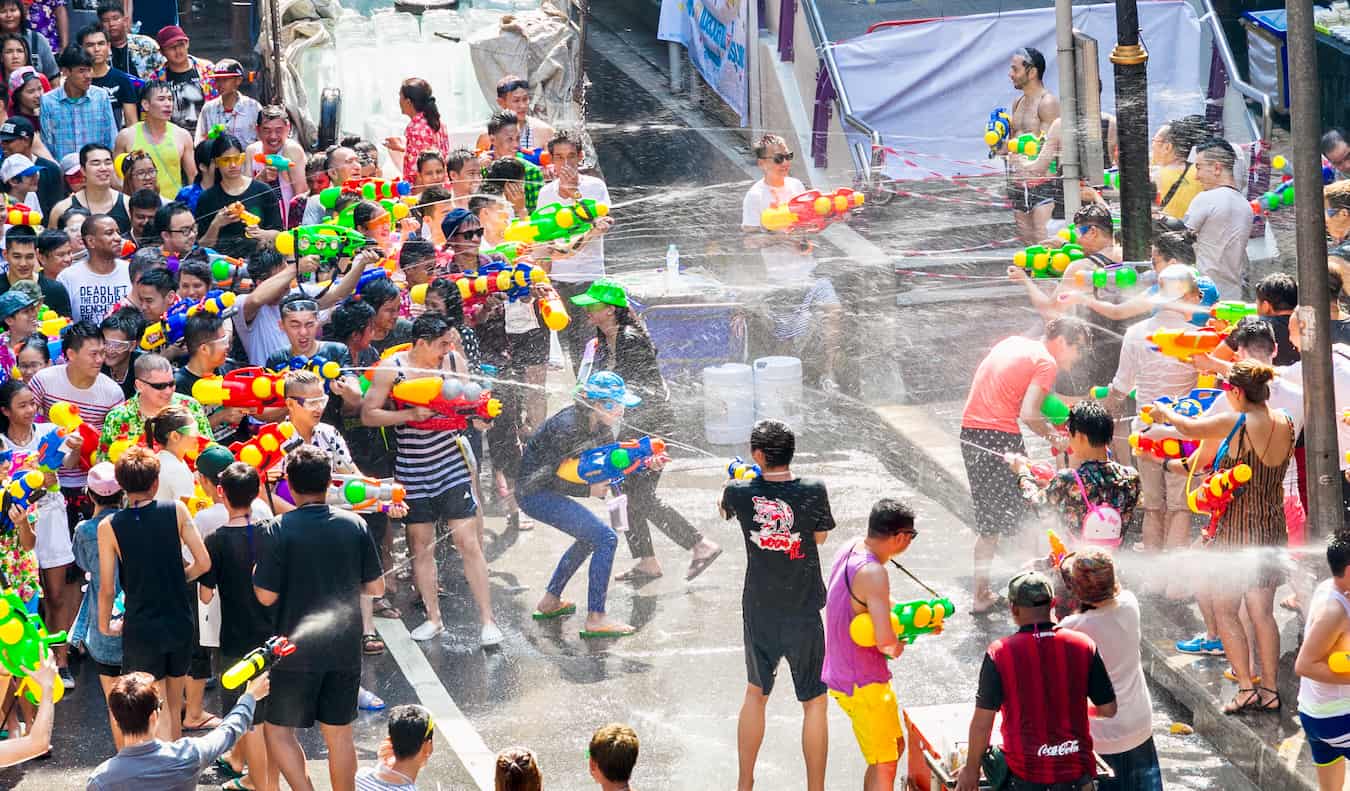 With so many people taking part in this festival, accommodation sells out quickly. If you're planning to attend Songkran, make sure you book your hostel early.
Also, keep in mind that Songkran is a public holiday. That means banks and government services will be closed. If you need consular or financial services, get them out of the way before the holiday. As of 2018, the government extended the holiday period to 5 days (to allow people time to go home and visit family) so many services are closed even longer now. Prepare accordingly.
If you want to enjoy the holiday in Bangkok, public transportation is both convenient and cheap. Non-air-conditioned buses cost 10 THB while buses with AC cost 15 THB. These can take you anywhere in the city. The SkyTrain and Metro cost 16-50 THB per trip and you can purchase a day pass for 120 THB.
Taxis are a more expensive option and cost around 70-100 THB (one from the airport to Khao San Road will set you back 500-550 THB). Just make sure they use the meter. If they don't just get out and find another taxi. Alternatively, there's a Suvarnabhumi Airport Rail Link Express that's a 15-minute non-stop journey between the city and the airport that costs 45 THB per trip.
***
Songkran takes place all over the country and, if you are in Thailand during this time, you WILL experience it. You can't miss it. It's like the one thing that brings everyone together here. Prepare to get wet. Prepare to have to fun! It's one of the greatest experiences I've ever had (and I've done it three times). The event is just pure joy. Everyone is here to have fun. There's no malice involved.
Enjoy Songkran!
Get someone wet for me!


Get the In-Depth Budget Guide to Thailand!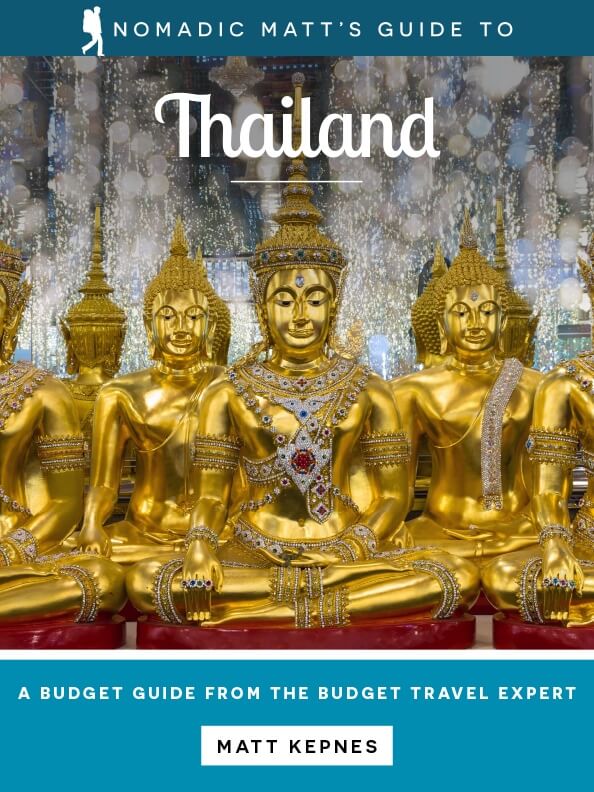 My detailed 350+ page guidebook is made for budget travelers like you! It cuts out the fluff found in other guidebooks and gets straight to the practical information you need to travel around Thailand. You'll find suggested itineraries, budgets, ways to save money, on and off-the-beaten-path things to see and do, non-touristy restaurants, markets, bars, safety tips, and much more! Click here to learn more and get your copy today.
Book Your Trip to Thailand: Logistical Tips and Tricks
Book Your Flight
Use Skyscanner to find a cheap flight. They are my favorite search engine because they search websites and airlines around the globe so you always know no stone is left unturned.
Book Your Accommodation
You can book your hostel with Hostelworld as they have the biggest inventory and best deals. If you want to stay somewhere other than a hostel, use Booking.com as they consistently return the cheapest rates for guesthouses and cheap hotels. My favorite places to stay are:
Don't Forget Travel Insurance
Travel insurance will protect you against illness, injury, theft, and cancellations. It's comprehensive protection in case anything goes wrong. I never go on a trip without it as I've had to use it many times in the past. My favorite companies that offer the best service and value are:
Looking for the Best Companies to Save Money With?
Check out my resource page for the best companies to use when you travel. I list all the ones I use to save money when I'm on the road. They will save you money when you travel too.
Want More Information on Thailand?
Be sure to visit our robust destination guide to Thailand for even more planning tips!