Posted: 05/25/2017 | May 25th, 2017
Balancing preservation of the land with our desire to travel is a challenge not just for us travelers but for the localities, we visit. When I was in the Galápagos Islands in March, I was stunned that the islands actually had real cities. I pictured the Galápagos as places people fly into to take boat tours around. There might be a few hotels in a few small towns simply filled with supply shops and science stations. But that wasn't even close to the case.
Instead, I found a place where 20,000 people live.
The cities on the islands may not be huge cities with skyscrapers, but they are big enough to strain the ecosystem. The cities face constant resource and waste problems. While looking out at the city of Santa Cruz one night, I couldn't help but think about how much travel can affect the environment. After all, how much of the city supports the over 200,000 tourists who visit the islands each year? How many fewer people would be there if the tourists were gone?
Back in my youth, I was an environmental activist. My main issue was energy, and I ran a statewide outreach initiative for the Sierra Club. We went around to various organizations and towns and told people how they could save money on their energy bills and save the environment at the same time.
But over the years, I've become less environmentally conscious. I leave the lights on. I fly a lot. I drink out of plastic bottles. I eat a lot of meat. And I love fish, especially tuna. However, over the last year, I've begun thinking harder about how travel affects the environment and how I affect the environment. In doing so, I've tried to be a lot more aware of my actions.
However, in the larger context, I've come to realize that travel is not the most environmentally friendly activity. And though sustainable travel and the environment have become hot topics over the last few years, for the most part things haven't changed much.
Take, for example, Thailand. The Asian tsunami was a huge human tragedy, but if there was any good to come out of it, it was the fact that it gave a country like Thailand a clean slate to rebuild upon. With everything wiped away, officials promised a new start: an end to pollution, dirty beaches, and polluted water. There was a lot of talk about how they would focus on sustainable tourism and how they would build within the confines of the environment and think long-term.
But it never happened. Talk became simply talk. When the huge amount of tourism dollars were looked at, the long-term didn't matter. It was back to the way it was before. Now, the area is built up even more than before. And the tourists never seem to be too bothered by it.
Thailand is just one example, but it happens in countless countries around the world. Sure, many countries try to protect their environment, but far many more don't.
I don't know if there is an easy solution for this problem. The most environmentally friendly activity is to not travel at all, but that's unrealistic and too extreme. There's so much money in travel that I don't think the government and regulation can do much. Only when their profits are hurt will hotels, operators, and the industry as a whole begin to listen. Instead, it's all about the consumers. The only good way is to get people to be more environmentally conscious and make better decisions.
Consumers have a lot of power. Why did Wal-Mart start selling only sustainable fish and whole milk? Consumers wanted it. I think if we as travelers begin to demand more environmentally friendly practices and avoid companies with poor environmental records, we can change things.
After all, most countries, especially those that rely heavily on tourism, cater to tourists. They bend over backwards to make sure visitors are happy and safe. If tourists begin demanding something loudly enough, they will get it. There's too much money at stake to ignore the group of people bringing in that money.
But too many of us seem to check our environmental awareness at the security gate when we board the plane. I used to, too. But now I think, "I visit all these places for a reason. Why contribute to their ruin? It's illogical." Now, I recycle more, I use fewer water bottles, I shut off the lights, I pick up my trash, and in national parks, I even pick up the trash I find left behind. I try to avoid big resorts. I don't drive; I take public transportation. And I try to eat local cuisine when I can. Most importantly, I use operators and stay at places that are reducing their environmental impact.
Travel doesn't have to be environmentally destructive. Travel can destroy the environment but it doesn't have to. We have the power to make things better. We can do small things and demand more of the places we stay and visit. We can and should demand more of places, and of ourselves.
Because once a place is gone, it is gone for good.
Related Articles
How to Travel the World on $50 a Day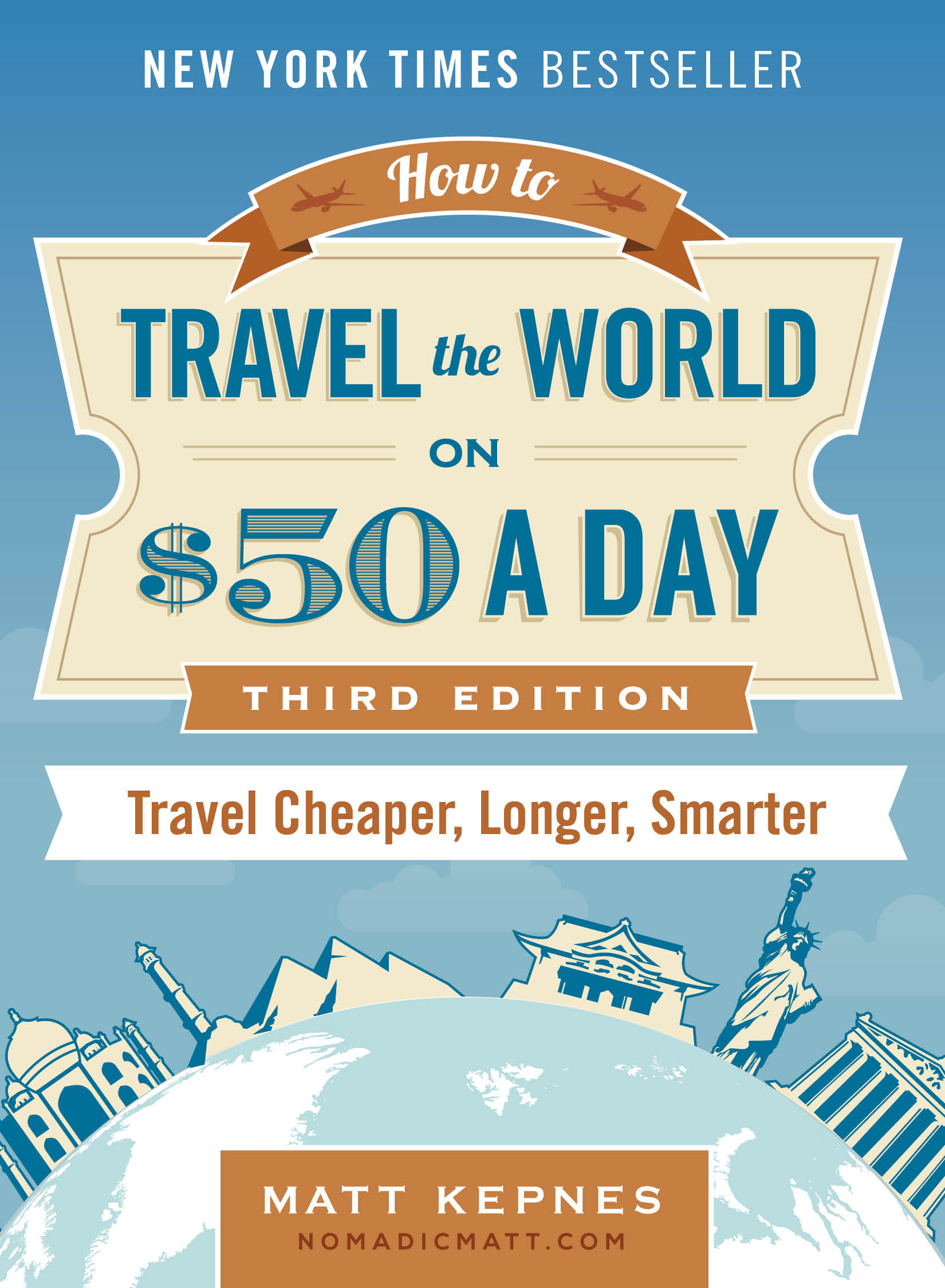 My New York Times best-selling paperback guide to world travel will teach you how to master the art of travel save money, get off the beaten path, and have a more local, richer travel experiences.
Click here to learn more about the book, how it can help you, and you can start reading it today!