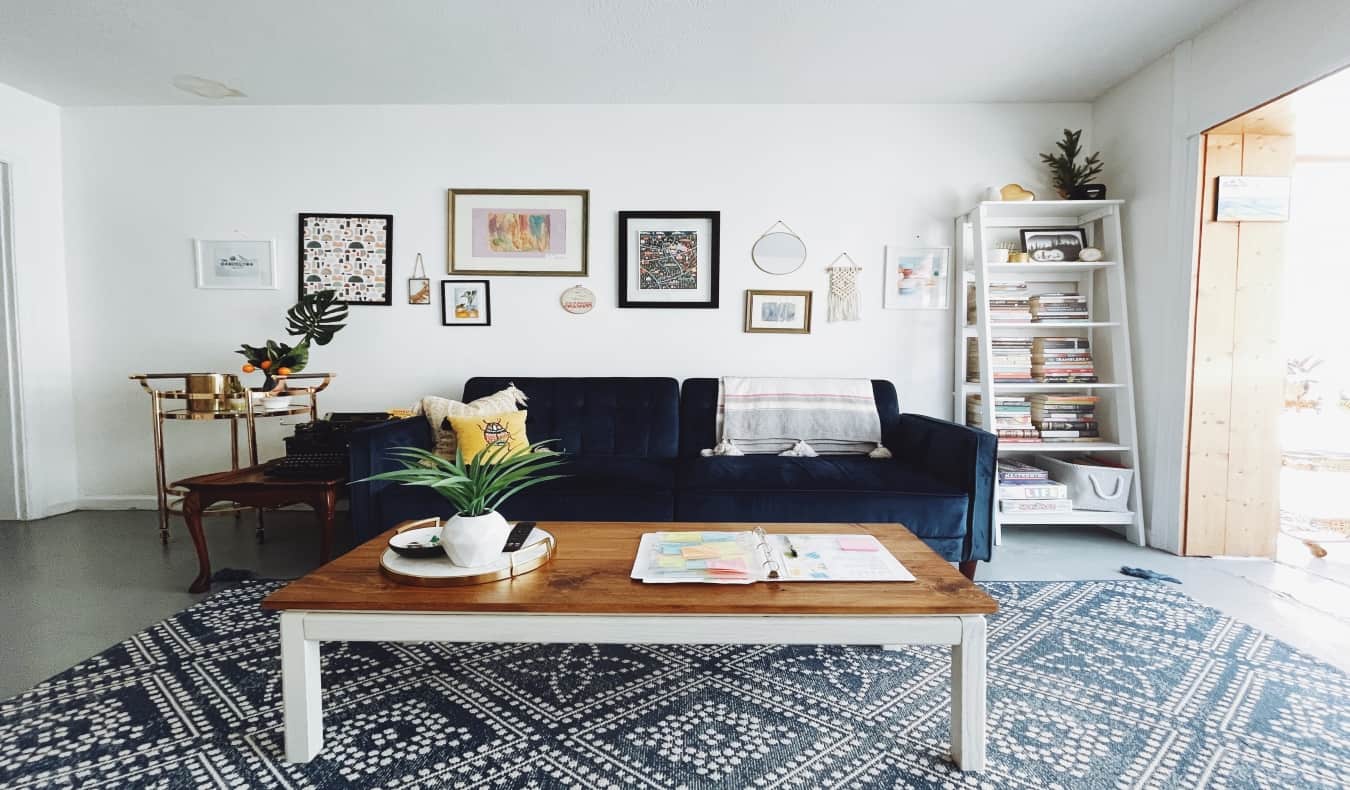 Posted: 12/14/21 | December 14th, 2021
"Fuck Airbnb," I said to myself as I read one of their customer service replies. Despite having documentation that my host hadn't paid the refund they agreed to give me, Airbnb decided to side with the host and wouldn't issue me the refund. This was the second time in several months I had to call customer service — and the second time they sided with the host.
It was the moment I decided to finally quit Airbnb.
Let me explain the journey to this decision.
Back in 2019, I wrote an article called "Is It Time to Break Up with Airbnb?" I cited numerous safety, service, and overtourism issues with the company. That article somehow made its way to Airbnb's CEO, Brian Chesky, who reached out to talk to me. We scheduled a call and, to his credit, he listened when I just unloaded on Airbnb and went into all the things I thought were wrong with it. He acknowledged that the company wasn't perfect and gave me some insights into what Airbnb was doing to fix their issues.
When I started traveling last summer, I decided to use Airbnb again. I still thought it had a ton of unresolved problems but, in places where hotels are limited, it is often the best and cheapest accommodation option. (Despite my issues with the company itself, they do list some really great accommodation on the website.)
While I was in the Finger Lakes area (a wine region in upstate NY that is just absolutely wonderful), I woke up to an email from Airbnb saying my friend and I had to leave our lodging right away and that my account was now frozen. I had no idea what was going on. The host was equally confused by the situation but was happy to let me stay until I resolved it.
"I'll figure this out later," I said and went off to a wine tasting. Someone at Airbnb called me and asked if I had left yet. "No, not until you give me the reason," I replied.
I wasn't moving until Airbnb told me what was wrong, since both the host and I were happy. But Airbnb wouldn't tell me until I left (standard procedure, they said). We were at an impasse.
So I deployed the only solution I could think of: I texted the CEO for help.
It turned out that because my phone number was on two accounts, during an automatic review, their system froze them both, thinking this was part of some kind of fraud. And that triggered the email, which, when unanswered, triggered the phone call. Why couldn't they just tell me that on the phone? It seemed weird their procedure was not to ask "Hey can you clear this up for us" but to say "Your account is frozen. Leave now!"
My account was restored, but I was left thinking, "What if this had happened to someone who didn't have the CEO's number?" Imagine a family on holiday being told they had to leave but not why. (Heck, one of my team members had her account suspended a few years ago and was never informed why. They won't give her the account back. She just woke up one day and was told, "Sorry, you're off our platform.")
It left a really bad taste in my mouth.
Fast-forward to September. I'm in LA and I found a unicorn: an Airbnb run by a person whose actual home it was, not just an apartment bought to be run as a pseudo hotel (See: overtourism). I get to the place and meet the host. The apartment was just OK: it was cluttered, the blinds in my room were broken (and never fixed, despite a promise to do so), and the room had no AC or heat.
But, whatever, it was a place to sleep.
Except it wasn't.
On the second night, at 11:30pm, I was trying to sleep when the host's conversation outside turned to a yelling match. She and the guy she had over were fighting. This went on for over 30 minutes until I decided to pack my bags and leave for a hotel down the road. The guy was double my size, and I wasn't going to tell some strangers to kindly shut up so I could sleep. That could go south really quick, and I wasn't risking my safety over that.
I emailed Airbnb, explained what happened, and asked for a refund for my remaining nights. They got back to me, said the host denied my story, and that I should have spoken to her first. I'm sorry, forgive me for not telling the big scary dude I was trying to sleep and to keep it down.
I was told that I should have made my problems known in the first 24 hours in order to be eligible for relief. Airbnb has a 24-hour rule where, if there's a problem, you can still leave with a refund. However, after 24 hours, you can't. This is a mighty stupid rule. What if something happens outside that window, especially if you're staying a long time? Are you just screwed? (Narrator: Yes, you are.)
Now, it seems ridiculous that the rep couldn't just look at this situation and say, "OK, it's only two hundred bucks, here ya go!" since this isn't a problem one could foresee in the first 24 hours. But they didn't. And what annoyed me even more about the interaction were the emails they sent! Look at these actual emails from customer service: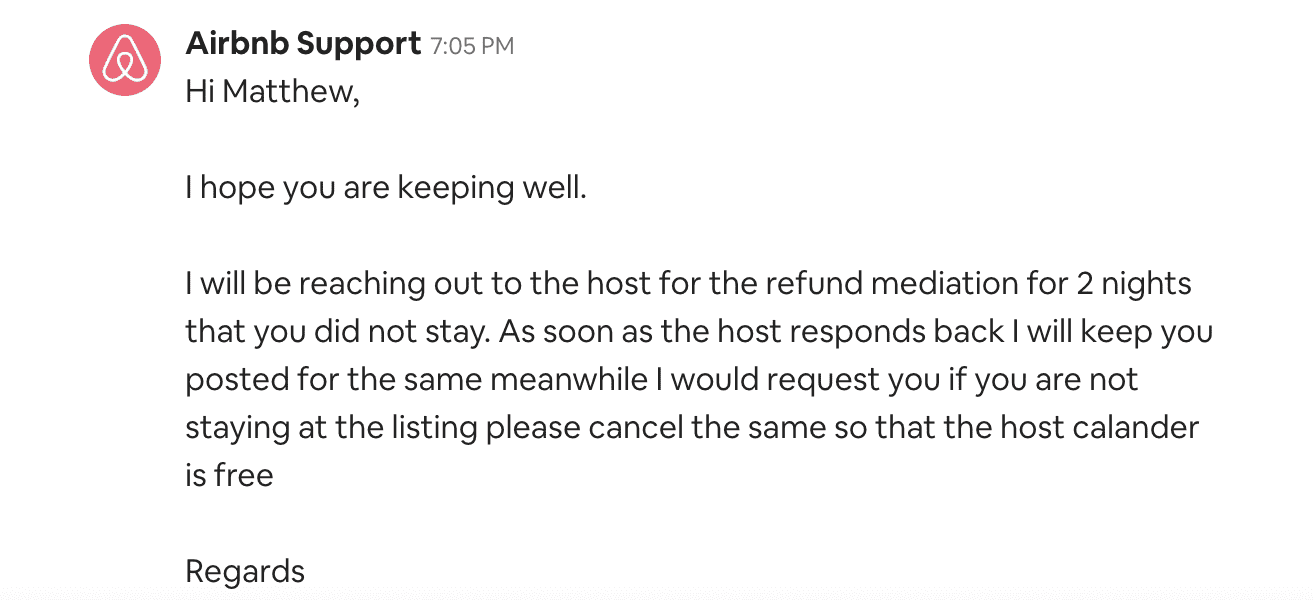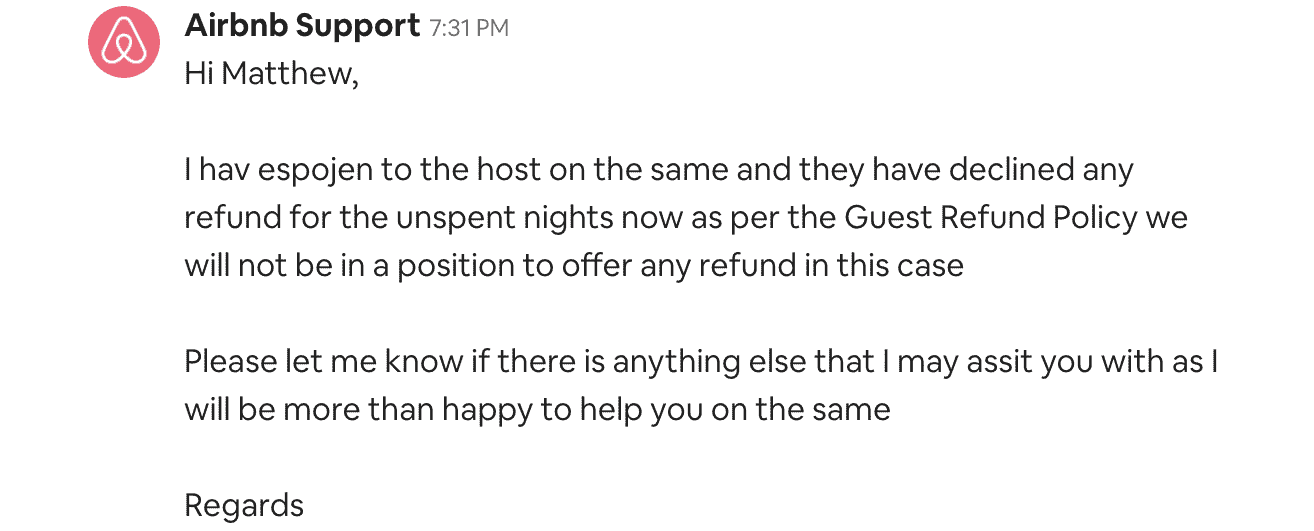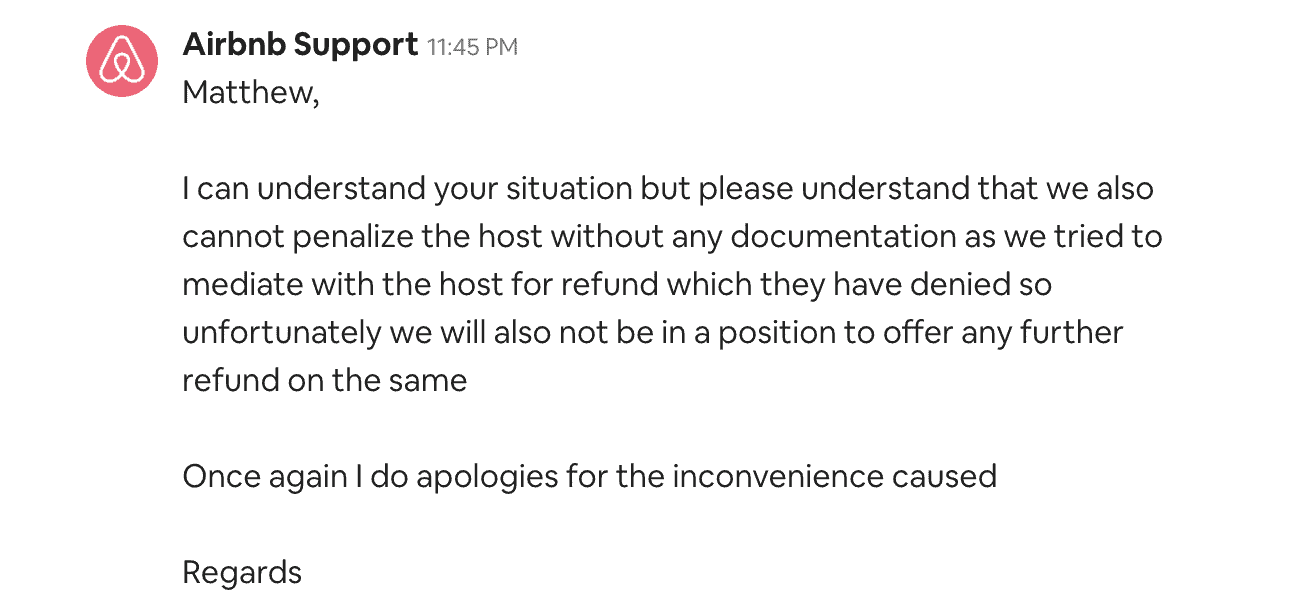 I'm sorry, but you're a $100 billion company and you can't hire staff that writes emails that can be understood? It boggles my mind.
Eventually, this got resolved because, you guessed it, I texted Brian.
Finally, last month, I rented an Airbnb in Austin. Not only wasn't it clean but everything was covered in pet hair. The host hadn't mentioned they had a pet in their listing; had they, I wouldn't have stayed. Between those two issues, I decided to leave. So, after some texting, the host and I agreed to a 20% refund.
Except she never paid. I waited a few days to see if the money hit my credit card. When it didn't I messaged her again and she just ghosted me.
So I contacted Airbnb, showed them our conversation, and asked for help. They said they couldn't help me because not only was I out of that 24-hour period but because the reservation was also over. "I should have talked to the host," they said. Excuse me, but I did! I only waited because I know sometimes it takes refunds a few days to appear on your statement.
"OK, we'll look into it," Airbnb replied.
The answer came back: the host is denying the refund so it was out of their hands.
"But look at the thread! She already agreed to it. Gimme my money!"
"Sorry, you screwed," they said (OK, I'm paraphrasing but that was the gist).
How did this one get resolved? I vented on Twitter, Airbnb's customer support saw it, suddenly the problem got escalated to a manager, and a refund was issued.
All three incidents left a bad, bad taste in my mouth. What if you're a regular user who doesn't have a blue checkmark on social media or the CEO's phone number? How do you get help then? I shouldn't have to use these options to get good customer service.
Sure, "VIPs" get special treatment from companies all the time. But how can I recommend a company to you when I know, if something goes wrong, I'll get better treatment and you're likely to get screwed? Their customer service should be the same for everyone. It shouldn't require you to text the CEO or complain on Twitter. Policies should be clear and agents empowered to help people, regardless of whether they are a blogger or just a family from Des Moines.
I want Airbnb to succeed, as the original concept is still amazing. But I think it's time for me to break up with it. Along with its overtourism issues, its customer service is dog shit: it's not reliable, its policies are opaque, and it's willing to lose customers over a few hundred dollars.
I think Airbnb should empower its agents to just take care of issues below a certain value. Give the customer some money back, give the host a warning, and everyone can move on.
But they don't do that.
Airbnb still seems to pretend that it's a service that is just connecting people and isn't responsible for what happens. The message they send over and over again is "You work it out with the host." They find ways to avoid getting involved.
But hosts are humans too and stay with enough of them and a problem will eventually arise (because people often clash). And when that happens, I don't want the anxiety or frustration of dealing with a company that is just going to tell me I'm out of luck.
(You might be tempted to say I'm an outlier, but if you saw my inbox, you'd think otherwise. It's filled with complaints and requests for assistance to get them resolved. Heck, I once had a reader ask for help because a host was denying her a $7,000 refund she also had proof she was entitled to and she was taking Airbnb to court over it!)
***
So why would I want to deal with a company I know doesn't really have my back?
I don't. Which is why I'm breaking up with Airbnb. I'd rather stay in a hotel where I know I'll get a consistent level of service. No surprises, no pets, no 24-hour rule, no midnight fights. It's not perfect, but it's better than Airbnb.
I know most of you will continue to use Airbnb. And, in many parts of the world, they are often the best selection. But be warned: if something goes wrong, I wouldn't count on getting any help.
Note: I still like Airbnb experiences and have had no issues with that part of the business.
Book Your Trip: Logistical Tips and Tricks
Book Your Flight
Find a cheap flight by using Skyscanner. It's my favorite search engine because it searches websites and airlines around the globe so you always know no stone is being left unturned.
Book Your Accommodation
You can book your hostel with Hostelworld. If you want to stay somewhere other than a hostel, use Booking.com as it consistently returns the cheapest rates for guesthouses and hotels.
Don't Forget Travel Insurance
Travel insurance will protect you against illness, injury, theft, and cancellations. It's comprehensive protection in case anything goes wrong. I never go on a trip without it as I've had to use it many times in the past. My favorite companies that offer the best service and value are:
Want to Travel for Free?
Travel credit cards allow you to earn points that can be redeemed for free flights and accommodation — all without any extra spending. Check out my guide to picking the right card and my current favorites to get started and see the latest best deals.
Need Help Finding Activities for Your Trip?
Get Your Guide is a huge online marketplace where you can find cool walking tours, fun excursions, skip-the-line tickets, private guides, and more.
Ready to Book Your Trip?
Check out my resource page for the best companies to use when you travel. I list all the ones I use when I travel. They are the best in class and you can't go wrong using them on your trip.