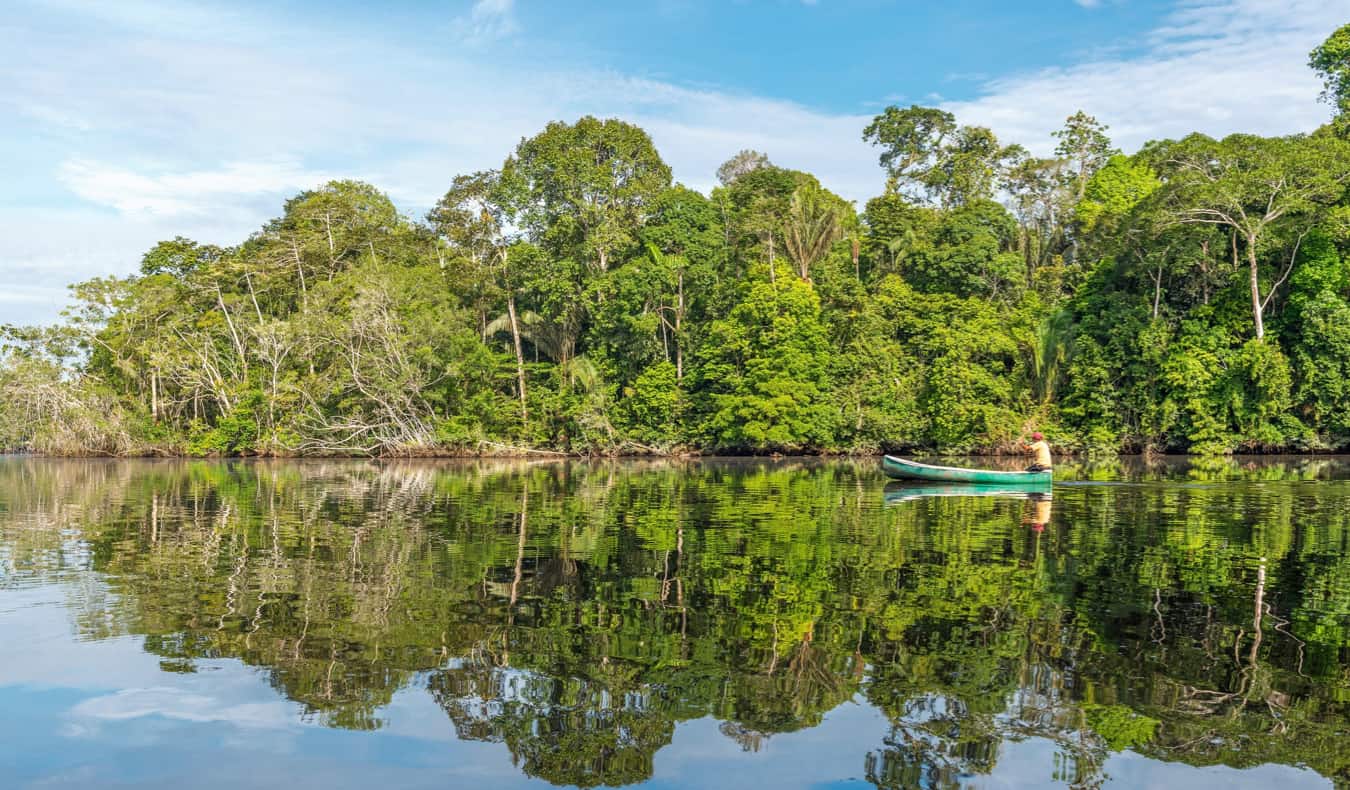 Last Updated: 02/10/22 | February 10th, 2022
Bolivia provides a budget-friendly option for exploring the rainforest. It's cheaper, and the tours are less crowded than the ones in the Brazilian Amazon. In this guest post, Erin from Never Ending Voyage shows us how we can experience the rainforest by going through Bolivia at a cheaper price!
The Amazon is the world's largest tropical rainforest, covering some 5.5 million square kilometers (3.4 million square miles). Given the opportunity to see rare flora and fauna there, it should come as no surprise that it's at the top of many travelers' "to-do" lists.
When most people think of the Amazon, they tend to think of Brazil.
Yet the Amazon basin actually stretches across nine countries in South America, which means that you don't have to take an expensive tour in Brazil to see the jungle. For the budget-savvy traveler, Bolivia provides an amazing (and affordable) alternative from which to visit the basin.
Not only is it cheaper and less crowded but it's just as biologically diverse as Brazil!
In this post, we'll show you everything you need to know to have an amazing Amazon experience in Bolivia!

Where Do You Start?
The starting point for trips into the Bolivian Amazon is the town of Rurrenabaque. It's straightforward here to sign up for tours, and it'll be cheaper than if you book in advance in La Paz. Moreover, it's a small town, so it's easy to wander around and find a guesthouse for around $5-10 USD a night while you check out a few tour agencies.
There are two ways to visit the Amazon from here:
1. The Pampas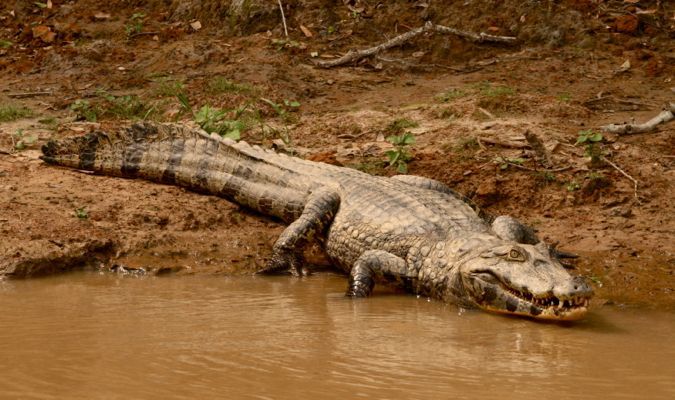 The pampas tours are the cheapest option and are where you'll see the most wildlife, including alligators, squirrel monkeys, and capybaras (giant semiaquatic rodents). It may not be the classic Amazon jungle experience you envisioned, though, as the pampas are a wetland savannah on the edge of the Amazon basin rather than deep in the jungle. But the lack of trees means it's much easier to spot wildlife.
All the tour operators operate nearly identical three-day/two-night trips for around $75 USD plus the park entrance fee (which will be around $20 USD). Tours generally include all transportation, all food, and a guide. You get what you pay for, so expect basic accommodations and meals (I recommend bringing snacks). And your guide may not be the most knowledgeable if you go with an especially cheap operator. Since guides are so important to the overall experience, make sure you ask around for a company with good, knowledgeable guides.
After a very bumpy three-hour jeep ride to the edge of the jungle, you'll transfer to a motorized canoe and travel a further three hours along the river to your lodge. The river trip was the highlight for us, as we got up close to an amazing array of wildlife: hundreds of alligators, entire families of capybaras, turtles sunbathing on logs, and trees full of tiny yellow squirrel monkeys — all while birds such as egrets, herons, roseate spoonbills, blue kingfishers, eagles, and hoatzin (pheasant-like birds with blue faces and spiky hair) flew and nested around us.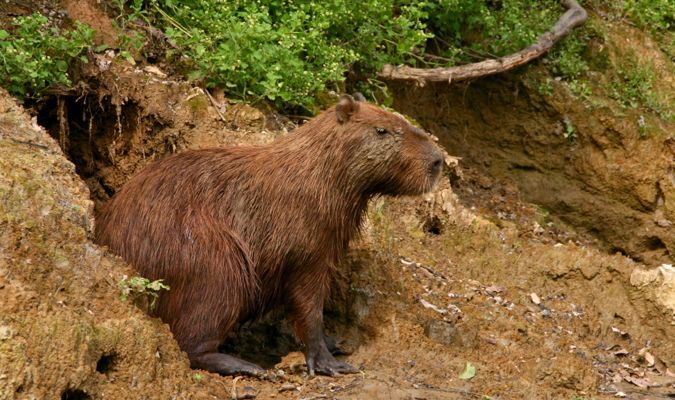 The riverside camp is in a peaceful setting among the trees, with plenty of wildlife-spotting opportunities (I had monkeys peering into my room!). The accommodations are shared wooden huts on stilts, and you'll wake up to the raucous sounds of howler monkeys. A generator provides power until 10pm so you can enjoy cold beers while lounging in a hammock and watching the sunset over the river.
The pampas tours are a great way to view lots of wildlife for a very affordable price, but choose your tour operator carefully and make sure they don't touch or feed any of the animals — especially the anacondas.
2. The Jungle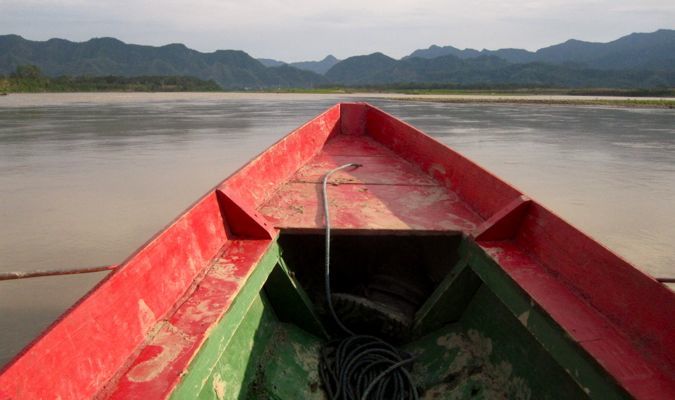 For a more classic Amazon experience, opt for a jungle tour, where you can stay at an eco-lodge and do activities from there. Note that this can be pricey: We (my other half and I) paid $207 USD each for a three-day/two-night tour with Madidi Travel to its Serere Lodge, but we did get a large, comfortable bungalow, great food, and a very professionally run trip. We also liked that the profits from the trip went back into conservation work for the area. Although it's triple the price of a pampas trip, this is still much less than you'd pay for a similar experience in Brazil.
Serere Lodge is reached by a three-hour canoe ride and a short trek through the jungle. You can choose from a range of activities, including canoe trips on the lake next to the camp (at night you can see the glowing red eyes of caimans, which are like alligators), day and night treks in the jungle, piranha fishing, and making jewelry from nuts and seeds.
Jungle treks are tiring in the heat and humidity, and there were many more mosquitoes than in the pampas. It is also much more difficult to spot wildlife — you could spend hours and not see one monkey, while we'd canoed past dozens of them in the pampas. It was interesting to see colorful spiders and giant bugs, and learn about the medicinal uses of trees and plants, though.
In general, we just enjoyed the peace of being in the jungle, especially from the comfort of a hammock, even if we didn't see a lot of wildlife.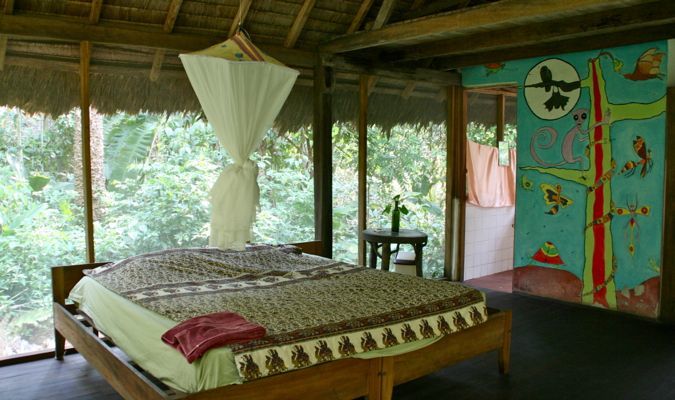 There are cheaper jungle tours available, with more basic accommodation, for prices similar to pampas trips. We also met someone who had hired a guide independently and trekked and camped out in the jungle. This will save you money and possibly be a more authentic experience, but conditions in the jungle are hard, so don't undertake one of these treks lightly.
If you have the budget and time, I'd recommend both the pampas and jungle trips, but otherwise, you'll need to prioritize spotting wildlife in the pampas or a more classic jungle experience.

10 Travel Tips for the Bolivian Amazon
The best time to visit the Bolivian Amazon is the dry season, from May to October, when there is more wildlife attracted to the rivers and fewer mosquitoes.
The jungle trek is more physically demanding than the pampas tour, so be sure to have good footwear and proper hiking clothing.
If you're doing the jungle tour, you'll want to wear waterproof hiking boots or shoes.
Wear light trekking clothes as it can get warm, but also make sure to cover up so you aren't attacked by mosquitoes. Bring bug spray with you as well.
You can get to Rurrenabaque from La Paz by a horrendous, bumpy, 30-hour bus ride or take the scenic 35-minute flight across snowy mountains and into the jungle. We flew with Amaszonas for $75 each way, but TAM might be a little cheaper. Obviously, the $10 bus ride will save you money, but it might not be worth it for your sanity! Check Skyscanner for the best prices.
There is no reliable ATM in Rurrenabaque, so bring plenty of cash.
Many tour operators will offer anaconda hunts on which you can pose for photos. Don't go on these. Wild animals should be viewed from a distance only; they aren't pets.
Many guides will encourage you to get up close and personal with many of the animals that you see. For your own safety, don't.
To make sure you get a reliable tour operator, don't pay less than around $90-100 USD for your jungle tour. Anything below that price point will like be less than ideal.
We did our pampas trip with Indigena Tours. I can't say I recommend them, as it was quite badly organized, the food portions were too small, and our guide wasn't very helpful. But at least they didn't touch any of the animals, which is a common problem here. There are definitely worse tour companies in Rurrenabaque. Ultimately it's a cheap trip and you get what you pay for (there aren't any more expensive, better-run options), but it was worth it for us to see so much wildlife.
***
Visiting the Amazon jungle is a highlight for many travelers in South America, and it'd be a shame to miss out because you can't afford the high cost of trips in Brazil. For us, Bolivia made for a perfect affordable alternative.
If you're heading to Bolivia anyway (and you should — it's an amazing country!), be sure to consider taking an Amazon tour here. You won't be disappointed!
Erin McNeaney and her partner Simon sold everything they owned and left the UK in March 2010 to travel the world forever. You can follow their adventures at Never Ending Voyage, or Twitter and Facebook.
Book Your Trip to Bolivia: Logistical Tips and Tricks
Book Your Flight
Use Skyscanner to find a cheap flight. It is my favorite search engine because it searches websites and airlines around the globe, so you always know no stone is being left unturned!
Book Your Accommodation
You can book your hostel with Hostelworld as it has the biggest inventory and best deals. If you want to stay somewhere other than a hostel, use Booking.com as it consistently returns the cheapest rates for guesthouses and hotels.
Don't Forget Travel Insurance
Travel insurance will protect you against illness, injury, theft, and cancelations. It's comprehensive protection in case anything goes wrong. I never go on a trip without it, as I've had to use it many times in the past. My favorite companies that offer the best service and value are:
Looking for the Best Companies to Save Money With?
Check out my resource page for the best companies to use when you travel. I list all the ones I use to save money when I'm on the road. They will save you money too.