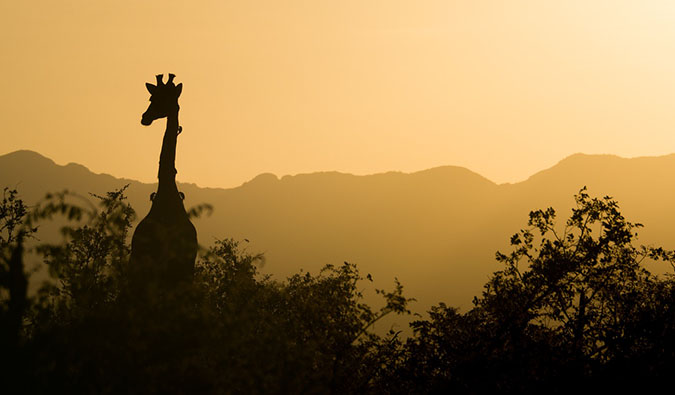 Last Updated: 3/28/23 | March 28th, 2023
In this guest post, Anthony from The Travel Tart shares his tips and advice for picking the best safari experience in Africa.
Most people travel to Africa for one reason: to go on safari and check out the many animals that can potentially kill you. Viewing animals in their natural environment takes on a different dimension when compared to watching them in a zoo. It's an addicting and amazing experience.
It's also expensive, which is why it's usually a once-in-a-lifetime experience for most people. For that reason, it's important to plan ahead so you can make the most of your safari experience.
Most travelers on safari want to see the "Big Five" — lions, leopards, African buffalos, elephants, and rhinos — but Africa is home to all kinds interesting wildlife and ecosystems in addition to the Big Five.
To help you have a fun and safe safari, here's a quick overview of some of the best safaris in Africa:

1. Kruger National Park, South Africa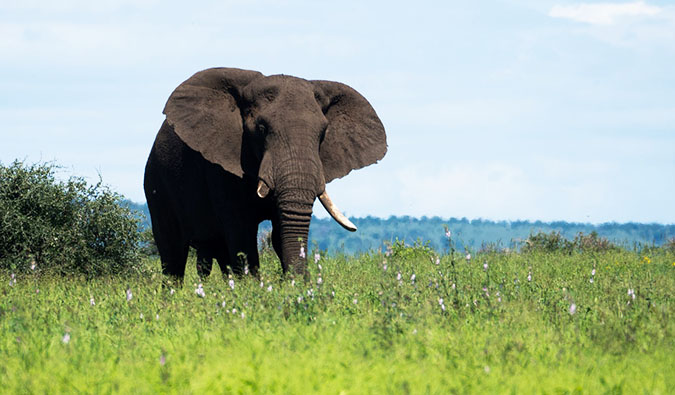 Kruger National Park is located in the northeastern part of South Africa and covers a whopping 4.8 million acres. Kruger's proximity to the country's main hub of Johannesburg makes it easily accessibility and thus it's a favorite with locals and visitors alike.
This is one of the most popular parks in Africa, and the Kruger camps are definitely the flashiest I've ever stayed in. You can visit in your own car, and many of the roads are paved, but you can also go on game drives on unsealed tracks. The camps are surrounded by electric fences, so you won't have to fear coming across a large cat if you need a toilet break at night.
Kruger National Park is easy to visit if you have a car (you can just drive there and stay at a lodge), but while I noticed a lot of people self-driving through the park, having a guide to spot animals and explain the ecosystem of the park made the experience much richer (these guys have eagle eyes!).
The end of the dry season (August–November) is the best time to visit, because the lack of watering holes means animals have fewer places to congregate around, making them easier to see. Because of its infrastructure and popularity, Kruger can sometimes feel like a massive zoo. Try to avoid the school holiday periods when the camps are usually full. The daily admission fee is around $25 USD.

2. Etosha National Park, Namibia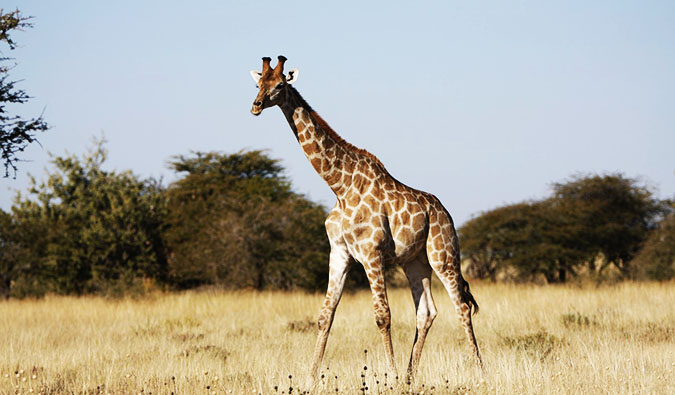 Etosha (meaning the "great white place of dry water") in northern Namibia was my first-ever safari. It is one of the largest national parks in Africa, covering 5.5 million acres. The best part is the Okaukeujo camping ground, located near a watering hole that is floodlit at night. Since most of the animals are active at night, you get a good look at their natural behavior.
I remember watching a rhino having a drink, when an enormous bull elephant entered the frame. The lone rhino swiveled 180 degrees, snorted, scraped all four feet on the dusty ground and charged. The elephant panicked and accelerated into the crunchy Namibian bush. The rhino returned to his spot, finished his drink, and finally waddled off into the darkness.
Opening hours change weekly and are based on sunrise and sunset. A one-day pass for adults is around $10 USD.

3. South Luangwa National Park, Zambia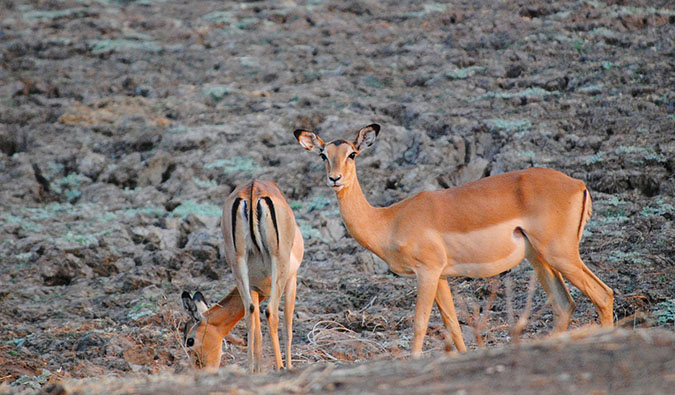 South Luangwa National Park can be found in eastern Zambia's Luangwa River Valley. While it's not well known, this isolated part of Zambia is definitely worth the trip. The river attracts tons of hippos, and the woodland savannah ecosystem provides homes for hundreds of bird species. Rare Thornicroft's giraffes and elephant herds also call the area home.
This place makes you feel like you are truly in the wild. The camps are unfenced and situated next to the South Luangwa River, where you can watch hippos and crocodiles swim past your tent. This is my favorite game park because it lacks the hordes of vehicles you see in so many other parks.
South Luangwa also has one of the highest concentrations of leopards — the most elusive member of the Big Five — and this is the only place in Africa I've seen one. Day passes cost $25 USD per adult so it's super affordable too.

4. Serengeti National Park and Masai Mara National Park – Tanzania and Kenya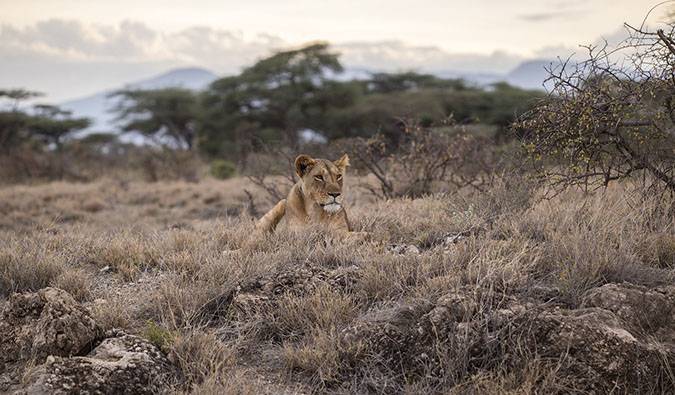 While located in two different countries, these parks share a common border. Masai Mara is in southwestern Kenya, and Serengeti Park begins at the border in northern Tanzania. The Serengeti and Masai Mara National Parks are probably the most famous parks on this list, and for good reason. Since most of the landscape is savannah (or flat grasslands), wildlife visibility is very high. The parks are well known for the annual wildebeest migration that involves the treacherous crossing of the Mara River, usually around July or August. It's also easy to spot many of the great cats here.
The Serengeti park is open from March to November from 10am to 5pm with extended hours in the summer. Park fees are $60-80 USD per person.

5. Ngorongoro Crater, Tanzania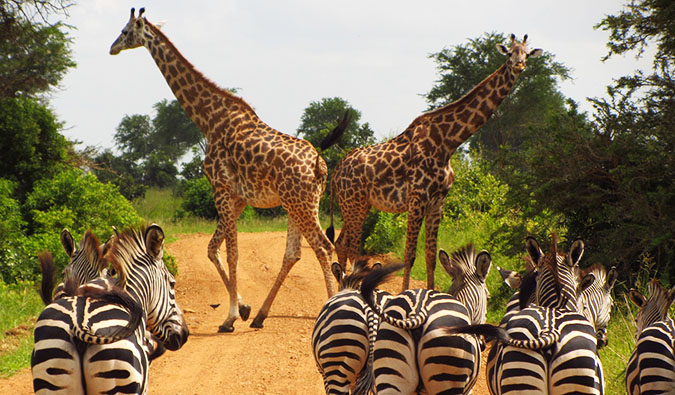 Ngorongoro Conservation Area is named after the Ngorongoro Crater, which is the largest intact caldera in the world. This crater formed millions of years ago when a giant volcano exploded. Experts estimate that before its eruption, the volcano would have stood higher than Mt. Kilimanjaro and would have been the highest peak in Africa.
Now, it's a large natural zoo, containing thousands of animals that use this area as a good place to munch on grass and each other. You can camp at the edge of the crater, but don't walk out of your tent at night. You might walk into a lion, elephant, or warthog!
The best thing about the Ngorongoro Crater is the campground itself. Animals freely walk in and out of the crater and often through the unfenced campground. I love trying to fall asleep hearing hungry lions howling in the distance. That's what makes this place great: it makes you feel alive.
An adult day pass costs $50 USD per person.

6. Okavango Delta, Botswana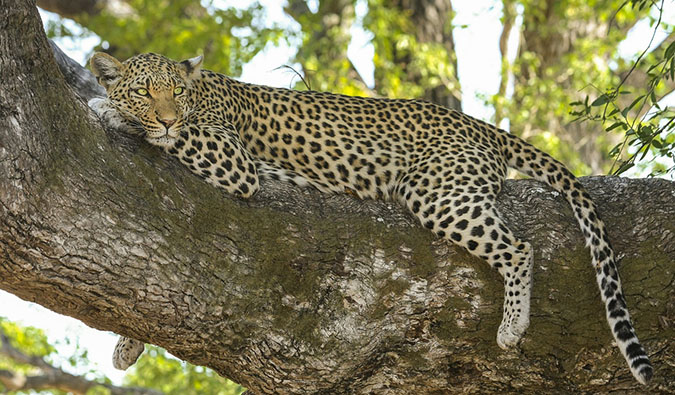 The Okavango Delta is basically a big swamp that drains inland into the Kalahari Desert. During the rainy season the grassy plains become flooded and full of lush flora and fauna. This phenomenon has caused the Okavango Delta to be a haven of wildlife such as crocodiles, elephants, and lions.
Once again, there are numerous accommodation options in the area. My favorite stay was in a safari tent overlooking the swamp. You can hear elephants and hippos walk past at night.
Safaris here are different — they usually involve canoeing in a mokoro (a hollowed-out piece of fiberglass). Once you reach dry land, there are walking safaris throughout the delta, and you will most likely come across animals just doing their thing. The best time to visit is during the wet season when the animals are most active. Admission is around $12 USD.
***
Safaris are one of the most popular bucket-list experiences in the world. And for good reason. Because no matter where you go or how you get there, a safari is an adventure of a lifetime. The beautiful landscapes and incredible wildlife are unlike anything you'll see elsewhere in the world. And while safaris can be expensive, the memories and photos are worth every penny.
Anthony runs The Travel Tart, which focuses on the funny, offbeat, and weird aspects of world travel today. Feel free to say hi on Twitter. These photos are from his safaris.
Book Your Trip: Logistical Tips and Tricks
Book Your Flight
Use Skyscanner to find a cheap flight. They are my favorite search engine because they search websites and airlines around the globe so you always know no stone is left unturned.
Book Your Accommodation
You can book your hostel with Hostelworld as they have the biggest inventory and best deals. If you want to stay somewhere other than a hostel, use Booking.com as they consistently return the cheapest rates for guesthouses and cheap hotels.
Don't Forget Travel Insurance
Travel insurance will protect you against illness, injury, theft, and cancellations. It's comprehensive protection in case anything goes wrong. I never go on a trip without it as I've had to use it many times in the past. My favorite companies that offer the best service and value are:
Looking for the Best Companies to Save Money With?
Check out my resource page for the best companies to use when you travel. I list all the ones I use to save money when I'm on the road. They will save you money when you travel too.