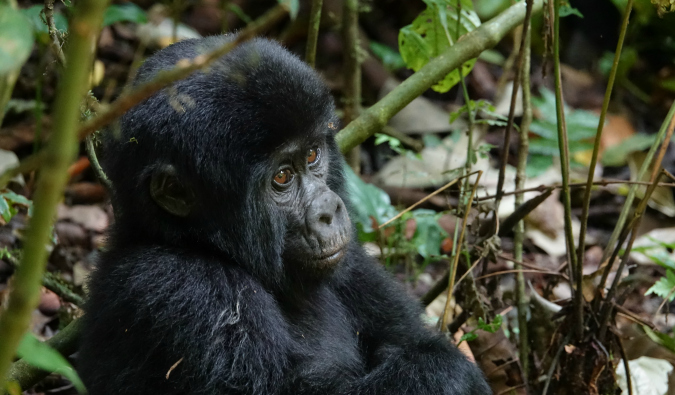 Last Updated: 1/25/23 | January 25th, 2023
This is a guest post from Marcello Arrambide of Wandering Trader.
When I moved to eastern Africa, I had an opportunity to experience something that only a handful of people get to do every year: see some gorillas.
And I wasn't leaving the continent until I did!
Gorilla trekking is one of the most unique things you can do while traveling around Africa. Gorillas are found in eastern Africa on the borders of the Democratic Republic of the Congo (DRC), Uganda, and Rwanda. The treks are an amazing experience, but they take some planning, so here are some points to consider when planning yours.

The Logistics of Choosing a Tour
There are two things to keep in mind when booking a gorilla trekking tour: the permit costs and the cost of the tour itself. All governments require everyone to get a permit to see the gorillas. The normal price for a permit in Uganda is $700 USD. The government of the country where you will schedule your trek issues your permit.
In Rwanda, the gorilla permit fee is now $1,500 USD. However, if you combine trekking in two Rwandan national parks, you'll get a 30% discount on your permit.
In searching for a tour, I chose to stay away from the DRC because of its complex visa process. Rwanda has a $50 USD visa cost for visitors from most Western countries, while Uganda charges upwards of $50 USD for single-entry and $100 USD for multiple-entry visas valid for 6-12 months or $200 USD valid for 24 months. You can get an East African tourist e-Visa for $101 USD which covers Kenya, Rwanda, and Uganda for 3 months.
Most gorilla families are constantly monitored and tracked so tourists can see them, and tourists almost always do, even on shorter three-day tours. On average, tours cost between $500 USD and $950 USD, depending on the tour operator and the size of the group. When you have a larger group, costs go down since you're able to fill up the transportation vehicle.
When I started reaching out to tour operators, I tried to make sure I chose a tour that had a minimum of four people to keep my costs down. I stayed in contact with several companies that offered me the lowest prices and eventually found a date that fit my schedule perfectly and had four people on the tour.
I chose a tour that offered me the rates below:
$870 USD for one person going alone on the trip
$485 USD per person for 2 people
$375 USD per person for 3 people
$340 USD per person for 4–6 people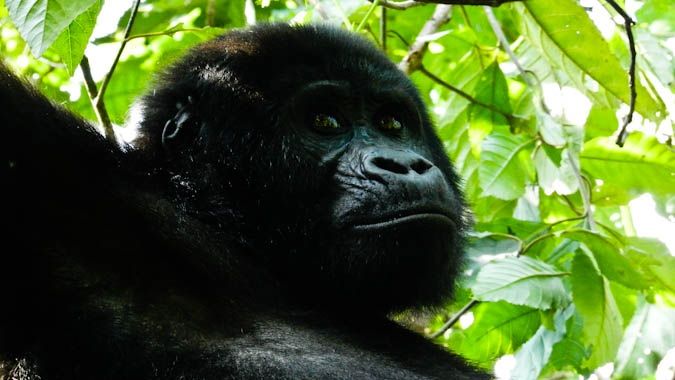 If you're traveling alone, you may pay an additional $50 USD for a private room. Breakfast and lunch were included in the tour.
I arrived the day before my trek was scheduled just in case there were any last-minute problems and I needed to find another tour operator. But there was nothing to worry about. I paid the tour operator, and we were on our way.
Note: If paying in cash, make sure you bring larger bills that were printed after the year 2000, otherwise no one in Uganda will accept them.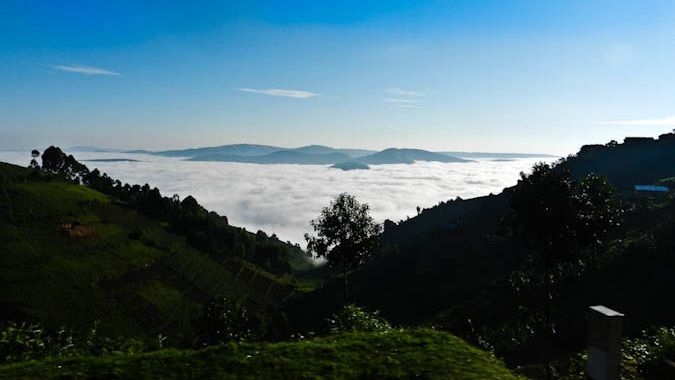 What Country Should You Choose?
The DRC was immediately crossed off my list because the visa process is extremely complex and expensive. I just heard from too many people who had significant problems at the border.
There are roughly 720 mountain gorillas left in Central Africa, and half of all gorillas are found in Uganda's Bwindi Impenetrable Forest. This alone was the main reason why I chose Uganda for my gorilla trek.
I found that since Rwanda and Uganda have nearly the same process for obtaining permits and booking tours, it just came down to price. Since the rates for Rwanda permits are much higher, the total cost of a tour and permits were just cheaper in Uganda.
If you haven't booked your tour ahead of time, you can fly into the capital city of Kampala and find plenty of tour operators who would love to sell you a package. Remember that a special permit is needed, so it's better if you purchase a tour as soon as possible so the tour operator can acquire the gorilla trekking permit. They do run out, as there are a limited number of permits available.

Going Trekking with Gorillas: The Tour Itself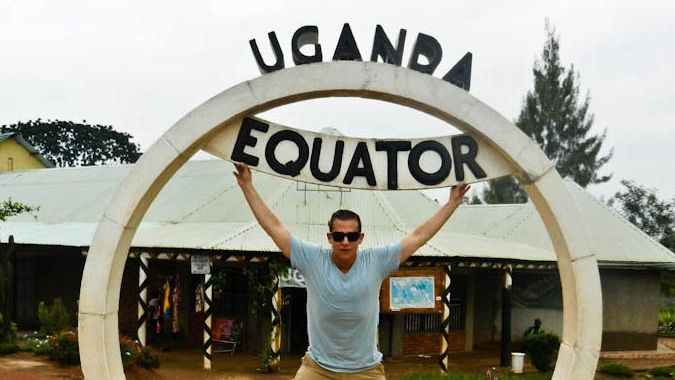 It takes an entire day to drive from Kampala to Bwindi National Park, including a stop at the equator. Depending on what group your permit is assigned to, you'll arrive in one of four cities outside the national park: Buhoma, Ruhija, Nkuringo, or Rushaga. We arrived in Nkuringo on the southwest edge of the park.
After you spend the night, the next day will all be about gorillas! We woke up at dawn and began our journey into the park, arriving at our outpost around 7:45 am. There was a quick briefing, and then we drove deep inside the Ugandan mountains, where there was a brief orientation. We were given a set of rules stating that the gorillas can approach you, but you can't approach the gorillas. (Don't touch wild animals!)
After the orientation, the rangers prepare to search for the gorillas, and you begin your trek into the jungle.
Finding the actual gorillas can take anywhere from one to five hours. It all depends on the gorillas' movements — and they're constantly moving. Once the rangers locate the gorillas, you'll spend roughly an hour or two watching and possibly interacting with them (if you're lucky) before you head back to the hotel. (If you chose a longer tour, you'll get to go back again the next day to find more gorillas.)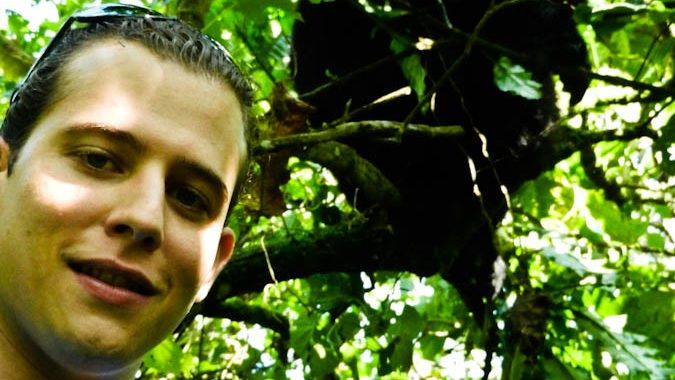 We were lucky as we found them within 45 minutes. They weren't hard to spot either, as they were feeding and playing on the edge of the forest near the ranger camp.
I can't tell you how amazing it is to be inches away from such unique creatures. The gorillas, especially the silverbacks, are incredibly strong and could easily injure a human in seconds. They didn't fear us at all — they'll walk right up to you if you're in their way. (Tip: move out of the way!) There were several times that we walked around to see different silverbacks, and no matter where we were or how we positioned ourselves, they completely ignored us. They were just going about their daily routines while we were busy snapping pictures and videos.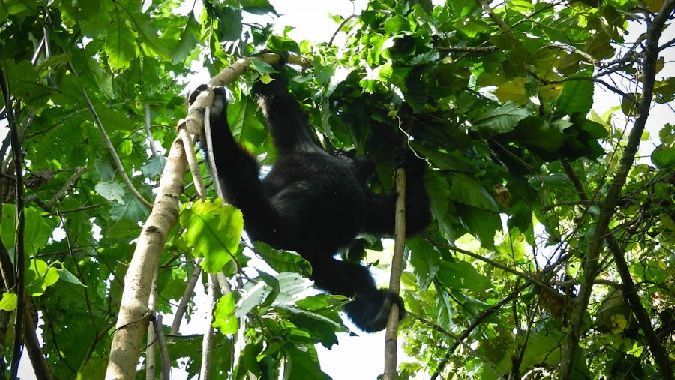 Gorilla trekking in Uganda was one of the most unique and memorable things I've done while traveling around the world. If I ever have the opportunity to do this again, I wouldn't hesitate for a second.
And if you get the chance, take it.
Marcello Arrambide is a professional day trader who travels around the world. He runs the blog Wandering Trader, which is focused on everyone who loves to travel the world and offers a unique look at how to finance it: day trading.
Book Your Trip to Uganda: Logistical Tips and Tricks
Book Your Flight
Use Skyscanner to find a cheap flight. They are my favorite search engine because they search websites and airlines around the globe so you always know no stone is left unturned!
Book Your Accommodation
You can book your hostel with Hostelworld as they have the biggest inventory and best deals. If you want to stay somewhere other than a hostel, use Booking.com as they consistently return the cheapest rates for guesthouses and cheap hotels.
Don't Forget Travel Insurance
Travel insurance will protect you against illness, injury, theft, and cancellations. It's comprehensive protection in case anything goes wrong. I never go on a trip without it as I've had to use it many times in the past. My favorite companies that offer the best service and value are:
Looking for the Best Companies to Save Money With?
Check out my resource page for the best companies to use when you travel. I list all the ones I use to save money when I'm on the road. They will save you money when you travel too.