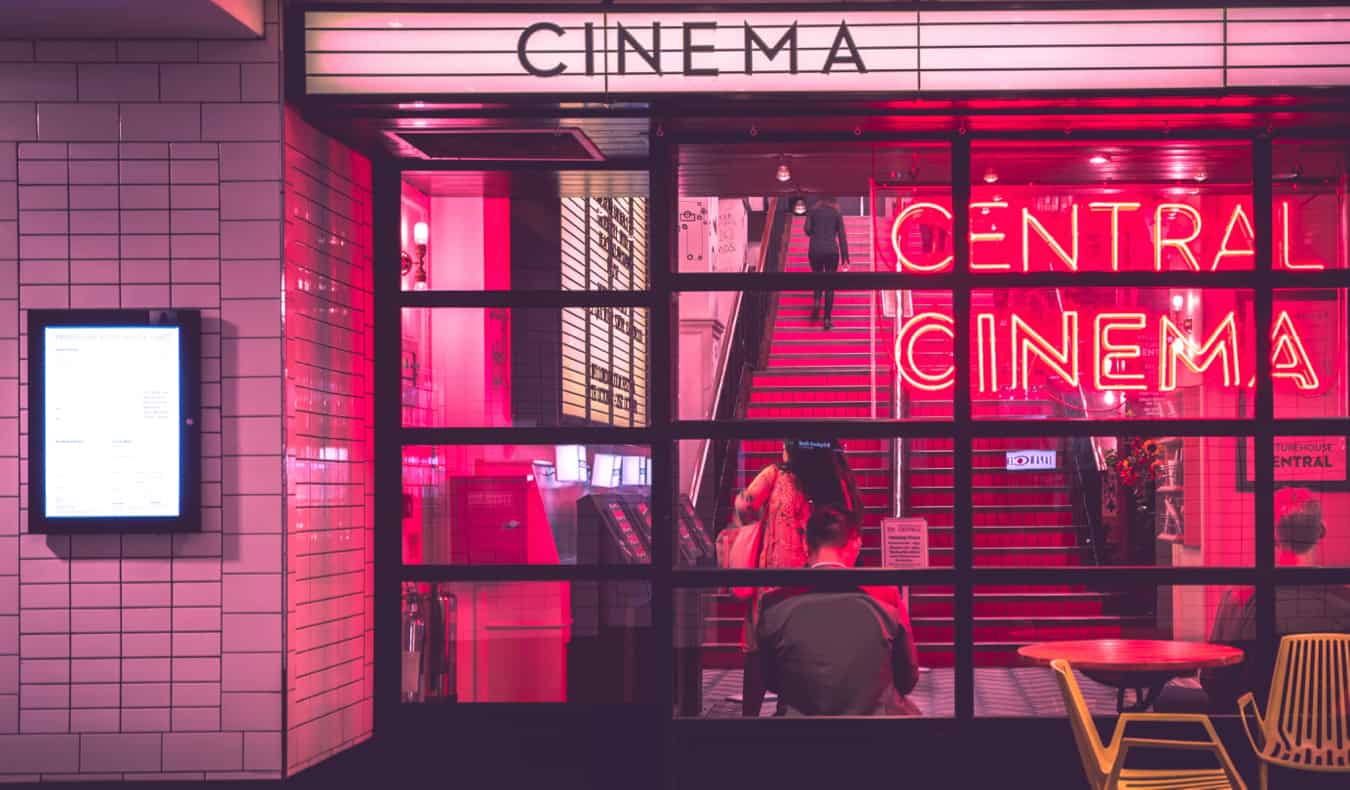 Posted: 19/10/17 | October 19th, 2017
Earlier this year, I added an LGBT column for the website to make the site more inclusive and talk about issues that affect some members of our community. We hear from LGBT voices about their experiences on the road, safety tips, events, and overall advice for other LGBT travelers! Returning this month is our column leader, Adam from Travels of Adam to share some of his favorite LGBT travel films!
Of the many things that motivate me to travel and explore the world, movies are definitely one of the strongest influences. Cinematography helps us experience different worlds, stories take us to new places.
And as the experience of coming out feels like a journey for so many LGBT people, it makes sense that there'd be many LGBT movies that cover the emotional journey of discovery alongside the physical adventure of travel.
From Oscar-winning classics like Brokeback Mountain to cult favorites like To Wong Foo, Thanks for Everything! Julie Newmar to arthouse cinema by Almodóvar and John Waters, many films inspire us to travel.
This is my list of all-time favorite LGBT-themed movies that include traveling, and they come in all genres, from silly comedies to thoughtful dramas, from Hollywood masterpieces to indie productions.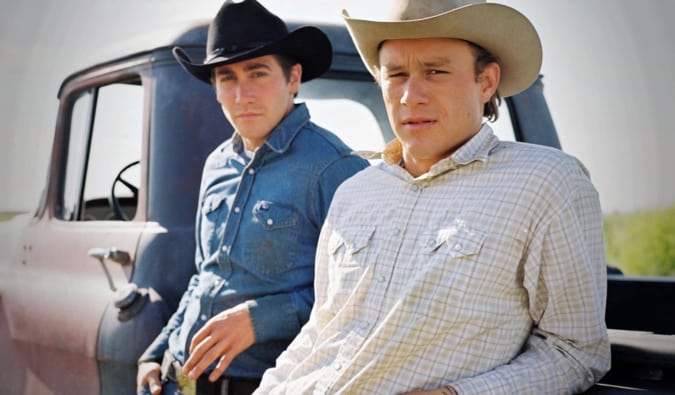 Brokeback Mountain is (rightfully) at the top of any LGBT movie list. This 2005 film tells the story of two cowboys and their annual trip from Wyoming to Texas. The beautiful scenery of the mountains and the men's camping trip is the perfect background for this painful drama.
The film depicts how many gay relationships, however they're defined, frequently start as friendships. However, there's also often a struggle with society and one's personal boundaries. Despite the tragic outcome, the story reminds us that love triumphs over hate — and over physical distance.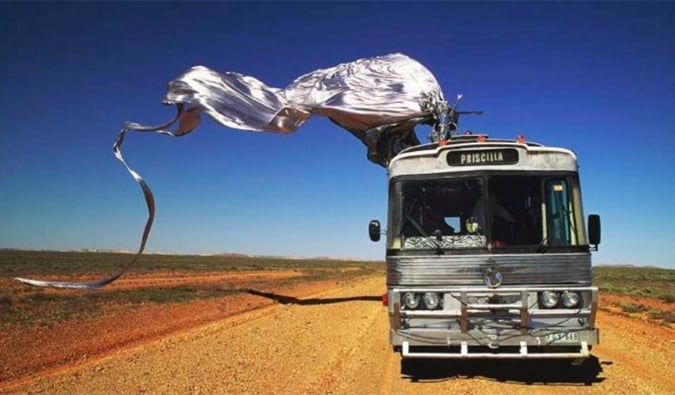 From the mountains, we travel to the desert. Two of my favorite movies are inspired by sand and hot winds. The first one is a classic and has become a gay cult movie. Set in Australia's Simpson Desert, 1994's Priscilla, Queen of the Desert is actually the name of a bus used by two drag queens and a trans woman to cross Australia on their way to a casino in Alice Springs.
Along the journey, the characters interact with rural populations, aboriginal Australians, and homophobic gangs. A young Guy Pearce and award-winning costume design make the film especially memorable. The film's combination of humor and drama is essential to any road trip movie because traveling gives you exactly that: laughs and tears.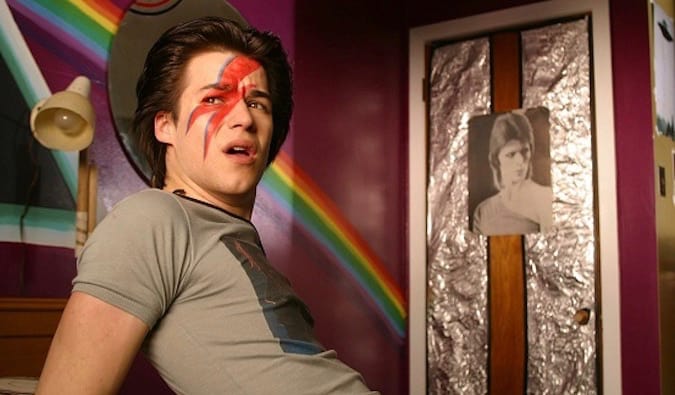 The second desert movie on this list is a more recent (2005) Canadian production, and the desert depicted is that of the beautiful city of Essaouira, Morocco (though the setting of the movie is actually Jerusalem).
C.R.A.Z.Y. is a story about acceptance and family life, but it includes an honest portrayal of traveling as a way of silencing the voices in our heads, only to return home completely empowered and strong. It follows Zac during his journey of coming out, which includes an escape to the Middle East before he reunites with his friends and family back home. Moreover, the soundtrack includes many iconic gay anthems, including Patsy Cline ("Crazy"), Giorgio Moroder ("Here to Eternity"), and David Bowie ("Space Oddity").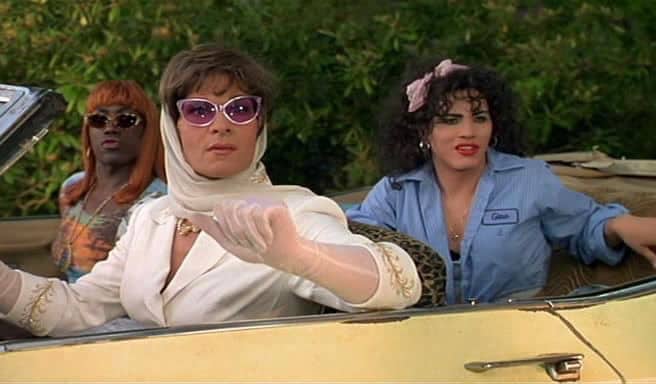 This 1995 film seems to be inspired by Priscilla, but the producers insist that production started before the Australian film was released. To Wong Foo follows the lives of three New York drag queens (Wesley Snipes, Patrick Swayze, and John Leguizamo) on a road trip from NYC to Los Angeles for a drag competition.
Naturally, their car breaks down and they end up stranded in small-town America, where they have several comedic and dramatic encounters with the local police and other stereotypical Southern characters. The movie shows both the welcoming and homophobic attitudes of the American South, but for me, the best part is the combination of black, Latino and "white" narratives during the road trip.
By overcoming stereotypes and hate — mostly depicted in the figure of a police officer — the drag queens change the lives of many people and rediscover the value of friendship.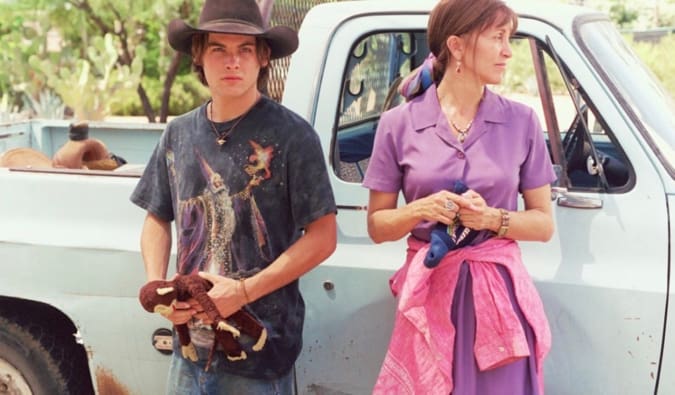 Another great story, Transamerica features an outstanding performance by Felicity Huffman as a trans woman, Bree, on a road trip. Her therapist insists that she must make amends with her estranged son, who doesn't know of her transition, before signing off on her final surgery. Bree drives her son from NYC to Los Angeles under the pretense of being a Christian missionary helping him out of jail and breaking his bad habits.
As they travel together and learn about one another, the movie explores the meaning of words like "father" and "mother," "boy" and "girl," all the while revealing the characters' complicated and emotional journey. It's a story about family life, tolerance, and self-respect.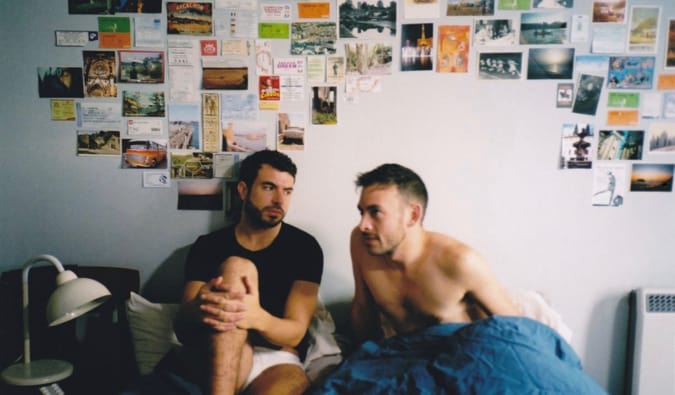 This 2011 British drama was director Andrew Haigh's breakout film (before he went on to direct Looking and 45 Years). Two men who meet in a gay club looking for a casual hookup before one of them is to move away. They have a passionate weekend together, sharing intimate details and experiences: their coming out, past relationships, and thoughts on sexuality. It's the story of that emotional, in-between moment before leaving something behind and starting anew: passionate, intense, and fleeting but unforgettable.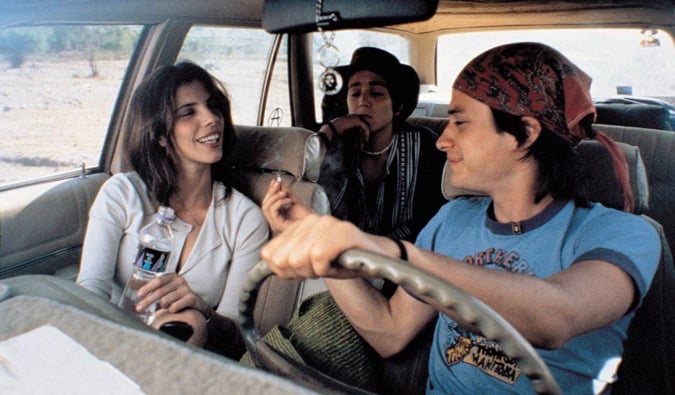 While some people are hesitant to consider it an LGBT movie, I believe Y Tu Mamá También is clearly about the stigma against bisexuality (or about the freedom to overcome any labels). While on a road trip around Mexico, two teenage boys and an attractive older woman head to the beach, only to discover the secrets of their own passions against the backdrop of Mexico's political and social realities. The movie deftly combines comedy and drama, and it shows how traveling opens us up to new experiences by fighting societal and internal worries or doubts.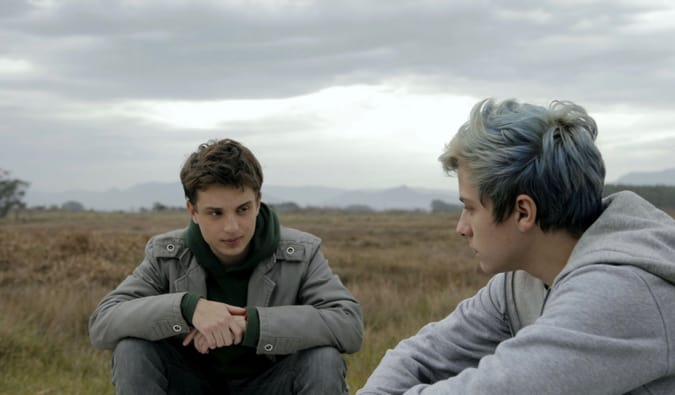 This lovely film from Brazil tells the story of two young men on a road trip trying to recover legal documents from relatives, with a detour to the beach. The journey gives them the opportunity to reconnect while solving their own internal struggles. One of the boys is gay, and the story follows his internal dilemma of sharing that fact with his friend.
Part of the magic of this movie is that it's a sweet and positive depiction of gay youth. The pain of coming out is mostly absent, and the whole experience is presented as natural and easy, with very little tension. There's a sweetness to the story, a youthfulness—and, importantly, also a realness. Not everyone has a bad experience coming out. And those stories are just as worth sharing as the others.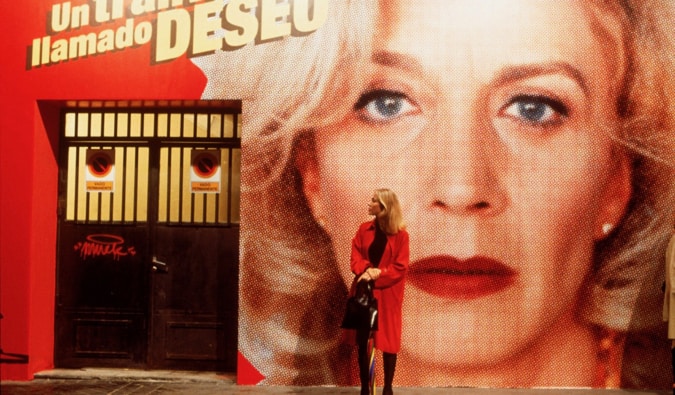 It's impossible to talk about LGBT movies and travel without making a reference to the work of Pedro Almodóvar. Many of his movies reflect gender, politics, and pain. Todo Sobre Mi Madre tells the story of a tragicomic drag queen and prostitute, Amparo, surrounded by a couple of lesbian theater actresses, a pregnant nun, and a mother (portrayed by Argentinian actress Cecilia Roth), all while searching for a trans woman who is the biological father of her son.
The tragic story is set in two beautiful Spanish cities, Madrid and Barcelona, and through the protagonist, we learn that every trip has a different meaning at different points in our lives.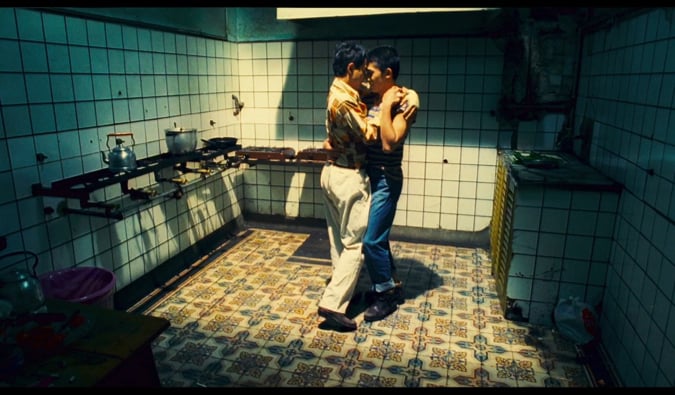 As for Asian cinema, the must-see film is this 1997 classic by Wong Kar-Wai. A gay couple from Hong Kong travel to Argentina, with the objective of visiting the Iguazú waterfalls and resetting their relationship.
Their physical trip abroad is a metaphor for their spiritual trip and includes episodes of depression, emotional pain, and abuse. The story is tumultuous but reveals the power of resilience and shows us how traveling can affect both past and present relationships.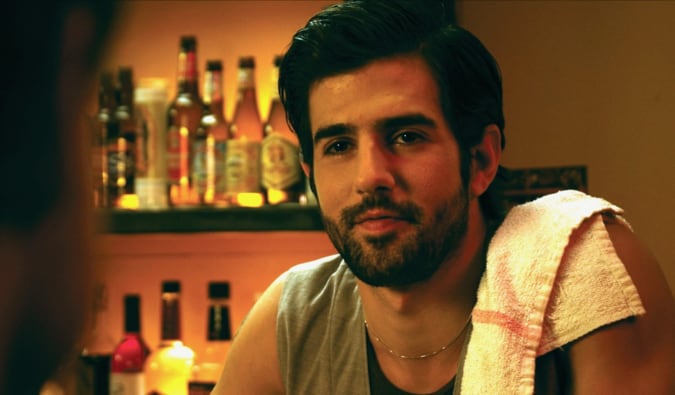 August is another gay-themed movie about separation and reunification. After living for many years in Spain, Troy travels back to Los Angeles and begins a journey that explores the boundaries of relationships and the ugly difference between reality and expectations.
For me, travel here is a symbolic way to break old habits and learn more about ourselves and others. Returning from a long trip always has its complications, especially when old relationships show up again. But it's our journeys abroad that add to our own personal stories, and things always change before, during, and after a big trip.
***
We often travel to different places in other to imagine how life would be for us there, to discover new cultures and social contexts and to explore unknown parts of our own being. Many LGBT-inspired films do exactly the same. Today, it's easy to explore both the real or fictional worlds of gay lives in many films from different cultures, cities, and social contexts as more and more LGBT films make it to mainstream screens.
But even if you don't identify as LGBT, I encourage you to seek out these films that follow unique and personal stories, themes we can all relate to no matter our sexuality or gender.
Maybe the more LGBT movies you watch, the easier it is to interact with others who are different or have a background that's hard to assess.
The same goes for travel.
The more international friends and acquaintances you have and the more diversity in your life, the easier to understand and empathize with other cultures.
Note: Some of these films aren't 100% accurate in their depictions of LGBT people and may seem dated, but many of them have had a positive impact on LGBT culture and continue to be important.
Adam Groffman is a former graphic designer who left a publishing job travel the world. He's a gay travel expert, writer, and blogger and publishes a series of LGBT-friendly Hipster City Guides from around the world on his gay travel blog, Travels of Adam. When he's not out exploring the coolest bars and clubs, he's usually enjoying the local arts and culture scene. Find more of his travel tips (and embarrassing stories) on Twitter.

Book Your Trip: Logistical Tips and Tricks
Book Your Flight
Find a cheap flight by using Skyscanner. It's my favorite search engine because it searches websites and airlines around the globe so you always know no stone is being left unturned.
Book Your Accommodation
You can book your hostel with Hostelworld. If you want to stay somewhere other than a hostel, use Booking.com as it consistently returns the cheapest rates for guesthouses and hotels.
Don't Forget Travel Insurance
Travel insurance will protect you against illness, injury, theft, and cancellations. It's comprehensive protection in case anything goes wrong. I never go on a trip without it as I've had to use it many times in the past. My favorite companies that offer the best service and value are:
Want to Travel for Free?
Travel credit cards allow you to earn points that can be redeemed for free flights and accommodation — all without any extra spending. Check out my guide to picking the right card and my current favorites to get started and see the latest best deals.
Ready to Book Your Trip?
Check out my resource page for the best companies to use when you travel. I list all the ones I use when I travel. They are the best in class and you can't go wrong using them on your trip.