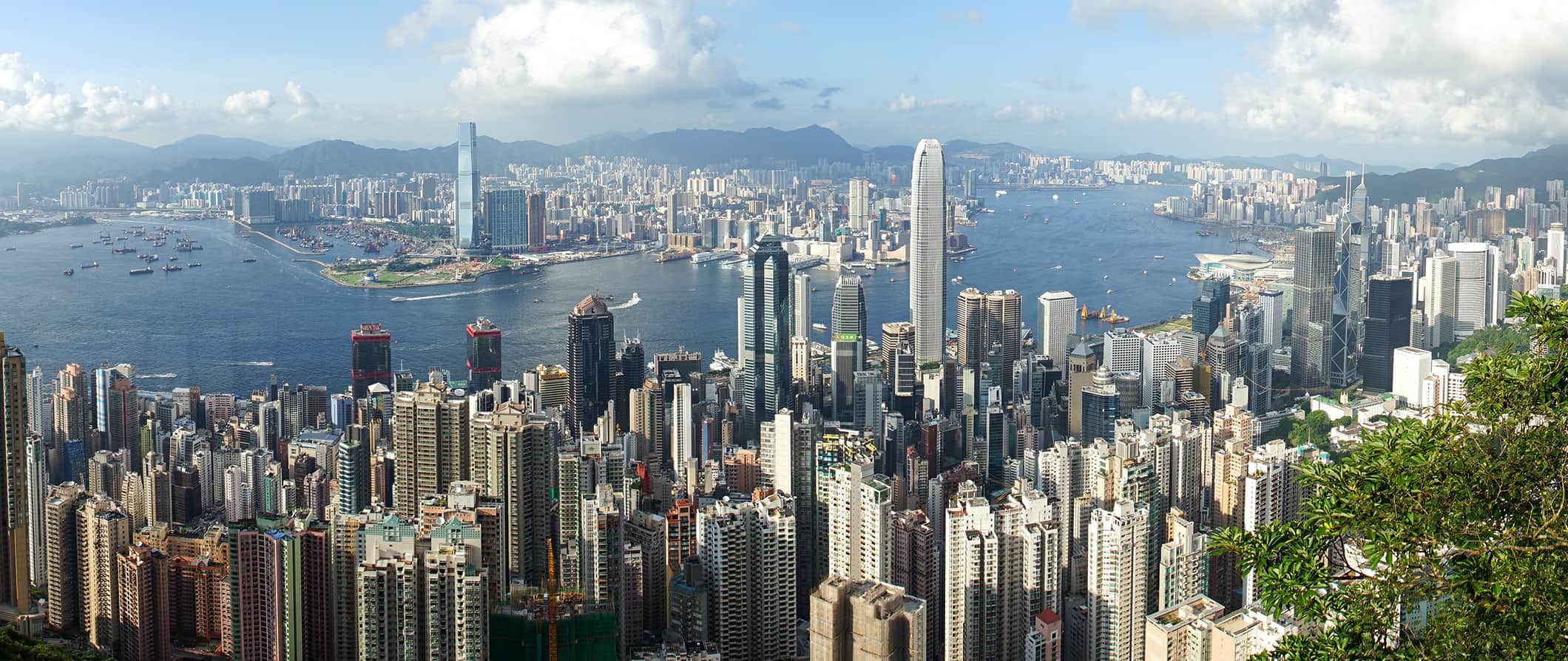 Hong Kong is one of the most densely populated places on earth. Composed of three main regions (Hong Kong Island, Kowloon, and the New Territories) as well as over 260 additional islands, the country is home to a whopping 6,300 people per square kilometer. In fact, the most densely-populated neighborhood in the world can be found here!
Yet the country also has one of the lowest birthrates, with almost 30% of its population set to be over 65 by 2030.
Hong Kong is one of my favorite cities in the world and I always fly into it when I visit Asia to take in the sights, eat dumplings and dim sum, and have a night out. I can't get enough of the city, and if you are a foodie like me, it's heaven — and it's hard not to walk away a few pounds heavier either!
Hong Kong is one of the most exciting places on earth and, even after countless visits to other countries, the city remains in my top five. There's nothing better than visiting Hong Kong. It is a city that delights all five senses.
From traditional street markets and beautiful temples to the fast-moving, skyscraper-dotted streets, to the endless food and drink options, there is so much to do here.
Use this Hong Kong travel guide to plan your trip and get the most out of one of the most vibrant, eclectic, and diverse cities in the world.
Top 5 Things to See and Do in Hong Kong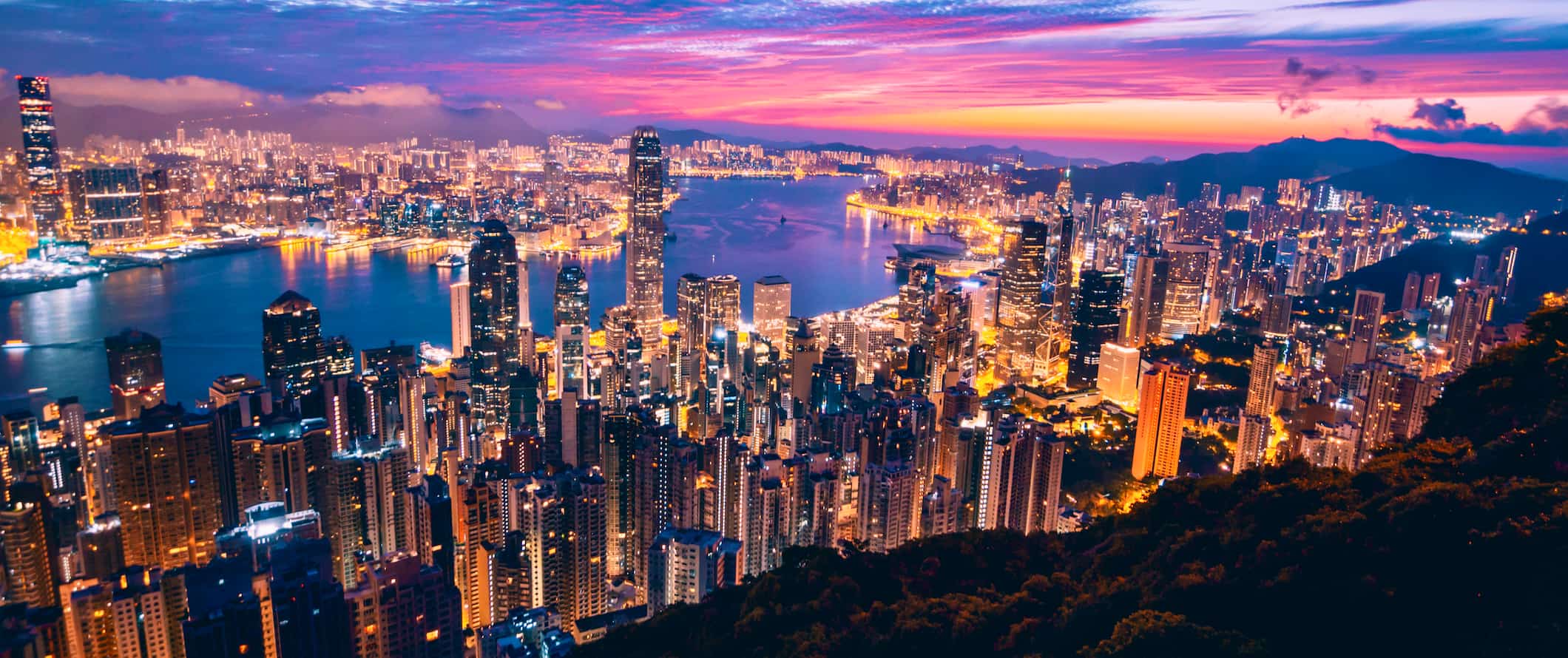 1. Visit the temples
There are a lot of traditional temples throughout the city. Visit the Miu Fat Buddhist Monastery, Lo Pan Temple, Sha Tin Che Kung Temple, Man Mo temple, or the Yuen Yuen Institute. Miu Fat and Lo Pan are my two favorite. Don't miss the Ten Thousand Buddhas Monastery!
2. Take the Star Ferry
This is the best way to get across the harbor from Kowloon Island to Hong Kong Island. It gives you fantastic view of the city skyline for cheap (only 220 HKD)! It's one of my favorite and simple pleasures of the city. It's a must!!
3. Ride Ngong Ping 360
This cable car spans just under 6km (3.5 miles), offering a panoramic view of the city and mountains. The ride lasts about 25 minutes and offers AMAZING views of the city and ends up at Po Lin Monastery. Be sure to visit the Big Buddha when you arrive. Round-trip tickets start at 235 HKD.
4. Visit the street markets
The best places to soak up the atmosphere, busy vibe, sights, and sounds of Hong Kong. The best markets to go to are the Ladies Market, Temple Street Night Market, and the Stanley Market. You'll find everything you need here (as well as lots of food).
5. Ride the Peak Tram
This tram takes you to the top of the Peak, Hong Kong Island's largest mountain (you can walk up too). You get a spectacular view the skyscrapers of Victoria Harbor and Kowloon and a real sense of just how big and dense the city is from here. Return tickets are 99 HKD (47 HKD for children).
Other Things to See and Do in Hong Kong
1. Sheung Wan District
Famous for its bird's nest and shark fin soup (which you should not eat), this area reflects the old Hong Kong. High-end apartment and office blocks tower over small stores and traditional markets and it's less developed with modern buildings than other parts of the city.
2. Jungle trekking
Outside the congested area of the city you'll find lots of places to explore nature. You can explore or trek along one or more of the eight different "geo-areas" distributed across the Sai Kung Volcanic Rock Region and Northeast New Territories Sedimentary Rock Region. Both areas provide a great place to experience a side of the city few people ever see because they can't escape the hustle and bustle of the area!
3. Have fun at Disneyland
If you're on a family trip, or even if you're a backpacker in touch with your inner child, head to Disneyland for a fun-filled day of rides, attractions, and junk food! Tickets are not cheap and a day in either park will put a dent in your wallet…but somethings are worth it! Adult admission is 619 HKD while children will cost 458 HKD for a single-day ticket.
4. Tsim Sha Tsui Waterfront
Stroll along the Tsim Sha Tsui Waterfront, and take in the breathtaking skyline view of Hong Kong island. While you're here, make sure to visit the Avenue of Stars, Hong Kong's answer to the Hollywood "Walk of Fame." Best of all, it's free!
5. Mai Po Natural Area
This endless stretch of mangrove forest and muddy swampland is a paradise for birds and invertebrates. Overs 430 kinds of birds have been documented here and the area is protected fromdevelopment. Since it's a protected area, the World Wildlife Federation's public guided tours are the only way to experience the area. Tours are Fri–Sun (starting at 9:30am), last tour at 2:30pm. From October to April you can even watch the annual migrations. It's another option to see more than just the buildings of HK.
6. Visit the Po Lin Monastery
Built in 1924, this temple is situated on Lantau Island. It is commonly known as the 'Buddhist Kingdom in the South," and ranks as the most magnificent structure among the four Buddhist temples in Hong Kong. Admission to see the Buddhas statue is free, though it's 78 HKD to see the exhibitions. The ticket includes a meal, though, which is worth the price — the food here is incredible!
7. Explore Tung Shoi Street
Also known as Ladies Street, this open-air bazaar is situated in the central area of Mong Kok. It is one of the busiest places in Hong Kong and is filled with shops and cheap goods. Remember to bargain!
8. Experience the nightlife at Lan Kwai Fong
LKF is the main nightlife and party area in Hong Kong and is filled with tons of bars, clubs, sheesha, and cheap drinks. Nights out here are wild and crazy and the place is packed any night of the week. If you're looking to get wild, you can't go wrong here. 001, Solas, Dragon I, and 6 Degrees are a few places I like to visit in the area when I'm looking for a night out.
9. Hike the Dragon's Back
This trail is easily accessible from the city and is a nice way to spend a day outside the hustle and bustle of the city. The trail will take a around 4 hours and is moderately difficult, so be sure to bring lots of water. There are also plenty of other trails in and around the city, too!
10. Rent a junk boat
Don't let the name fool you! Junk boats are a traditional Chinese sail boat that are still in use today, mostly just for tourists to cruise the bay in. If you can round up a group of 15 or so people you can rent an entire junk boat for the day (or half-day). Sail around the harbor in traditional style. Expect to pay at least 300 HKD per person (more for nicer boats).
11. Enjoy the nightlife
Hong Kong has some of the craziest nightlife options in Asia, from karaoke bars to wild street parties to packed clubs. Some notable options include the 007 speakeasy (with amazing Old Fashioned cocktails) and Dragon I, where you can dance until the early hours of the morning.
12. See a show
The popular Broadway Cinematheque is the place to go for indie films; it is also home to the Korean Film Festival (as well as other high-profile film festivals). For a deeper cultural experience, attend the Yau Ma Tei Theatre for some Cantonese opera.
13. Visit the museums
Hong Kong has an endless supply of museums, so take your pick! One of my favorites is the Hong Kong Heritage Museum, which gives you a look at the artistic culture of the city. Then visit the Hong Kong Museum of History to learn more about the city's complicated and fascinating past. For something completely different, there are some galactic exhibitions at the SpaceMuseum.
Hong Kong Travel Costs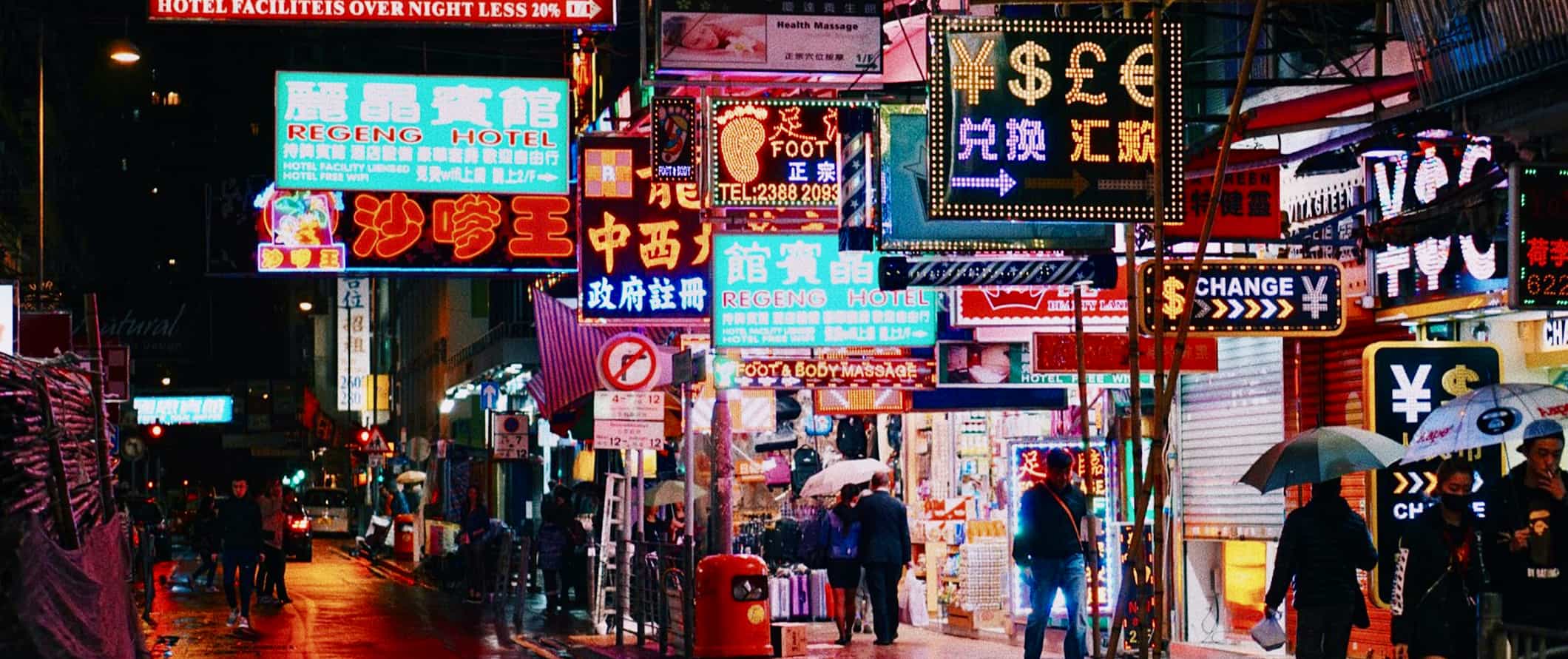 Hostels – Dorm rooms can be found for as little as 110 HKD per night, though most travelers should expect to pay closer to 150 HKD (some of the cheapest places are not the most sanitary). Free WiFi is standard at almost all of the hostels, as are kitchens if you plan to cook your own food.
Private rooms in hostels start at around 250 HKD per night and go as high as 500 HKD for a double room.
Hotels – If hostels aren't your thing, you can find budget hotel rooms for 325-650 HKD per night, depending on the location and amenities.
Airbnb is widely available in the city, with private rooms starting around 275 HKD per night. For an entire apartment, expect to pay closer to 800 HKD per night.
Food – Cheap market food such as noodles and dumplings will cost around 50 HKD per meal while casual restaurants with table service will cost around 100 HKD for a meal with a drink. A few of my favorite restaurants in the city are Butao Ramen @ Central, Din Tai Fung, and Lan Fong Yuen.
If you decide to splurge, you can expect to pay around 350 HKD or more for something fancy or western food (such as Italian, Steak, or American fare). But you'll find there is enough cheap markets and noodle shops to keep you busy during your visits.
Drinks are roughly 35-50 HKD, though wine and fancy cocktails can be between 75-155 HKD. If you are going to buy your own groceries, expect to pay around 400 HKD per week for your basic staples.
Backpacking Hong Kong Suggested Budgets
Hong Kong isn't cheap, but since it's such a diverse and massive city, there's something here for every budget and preference!
Here are some example budgets to help you get a sense of what to expect when you arrive:
On a backpacking budget, you should plan to spend 315-475 ($40-60 USD). This is a suggested budget assuming you're staying in a hostel dorm, eating fast food occasionally but mainly cooking your own meals, using public transportation, and participating in basic activities like visiting museums.
On a mid-range of budget of 785-1,215 HKD ($100-155 USD) per day, you can stay in budget hotels, take buses between destinations, eat fast food, and do more excursions.
For a luxury budget of 2,650+ HKD ($335 USD and up) per day, you can afford to stay in nice hotels, hire a driver or Uber everywhere, do some guided tours, and eat out for every meal.
Accommodation
Food
Transportation
Attractions
Average Daily Cost
Backpacker
$15-20
$15-20
$5-10
$5-10
$40-60
Mid-Range
$55-75
$90-125
$20-45
$10-20
$100-155
Luxury
$100+
$100-120
$35-60
$100
$335+
Hong Kong Travel Guide: Money-Saving Tips
Hong Kong packs a lot of activities into a small amount of space — and that space is expensive! Prices here are much high than mainland China (as well as most of Asia) but there are still some ways you can save money. Here are some tips you'll want to implement to keep your budget intact:
Eat at the buffets – Many restaurants offer an all you can eat menu for less than 110 HKD. They usually consist of noodle dishes, dim sum, and/or dumplings, making it a cheap and filling meal that provides a ton of value.
Avoid staying on Hong Kong Island – If possible, avoid staying on the island of Hong Kong. Kowloon and the other islands have much cheaper accommodation! If you do end up on Hong Kong island, Causeway Bay has most of the cheapest accommodation.
Visit the markets – Most locals shop at the markets as they offer the cheapest and freshest foods, at times up to 50% cheaper than grocery stores. Do all your grocery shopping here (especially when buying produce).
Stay in Chungking Mansion – While a far cry from even a 1-star hotel, Chungking Mansion offers the cheapest accommodation in the city. It's not the nicest place (far from it) but it's certainly an experience, as 4,000 other people also call the "mansion" home. Prices can be as low as 50HKD so if you are on a really tight budget, stay here.
Use hospitality networks – Since accommodation is expensive in Hong Kong, consider using Couchsurfing, a site that connects travelers with locals offering a free place to stay to encourage cross-cultural exchange. There are a lot of hosts (both locals and expats) who take part in the community, so you can almost always find one. The community organizes a lot of inperson meet-ups around town too, which is a fun way to make some new friends — even if you don't want to sleep in their homes.
Get a transit day pass – Trains in Hong Kong can add up quickly as fares are based on distance. Getting a day pass will be much more economical if you are traveling all over the city and into the New Territories. A day pass is 65 HKD for adults and 30 HKD for children.
Skip the taxis – While taxi fares are not astronomical, the hectic traffic will make your bill add up quickly. Public transportation is affordable and reliable. Skip the taxis!
Buy an Octopus Card – While this doesn't necessarily save money, it makes your life a lot more convenient, which is why 99% of the residents in Hong Kong use them. The card is a contactless payment tool that simplifies the process of buying things like tickets on public transportation (MTR, light rail, buses, ferries, trams, etc.), so you don't have to carry around coins or pay in exact change. You can use it for virtually all forms of public transportation, at
convenience stores, restaurants, shops, and tourist attractions. It acts like a pre-paid debit card. Get it to save you time and the hassle of fumbling for your cash every time you need something!
Avoid drinking wine – The price of drinking tends to run up your costs pretty unintentionally. At $80 HKD for a bad glass of vino, it's not worth it. Save your money. This applies to fancy sugary cocktails too. Stick to beer or simple mixed drinks like vodka tonics, as they're typically affordably priced.
Save money on rideshares – If you do need a ride, Uber is way cheaper than taxis and are the best way to get around a city if you don't want to wait for a bus or pay for a taxi. The Uber Pool option is where can you share a ride to get even better savings (though you can get your own car too). You can save $15 off your first Uber ride with this code: jlx6v.
Where To Stay in Hong Kong
Hostels and guesthouses are plentiful in Hong Kong, ranging from the boutique to the downright squalid. Here are my recommended places to stay:
For more hostel suggestions, here's a list of my favorite hostels in Hong Kong!
How to Get Around Hong Kong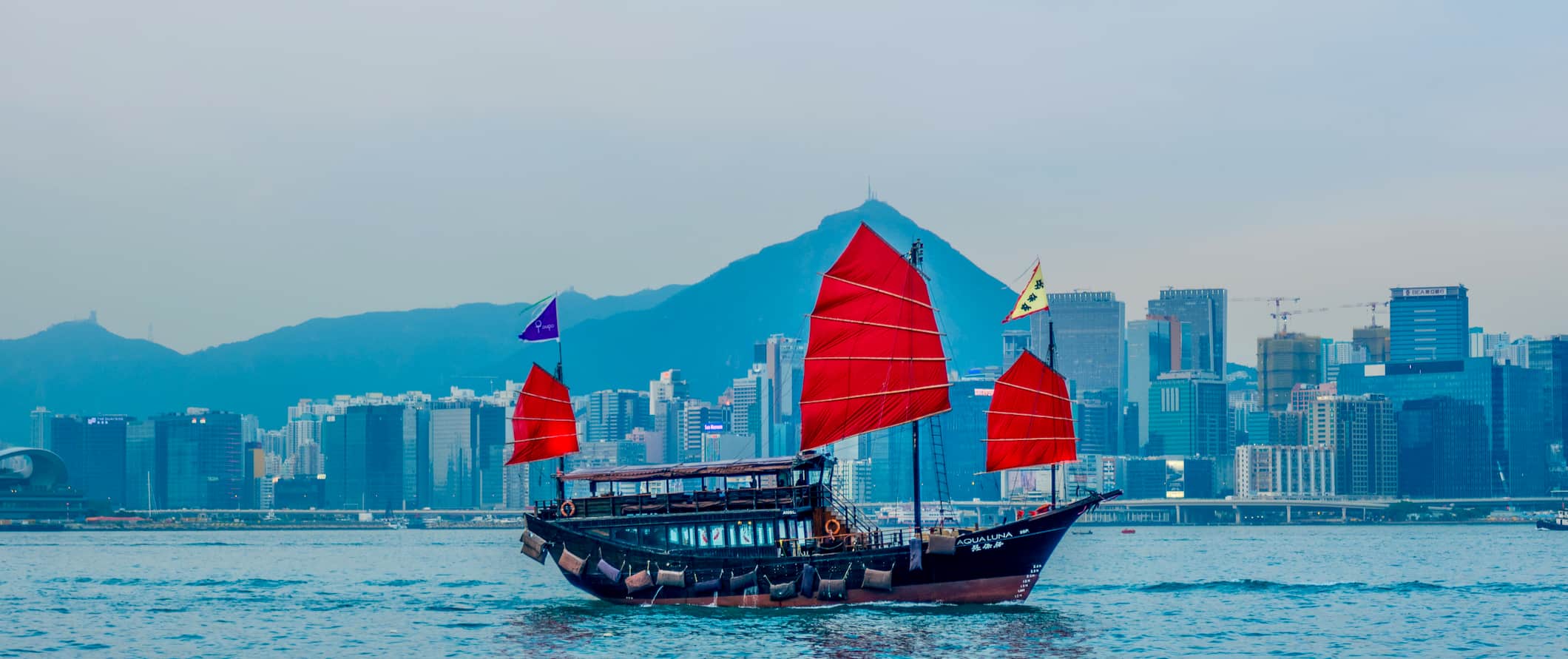 A tourist travel pass costs 65 HKD per day (30 HKD for kids) and covers unlimited travel on the metro, tram, and light rail service. Individual tickets are based on distance and range from 7-23 HKD so a day pass is your best option if you're going to be traveling a lot or traveling long distances.
The subway runs late into the night and is very clean and efficient. Fares will cost between 5-25 HKD, depending on where you're going.
The Star ferry between Hong Kong and Kowloon island is 2 HKD.
There is also a train to the airport (Airport Express Line) which departs every 10 minutes and costs 115 HKD per person (110 HKD with an Octopus Card). The journey takes around 25 minutes.
If you need to take a taxi, prices start at 25 HKD and go up by around 8 HKD per kilometer. Uber is also available, though it's around the same price as a taxi after recent price increases, so either option will suffice.
To/From Shenzen – Buses are available from Hong Kong to Shenzen (the city in mainland China across the border), costing around 170 HKD per person. The journey takes around 1 hour and forty-five minutes.
Trains are available to Shenzen, China for around 109 HKD per person. The ride takes around 30 minutes.
Car Rental – With world-class public transportation and very cramped, busy driving conditions, I would not suggest travelers rent a car unless they have a very explicit need of one.
Ride-Sharing – Uber is your best bet for getting around if you don't want to use public transportation as its cheaper than the taxis. You can save $15 off your first Uber ride with this code: jlx6v.
Hitchhiking – Hitchhiking here is virtually non-extent in Hong Kong. I don't recommend it.
When to Go to Hong Kong
Because of its subtropical location, Hong Kong's weather is generally mild in winter and uncomfortably hot and humid in summer. The best time to go is between November and March when the heat and humidity isn't as bad. November and December are particularly good for finding reasonably priced accommodations. Tourism traffic starts getting busier after the New Year.
Generally, the summer months are not a good time to visit Hong Kong, as then there is the added threat of typhoons. The temperatures in the summer can get up to 31°C (88°F), which may not sound like a lot, but the humidity can be severe.
If you're arriving during one of the major festivals or holidays (like Chinese/ Lunar New Year), you'll want to book accommodations and tours well in advance. These can be some of the busiest times in Hong Kong, so plan accordingly. That being said, getting swept up in the chaos and fun atmosphere of the city during this time can be well worth it, if you don't mind the price increase or the large crowds.
How to Stay Safe in Hong Kong
The crime rate in Hong Kong is relatively low, but you should still take precautions in crowds and on public transportation as those are the spots where pickpockets are most common.
In addition to rare instances of petty theft, there are also numerous scams perpetrated on tourists, from fake monks to overcharging taxi drivers, but nothing that will endanger you physically.
If approached by a "monk" offering small trinkets or "blessings" just politely decline. Real Buddhist monks do not travel the streets hawking goods to tourists.
As for taxis, always make sure the driver uses the meter and that you only get in official, marked taxis. When in doubt, have your hostel or hotel call a taxi for you to ensure you get a reputable company.
Overall, Hong Kong is a safe place to backpack and travel – even if you're traveling solo, and even as a solo female traveler. Violent attacks are rare. Petty theft (including bag snatching) is the most common type of crime, and even that is not very common. People are nice and helpful and you're unlikely to get into trouble. The people who do tend to get into trouble are usually involved with drinking or drugs or sex tourism. Stay away from that stuff and you'll be fine.
Worried about travel scams? Read about these 14 major travel scams to avoid.
The most important piece of advice I can offer is to purchase good travel insurance. Travel insurance will protect you against illness, injury, theft, and cancellations. It's comprehensive protection in case anything goes wrong. I never go on a trip without it as I've had to use it many times in the past. You can use the widget below to find the policy right for you:
Hong Kong Travel Guide: The Best Booking Resources
These are my favorite companies to use when I travel. They consistently have the best deals, offer world-class customer service and great value, and overall, are better than their competitors. They are the companies I use the most and are always the starting point in my search for travel deals.
Skyscanner – Skyscanner is my favorite flight search engine. They search small websites and budget airlines that larger search sites tend to miss. They are hands down the number one place to start.
Hostelworld – This is the best hostel accommodation site out there with the largest inventory, best search interface, and widest availability.
Booking.com – The best all around booking site that constantly provides the cheapest and lowest rates. They have the widest selection of budget accommodation. In all my tests, they've always had the cheapest rates out of all the booking websites.
Get Your Guide – Get Your Guide is a huge online marketplace for tours and excursions. They have tons of tour options available in cities all around the world, including everything from cooking classes, walking tours, street art lessons, and more!
SafetyWing – Safety Wing offers convenient and affordable plans tailored to digital nomads and long-term travelers. They have cheap monthly plans, great customer service, and an easy-to-use claims process that makes it perfect for those on the road.
LifeStraw – My go-to company for reusable water bottles with built-in filters so you can ensure your drinking water is always clean and safe.
Unbound Merino – They make lightweight, durable, easy-to-clean travel clothing.
Top Travel Credit Cards – Points are the best way to cut down travel expenses. Here's my favorite point earning credit cards so you can get free travel!
Hong Kong Travel Guide: Related Articles
Want more info? Check out all the articles I've written on Hong Kong travel and continue planning your trip: