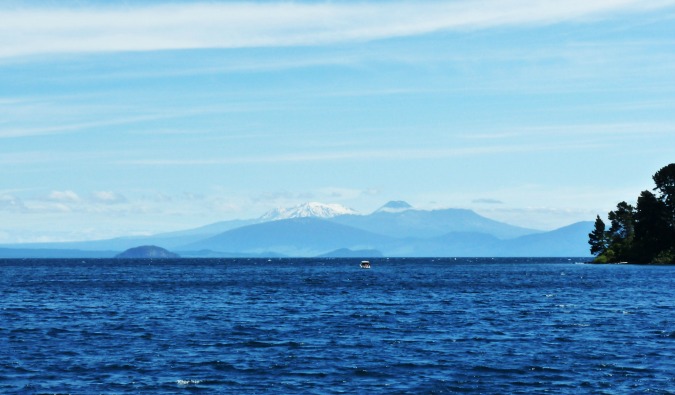 Last Updated: 5/21/22 | May 21st, 2022
I'd only been fishing once in my life. It was during an extended stay on the island of Ko Lipe in Thailand. A few of us had rented a boat to explore the nearby national park and islands. For lunch, our Thai captain went out to catch fish. I was one of the few who went with him, and each of us was allowed a chance to catch something.
Our fishing was done the old-fashioned way: a hook attached to a line thrown in the water. Very simple. Our lunch bit while I was holding the line. I had caught a nice fish for everyone, but in the process managed to slice my finger open. A bittersweet victory.
Now, in New Zealand, my friends and I decided to go fishing. I'm not a fan of it — I find the waiting boring — but I am a fan of drinking on lakes with my friends.
Trout fishing in Taupo, New Zealand was a completely different experience than that time in Thailand.
Instead of line fishing in an open long boat, we went with a modern, sonar-equipped boat, a surly but hilarious captain, and very high-tech rods.
Launching into the lake after lunch, we went in search of trout. We were a veritable United Nations of fishers — me from the US, my friends from Germany, Sweden, Ireland, and Australia, and our surly Kiwi captain — looking to kill an afternoon on the lake, as well as some fish for dinner.
Our hunt didn't go too well at first. After our captain used some high-tech equipment and weights to drop the lines 120 feet below the surface, we cruised around, waiting for our first bite, each of us picking a line to use. Then we waited longer. And longer. Eventually, bored and beers in hand, we went to the top deck and took in the view.
And what a view it was.
Taupo is my favorite place in New Zealand. The area is absolutely stunning. The town is situated on the biggest lake in the country, and from there you can see Mount Ngauruhoe (Mount Doom from The Lord of the Rings) and Mount Tongariro (the site of the greatest one-day hike in the country). Nearby you have hot springs and the amazing Huka Falls, where the water is extremely blue, like looking at an iceberg.
I loved Taupo, and loved even more sitting out on the lake, cruising around, taking in the sun, watching the other boats, and marveling at the mountains in the distance.
Whether or not we caught any fish didn't matter. We were having a perfect day.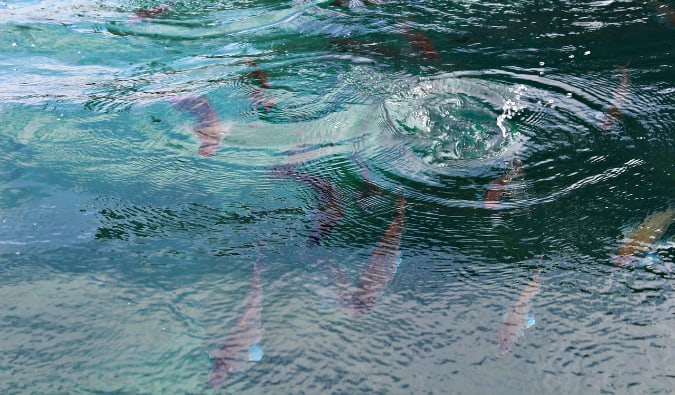 We had rented the boat for two hours, and the more time passed, the less it seemed like we would catch anything. Our captain was getting more aggravated, cursing about how he hated going back empty. He tried to placate us with a few more beers, but the lack of fish actually seemed to bother him more than it bothered us. And then, as we were listening to him rant about the local culture, we saw it: a pull on one of the lines. Then another pull. We had two fish.
And one of those fish was mine. It was time to catch the second fish of my life. Except I had no idea what to do. I'd never used a reel before.
"How do I reel it in?" I asked.
"No silly questions!" the captain yelled. "You reel it in by turning the wheel!" he said, pointing angrily at the rod.
"OK, well, I've never done this before," I said.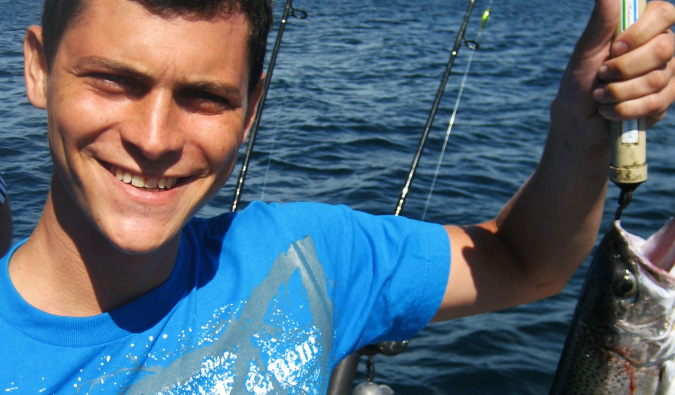 So there I was, reeling in my trout. It didn't put up much of a fight, and pretty soon I had it on the boat. My friend also reeled in his fish. Our captain took care of the rest, killing the fish, admonishing me for my rookie ways in the way Kiwis kid (because they care), and proclaiming the day a success. We had two decent-sized fish for dinner.
Heading back into port, our captain was all smiles and happy we had caught something, even if they weren't the biggest trout out there. It was an exciting day on the lake, the sun was still shining, and the air was crisp as the day started to end.
That night we took our fish to one of the lakeside restaurants, where they gutted and cooked them for us. It was better than any meal cooked in a hostel kitchen. With fish and wine and the lake in the background, we were content with our day. It was one for the books… and remains one of my favorite days during my entire time in the country.
NOTE: To find a fisherman, just head to the wharf and ask around. You don't need to take any expensive tours; they are a rip-off. Plenty of the fishermen at the dock will take you out. You can negotiate the rate. It's easier and more fun!
Book Your Trip to New Zealand: Logistical Tips and Tricks
Book Your Flight
Use Skyscanner. It is my favorite search engine because it searches websites and airlines around the globe so you always know no stone is left unturned.
Book Your Accommodation
You can book your hostel with Hostelworld as it has the biggest inventory and best deals. If you want to stay somewhere other than a hostel, use Booking.com as it consistently returns the cheapest rates for guesthouses and cheap hotels.
My favorite place to stay in the city is Rainbow Lodge.
If you're looking for more places to stay, here are my favorite hostels in New Zealand.
Don't Forget Travel Insurance
Travel insurance will protect you against illness, injury, theft, and cancellations. It's comprehensive protection in case anything goes wrong. I never go on a trip without it, as I've had to use it many times in the past. My favorite companies that offer the best service and value are:
Looking for the Best Companies to Save Money With?
Check out my resource page for the best companies to use when you travel. I list all the ones I use to save money when I'm on the road. They will save you money too.
Want More Information on Taupo?
Be sure to visit our robust destination guide on Taupo for even more planning tips!