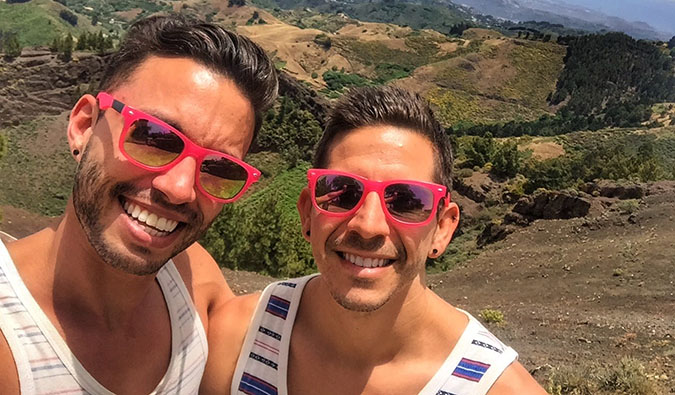 Updated: 12/03/19 | December 3rd, 2019
One thing we haven't focused on this site is LGBT travel and, as we bring in a wider range of reader interviews, I wanted to highlight LGBT readers as I'm curious to learn about their experiences traveling around the world, as many countries have strict anti-gay laws. So when Auston emailed me about being the next reader profile, I jumped at the opportunity. I wanted to know how he and his husband face or have dealt with any discrimination and his advice for others. He sat down with me virtually over email to talk.
Nomadic Matt: Hi, Auston! Tell everyone about yourself.
Auston: David and I met in 2005 when I was 23 at Arizona State University. We quickly started dating in 2006 and got married in 2010. In 2008, I was offered a job in Chicago, so we moved and started planning our ultimate our escape from normal life.
Our original plan was to travel for one year and then return to the US, but that never happened, and now we're living in Spain. I'm working freelance as both an engineer and travel writer. We continue to travel and write for our blog, Two Bad Tourists, where we provide our readers with travel tips and stories about festivals, events, and gay-friendly destinations.
What inspired your trip?
I've always been inspired by travel from a young age. I was always motivated to travel and learn about different cultures. David traveled abroad many times for volunteer work in places like Mexico, the Dominican Republic, Tanzania, and Belize.
Upon moving to Chicago, I knew that our stay would only be temporary. As much as I loved the city, I couldn't handle those brutal winters and wanted to move to the West Coast. The idea of traveling for a year suddenly came into my head and we started saving immediately in hopes that we could actually last a year on the road.
We left in May of 2012 and planned to travel through Central America, Europe, Africa, and Southeast Asia. But after our trip was over in 2013, we decided to move abroad and continue traveling from our home base in Spain.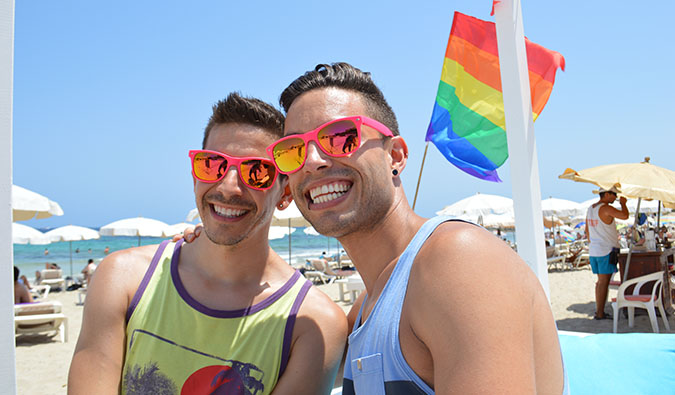 How did you save for your trip?
We saved for our trip in just about every way possible. I created a strict budget and cut out all the unnecessary luxuries like cable TV, eating out, and buying new clothes. For a while, I even clipped coupons — the bane of my existence!
Every extra penny went into a savings account. The only traveling we did during this time was occasional trips back home to Arizona to visit family.
We sold all of our belongings and earned some extra cash by putting higher-value things on eBay or Craigslist. Our final push to get enough for our trip was holding a rummage sale. We passed out flyers in our parents' neighborhoods and asked friends and family to donate any household items they wanted to get rid of. Between two yard sales, we earned an extra $1,500 in just one weekend.
But the biggest saver was definitely getting our flights for almost free. We booked two round-the-world tickets through US Airways with four years' worth of travel hacking and only paid $550 in taxes total for both flights.
In the end, we saved nearly $35,000 total and hoped our savings would keep us on the road for a year. We nearly met that goal: the money lasted 11 months before running out.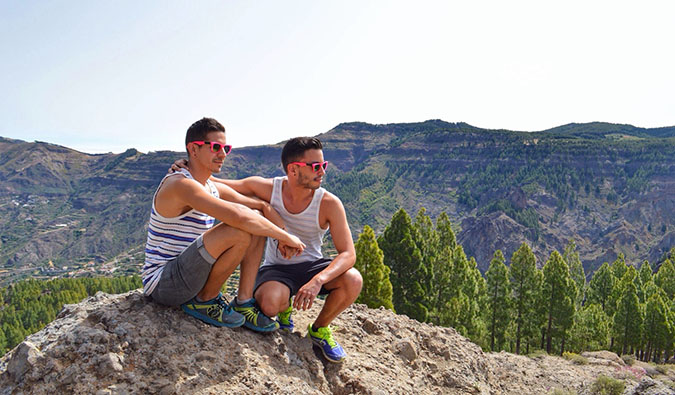 What advice on savings do you have for others?
You really need to think about your priorities when you're saving for a big trip. If you're motivated, you can save a lot by cutting out daily expenses. If you eat out frequently or have a daily Starbucks habit, cutting these can save you a lot of money over time. You'll probably need to save for a least a year or more for a long trip, so start planning early.
It's best to have a total savings goal for your trip and then create a monthly spending budget so you can track your progress. It may not be the most fun, but the payoff of taking a long-term trip is worth the effort.
How did you stay on budget when you traveled?
Staying on budget while traveling can be difficult, especially when traveling as a couple. David and I each have different ideas and values about how much to spend and how much to cut out. David is the spender, while I'm the saver. We fought a lot over this issue — the most ever in our eight years together and the stress of the trip really threatened our relationship.
The trick is to find the right balance between making your money last while not cutting out the elements that make your trip exciting and worthwhile. In general, we stayed in hostels or budget accommodations and even Couchsurfed to save money. We did the typical backpacker thing: cooked our own meals, took public transportation, and always "pre-drink" in advance before we went out for a night of partying.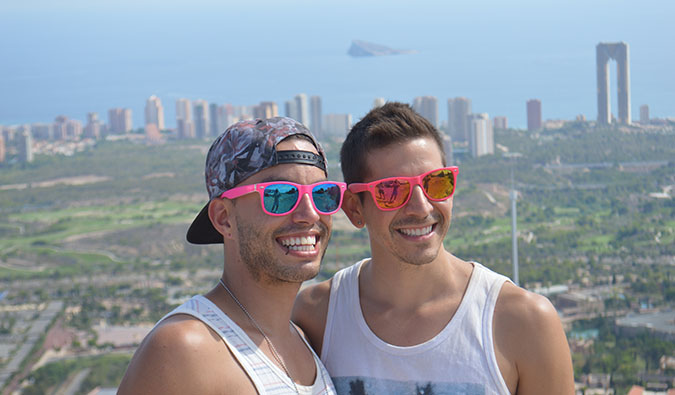 A lot of people say my site is too focused on solo travel. As someone traveling as a couple, did you find that to be the case?
There's a space in the blogosphere for every type of travel. Naturally, when you travel solo you tend to write about travel in that way and it's your expertise. For me, I've mostly traveled with David so I know the ins and outs of traveling together.
Traveling as a couple has its own challenges that you won't face alone or when traveling with friends. It can be both an experience that strengthens a relationship or one that pulls you apart. I got a lot of valuable information from the site that helped me plan the trip. I even saved $200 on Eurail passes from one of the ebooks I downloaded.
Luckily, the planning process for traveling solo versus as a couple is not all that different, so the site is useful for either situation.
You and your partner are gay. Did you face a lot of prejudice on the road? If so, how did you deal with it?
We were lucky to face very little prejudice during our year-long trip. But we did take special steps to avoid problems when traveling to places like Africa or Asia, where gay rights don't exist.
In fact, during most of our trip, we didn't wear our wedding rings because we didn't want to call attention to ourselves. In extreme cases, like during our time in Africa, we had made up basic stories about how we knew each other, pretending to simply be friends traveling together. There was one time when I got caught in a very awkward situation while taking a bus in Ghana. A local was very intrigued that we were visiting Ghana and wanted to know everything about our personal lives.
It ended up turning into a conversation full of lies which became especially awkward. I immediately turned my Facebook profile completely private after that incident. There were also a couple times in Africa where we were forced to book a room with single beds since we were two guys together.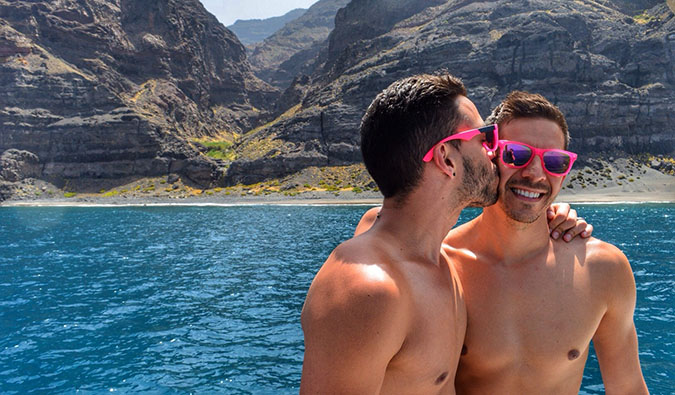 What advice do you have for other LGBT travelers?
Being gay should never be a reason not to travel. So long as you take the right precautions you can still make the most of your trip while staying safe. If you're traveling to less developed countries, it's important to know how LGBT people are treated in that country.
For Americans, Travel.state.gov is an excellent resource that provides up to date information for LGBT travelers.
It's also a good idea to remember to respect other cultures when you're visiting, even if you don't agree with their laws or customs. For example, if you're traveling in a religious or conservative country, you need to be extremely careful not to be affectionate in person. Not only can this make locals uncomfortable but it can actually endanger your safety in some places.
What advice would you have for others trying to do what you did?
The abundant amount of information available to travelers can sometimes create a challenge when trying to sift through it all. I did months of research just to decide what to pack for our trip. I thought everything was perfect, but within a couple weeks of traveling, I realized that my priorities were different from others and I ended up buying more clothes and shoes while on the road than everyone recommended.
With that said, the best advice is to plan your journey well but also be prepared to be flexible and make changes as you decide what is or isn't important to you.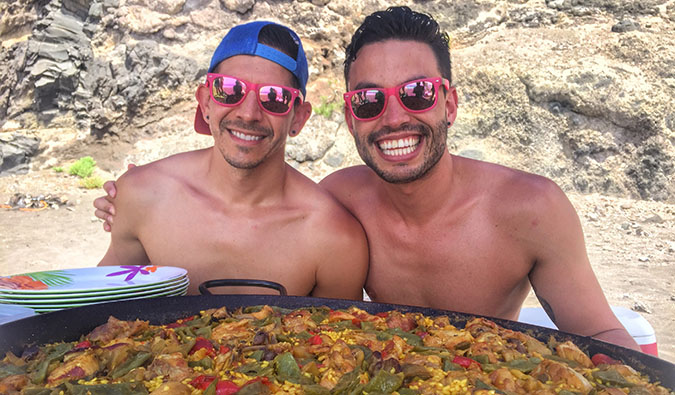 What was the hardest part about travel?
The hardest part for me during our year-long trip was being constantly on the move. It was amazing to see and experience all the places we traveled to, but the inconsistency that occurs as a result is a difficult. When I had a home, I had a routine. But when you're constantly staying in new places, you never know the availability of facilities or how to get around. Sometimes we would spend an hour just finding a supermarket to cook a simple meal.
Now that our year of being nomadic is over, I have a nice balance but continue to face new challenges. Since we're now expats living in Europe, there is the constant struggle of trying to apply for visas. David and I initially applied for a long-term visa in France when we first moved to Europe.
But now that we've decided to live in Spain, trying to obtain a residence visa is a huge pain. If same-sex marriage were legal in our home state of Arizona, we could have applied together as spouses when David obtained his visa to teach English in Spain. But given that our marriage was never legally recognized, I have to apply on my own, which is much more difficult, expensive, and time-consuming.
The easiest?
Ironically, I thought the hardest part of doing our trip would be selling all our belongings and moving away from the US, but that quickly turned out to be the simplest. Once we made the decision to get rid of everything, a weight was lifted off my shoulders. There was no more worry about where we would store our stuff, how we would move it across the country or how much it would cost.
Knowing that the only important belongings were what I carried on my back was an amazing feeling, and it was so freeing to know that I could pick up at any moment and go somewhere else.
Living in Madrid has been easy. David always wanted to live here and I wanted improve my Spanish. Plus, there's a thriving gay community with some of the best gay nightlife in Madrid and plenty of gay-friendly accommodations for LGBT travelers.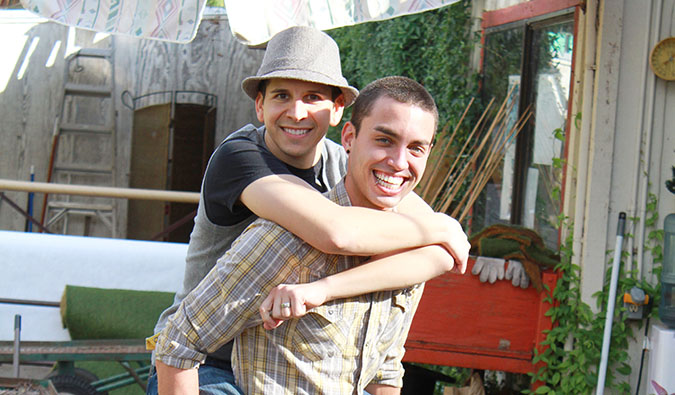 Any parting advice?
I hear all too often from people that they wish they could do what I do and how lucky they say I am. But the reality is that I made a life decision — a drastic life decision — that allowed me to travel and live the way I want. Most people are not willing to take this step. And the truth is that most middle-class people from developed countries have just as much opportunity as we do. The difference is that we seized it.
Many people (especially Americans) say that they can't travel because of school, work, or family. But my advice to people is to think about what is ultimately important.
Who's to say you can't travel because of work? Have you ever asked your company for more time off? Why can't you travel with your family?
If it's too expensive, try house swapping to avoid paying for accommodations.
Can't afford international flights? Sign up for a credit card that earns airline miles.
There are so many options that make travel a possibility but the number one problem people have is acknowledging that they can do it. So if I can leave one final piece of advice, it would be to change your perception and tell yourself that you can travel. Challenge yourself and find a way to do it.
You can read more about Auston and David on their blog TwoBadTourists.com. They cover a lot of LGBT issues on their website and have some wonderful advice for travelers about the subject.


Book Your Trip: Logistical Tips and Tricks
Book Your Flight
Find a cheap flight by using Skyscanner. It's my favorite search engine because it searches websites and airlines around the globe so you always know no stone is being left unturned.
Book Your Accommodation
You can book your hostel with Hostelworld. If you want to stay somewhere other than a hostel, use Booking.com as it consistently returns the cheapest rates for guesthouses and hotels.
Don't Forget Travel Insurance
Travel insurance will protect you against illness, injury, theft, and cancellations. It's comprehensive protection in case anything goes wrong. I never go on a trip without it as I've had to use it many times in the past. My favorite companies that offer the best service and value are:
Want to Travel for Free?
Travel credit cards allow you to earn points that can be redeemed for free flights and accommodation — all without any extra spending. Check out my guide to picking the right card and my current favorites to get started and see the latest best deals.
Need Help Finding Activities for Your Trip?
Get Your Guide is a huge online marketplace where you can find cool walking tours, fun excursions, skip-the-line tickets, private guides, and more.
Ready to Book Your Trip?
Check out my resource page for the best companies to use when you travel. I list all the ones I use when I travel. They are the best in class and you can't go wrong using them on your trip.