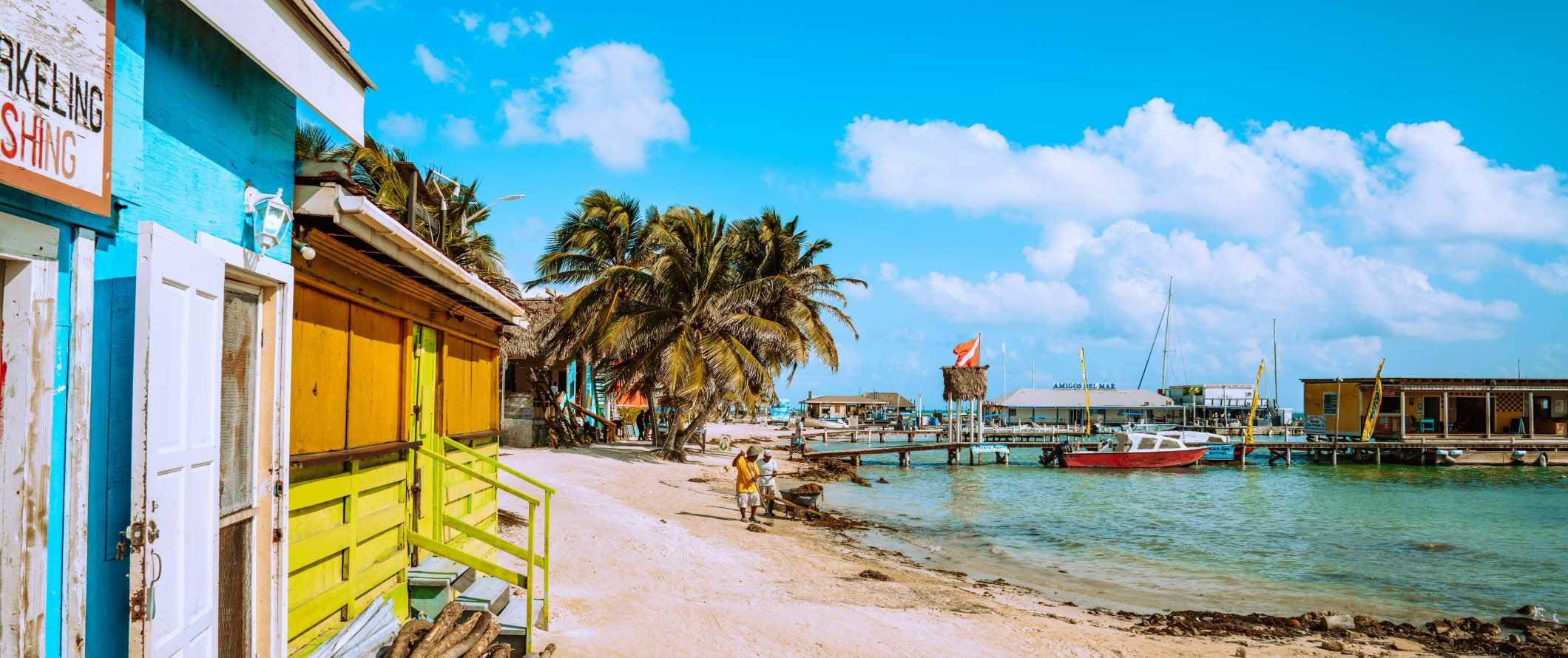 Belize is one of Central America's biggest tourist destinations and one of my favorite countries in the region. Backpacking around Belize was an amazing experience. It's a small, easy-to-navigate country so you don't need a lot of time to visit.
Yet there is a ton to see and do here as well.
The diving here is world-class. Belize's barrier reef (the second largest reef in the world) draws in scuba and snorkeling enthusiasts from around the world. Explore Mayan ruins or relax on picturesque beaches. Trek through the jungles of the interior and bask in a vibrant, diverse culture.
And those with an interest in archaeology will find the Mayan sites of Altun Ha, Lamanai, and Caracol fascinating — I certainly did!
I loved visiting Belize. It may not be the cheapest destination in Central America but it's still quite affordable and is one of the easiest and more relaxing places to travel in the region.
This travel guide to Belize will help you plan your trip, save money, and make the most of your time in this idyllic destination.
Click Here for City Guides
Top 5 Things to See and Do in Belize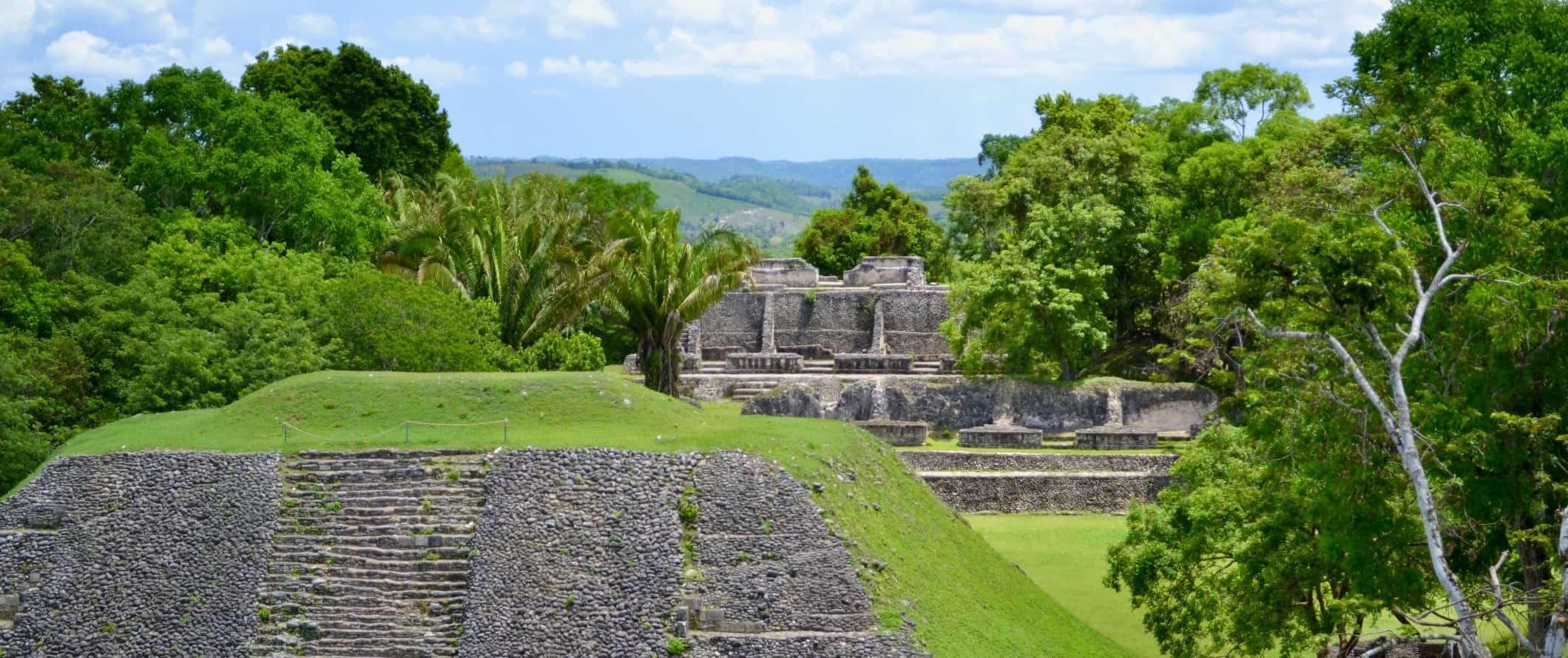 1. Visit Altun Ha
Anyone even remotely interested in Mayan culture should make it a point to check out Altun Ha. This former Mayan trading center is located 19 miles (31 kilometers) outside of Belize City and attracts visitors not only for its ruins but for the wildlife in the region and the jungle ecosystem. The main attraction of the site is the Temple of the Masonry Altars, set in the Grand Plaza, dating back to the 7th century. The Temple is 54 feet (16 meters) tall and a climb to the top rewards you with a panoramic view of the pyramids and plaza below. You can purchase a licensed guide for 20 BZD outside the museum at the entrance. A half-day tour costs around 100 BZD and includes transportation, the entrance fee, a guide, and drinks. Admission is 10 BZD.
2. Explore the Cayes
There are hundreds of small islands off the coast of Belize, but the two most visited are Ambergris Caye and Caye Caulker. Ambergris is 35 miles (56 kilometers) east of Belize City and is the largest and the most expensive as it's popular with families on resort-style holidays. You'll want to spend some time exploring San Pedro Town, the major town on the island. Caye Caulker, on the other hand, is popular with backpackers. Both islands have incredible activities and you'll have a hard time choosing which snorkel or diving trip, kayaking tour, swimming with sharks, or manatee-watching tour you want to do. Don't miss the beautiful nature reserve on Caye Caulker, home to 170 species of birds as well as turtles, iguanas, snakes, and crocodiles. If you're there in the summer, be sure to check out Lobsterfest for local music, beach parties, and all the incredible lobster dishes you can possibly eat.
3. See the Belize Zoo
One of the most popular attractions in Belize City is its zoo. With the tagline "the best little zoo in the world," this 29-acre site is home to over 120 species of animals, all of which are native to the country. The zoo was started in 1983 and aligns with local wildlife conservation efforts to care for rescued, orphaned, or donated animals. Check in advance for special education days that include World Croc Day, National Tapir Day, and more. They also have guided tours by appointment and even accommodations on the premises. Their dorms start at around 80 BZD per person and camping starts at around 18 BZD. Admission to Belize Zoo is 30 BZD. Be sure to wear long pants, comfy footwear, and insect repellent, as the zoo is literally in the jungle.
4. Visit Xunantunich
Xunantunich is one of Belize's most impressive and easily accessible Maya sites, known for its spectacular scenic location in the middle of the jungle. Archeologists date this site around 600 BCE (though the exact date is unknown). Xunantunich means "Maiden of the Rock," which stems from its spooky legend of a dark, ghostly Mayan woman who was sighted climbing up and down the pyramid before disappearing. Getting here is an adventure — you take a hand-cranked cable ferry across the Mopan River, near the village of San Jose Succotz (don't forget to tip the operator 2 BZD). The main El Castillo pyramid is 131 feet (40 meters) high, with ornate carvings on both the eastern and western sides. It's a strenuous climb that's well worth your efforts. Once you reach the top, you're treated to stunning panoramic views of the landscape, including the Macal and Moral rivers. Expect to see lots of birds and butterflies, as well as incredible views from the temples and plazas. Admission is 10 BZD.
5. Wander the Hol Chan Marine Reserve
Coming to Belize and not diving or snorkeling would be like visiting Paris and not seeing the Eiffel Tower or going to New York City and not wandering around Central Park. Hol Chan is the most well-known marine reserve in the country, made up of Ambergris Caye marine areas (including Belize's Great Barrier Reef), coastal seagrass beds, as well as the Boca Chica and Cangrejo Shoals mangrove islands. The diving and snorkeling within the park are fantastic, with beautiful caves, coral, and plenty of tropical fish. Head to nearby Shark Ray Alley for the chance to get up close and personal with nurse sharks, sea turtles, and southern stingrays. Activity prices start at 180 BZD for half-day tours.
Other Things to See and Do in Belize
1. See the wildlife
Much of Central America is a wildlife observer's paradise, and Belize is no exception. Birdwatchers will enjoy Crooked Tree Wildlife Sanctuary with its world-class spotting opportunities, while those interested in big cats can flock to the country's most famous protected area, Cockscomb Basin Wildlife Sanctuary, where you can find jaguars. Another must-do is to check out Monkey Bay Wildlife Sanctuary, a 1070-acre protected natural area teeming with wildlife, from hundreds of bird species to pumas, tapirs, and more. Finally, the Green Iguana Project allows visitors to get an up-close-and-personal look at the endangered Green Iguana species..
2. Visit Bacab Adventure & Eco Park
Only 20 minutes outside Belize City, and with over 500 acres of lush jungle, here you'll find hiking trails, waterways, wildlife (such as howler monkeys), a giant swimming pool with a waterfall. It's part theme park and part nature reserve, and makes for an excellent getaway from Belize City. There are plenty of activities, from horseback safari, kayak tours, jungle biking, nature walks, swimming, bird watching, ruins tours, and more. It's a fun place to visit with kids.
3. See Caracol
Caracol is a large Mayan site located in the Chiquibul Forest Reserve in the Cayo District. This was once one of the most powerful cities of the Mayan era. Unlike Altun Ha, the ruins in Caracol are less restored and are located in a jungle setting, which adds to the ancient feeling of the site (which made them my favorite because I felt like Indiana Jones). The site is full of reservoirs, walls, and tombs, with the best attraction being the main temple (called the Canaã or Sky Place), a 143-foot (44-meter) tall building that offers incredible views and surprising acoustics. Admission is 15 BZD.
4. Explore Actun Tunichil Muknal
One of the most exhilarating, if not spooky, things to do in the country is the Actun Tunichil Muknal cave tour. The cave is home to the remains of victims of Mayan sacrifices and, after a brief hike and trek through the jungle, you'll come face to face with their skeletons. The site was discovered in 1989 and has been popular with tourists ever since. It was one of my favorite activities in the country. Because it is so popular, tours have become a lot more restrictive on where you can walk and when you can go. Expect to pay around 225-250 BZD for an organized tour. Bring water shoes, a bathing suit, and clothes that you don't mind getting wet.
5. Dive the Barrier Reef
This is the second-longest barrier reef in the world, stretching over 186 miles (300 kilometers) as part of a reef system that extends all the way up to the Yucatan Peninsula. The vibrant coral and magnificent marine life make up the country's most popular tourist attraction. Divers and snorkelers can enjoy the reef within one of the many islands in the marine park or take a boat tour further out. In 1996, the reef was designated a UNESCO World Heritage Site. The Great Blue Hole is the most common reason people visit the barrier reef. This incredibly striking underwater sinkhole is known for its crystalline waters, coral, fish, and stalactite-filled caves, stretching hundreds of feet below. Other must-do activities include snorkeling at the Hol Chan Marine Reserve, swimming with whale sharks at the Gladden Spit and Silk Cayes, and exploring Half Moon Caye.
6. See St. John's Cathedral
Located in downtown Belize City, St. John's Cathedral is the oldest Anglican Church in South America (and the oldest standing structure in the country). Built from red bricks that were brought aboard English sailing ships in the 1800s, this is an awesome piece of history to check out. The original church became a cathedral in 1891, and the neighboring cemetery was actually built during the colonial era using slave labor.
7. Visit Orange Walk
The Orange Walk area of Belize has a diverse range of locals, from Creoles to Mennonites. Often dubbed "Sugar City" because of its abundance of sugar cane, the town of Orange Walk is an ideal location for exploring the Altun Ha and Lamanai and a variety of nature parks and is often used as a stop on the way to Mexico. However, honestly, there's not much in town, and I wouldn't suggest spending more than a few days here before moving on; it's more of a layover stop than anything.
8. Explore Placencia
Placencia is the ideal location for divers, snorkelers, and those who wish to explore the Mayan ruins in the south of the country. It's also an increasingly popular destination for tourists and expats. The town still has a laid-back Caribbean vibe and life here centers around the narrow main street where you will find most bars and restaurants. Located at the end of Placencia's bustling boardwalk, Placencia Beach is brimming with shops and eateries. I loved my stay here and ended up staying an extra week.

For information on specific cities in Belize, check out these city guides:
Belize Travel Costs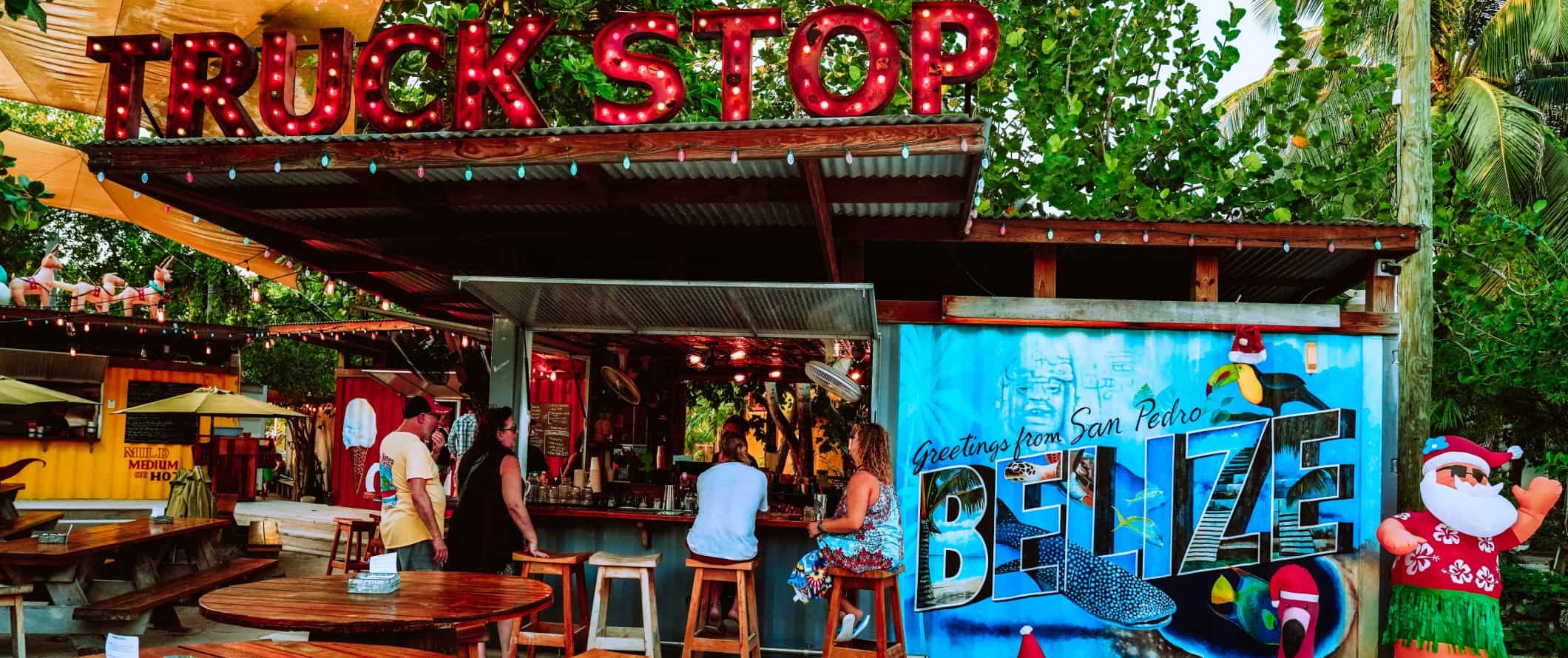 Accommodation –
A bed in a hostel dorm room averages 25-50 BZD per night. Private rooms in hostels range between 70-100 BZD per night. Free Wi-Fi is standard and most hostels have self-catering facilities. Free breakfast is rare.
Prices for budget hotels start at around 250 NZD per night, but your best value will be renting a room or an apartment from a local over websites like Airbnb. A shared room on Airbnb averages 40 BZD per night and an entire home averages around 150 BZD per night.
Food – Belizean cuisine leans heavily on beans, rice, cheese, and tortillas. Rice and beans are a common lunch choice, and you can always find tamales, panades (fried meat pies), onion soup, chicken stew, and garnaches (beans, cheese, and onion in a fried tortilla) pretty much everywhere you go. Other popular dishes include ceviche, fry jack (deep-fried dough pieces), conch fritters, and johnny cakes. On the islands, expect a lot of seafood, including lobster, shrimp, red snapper, sea bass, and halibut.
Expect to pay around 10 BZD for a quick meal at a restaurant serving traditional cuisine. A meal at a restaurant with table service and drinks costs between 50-100 BZD. For fast food (think McDonald's), expect to pay around 13 BZD for a combo meal.
A beer is 4-5 BZD, and local alcoholic drinks like rum and coke cost around 5 BZD. s It's 8 BZD for a latte/cappuccino. Water is 1.50 BZD.
If you're on a budget, snack on fruit here—it's cheap, abundant, fresh, and delicious! On that note, street food is generally very cheap, as well. For less than 5 BZD, you can snack on tostadas, empanadas, and other filling local staples.
Groceries for a week cost about 80 BZD. This gets you basic staples like, rice, beans, vegetables, and some chicken or fish. Most accommodations won't include a kitchen so be sure to find accommodation that does if you plan on cooking. Expect about 30% higher prices on the popular tourist Cayes.
Backpacking Belize Suggested Budgets
If you're backpacking Belize, my suggested budget is around 80 BZD per day. On this budget, you'll be staying in a hostel dorm, cooking most of your meals, eating street food, using local buses to get around, and doing the occasional cheap activities.
On a mid-range budget of 180 BZD, you'll get a budget hotel/private hostel room/Airbnb, be able to dine out on all your meals, drink more, do more intercity travel, take the occasional taxi, and enjoy any tours you want within reason.
On a luxury budget of 325 BZD or more, well the sky is the limit and there's nothing you really can't do. This amount of money will get you anything you want and, any number higher than that, is just going to get you more! That said, you wouldn't be reading a budget travel blog if you were a luxury traveler!
Accommodation
Food
Transportation
Attractions
Average Daily Cost
Backpacker
25
25
15
15
80
Mid-Range
80
40
30
30
180
Belize Travel Guide: Money-Saving Tips
Belize can be a very expensive country and costs here can add up super quickly if you aren't careful. It's one of the more expensive countries in the region (though the islands are more expensive than the interior towns). To help you save money, here are a few budget tips for Belize:
Travel off-peak – The most expensive time to visit is between October and April. By traveling in the off-season, you can significantly reduce prices for accommodation and flights.
Hitchhike – It's a common custom among the locals to simply hitchhike everywhere they need to go. You see old ladies, children, and families on the side of the road looking for a ride. It's just what they do. My friends and I met great people thumbing it across the country without spending any money at all.
Use public transportation – Aside from hitchhiking, the most cost-effective way to get around Belize is by using public transportation. The country's bus system covers all major highways and cities. See the How to Get Around section for more information.
Combine excursions – Many tour operators offer trips that combine popular excursions. These are a good way to save on transfers to each tourist destination as well as possibly get dropped off at your next destination.
Embrace happy hour – Most bars have a happy hour in the late afternoon and offer cheap drinks. Ask your hotel/hostel staff for suggestions on where to go for the latest deals.
Bring your own food – Because many day trips and excursions charge extra for lunch, bring your own food and save money. There's tons of grocery stores that sell things to make sandwiches with.
Eat local – Rather than dining in restaurants in touristy areas, seek out neighborhood joints for more affordable prices. Better yet, fuel up on street food from vendors. This is almost always the cheapest option.
Stay with a local – If you plan ahead, you can usually find really nice Couchsurfing hosts all throughout the country. This way, you not only have a place to stay, but you'll have a local host that can share insider tips and advice. There aren't a ton of hosts here however so send your requests early.
Pack a water bottle – The tap water can be hit or miss here so bring a reusable water bottle with a filter. Not only will you save money but you'll reduce your single-use plastic usage as well. My preferred bottle is LifeStraw since it has a built-in filter to ensure your water is always clean and safe.
Where to Stay in Belize
There aren't a ton of hostels in Belize so make sure you book early to secure your spot. Here are my suggested places to stay in Belize:
How to Get Around Belize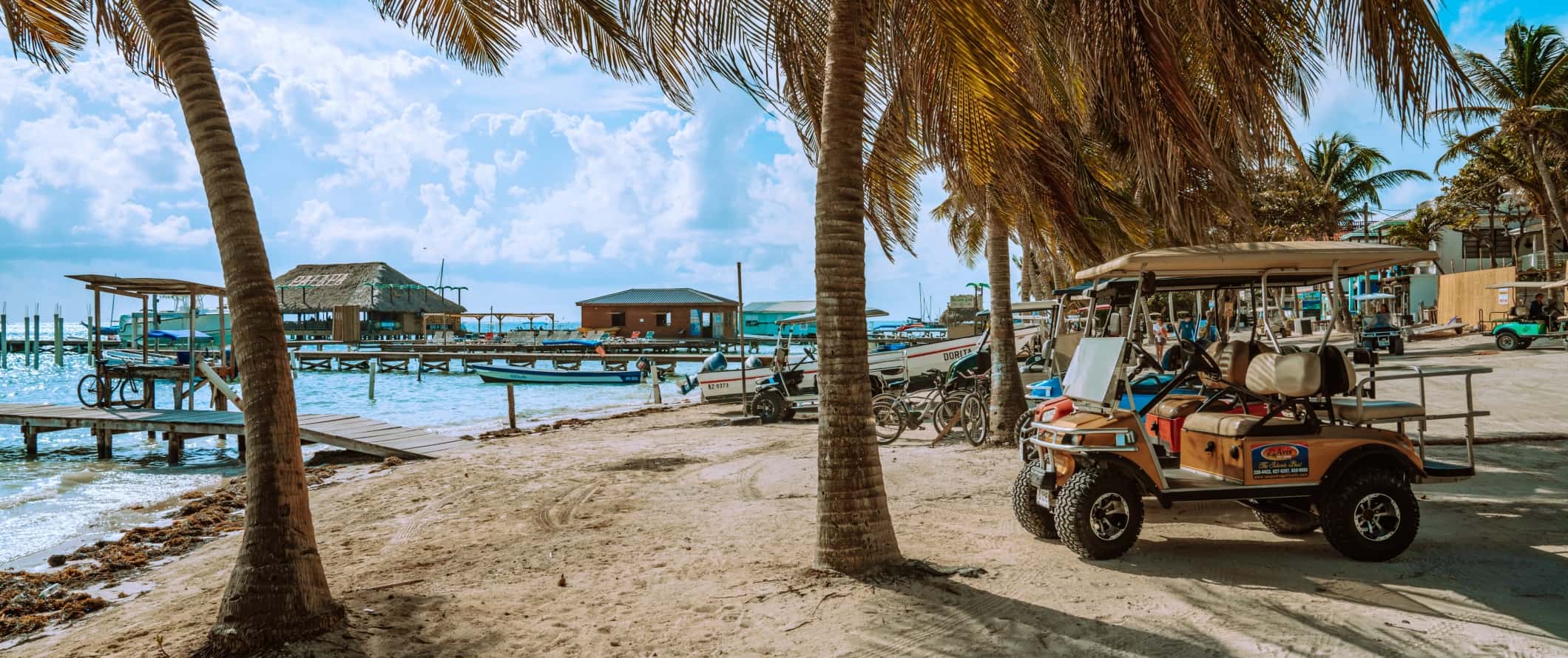 Public transportation – A lot of the destinations within Belize are pretty walkable once you get there. There really isn't any public transportation as the towns and villages are too small (and easily walkable). Some of the larger cities, like Belize City, have small bus networks.
The best way to get around the smaller places is to rent a bike. They cost around 20 BZD per day in many places and are a great way to explore.
Bus – Buses are the cheapest travel option to travel across the country, with fares costing between 5-25 BZD (depending on the distance traveled). For example, a bus from Belize City to Orange Walk takes 1.5 hours and costs 10 BZD. A five-hour bus to Placencia from Belize City costs about 20 BZD.
Most of the buses are old school buses that take locals and visitors between cities and all around the country. There's no real nationwide company and schedules change frequently. Your best bet is to ask someone at your accommodation for the updated bus schedule or just show up at the bus terminal and go from there.
You can also refer to belizebus.wordpress.com. It's not a professional website, but it's updated frequently and it is dependable.
Flying – There are two domestic airlines in Belize: Maya Island Air and Tropic Air. These small planes take you between Caye Caulker, Placencia, Corozal, and Ambergris Caye. Flights aren't cheap though. Belize City to Caye Caulker is 200-300 BZD round-trip, while Belize City to Placencia is about 250-550 BZD, depending on the season. You should only fly here if you're really pressed for time.
Car Rental – If you want a lot of flexibility to get around Belize, a car rental is a great idea. Rentals are around 75-100 BZD per day. Drivers usually need to be 25 and have an IDP (International Driving Permit). Drivers under 25 might be able to rent a car though there may be extra fees.
To find the best car rental prices, use Discover Cars.
Ferry – You can take ferries and water taxis to the islands (cayes) from Belize City with either San Pedro Belize Express or Ocean Ferry Belize (about a 1.5-hour journey). Belize City to Caye Caulker starts from 40 BZD one-way, while Belize City to San Pedro (Ambergris Caye) starts from 60 BZD one-way. Between San Pedro and Caye Caulker, it's from 40 BZD one-way.
A ferry also runs between Corozal, Sarteneja, and San Pedro. Another route runs between Placencia and Independence, while frequent water taxis run between Dangriga and the Central Cayes. You don't need to book your ferry or water taxi in advance. Just show up at the ferry terminal and you'll be good to go.
Hitchhiking – Belize actually relies a lot on hitchhiking. The buses can be late or sporadic and are sometimes already full when they arrive. Most people here don't have cars because they are so expensive. My friends and I hitchhiked throughout the country and saw lots of locals doing it too. HitchWiki has a lot of information on hitchhiking in Belize.
When to Go to Belize
The best time to visit Belize is from the end of November to mid-April. This is the country's dry season and, although it's peak season, Belize never really gets too crowded. It's warm and tropical with clear skies, and you'll have no trouble visiting the country's best attractions.
The water is also clearest during this time for diving, and temperatures average around 80°F (27°C) each day.
From the end of April to May, humidity intensifies and temperatures increase to an average of 87°F (31°C) each day.
The rainy season is the low season and it lasts from September to October. Many businesses are shut down during this time so keep that in mind as you plan.
For the cheapest prices, consider visiting in June or July. This is when hotel prices tend to be at their lowest. November and May are good months to visit for those who want to avoid crowds as much as possible. Otherwise, you can't beat the dry season for its sunny skies and pleasant temperatures.
How to Stay Safe in Belize
Belize is a safe place to backpack and travel. Violent crime against travelers is very rare. It's one of the safest countries in the region.
Petty theft (including bag snatching) is one of the most common types of crime in Belize so always keep your valuables secure and out of reach just to be safe. It's a good idea to store major valuables and large amounts of cash in a hotel safe or other secure location when you're out exploring for the day. And, be extra-vigilant when visiting ATMs or banks.
I would avoid Belize City as much as possible. If you have to spend a night there, avoid wandering too far from the main tourist part of town. While the country as a whole is safe, Belize City is not, especially at night. I would be extra vigilant here.
Keep an eye out for common scams against tourists, such as fake ATMs, taxis that don't use a meter, and questionable tour operators. They are rare, but they can happen.
Solo female travelers should generally feel safe here, however, the standard precautions apply (never leave your drink unattended at the bar, never walk home alone intoxicated, etc.). For specific tips, visit one of the many solo female travel blogs out there. They'll be able to provide more detailed advice.
If you experience an emergency, dial 911 for assistance. Keep in mind that Belize City has the two best major hospitals in the country should you need medical attention.
For more in-depth coverage of how to stay safe in Belize, check out this post we wrote that answers some frequently asked questions and concerns.
Always trust your gut instinct and be sure to make copies of your passport and important documents.
The most important piece of advice I can offer is to purchase good travel insurance. Travel insurance will protect you against illness, injury, theft, and cancellations. It's comprehensive protection in case anything goes wrong. I never go on a trip without it as I've had to use it many times in the past.
Belize Travel Guide: The Best Booking Resources
These are my favorite companies to use when I travel. They consistently have the best deals, offer world-class customer service and great value, and overall, are better than their competitors. They are the companies I use the most and are always the starting point in my search for travel deals.
Skyscanner – Skyscanner is my favorite flight search engine. They search small websites and budget airlines that larger search sites tend to miss. They are hands down the number one place to start.
Hostelworld – This is the best hostel accommodation site out there with the largest inventory, best search interface, and widest availability.
Booking.com – The best all around booking site that constantly provides the cheapest and lowest rates. They have the widest selection of budget accommodation. In all my tests, they've always had the cheapest rates out of all the booking websites.
Get Your Guide – Get Your Guide is a huge online marketplace for tours and excursions. They have tons of tour options available in cities all around the world, including everything from cooking classes, walking tours, street art lessons, and more!
SafetyWing – Safety Wing offers convenient and affordable plans tailored to digital nomads and long-term travelers. They have cheap monthly plans, great customer service, and an easy-to-use claims process that makes it perfect for those on the road.
LifeStraw – My go-to company for reusable water bottles with built-in filters so you can ensure your drinking water is always clean and safe.
Unbound Merino – They make lightweight, durable, easy-to-clean travel clothing.
Top Travel Credit Cards – Points are the best way to cut down travel expenses. Here's my favorite point earning credit cards so you can get free travel!
Belize Travel Guide: Related Articles
Want more info? Check out all the articles I've written on backpacking/traveling Belize and continue planning your trip: