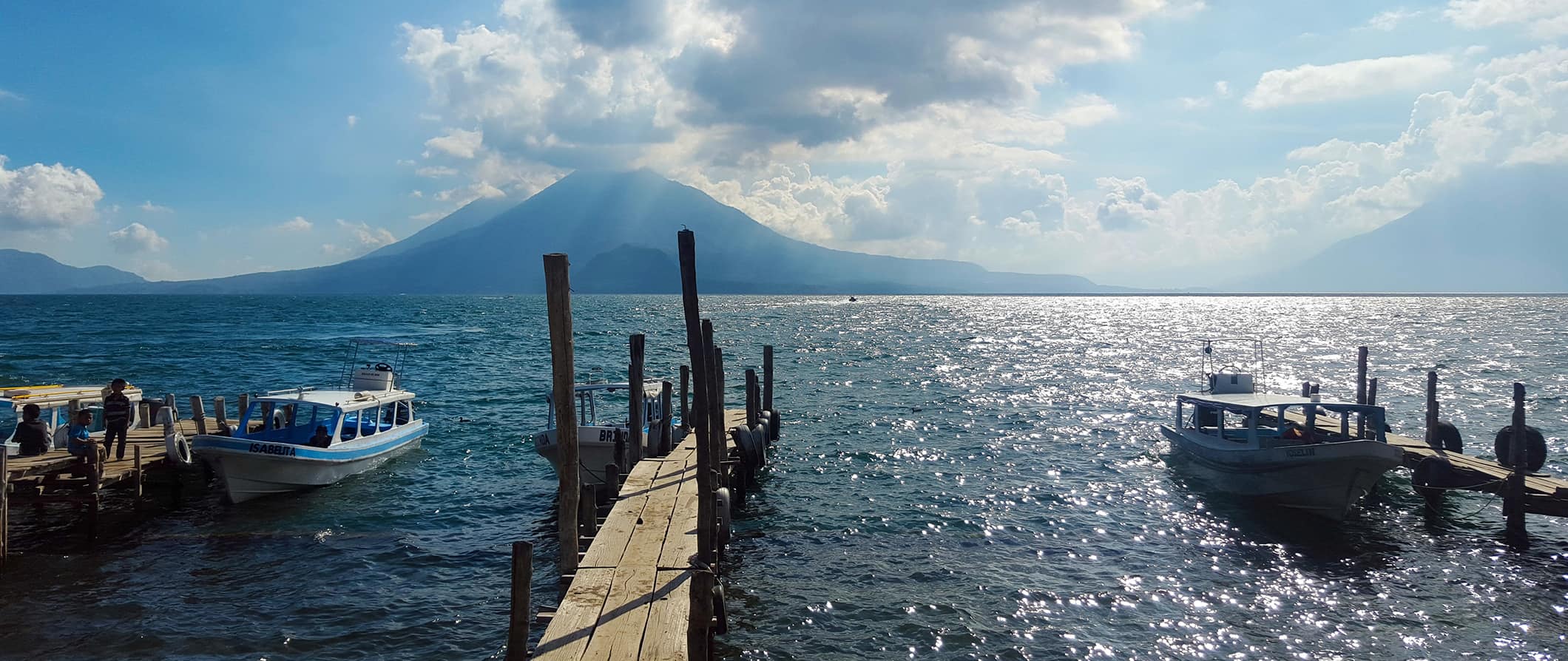 I love Central America! Surrounded by the Pacific and Atlantic Oceans, the slender land bridge of Central America runs from Mexico to South America and is made up of seven countries — Guatemala, Belize, El Salvador, Honduras, Nicaragua, Costa Rica, and Panama. Political and civil unrest in the 1980s kept most tourists away for a long time, but this reputation is beginning to change. Central America is becoming one of the most popular regions for backpackers (and, in the case of Panama and Costa Rica, American retirees). The region's rainforests are filled with unexplored Mayan ruins and wildlife, its beaches are great for surfing, and its reefs great for diving. Accommodation, food, and transport are all cheap in the region making it a budget traveler's dream. Your money will go a long way here and this travel guide will give you all the tips you need to have a memorable trip.
Top 5 Things to See and Do in Central America
1. Explore volcanoes
This region is rich in volcanoes. Pacaya (Guatemala) is still active and frequently erupts ash clouds; Poás (Costa Rica) is famous for its enormous mile-long crater and crater lake;
Arenal (Costa Rica)
has hiking trails, geothermal springs, and a gorgeous lake; and you can sand-board down the side of Masaya in Nicaragua.
2. See Mayan ruins
The region has many ruin sites but the most impressive are Tikal in Guatemala, Copán in Honduras, and San Andrés in El Salvador. The intricate wall carvings, imposing pyramids, and crumbling columns make for amazing photographs and should not be missed. Prices will vary but expect to spend around $20 USD for admission.
3. Caye Caulker, Belize
This little island
is quite popular with backpackers. It is less expensive than some of the larger islands in the country and has a relaxed atmosphere to it. July is a great time to go because of their lobster festival. Make sure you also eat at Wish Willy's for amazing seafood and chicken.
4. Visit the Panama Canal
First opened in 1914, the Panama Canal is 50 miles long and uses three sets of locks — Miraflores and Pedro Miguel Locks on the Pacific side and Gatun Locks on the Caribbean side. The most common place to see the canal is at Miraflores Locks. Entry to the canal and visitor center is $5 USD per person.
5. Trek through the rainforests
Much of the region is covered in vast, humid, and stunning rainforests. A popular way to see these is to take a canopy tour, where you'll be suspended on a zip-line and glide over the tops of the trees. The rainforests are filled with diverse wildlife, including howler monkeys, jaguars, lizards and tropical birds.
Other Things to See and Do
The country-specific guides go into depth on each region. Nevertheless, here are my regional highlights.
(Click the title to expand the text)
1. Head to Antigua, Guatemala
Considered one of the best-preserved colonial cities in all of the Spanish America's, Antigua (in Guatemala) is a major travel hot spot for backpackers. There are tons of pubs, restaurants, coffee shops, plenty of hostels, and even Spanish schools if you want a reason to stay longer!
2. Go diving (or learn)
The shores around Central America are home to many coral reefs. As such, diving is hugely popular. The colors and variety of fish will amaze you, as will the clear visibility. Diving here is cheaper than in the Caribbean and most parts of Mexico. Popular dive countries include Panama, Honduras, and Belize. Expect to pay $50-100 USD for a two-tank dive, or a few hundred dollars for your certification course.
3. Tour coffee plantations
The entire region is known for its coffee, particularly Costa Rica and Panama. Tour the plantations, and see how the beans are grown, picked, and ground. You can also pick up fresh coffee at heavily discounted prices. I've found the best coffee to be from Monteverde, Costa Rica….and I don't even like coffee! But I drank this — it tasted like chocolate!
4. Visit Chichicastenango
Most people who come to Guatemala visit Chichicastenango, the largest native market in Central America. Most stalls carry handicrafts, blankets, pottery, and souvenirs, and these markets are often also the best places to find local food for very little money.
5. Tour the museums
Most cities in the region are filled with museums, particularly those paying homage to the Mayan civilization. The Gold Museum in San José, Costa Rica is fascinating. For Mayan artifacts, head to the Copán Village Archaeology Museum ($7 USD admission).
6. Herrera Gardens & Conservation Project
This is a 250-acre reserve. It's a long-term, ongoing reforestation project located in Puerto Jimenez, Costa Rica. The site contains over 5km of garden trails and approximately 16km of marked forest trails. You can take guided tours for bird watching, botany, and tree climbing. Admission is $7 USD per person, and guided tours are $40 USD and last a couple hours.
7. Sail the San Blas Islands
This archipelago in Panama consists of 378 islands and cays to explore. Taking a day, or even a week long sailing trip throughout them is super fun. There are incredible seascapes to behold, as well as fascinating people to meet and colorful reefs to see. There is an abundance of wildlife to check out and the boats make frequent snorkeling and scuba diving stops. These trips are popular with budget travelers and can be organized anywhere in the country. Expect to spend upwards of $500 USD for a 4-5 day cruise.
8. Surf down a volcano in Nicaragua
What's the difference between sand-boarding and volcano-boarding? Cerro Negro, a young and active volcano, offers tourists a chance to board down its graveled slopes through an organized tour. You will have to hike up to the top, which takes around an hour, so be prepared for a climb and to get dirty! A half-day outing costs about $30 USD.
9. Dive the Blue Hole
This place in Belize is part of the Lighthouse Reef system and near-perfect circular hole 480 feet deep. The water is almost completely motionless, so visibility is about 200 feet. The blue hole is an amazing place to dive or snorkel and is considered one of the best natural spots in the world!
10. The Barrier Reef, Belize
The second longest barrier reef in the world, the vibrant coral, and magnificent marine life makes up the country's most popular tourist attraction. Divers and snorkelers can enjoy the reef within one of the many islands in the marine park or take a boat tour out to the area itself. In 1996, the reef was designated as a World Heritage Site.
11. Walk through the Treetops
The Rainmaker Aerial Walkway in Costa Rica was the first aerial walkway to be built in Central America, and it is still considered to be one of the top ariel walkways in the region. At the highest point on the walkway, you'll find yourself a 20 stories above the ground. Tours start at 45,000 CRC and include two light meals.
12. Macaw Mountain Bird Reserve & Park
Located in Copan Ruinas, Honduras, this enclosure is in a tropical rainforest brimming with an amazing range of birds. You will see everything from the brilliant Buffon Macaw to the crazy Keel-Billed Toucans. Included in the ticket price is a three-day access pass to the park, a one-hour guided tour, and a 20-minute walk through an adjacent coffee plantation. Admission is $10 USD per person.
13. Go to Ometepe Island, Nicaragua
Located inside Nicaragua Lake, this is the largest volcanic island in the world that resides inside a freshwater lake. It is easy to get to and is close to Managua—the capital city. While on the island, Moyogalpa is an amazing place to start, as it is the hub for tourism here. There is a plethora of restaurants and hotels. When you are ready to explore, be sure to check out Cascada San Ramon, a waterfall reached via a beautiful four-hour hike.
14. Take in the Nicoya Coast, Costa Rica
This is a beautiful peninsula in Costa Rica riddled with quaint little towns and plenty of beaches. It is constantly sunny her, and there's a lot to see and do. Some of the main attractions include Barra Honda National Park, Isla Tortuga, scuba diving, and driving along the coast. My favorite town in this area is Santa Theresa.
15. Visit La Libertad, El Salvador
For those of you who are big on surfing, this is considered the best place to catch a wave in Central America. While there is the risk of bumping into a swarm of beach-bum types, it doesn't take away from the amazing waves, the endless seafood barbecue, and cool accommodation.
16. Enjoy carnival
The biggest carnival in the region is La Cieba in Honduras. The streets fill with bright costumes and dancing, while bars and clubs burst with locals and tourists, all vying to soak up the party atmosphere.