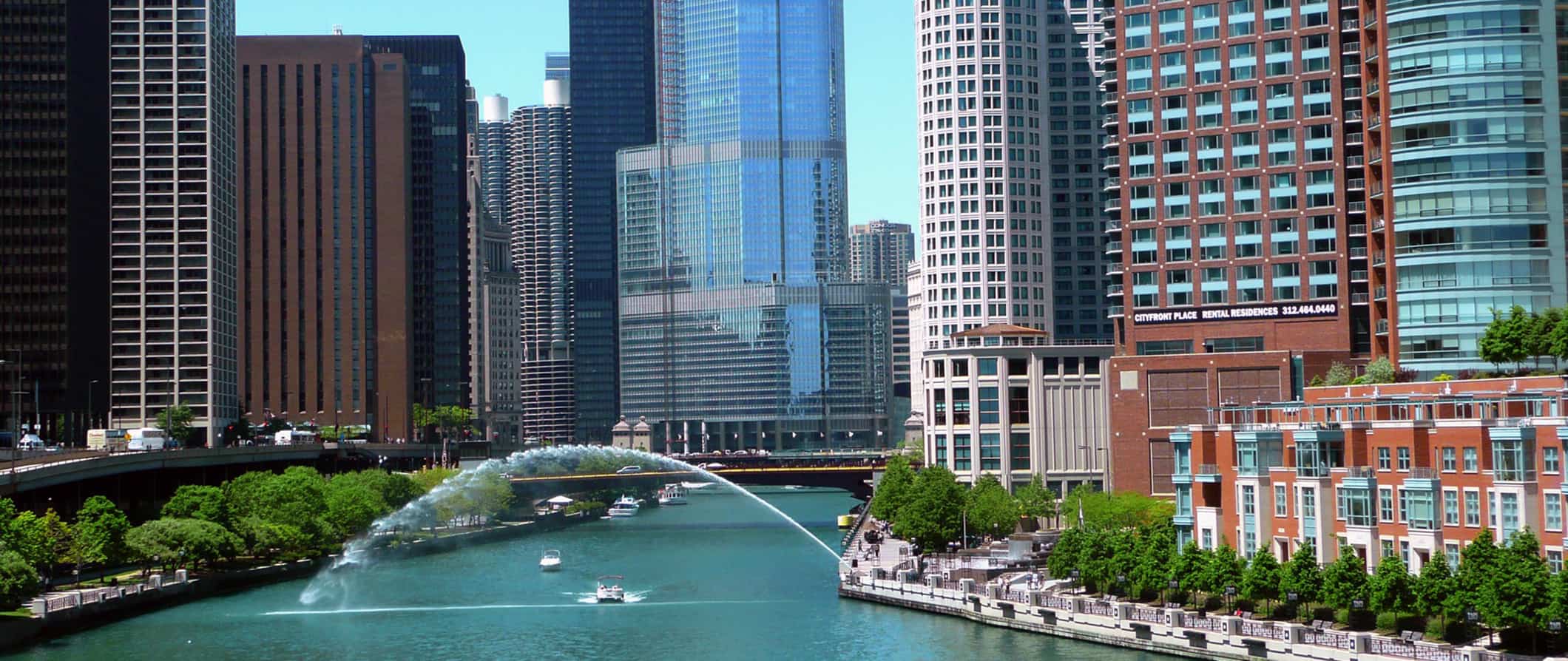 Best known as the "Windy City" because the local politicians blow hot air, Chicago is one of my favorite cities in the entire United States — especially in the summer when the weather is perfect.
Because the winter is harsh here, the city comes alive in the spring and summer as residents buzz about after being confined inside. There's not one person I know who doesn't say, "You can't get better than Chicago in the summer."
Chicago's biggest draws include its green space, the most famous being Grant and Millennium Park, home to the iconic Chicago Bean sculpture (officially known as Cloud Gate). The city also boasts world-class food, fun nightlife, lots of activities, outgoing people, and an uplifting atmosphere. There's a lot to do here for people of any budget or travel style.
This travel guide to Chicago can help you plan a fun and affordable trip without breaking the bank!
Top 5 Things to See and Do in Chicago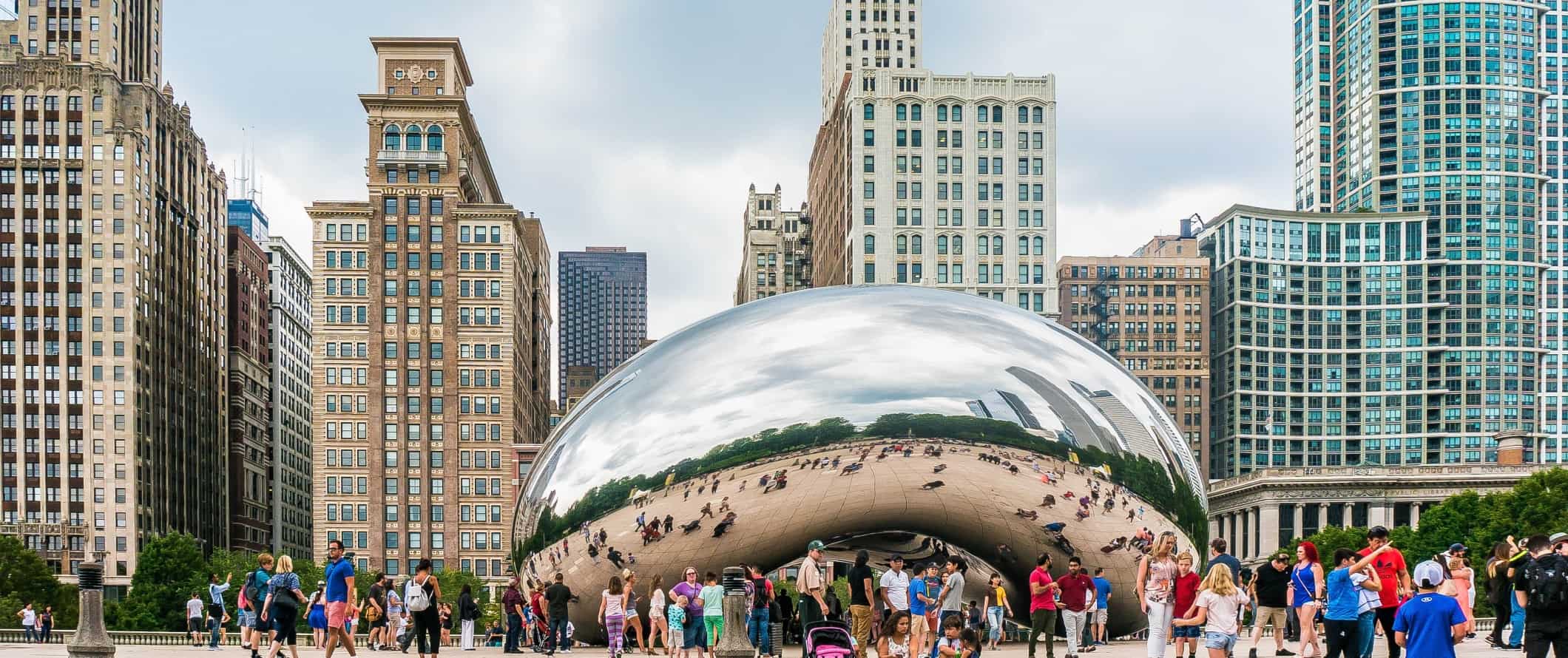 1. Relax in Grant and Millennium Park
Located downtown, these gigantic parks provide a great place to hang out, have a picnic, or go for a run. People play chess here when the weather is nice and during the summer there are a lot of free concerts. Grant Park stretches along Chicago's waterfront and is the larger park, while Millennium Park is the subsection where the famous "Chicago Bean" sculpture is located. Officially titled "Cloud Gate," this iconic work of public art is a must-see while visiting Chicago. Starting at noon on the 1st and 3rd Saturdays April-November, the Chicago Cultural Center hosts walking tours focusing on the art of Millennium Park.
2. Stroll down the Magnificent Mile
Often nicknamed "Mag Mile," this stretch along Michigan Avenue from the Chicago River to Oak Street is known for its upscale designer boutiques. In fact, rent here is the 3rd highest in the US (after Fifth Avenue in New York City and Rodeo Drive in Beverley Hills). Even if you don't want to blow your budget on some expensive threads, it's still an experience to stroll down the avenue and take in the sights, and the people, and enjoy the view of the Chicago River. There are several landmarks and attractions along the avenue too, including the 360 Chicago observation deck for expansive views over the city.
3. Experience St. Patrick's Day
Next to Ireland, Chicago is the best place to be on March 17th. To honor its large Irish-American population, the city dyes its river green, hosts a huge parade, and parties until the sun comes up (complete with copious amounts of green beer). The tradition began in 1843 when the city's first Irish parade was held, but it wasn't until 1962 that the dyeing of the Chicago River started, at the suggestion of a local plumber's union. This union is still responsible for the green river each year, though they won't divulge their secrets on the dye used (it's environmentally friendly, though). Take a river cruise on the emerald waters or snap a pic from the sidelines and enjoy. This is one of the biggest days of the year here!
4. Have fun at Navy Pier
This 3,300-foot-long (1,010 meters) pier on the shoreline of Lake Michigan started off as a shipping pier but has also been a prison for draft dodgers during World War II, a Naval training center, and a temporary university campus. Since 1995, it has reopened to the public in its current form, and become sort of like a carnival in a city. It's Chicago's second-most visited tourist attraction (after The Bean) and contains some rides, a Ferris wheel, lots of restaurants, a Shakespeare theater, boat tours, a large number of beer gardens, mini-golf, and more! It's a good place to have some silly fun (especially if you have kids).
5. Try deep dish pizza
Chicago developed the deep-dish pizza, as well as the stuffed crust pizza, and no trip is complete without trying both. The deep-dish pizza was invented in 1943 by Pizzeria Uno, which is now a national restaurant chain. For something more local, Chicagoans swear by Lou Malnati's. Personally, I'm not usually a huge fan of deep dish but I was impressed by theirs! If you really want to indulge, hop on a pizza tour offered by Chicago Pizza Tours, where you'll get to sample all the varieties of pizza on offer in this city. Tours start at $49 USD.
Other Things to See and Do in Chicago
1. Visit the Oriental Institute Museum
The Oriental Institute (OI) of the University of Chicago is a leading research center for the ancient Middle East. Their museum is home to a huge archaeological collection of objects from the Near East, including ancient Egypt, Israel, Syria, Turkey, Iraq, and Iran. Established in 1919, the museum has all kinds of artifacts, photographs, historical records, and even a giant 17-foot-tall statue of King Tut that weighs over six tons! Suggested admission is $10 USD.
2. See the Chicago Cultural Center
The former site of the Chicago Public Library, this historic landmark is known for its exquisite Tiffany mosaics, especially in its performance venue Preston Bradley Hall. Its rooms were inspired by the Acropolis of Athens, the Palazzo Ducale in Venice, and the Palazzo in Florence. It has changing art exhibits, events, performances, and free guided tours of the historic building (Thursdays and Fridays at 1:15pm). Check the website to see what events and performances are available during your visit. It's free too!
3. Meet a local
Chicago has a local greeter program, which offers free walking tours of various neighborhoods from a knowledgeable local. This is a great opportunity to see more of the city while learning about it directly from an expert local guide who can answer all your questions. You can sign up at chicagogreeter.com (you need to do it at least 10 days in advance). I highly, highly, highly recommend doing this!
4. Stop by the City History Museum
This museum provides a solid overview of the history of Chicago, with an in-depth focus on the Great Chicago Fire in 1871 that burned down most of the city (the fire killed 300 people and left 100,000 people homeless. Abraham Lincoln's final draft of the Emancipation Proclamation was lost in the fire too). The museum has 22 million items, including President Lincoln's deathbed and the clothing he and his wife wore when he was assassinated. Admission is $19 USD.
5. See the Cubs play
Locals are incredibly passionate about their baseball team. Get in the spirit and head out to a game at the Cubs' home stadium, Wrigley Field. Even if you don't know a lot about baseball, it's still super fun. It gets really intense when the Cubs play Chicago's other team, the White Sox. The season goes from March-November and tickets usually cost around $30 USD, though you can often find them for half that price.
6. See Robie House
This Frank Lloyd Wright masterpiece, completed in 1909, is a premier example of his Prairie School design. Wright helped make Chicago architecture famous and this house is one of his best-known buildings. Today, the house is located on the University of Chicago campus and is listed as a UNESCO World Heritage site along with 8 other of Wright's most emblematic works. Admission starts at $20 USD, which includes a guided tour of the interior.
7. Visit the Art Institute of Chicago
This is Chicago's most famous museum, and in fact one of the oldest and largest art museums in the world. From photography to architecture to textiles, it houses a collection that includes works by Eva Hesse, David Hockney, and Ellsworth Kelly. Founded in 1879, the museum has over 300,000 items in its permanent collection and hosts upwards of 30 special exhibits each year. Admission is $25 USD.
8. Take a food tour
Get to know the city through its culinary scene, from deep-dish pizza to microbreweries to Chinatown's best restaurants. Get Your Guide offers a huge assortment of tours depending on your culinary interests. Usually, they involve some educational element (for example, brunch with a side of architectural history). Tours start from $50-75 USD.
9. View some war-inspired art
The National Veterans Art Museum (formerly The National Vietnam Veterans Art Museum) is a great yet seldom-visited museum. It features over 2,500 works of art created by Vietnam war veterans and, more recently, veterans from Iraq and Afghanistan. The entrance has 58,226 dog tags hanging from the ceiling, representing the soldiers who died in Vietnam. It's a stark, somber reminder of our overly-romanticized notion of war. Admission is free, though donations are welcomed.
10. Get acquainted with nature
Established in 1857, The Peggy Notebaert Nature Museum is a beautiful institution with roof-top gardens and plenty of information about the ecosystems surrounding Chicago. The "butterfly haven" is the most interesting — it's an enclosed space with over 200 species of butterflies, a waterfall, and garden paths. They also organize dozens of educational programs for both kids and adults. This museum is open daily and it costs $9 USD.
11. Catch an improv show
Chicago is the birthplace of improv comedy and a visit to the city wouldn't be complete without catching a show. There are tons of companies here — many of which have given birth to comedy greats like Tina Fey, Amy Poehler, Stephen Colbert, Mike Myers, Steve Carell, Eugene Levy, Bill Murray, and a ton of others. Second City is the most popular venue/troupe. Tickets start at around $40 USD.
12. Go to the beach
When most people think of Lake Michigan, they don't imagine sand, waves, and water as far as the eye can see — but it's there! Downtown Chicago runs right next to the shore and offers a little piece of nature in a city of skyscrapers. North Avenue Beach, 57th Street Beach, Montrose Beach, and Ohio Street Beach are some of the best and most popular choices.
13. See the Willis Tower
The Willis Tower (formally the Sears Tower) held the title of the world's tallest building for 25 years. Currently, it's the third-tallest building in the US and the 23rd tallest in the world. Standing at 1,450 feet (110 stories) tall, visitors can take the elevator to the SkyDeck (the highest observation deck in the United States) for panoramic views over Chicago. For those who don't mind heights, the SkyDeck's Ledge is a glass box extending over 4 feet over the city, offering heart-pounding views of the urban landscape below. Admission is $35 USD.
14. Explore the Field Museum of Natural History
This museum was built for the World's Columbian Exposition of 1893 to house its impressive biological and anthropological collections. Built in the Neoclassical style, the museum has 24 million objects, including exhibits on mummies, gemstones, meteorites, dinosaur fossils, and more. There's also a library with over 275,000 books. Admission starts at $29 USD. The expansive garden of native plants outside the museum is free to visit.
15. Stroll the Chicago Riverwalk
Do like the locals do and hang out on the south bank of the Chicago River, where you can walk the Chicago Riverwalk from Lake Shore Drive to Lake Street (it's a little over a mile). Grab a glass of wine at the Riverwalk Wine Garden by City Winery and enjoy some people-watching. It's a gorgeous place for a stroll in the summer! At night, you can see the projections of Art on theMART, the largest permanent digital art exhibition in the world.
16. Visit the Adler Planetarium
This was the first planetarium in the United States. It boasts immersive theater programs, rotating exhibitions, and other fun events (including lectures). You can virtually experience the depths of powerful black holes and the heights of Voyager 1, the farthest manmade object from Earth. There are also awesome special events, like Adler After Dark which lets you explore the planetarium while enjoying drinks and live entertainment. Admission starts at $19 USD.
17. Take a bike tour
To explore the city's main sights and cover a lot of ground, take a bike tour. Bobby's Bike Hike uses expert local guides so you learn a ton about the city. They offer food tours, neighborhood tours, and tours of Chicago's main attractions, all by bike. It's a fun way to explore and you get to see a lot too! Tours start at $46 USD.
18. Float on the Chicago River
Getting out on the river is a great way to see the city from a different perspective. Paddle around in a kayak from Urban Kayaks, bike your way through the water on a Cycleboat (it's also BYOB!), take an architecture boat tour, or go traditional and take a dinner cruise. Prices vary greatly depending on what you choose, but expect to pay at least $50 USD to get out on the water.
For more information on other cities in the United States, check out these guides:
Chicago Travel Costs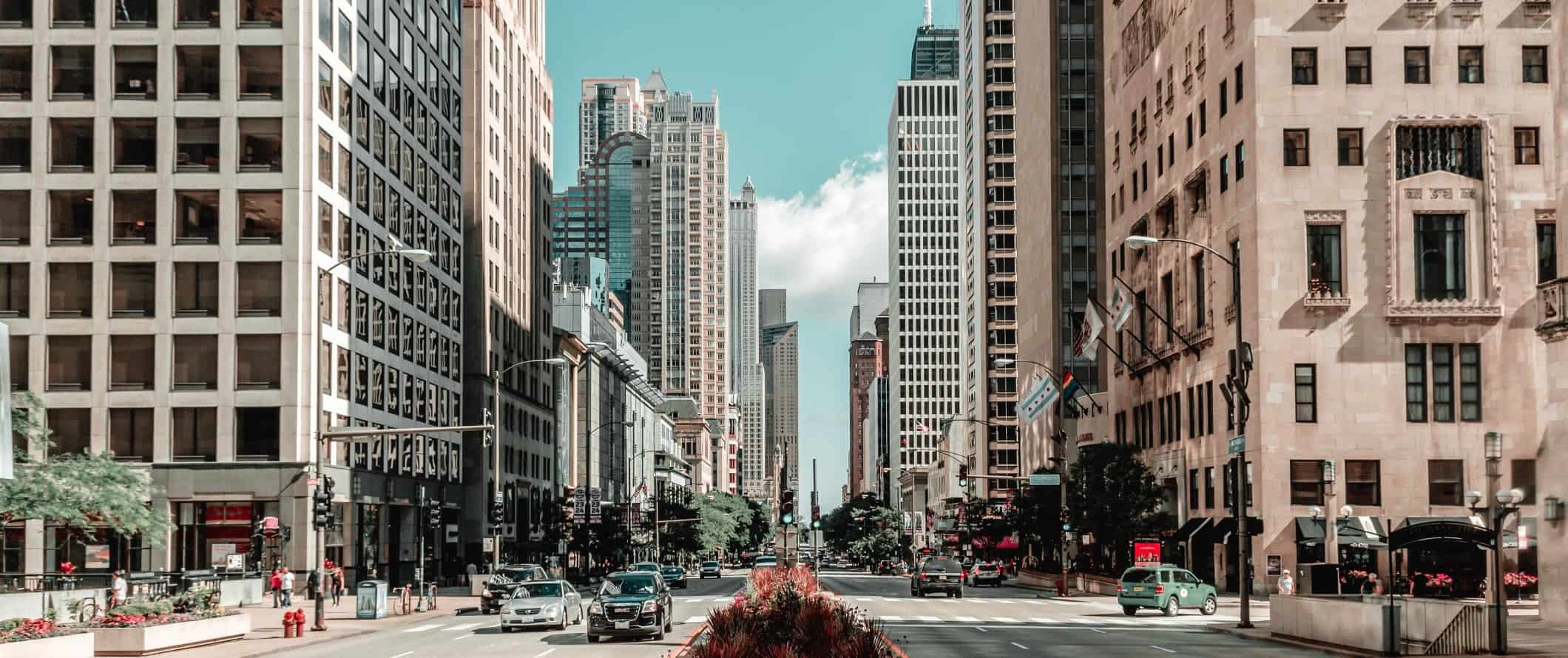 Hostel prices – During peak season, a bed in a 4-6-bed dorm costs about $45-60 USD and $28-50 USD in the off-season. For a room with eight beds or more, expect to pay around $32-39 USD in peak season and $28-32 USD off-peak.
A basic private room starts at $115-145 USD during peak season. Prices drop to around about $70-90 USD in the off-season. Free Wi-Fi is standard and most hostels have self-catering facilities. Some hostels also offer free breakfast and a few have a bar/restaurant on premises.
For those traveling with a tent, camping is available outside the city. A basic plot without electricity for two people starts at $18 USD.
Budget hotel prices – Budget two-star hotels start at $100 USD per night in peak season. In the off-season, prices drop to around $80 USD. Expect basic amenities like free Wi-Fi, AC, TV, and a coffee/tea maker.
There are also lots of Airbnb options in Chicago. A private room starts at $55 USD per night while an entire home/apartment averages $130 USD per night. Expect to pay double (or more) if you don't book in advance.
Food – Chicago has lots of fast food and street food options. You can get a huge hot dog, a chili dog, or a few tacos for under $5 USD, or a sandwich for under $10 USD. A personal deep dish pizza starts at about $12 USD (Lou Malnati's Pizzeria is the best place to order it). Fast food (think McDonald's) is around $8 USD for a combo meal.
You can eat at an inexpensive casual restaurant with table service for around $16 USD. For a three-course meal with a drink, expect to pay closer to $50 USD.
Chinese food is around $9-13 USD and you can find Thai food for around $13-15 USD. Beer is $7 USD, a cocktail is $11-15 USD, and a glass of wine is $8-11 USD. In terms of non-alcoholic drinks, a latte/cappuccino is $4 USD while bottled water is $1.75 USD.
If you cook your own food, expect to pay around $50-60 USD per week for basic staples like pasta, rice, vegetables, and some meat.
Backpacking Chicago Suggested Budgets
If you're backpacking Chicago, expect to spend about $70 USD per day. This budget covers a hostel dorm, using public transportation, cooking your own food, and free attractions like walking tours, the parks, and the beaches. If you plan on drinking, add $10-20 USD to your daily budget.
A mid-range budget of about $215 USD includes staying in a private Airbnb or private hostel room, eating out for most meals, enjoying a couple of drinks, taking the occasional taxi, and doing some paid activities like museum visits or a bike tour.
On a "luxury" budget of about $400 USD or more per day, you can stay in a hotel, eat out anywhere you want, drink as much as you'd like, take more taxis or rent a car, and do more paid activities. This is just the ground floor for luxury though. The sky is the limit!
Accommodation
Food
Transportation
Attractions
Average Daily Cost
Backpacker
$40
$15
$10
$5
$70
Mid-Range
$100
$75
$20
$20
$215
Luxury
$190
$130
$40
$40
$400
Chicago Travel Guide: Money-Saving Tips
Chicago is an expensive city, especially when it comes to attractions and accommodation. But, like any major city, there are always pockets of affordability if you know where to look. Here are some ways to save money in Chicago:
Get the Chicago City Pass – This pass allows you to over 50% off admission at a number of attractions. A 5-Choice Explorer pass is $114 USD and gets you entrance into five different attractions like the Skydeck, the Field Museum, and the Art Institute of Chicago. There are options ranging from 2-Choice to 7-Choice and also an all-inclusive pass.
Redeem hotel points – Be sure to sign up for hotel credit cards before you go and use those points when you travel. Be aware that most hotels charge parking fees if you have a car, and adjust your budget accordingly. This post can help you get started with the basics of travel hacking.
Stay with a local – Couchsurfing is the best way to save money on accommodation in Chicago. You'll not only get a free place to stay but you get to connect with a local who can share their insider tips. It's perfect for budget travelers who want to make connections.
Look for the happy hours – The Ultimate Happy Hours website lists all the happy hour drink and food specials around Chicago. It's updated with new info frequently!
Go on a free walking tour – This is a great way to learn the history behind the places you are seeing and avoid missing any must-see stops. Free Chicago Walking Tours has several interesting walking tours that can show you the main sights. Just be sure to tip your guide at the end!
Save money on rideshares – Uber, Via, and Lyft are way cheaper than taxis and are the best way to get around a city if you don't want to take a bus or pay for a taxi.
Bring a water bottle – The tap water here is safe to drink so bring a reusable water bottle to save money and reduce your plastic use. LifeStraw is my go-to brand as their bottles have built in filters to ensure your water is always clean and safe.
Where to Stay in Chicago
Accommodations are expensive in Chicago. However, there are a lot of hostels (with private rooms too) that can help keep your costs down. Here are my recommended places to stay in Chicago:
For more hostel suggestions, be sure to check out my complete list of the best hostels in Chicago!
And, for information on the best neighborhoods in the city, check out my post on where to stay in Chicago.
How to Get Around Chicago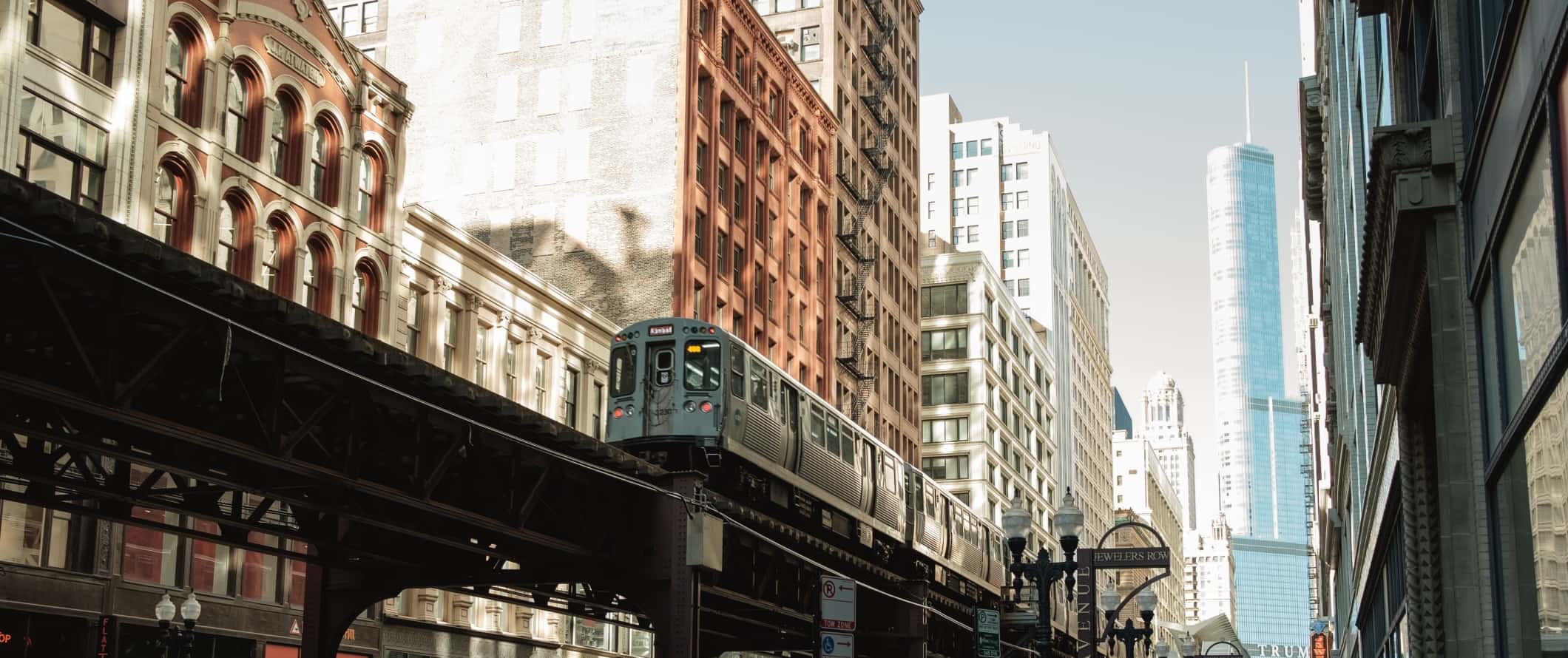 Public Transportation – The Chicago Transit Authority operates the L Train (elevated subway train) and the bus system. Their website has a complete list of routes and planning tools. The L Train costs $2.50 USD per journey, which is automatically deducted from your Ventra card (a rechargeable card that you can buy at any L station). If you're using a cash ticket rather than the Ventra card, it's $3 USD per ride (the card itself costs $5 USD, but that amount gets refunded when you register the card).
The train from the airport costs $5 USD. You can also take a city bus, which is $2.25 USD with a Ventra card or $2.50 USD in exact change.
There are also passes available, including a one-day pass for $5 USD, a 3-day pass for $15 USD, and a 7-day pass for $20 USD.
Water Taxis – Water taxis are a fun way to get around some parts of Chicago. Tickets cost between $6-10 USD. Chicago Water Taxi also offers shuttle services.
Bicycle – Chicago is incredibly bike-friendly. Divvy is the city's bike-sharing program. There are 5,800 Divvy bikes and you can get an unlimited day pass for $15 USD (for rides up to three hours each). You can also pay $1 USD to unlock a bike and then $0.16 USD per minute of your ride. You can purchase these passes at station kiosks or via the app.
Taxis – Taxis are expensive here! Everything is meter-based starting at $3.25 USD and then $2.25 USD per mile. Skip the taxis if you can!
Ridesharing – Uber and Lyft are way cheaper than taxis and are the best way to get around a city if you don't want to take a bus or pay for a taxi. I would definitely take it late at night over the bus too.
Car rental – Car rentals can be found for as little as $35 USD for a multi-day rental. However, unless you're leaving the city to do some day trips I would skip the rental as traffic is pain and parking is expensive. Renters need to be at least 21 years old. For the best rental car deals, use Discover Cars.
When to Go to Chicago
Spring (April to the end of May) and fall (September to the end of October) are both excellent times to visit Chicago, thanks to pleasant temperatures and fewer crowds.
Fall is especially nice, with daily temperatures averaging 60-70°F (15-21°C). You need to pack a sweater for this time of year, but tourist attractions are less crowded and hotel/hostel rooms are cheaper.
Summer (June-August) is peak season in Chicago. It's hot, with temperatures reaching the mid-80s°F (high 20s°C), and tourist crowds are at their highest. Although it's nice to take advantage of the weather, keep in mind that prices increase for accommodations and vacancies are low. August can be rainy, so pack a light rain jacket.
Avoid visiting in winter unless you don't mind some super cold days! The wind can be sharp during the winter months in Chicago, but if you want to do a lot of museum hopping or sightseeing indoors, you can save a lot of money on accommodations.
How to Stay Safe in Chicago
Although Chicago gets a bad reputation for crime and violence, it's still a safe place to backpack and travel. Violent attacks tend to be confined to certain areas (especially where drug and gang violence are a problem) and rarely impact visitors. As a traveler, you're likely to stick to the Loop, Wicker Park, Bucktown, and the Old Town, which are all very safe.
Avoid Chicago's South Side unless you want to see a White Sox game (the L Train stops right outside the stadium).
You might encounter petty crime, like theft, around famous tourist landmarks. Keep an eye on your belongings at all times, especially while taking public transportation.
At some attractions, like the Art Institute or the Field Museum, you may get approached by scammers who claim they can give you a cheaper tour inside. Avoid these "guides" as it's all a scam.
If you're concerned about getting ripped off, read this post on common travel scams to avoid.
Solo female travelers should generally feel safe here, however, the standard precautions apply (never leave your drink unattended at the bar, never walk home alone intoxicated, etc.).
If you experience an emergency, dial 911 for assistance.
Always trust your gut instinct. Make copies of your personal documents, including your passport and ID. Forward your itinerary along to loved ones so they'll know where you are.
The most important piece of advice I can offer is to purchase good travel insurance. Travel insurance will protect you against illness, injury, theft, and cancellations. It's comprehensive protection in case anything goes wrong. I never go on a trip without it as I've had to use it many times in the past. You can use the widget below to find the policy right for you:
Chicago Travel Guide: The Best Booking Resources
These are my favorite companies to use when I travel. They consistently have the best deals, offer world-class customer service and great value, and overall, are better than their competitors. They are the companies I use the most and are always the starting point in my search for travel deals.
Skyscanner – Skyscanner is my favorite flight search engine. They search small websites and budget airlines that larger search sites tend to miss. They are hands down the number one place to start.
Hostelworld – This is the best hostel accommodation site out there with the largest inventory, best search interface, and widest availability.
Booking.com – The best all around booking site that constantly provides the cheapest and lowest rates. They have the widest selection of budget accommodation. In all my tests, they've always had the cheapest rates out of all the booking websites.
Get Your Guide – Get Your Guide is a huge online marketplace for tours and excursions. They have tons of tour options available in cities all around the world, including everything from cooking classes, walking tours, street art lessons, and more!
SafetyWing – Safety Wing offers convenient and affordable plans tailored to digital nomads and long-term travelers. They have cheap monthly plans, great customer service, and an easy-to-use claims process that makes it perfect for those on the road.
LifeStraw – My go-to company for reusable water bottles with built-in filters so you can ensure your drinking water is always clean and safe.
Unbound Merino – They make lightweight, durable, easy-to-clean travel clothing.
Top Travel Credit Cards – Points are the best way to cut down travel expenses. Here's my favorite point earning credit cards so you can get free travel!
Chicago Travel Guide: Related Articles
Want more info? Check out all the articles I've written on United States travel and continue planning your trip: