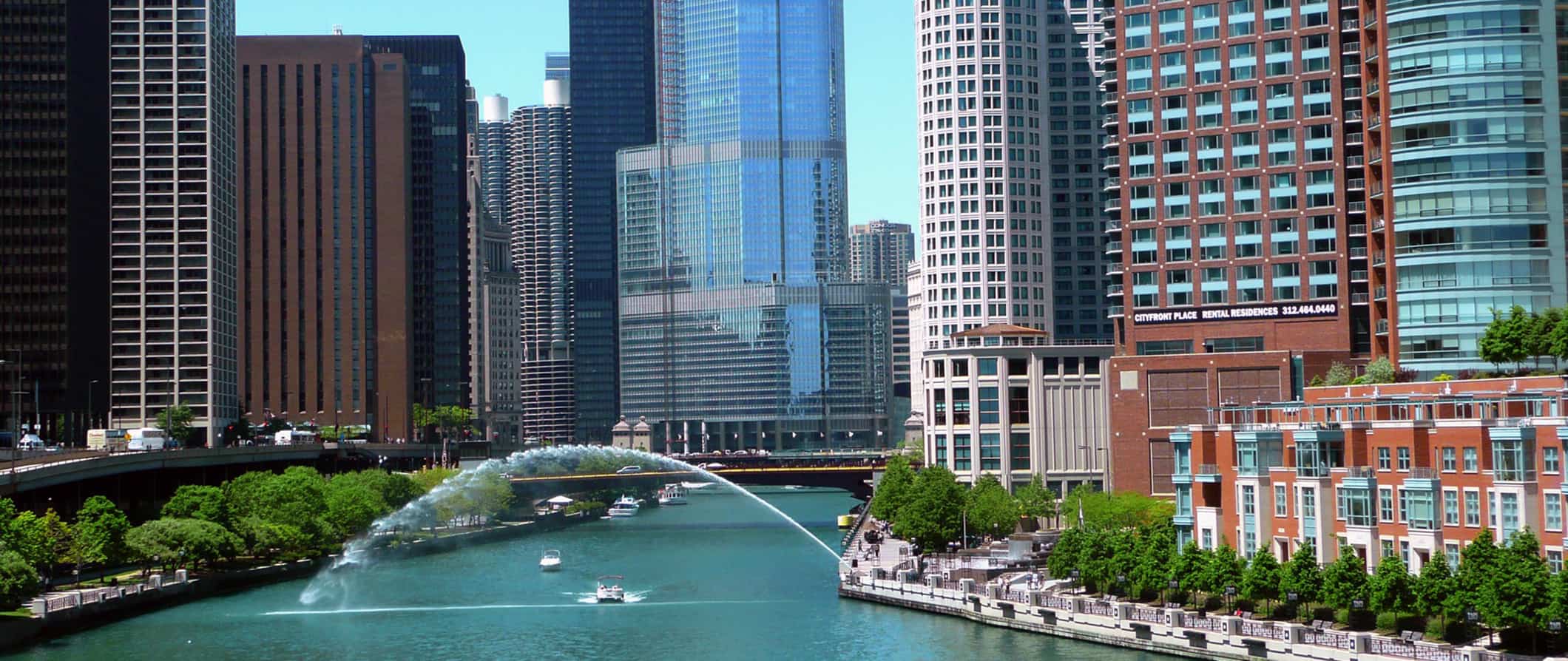 Chicago is the third largest city in the United States and is located on the southwestern shores of Lake Michigan. Best known as the "Windy City" because the politicians blow hot air, Chicago is one of my favorite cities, especially in the summer. Its biggest draw today is its green space and architectural beauty, the most famous of which is Grant and Millennium park, home to the famous Chicago Bean. More than that, you'll find world-class food, fun nightlife, lots of activities, and just a cool atmosphere. Visit in the summer when life on the lake comes alive. There's not one person I know who doesn't say, "You can't get better than Chicago in the summer."
Top 5 Things to See and Do in Chicago
1. Relax in Grant and Millennium Park
Located right downtown, these gigantic parks provide a great place to hang out, have a picnic, or go for a run. You can also find people playing chess out here and during the summer they have a lot of free concerts. This is also where you will find the famous "Chicago Bean" sculpture.
2. Visit the Art Institute of Chicago
Visit the famous Art Institute of Chicago. From photography to architecture to textiles, this museum houses a permanent collection that includes works by Eva Hesse, David Hockney, and Ellsworth Kelly. The museum is open daily from 10:30am-5pm with extended hours on Thursday. Admission is $25.
3. Experience St. Patrick's Day
Next to Ireland, Chicago is the best place to be on March 17th. With a large Irish-American population, St. Patrick's day is a celebration of Ireland's patron saint Patrick who drove all the snakes out of Ireland. The city even dyes their river green, the streets are filled with tons of people, and there's a big parade.
4. Be a kid at Navy Pier
My favorite adventure in Chicago was to Navy Pier. Navy Pier is sort of like a carnival in a city. It contains some rides, a Ferris wheel, lots of restaurants, a Shakespeare theater, boat tours, an oddly large number of beer gardens, and even miniature golf.
5. See Robie House
This Frank Lloyd Wright masterpiece, completed in 1909, is a premier example of his Prairie School design. Wright helped make Chicago architecture famous and this house is one of his best-known buildings. Admission is $17 and it's open Thursday-Monday from 10:30am-3pm. Discounts are available for students and seniors.
Other Things to See and Do
(Click the title to expand the text)
1. Visit the Oriental Institute Museum
Despite its name, the collection has nothing to do with the Orient, but instead is a huge archaeological collection of objects from ancient Egypt. Still informative, though. The museum is open daily (except Mondays) from 10am-5pm, except on Wednesdays when it's open until 8pm.
2. See the Chicago Cultural Center
Former site of the Chicago Public Library, this lovely building is known for its exquisite Tiffany mosaics, especially in its performance venue, Preston Bradley Hall. It has changing art exhibits.
3. Stop by the City History Museum
This museum provides a good overview of the history of the city, especially of the Great Chicago Fire that burned down most of the city. Admission is $16 and it's open daily from 9:30am-4:30pm with extended hours on Tuesdays and abbreviated hours on Sundays.
4. See the Cubs play
Locals are fanatical about their baseball team. Get in the spirit and head out to a game. It gets really intense when the Cubs play Chicago's other team, the White Sox.
5. Eat the famous pizza
Chicago developed the deep dish pizza, as well as the stuffed crust pizza, and no trip is complete without trying at least one. The deep dish pizza was invented by Pizzeria Uno, which is now a national restaurant chain. Many Chicagoans swear by Lou Malnati's.
6. Stroll down the Magnificent Mile
This stretch along Michigan Avenue is known for its upscale designer boutiques. Even if you don't want to blow your budget on some expensive threads, it's still an experience to stroll down the avenue and take in the sights, the people, and a look at the Chicago River.
7. View some war-inspired art
The National Vietnam Veterans Art Museum is a powerful yet seldom visited museum. It features art that was created by Vietnam war veterans and, more recently, veterans from Iraq. It's a stark reminder of our overly romanticized notion of war. This museum is open daily (except Sundays and Mondays) from 10am-5pm. Admission is free.
8. Get acquainted with nature
The Peggy Notebaert Nature Museum is a beautiful institution with roof-top gardens, and plenty of information about the ecosystems surrounding Chicago. What is most interesting is the "butterfly haven", an enclosed space with hundreds of butterflies, a waterfall, and garden paths. This museum is open daily from 9am-5pm except on the weekends when it opens at 10am. It costs $9.
9. Meet a local
Chicago has a local greeter program, which offers free walking tours of various neighborhoods from a knowledgeable local. This is a great opportunity to see more of the city from a more intimate, ground-level perspective. I highly, highly, highly recommend doing this!! I love greeter programs!
10. Catch an improv show
Chicago is the birthplace of improv comedy and a visit to the city wouldn't be complete without catching a show. There are tons of companies here – many of which have given birth to comedy greats like Tina Fey, Amy Poehler, Stephen Colbert, Mike Myers, Steve Carell, Eugene Levy, Bill Murray, and a ton of others. Some of the most popular companies are Second City, Improv Olympic, and ComedySportz.
11. Go to the beach
When most people think of Lake Michigan, they don't imagine sand, waves, and water as far as the eye can see but it's there! Downtown Chicago runs right next to the shore and offers a little piece of nature in a city of skyscrapers.
12. See the Willis Tower (Sears Tower)
The Willis Tower (Sears Tower) held the title of world's tallest building for 25 years. Standing at 1,450 feet (110 storeys), visitors can take the elevator to the SkyDeck for panoramic views over Chicago. The SkyDeck's Ledge is a glass box extending 4.3 feet over the city. SkyDeck is open October through February from 10am-8pm, and March through September from 9am-10pm. Admission is $24 ($16 for children ages 3-11).
13. Visit Shedd Aquarium
Shedd Aquarium is one of the most impressive aquariums in the country, known for its impressive architecture and for its advanced approach to animal care and handling marine environments. There are 32,600 different species of sea life. You can feed sharks, get to know some penguins, and even pretend to be an animal trainer for a day. It's honestly one of the best aquariums I've ever visited!
14. The Field Museum of Natural History
This museum was built for the World's Columbian Exposition of 1893, and to house its impressive biological and anthropological collections. Now the museum has 24 million objects, with everything from mummies, to gemstones, to dinosaur fossils. The museum is open from 9am-5pm everyday, and admission is $38 for adults ($27 for children).
15. Stroll the Chicago Riverwalk
Do like the locals do and hang out on the south bank of the Chicago River, where you can walk the Chicago Riverwalk from Lake Shore Drive to Lake Street. Grab a glass of wine at the City Winery Chicago Riverwalk, and enjoy some people watching.
16. Visit the Adler Planetarium
This is the first planetarium in the United Sates, with immersive theater programs, exhibitions, and other fun events (including lectures). You'll get to virtually experience the depths of powerful black holes and the heights of Voyager 1, the farthest manmade object from earth. There are also awesome special events, like Adler After Dark.