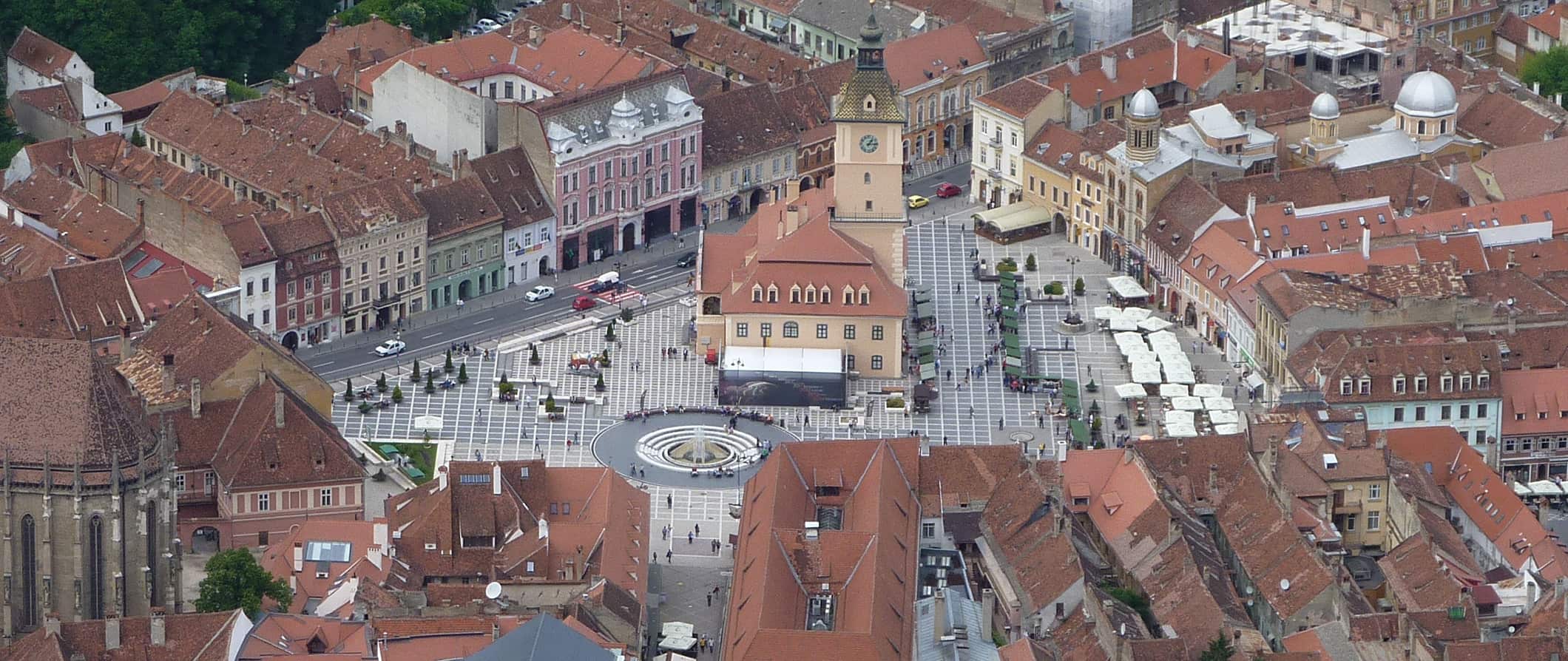 Brasov is hands down my favorite city in Romania. One the best-preserved cities, it has awesome bars, my favorite hostel in the country, a beautiful town square, medieval walls you can walk on, and is located near Dracula's famed castle (which wasn't really his but hey, it's still a good castle!). The city offers everything (including hiking in the nearby mountains). I came for two days and stayed for five. You'll see with this travel guide that there is a lot to do here so I urge you to make time for Brasov. You won't be disappointed. Few rarely are. Don't breeze through the city. Stay awhile and really soak in this cultural capital of the country. It doesn't get better than here!
Top 5 Things to See and Do in Brasov
1. Explore Bran (Dracula's) Castle
The castle that inspired Dracula's Castle. Visitors can enjoy rooms dedicated to Transylvania's most famous count, as well as dine in Queen Marie's Tea House and ride a glass elevator to experience "Dracula's escape route." Entrance is 35 RON. There are varying hours throughout the week and different seasons.
2. Wander through Piata Sfatului
This is an open-air market square and bordered by the Black Church, the former Council House, indoor and outdoor terraces and restaurants, the Orthodox Cathedral, Muresan's House, the Hirscher House, the Strada Sforii, and more. There's lot's here to capture your attention.
3. Climb Tampa Mountain
See the best view of Brasov from the top of Mount Tampa! You can reach it by cable car (called Telecabina) or by walking up one of the few paths twisting up the hill. Walking to the top takes about an hour (following the red triangles) from the cable car station or the yellow triangles from Brediceanu Alley.
4. Visit Rasnov Fortress
This fortress was built by Teutonic Knights. There is a museum here and hidden behind the ancient walls, you can find a skeleton buried beneath a glass floor. The inner rooms are maze-like with several wooden ladders linking them and a few "secret passages." It's a place to get lost. Admission is 12 RON and it's open daily from 9am-6pm.
5. Check out the Black Church
This is the largest gothic church in Romania. Its name is derived from damage caused by the Great Fire of 1689 when flames and smoke blackened its walls. The interior is impressive and well-kept, and the church houses one of the largest organs in Eastern Europe.
Other Things to See and Do
(Click the title to expand the text)
1. See Catherine's Gate
This medieval gate was built by the Tailors' Guild in 1559 for defensive purposes and is the only part of the medieval gates still standing. Presently, it houses a museum that presents art and history exhibitions.
2. Wander along Brasov's wall
The bastions here were part of the defensive wall. They once stood 40 feet high, seven feet thick and two miles long. They can still be seen today, though most of the wall was taken down in the 19th century to make room for the city's expansion. It provides a view of Brasov's medieval history.
3. Visit Peles Castle
If Bran castle isn't enough, stop by the nearby Peles Castle. Built in the 19th century, this castle is nestled into a beautiful backdrop of forests and mountains and has some incredibly detailed woodwork all throughout the castle. There are also plenty of antiques, including suits of armor and weapons. The tour isn't the best, but even just strolling around the castle is worth the price of admission. Tickets are 40 RON for adults with discounts available for students and seniors.
4. Admire the Saint Nicholas Basilica
The interior of this church has frescoes painted by the renowned muralist Misu Popp, and there are also famous Romanians buried in the church graveyard.
5. Visit the Rupea Hilltop Fortress
This fortress has been restored to show what it would have been like in the medieval period. The process is ongoing, but visitors are able to walk through the site.
6. Search out the String Street
This street (Strada Sforii in Romanian) is reputed to be the narrowest in Europe at only 4 feet wide (although that's probably up for debate). It used to be used as a corridor for firemen on duty.
7. Hike up to the Brasov sign
One of the first things you'll notice is Brasov is the big white sign on the hill above town (like the Hollywood sign). If the weather is nice you can hike up there to a nice little viewpoint that overlooks the city. The hike is only 45-60 minutes and is quite easy. The view is definitely worth it!
Typical Costs
Hostel prices
– You can find dorm beds starting around 60 RON and a private room that sleeps two for about 130 RON. Hostels in Brasov typically offer free linens, free WiFi, some offer free breakfast. My suggested places are:
JugendStube is one of my favorite hostels in the country. They have good WiFi, free breakfast, and are in a great location.
Budget hotel prices – You can find a room in a budget hotel starting around 100 RON per night. Hotels at this price range offer private bathrooms and free WiFi. On Airbnb, you can find a shared room for 40-65 RON and an entire home starting around 135 RON.
Food – Since this city is so popular with tourists, food is more expensive than other parts of the country (though still relatively cheap). An inexpensive lunch will cost around 20-28 RON. A more mid-range restaurant (think fancier with waiters) will run you 36-60 RON. Soup is a good option for saving money, as it costs around 6-10 RON and is pretty hearty in Romania. If you cook your meals, expect to pay about 170 RIO per week for groceries that will include pasta, vegetables, chicken, and other basic foods. You can save money by shopping at discount supermarkets like Profi, Lidl, and Penny Market.
Transportation costs – Trains run across the country, with fares ranging from 50-100 RON for intercity travel. The ride-sharing app BlaBlaCar is another great (and cheap) way to get around the country, with rides usually 50% cheaper than the train. If you're traveling by bus within Brasov, you'll pay just 2 RON for a single fare, while a one-day pass is 6 RON. Taxis start at 1.70 RON, and increase by the same rate every kilometer. Bicycles are available to rent for 40 RON for three hours or 40 RON for a day.
Suggested daily budget
130 -173 RON / 30-40 USD (Note: This is a suggested budget assuming you're staying in a hostel, eating out more local places , cooking some meals, and using local transportation. Using the budget tips below, you can always lower this number.)
Money Saving Tips
Eat lunch out – Although food in Romania is inexpensive in general, you can save more money by cooking your own dinners and eating your lunches out. A lunch menu in Romania typically consists of three courses (soup, main, dessert), and can cost as little as 20-30 RON.
Do a free walking tour – This is a great way to learn the history behind the places you are seeing and to avoid missing any must-see stops. Walkabout Tours Brasov has a tour that starts at 6pm every day, rain or shine.
Couchsurf – Nothing's cheaper than sleeping for free. Couchsurfing connects you with locals who will give you not only a free place to stay, but also a local tour guide who can introduce you to all the great places to see.
Shop at discount grocers – If you're going to cook or even are just grabbing a snack, save money by shopping at discount supermarkets like Profi, Lidl, and Penny Market.
Save money on rideshares – Uber is way cheaper than taxis and are the best way to get around a city if you don't want to wait for a bus or pay for a taxi. The Uber Pool option is where can you share a ride to get even better savings (though you can get your own car too). You can save $15 off your first Uber ride with this code: jlx6v.
Use BlaBlaCar – Intercity travel using BlaBlaCar is usually half the price of taking the train. There may not always be rides available, but it's good to check here first. Just be sure to use the Romanian version of the website!
My Must Have Guides For Traveling to Brasov
Photo credits: 4