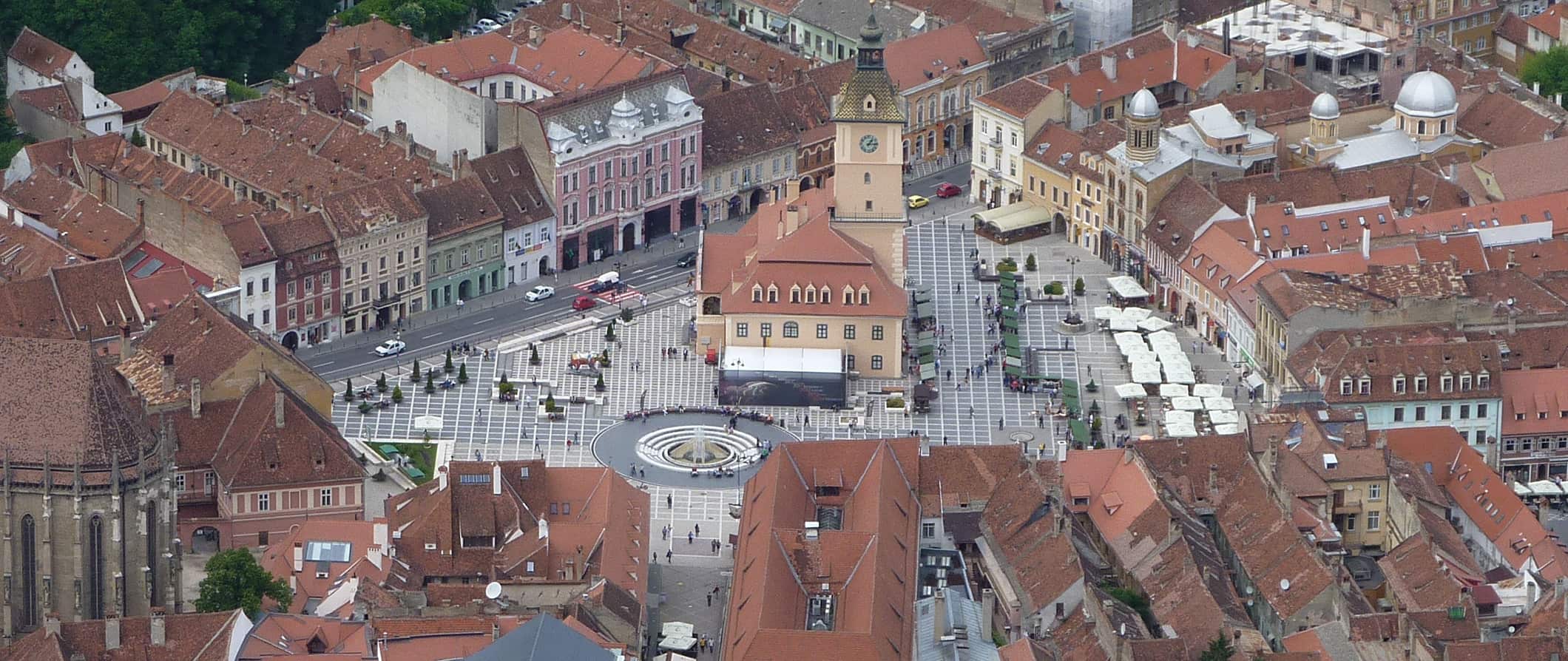 Brasov is hands down my favorite city in Romania. Visiting and backpacking through Brasov was one of the best experiences I had in the country. (I loved it so much that I ended up extending my stay!)
Brasov is in the historical region of Transylvania, surrounded by the Carpathian Mountains. Due to its location in the center of the country, the city has long been a center for commercial and cultural activities. (Fun fact: it's the birthplace of Romania's national anthem.)
It's one of the best-preserved cities in Romania. It has fun bars and incredible restaurants, is home to my favorite hostel in the country, has a stunning town square, walkable medieval walls, and is near Dracula's famed castle (which wasn't really his but hey, it's still a good castle!).
The city offers everything (including hiking in the nearby mountains), so don't breeze through. No matter how often I go, I never tire of the city, its beauty, and its charming restaurants. There's not a lot of nightlife here so don't come here expecting a wild time. It's a wonderful place to relax for a few days.
This travel guide to Brasov can help you plan your trip, save money, and make the most of your visit.
Top 5 Things to See and Do in Brasov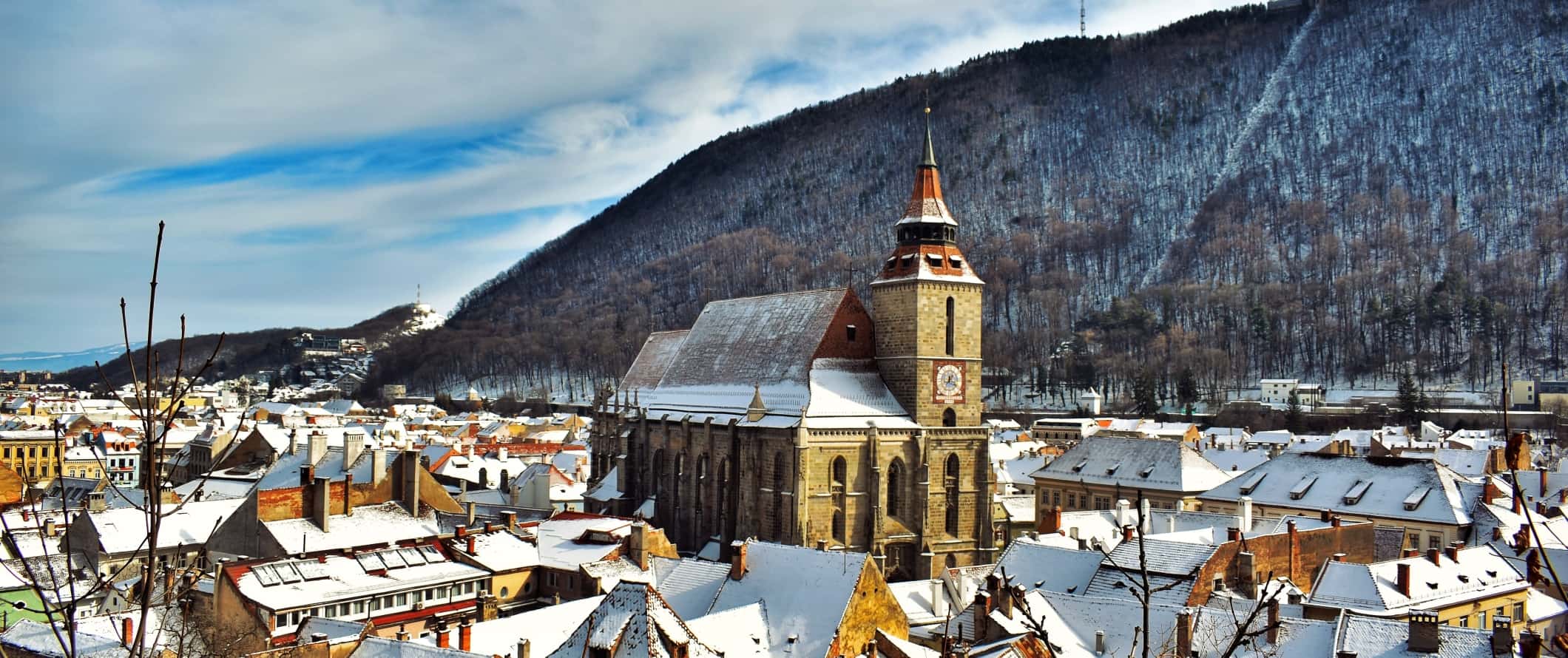 1. Explore Bran (Dracula's) Castle
This is the castle that is said to have inspired Dracula's Castle in Bram Stoker's version of Dracula. While it's unclear whether Stoker even knew about the castle, and even less likely that Vlad the Impaler, aka Dracula, ever stepped foot on the premises, it's still a fun place to visit. Visitors can walk the rooms dedicated to Transylvania's most famous count, see Queen Marie's Tea House, and ride a glass elevator to experience "Dracula's escape route." It's cheesy and very touristy, but super fun! Admission is 45 RON.
2. Wander through Piata Sfatului
Piata Sfatului (Council Square) is an open-air market square bordered by picturesque 18th-19th century buildings. It has been the central market square since 1364 and is a charming place to grab a drink and people-watch. The 15th-century Council House, now the Brasov County Museum of History, stands in the middle of the square, and the 14th-century Black Church is located just off the square.
3. Climb Tampa Mountain
Towering above Brasov, this mountain is great for a quick hike if you're looking to get a view overlooking the city. The mountain also has a large sign similar to the white "Hollywood" sign in Los Angeles (except this one says "Brasov"). While the hike is pretty easy and takes less than an hour (the mountain is just 1,000 meters/3,280 feet high) there is also a cable car you can ride to the summit for 18 RON (round trip).
4. Visit Rasnov Fortress
This hilltop fortress was built by Teutonic Knights in the 13th century to protect the surrounding villages from outside invasions. It was designed as a place of refuge during times of attack or seige, and in a way was its own community, with dozens of houses, a school, a chapel, and other buildings. Today, you can visit the museum inside and see a skeleton buried beneath a glass floor, hidden behind the ancient walls. The inner rooms are maze-like with several wooden ladders linking them and a few "secret passages."
5. Check out the Black Church
Built in the 14th century, the Black Church, or Biserica Neagra in Romanian, is the largest Gothic church in Romania (it can fit up to 5,000 people inside at once). Its name is supposedly derived from damage caused by the Great Fire of 1689 when flames and smoke blackened its walls. The well-kept interior is impressive, with a 17th-century pulpit, a 15th-century altar, and one of the largest organs in Eastern Europe (it has over 4,000 pipes). Admission is 15 RON.
Other Things to See and Do in Brasov
1. See Catherine's Gate
This medieval gate (known as "Poarta Ecaterinei" in Romanian) was built by the Tailors' Guild in 1559 and is the only part of the medieval gates still standing. It was named after St. Catherine's monastery, which used to be located nearby and was the only entrance to the city that citizens were allowed to use in the Middle Ages. In recent years, it's become an unofficial symbol of the city.
2. Wander along Brasov's wall
The bastions here were part of the city's large defensive wall, which was 12 meters (40 feet) high, 2 meters (7 feet) thick, and 3.2 kilometers (2 miles) long. Since the region struggled with invading forces throughout history, the city invested in a massive defensive fortification. The original walls can still be seen today, though most of that wall was taken down in the 19th century to make room for the city's expansion. While you cannot walk on top of the walls, you can walk along the path next to them and ascend wooden walkways to visit and see the view from the various bastions. Admission to the bastions is free.
3. Visit Peles Castle
Not too far from Brasov is Sinaia and the site of Peles Castle. Constructed for King Carol I in the 1870s as a getaway spot, the building is lavishly decorated and serves as a great reminder of the luxurious lives these rulers enjoyed. (Fun fact: It was also the first castle in Europe to have electricity.) After touring the elaborate grounds and gardens, head inside to look at the art and antique collection, which includes over 4,000 arms and armor. A visit to the ground floor of the castle costs 50 RON, a tour including the first floor costs 100 RON, and a tour of the ground, first, and the second floor costs 150 RON. The temporary exhibitions are free.
4. Admire the Saint Nicholas Basilica
Located in the Schei district of town, this Romanian Orthodox church was initially built in 1292. It was even mentioned in a Papal Bull in 1399. The interior has frescoes painted by the renowned muralist Misu Popp, and there are also famous Romanians buried in the church graveyard, including educator Ioan Meot, League of Nations President Nicolae Titulescu, and the politician Aurel Popovici. It was originally built as a Gothic church, though it was redecorated with Baroque elements. The church is narrow with numerous white steeples and exterior art. It is still active so dress conservatively when you visit. Admission is free.
5. Visit the Rupea Hilltop Fortress
The Rupea Citadel is one of the oldest archeological sites in Romania and the first signs of human settlement in Romania (dating to 5500-3500 BCE) were found here. The large, circular fortifications were in use from the 10th century, though they were constantly upgraded and expanded until the present version of the citadel came to be in the 19th century. The fortress today has been heavily rebuilt and reconstructed, with towering walls and ramps that encircle the hilltop. While reconstructed, the fort looks as it did in the Middle Ages and makes for a great day trip from the city, offering sweeping views and a taste of what garrison life was like when the fort was active. Admission is 15 RON.
6. Search out String Street
This street (Strada Sforii in Romanian) is reputed to be the narrowest in Europe at only 1.2 meters (4 feet) wide (although that's up for debate; France, Germany, and England all have similar streets). It was used as a corridor for firemen on duty and is now a fun place to snap photos. The street is not too far from the Black Church.
7. Take a free walking tour
To get a more detailed and nuanced picture of the city, take a free walking tour. It's the first thing I do whenever I visit a new city. Tours take you to all the major sites and give you a solid overview of the city, its past, culture, and residents. Walkabout has a daily free tour that lasts 2-2.5 hours and serves as a solid introduction to the city. Just be sure to tip your guide at the end!
8. Head to the hills for a day hike
Located just outside the city are the Piatra Mare Mountains. The highest peak is just under 2,000 meters (6,500 feet) and the hiking conditions are relatively easy. A hike to the summit takes around 8 hours, but there are shorter trails if you just want to hike for an hour or two. Be sure to plan ahead and bring all your supplies for the day (food, water, sunscreen, etc.). Take the city bus to Dambu Morii (or drive there yourself — there's a parking lot).
9. Have fun at Adventure Park
Parc Aventura (Adventure Park) is the biggest adventure park in Eastern Europe, offering obstacle courses, rope bridges, and ziplining. They have courses for kids ages 8 and up, as well as more challenging routes for adults, making it a fun activity for families looking to do something besides museums and history. Admission is 90 RON for adults and 80 RON for kids, which includes 3 hours of activities (additional hours are 30 RON/hour).
10. Tour Brasov's County Museum of History
Founded in 1950, this small museum isn't anything special, but it does have lots of information about the city and its past. The collection includes old weapons, medieval ceramics, Iron Age tools, historic documents, and more. While only some of the displays are in English, it's nevertheless worth a quick visit to learn a bit more about how Brasov came to be. It's located in the Council House in the middle of Piata Sfatului. Admission is 7 RON.
For more information on other cities in Romania, check out these guides:
Brasov Travel Costs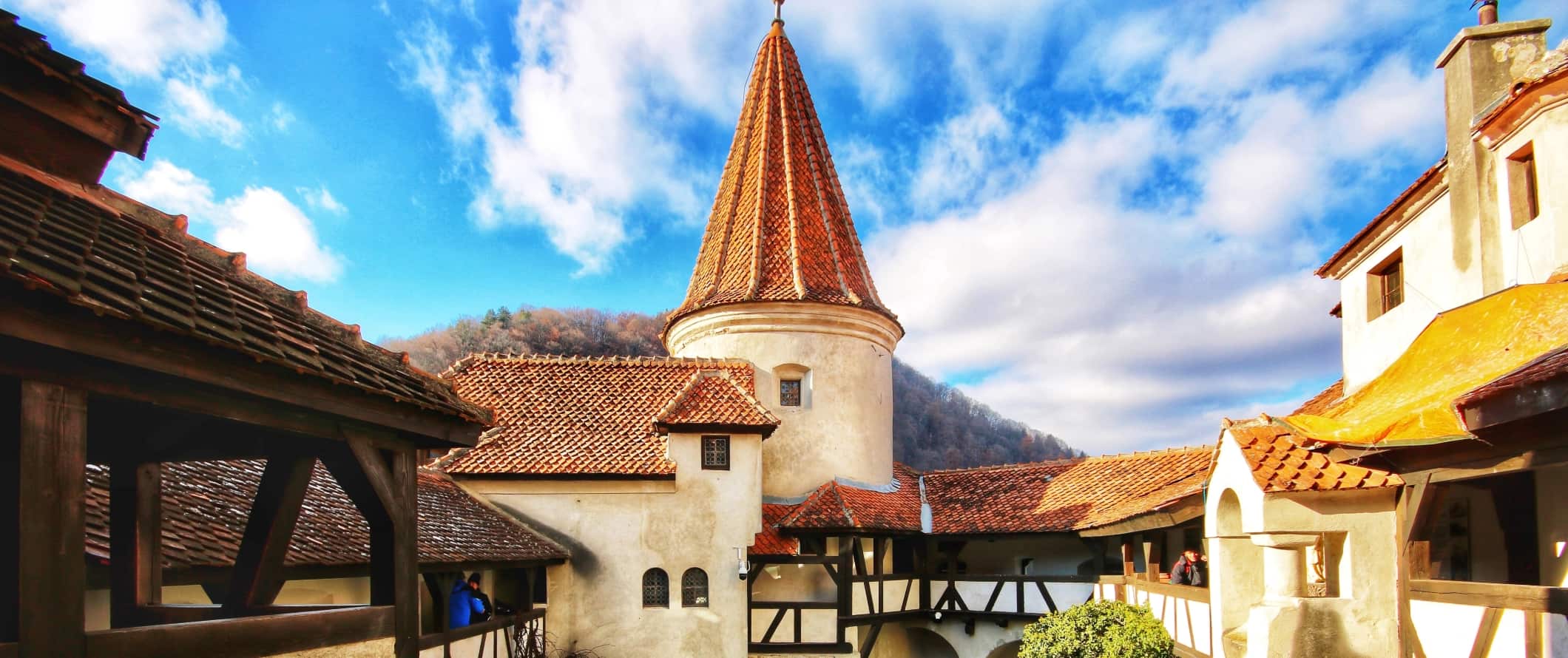 Hostel prices – A 4-8-bed dorm costs around 65-90 RON per night while a private double room costs 150-200 RON. Self-catering facilities, Wi-Fi, and lockers are common, though free breakfast is rare. Most hostels offer free coffee and tea.
Camping is possible in the area, though stick to dedicated campgrounds. Wild camping is legal, but theft is a bit common so it's much safer to camp in designated areas. Prices start at 25 RON per night for a basic plot for two without electricity.
Budget hotel prices – A budget hotel room costs 175-200 RON per night in the high season and 125-140 RON in the low season. Most include free Wi-Fi as well as complimentary breakfast.
If you prefer Airbnb, a private room costs 100-125 RON while an entire home/apartment costs 125-190 RON per night.
Food – Romanian cuisine is hearty, influenced by nearby Hungary and other Eastern European neighbors. Stews and sausages are common staples, with garlic sausage being especially popular. Sour soup, lamb, meatballs, and meat pies are other popular traditional meals. Wine is the drink of choice here as Romania is one of the largest wine producers in the world.
Cheap meals in Brasov cost around 25-45 RON, though the touristy places near the central square are a bit more expensive. Soup is a good option for saving money as it costs around 17-25 RON and is pretty hearty (it also typically comes with a side of free bread).
A meal at a mid-range restaurant costs closer to 60-75 RON for a three-course meal, while fast food is 6-9 RON for a hot dog or hamburger, or 30-40 RON for a combo meal (think McDonald's).
A domestic beer at a restaurant or bar costs around 8-10 RON, a glass of local wine is 10-19 RON while a bottle is 50-90 RON, and cocktails start at 20-35 RON. A cappuccino/latte is around 10-12 RON, tea is 10 RON, and a bottle of water is 5-8 RON.
Buying your own groceries and cooking your meals costs around 140-190 RON per week. That gets you basic staples like pasta, rice, produce, and some meat. Save money by shopping at local markets or small roadside stands, which usually have the cheapest and freshest products. There are also several discount supermarkets in Romania, like Profi, Lidl, and Penny Market.
Backpacking Brasov Suggested Budgets
On a backpacker budget of 135 RON per day, you can stay in a hostel dorm (or camp), cook all of your meals, limit your drinking, use public transportation to get around, and stick to mostly free activities like free tours and hiking.
On a mid-range budget of about 295 RON per day, you can stay in a private Airbnb room, eat out at cheap local restaurants for a few meals, enjoy a few drinks, and do a few paid activities, such as visiting Bran Castle.
On a "luxury" budget of 475 RON per day, you can stay in a hotel, eat out for every meal, rent a car or use BlaBlaCar to explore the region, drink as much as you'd like, and visit as many museums and attractions as you'd like. This is just the ground floor for luxury though. The sky is the limit!
Accommodation
Food
Transportation
Attractions
Average Daily Cost
Backpacker
70
35
10
20
135
Mid-Range
130
65
20
80
295
Luxury
175
135
45
120
475+
Brasov Travel Guide: Money-Saving Tips
To be honest, I didn't find that Brasov offered any amazing ways to save. There wasn't one particular thing that I found and was like, "Wow! This changed everything!" That's mostly because it's already an affordable destination. That said, there are a few things you can do to save more money in Brasov:
Stay with a local – Nothing's cheaper than sleeping for free. Couchsurfing connects you with locals who give you a free place to stay. Not only that but you'll also get a local tour guide who can introduce you to all the great places to see. It's a great community to be a part of.
Eat lunch out – Although the food in Romania is inexpensive in general, you can save more money by cooking your own dinners and eating your lunches out. A lunch menu in Romania typically consists of three courses (soup, main, dessert), and can cost as little as 30 RON.
Shop at discount grocers – If you're going to cook or even are just grabbing a snack, save money by shopping at discount supermarkets like Profi, Lidl, and Penny Market.
Take the train – If you're not in a hurry to get to/from Brasov, take the train. Trains in Romania are slow, but they are the cheapest way to get around. There are also some night trains around the country as well if you're going long distances.
Bring a water bottle – The tap water here is generally safe so bring a reusable water bottle to save money and reduce your reliance on single-use plastic. I suggest a LifeStraw since their bottles have a built-in filter to ensure your water is always clean and safe.
Where to Stay in Brasov
Brasov has a few hostels in town and they're all pretty comfortable and sociable. These are my favorite places to stay in Brasov:
How to Get Around Brasov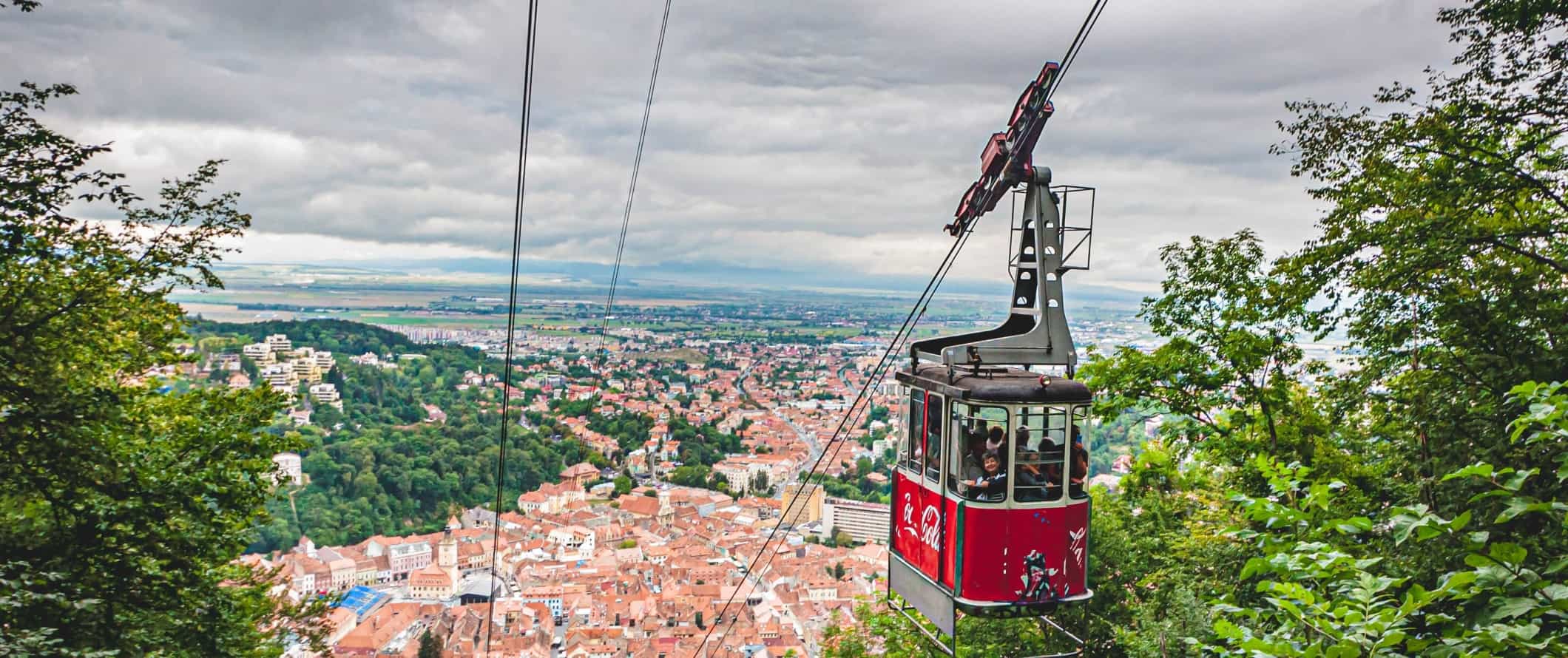 Public transportation – A single fare on the public bus is 2 RON per person while two-trip tickets are 5 RON. A day pass costs 12 RON, while a 10-trip pass is 25 RON. If you're going to be here for a while, you can buy a month-long pass for 85 RON.
That being said, most of the city is within walking distance. You can get away without using the bus much unless you're staying far from the main tourist sites.
Taxi – Prices start at 2 RON and go up by 2 RON per kilometer. If you're traveling with someone then taxis can be a good choice as you can split the fare and save some time (they are much faster than buses).
Always call your taxi in advance to be sure that you get a reputable driver. Never get into a taxi that doesn't have the prices listed in the window (which is mandatory for official taxis).
Bicycle – Cycling is a great way to get around the city as everything is pretty compact. Lots of locals bike around as well. You can find rentals for 70 RON per day or 180 RON for three days. All rentals include a helmet and lock.
Ridesharing – Uber is available in Brasov and is the cheapest option if you don't want to take public transit.
Car rental – Car rentals can be found for as little as 115 RON for a multi-day rental. They're a great way to explore the region if you have friends to split the cost with. Renters need to be at least 21 years of age. For the best car rental prices, use Discover Cars.
When to Go to Brasov
The best (and most popular) time to visit Brasov is during the summer, from June to August. Temperatures are hot, around 30°C (86°F), and rain is infrequent. These are the busiest months of the year for tourism, and it's noticeable in Brasov since it's a popular destination. If you're visiting in the summer, book your accommodation in advance.
The shoulder seasons (late April-May and September-October) are great times to visit as well. You'll beat the crowd and have much milder temperatures, which is perfect for anyone looking to head into the hills for some hiking. There's more rain in the spring, but there are stunning autumn colors in the fall which makes for a stunning backdrop to your trip (especially if you're traveling on through Transylvania).
Winter in Brasov can be quite cold, with temperatures dropping just below freezing. Snow is common though not abundant, which can affect conditions if you're traveling by car. The city looks quite charming in the winter, though, making it a picturesque winter getaway (especially compared to Bucharest which has a much grimmer atmosphere due to the influence of Soviet architecture and their reliance on gray, bland concrete).
In short, I wouldn't recommend a winter visit unless you have a specific desire to enjoy the cold and quiet.
How to Stay Safe in Brasov
Crime against tourists in Brasov is really rare so you don't need to worry too much about scams or theft. It's a safe destination for solo travelers. Of course, take the same precautions you do at home, such as not flashing your valuables, being aware of your surroundings, and not traveling alone at night while intoxicated.
Petty theft is most common in the busy tourist square in the middle of town or on the city buses if they are crowded. These are usually just crimes of opportunity so if you keep your valuables secure and are aware of your surroundings you should be fine.
As in any destination, keep an eye on your drink when out at the bar.
Additionally, take some extra precautions when renting a car. While the roads are safe, rental cars are sometimes targeted for theft, so make sure to always lock your vehicle when you're not using it (this is more an issue in Bucharest, but it does happen elsewhere as well so just be aware).
While scams are rare, you can read about common travel scams to avoid here.
If you experience an emergency, dial 112 for assistance.
Always trust your gut instinct. Make copies of your personal documents, including your passport and ID.
The most important piece of advice I can offer is to purchase good travel insurance. Travel insurance will protect you against illness, injury, theft, and cancellations. It's comprehensive protection in case anything goes wrong. I never go on a trip without it as I've had to use it many times in the past. You can use the widget below to find the policy right for you:
Brasov Travel Guide: The Best Booking Resources
These are my favorite companies to use when I travel. They consistently have the best deals, offer world-class customer service and great value, and overall, are better than their competitors. They are the companies I use the most and are always the starting point in my search for travel deals.
Skyscanner – Skyscanner is my favorite flight search engine. They search small websites and budget airlines that larger search sites tend to miss. They are hands down the number one place to start.
Hostelworld – This is the best hostel accommodation site out there with the largest inventory, best search interface, and widest availability.
Booking.com – The best all around booking site that constantly provides the cheapest and lowest rates. They have the widest selection of budget accommodation. In all my tests, they've always had the cheapest rates out of all the booking websites.
Get Your Guide – Get Your Guide is a huge online marketplace for tours and excursions. They have tons of tour options available in cities all around the world, including everything from cooking classes, walking tours, street art lessons, and more!
SafetyWing – Safety Wing offers convenient and affordable plans tailored to digital nomads and long-term travelers. They have cheap monthly plans, great customer service, and an easy-to-use claims process that makes it perfect for those on the road.
LifeStraw – My go-to company for reusable water bottles with built-in filters so you can ensure your drinking water is always clean and safe.
Unbound Merino – They make lightweight, durable, easy-to-clean travel clothing.
Brasov Travel Guide: Related Articles
Want more info? Check out all the articles I've written on backpacking/traveling Romania and continue planning your trip: