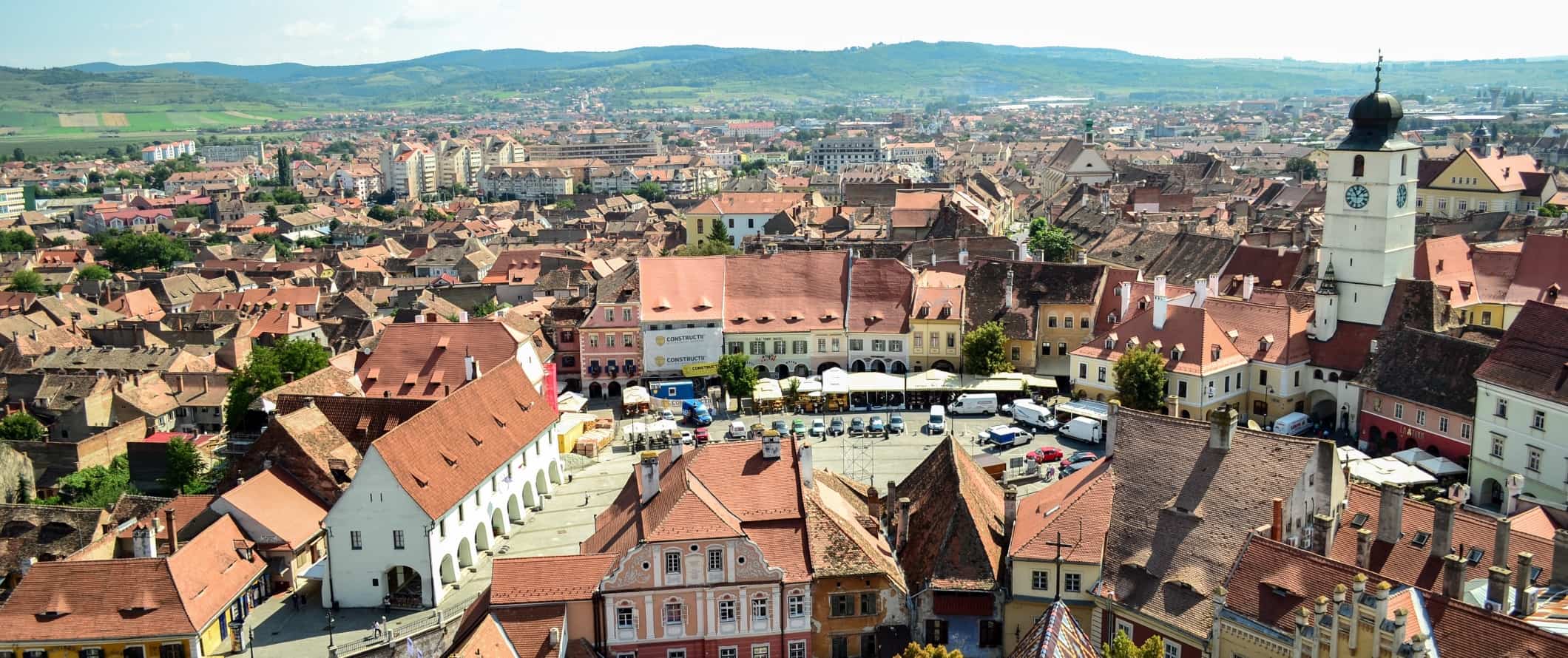 Cobblestone streets, ancient town squares, castle walls, and historic buildings — Sibiu has everything you want in an old European city but without any of the crowds found elsewhere.
Sibiu is located in the historical region of Transylvania and was the capital of the region at various points throughout history. First settled in the 12th century, by the 14th century the city had become an important trading center. Over the centuries, Sibiu has been part of the Kingdom of Hungary, the Transylvanian Principality, the Austrian Empire, the Austro-Hungarian Empire, and since 1989 has been a part of Romania.
Sibiu is also the site of many firsts for Romania: the country's first hospital, first school, first pharmacy, first museum, and first brewery all opened here.
Buildings from all these varying time periods still stand, making Sibiu a picturesque and interesting place to visit. In fact, the city has been nicknamed "The City with Eyes" because of the unique Baroque eyebrow dormers found on many of the buildings.
This travel guide to Sibiu will help you plan a fantastic trip to this incredible destination!
Top 5 Things to See and Do in Sibiu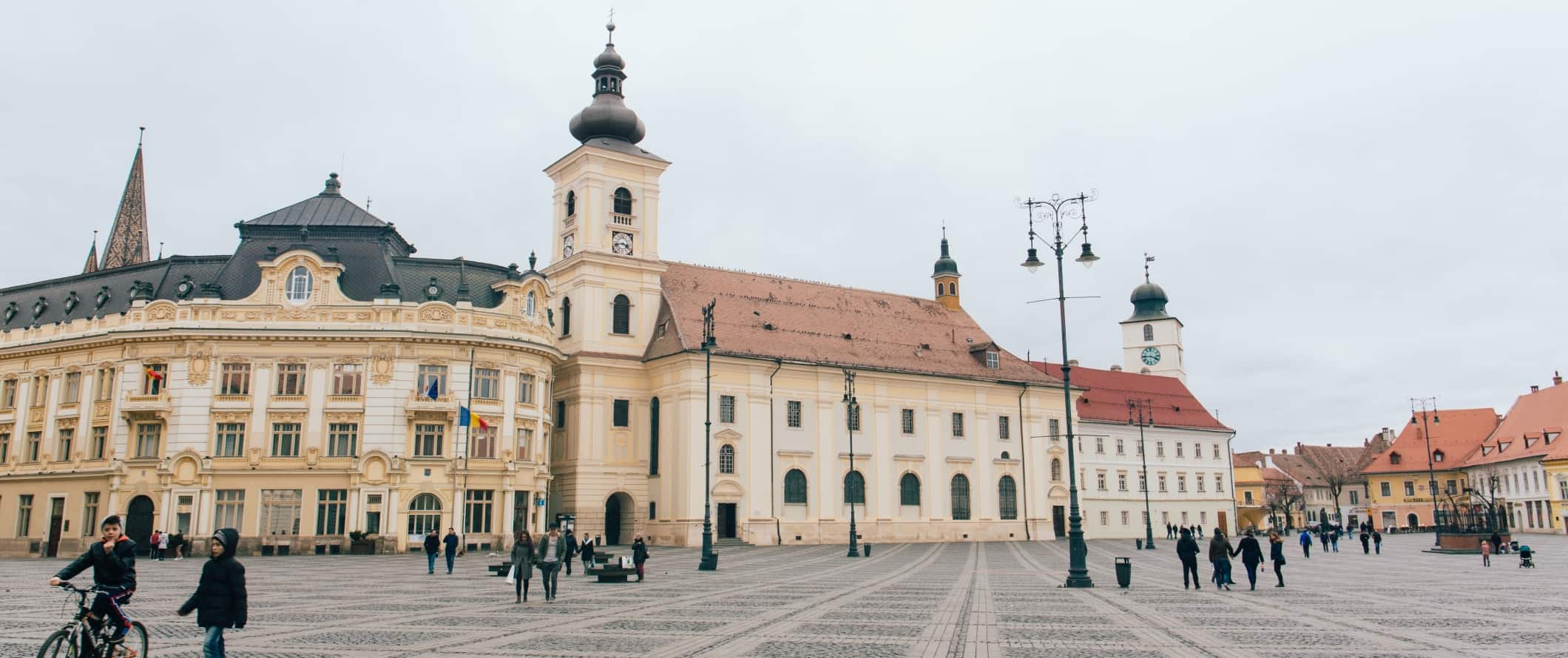 1. Visit the Brukenthal National Museum
Opened in 1817, this was the first museum in Romania. It is composed of six different buildings located around the city, though the main complex is in Brukenthal Palace. The art galleries in the palace have over 1,000 paintings, sculptures, books, and woven items, with some dating back to the 15th century. Admission varies depending on which museum you're visiting. Admission to the Brukenthal Palace and European Art Gallery is 39 RON.
2. Stroll through Huet Square
Also known as the Piata Huet, this 12th-century square is home to a series of Gothic-style buildings. It's small, colorful, and often overlooked, making it a nice place to get away from the crowds and have some quiet time to explore. The grand 14th-century Lutheran Cathedral of Saint Mary is located in the center of the square. You can go inside for 10 RON and climb the lookout tower for another 10 RON. Every Wednesday during the summer, there are organ concerts here.
3. Explore the Old Town
The Old Town was built by German settlers and merchants during the Middle Ages and grew over the years to encompass buildings of Gothic, Renaissance, and Baroque styles. There are secluded medieval alleys, centuries-old buildings, and historic churches dating back to the 14th century. Huet Square is in this part of the town as is the Bridge of Lies (more on that below).
4. Trek the Cindrel Mountains
The Cindrel Mountains, part of the larger Southern Carpathian range, are just 16 kilometers (10 miles) from Sibiu. You can go for a day or arrange multi-day trek tours. It's not the easiest place to hike, but if you love the outdoors and are tired of cities, this is the place to go hiking.
5. Explore the Citadel of Sibiu
During the Middle Ages, this citadel was one of the most fortified in all of Europe. Built in the 12th century, many of the towers and bastions are well-preserved, though the highlight is the passage between the upper and lower section of the fort. Today, it's a park that is free to walk through.
Other Things to See and Do in Sibiu
1. Take in the Sibiu Jazz Festival
Held for a week every year, this festival began in the 1970s and is a popular event for jazz fans across Europe. There are usually over 20 bands/artists playing in a few venues around the city so there's a good variety to choose from. Tickets are free too!
2. Unwind at Balea Lake
Located 90 minutes from Sibiu, Balea Lake makes for a worthwhile day trip from the city. Part of the Fagaras Mountains (often called the "Transylvanian Alps"), many people come here to hike or to ski during the winter (there is even an ice hotel built here in the winter). There are marked trails if you want to hike, offering both five-hour and nine-hour routes to some of the nearby summits. You can take a bus here for around 90 RON.
3. Visit Radu Stancu State Theatre
This venue is the biggest (and arguably most important) artistic center in the city. Founded in 1788 and at its current location since 1949, the theater hosts productions throughout the week (check the website for detailed listings). While most productions are in Romanian, some English productions do occur. You can buy show tickets online or at the theater at least 30 minutes before the starting time. Tickets are usually around 30 RON.
4. Explore the open-air museum
The ASTRA National Museum Complex, the largest open-air museum in Europe, has 96 acres of restored buildings and homes from throughout Romania's history. There's an old mill, water wheels, a wooden ferry, and other traditional buildings that you can see and learn about. The museum lies a couple of kilometers south of Sibiu. In the summer, there are often musical events and festivals held here as well. Admission is 35 RON per person.
5. Learn about local history
The Sibiu History Museum is located within the 16th-century Neo-Renaissance City Hall and offers a deep look at the city's past. Opened in 1895, it was renovated in 2007 and houses relics as far back as the Neolithic and Roman periods. There's also a collection of artifacts from the Middle Ages and Baroque periods, as well as exhibits on minerals, ecology, animals, and paleontology. While the museum isn't huge, I found it informative. Admission is 30 RON.
6. Admire the orthodox cathedral
The Holy Trinity Cathedral in Sibiu is the second-largest orthodox cathedral in the country. It was built in 1904 and modeled after the Byzantine-style Hagia Sofia cathedral in Istanbul. The exterior is done in red and yellow brick while the interior is covered with colorful frescoes (virtually all of the massive dome and walls are covered in paintings and frescoes. It's super colorful and ornate). Admission is free, though donations are welcomed.
7. Take a day trip to Ocna Sibiului
Ocna Sibiului is a small town in the area of Sibiu known for its saline lakes and their purported healing properties. Just 10 kilometers (6 miles) from Sibiu, you can spend some time wandering the town, admiring the narrow roads and historic buildings before going swimming in the nearby lakes. If you want to splash out, visit one of the spas for a relaxing afternoon. You can reach the area via train or bus (for under 10 RON) or take a taxi for around 40 RON each way.
8. Cross the Bridge of Lies
There are many different legends as to why this narrow iron bridge earned its nickname. The most popular one states that if you tell a lie on the bridge, it will make noises as you walk, and may even collapse if the lie is big enough. The bridge was rebuilt in the late 19th century on the site of an old wooden bridge. The new version is Romania's first cast iron bridge (and only the second in all of Europe).
9. Take a stroll down Nicolae Balcescu Street
This is the main pedestrian shopping street, leading away from one of the city's large squares, Piata Mare. This thoroughfare dates to the late 15th century, though most of the buildings lining the street are from the 19th century. Today it is lined with colorful buildings and shops, making it a good place to snap some photos, window shop, and people watch.
10. Climb the Turnul Sfatului (Council Tower)
This 13th-century tower offers the best view over the city. The climb is fairly short (as towers go), and it only costs 2 RON to go up. There are usually temporary exhibitions on the way up as well. Just keep in mind that the staircase is quite narrow, so it's not the best choice for the claustrophobic.
For more information on other cities in Romania, check out these guides:
Sibiu Travel Costs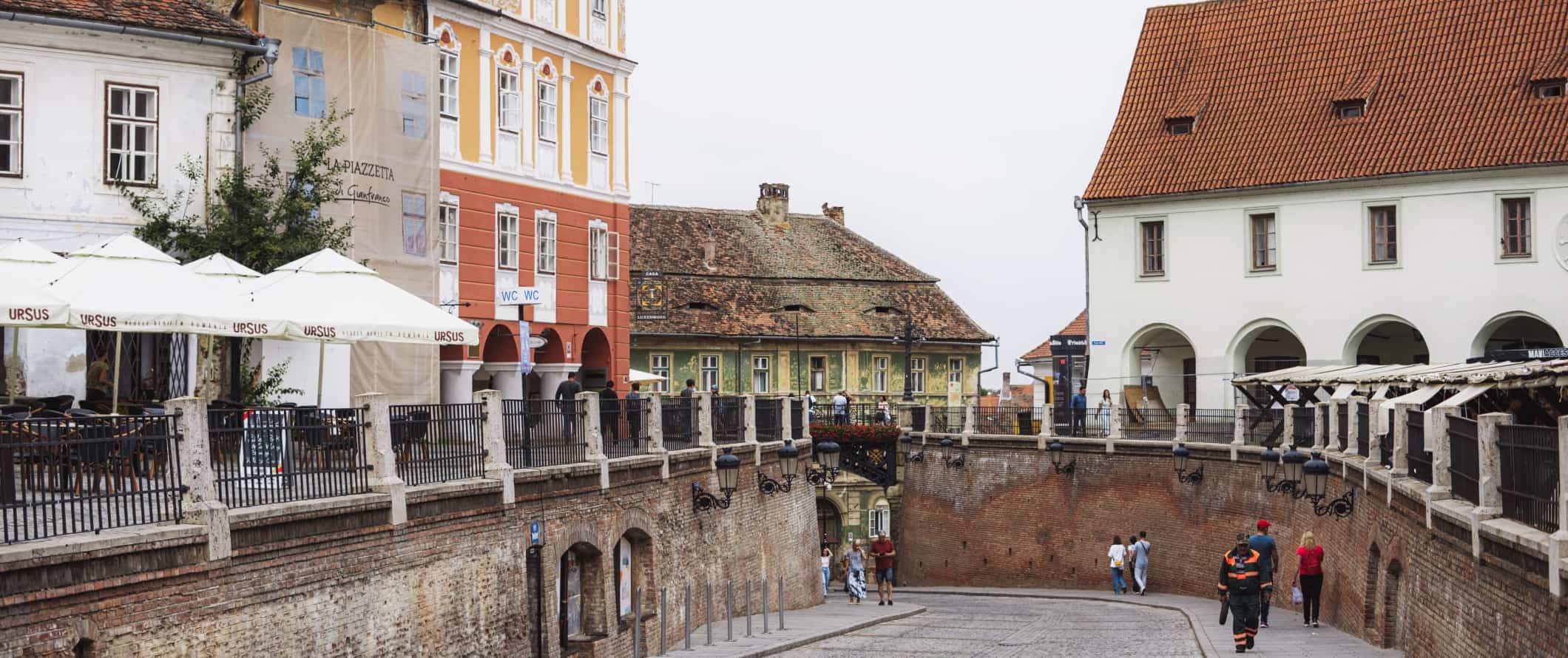 Hostel prices – A bed in a 4-8 bed dorm costs around 45-55 RON per night, while a private double room is around 120 RON. Wi-Fi and lockers are standard, though no hostels include free breakfast.
Camping is possible in the area but stick to dedicated campgrounds. Wild camping is legal but theft is a bit common so it's much safer to camp in designated areas. Prices start at 27 RON per night for a basic plot for two people without electricity.
Budget hotel prices – Budget hotels cost 120-155 RON per night. They generally include free Wi-Fi, TV, and some even include free breakfast.
Airbnb is also available in Sibiu, with a private room costing 100-120 RON per night while an entire home/apartment costs around 130-160 RON per night.
Food – Romanian cuisine is hearty, influenced by nearby Hungary and other Eastern European neighbors. Stews and sausages are common staples, with garlic sausage being especially popular. Sour soup, lamb, meatballs, and meat pies are other popular traditional meals.
A dish at an informal, traditional restaurant costs 25-35 RON, though the touristy places near the central square are a bit more expensive. Soup is a good option for saving money, as it costs around 17-25 RON and is pretty hearty (it also typically comes with bread).
A meal at a mid-range restaurant costs closer to 80 RON for a three-course meal. A burger or pasta dish is 35-40 RON while seafood or steak dishes typically cost 75-100 RON.
Fast food (think McDonald's) costs around 25-30 RON for a combo meal, 6-9 RON for a burger or hot dog, and 30-35 RON for takeout pizza. Takeaway sandwiches are around 20 RON.
A domestic beer out at a restaurant or bar costs around 6-10 RON, a glass of local wine is 15-18 RON while a bottle is 60-100 RON, and cocktails start at 20-35 RON. A cappuccino/latte is around 10-12 RON, a tea is 10 RON, and a bottle of water is 5-8 RON.
If you buy your own groceries and cook your meals, expect to pay about 140-190 RON per week for staples that include pasta, vegetables, chicken, and other basic foods. Save money by shopping at local markets or small roadside stands, which usually have the cheapest and freshest products. There are also several discount supermarkets in Romania, like Profi, Lidl, and Penny Market.
Backpacking Sibiu Suggested Budgets
On a backpacker budget, you can visit Sibiu for around 120 RON per day. On this budget, you're staying in a hostel dorm (or camping), cooking all of your meals, using local transportation to get around, limiting your drinking, and sticking to mostly free activities like hiking or walking tours.
On a mid-range budget of about 260 RON per day, you can stay in a private Airbnb room, eat out for most meals, enjoy a few drinks, take the occasional taxi to get around, and do more paid activities like visiting museums or day tripping to the lake.
On a "luxury" budget of 455 RON or more per day, you can stay in a budget hotel, eat out for every meal, rent a car, drink as much as you'd like, and visit as many museums and attractions as you want. This is just the ground floor for luxury though. The sky is the limit!
Accommodation
Food
Transportation
Attractions
Average Daily Cost
Backpacker
50
55
5
20
130
Mid-Range
110
90
10
50
260
Luxury
160
150
45
100
455+
Sibiu Travel Guide: Money-Saving Tips
To be honest, I didn't find that Sibiu offered any amazing ways to save. Like most of Romania, it's hard to spend money here if you're coming with a budget mindset already. That said, there are a few things you can do to save extra money in Sibiu:
Stay with a local – Nothing's cheaper than sleeping for free. Couchsurfing connects you with locals who provide a free place to stay and can also share their tips and advice so you have a more authentic visit.
Eat lunch out – Although food in Romania is inexpensive in general, you can save even more money by cooking your own dinners and eating your lunches out. A lunch menu in Romania typically consists of three courses (soup, main, dessert), and can cost as little as 30 RON.
Shop at discount grocers – If you're going to cook or just grab a snack, save money by shopping at discount supermarkets like Profi, Lidl, and Penny Market.
Bring a water bottle – The tap water here is generally safe so bring a reusable water bottle to save money and reduce your reliance on single-use plastic. I suggest a LifeStraw since their bottles have a built-in filter to ensure your water is always clean and safe.
Where to Stay in Sibiu
Sibiu has a couple of hostels in town that are comfortable and sociable. Here are my suggested places to stay:
How to Get Around Sibiu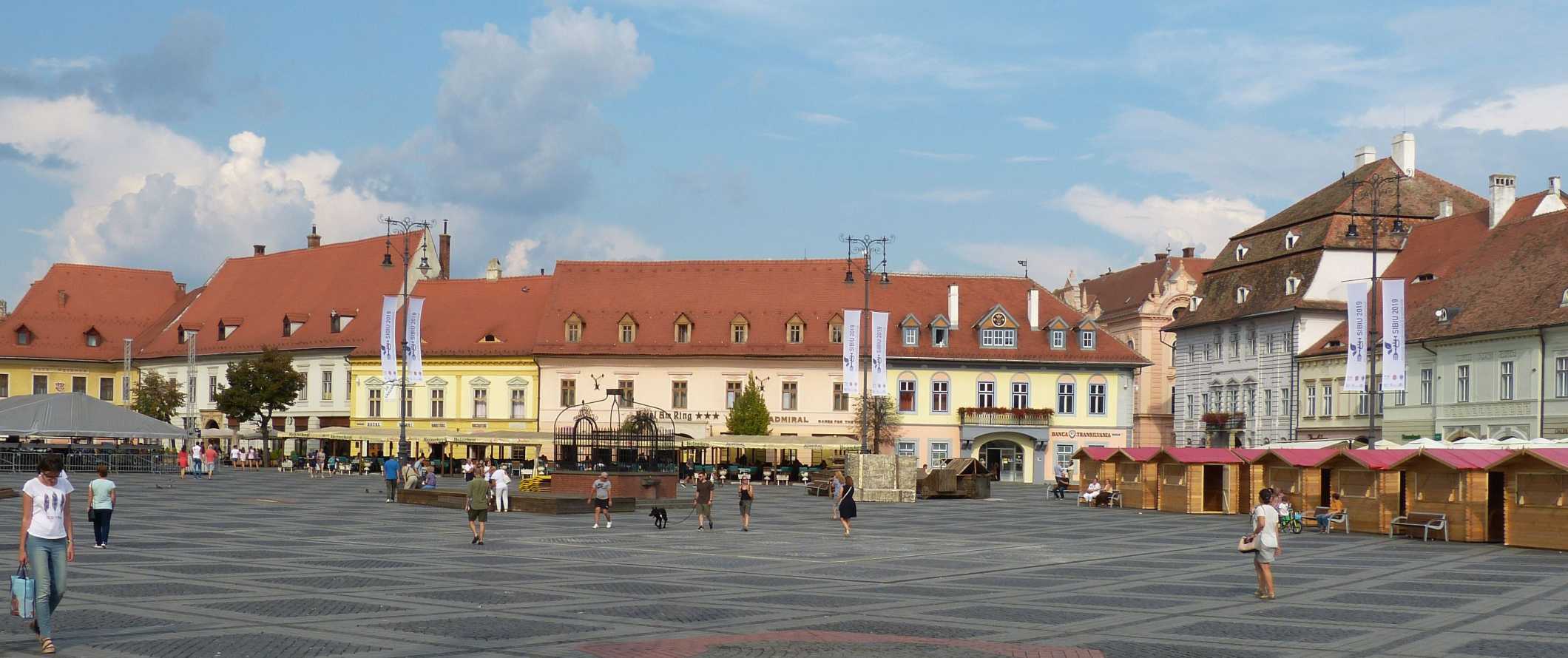 Public transportation – A single-ticket ride on the public bus is 2 RON per person. Most of the city is within walking distance though, so you won't need to use the bus much unless you're staying in a hotel or hostel far from the main tourist sites.
Taxi – Taxis here can get expensive (relative to the bus) so I'd avoid them for anything other than a short trip. Prices start at 3 RON and go up by 2.30 RON per kilometer. However, if you're traveling with someone then taxis can be a good choice as you can split the fare and save some time (they are much faster than buses).
Always call your taxi in advance to be sure that you get a reputable driver and only take taxis that display their license and use the required meter. While scams are rare, it's better to be safe than sorry!
Ridesharing – Ridesharing apps like Uber are not available here.
Bicycle – Cycling is a great way to get around the city. Everything is pretty compact and lots of locals bike around as well. You can find rentals for 80-110 RON per day. Helmets are included. If you want a bike tour of the city, expect to pay around 120 RON for a 3-4 hour guided tour.
Car rental – Car rentals can be found for around 110 RON per day for a multi-day rental. You'll only need a car here if you plan on leaving the city for some day trips. Renters must be at least 21 years of age. To find the best rental car prices, use Discover Cars.
When to Go to Sibiu
The best (and most popular) time to visit Sibiu is during the summer, from June to August. Temperatures are hot and rain is infrequent. Expect daily highs around 30°C (86°F) during this time. These are also the busiest months of the year for tourism, and you will notice it here as Sibiu is a popular destination for locals and foreigners alike. If coming here in the summer, book your accommodation in advance.
The shoulder seasons (late April-May and September-October) are great times to visit as well. You beat the crowds and have much milder temperatures, which is perfect for anyone looking to head into the hills for some hiking. There's more rain in the spring, but there are beautiful autumn colors in the fall, making for a stunning backdrop to your trip (especially if you're traveling on through Transylvania).
Winter in Sibiu can be quite cold, with temperatures dropping below freezing. Snow is common, which can affect conditions if you're traveling by car. The city looks quite charming in the winter, though, making it a picturesque winter getaway (especially compared to Bucharest which has a much grimmer atmosphere due to the influence of Soviet architecture and their reliance on gray, bland concrete).
In short, I wouldn't recommend a winter visit unless you have a specific desire to enjoy the cold and crowdless cities.
How to Stay Safe in Sibiu
Sibiu is a very safe destination. Crime against foreigners in Sibiu is very rare but use common sense and take the same precautions you do at home, such as not flashing your valuables, being aware of your surroundings, and not traveling alone at night while intoxicated.
Theft, if it does happen, usually happens on public transportation so make sure your valuables are always secure and out of reach. Avoid isolated areas at night, and be aware of your surroundings at all times.
Additionally, take some extra precautions when renting a car. While the roads are safe, rental cars are targeted for theft more than local cars, so take precautions and lock your vehicle when you're not using it. When booking, make sure your insurance covers theft.
Solo female travelers should feel comfortable exploring on their own, though the standard precautions apply (don't accept drinks from strangers, don't walk alone late at night, etc.).
While scams are rare, you can read about common travel scams to avoid here.
If you experience an emergency, dial 112 for assistance.
Always trust your gut instinct. Make copies of your personal documents, including your passport and ID, before you leave on your trip.
The most important piece of advice I can offer is to purchase good travel insurance. Travel insurance will protect you against illness, injury, theft, and cancellations. It's comprehensive protection in case anything goes wrong. I never go on a trip without it as I've had to use it many times in the past. You can use the widget below to find the policy right for you:
Sibiu Travel Guide: The Best Booking Resources
These are my favorite companies to use when I travel. They consistently have the best deals, offer world-class customer service and great value, and overall, are better than their competitors. They are the companies I use the most and are always the starting point in my search for travel deals.
Skyscanner – Skyscanner is my favorite flight search engine. They search small websites and budget airlines that larger search sites tend to miss. They are hands down the number one place to start.
Hostelworld – This is the best hostel accommodation site out there with the largest inventory, best search interface, and widest availability.
Booking.com – The best all around booking site that constantly provides the cheapest and lowest rates. They have the widest selection of budget accommodation. In all my tests, they've always had the cheapest rates out of all the booking websites.
Get Your Guide – Get Your Guide is a huge online marketplace for tours and excursions. They have tons of tour options available in cities all around the world, including everything from cooking classes, walking tours, street art lessons, and more!
SafetyWing – Safety Wing offers convenient and affordable plans tailored to digital nomads and long-term travelers. They have cheap monthly plans, great customer service, and an easy-to-use claims process that makes it perfect for those on the road.
LifeStraw – My go-to company for reusable water bottles with built-in filters so you can ensure your drinking water is always clean and safe.
Unbound Merino – They make lightweight, durable, easy-to-clean travel clothing.
Brasov Travel Guide: Related Articles
Want more info? Check out all the articles I've written on backpacking/traveling Romania and continue planning your trip: