I felt my visit to Sibiu was like walking back into the Middle Ages. Cobblestone streets, ancient town squares, castle walls, and historic buildings – this city had everything you wanted in an "old European" city but without any of the crowds that you find elsewhere!
Out of all the places I visited in Romania, this city was my favorite behind Brasov. I'm a sucker for medieval cities. Make this place a stop on your Romanian travel itinerary.
This travel guide to Sibiu will help you plan a fantastic trip to this incredible place! It's worth a solid two days.

Sibiu
Top 5 Things to See and Do in Sibiu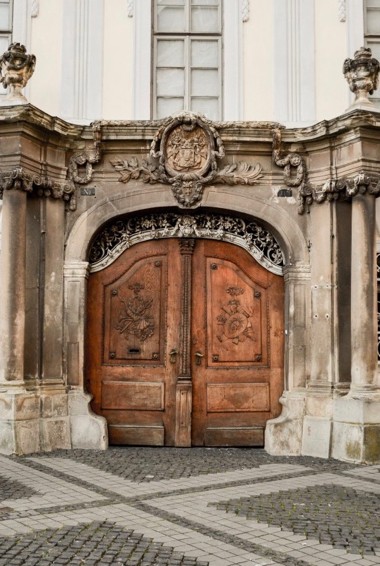 1. Visit the Brukenthal National Museum
Opened in 1817, this museum has over 1,000 paintings, dating back to the 15th century and is composed of six different buildings located around the city (the main complex is located in Brukenthal Palace). The museum is also home to sculptures, books, and woven items. Adult admission is 20 RON.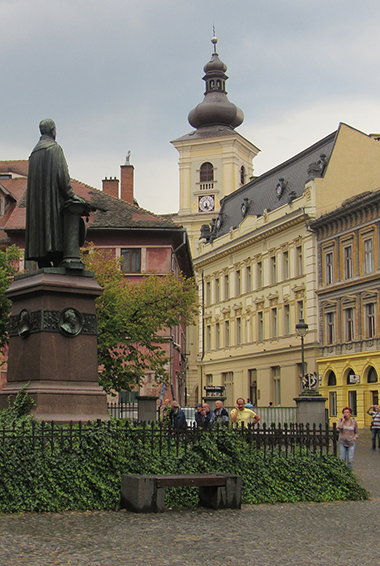 2. Stroll through Huet Square
Also known as the Piata Huet, this square is home to a series of Gothic-style buildings and the grand Evangelical Cathedral. It's small, colorful, and often overlooked, making it a nice place to get away from the crowds and have some quiet time to explore.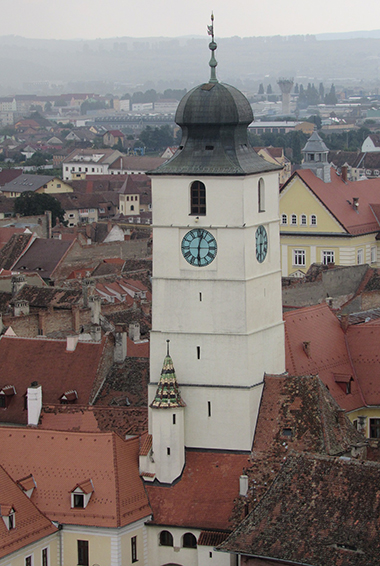 3. Explore the old town
The Old Town is filled with buildings that were built by German settlers and merchants during the Middle Ages. You'll find secluded medieval alleys, centuries-old buildings, and historic churches dating back to the 14th century. Huet Square is located in this part of the town, as is the Bridge of Lies (more of that below).
4. Trek the Cindrel Mountains
The Cindrel Mountains are just 16km from Sibiu. You can go for a day or arrange multi-day trek tours. It's not the easiest place to hike, but if you love the outdoors and are tired of cities, this would be the place I went hiking.
5. Explore the Citadel of Sibiu
During the Middle Ages, this citadel was one of the most fortified in all of Europe. Built in the 12th century, many of the towers and bastions are well-preserved, though the highlight is the passage between the upper and lower section of the fort.
Other Things to See and Do in Sibiu
1. Take in the Sibiu Jazz Festival
Held for a week every May, this festival began in the 1970s and is a popular event for jazz fans across Europe. There are usually 20+ bands/artists playing in a few venues around the city so there's a good variety to choose from. Tickets are free too!
2. Unwind at Balea Lake
Located 90 minutes from Sibiu, Balea Lake makes for a worthwhile day trip from the city. Part of the Fagaras Mountains (often called the "Transylvanian Alps"), many people come here to hike or to ski during the winter (there is even an ice hotel built here in the winter). There are marked trails if you want to hike, offering both five-hour and nine-hour routes to some of the nearby summits. The trails are easy to moderate, but make sure you go when the weather is nice as at that altitude as conditions can change rapidly. Located about an hour from the city, you can take a bus here for around 90 RON.
3. Visit Radu Stancu State Theatre
This venue is the biggest (and arguably most important) artistic center in the city. Founded in 1949, the theatre hosts productions throughout the week (you'll have to check the website for detailed listings). While most productions are in Romanian, some English productions do occur. You can buy show tickets online or at the theater at least 30 minutes before the starting time. Tickets are usually around 20 RON.
4. Explore the open-air museum
The ASTRA National Museum Complex is an open-air museum showcasing restored buildings and homes from Romania's history. There's an old mill, water wheels, an old wooden ferry, and other traditional buildings that you can see and learn about. You can also wander through the streets and buy traditional handicrafts from the locals. The museum lies a couple of kilometers south of Sibiu. In the summer, there are often musical events and festivals held here as well. Admission is 17 RON per person with discounts available for kids.
5. Learn about local history
The Sibiu History Museum is located within City Hall and offers a deep look at the city's history. There are relics from the Neolithic and Roman periods and you can also find a collection of artifacts from the Middle Ages and Baroque periods here as well. While the museum isn't huge, I found it pretty informative. Admission is 20 RON.
6. Admire the orthodox cathedral
The Holy Trinity Cathedral in Sibiu is the second-largest orthodox cathedral in the country. It was built in 1904 and modeled after the Byzantine-style Hagia Sofia cathedral in Istanbul. The exterior is done in red and yellow brick while the interior is covered with colorful frescoes. Admission is free.
7. Take a day trip to Ocna Sibiului
Ocna Sibiului is a small town in the area of Sibiu known for its saline lakes. Just 10km from Sibiu, you can spend some time wandering the old center and swim or enjoying the spa activities. You can reach the area via train or bus (for under 10 RON) or take a taxi for around 40 RON each way.
8. Cross the Bridge of Lies
The bridge was rebuilt in the late 19th century on the site of an old wooden. The new version was actually Romania's first forged iron bridge! According to legend, if you tell a lie on the bridge it will make noises as you walk.
9. Take a stroll down Nicolae Balcescu Street
This is the main street leading away from one of the city's large squares, Piata Mare. The street is lined with colorful buildings and shops and makes for good place to snap some photos, window shop, or people watch.
10. Visit the Pharmacy Museum
With over 6,000 pieces in the collection, this museum is housed in a Gothic townhouse that dates back to the 16th century. The oldest pharmacy in the country originated here, and today you can tour the few rooms of the house and get a feel for what medicine was like throughout history. There are all sorts of labeled jars and drawers full of unknown concoctions and herbs. Admission is 10 RON.
For more information on specific cities in Romania, check out these guides:
Sibiu Travel Costs
Hostel prices – Hostels cost around 40 RON per night for an 8-bed dorm. Expect to pay at least 120 RON for a private room with a double bed (though they are rare; only a couple hostels in the city have private rooms). Wi-Fi and lockers are common. Smart Hostel and Agramonia both offer free breakfast!
Camping is possible in the area, though you'll want to stick to dedicated campgrounds. Wild camping is legal but theft is a bit common so it's much safer to camp in designated areas. Prices start at 55 RON per night for a basic plot.
Budget hotel prices – There are only a few budget hotels here. Mid-range 3-star hotels are much more common. They start at 175 RON per night. Most will include free Wi-Fi as well as free breakfast.
Airbnb is available in the city, though shared rooms are rare. The few that exist cost around 55 RON per night. For your own room, prices will be closer to 85 RON while an entire home/apartment will cost around 125 RON per night.
Food – Cheap meals in Sibiu cost around 20 RON, though the touristy places near the central square will be a bit more expensive. Soup is a good option for saving money, as it costs around 10-15 RON and is pretty hearty (it also typically comes with a side of free bread). A meal at a mid-range restaurant will cost closer to 45 RON for a three-course meal, while fast food will be around 18 RON. A beer out at a restaurant or bar will cost at least 7 RON, while you can get it for less than half that price if you buy it in a store.
If you buy your own groceries and cook your meals, expect to pay about 140-190 RON per week for groceries that will include pasta, vegetables, chicken, and other basic foods. Save money by shopping at discount supermarkets like Profi, Lidl, and Penny Market.
Backpacking Sibiu Suggested Budgets
On a backpacker budget, you can visit Sibiu for 125-150 RON ($30-35 USD) per day. On this budget, you're staying in a hostel dorm (or camping), cooking most of your meals, and using local transportation. Moreover, you'll have to stick to mostly free activities (like hiking or free walking tours) and only a couple paid activities. I'd add $5-10 more per day if you plan to drink a bit, eat out more, and see more attractions.
On a mid-range budget of about 255-365 RON ($60-85 USD), you'll be able to stay in a budget hotel, eat out all your meals, take tours, and see any of the sites you want! You won't be living large but you'll be perfectly comfortable, especially on the higher end of this scale.
On a luxury budget of 640 RON ($150+ USD), you can stay in a nice hotel, eat out for every meal, rent a car, and visit as many museums and attractions as you'd like. The sky is the limit here! A little goes a long, long way in Romania!
You can use the chart below to get some idea of how much you need to budget daily, depending on your travel style. Keep in mind these are daily averages — some days you'll spend more, some days you'll spend less (you might spend less every day). We just want to give you a general idea of how to make your budget. Prices are in USD.
Accommodation
Food
Transportation
Attractions
Average Daily Cost
Backpacker
$10
$10
$5
$5-10
$30-35
Mid-Range
$35
$10-20
$5-10
$10-20
$60-85
Luxury
$80-100
$35-45
$10-25
$25-35
$150+
Sibiu Travel Guide: Money-Saving Tips
To be honest, I didn't find that Sibiu offered any amazing ways to save. There wasn't really one particular thing that I found and was like, "Wow! This is going to be great! My budget is saved!" It's hard to spend money here if you're coming with a budget mindset already. That said, there are a few things you can do to save money in Sibiu:
Couchsurf – Nothing's cheaper than sleeping for free. Couchsurfing connects you with locals who will give you not only a free place to stay but also a local tour guide who can introduce you to all the great places to see. It's a great community to be a part of.
Eat lunch out – Although food in Romania is inexpensive in general, you can save more money by cooking your own dinners and eating your lunches out. A lunch menu in Romania typically consists of three courses (soup, main, dessert), and can cost as little as 30 RON.
Shop at discount grocers – If you're going to cook or even are just grabbing a snack, save money by shopping at discount supermarkets like Profi, Lidl, and Penny Market.
Take the train – To get to/from Sibiu, take the train. Trains in Romania are slow, but they are the cheapest way to get around. If you're not in a hurry, take the train (there are some night trains around the country as well if you're going long distances).
Where To Stay in Sibiu
Sibiu has a couple hostels in town and they're all pretty comfortable and sociable. These are my suggested and recommended places to stay in Sibiu:
How to Get Around Sibiu
Bus – A single-ticket ride on the public bus is 2 RON per person, though most of the city is within walking distance though so you can likely get away without using the bus much unless you're staying in a hotel or hostel far from the main tourist sites.
Taxi – Taxis here can get expensive (relative to the bus) so I'd avoid them for anything other than a short trip. Prices start at 2.50 RON and go up by 2.30 RON per kilometer. However, if you're traveling with someone then taxis can be a good choice as you can split the fare and save some time (they are much faster than buses).
Always call your taxi in advance to be sure that you get a reputable driver. While scams are rare, it's better to be safe than sorry!
Bicycle – Cycling is a great way to get around the city as everything is pretty compact and lots of locals bike around as well. You can find rentals for 100 RON per day. Helmets are included. If you want a bike tour of the city, expect to pay around 120 RON for a 3-4 hour guided tour.
Ridesharing – Uber (and other ridesharing platforms) are not available here. You'll need to rely on taxis for transportation beyond public buses. For longer distances, use BlaBlaCar (specifically, for intercity travel or heading out to any of the nearby tourist sites. It will be faster than the bus or train).
When to Go to Sibiu
The best (and most popular) time to visit Sibiu is during the summer, from June to August. Temperatures will be hot and rain will be infrequent. Expect temperatures around 30 C (86 F) during this time. These will also be the busiest months of the year for tourism, though and you'll notice it here as Sibiu is a popular destination for locals and foreigners alike. If coming here in the summer, book your accommodation in advance.
The shoulder season on late April-May and September-October are great times to visit as well. You'll beat the crowd and have much milder temperatures, which is perfect for anyone looking to head into the hills for some hiking. You'll get more rain in the spring, but you'll get the stunning autumn colors in the fall which makes for a stunning backdrop to your trip (especially if you're traveling on through Transylvania).
Winter is Sibiu can be quite cold, with temperatures dropping to around zero (32 F) during the day and to -5C (23 F) overnight. Snow is common, which can affect conditions if you're traveling by car. The city will look quite charming in the winter, though, making it a picturesque winter getaway (especially compared to Bucharest which has a much grimmer atmosphere due to the influence of Soviet architecture and their reliance of grey, bland concrete).
In short, I wouldn't recommend a winter visit unless you have a specific desire to enjoy the cold and crowdless cities.
How to Stay Safe in Sibiu
While Romania is consistently ranked as one of the safest countries in the world, bad things can still happen so it's always good to be prepared and plan ahead.
Crime against foreigners in Sibiu is rare so you don't need to worry too much about scams or theft. Of course, you'll want to take the same precautions you do at home such as not flashing your valuables, being aware of your surroundings, and not traveling alone at night while intoxicated.
Theft rare, though when it does occur it's usually on public transportation or in tourist crowds so take extra precautions in those situations. Never have your valuables within easy reach; always keep them secured in your bag (and always keep your bag within sight).
Additionally, you will want to take some extra precautions when renting a car. While the roads are safe, rental cars are targeted for theft more than local cars, so just make sure you take precautions and lock your vehicle when you're not using it. When booking, make sure your insurance covers theft.
Solo female travelers should feel comfortable to explore on their own, though the standard precautions apply (don't accept drinks from strangers, don't walk alone late at night, etc.).
Bribery and corruption are common in Romania but not in any day-to-day capacity (think political and/or corporate bribes). Tourists experiencing bribery or corruption is extremely rare.
The most important piece of advice I can offer is to purchase good travel insurance. Travel insurance will protect you against illness, injury, theft, and cancellations. It's comprehensive protection in case anything goes wrong. I never go on a trip without it as I've had to use it many times in the past. You can use the widget below to find the policy right for you:
Sibiu Travel Guide: The Best Booking Resources
These are my favorite companies to use when I travel to Sibiu. They are included here because they consistently find deals, offer world-class customer service and great value, and overall, are better than their competitors.
Momondo – This is my favorite booking site. I never book a flight without checking here first.
Skyscanner – Skyscanner is another great flight search engine which searches a lot of different airlines, including many of the budget carriers that larger sites miss. While I always start with Momondo, I use this site too as a way to compare prices.
Airbnb – Airbnb is a great accommodation alternative for connecting with homeowners who rent out their homes or apartments.
Hostelworld – This is the best hostel accommodation site out there, with the largest inventory, best search interface, and widest availability.
Couchsurfing – This website allows you to stay on people's couches or spare rooms for free. It's a great way to save money while meeting locals who can tell you the ins and outs of their city. The site also lists events you can attend to meet people (even if you're not staying with someone).
Booking.com – The best all around booking site that constantly provides the cheapest and lowest rates. They have a no money down policy, great interface, and the widest selection of budget accommodation. In all my tests, they've always had the cheapest rates out of all the booking websites.
Intrepid Travel – If you want to do a group tour around Sweden, go with Intrepid Travel. They offer small group tours that use local operators and leave a small environmental footprint. If you go on a tour with anyone, go with them. And, as a reader of this site, you'll get a discount when you click the link!
Rome 2 Rio – This website allows you to see how to get from point A to point B the best and cheapest way possible. It will give you all the bus, train, plane, or boat routes that can get you there as well as how much they cost.
World Nomads – I buy all my travel insurance from World Nomads. They have great customer service, competitive prices, and in-depth coverage. I've been using them since I started traveling in 2003. Don't leave home without it!
EatWith – This website allows you to eat home cooked meal with locals. Locals post listings for dinner parties and specialty meals that you can sign up for. There is a fee (everyone sets their own price) but this is a great way to do something different, pick a local's brain, and make a new friend.
Sibiu Gear and Packing Guide
If you're heading on the road and need some gear suggestions, here are my tips for the best travel backpack and for what to pack!
The Best Backpack for Travelers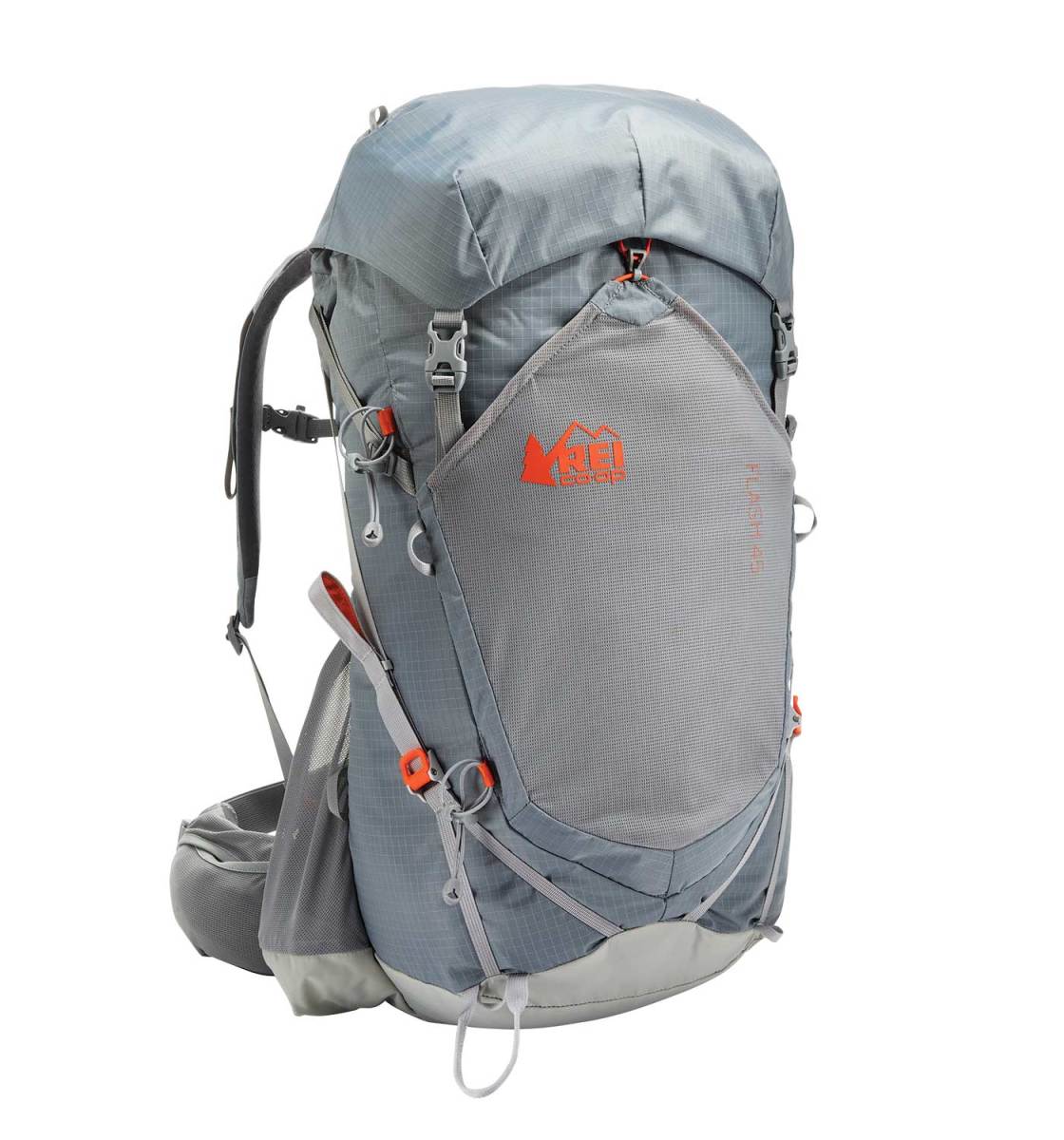 What's the best backpack for traveling long-term? I recommend the
REI Flash 45 Pack
. It's light and comfy, front loading, and fits perfectly in an airplane's overhead bin.
Size:
45-47L
Straps:
Thick and cushy with compression technology that pulls the pack's load up and inwards so it doesn't feel as heavy.
Features:
Removable top lid, large pocket at the front, hydration compatible, contoured hip belt
If you want something different, refer to my article on how to choose the best travel backpack for tips on picking a pack and other backpack suggestions.
What to Pack for Your Trip
Clothes
1 pair of jeans (heavy and not easily dried, but I like them; a good alternative is khaki pants)
1 pair of shorts
1 bathing suit
5 T-shirts (Unbound Merino is my preferred company. If you're a member of NM+, you can get 15% off your purchase)
1 long-sleeved T-shirt
1 pair of flip-flops
1 pair of sneakers
6 pairs of socks (I always end up losing half)
5 pairs of boxer shorts (I'm not a briefs guy!)
1 toothbrush
1 tube of toothpaste
1 razor
1 package of dental floss
1 small bottle of shampoo
1 small bottle of shower gel
1 towel
Deodorant
Small Medical Kit (safety is important!!!)
Miscellaneous
Female Travel Packing List
I'm not a woman, so I don't know what a woman wears, but Kristin Addis, our solo female travel guru, wrote this list as an addition to the basics above:
Clothing
1 swimsuit
1 sarong
1 pair of stretchy jeans (they wash and dry easily)
1 pair of leggings (if it's cold, they can go under your jeans, otherwise with a dress or shirt)
2-3 long-sleeve tops
2-3 T-shirts
3-4 spaghetti tops
1 light cardigan
Toiletries
1 dry shampoo spray & talc powder (keeps long hair grease-free in between washes)
1 hairbrush
Makeup you use
Hair bands & hair clips
Feminine hygiene products (you can opt to buy there too, but I prefer not to count on it, and most people have their preferred products)
For more on packing, check out these posts:
Sibiu Travel Guide: Suggested Reading
A Concise History of Romania, by Keith Hitchins
If you want to get a sense of how Romania came to be, this is a good book to start with. Spanning over 2,000 years of history, Hitchins paints in broad strokes but provides you with a concrete narrative to follow as you weave through Romania's turbulent past. The country holds a unique place between east and west and this book does a great job of clearing up some of the muddied historical waters.




The Land of Green Plums, by Herta Müller
Published in 1994, The Land of Green Plums is a novel about four young people growing up under Nicolae Ceausescu's totalitarian regime. Partly autobiographical and no stranger to painting with a political brush, the book was eventually translated into English where it went on to win the Nobel Prize in Literature in 2009.





The Holocaust in Romania: The Destruction of Jews and Gypsies Under the Antonescu Regime, 1940-1944, by Radiu Ioanid
Before World War II, around 800,000 Jews lived in Romania. Today, there are less than 20,000. Using archival records, unpublished reports, memoirs of survivors, and personal letters, Ioanid does an excellent job of illuminating this dark and tragic period of Romania's history. It is definitely not an easy book to read as every page packs an emotional punch, but it is an important read that adds insight and context to Romania's devastating history.




Romania Since the Second World War: A Political, Social and Economic History, by Florin Abraham
This book picks up where the last one left off, covering the brutal years under Communist rule and the barbary that occurred under Ceausescu. From there, the book navigates the socio-economic changes that stemmed from Romania joining NATO and also the EU. This is a long and detailed account that has a bit of an academic feel to it, but it is definitely worth a read for a modern perspective on contemporary Romania.




The Little Book of Romanian Wisdom, by Diana Doroftei and Matthew Cross
If you're looking for some light reading, this book of quotes is a great place to start. It's full of words of wisdom from famous (and not so famous) Romanians, covering topics like art, family, health, and more. If you want to get a sense of the people without doing any heavy lifting, this is the book for you!
Sibiu Travel Guide: Related Articles
Want more info? Check out all the articles I've written on backpacking/traveling Romania and continue planning your trip: