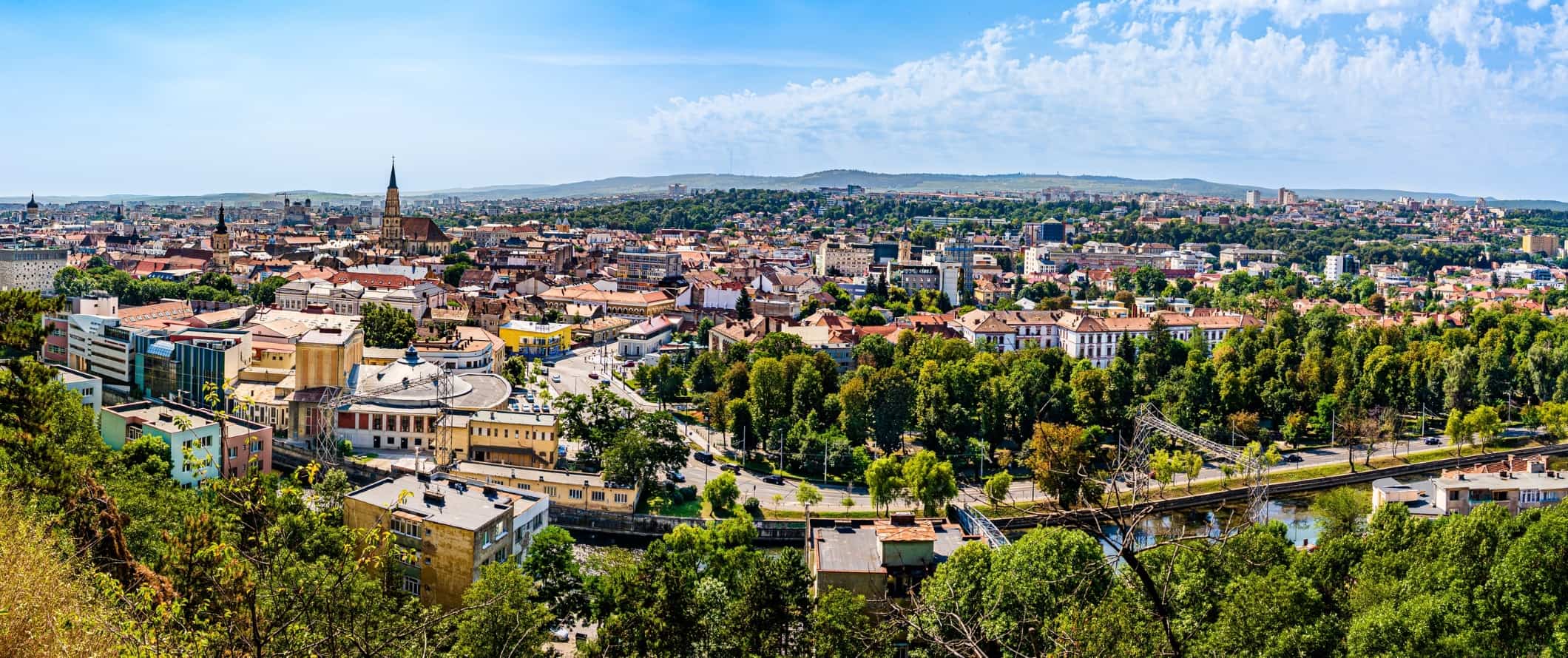 Cluj-Napoca (Cluj for short) is a lovely university town in Romania's northeast. Located midway between Bucharest and Budapest, it's a big stopping point for people traveling west from Hungary. Most people who visit Cluj do so as they pass in or out of Romania.
As one of the country's biggest cities, there's a lot to do here. The city dates back centuries, having first been settled by the Romans, abandoned, and then resettled in the Middle Ages. Due to its long history, there are tons of historical churches, museums, and ruins (especially on Cetatuia Hill) to visit. And, because of the university here, there are a lot of affordable restaurants and a very happening nightlife.
I've enjoyed all my visits here. While not as historic and medieval as many of Romania's other cities, if you're looking for a city with a lively atmosphere and good nightlife, this place is it!
This travel guide to Cluj can help you plan your trip, save money, and make the most of your visit to this fun and hip city.
Top 5 Things to See and Do in Cluj-Napoca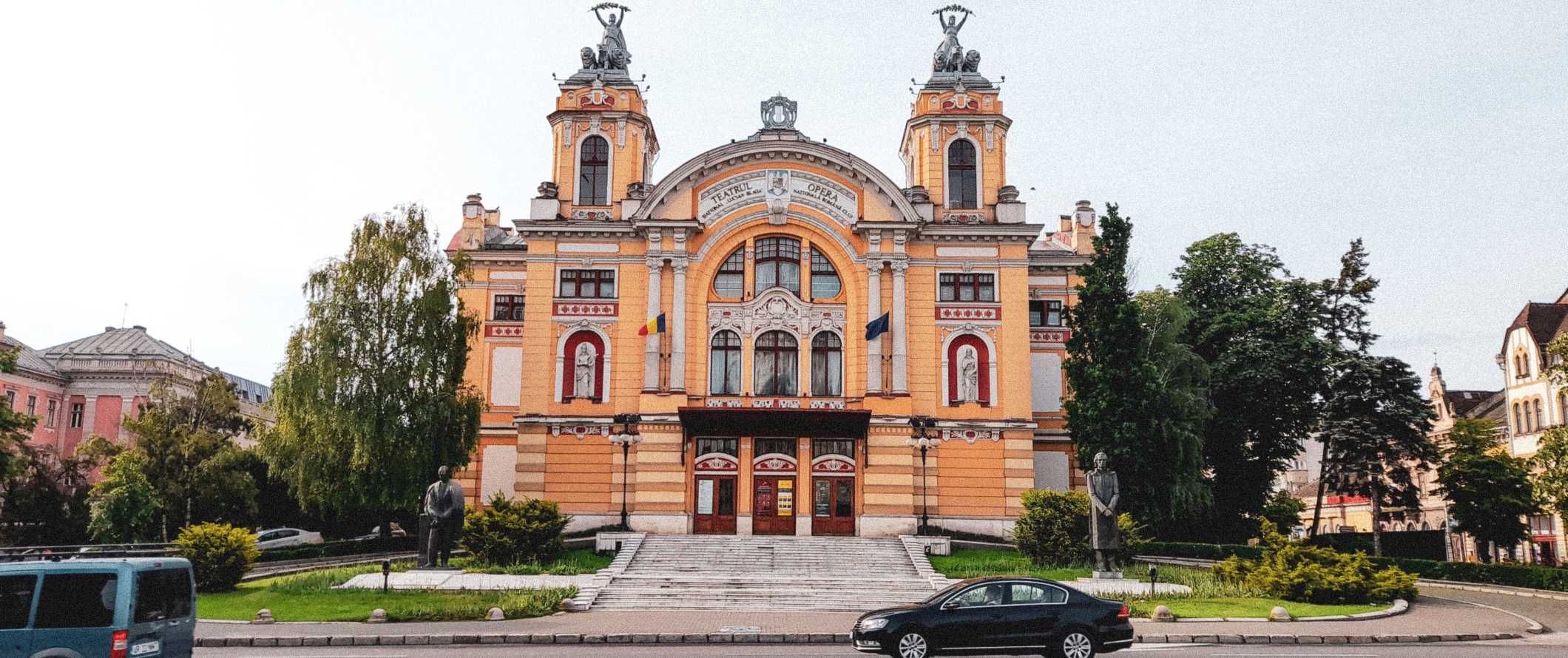 1. See the Alexandru Borza Botanic Gardens
This massive botanical garden has rolling green hills, an observation tower, a rose garden, and even a Japanese garden. Founded in 1872, the garden is home to over 10,000 plants and covers 14 hectares (35 acres). There are greenhouses, ponds, and a variety of plants from around Romania and the world. There's even a Roman Garden with archaeological remnants, including statues and sarcophagi, from the ancient Roman colony of Napoca. Admission is 15 RON per person (9 RON when the greenhouses are closed).
2. Walk through Union Square
The heart of the city is Union Square (Piata Unirii in Romanian). It's one of the largest squares in the entire country and showcases the wide range of architectural styles in the town. The main buildings include Banffy Palace, St. Michael's Church, the Pharmacy Museum, and Hotel Continental. It's a great place to stroll and people-watch from one of the many benches throughout the square.
3. See St. Michael's Church
This 15th-century Roman Catholic church dominates Piata Unirii. It is the second-largest Gothic church in the country and is considered the finest example of Gothic architecture. Completed in the 1440s, most of the building is still original, though the clock tower, which is the highest in the country (at 80 meters/262 feet high) was rebuilt in the 19th century. It's free to enter.
4. Tour the Art Museum of Cluj-Napoca
This museum is housed in a beautiful 18th-century Baroque building and has 24 rooms to explore, with over 12,000 pieces in the collection. Most of the collection is focused on Romanian and European art from the 15th-20th centuries, but it is also home to some prized exhibits, including a church altar from the 16th century. It's considered one of the most important museums in the country. Admission is 28 RON (or 16 RON for just the permanent exhibitions).
5. Climb Cetatuia Hill
Also known as fortress hill, this spot offers fantastic views of the city. The name refers to an 18th-century fortress (and prison) that was constructed here. There's a restaurant at the top where you can enjoy some traditional food (at an inflated price) as you gaze over the city. It's free to visit.
Other Things to See and Do in Cluj-Napoca
1. Explore the Museum of Zoology
This museum features hundreds of jarred and stuffed animal specimens. It has a rather dated, unkempt feel to it, which just makes the museum feel even more authentic and creepy. It's not for the faint of heart (they have some unsettling specimens, such as a two-headed cow calf). The museum can be hard to find but it's worth the effort as there are over 30,000 items here. Admission costs 8 RON.
2. Check out the Pharmaceutical Museum
The Museum of Pharmacy (often called the Hintz House) is home to Cluj's first (and Romania's fourth) apothecary. It originally opened in 1573 and has essentially been around ever since (it was briefly closed during the communist era). There are tons of interesting bottles filled with questionable potions (such as 18th-century aphrodisiacs and ground mummy dust). The museum only has three rooms but it illuminates what medicine was like in the Middle Ages and Renaissance (spoiler alert: it was grim). Admission is 6 RON. Note: The museum is currently closed for renovations.
3. Catch an opera
The Hungarian State Theatre & Opera is close to the river and hosts both plays and operas — many of which offer English subtitles. While the opera house was built in 1910, the Hungarian State Theatre actually dates to 1792. Tickets must be purchased in advance and usually cost around 40 RON per person. The National Theatre Lucian Blaga, one of the most famed theatrical institutions in the country, is another place to see a performance. They regularly have plays, musicals, and operas as well.
4. Shop at the central market
Located behind the Complex Commercial Mihai Viteazul shopping center, this market is where locals come for their fresh produce. If you feel like cooking your own meals, there's a wide variety of foods here. Hearty vegetables like potatoes, carrots, beets, and cabbage are common, as are local dairy products. It's the best (and cheapest) place to get produce in the city. Many vendors might not speak English, so prepare to use hand gestures (or download a language app) to overcome the language barrier.
5. Revel in the nightlife
Cluj is a town full of youthful, college types (it's a university town after all). That means there are plenty of places to grab a drink. The weekends are lively, the drinks flow freely, and the resident DJs spin late into the night. Some places worth checking out are Charlie (if you like whiskey), Londoner Pub (if you want a pub), and Booha Bar (a popular student bar).
6. Admire the Calvinist Reformed Church
This late Gothic-style church was constructed in the late 15th and early 16th centuries and is part of the Calvinist tradition, which was briefly the dominant religion in the region. In front of the church lies a statue of St. George slaying the dragon, a popular story in Christian mythology. The exterior, made of off-white stone, is simple but beautiful and the interior, while not nearly as ornate as Catholic churches, is worth a quick visit to see up close.
8. Visit the Ethnographic Museum of Transylvania
The museum is home to over 50,000 objects from the 17th-20th centuries, all of which are peasant-related (as opposed to items from royalty, which is what many museums usually present). It's a small and informative museum that gives insight into typical rural life in the area. Admission is 10 RON per person. There is also an open-air part of the museum, called Ethnographic Park "Romulus Vuia" which features over 90 traditional buildings from all over Transylvania. The park is in a separate location just outside of the city and also costs 10 RON to enter.
9. Explore Hoia Forest
This infamous forest has been the site of many alleged ghost and UFO sightings over the centuries (as well as other paranormal activities). In fact, it's often considered the creepiest forest in the world. Here, trees are warped and bent in unsettling ways that science hasn't been able to explain. Take a stroll through the woods during the day for free (lots of locals walk and jog here) or do a guided night tour! Night tours cost 250-475 RON per person.
10. See the Salt Mine in Turda
Located just under an hour from the city, the mine dates back to antiquity and was used throughout the Middle Ages. Learn how workers got the salt to the surface before the invention of modern machinery as you explore the deep, dark, and cool depths of the mine. There's a small underground lake at the bottom where you can rent a boat and paddle around. There are also games like bowling and mini-golf and even a Ferris wheel! It's a good place to visit with kids. There is also a spa if you want to treat yourself to some natural remedies. Admission is 50 RON on weekdays and 60 RON on weekends. You can take a guided tour for an extra 100 RON.
11. Take a free walking tour
The first thing I do when I arrive in a new city is take a walking tour. Cluj Guided Tours offers walking tours in English that can help you deepen your understanding of the city and its people. Their tours cover all the main sights so you can learn about the city from an expert local guide. Just be sure to tip at the end! (Reservations currently required).
12. Relax in Central Park
Founded in the 19th century, this large urban park is a great place to go for a stroll or sit back and relax with a book. Located on the southern shore of the Somesul Mic River, the park is home to a man-made lake, trails, and a pavilion. The University of Arts and Design and the Chemistry Faculty of Babes-Bolyai University can also be found here.
For more information on other cities in Romania, check out these guides:
Cluj-Napoca Travel Costs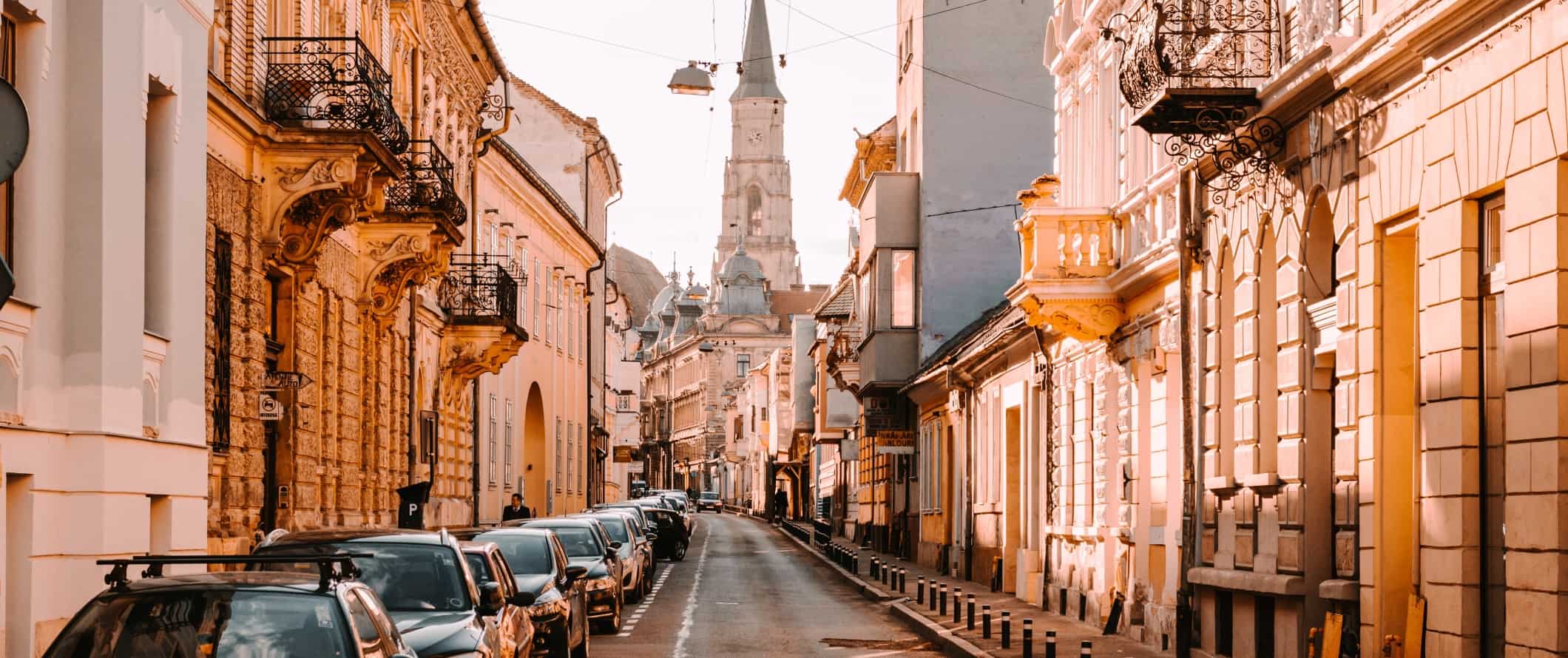 Hostel prices – A bed in a 4-8-bed dorm costs around 50-75 RON per night, while a private double room costs 130-180 RON. Free Wi-Fi and lockers are standard, and a few hostels also include free towels. Free breakfast is available in around half the hostels in town so shop around if that's a priority for you.
For those traveling with a tent, wild camping is legal but theft is a bit common so it's much safer to camp in designated campgrounds. Prices start at 40 RON per night for a basic plot for two without electricity. Camping Colina is the nearest campground and prices include free Wi-Fi, hot showers, a heated swimming pool, and charging stations.
Budget hotel prices – Budget hotels cost around 130-160 RON per night. Most include free Wi-Fi, flat-screen TVs, and coffee/tea makers. Most hostels have self-catering facilities and many also include free breakfast.
A private Airbnb room costs around 85-115 RON while an entire home/apartment costs around 125-160 RON per night.
Food – Romanian cuisine is hearty, influenced by nearby Hungary and other Eastern European neighbors. Stews and sausages are common staples, with garlic sausage being especially popular. Sour soup, lamb, meatballs, and meat pies are other popular traditional meals.
Cheap but hearty meals (such as schnitzel with mashed potatoes and salad) cost around 25-35 RON. Soup is a good option for saving money, as it costs around 15-25 RON and is pretty hearty (it also typically comes with a side of bread).
At a mid-range restaurant, a three-course meal costs around 80 RON. A burger or pasta dish is 35-40 RON while seafood or steak dishes typically cost 75-130 RON. A personal pizza is around 33-35 RON.
Fast food is around 6-9 RON for a burger or hot dog, while a combo meal (think McDonald's) is around 30-40 RON. Takeaway sandwiches are around 20 RON.
A domestic beer out at a restaurant or bar costs around 8-10 RON, a glass of local wine is 13-15 RON while a bottle is 60-100 RON, and cocktails start at 17-25 RON. A cappuccino/latte is around 10-12 RON, tea is 10 RON, and a bottle of water is 5-8 RON.
If you buy your own groceries and cook your meals, expect to pay about 140-190 RON per week for groceries that include pasta, vegetables, chicken, and other basic staples. Save money by shopping at local markets or small roadside stands, which usually have the cheapest and freshest products.
Backpacking Cluj-Napoca Suggested Budgets
On a backpacker budget of 150 RON per day, you can stay in a hostel dorm (or camp), cook all of your meals, use local transportation to get around, limit your drinking, and enjoy mostly free activities like hiking and free walking tours.
On a mid-range budget of about 295 RON per day, you can stay in a private Airbnb, eat out for most of your meals at budget-friendly restaurants, enjoy a few drinks, take the occasional taxi, and do more paid activities (like visiting museums or the mine).
On a "luxury" budget of 515 RON or more per day, you can stay in a hotel, eat out for every meal, rent a car, drink as much as you want, and visit as many museums and attractions as you'd like. This is just the ground floor for luxury though. The sky is the limit!
Accommodation
Food
Transportation
Attractions
Average Daily Cost
Backpacker
60
25
25
40
150
Mid-Range
100
65
55
75
295
Luxury
140
160
85
130
515
Cluj-Napoca Travel Guide: Money-Saving Tips
Cluj is pretty affordable because it's a university town so there are tons of students around. It's hard to spend money here if you're coming with a budget mindset already. That said, here are a few extra ways you can save money in Cluj:
Stay with a local – Couchsurfing connects you with locals who can give you not only a free place to stay but can also introduce you to all the great places to see. It's a great community to be a part of and the best way to connect with locals.
Eat lunch out – Although the food in Romania is inexpensive in general, you can save more money by cooking your own dinners and eating your lunches out. A lunch menu in Romania typically consists of three courses (soup, main, dessert), and can cost as little as 30 RON.
Shop at discount grocers – If you're going to cook or just grab a snack, save money by shopping at discount supermarkets like Profi, Lidl, and Penny Market.
Start your trip here – Wizz Air flies to Cluj-Napoca and you can find flights for as little as 46 RON from destinations around Europe. It's a budget airline so don't expect much, but it's a cheap way to get your foot in the door!
Bring a water bottle – The tap water here is generally safe so bring a reusable water bottle to save money and reduce your reliance on single-use plastic. I suggest a LifeStraw since their bottles have a built-in filter to ensure your water is always clean and safe.
Where to Stay in Cluj-Napoca
Cluj-Napoca has a few hostels and they're all pretty comfortable and sociable places. Here are my suggested places to stay:
How to Get Around Cluj-Napoca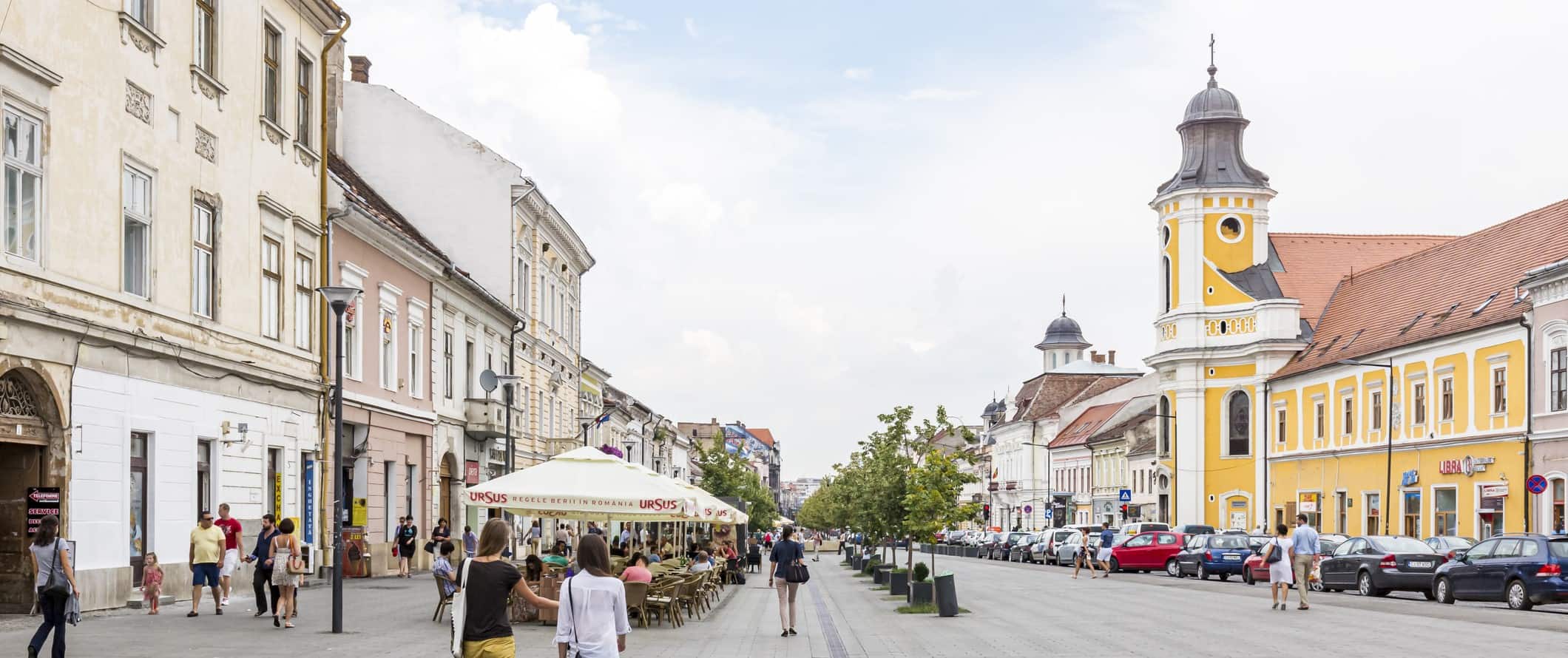 Public transportation – A single fare on the public bus is 2.50 RON per person while a day pass is 14 RON. If you're going to be here for a while, you can buy a three-day pass for 23 RON.
Most of the city is within walking distance so you won't need to use the bus much unless you're staying in a hotel or hostel far from the main tourist sites.
Taxi – Taxis here can get expensive (relative to taking the bus at least) so I'd avoid them for anything other than a short trip. Prices start at 2.33 RON and go up by 2.30 RON per kilometer. However, if you're traveling with someone then taxis can be a good choice as you can split the fare and save some time (they are much faster than buses as well).
Always call your taxi in advance to be sure that you get a reputable driver. Only get in taxis that use and display the required meter.
Ridesharing – Uber is available in Cluj and is a bit cheaper than taxis, however, you can take the bus and walk everywhere so you really shouldn't need it.
Bicycle – Cycling is a great way to get around the city as everything is pretty compact. Lots of locals bike around as well. You can find rentals for 65 RON per day.
Car rental – Rentals are around 85 RON per day. However, you don't need a car to get around the city so I'd only advise renting one if you plan on exploring the surrounding area. To find the best rental car prices, use Discover Cars.
When to Go to Cluj-Napoca
The best (and most popular) time to visit Cluj-Napoca is during the summer, from June to August. Temperatures are hot and rain is infrequent. Expect temperatures around 30°C (86°F) during this time. These are the busiest months of the year for tourism, but even then, the crowds are much smaller than those in Western Europe.
The shoulder seasons (late April-May and September-October) are great times to visit as well. There are no crowds and much milder temperatures, which is perfect for anyone looking to head into the hills for some hiking. There's more rain in the spring, but there are stunning autumn colors in the fall, which makes for a stunning backdrop to your trip.
Winter in Romania can be quite cold, with temperatures dropping below freezing. Snow is common, which can affect conditions if you're traveling by car. Cluj-Napoca can look quite charming in the winter, especially when compared to Bucharest which has a much grimmer atmosphere due to the influence of Soviet architecture and their reliance on gray, bland concrete. But whether that charm is worth the cold weather is up to you!
How to Stay Safe in Cluj-Napoca
Cluj is a very safe place to visit as crime against foreigners is rare. Theft can occur when riding crowded city buses and trams so take extra precautions when riding or waiting at a stop. Never have your valuables within reach; always keep them secured in your bag (and always keep your bag within sight).
Additionally, take some extra precautions when renting a car. While the roads are safe, rental cars are targeted for theft more than local cars, so just make sure you take precautions and lock your vehicle when you're not using it. When booking, make sure your insurance covers theft.
Solo female travelers should generally feel comfortable exploring Cluj-Napoca on their own, though the standard precautions apply (don't accept drinks from strangers, don't walk alone late at night, etc.).
While scams are rare, you can read about common travel scams to avoid here.
If you experience an emergency, dial 112 for assistance.
Always trust your gut instinct. Make copies of your personal documents, including your passport and ID. Forward your itinerary along to loved ones so they'll know where you are.
The most important piece of advice I can offer is to purchase travel insurance. Travel insurance will protect you against illness, injury, theft, and cancellations. It's comprehensive protection in case anything goes wrong. I never go on a trip without it as I've had to use it many times in the past.
Cluj-Napoca Travel Guide: The Best Booking Resources
These are my favorite companies to use when I travel. They consistently have the best deals, offer world-class customer service and great value, and overall, are better than their competitors. They are the companies I use the most and are always the starting point in my search for travel deals.
Skyscanner – Skyscanner is my favorite flight search engine. They search small websites and budget airlines that larger search sites tend to miss. They are hands down the number one place to start.
Hostelworld – This is the best hostel accommodation site out there with the largest inventory, best search interface, and widest availability.
Booking.com – The best all around booking site that constantly provides the cheapest and lowest rates. They have the widest selection of budget accommodation. In all my tests, they've always had the cheapest rates out of all the booking websites.
Get Your Guide – Get Your Guide is a huge online marketplace for tours and excursions. They have tons of tour options available in cities all around the world, including everything from cooking classes, walking tours, street art lessons, and more!
SafetyWing – Safety Wing offers convenient and affordable plans tailored to digital nomads and long-term travelers. They have cheap monthly plans, great customer service, and an easy-to-use claims process that makes it perfect for those on the road.
LifeStraw – My go-to company for reusable water bottles with built-in filters so you can ensure your drinking water is always clean and safe.
Unbound Merino – They make lightweight, durable, easy-to-clean travel clothing.
Cluj-Napoca Travel Guide: Related Articles
Want more info? Check out all the articles I've written on backpacking/traveling Romania and continue planning your trip: