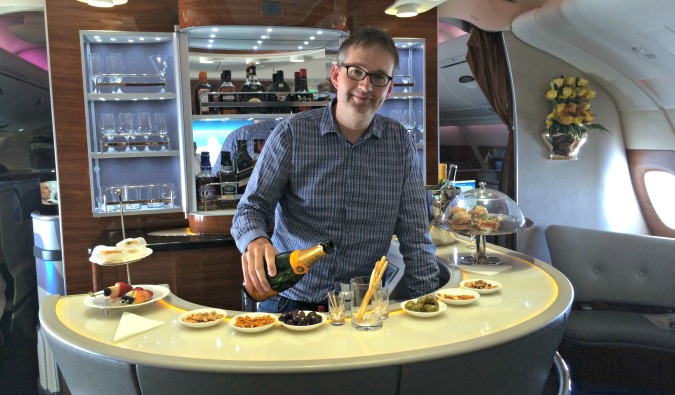 Last Updated: 12/04/19 | December 4th, 2019
I've been writing about travel hacking a lot lately, and one question that keeps popping up is "Matt, how can we travel hack in the UK?" Well, while I know a lot about doing this in the UK, I don't know as much as Robert (aka Raffles) from Head for Points, the premier travel hacking website for the UK. Today, I sit down with him and he explains in great detail how those of you from the UK can get free flights and hotels like the rest of us across the pond!
Nomadic Matt: How did you get into travel hacking?
Robert: The idea of "getting a deal" was ingrained in me literally from childhood, as my family never had much money. This also meant that my parents never traveled, as it was very expensive to fly in the 1970s. My dad never had a passport, and my mum only got one when she was 50.
I think I first flew when I was 18 in 1988 on a charter to Spain with friends. My first "hack" was when I was 20, when I "arranged" to win a flight to Paris in a British Airways competition. This was 1990, and BA gave away every seat on every flight for one day to boost business. You could pick your route, and I was smart enough to realize that 99% of people would pick a long-haul route with a minimal chance of winning. I picked Paris and, despite literally millions of entries, got my free seat — and even in 1990 flights to Paris from London were expensive.
It was only when I discovered FlyerTalk that I realized that I was only scratching the surface. I contributed heavily to FlyerTalk beginning in 2004 — and still do — and in 2012 started Head for Points as the first UK miles-and-points blog.
In January 2016, Head for Points hit one million monthly page views for the first time, almost all from the UK. I also launched Shopper Points to focus on UK supermarket loyalty schemes.
In the United States, it's easy to be a travel hacker because we have so many ways to get points. Describe travel hacking in the UK.
It's true that the UK market is not as generous as the US. However, it is still the second-best place in the world for travel hacking!
The advantage of doing it from the UK is that you can see a lot more of the world for a lot less. Whilst the low-level US airline saver reward is 25,000 miles (and even they are hard to find), British Airways will fly you to France, Germany, the Netherlands, etc., from 8,000 Avios return [round-trip].
Even a flight to Spain is only 13,000 Avios on an off-peak date. You can get to over 20 countries and see some of the world's greatest sights for less than the cost in miles of a US domestic reward flight!
The typical UK "travel hacker" — someone who wants to earn reward flights but doesn't earn miles traveling for business — will generally focus on credit card churning, primarily with American Express (Amex), and exploiting the promotions run by Tesco. Tesco is the UK's largest supermarket chain, and its loyalty points can be converted into British Airways Avios points or Virgin Flying Club miles.
Can you explain the Tesco trick a bit more?
Tesco has a loyalty scheme called Clubcard. On the face of it, it is rather dull: spend £1 in their stores and you earn 1 point. One point gets you 1p off your shopping or you can swap it for other things, including 2.4 Avios points or 2.5 Virgin Flying Club miles.
The real value comes from regular bonus point promotions run by Tesco. These can be hugely aggressive. For example, they regularly offer 150 bonus points for buying selected CDs or DVDs, which can be as cheap as £3. That means you're getting 360 Avios points for £3. They also like to offer bonus points on printer ink, which can be easily resold on eBay, often at cost price — which means the miles are free.
It scales up as well. They often offer 5,000 points (12,000 Avios) for taking out Tesco life insurance — with a minimum commitment of just £5 per month for a year. In late 2015 they offered a computer printer for £39 with 2,000 bonus points — that was 4,800 Avios.
All of these deals can be bought online, so you don't even need to enter a Tesco store. Tesco also offers a free MasterCard credit card, which earns Avios (it works out to 0.3 Avios per £1 spent) This isn't a great rate but it is the best Avios MasterCard or Visa deal available.
My new site Shopper Points is 75% devoted to Tesco Clubcard, not just for miles collectors but also for people who use the points for non-travel redemptions.
UK-based flights have hefty fuel surcharges (i.e., big taxes and fees) when you book award tickets. How does this impact travel hacking in the UK?
The key difference between the UK and US frequent flyer scene is that, in the UK, you cannot genuinely "fly for free," at least not easily. Both British Airways and Virgin Atlantic (and indeed all of the other major European carriers) impose heavy fuel surcharges on redemption tickets.
This is compounded in the UK by Air Passenger Duty, a departure tax levied by the UK government that can add up to £166 to a business-class ticket. If you redeem your British Airways Avios points for a Club World (flat-bed business class) seat to New York, you will be asked to pay over £500 per person in taxes and surcharges for your "free" ticket.
This is still a good deal, of course, compared to the cost of buying a similar ticket for cash. However, when a couple needs to find £1,000 to cover the additional charges on a pair of long-haul reward seats, you are obviously restricting your market to people on a decent salary. Unlike the US, this is not a hobby for students or the low paid.
The other issue with the heavy taxes and surcharges is that it has made long-haul redemptions in economy fundamentally pointless, except in peak periods. Who would redeem 40,000 Avios points and £350 in taxes for a return economy flight to New York, when the same ticket can be bought for £400 in cash?
You can work around this, but it's not easy. Air Berlin is an Avios partner and fellow Oneworld member, and has low-tax (£75 return) redemptions from Germany to the US and Abu Dhabi.
Aer Lingus also has low-tax redemptions from Dublin to the US. However, you need to ring British Airways to book these — and the BA website doesn't tell you this. Only a handful of people know about it as a result.
Similarly, Iberia has low-tax (£150 instead of £500 for business class) redemptions from Madrid to North and South America.
However, booking these on ba.com incurs a £500+ surcharge. Move your Avios to Iberia Plus (for free, online) and you can book the same seat for just £150 in taxes. BA doesn't tell you that either!
Does the UK have a lot of good credit card offers like we do here? What are the bonuses typically like?
It has improved massively in the last couple of years. American Express has become very aggressive. It runs (for the UK) very high bonuses on the British Airways Premium Plus card — typically 20,000 to 25,000 points or miles — and is happy for you to churn their cards as long as you wait six months to reapply for the same one.
As long as you know, for example, that the points from the Starwood Amex, American Express Gold, and American Express Platinum cards can be turned into Avios points, then you can do very well. However, I reckon that 90% of Avios collectors are not aware of this.
You get occasional great deals from other issuers. MBNA/Bank of America offered 35,000 American Airlines miles as a sign-up bonus back in 2013, and that card was fee free. That would have gotten you a one-way ticket in business class on Etihad from London to Abu Dhabi!
Are there other cards beyond American Express?
The other big issuer is MBNA/Bank of America. They handle the UK credit cards for American Airlines, Etihad, Virgin Atlantic, Miles & More, and United, amongst others.
The standard MBNA bonus offers are pretty weak: the basic Virgin Atlantic credit card only offers 3,000 miles for signing up. You need to time it right and apply during a good bonus promotion. You also cannot churn MBNA bonuses, as these days they limit you to one bonus per card per lifetime.
That said, MBNA is a well-run business — they post your miles promptly, and their promos always work as promised.
Lloyds and Barclays, the two "mainstream" banks, also have some loyalty card operations. Lloyds runs cards for avios.com (as opposed to British Airways), and Barclays runs cards for Hilton and IHG Rewards Club. In general, though, their operations are shoddy. I receive lots of complaints about Lloyds not honoring sign-up bonuses, and Barclays has a habit of posting your points 3-4 months late.
The writing may be on the wall for non-Amex cards, however. In late 2015, the EU capped "interchange fees" (a proxy for what shops pay to accept credit cards) at 0.3% for Visa, MasterCard, and third-party–issued American Express cards. The previous rates were around 0.75%.
It is simply not possible to run a free credit card that earns miles with an interchange fee of 0.3%. That doesn't even pay for the cost of funds for the card issuer, let alone the miles, bad debts, statement costs, etc. You don't make much in interest payments from airline cards because you have a wealthy customer base.
In the future, we are likely to see more annual fees and lower-earning rates. However, the airline and hotel companies are desperate to keep their logo in your wallet, so compromises will be made. Cards may start to offer elite status, for example, or extra perks such as priority boarding. It will take a couple of years for the market to adjust.
If someone in the UK was looking to get into travel hacking, what advice would you give them?
Focus on something simple, because once you've got your first good redemption under your belt, it will encourage you to become more ambitious.
The Hilton Visa, for example, is free and gives you a free night in any global Hilton Family hotel for spending £750. Using that at, say, the Waldorf-Astoria in Rome or the Conrad in New York or Hong Kong would be a great result. If a couple each got this card, the two free nights would cover a long weekend.
For your first flight redemption, there is nothing wrong with a European redemption on British Airways. Perhaps pay the extra miles for Club Europe on the way out, and spend an hour or so before the flight in BA's lounges at Heathrow. It will whet your appetite to scale up your collecting.
Do you see travel hacking getting easier or harder in the UK?
Ignoring BA's fuel surcharges — which can be mitigated via Air Berlin, Aer Lingus, and Iberia — this is a golden age. As long as your credit is good, it has never been so easy for a UK resident to rack up a large pile of Avios points via credit card sign-up bonuses.
The expansion of Oneworld — with Qatar, Malaysian, and Sri Lankan joining in recent years — also continues to open up great opportunities for redeeming your miles.
Some of the great deals of the past have gone away — it was once ridiculously easy to get free Star Alliance flights via BMI Diamond Club miles, for example. There is now no UK airline in Star Alliance. All in all, though, these are still good times to be playing the game.
Are there online shopping or dining portals like in the US? Where are some ways to multiply your points per dollar spent so as to rack up points more easily?
Both British Airways and Virgin Atlantic have online shopping portals called Gate 365 and Shops Away, respectively. The problem is that they were late to the game.
The UK has two large cash-back websites, Quidco and TopCashback. The majority of merchants on the airline shopping portals are on those cash-back sites, so you are essentially "buying" Avios at a poor rate when you choose not to use them and instead take miles.
The only reason I would use the airline sites is for shopping at a merchant that refuses to work with cash-back sites. The most popular merchant that does this is the department store chain John Lewis.
There is another tweak, where shopping at TopCashback is far more attractive for earning Avios than using BA's own Gate 365 portal. As I explained in this article , TopCashback lets you send £50 of cash-back per year to Tesco Clubcard. This can itself be converted into 12,400 Avios points. You have basically paid 0.4p each for those 12,400 Avios (£50.00 / 12,400 Avios), which is an excellent deal.
In the US, we have a lot of ways to manufacture spending to artificially get miles. Can you do that in the UK?
No, not at the moment. The main option — buying pre-paid Visa cards at face value in grocery stores using an American Express card and then redeeming them into your bank account — has gone.
It is a fluid situation, however. There are a lot of innovative products being launched in the UK financial services market at the moment, and new opportunities are bound to emerge. As we know from the US, they are unlikely to last for long when they do.
With US-based cards like Citi, Chase, or AMEX, you have many transfer partners, so you can move points to where the best deal is. Is that possible in the UK? What is the best way to use points on non-UK–based airlines?
If you are based in the UK but collect miles in a non-UK airline program, there are a couple of options.
(However, for a beginner, this is not something I would recommend. British Airways and — to a lesser extent — Virgin Atlantic offer far more options for redeeming if you are UK based. Only expats or people who end up flying other airlines with their jobs should put substantial efforts into building up miles elsewhere.)
Some non-UK airlines have UK credit cards: Lufthansa, Etihad, Emirates, United, and American. Others are American Express transfer partners, so you can send over points from an Amex Gold or Amex Platinum card: Emirates, Etihad, KLM, Air France, Singapore, Delta.
The other option many people forget is Starwood Preferred Guest. Starwood has over 30 airline partners, so you can earn points with the Starwood Amex card and transfer them across. The rate is pretty good, although the card has a £75 annual fee.
You can also transfer from American Express Membership Rewards to Starwood Preferred Guest to your preferred airline. The rate is not great because Amex to Starwood is only 2:1, but I have done this in the past to get Lufthansa miles.
Unless you have substantial credit card spend, it is unlikely that you would ever earn enough miles purely for a decent redemption. There are some amazing redemptions you can get — Emirates A380 business or first class, Etihad A380 business or first class, Lufthansa first class, etc. — but you will need at least 100,000 miles to redeem for any of those.
If you don't fly these airlines for work and can't build up your balance that way, credit card spend alone is unlikely to get you enough.
If you want to learn more about travel hacking in the UK, check out Robert's website, Head for Points, and follow him on Twitter. We have it really good here in the United States with lucrative point deals and credit card bonuses, but there is clearly a lot of opportunity in the UK.
Book Your Trip: Logistical Tips and Tricks
Book Your Flight
Find a cheap flight by using Skyscanner. It's my favorite search engine because it searches websites and airlines around the globe so you always know no stone is being left unturned.
Book Your Accommodation
You can book your hostel with Hostelworld. If you want to stay somewhere other than a hostel, use Booking.com as it consistently returns the cheapest rates for guesthouses and hotels.
Don't Forget Travel Insurance
Travel insurance will protect you against illness, injury, theft, and cancellations. It's comprehensive protection in case anything goes wrong. I never go on a trip without it as I've had to use it many times in the past. My favorite companies that offer the best service and value are:
Want to Travel for Free?
Travel credit cards allow you to earn points that can be redeemed for free flights and accommodation — all without any extra spending. Check out my guide to picking the right card and my current favorites to get started and see the latest best deals.
Ready to Book Your Trip?
Check out my resource page for the best companies to use when you travel. I list all the ones I use when I travel. They are the best in class and you can't go wrong using them on your trip.