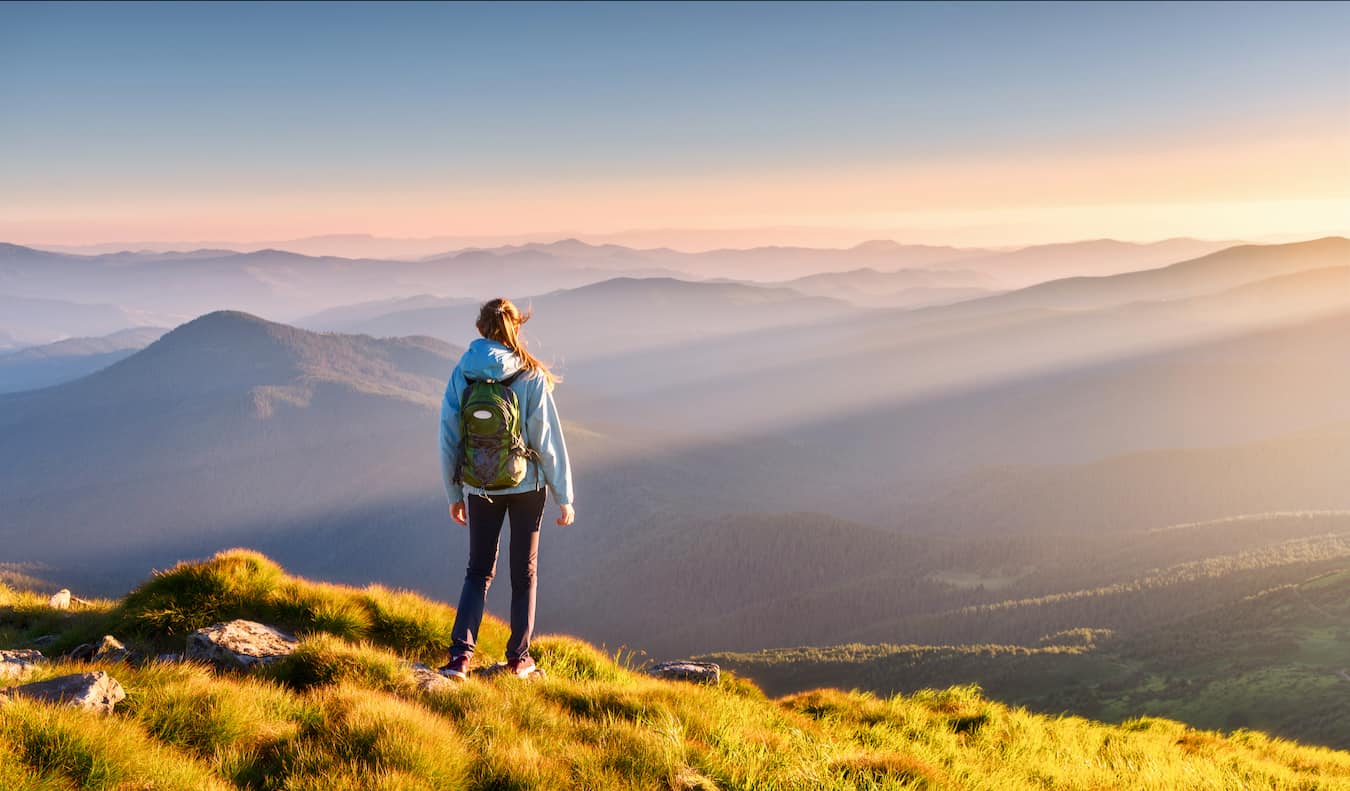 Last Updated: 9/1/23 | September 1st, 2023
"Your job sounds like the most exciting job in the world," she said to me. Let's call her Jessica because I never caught her name. I was outside a bar in Boston and she had overheard a conversation I was having with some friends I hadn't seen in years.
"He has the best job," replied my friend.
"So, can you get me to Ireland cheap? I really want to go."
"Sure," I replied. "Tell me about your trip."
Normally when I'm asked about these things, I talk a little bit about my travel guides section, hand over my business card, and tell the person to email me. In my free time, I don't want to turn into someone's travel agent.
But, in this moment, I didn't mind.
"My boyfriend and I want to go to Ireland in the summer, but we don't know how to afford it."
"Well, the first thing you should do is go home, and each of you should sign up for a travel-related credit card. That will get you at least 50,000 miles as a sign-up bonus. That's enough for a free flight. That's step one." I said.
"Wait! You get miles for signing up for a credit card!? Really?" Jessica said.
"Yeah, I've used these bonuses to get over 400,000 miles just on American Airlines alone. I fly first class with free miles all the time." I said.
As our conversation continued for a bit longer, Jessica was amazed at all the traveling I've done.
"You are either rich or get paid a lot of money," she said to me.
"Nope," I told her. "You just need $50 a day, which works out to $18,000 per year."
"Oh, that's too much money. I don't have that." she said.
So I broke it down for her and had her think about her own expenses and spending habits, and she soon realized that for more money per year, she does a lot less.
"Wow! I never thought about it that way," an astonished Jessica told me.
I gave the girl my card and wished her well. As she walked away, I turned to my friends, "That girl is never going to visit Ireland."
After years of talking to people about travel, I can tell when people are serious. My friend's friend who wrote down the name of companies and websites over a beer was serious. Jessica? She's not going to Ireland with her boyfriend anytime soon.
Why?
Because, while she was intrigued by all the money-saving tips I was giving her, she wasn't ready to implement them.
She's trapped by this belief "travel is expensive." The look in her eyes told me she didn't really believe what I was telling her.
See, the travel industry is insidious. It shows you ads like this:
Ads like this create the idea that travel is a luxurious escape from the tedious nature of our lives. And to get to that fabulous place where fun awaits you, we have to pay for it. It's amazing marketing, even if it is a bit evil.
Magazines show high-price ads, resorts, and tours. Even budget magazine hotel "deals" are $150 per night.
I don't know about you, but that doesn't sound budget to me! The whole industry colludes to reinforce this image that travel is a luxury that can only be rarely afforded.
So what happens?
Bombarded by all of these ads, we assume it is the norm. "This is what you have to spend when you go traveling," we think. Maybe one day, you'll find a good deal, but you're still spending thousands for even a quick trip to Ireland.
And no matter how many travel tips and tricks I share, they are too hard to believe. Jessica might be intrigued, she might be interested, but she won't commit.
Because the weight of everything she has learned over the years is too great for me to break through. It seems just seems too fantastical to her. It can't be real — and if it is, it's unattainable for the average person.
This happens for two reasons:
For starters, people like the path of least resistance. And my way requires more effort. You have to be your own travel agent. It's a lot more work: I spend hours booking flights, doing research, and comparing deals.
But you know what's easier? Going online and picking the first deal you see, packing, and setting off on your trip. The path of least resistance is usually the most followed.
Secondly, there's no frame of reference. People have no experience with my way. I'm just a stranger on the bus. I'm just a guy at a bar, and no matter how logical my argument is, Jessica will still be skeptical. Because she has no proof that this works. To Jessica, I could be selling a Ponzi scheme. But since everyone takes trips the easy way, she knows it, she understands it, and she'll do it too.
But the girl who took notes? Since I'm a friend of a friend, I come with trust built-in. My friend has vouched for me and my ways. She is far more likely to go up, look up what I said, read my site, and book a trip using my methods.
If you are on this website, you've probably overcome both of these barriers. Why do I have a "featured in" section on my homepage where I list publications I've been featured in? So people can see that my advice has been vouched for. In the age of faceless Internet sites, trust is the most important thing out there. Jessica has no reason to disbelieve me — but she has no reason to believe me, either.
If you are from Europe, Australia, Canada, New Zealand, or some other country where people travel a lot, you've probably met people who have traveled around the world, thus you know this idea isn't just for the rich — it's for everyone.
No matter how many posts I write about fear or chasing your dreams or how tomorrow will never come, the truth of the matter is that I'm mostly fighting a losing battle.
Even with my friends.
My friend Joe has been dying to go to Amsterdam since I've known him. He loves to smoke weed and gamble, and there's both weed and good poker in Amsterdam.
Every summer when I go to Europe, I say "Joe, come with me." He says "I'm busy." Last year, he quit his job. Did he come with me? Nope. In fact, I had to physically be there while he applied for his passport to get him to even get one.
So, while Joe overcame barrier #2, he needed to overcome barrier #1.
The old way of thinking is so ingrained into people's heads, no matter how much I and others like me can prove that travel is affordable.
Which is why I know Jessica so well. Because her story is like so many others I've encountered over the years. I've seen it happen so many times before that based on the conversations I've had, I can just tell. I know how committed people are to travel when I speak to them.
Maybe Jessica will prove me wrong and take that trip — but I'd bet she doesn't.
The best ways to save money while traveling won't even register with her because they will be too foreign, too unreal.
***
Prior to COVID, more and more people were breaking the mold and traveling the world on a budget. Long-term travel has become much more common (and accessible) than it has been in the past. However, while I think people know that there are plenty of ways to travel inexpensively, they also don't know how to manage it.
You can tell them how to accomplish their travel goals but all just seems too good to be true. So, people fall back to the simple method of, "Let's just go to Expedia" where they will spend more money — and thus the cycle repeats itself.
Don't be like Jessica.
Once you understand just a few secrets about budget travel, a trip becomes simple and easy to plan — whether you want on a year-long trip around the world or a just week-long trip to Paris.
All you need to do is walk through these steps and head out your door.
It's easier than you think.


Book Your Trip: Logistical Tips and Tricks
Book Your Flight
Find a cheap flight by using Skyscanner. It's my favorite search engine because it searches websites and airlines around the globe so you always know no stone is being left unturned.
Book Your Accommodation
You can book your hostel with Hostelworld. If you want to stay somewhere other than a hostel, use Booking.com as it consistently returns the cheapest rates for guesthouses and hotels.
Don't Forget Travel Insurance
Travel insurance will protect you against illness, injury, theft, and cancellations. It's comprehensive protection in case anything goes wrong. I never go on a trip without it as I've had to use it many times in the past. My favorite companies that offer the best service and value are:
Want to Travel for Free?
Travel credit cards allow you to earn points that can be redeemed for free flights and accommodation — all without any extra spending. Check out my guide to picking the right card and my current favorites to get started and see the latest best deals.
Ready to Book Your Trip?
Check out my resource page for the best companies to use when you travel. I list all the ones I use when I travel. They are the best in class and you can't go wrong using them on your trip.