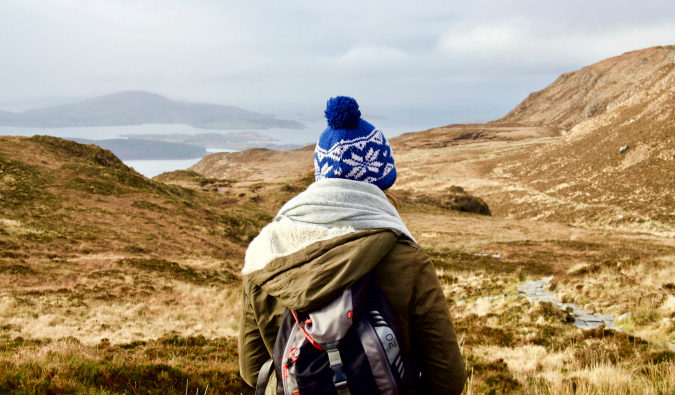 Updated: 8/15/19 | August 15th, 2019
"Your job sounds like the most exciting job in the world," the cute blond girl — let's call her Jessica — said to me. Jessica had just overheard a conversation with some friends I hadn't seen in years, and they were peppering me with questions about my job and lifestyle.
"He has the best job," replied my friend.
"So, can you get me to Ireland cheap? I really want to go."
"Sure," I replied. "Tell me about your trip."
Normally when I'm asked about these things, I talk a little bit about my travel guides section, hand over my business card, and tell the person to email me. On my free time, I don't want to turn into someone's travel agent. But this was a good excuse to talk to a pretty face longer.
"My boyfriend (d'oh!) and I want to go to Ireland in the summer, but we don't know how to afford it."
"Well, the first thing you should do is go home, and each of you should sign up for a travel-related credit card. That will get 50,000 miles as a sign-up bonus and you can use those points for a free flight. That's step one." I said.
"Wait! You get miles for signing up for a credit card!? Really?" Jessica said.
"Yeah, I've used these bonuses to get over 400,000 miles just on American Airlines alone. I fly first class with free miles all the time." I said.
As our conversation continued for a bit longer, Jessica was amazed at all the traveling I've done.
"You are either rich or get paid a lot of money," she said to me.
"Nope," I told her. "You just need $50 a day, which works out to $18,000 per year."
"Oh, that's too much money. I don't have that." she said.
So I broke it down for her and had her think about her own expenses and spending habits, and she soon realized that for more money per year, she does a lot less.
"Wow! I never thought about it that way," an astonished Jessica told me.
I gave the girl my card and wished her well. As she walked away, I told my friends, "That girl is never going to Ireland."
After years of talking to people about travel, I can tell when people are serious. My friend's friend who wrote down the name of companies and websites over a beer was serious. Jessica? She's not going to Ireland with her boyfriend anytime soon.
Why?
Because while she was intrigued by all the money-saving tips I was giving her, she wasn't ready to implement them, not even for a vacation.
She is trapped.
See, the travel industry is insidious. It shows you ads like this:
Ads like this create the idea that travel is a luxurious escape from the tedious nature of our lives. And to get to that fabulous place where fun awaits you, we have to pay for it. It's amazing marketing, even if it is a bit evil.
Magazines show high-price ads, resorts, and tours. Even budget magazine hotel "deals" are $100 per night.
I don't know about you, but that doesn't sound budget to me! The whole industry colludes to reinforce this image that travel is a luxury that can only be rarely afforded.
So what happens?
Bombarded by all of these ads, we assume it is the norm. "This is what you have to spend when you go traveling," we think. Maybe one day, you'll find a good deal, but you're still spending thousands for even a quick trip to Ireland.
And no matter how many travel tips and tricks I share, they are too hard to believe. Jessica might be intrigued, she might be interested, but she won't commit. 
Because the weight of everything she has learned over the years is too great for me to breakthrough. It seems just seems too fantastical to her. Like it can't be real — and if it is, it's unattainable for the average person.
This happens for two reasons:
For starters, people like the path of least resistance. And my way requires more effort. You have to be your own travel agent. It's a lot more work: I spend a few hours booking flights, doing research, and comparing deals.
But you know what's easier? Going online and picking the first deal you see, packing, and setting off on your trip. The path of least resistance is usually the most followed.
Secondly, there's no frame of reference. People have no experience with my way. I'm just a stranger on the bus. I'm just a guy at a bar, and no matter how logical my argument is, Jessica will still be skeptical. Because she has no proof that this works. To Jessica, I could be selling a Ponzi scheme. But since everyone takes trips the easy way, she knows it, she understands it, and she'll do it too.
But the girl who took notes? Since I'm a friend of a friend, I come with trust built-in. My friend has vouched for me and my ways. She is far more likely to go up, look up what I said, read my site, and book a trip using my methods.
If you are on this website, you've probably overcome both of these barriers. Why do I have "featured in" all over this site? So people can see that my advice has been vouched for. In the age of faceless Internet sites, trust is the most important thing out there. Jessica has no reason to disbelieve me — but she has no reason to believe me, either.
If you are from Europe, Australia, Canada, New Zealand, or some other country where people travel a lot, you've probably met people who have traveled around the world, thus you know this idea isn't just for the rich — it's for everyone.
No matter how many posts I write about fear or chasing your dreams or how tomorrow will never come, the truth of the matter is that I'm mostly fighting a losing battle.
Even with my friends.
My friend Joe has been dying to go to Amsterdam since I've known him. He loves to smoke weed and gamble, and there's both weed and good poker in Amsterdam.
Every summer when I go to Europe, I say "Joe, come with me." He says "I'm busy." Last year, he quit his job. Did he come with me? Nope. In fact, I had to physically be there while he applied for his passport to get him to do it.
So while Joe overcame barrier #2, he needed to overcome barrier #1.
The old way of thinking is so ingrained into people's heads, no matter how much I and others like me can prove that travel is affordable.
Which is why I know Jessica so well. Because her story is like so many others I've encountered over the years. I've seen it happen so many times before that based on the conversations I've had, I can just tell. I know how committed people are to travel when I speak to them.
Maybe Jessica will prove me wrong and take that trip — but I'd bet she doesn't.
The best ways to save money while traveling won't even register with her because they will be too foreign, too unreal.
Nomadic Matt's 17-Step Plan to Realizing Your Dreams

As I reflected on my encounter with Jessica, I realized that if I was going to send someone to Ireland, I needed to make it easy. I needed to hold someone's hand through the process as much as I needed to inspire them to go.
I don't want to listen to people any longer as they tell me how amazing my job/life/way of being is. I don't want people to tell me they will do it tomorrow or there is some bill that needs to be paid. I often feel like I'm banging my head against a wall screaming "YOU CAN DO THIS!" but no one listens.
And I realized it's because I've never made it easy for the Jessicas and Joes of the world.
I only needed a slight push to travel the world. Jessica and Joe need a shove.
They need a plan.
And so I have created this step-by-step process on how to turn your dream into reality. Here's how to make your next trip a reality:
1. Decide Where You Want to Go
A lot of people talk about travel without naming where they want to visit — they talk vaguely about places. Picking a place is utterly important. It helps you plan better and makes your trip more concrete. It's a lot easier to say "I am going to Paris" than "I'm going somewhere in Europe." You need a goal to work toward.
So, where do you want to go?
2. Plan How Long You'll Be Away
How much does it cost to travel? I don't know — how long are you going away for? You can't figure out how much you need to save if you haven't decided on how long you'll be there. Every place in the world is different.
These two are important first steps because you can't know how much you need for your trip if you don't know where you want to go and for how long. When I planned my original round-the-world trip, I made a list of all the places I wanted to visit and how long I wanted to be there. You don't need to know the exact dates you will be in each place, but you should have a rough idea.
3. Research Costs
Research how much your destination costs at the style of travel you want so that you can create an estimate of how much money you need for your trip. You can begin with my travel guide section or simply go buy a guidebook. All you want to know here is a rough daily estimate. This way you know how much you need for your trip so you can determine the best way to save that amount.
4. Start Saving Money
Follow my list of 20 ways to cut your expenses to watch your bank balance grow. Put a number to how much you need. For example, if you need $2,000 for your trip that is in eight months, that means you only need to save $8.33 per day. Doesn't that make that larger number more attainable? Couldn't you find a way to save $8 per day? Here are some featured tips:
Cut the coffee – That daily coffee costs you $150 per month ($5 per coffee). At $1,800 per year, that's two months in Southeast Asia. What's more important: your daily cup of Joe or getting to spend two more months on the beaches of Thailand or exploring the jungles of Borneo?
Learn to cook – We all need to eat, but restaurants are getting quite expensive these days. Even with this recession, coming back to the US I've noticed that food prices are a lot higher than they used to be. I learned to cook while in college (a skill that has helped me ever since), and before I left, I cut down my eating out to two times per week. Every other meal was cooked. I cooked dinner and then used the leftovers to eat lunch, thus saving more money.
Lose the car – Cars cost a lot of money between insurance, repairs, and filling your tank with gas (current average price: $4 USD per gallon). Learn to love the bus, take the subway, or walk. It took me longer to get to work using public transportation, but you'll find that you don't really need a car as much as you think. I understand that this tip may not be feasible for everyone, especially those in smaller towns that don't have a good public transportation system, but a good alternative is to sell your car and buy a cheaper used car.
Get rid of cable – In the age of Netflix and Hulu and free (and legal) streaming TV, there's no reason for you to be spending $50 USD per month on cable television.
Sign up for travel newsletters – No one likes to clutter up their inbox, but by signing up for mailing lists from airlines and travel companies, you'll be able to get updates about all the last-minute or special deals that are happening. I would have missed out on a round-trip ticket to Japan for $700 USD (normally $1,500) if it wasn't for the American Airlines mailing list.
5. Get a Rewards Credit Card
Get a travel credit card. While you're working to save money, get a travel credit card so you can use those sign-up bonuses that I told Jessica about to get free flights. I have accumulated over 600,000 free miles this way and despite all the cards I've acquired, my credit score is still 770. Yet you don't need a lot of cards — you just need one. Do this the moment you decide you want to travel. Don't wait — waiting equals lost miles.
Here are my favorite travel credit cards to help you travel for free!
6. Switch to a No-Fee ATM Card
Don't give banks any of your hard-earned money. Save every extra dollar you can by using a no-fee ATM card. I use Charles Schwab, but there are lots of other banks (don't forget to check your local banks) that don't charge ATM fees. Additionally, you can join a bank in the Global ATM Alliance. Just do something to avoid those fees because they will add up!
7. Stay Focused and Inspired!
As you start planning, keep feeding your desire to travel. Travel planning can be daunting and a lot of work — especially if your friends and family aren't that enthusiastic about it! Without support, it can be a little depressing. Luckily, there are tons of ways to stay focused and keep your spirits lifted thanks to the amazing community we have on this website. Here are some inspiring travel stories to help keep you inspired to travel:
8. Check for Last-Minute Deals
Before you hit purchase on your flight, check for deals you might have missed. You may dream of Paris, but maybe there are great deals to Berlin right now. Maybe you can get a 7-day cruise for 70% off, a package deal to Hawaii for the price of your flight to Paris, or 50% off sailing trips around Greece.
While it may not be your first choice, it can be a good way to save in the long run. I always look for deals. It's a big world, and there are lots of places I want to see.
My favorite sites for deals:
If you find something, adjust your travel plans accordingly. If not, continue on — but it pays to look.
9. Book Your Flight
After you have used your travel credit card and received your sign-up bonus, use your miles to book your flight. It is harder to use miles these days due to less availability, so you want to book early to make sure you get your available flight.
Here's more tips on finding a cheap flight!
10. Book Your Accommodation
If you have a set schedule, there is no reason to wait. If you are going on a long-term trip, book just the first few days. Once you know the dates you'll be in your destination, there is no real reason not to find a place to stay. My view is that waiting will just lead to you losing your top picks.
Love hotels? They won't save you money, but you can sign up for some hotel credit cards and get free rooms, too. Marriott has a great rewards card whose sign-up bonus is equal to one week's free stay. Starwood's AMEX card is wonderful too, but the spending threshold in order to get the points bonus is higher.
The following booking sites offer the best rates for accommodation:
11. Plan Your Activities
Sketch out the major activities you want to enjoy and how much they cost. Make any last-minute adjustments to your savings so you can ensure you have enough money. This will also help you figure out if you need any reservations for your chosen tours or activities.
12. Sell Your Stuff
If you are going on a long-term trip (six months or more), sell your stuff in order to earn extra money for your trip. Start doing this about 60 days before you leave. Sites like Gumtree, Amazon, and Craigslist can help you do so.
If you aren't going away long-term, skip this step. If you are going away long-term but want to keep your stuff, move it to a friend's house or keep it in storage. A good storage company in the US is Public Storage and starts at $50 USD per month.
13. Automate Your Bills
Get rid of your mail, go paperless, and set up online bill payment for your recurring bills to ensure you won't miss any overseas. If you are still going to get paper mail, use a service like Earth Class Mail. (If you are going on a two-week trip, you don't really need to do this and you can skip this step, too.)
14. Tell Your Credit Card Companies You'll be Traveling
No matter how long you'll be gone, it is a good idea to let your card companies know you will be overseas; that way any transactions that come up aren't flagged as fraud and your card is less likely to be blocked. There's nothing worse than having to sit on the phone with your credit card company instead of enjoying your vacation.
15. Pack
It's time to start packing for your trip. Here's a suggested packing list to get you started. Just make sure to not overpack!
16. Buy Travel Insurance!
A lot of people think, "I'm healthy, I don't need travel insurance. I won't get sick. But travel insurance is MUCH more than just medical protection. It covers you when your camera breaks, your flight is canceled, a family member dies and you have to come home, or if something gets stolen.
Travel insurance is something you will need on the road. You never know what might happen, and most health plans won't cover you overseas. I never thought I would pop my eardrum while I was scuba diving or break my camera in Italy. My friend never thought he would break his leg hiking; another friend certainly didn't expect her father would die and she would have to fly back home.
Travel insurance is only a few dollars a day and only a fool doesn't buy it. Here's my ultimate guide to picking a good insurance company that shod you how to pick a good plan that covers you for when you get sick, flights get canceled, you get injured, something gets stolen, or your trip is delayed! Travel insurance will cover you for all of it!
My favorite company is World Nomads and I use them for all my trips. If you're older than 70, check out Insure my Trip as they are the best provider for older travelers.
17. Go Have Fun!
Go on your trip and have fun! Head to the airport, board your plane (don't forget your passport), and enjoy the fruits of your labor.
To keep you on track, you can download this checklist and put it on your refrigerator to refer back to!

***
I'm a planner — I like lists. I like knowing what I have to do. Not everyone is like that — lots of people can simply keep a mental note. But no matter what type of person you are, for the vast majority of people that dream of travel, part of the reason it doesn't become a reality is because it also seems like this unmanageable task.
I think people know that there are plenty of ways to travel inexpensively, but they also don't know how to manage it — and when you tell them how to accomplish it, it all just seems too good to be true. So people fall back to the simple method of, "Let's just go to Expedia" where they will spend more money — and thus the cycle repeats itself.
But there is no need to be like that girl in the bar. Once you understand just a few secrets about travel, a trip becomes simple and easy — whether you are on a year-long trip around the world, or a week-long trip to Paris.
All you need to do is walk through these steps and out your door.

How to Travel the World on $50 a Day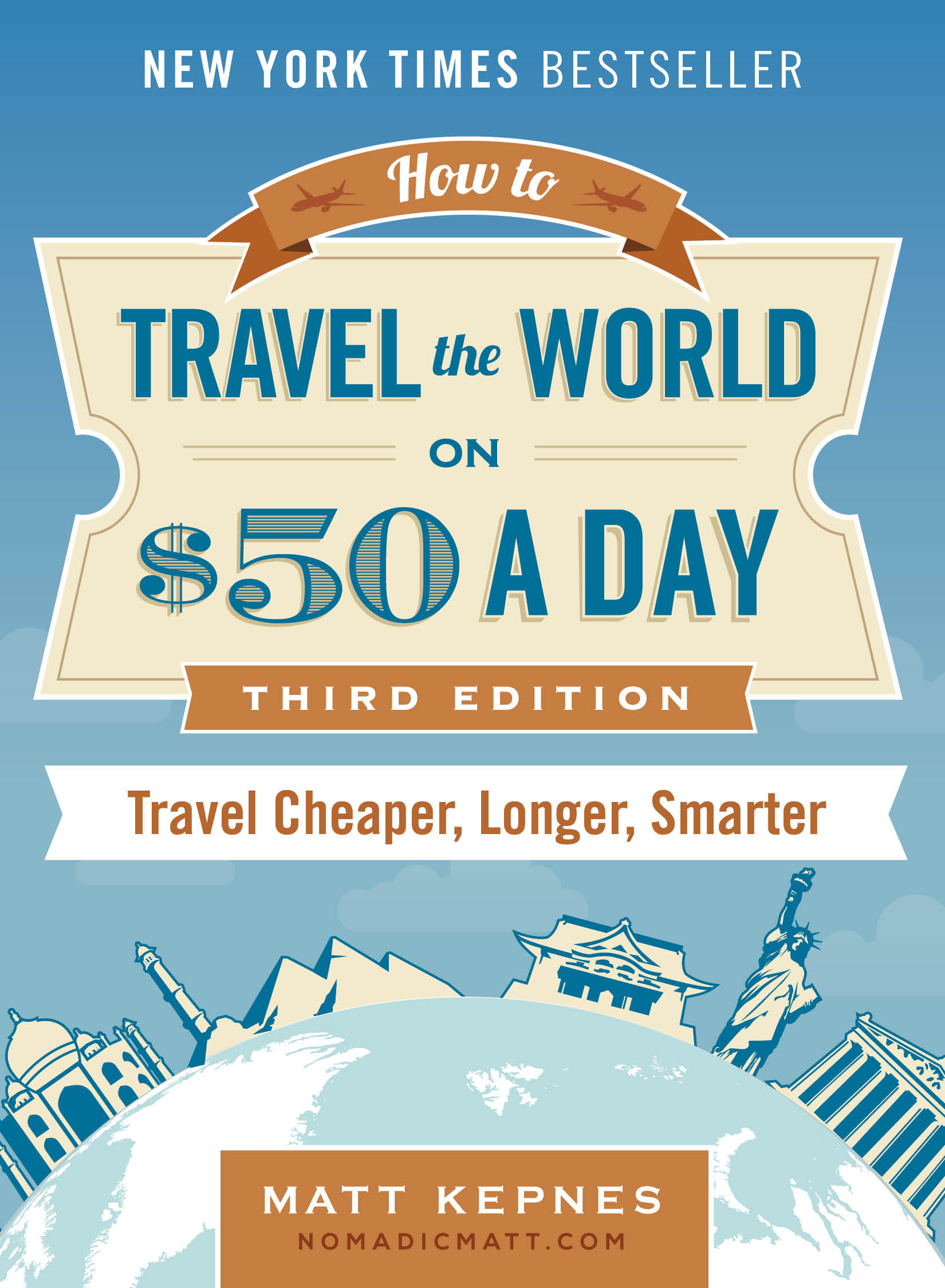 My New York Times best-selling paperback guide to world travel will teach you how to master the art of travel so that you'll get off the beaten path, save money, and have a deeper travel experience. It's your A to Z planning guide that the BBC guide the "bible for budget travelers."
Click here to learn more and start reading it today!


Book Your Trip: Logistical Tips and Tricks
Book Your Flight
Find a cheap flight by using Skyscanner or Momondo. They are my two favorite search engines because they search websites and airlines around the globe so you always know no stone is left unturned.
Book Your Accommodation
You can book your hostel with Hostelworld. If you want to stay somewhere other than a hostel, use Booking.com as they consistently return the cheapest rates for guesthouses and cheap hotels.
Don't Forget Travel Insurance
Travel insurance will protect you against illness, injury, theft, and cancellations. It's comprehensive protection in case anything goes wrong. I never go on a trip without it as I've had to use it many times in the past. I've been using World Nomads for ten years. My favorite companies that offer the best service and value are:
Need to book your trip?
Check out my resource page for the best companies to use when you travel. I list all the ones I use when I travel. The are the best in class and you can't go wrong using them on your trip.