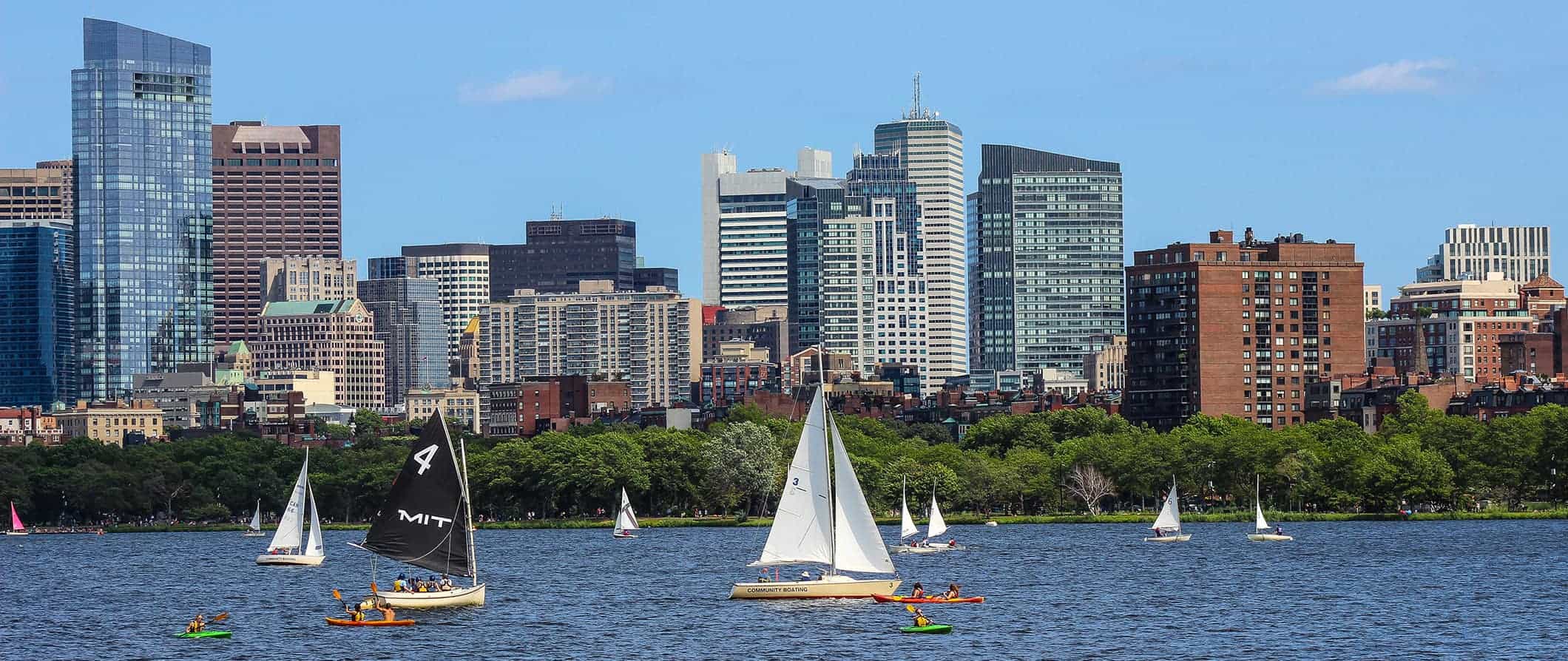 Boston is a historic city, with old colonial buildings, a long history, and a strong link to the founding of the country. Bostonians are very proud of their city and show their Boston pride any chance they can. I grew up in this city and even with all my world travels, Boston is still one of my favorite cities in the world. Though one of the biggest cities in the country, it has more of a large town feel to it than that of a metropolis. In this college town, you'll find friendly locals, die-hard sports fans, great bars, good restaurants, and a ton of American history. Don't miss out.
Top 5 Things to See and Do in Boston
1. Walk Boston's Freedom Trail
The Freedom Trail is a 2.5-mile (4-kilometer) walk through historic Boston. It takes you through all the major sites and monuments relating to the city's founding and the Revolutionary War, beginning in the Boston Common and ending at Bunker Hill. You'll get to see everything from the Massachusetts State House to Faneuil Hall.
2. Stroll the Museum of Fine Arts
This museum is one of the best art museums in the country and has a number of free admission days throughout the year. You also get in for free on your birthday, or after 4 pm on Wednesday. Admission costs $25 and it's open every day from 10am-5pm except Wednesday-Friday when it's open until 10pm.
3. Museum of Science
Check out the museum and the Omni Theater inside. Though many of the exhibits are for kids, it's still one of the best museums in the country. Their outer space exhibit is outstanding. It's open daily from 9am-5pm and costs $29 per person.
4. Take in a game at Fenway Park
This is one of the oldest baseball parks in the country. Guided tours are offered year round as well. They last one hour and cost $18 per person. Tickets start around $20 for standing room or bleachers, $31 for the grandstand, up to $650 for the dugout box.
5. Boston Public Gardens
You can take a swan tour through the pond in the middle of the gardens or you can simply stroll around and see some pretty flowers. The park is one of the most beautiful in the city and an excellent place to people watch or have a picnic.
Other Things to See and Do
(Click the title to expand the text)
1. Visit Coit Observatory at Boston University
You can pick out your favorite constellation at the Coit Observatory at Harvard University. They offer free stargazing Wednesdays after 8:30 pm throughout the spring and the summer, pending clear skies, of course.
2. See Bunker Hill Monument
There are 249 steps to the top of Bunker Hill Monument. I'm certain that this is the best view of the Boston skyline so don't miss it. It's at the end of the Freedom Trail so you can do one and knock out both!
3. Enjoy a picnic at Boston Common
One of the nation's oldest existing parks, Boston Common is nearly 50 acres and was once used as pasture land by Puritan settlers.
4. Shop or eat on Newbury Street
Newbury Street is Boston's classy shopping street. Here's you'll find expensive designers mixed with great boutiques. *It's not a cheap place to shop.) However, the street is lined with some of the best restaurants and cafes line in the city and, if the weather is nice, you'll see people crowding the streets eating outdoors. Stephanie's is good for both food and emptying your wallet. Snappy Sushi has great lunch specials, and Kashmir has delicious (and spicy) Indian food.
5. Hang out at Faneuil Hall
Faneuil Hall is a popular place for locals to hang out. During the day, a lot of people go shopping. At night, the restaurants are filled with people and the spot is one of the big bar destinations in the city. The cheap Irish pubs that fill the area are widely popular. Make sure you eat at Quincy Market, an indoor food hall with over 20 types of food.
6. Check out Beacon Hill
This is a neighborhood that's filled with history. This area was home to the likes of John Adams and John Hancock and resembles parts of historic Philadelphia. You can also find the statehouse building here.
7. Visit Castle Island
Castle Island is located in South Boston, and is famous for the fort located on it. The island extends into the harbor and has excellent beaches as well as running trails that are popular with the locals. There is a picnic area here, and you can explore the old fort for free.
8. Hang out in Copley Square
Copley Square is a great little park where you can buy discount theater tickets, listen to musicians, and gaze up at the Hancock Tower. You can also go into Boston's Trinity Church, which is one of Boston's oldest and I think most beautiful.
9. Visit Harvard University
Harvard University is the first and oldest university in the country (pre-dating even the founding of the United States). The campus offers free one-hour tours through the grounds and buildings. Afterward, go grab a coffee and people watch in the alternative and arty Harvard Square.
10. Walk around the Back Bay
Boston's Back Bay is our version of New York's SoHo and West Village. This is where Boston's elite and wealthy live and nearby Newbury Street is our Madison Avenue, with lots of expensive shopping. The pretty brownstones and tree-lined streets make for a peaceful, leisurely stroll.
11. Drink at Sam Adams Brewery
Sam Adams is a major brewer in Boston and locals drink it widely and frequently. Tours and tastings are held on Monday-Saturday from 10am until 3pm, with extended hours on Friday afternoon. Tours start every half hour. The tour is free (suggested donation is $2 USD).
12. Visit the New England Aquarium
Boston's aquarium is one of the better ones I've been to. It's really well done, the fish aren't all clustered into a few small tanks, and there's a lot of information about how to protect the oceans. Admission costs $27 and it's open daily from 9am-5pm with extended hours on the weekend.
13. Explore the North End
The historic North End is the heart of Boston's Italian community. You'll hear just as much Italian as you will the Boston accent. In the morning, you'll see little Italian grandmas shopping while the grandpas have their morning espresso. It's almost like being in Italy. You'll find the best gelato outside of Italy here.
14. Arnold Arboretum
Over 260 acres of free public space are open from sunrise to sunset. There are running trails, gardens, open lawns, and tons of flowers from all over the world. Relax among the plants and take a step back from the fast pace of the city. This place is much quieter than the Public Gardens and offers a wider variety of plant life. They also have a great bonsai tree collection.
Typical Costs
Hostel prices
– Hostels in America aren't cheap, and Boston is no exception. For the downtown hostels, expect to pay $30-40 per night for a dorm room with 6-8 beds. A private room that sleeps two will cost around $90-100 per night. Hostels in Boston typically include free linens, free WiFi, and free towels. My suggested place is:
Budget hotel prices – The budget hotels are located outside the city center, and many are near the train. You can find a room in a budget hotel starting around $80 per night. (Major hotel chains start at $150 and go up!) On Airbnb, you can find shared rooms averaging around $20 per night and entire homes start around $70 per night.
Average cost of food – Eating at restaurants you should expect to pay around $15-$20 for a meal with drinks. But, you can always find some local spots for cheap pizza and sandwiches to stay around $5-8. Since Boston is a big college town, you'll find cheap restaurants and to-go places throughout the city. If you want to eat at the higher end places, look for main courses to start around $20 and go up from there. Boston is known for its seafood so make sure to get some while you're here (especially the clam chowder). If you cook your own food, expect to pay $60-70 per week for groceries that will include pasta, vegetables, chicken, and other basic foods. Some of my favorite places to eat /go out are Zaftigs, Fugakyu, Back Bay Social Club, Row 34, Trillion Brewing Company, Legal's, Kelly's Roast Beef, the rooftop of the Envoy Hotel, and Park to name just a few!
Transportation costs – Boston is a walkable city, so no matter where you stay, you'll be able to get around easily. The subway (called the "T") costs under $3 per trip. You can save a little bit of money by getting a plastic CharlieCard as it offers discounted fare compared to purchasing one use tickets. For instance, one ride on the subway is $2.25 with the CharlieCard vs. $2.75 for an onboard/single-use ticket. A day pass is $12 and a one-week pass is $21.25.
Suggested daily budget
$60-70 (Note: This is a suggested budget assuming you're staying in a hostel, eating out a little, cooking most of your meals, and using local transportation. Using the budget tips below, you can always lower this number. However, if you stay in fancier accommodation or eat out more often, expect this to be higher!)
Money Saving Tips
Eat at Quincy Market – The Quincy market food colonnade in Faneuil Hall offers a wide range of food stalls at low prices. It's a hugely popular place to eat, especially during lunch.
Take the walking tours – Because Boston is such a historical area, you are able to take advantage of plenty of free walking tours including the most famous, The Freedom Trail. Free Tours by Foot in Boston offers a number of different free walking tours.
Drink outside downtown – Experience Boston nightlife in Brighton or Allston for cheaper drinks and a more relaxed (and younger) environment.
Enjoy the free parks – You can experience nature for free at the Arnold Arboretum. Here you can find more than 260 acres of free public space, open from sunrise to sunset. There are running trails, gardens, open lawns, and lots of flowers from all over the world. Relax among the plants and take a step back from the fast pace of the city.
Enjoy free concerts – During the summer, there are a lot of free concerts on the Charles River.
Consider the Boston City Pass – This pass allows you to nearly 50% off admission at a number of attractions. A pass is $55 per person and gets you entrance into Museum of Science, New England Aquarium, Skywalk Observatory, and the Museum of Fine Arts Boston or Boston Harbor Cruises.
Couchsurf – You'll find plenty of hosts in the city who will show you around their town and let you stay for free. I've used it plenty of times and have really enjoyed it as a way to meet people.
Get free water or free refills – If you order a drink, most restaurants allow free refills while you eat your meal or refills at a low cost. And, for my non-American friends, water is free!
Save money on rideshares – Uber and Lyft (my preferred company) are way cheaper than taxis and are the best way to get around a city if you don't want to take a bus or pay for a taxi. The shared/pool option (where you share a ride with other people) offers even better savings. You can save money off your first rides with the following codes: Lyft (MATTHEW999 to save $10) and Uber (jlx6v to save $15).
My Must Have Guides For Traveling to Boston