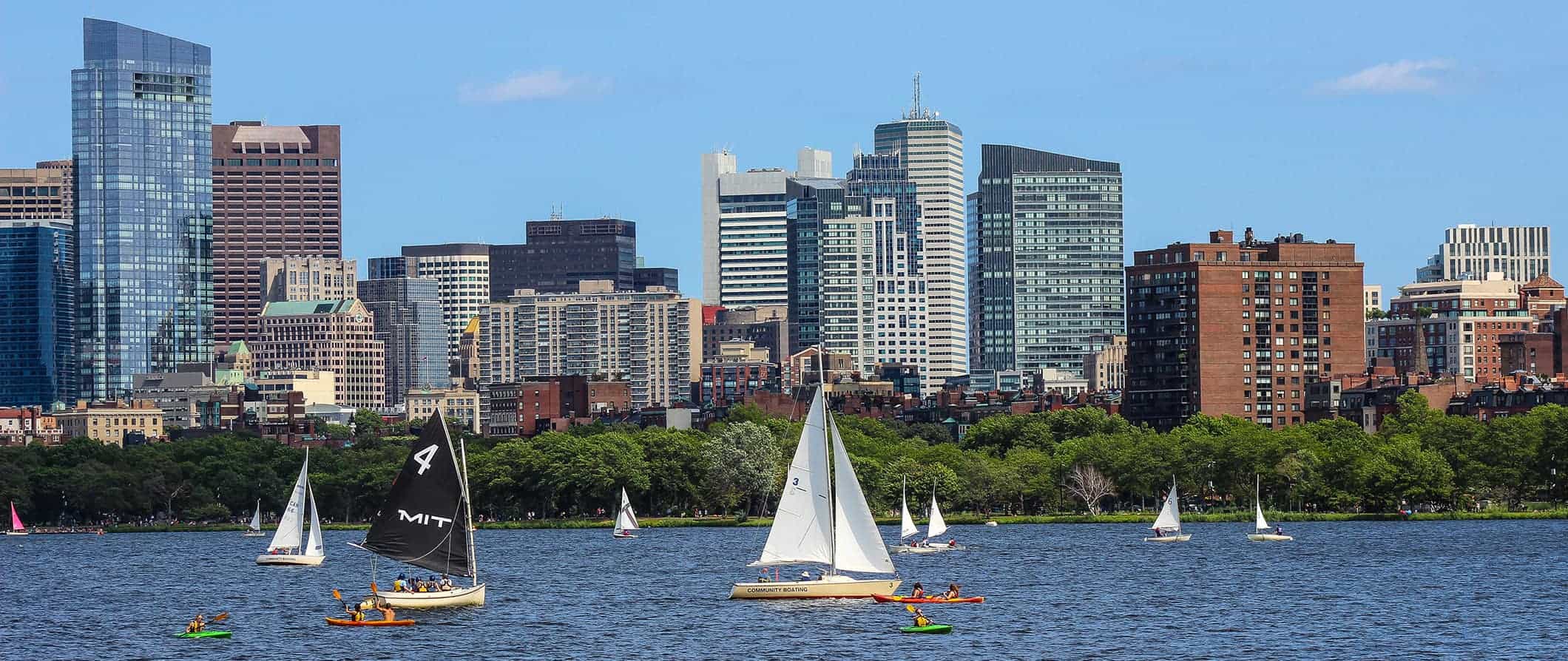 Boston is a historic city, home to old centuries-old colonial buildings and a strong link to the country's founding (the Boston Tea Party happened here in 1773 and the first battles of the Revolutionary War were fought near here shortly thereafter). Bostonians are very proud of their city and show their pride any chance they can.
I grew up in this city and, even with all my world travels, it has remained one of my favorites.
And not just because I grew up here. It's a wonderful place in its own right.
Even though it's one of the biggest cities in the country, Boston has more of a large town feel to it than that of a metropolis. In this college town, you can find friendly locals, die-hard sports fans, great bars, good restaurants, and a ton of American history. There's something for everyone!
This travel guide to Boston can help you plan a wonderful trip here without breaking the bank.
Top 5 Things to See and Do in Boston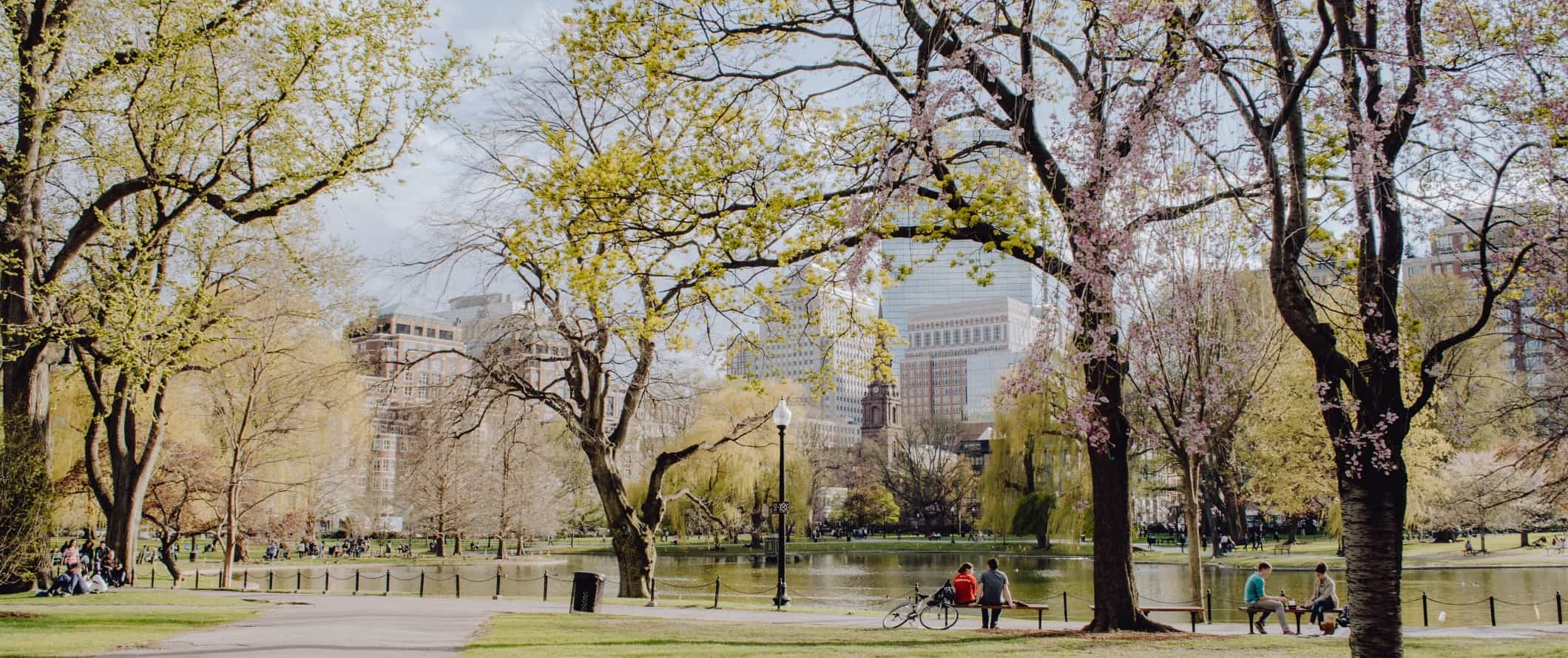 1. Walk Boston's Freedom Trail
Spend a day outdoors walking this 2.5-mile (4-kilometer) route that winds through historical sites important to the history of both the city and the country. Developed in the 1950s, the trail takes you to 16 of the must-see historical landmarks throughout the city, including the Boston Common, the site of the Boston Massacre, Faneuil Hall, the State House, and Bunker Hill. Simply follow the brick markers along the pavement to the different sites, most of which offer free entry (with some notable exceptions, including the Paul Revere House). If you'd prefer a guided tour, Get Your Guide runs daily tours for $28 USD that last 2.5 hours.
2. Enjoy a picnic at Boston Common
Created in 1634, the Boston Common is the nation's oldest city park. Originally, it was used as shared pasture land by Puritan settlers when they arrived and was later used as a campground for British troops prior to the American Revolution. Today, Boston Common is part of Boston's Emerald Necklace of parks created by landscape architect Frederick Law Olmsted. The park spans nearly 50 acres and is a great place to go people-watching, picnic with a book, wander the paths, and snap pictures of the city. Cool off in the Frog Pond in the summer or ice-skate there in the winter. There are also a lot of free festivals and events that happen in the park throughout the year, from Shakespeare on the Common to an outdoor opera series.
3. Visit Harvard University
Harvard University is the oldest university in the country (established in 1636, it pre-dates the founding of the United States). It is one of the most prestigious institutes of higher learning in the world. To learn more about its history, the campus offers student-led, one-hour tours through the grounds (mainly Harvard Yard, the most central and oldest part of the campus). Tours are free, but you need to register online. Afterward, grab a coffee and people-watch in the alternative and artsy Harvard Square.
4. Take in a game at Fenway Park
Open since 1912, this is one of the oldest baseball stadiums in the country and is often referred to as "America's Most Beloved Ballpark." It has hosted the World Series 11 times and is home to the famous Boston Red Sox. Even if you're not a baseball fan, the games are fun! Tickets start around $15 USD for standing room or bleachers and $35 USD for the grandstand. Guided tours are offered year-round as well. Tours last one hour and cost $25 USD per person.
5. See the Boston Public Garden
Opened in 1837, this area located right next to Boston Common, was actually a mudflat before it became a garden. The land was almost used for a cemetery as well, but the city decided to create the first public botanical garden instead. Ride a swan boat on the huge (4-acre) pond in the middle of the gardens or simply stroll around and see the pretty flowers and monumental statues. Admission is free.
Other Things to See and Do in Boston
1. Stargaze at the Coit Observatory
Spend some time gazing at your favorite constellations at Boston University's Coit Observatory. They offer free stargazing on Wednesdays throughout the year (pending clear skies, of course), starting at 7:30pm in the fall and winter, and 8:30pm in the spring and summer. Space is limited so book your free tickets in advance (and since the telescope is outside, if you're going in the cooler months, dress warmly).
2. Climb the Bunker Hill Monument
The Battle of Bunker Hill in 1775 was one of the first major battles of the American Revolutionary War. While the British eventually took the field, Americans wore the British forces down much more than anticipated. After the battle, the British were much more cautious in their advance, which gave the Americans more time to prepare for the coming war. The monument stands at 221 feet (67 meters), and you can climb the 294 stairs to the top free of charge. There is also a nearby museum which is also free. This is the best view of the Boston skyline, so don't miss it. It's at the end of the Freedom Trail.
3. See the Museum of Fine Arts
Founded in 1870, this museum is one of the best art museums in the country, as well as one of the largest art museums in the world. MFA Boston boasts over 450,000 pieces of fine art covering everything from the pre-Columbian era to Italian Impressionists. There is also a sizable collection of ancient Egyptian artifacts and the largest collection of Japanese artwork outside of Japan. The museum also runs all types of classes and workshops throughout the year, from single-day to multi-week offerings. Admission is $27 USD.
4. Hang out at Faneuil
Faneuil Hall is one of the most visited sites in the entire country. The hall itself has been a meeting place in the city since the 1740s, and many speeches were given here about American independence before the Revolutionary War. The Faneuil Marketplace (which is comprised of 4 historic buildings, including Faneuil Hall and Quincy Market) is a popular place for locals to hang out. During the day, a lot of people come here to shop. At night, the restaurants fill with people; it's one of the biggest bar destinations in the city. It's a great place for people-watching too!
5. Check out Beacon Hill
This is one of Boston's most picturesque and historic neighborhoods, once home to the likes of John Adams (Founding Father and second US President) and John Hancock (President of the Second Continental Congress and first governor of Massachusetts). Its steep, winding streets are lined with Victorian brick row houses and old-fashioned lanterns, making for a charming afternoon stroll. The Massachusetts Statehouse is also here, which was completed in 1798 and is a National Historic Landmark.
6. Visit Castle Island
Castle Island is located in South Boston. It's famous for Fort Independence, a British fort built in 1634 that became a US prison (which was in use until 1805). The island extends into the harbor and has excellent beaches as well as running trails that are popular with locals. There is a picnic area here too and you can explore the old fort for free (there are free tours in the summer). It was connected to the mainland in 1928, meaning that it's now technically a peninsula, and you can walk or drive here.
8. Hang out in Copley Square
Named after the painter John Singleton Copley, Copley Square is a cool little park where you can buy discount theater tickets, listen to musicians, and admire Hancock Tower (New England's tallest building). You can also pop into Boston's Trinity Church, which is one of the city's oldest and most beautiful buildings. It was built in the 1870s after the original building burned down in the Great Fire of 1872. The style is known as Richardsonian Romanesque, which embraces the use of clay roofing, rough stones, and a massive tower. The style actually influenced churches all across the country upon its completion because it was so beautiful. The Public Library, built in 1895, is also here.
9. Visit the Museum of Science
Though many of the interactive exhibits are intended for kids, this is still one of the best museums in the country. Their permanent exhibits showcase dinosaurs, energy conservation, cartography, wind and weather, nanotechnology, and, of course, space. Special areas of interest include a butterfly greenhouse that you can walk through and a planetarium. Admission is $29 USD. The famous Boston Duck Tours depart from here as well. These are historical tours of the city in which you ride in replica World War II amphibious vehicles (tours cost $49 USD).
10. Walk around Back Bay
Boston's Back Bay is like a version of New York's SoHo and West Village. This is where Boston's elite and wealthy live, and nearby Newbury Street is our Madison Avenue, with lots of expensive shopping and high-end eateries. It's a beautiful area to stroll around, with pretty brownstones and tree-lined streets. You can still see plenty of old Victorian homes in this neighborhood that date back to the 19th century. Just don't shop here or stay here — it's expensive!
11. Drink at Sam Adams Brewery
Sam Adams, named after the Founding Father, is a major brewer in Boston, and locals drink it widely and frequently. Tours and tastings take place Monday-Saturday, with dates and times varying by the day. The signature tour costs $10 USD. There are also several in-depth specialty tours ranging between $20-35 USD, which include some generous beer tastings. In the summer, you can even take a yoga class in the beer garden!
12. Explore the North End
The historic North End is the heart of Boston's Italian community. You hear just as much Italian here as you do the Boston accent. In the mornings, little Italian grandmas can be seen shopping at the markets while the grandpas sit and have their morning espresso. It's almost like being in Italy. The best gelato outside of Italy can be found here too.
13. Visit the Arnold Arboretum
These 260 acres of free public space are open from sunrise to sunset. Located south of the city, it's the oldest public arboretum in the country (it was founded in 1872). There are running trails, gardens, lawns, and tons of flowers from all over the world. Relax among the plants and take a step back from the fast pace of the city. This place is much quieter than the Public Gardens and offers a wider variety of plant life. They also have a great bonsai tree collection too.
14. Take a walking tour
Boston has a plethora of awesome walking tours. Bites of Boston offers four different food tours around town, each in a distinct neighborhood, starting from $79 USD per person while history buffs can check out Cambridge Historical Tours for in-depth history tours ($28 USD). If you're on a tight budget, Free Tours by Foot offers free walking tours around town. They're a great way to get oriented and see the major sights without breaking the bank. Just be sure to tip your guide!
15. Visit Forest Hills Cemetery
This serene Victorian-era cemetery sits on almost 300 acres of land. It's the resting place of a few noteworthy individuals, such as the playwright Eugene O'Neill and the poet E.E Cummings. In 2006, as part of an exhibition, sculptures, including miniature buildings, were added to the cemetery. The cemetery is on the National Register of Historic Places.
For more information on other cities in the United States, check out these guides:
Boston Travel Costs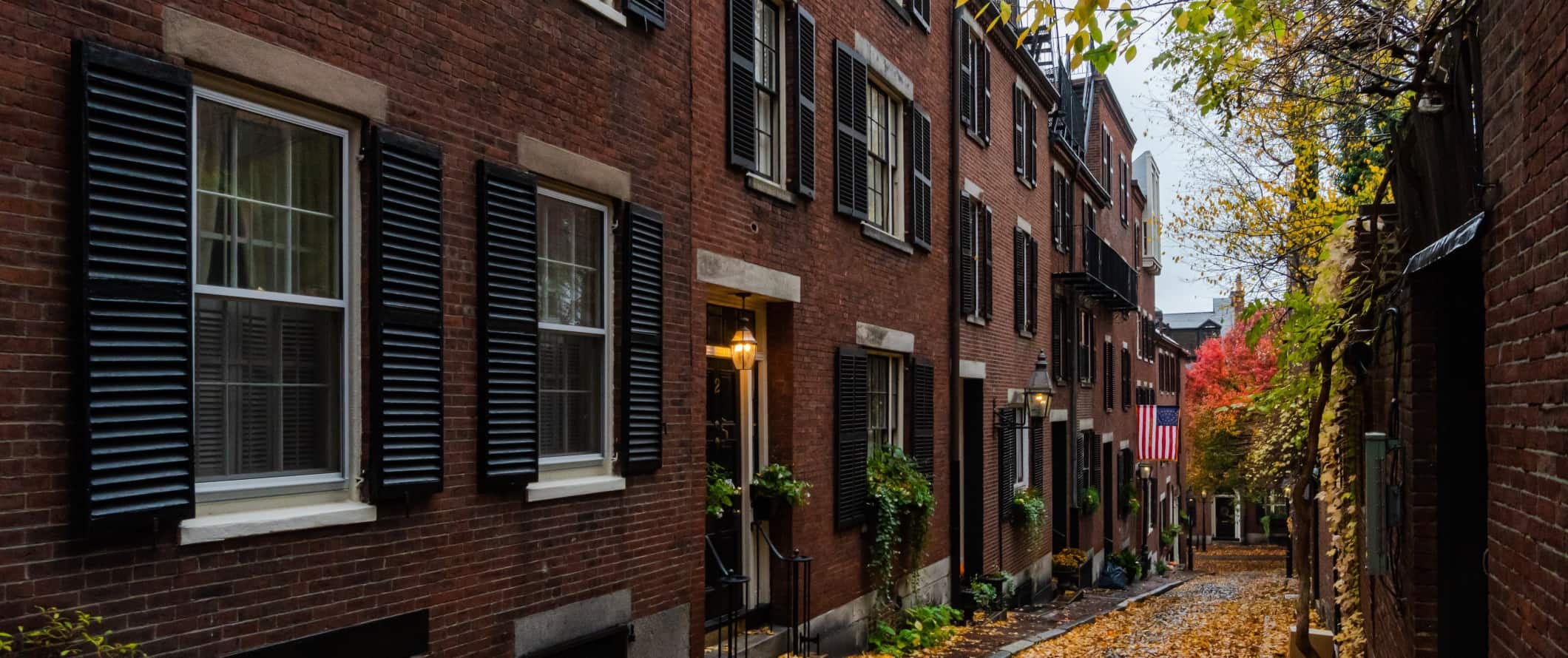 Hostel prices – During peak season (summer), a bed in any size dorm room costs $50-60 USD. During the off-season, dorm beds costs around $35-45 USD. Free Wi-Fi is standard but only some hostels have self-catering facilities. A basic private room for two with an ensuite bathroom costs around $225-250 USD per night during peak season and around $105-150 USD in the off-season.
Budget hotel prices – Budget two-star hotels start at $220 USD in peak season and $125 USD in the low season.
There are also lots of Airbnb options in Boston. A private room starts at $65 USD per night while entire homes/apartments start at $149 USD per night. Expect to pay double if you don't book early.
Food – While seafood has traditionally played a large role in the cuisine here, as a large city you can pretty much find any type of food you want. And since Boston is a big college town, there are plenty of cheap restaurants and to-go places throughout the city. Make sure to try a lobster roll or clam chowder while you're here — they're local favorites!
A lobster roll is around $25-29 USD while a bowl of clam chowder is $6-10 USD. A meal at a casual sit-down restaurant costs closer to $20 USD. A burger or pizza costs $14-18 USD, while seafood dishes start at $25 USD and go up from there. Expect to pay at least $50 for a meal with an appetizer and a drink.
A fast food (think McDonald's) combo meal or a filling sandwich for lunch both cost around $9 USD. Large takeaway pizzas cost around $10-15 USD while Chinese food can be found for as little as $8 USD for a filling main dish.
Beer is $6-8 USD, a glass of wine is $9-11 USD, and a cocktail is $11-14 USD. A latte/cappuccino is $4.50 USD and bottled water is $2 USD.
Some of my favorite places to eat are Zaftigs (the best brunch), FuGaKyu (the best sushi), Back Bay Social Club, Row 34, Trillium Brewing Company, Legal Sea Food, Summer Shack, and Kelly's Roast Beef.
If you plan on cooking your own food, expect to pay $55-70 USD per week for basic staples like pasta, rice, vegetables, and some meat.
Backpacking Boston Suggested Budgets
If you're backpacking Boston, expect to spend about $75 USD per day. This budget covers a hostel dorm, using the public bike-sharing program and taking the bus, cooking your own meals, and doing some free activities (like a free walking tour and relaxing on the Common). If you plan on drinking, add $10-20 USD more per day.
A mid-range budget of $200 USD per day covers staying in a private hostel room or Airbnb, eating out for most meals, enjoying a couple drinks, taking the occasional taxi, and doing more paid activities like museum visits or catching a baseball game.
On a "luxury" budget of about $390 USD or more per day, you can stay in a hotel, eat out anywhere you want, drink more, rent a car or take taxis everywhere, and do as many paid tours and activities as you want. This is just the ground floor for luxury though. The sky is the limit!
Accommodation
Food
Transportation
Attractions
Average Daily Cost
Backpacker
$40
$15
$10
$10
$75
Mid-Range
$115
$50
$15
$20
$200
Luxury
$200
$120
$30
$40
$390
Boston Travel Guide: Money-Saving Tips
Boston is super expensive, even for those who live here. You can go through money really quickly if you aren't careful. Prices have only gone up since COVID too, making Boston one of the most expensive cities in the US. But Boston is also very much of a university town, and where there are lots of college kids, there are also lots of cheap things to do and places to eat. Here are some ways to save money in Boston:
Eat at Quincy Market – The Quincy Market in Faneuil Hall offers a wide range of food stalls at low prices. It's a hugely popular place to eat, especially during lunch.
Take a free walking tour – Free tours are the best way to see the main sights and get a feel for a new city. Free Tours by Foot offers a number of different free walking tours around the city to help you get oriented. Just be sure to tip your guide!
Drink outside downtown – Experience Boston nightlife in Brighton or Allston for cheaper drinks and a more relaxed (and younger) environment.
Enjoy the free parks – You can experience nature for free at the Arnold Arboretum. There are over 260 acres of free public space here, open from sunrise to sunset. There are running trails, gardens, open lawns, and lots of flowers from all over the world. It's super relaxing!
Enjoy free concerts – During the summer, there are a lot of free concerts on the Charles River. Check with Visit Boston to see what's happening during your visit.
Get the Boston City Pass – This pass provides up to 50% off at a number of attractions. It's $67 USD per person and gets you access to four attractions: the Museum of Science and the New England Aquarium, and then you can choose 2 options from Boston Harbor Cruises, Franklin Park Zoo, or the Harvard Museum of Natural History.
Stay with a local – There are plenty of Couchsurfing hosts in the city who can show you around their town and let you stay for free. It's the best way to meet locals and lower your costs.
Save money on rideshares – Uber and Lyft are way cheaper than taxis and are the best way to get around a city if you don't want to take a bus or pay for a taxi. The shared/pool option (where you share a ride with other people) offers even better savings.
Bring a water bottle – The tap water here is safe to drink so bring a reusable water bottle to save money and reduce your plastic use. LifeStraw is my go-to brand as their bottles have built-in filters to ensure your water is always clean and safe.
Where to Stay in Boston
Boston is a small city, so fortunately you're never too far from the main attractions (no matter in what neighborhood you stay). Some of my recommended places to stay in Boston:
For more hostel suggestions, here's a list of all my favorite hostels in Boston!
And, to find out exactly which neighborhoods in the city will best suit you, here's a post that breaks down the best neighborhoods in Boston.
How to Get Around Boston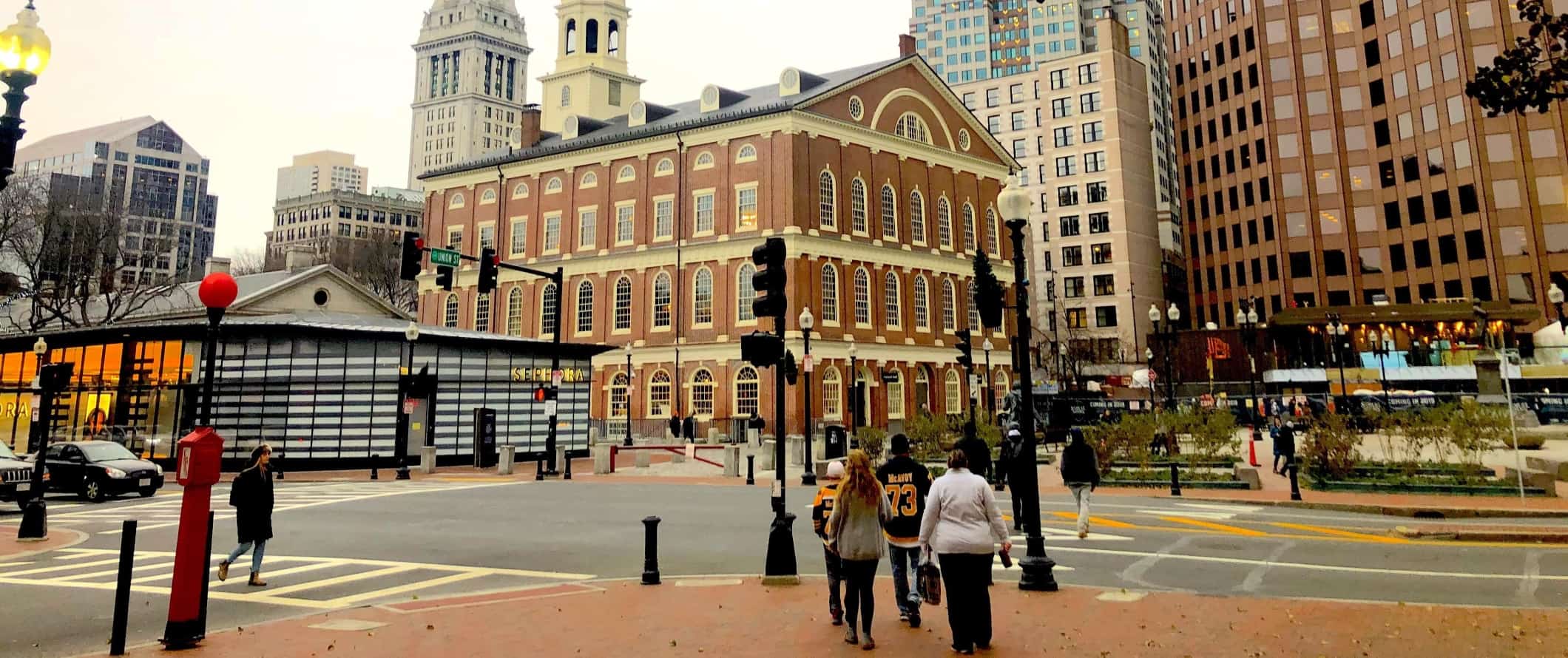 Public Transportation – Boston's public transportation system is known as the MBTA, and it's the easiest and cheapest way to get around. The subway gets you everywhere you need to go. And, if it doesn't, there's always the bus! You can buy tickets for single or multiple rides at vending machines located in most stations.
A single fare is $2.40 USD, or you can get a daily pass for unlimited travel for $11 USD or a weekly pass for $22.50 USD, which covers the subway, bus, and water shuttle networks. The bus is $1.70 USD per ride.
If you get a Charlie Card (the cards are free), you can load them with money for cash-free transportation.
Water Shuttle – You're probably not going to use the water shuttle service unless you're visiting Boston Harbor Island and Charlestown or specific stops along the waterfront. Fares range from $3.70-9.75 USD each way.
Bicycle – Boston has a bike-sharing program known as Blue Bikes, with stations all around Boston, Cambridge, Brookline, and Somerville. It costs $2.95 USD for the first 30 minutes and $2.50 USD for each additional 30 minutes. Alternatively, you can get a day pass for an unlimited number of bike rides for $10 USD. You can keep the bike out for up to two hours at a time, after which point you have to pay $2.50 USD per each extra 30-minute interval. (To avoid this, you can just dock a bike and then take it out again to start a new ride.)
Taxis – Taxis are not cheap here, but they're plentiful. Base fares start at $3 USD and go up by around $1.75 USD per mile. Skip them if you can!
Ridesharing – Uber, and Lyft are cheaper than taxis and are the best way to get around if you don't want to take a subway or pay for a taxi. This is also the best option to get around after the subway closes.
Car rental – Car rentals start at $35 USD per day for a multi-day rental. Unless you're heading out of the city though you won't need one. For the best rental car deals, use Discover Cars.
When to Go to Boston
June to August is the most popular time to visit Boston. Summer is peak tourist season and prices rise during this time. However, you get all the good stuff like outdoor dining, baseball games, and free outdoor concerts so it's worth the extra cost. In the summer, temperatures reach 81°F (27°C).
Winter can be cold and snowy, but it's the best time to visit if you want to see Beantown on an ultra-tight budget. Just dress warmly as it can get super cold if you're walking around exploring.
Personally, I think the shoulder season is the best time to visit. April-May and September-October offer nice weather without the crowds. Accommodation is cheaper too. Just pack a sweater for those cool mornings and evenings. Expect temperatures between 50-62°F (10-17°C). Fall also has the leaves changing color and there's just a great energy in the air. If you can visit in October or early November, I strongly encourage it.
How to Stay Safe in Boston
Boston is a safe place to backpack and travel — even if you're traveling solo. Violent attacks are rare, but practice caution wherever you go just in case. Don't walk alone at night and keep your valuables secure at all times (especially on crowded public transportation).
Chinatown and parts of Downtown Crossing can be a little seedy at night, so avoid them if possible.
Solo female travelers should generally feel safe here, however, the standard precautions apply (never leave your drink unattended at the bar, never walk home alone intoxicated, etc.).
Scams here are rare but, if you're worried about getting ripped off, you can read about common travel scams to avoid here.
If you experience an emergency, dial 911 for assistance.
Always trust your gut instinct. Make copies of your personal documents, including your passport and ID. Forward your itinerary along to loved ones so they'll know where you are.
The most important piece of advice I can offer is to purchase good travel insurance. Travel insurance protects you against illness, injury, theft, and cancellations. It's comprehensive protection in case anything goes wrong. I never go on a trip without it as I've had to use it many times in the past. You can use the widget below to find the policy right for you:
Boston Travel Guide: The Best Booking Resources
These are my favorite companies to use when I travel. They consistently have the best deals, offer world-class customer service and great value, and overall, are better than their competitors. They are the companies I use the most and are always the starting point in my search for travel deals.
Skyscanner – Skyscanner is my favorite flight search engine. They search small websites and budget airlines that larger search sites tend to miss. They are hands down the number one place to start.
Hostelworld – This is the best hostel accommodation site out there with the largest inventory, best search interface, and widest availability.
Booking.com – The best all around booking site that constantly provides the cheapest and lowest rates. They have the widest selection of budget accommodation. In all my tests, they've always had the cheapest rates out of all the booking websites.
Get Your Guide – Get Your Guide is a huge online marketplace for tours and excursions. They have tons of tour options available in cities all around the world, including everything from cooking classes, walking tours, street art lessons, and more!
SafetyWing – Safety Wing offers convenient and affordable plans tailored to digital nomads and long-term travelers. They have cheap monthly plans, great customer service, and an easy-to-use claims process that makes it perfect for those on the road.
LifeStraw – My go-to company for reusable water bottles with built-in filters so you can ensure your drinking water is always clean and safe.
Unbound Merino – They make lightweight, durable, easy-to-clean travel clothing.
Top Travel Credit Cards – Points are the best way to cut down travel expenses. Here's my favorite point earning credit cards so you can get free travel!
Boston Travel Guide: Related Articles
Want more info? Check out all the articles I've written on United States travel and continue planning your trip: