"The bible of budget travel." – BBC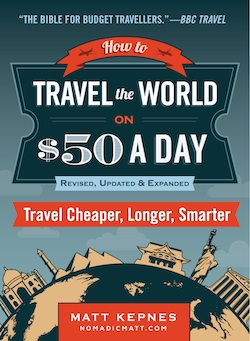 Do you want to travel more but think it's expensive? Would you like to find a way to make travel more affordable?
I used to see the commercials, watch the ads, and read the magazines and think "I'll never be able to afford to travel." There just didn't seem like anything I could do to ever change that. Even if I could get that extra vacation time, hotels, flights, resorts – they were all too expensive.
But then I went to Thailand and everything changed.
In 2005, I was on a vacation to Thailand with my friend Scott. We were in Chiang Mai to visit some temples and one day, I left Scott to visit a large temple outside of town on my own. I was in a shared taxi with five other people (three Canadians and a couple from Belgium).
On the way up to the temple, we started talking. The Canadians were on a break from work and traveling until their money ran out and the couple was using some of their vacation time to travel for a month. Then there was me – I was using my entire year's allotment of vacation time (in January!!) to be in Thailand.
As we talked about travel, vacation time, and cultural differences, I realized that these 5 people were living my dream. All I wanted was to travel more and these people were actually doing it.
A few days later, I was at the beach when I turned to my friend and said "When we get home, I'm going to save up, finish my MBA, quit my job, and travel the world."
That night I walked into the one book store on the island and bought a travel guide to Southeast Asia. I didn't know when I'd travel or where I'd go but buying that book and holding it in my hand made my decision seem real. In my mind there was now no turning back. I wanted to travel. Meeting people all over Thailand who were following their dreams made me realize there was no reason for me not to follow mine.
TRAVEL CAN BE DONE ON A BUDGET WITHOUT SACRIFICING COMFORT OR THE ADVENTURE YOU SEEK.
You only ever see fancy resorts, hotels, expensive cruises, and tours advertised, right? Why is that? Because only big companies have large advertising budgets and the more expensive travel you buy, the easier it is for them to make money. Small, mom and pop guesthouses and local tour operators don't have the money to pay the fees big media demands so they get ignored.
But they exist and they make travel possible for the majority of people (people like me and you) who don't have thousands to spend on a week in Paris.
I know this because I've spent the last 6 and a half years traveling the world using them to make my trips affordable without sacrificing comfort. Actually traveling showed me that there was a lot more to travel than advertised, and that there are a plethora of ways to travel on a budget of $50 USD per day (or less).
My travel tips, tricks, and secrets have helped the thousands of other readers of this website. All the major media outlets below have listed my tips and sought my advice on budget travel:
If you're thinking "Matt, I do want to travel more but $50 still seems like a lot of money." don't worry! Using the plethora of savings tips in this book, you'll be able to lower your costs and spend less than $50 a day whether you are in Thailand, Japan, Australia, or France. Traveling the world on $50 a day is about a philosophy as much as it is about a specific number. If you just focus on that number, you'll miss the entire point of the book — which is to get you to travel cheaper, longer, and smarter.
What You'll Learn With This Book
Learn how to make your money work for you and never pay overseas bank fees again.
Master the ways to get FREE airline tickets and save thousands – yes, free!
Learn the ins and outs of round the world tickets (and whether or not you need one).
Discover what to look for in a backpack so you get one that lasts forever (and is always comfy).
Learn how to use travel credit cards to gain hundreds of thousands of free frequent flier and hotel points.
Learn where to send your mail and what to do with your stuff before you set off on your adventure.
Find out where to find travel discount cards that can save you 40% or more on your trip.
Get the secrets to eating cheaply in any city in the world.
Get demystified about what travel insurance is, why you need it, and how to pick the right coverage provider.
Learn why tourism cards are the best kept travel secret and how to use them to save hundreds in any city you are in.
Find out how I manage to cut my transportation costs by 50% and how you can too.
Discover all the ways you can get free accommodation – from someone's couch to luxurious mansions – when you travel.
Get stories, tips, and interviews with other travelers not found on this blog.
Get a comprehensive list of all the best companies to use from around the world.
PLUS – Get detailed costs for accommodation, food, drinks, transportation, and activities (and specific ways to cut those costs) for the following destinations so you'll know exactly how much everything costs, what you need to budget, and ways to save:
Australia
Central America
China
Europe
India
Japan
New Zealand
Southeast Asia
South America
Each of these sections has destination specific money saving tips so you can learn how to save money in all of these destinations beyond what's talked about above! I get into the nitty gritty because this is about money and spending less of it.
But beyond the practical tips, this softcover print book will lay out planning a long term trip in easy to follow steps that build upon each other, ease your fears, get rid of your anxiety, and comfort you as you prepare for the trip of a lifetime.
(P.S. – Amazon has the book for 52% off right now!!! That means it's only $7! I don't know why they discounted it so much but take advantage of it while you can!!)
Whether you're a savvy backpacker or just dreaming of getting a passport and going overseas, Matt's collection of easy-to-employ money-saving strategies will open your eyes to the near-infinite ways of seeing the world without busting your budget."
— Matt Gross, former New York Times Frugal Traveler
It's time for you to stop thinking about travel and actually start traveling – whether for 1 week, 1 month, or 1 year. Get out there, see the world, and let this book show you how.
Whether a two week, two month, or two year trip, we all want to stretch our money further. We want to find ways to travel longer and more often. And I'm here to tell you how to do exactly that based on my 6.5 year trip around the world. My book will show you how to go anywhere you want without breaking the bank. I will show you the tips that have kept me traveling to where I want, when I want. No matter how long you want to travel for, now you can.
I know there is a lot of worrying that goes into planning a trip. How do you plan a flight? Is this a good route? Is that a good company? It's a nail biter but let me take away all that worry and anxiety. I've been there. I've felt it. I've done it. My book will help.
CLICK A LOGO TO ORDER THE BOOK