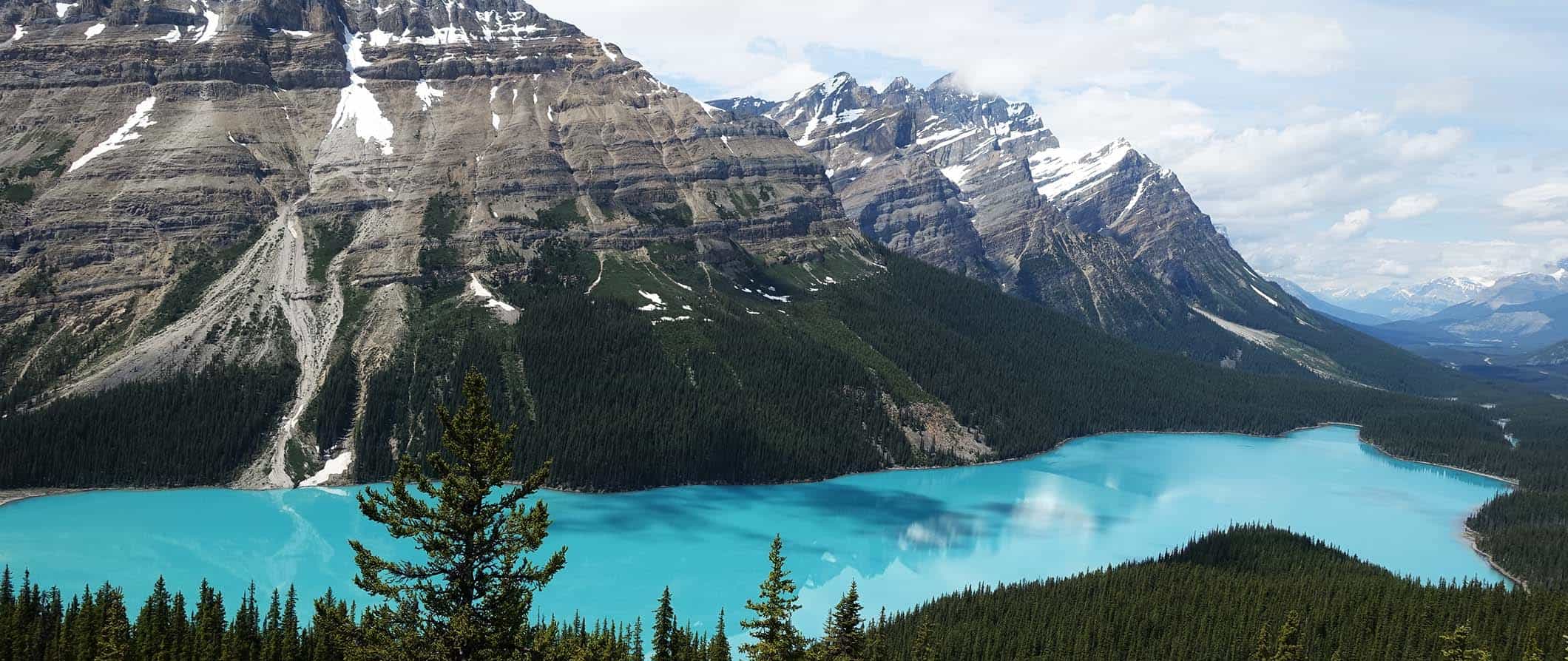 Canada is a country filled with wonderfully friendly people, classy, diverse cities, and a diverse landscape that includes tundras, rainforest, deserts, huge mountains, and much more. From the icy tundra of the Yukon to rocky beaches of the east coast, the mountains of Calgary to the rainforests of Vancouver, Canada is a country that is often skipped over on many world trips. That's such a shame. Canada is so big and makes for a wonderful road trip country! Spend a few months going from end to end. I love our friendly neighbor to the north and believe Canada is a really underrated destination. There's a reason everyone around the world loves Canadians. They rock. Visit their homeland and find out why. Added bonus: It's easy to get a working holiday visa here so you can stay, work, and make money here for future trips! This travel guide will help you plan a trip to the Great White North!
Top 5 Things to See and Do in Canada
1. Quebec City
There is more to Quebec province than Montreal and Quebec City's Old Town offers cobblestone walkways, well-preserved 17th-century architecture, café culture and the only North American fortress that still exists.
2. Jasper and the Columbia Icefield
The Icefields Parkway connects Banff and Jasper. Stop along the way at the Columbia Icefield, an enormous icefield that feeds into eight glaciers. Once in Jasper, visit Maligne Canyon for some beautiful hiking and (frozen) waterfalls or hit Marmot Basin for some great skiing.
3. The Atlantic Provinces
Newfoundland, Prince Edward Island, Nova Scotia are great places to go explore, especially during the summer. If you want to spend your days hiking, kayaking, relaxing by the ocean, and whale watching, this is the place to do it. This is where you'll find some of the best seafood and shellfish in Canada as the Grand Banks are just off the coast.
4. Montreal
This beautiful city
in Quebec offers people a look at the French side of the country. Beautiful streets, an underground mall, jazz clubs, and amazing cuisine make this the hippest and most romantic city in all the country. After Vancouver, it's my second favorite spot in Canada. Don't forget to try the poutine when you visit!
5. Vancouver
Vancouver
is one of my favorite cities in the world. I love how you can be downtown in a thriving metropolitan city, and then ten minutes later be hiking the mountains. Add in good weather, great Asian food, friendly people, and a great music scene, and the city becomes a must see destination in my opinion.
Other Things to See and Do
(Click the title to expand the text)
1. Celebrate the Calgary Stampede
During July, thousands of people descend to Calgary for this multi-day rodeo, drinking event, and carnival. It's where everyone pretends to be a cowboy for a few days. It's a lot of fun, and you'll meet tons of people from around the world. It's one of Canada's premier events.
2. Hit the slopes
The mountains in Canada offer great skiing and snowboarding during the winter. Banff is a popular mountain town known for its excellent trails. It's quite busy during the winter months with all the snowbirds. While Banff is just the most popular place to go but there are tons of other good skiing destinations in the country.
3. Visit Vancouver Island
Take a few days off from the city to explore this western island. Try the delicious seafood, go for a hike, spot some whales, shop, and lounge on the beach. This a place to just sit and relax. Since it is so close to Vancouver, it's a popular getaway with the locals during the summer.
4. Hike the rainforest
Hike the Pacific Rim National Forest for a wonderful look at some temperate rain forests. It's one of the most popular parks in Canada, but if you can't make it here, there beautiful forests all over British Columbia just waiting to be discovered.
5. Go to Calgary
Calgary offers a selection of free and low-cost activities for the budget traveler. Have a picnic in one of its many parks, go rollerblading, dine in Kensington, or head up to the top of the surrounding peaks. There's great hiking, kayaking, skiing, water rafting, and camping here. It's one of the liveliest cities in Canada.
6. Visit the Galleries of Toronto
Toronto has some of the best exhibits in the country, so take a day or two just to admire the art of the city. On Wednesdays, galleries will often give a discount.
7. Take a road trip
This huge country is best explored by car. You can see tiny little towns, majestic mountains, amazing countryside, and plenty of off-the-beaten-track places. If you have a lot of time, this is your best and cheapest option to see the country.
8. Stroll the nation's capital
Ottawa is a very easy city to explore on foot. Home to museums, art galleries, and plenty of shops, it's a charming city worth a visit. You can take a tour of Parliament Hill, the historic buildings where the Canadian government operates, or cross the Ottawa River and visit Quebec. Be sure to try a beaver tail when you're there!
9. Get off the beaten path in Nova Scotia
The locals boast that Nova Scotia is home to the friendliest, sweetest people in Canada. They might be right. People in this province are overly nice. Nice like "we still don't lock our doors when we go out" nice. That, combined with over 100 beaches, picturesque lighthouses, great sailing, mouth-watering seafood (this area of Canada is the main fishing region), and a marvelous coastline, makes Nova Scotia an amazing place to visit in Canada and this travel guide can help you get there. Plus, Nova Scotia doesn't see lots of tourists.
10. Tour around Toronto
Toronto is often considered the most multicultural city in the world, as over half of the city's population is foreign-born. While this isn't my favorite spot in Canada, it's worth a visit if you're in the area to hit the many museums and enjoy delicious Asian food. It's no Vancouver but it's a pretty awesome, hip, and artsy city!
11. Kelowna
Go where the Canadians spend their vacation. Warm in the summer and mild in the winter, this glacial valley has some of the best weather in the entire country. There's a marina and few golf courses. Nearby is a great wine district.
12. Churchill, Manitoba
This might be a small town in the middle of nowhere, but it also happens to be the Polar Bear Capital of the World, the Beluga Whale Capital of the World, and one of the best places to view the Aurora Borealis. Mother nature is alive and thriving here.
13. Niagara Falls
This is one of the most highly visited attractions in the entire continent. You never imagine how big it is until you see it up close and you never envision so much mist either. I really enjoyed seeing it. The town is a touristy, cheesy dump, though.
14. The Yukon
The Yukon is the perfect place to fill your nature desires. The chances of seeing a bear, elk, or deer are incredibly high. Hardly anyone ever visits the Yukon as visitors tend to stick to the major cities in the south of the country. But definitely consider visiting because you'll find yourself and nature in perfect harmony.
Typical Costs
Accommodation
– Rates can vary a lot depending on what city you're staying in. On average, you'll wind up paying about 30 CAD for a dorm room at a hostel while you should expect to pay around 65 CAD for a budget hotel room. Expect prices to rise drastically in larger cities (notably Vancouver, Toronto, and Ottawa). Airbnb is available across the country, rivaling budget hotels for price and convenience. Expect to pay an average of 30 CAD per night for a shared room, while entire homes/apartments will cost you around 80 CAD. Just keep in mind many smaller towns won't have many options, though they will usually have locally-owned hotels or motels that are generally quite cheap. Don't hesitate to ask the locals for advice. Remember, Canadians are friendly! My suggested places are:
If camping is your thing, you'll have plenty of options all across the country. Prices will vary depending on the grounds but expect to pay between 10-30 CAD per night for a basic pitch. Many of the major campgrounds will sell out early, so be sure to book in advance during the peak season (June-August).
Food – Food can be inexpensive as long as you stick to cooking for yourself or hit pubs. Conversely, a meal out at a restaurant will cost you around 15-35 CAD! Cheap sandwich shops and fast food are your best bet and will be less than 13 CAD per meal. If you are going to cook your own food, expect to pay between 50-75 CAD per week.
Transportation – This is a big country, and it's hard to get around without a car. Within city limits, you'll find great public transportation networks, especially the metro system which is about 3 CAD for a one-way ticket. There is a train service (VIA Rail) that runs from coast to coast and is very scenic, though not cheap. Megabus is the cheapest option when it comes to traveling between cities in Ontario and Quebec as fares can be as low as 1 CAD if booked in advance! Where Megabus doesn't operate you'll find Red Arrow, Greyhound, Coach Canada. They have long-haul routes throughout much of the country, though it isn't the most comfortable way to travel such great distances. If you're going between provinces or staying a while in the country, consider renting a car for between 35-80 CAD per day. As your last alternative, you can fly, but since the country has only two major airlines (WestJet and Air Canada) prices are often very high.
Activities – Canada has a lot of outdoor activities – kayaking and canoeing, hiking, skiing and snowboarding, white-water rafting are just some of the many options available. No matter what part of the country you are in, and no matter the season, there is always something to do. Costs range from 20-over 100 CAD depending what you are doing and if you need a guide.
Suggested daily budget
70-80 CAD / 52-60 USD (Note: This is a suggested budget assuming you're staying in a hostel, eating out a little, cooking most of your meals, and using local transportation. Using the budget tips below, you can always lower this number. However, if you stay in fancier accommodation or eat out more often, expect this to be higher!)
Money Saving Tips
Use coupon sites – If you know your stops ahead of time, monitor sites like Living Social and Groupon for local deals and saving. There are always good listings on some top restaurants and attractions.
Couchsurf – As Canada is not the most budget-friendly destination, you'll be able to cut down on your costs by couch surfing. While not huge in many smaller towns, you won't have a hard time finding a host in any of the major cities. Just be sure to book ahead during the summer, as that is prime tourist season.
Outdoor summer festivals – Since Canadians are stuck indoors all winter, they love to make the most of hot days by packing in lots of festivals into the short summer. Many of these, like Heritage Days (Edmonton), Kits Days (Vancouver), and Caribana (Toronto), are free. Check out upcoming events online in every city you visit.
Outdoor activities – A vast country with a relatively minuscule population leaves lots of potential for outdoor exposure here. Rent a pair of cross-country skis or snowshoes in the winter, enjoy the free use of many trails (versus expensive downhill lift passes), bike, hike, kayak, or canoe in the summer. The cost of most equipment rental will be under 80 CAD for a day, and you can explore many areas at no further cost.
Take the Megabus – Megabus runs in Ontario and Quebec (with connections into the US). You can find tickets for as little as $1 if booked in advance. This is the most affordable way to get between Toronto and Montreal (or into America).
Use ride-sharing services – If you are going to be traveling between cities or provinces, keep an eye out for people sharing their vehicle. Craigslist, Couchsurfing, Kangaride, and Facebook all have ride-share pages for most major cities. If you can find someone traveling in your direction you can tag along and share the cost of gas.
Eat street meat – Every major Canadian city will have plenty of street vendors selling hot dogs and sausages (and veggie dogs!) for as little as 2.50 CAD. You won't find a cheaper lunch!
Take a free walking tour – Most major cities offer free walking tours. They are a great way to explore and to get a feel for each location and its history. Most last a few hours and don't need to be booked in advance.
Buy gas on native reserves – If you are driving around the country, keep your eyes peeled for native reserves — they are the cheapest places to buy gas in Canada. With lower taxes, you'll find gas prices significantly cheaper than anywhere else. They are also great places to stop and experience the vibrant cultures of Canada's First People.
My Must Have Guides For Traveling to Canada