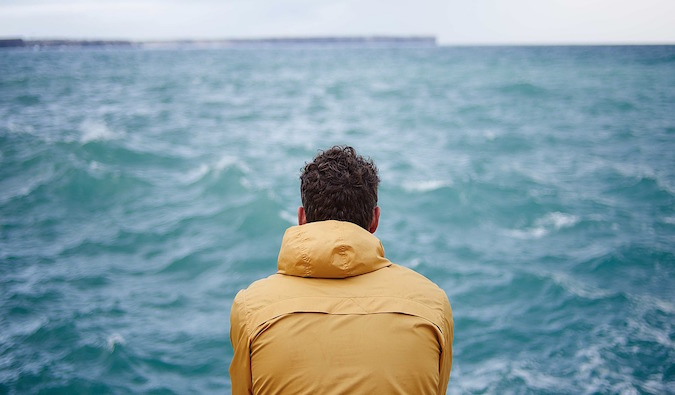 Posted: 2/1/16 | February 1st, 2016
I had a plan. Well, a vague idea. I came back from exploring Southeast Asia after only two months for two reasons: to speak at a NYC travel show in January and to give a keynote speech in Orlando in February about connecting with consumers on social media.
It didn't make sense to fly home, back to Asia, and then back again, so what to do with the time in between talks?
"South America," I thought. It's a place I haven't visited much, so what better way to spend my time than seeing the continent?
(Well, at least part of it.)
With the seven weeks I had, I planned to explore Argentina and Chile. Then, upon realizing that Uruguay was a ferry ride from Buenos Aires, I thought, "Let's go there too."
So my seven-week trip was going to look like this:
Buenos Aires (Argentina) – Colonia (Uruguay) – Montevideo (Uruguay) – Rosario (Argentina) – Córdoba (Argentina) – Mendoza (Argentina) – Santiago (Chile) – Torres del Paine (Chile) – Bariloche (Argentina) – Santiago (Chile)
A little fast-paced but still not too fast.
I picked this route because it made the most logistical sense. Whereas my itinerary in Southeast Asia revolved around a purpose (to see Isaan), this itinerary came about because I drew straight lines and these places fell on the lines!
But, after two days in Buenos Aires, I changed my plans.
This time it had nothing to do with being pulled in another direction or meeting people and deciding to travel with them.
It had to do with the fact that I was metaphorically drowning.
See, I've always been a high-strung person. I work too much, I don't balance work and play, and I make myself vague promises that tomorrow I'll do things differently — but I never do.
I have that New England work ethic (which I have no regrets about), but since December, it's caused me anxiety. The kind that makes your eye twitch.
My work ethic has been described as "super full-time," which normally isn't a problem, but lately, it's developed into one.
I'm juggling too many projects. While I've always done that, after talking to a really close friend, I realized that the difference between now and the past was that I did all my previous juggling while in one place.
Now, I'm trying to do eight things (literally) while traveling, and it's been hard to maintain.
Moreover, there have been some really big personal and family issues going on that have just added to this "weight."
Something had to give and, unfortunately, it was my sanity.
In an effort to reclaim my sanity and health and recommit to creating the balance in my life I promised myself months ago after my friend's passing, I decided to make a change. Mind you, I'm not unhappy (my life is pretty awesome) or feeling ungrateful, and I know I brought this upon myself, but I can't go on like this.
So what does that mean? Besides dropping projects left and right, my itinerary now looks like this:
Can't see anything? Where's that map?
Nope, your browser is not broken. That's no mistake. There's no itinerary anymore. I now have no timetable for this trip. I've spent the last week in Mendoza, Argentina, drinking wine and finishing a couple of projects I needed/wanted done, but with those complete, all that is left is whatever blog posts I choose to write.
I don't plan on really seeing much other than Netflix (please, no Making a Murderer spoilers!), the end of many good books, and the great outdoors as I hike the shit out of Patagonia.
As I thought about the causes of my anxiety and feelings of panic, I kept coming back to the word have.
I have to do this.
I have to attend this event.
I have to go to this meeting or I have to say yes to this.
My friend James Altucher wrote a book called The Power of No, and I've thought a lot lately about that liberating word — no.
I feel in our modern life we fall into "the busy trap" where we say yes to everything. Suddenly, we get caught up in a cycle and we're going nonstop. We're overcommitted, burnt out, and drinking energy drinks or coffee to stay awake for it all.
But beyond a few basic needs (eating, drinking water, taking care of family, and working), we don't have to do anything.
We don't need to say yes to everything or everyone. We can say no. We are the masters of our ship, and if we don't want to do something, we don't have to!
It's our life. Who cares what people think?
I always knew this on an intellectual level, but it wasn't until my eye started twitching and I felt like I couldn't handle it all that I finally realized it on an emotional level.
I got caught up in the cycle and didn't realize until I was drowning. I let it get out of control.
So I am saying: no more.
I turned down that keynote. I don't plan on running tours this year. I said no to all upcoming podcasts and interviews. I cleared the calendar, nuked the inbox, put up an out of office, and let go of some people in my life that shouldn't have been there.
Now, I am off to Chile, where I'll take an Intrepid tour of Patagonia.
After that, I'll stay in Patagonia and very slowly make my way back north to Santiago.
A few weeks ago, I watched the movie The Way. There is a great line in it: "You don't choose a life. You live it." But I only partially agree with that. I think you do make a choice.
Each day is a chance to get one step closer to your ideal, because if you don't try to make tomorrow better than today, what's the point?
As I make my choice to get closer to my ideal, I don't know what the future holds, but I know I'm on the right path and that brings me a lot of comfort.
Book Your Trip: Logistical Tips and Tricks
Book Your Flight
Find a cheap flight by using Skyscanner. It's my favorite search engine because it searches websites and airlines around the globe so you always know no stone is being left unturned.
Book Your Accommodation
You can book your hostel with Hostelworld. If you want to stay somewhere other than a hostel, use Booking.com as it consistently returns the cheapest rates for guesthouses and hotels.
Don't Forget Travel Insurance
Travel insurance will protect you against illness, injury, theft, and cancellations. It's comprehensive protection in case anything goes wrong. I never go on a trip without it as I've had to use it many times in the past. My favorite companies that offer the best service and value are:
Want to Travel for Free?
Travel credit cards allow you to earn points that can be redeemed for free flights and accommodation — all without any extra spending. Check out my guide to picking the right card and my current favorites to get started and see the latest best deals.
Need Help Finding Activities for Your Trip?
Get Your Guide is a huge online marketplace where you can find cool walking tours, fun excursions, skip-the-line tickets, private guides, and more.
Ready to Book Your Trip?
Check out my resource page for the best companies to use when you travel. I list all the ones I use when I travel. They are the best in class and you can't go wrong using them on your trip.