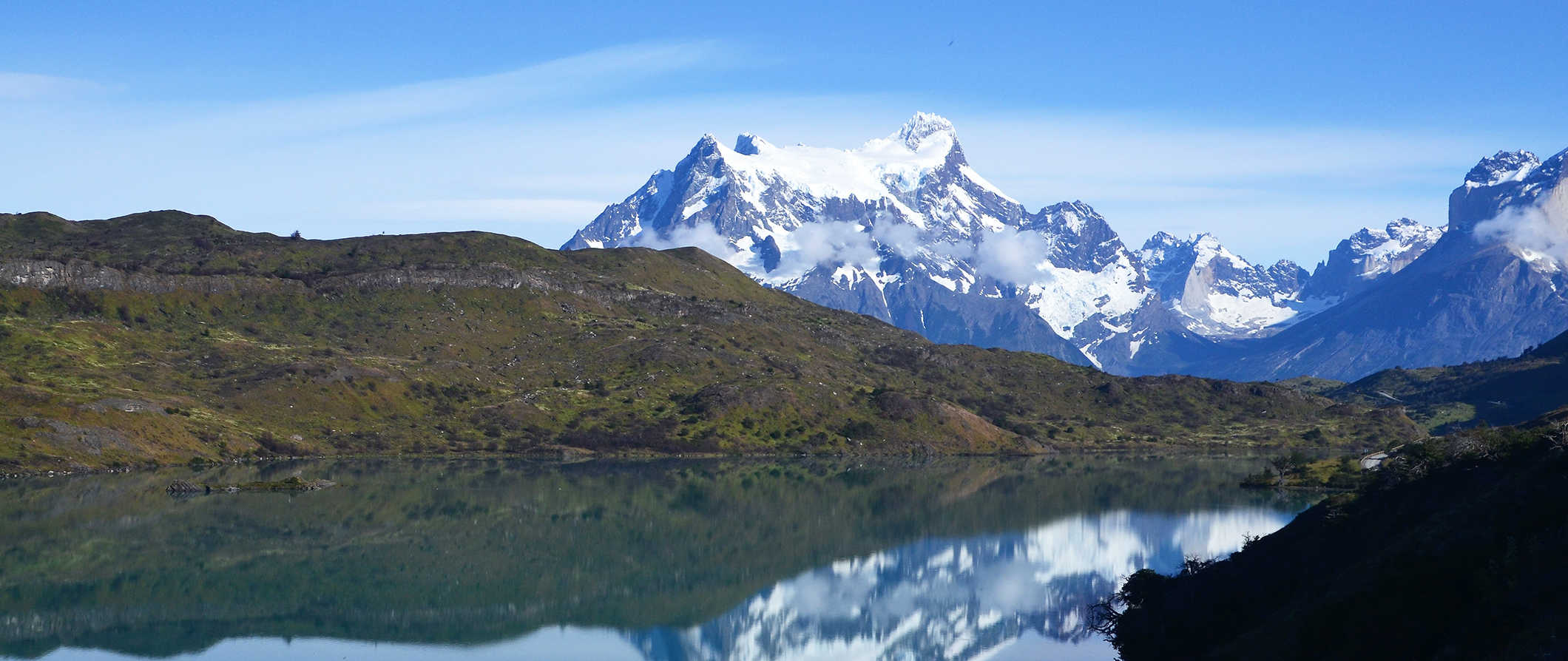 Chile is one of the most slender countries in the world — just 150 miles across at its widest point — but don't let its size fool you! From the snow-capped volcanoes of Patagonia and blistering heights of the Andes to world-class wineries and Maoi sculptures of Easter Island, there are a lot of wonderful things to see in Chile. It's one of the most developed South American countries, its capital Santiago is a tech hub for the region. I only was able to spend a little time in the country but after looking at a map I realized I needed to come back — there's just so much to see and do here! Not only is there lots to do, but the people are friendly, the food is delicious (so much wine!), and the is country budget friendly. Chile is one of the best countries I've been to in recent years. Use this travel guide to plan your trip to a country in transition — it's one of the most unique in the region.
Top 5 Things to See and Do in Chile
1. Be enchanted by Easter Island
Easter Island, 2,200 miles off the coast of Chile, is the most isolated inhabited island on earth. It's famous for its Moai sculptures (the big faces dotted all over the island). However, there is so much more to the island, including thousands of archaeological sites, volcanic craters, pristine beaches, and excellent diving.
2. Torres del Paine National Park
Torres del Paine lies between the Andes and Patagonian steppe and is made up of snow-clad mountains, glacier lakes, and some of the best hiking tours that Chile has to offer. It also happens to be one of the most beautiful and desolate regions on the planet. Foreigners are required to pay an 18,000 CLP entrance fee.
3. Santiago
Chile's capital is a thriving city and home to a third of the country's entire population. There are quite a few must-see attractions in the city: Parque Metropolitano, The Museum of Human Rights, and the Festival del Barrio Brasil. Barrio Bellas Artes, Barrio Brazil, Barrio Yungay, and the pedestrian streets of Agustinas and Huerfanos are all great places to walk around.
4. San Pedro de Atacama
Located in Chile's Norte Chico northern region, San Pedro de Atacama is one of Chile's hottest tourist towns. Literally. The town is found in the driest desert in the world (it reportedly hasn't seen rain since 1870), but the rock formations here are stunning, and it's the perfect place to stargaze.
5. Visit colorful Valparaiso
This city is a mesh of bohemian bars and Victorian architecture along a coastline of sheer cliffs. The laid-back atmosphere and beauty of the area have inspired generations of writers and poets, including the poet Pablo Neruda. Be sure to bring your camera because the whole city is painted in vibrant Instaworthy colors.
Other Things to See and Do
(Click the title to expand the text)
1. San Marcos Cathedral
The same architect who was responsible for the Eiffel Tower, Alexandre Gustav Eiffel, designed San Marcos Cathedral. The cathedral is found in Arica, Chile's northernmost city, and was built to replace the original cathedral which was destroyed by an earthquake in 1888. This place is a beautiful and rare example of Gothic architecture in South America.
2. Get tipsy on a wine tour
Chile's vineyards have been producing world-class wine for over 400 years. There are plenty of tours available around the country as the vineyards stretch the entire length of the country. Most of the best wineries are located near to Santiago and are quite easily accessible, otherwise, ask your hostel for the best group tours in the area. Expect to pay at least 10,000 CLP for a basic tour, though fancier tours at more prestigious vineyards can easily be over 100,000 CLP per person.
3. Hike a volcano
Chile is home to the world's tallest active volcano, Ojos del Salado, which lies in the Andes on the border with Argentina. Villarica and Osorno are also popular with visitors and both lie close to lakes. Most volcanoes have thermal spas at the base of them for you to relax in. Experienced hikers can do the trip unsupported, though there are plenty of guided tours available, many of which span 10-14 days and cost millions of pesos.
4. Valle de la Muerte
Also known as "Death Valley", this is an awesome place to go on a hike, go horseback riding, or even sand boarding. There are guided moonlight walks as well. Expect to pay around 20,000 CLP for a few hours of horseback riding. For sand boarding, you can rent a board for around 7,000 CLP and try your hand alone. For tours with an instructor, expect to pay closer to 21,000 CLP per person.
5. Moon Valley National Park
This is an interesting area with stones and sand formations that have developed an extraordinary texture due to thousands of years of winds and flooding. The rock formations look a lot like the surface of the moon, giving rise to the park's name. Admission to the park is 3,000 CLP for foreigners. Tours are available, costing around 10,000 CLP per person.
6. See the El Tatio geysers
A very popular tourist spot, these geysers are incredibly beautiful and well worth visiting. You have to get up around 4am in order to catch the tour, but it is worth it. Remember to take a swimsuit as there are many thermal pools that you can dip into. Tours will cost around 47,000 CLP per person.
7. "Meteorite" Pit
This vertical pit is carved into the salty walled hillside of the northeast end of Cordillera de la Sal. The cave runs 10 miles deep and was originally said to be created by a meteorite impact. However, it was actually carved by an ancient river.
8. Museo de Bellas Artes
This museum is the second best in all of Chile. It is home to a wide display of fine art, including sculptures, photography, paintings, and new media. The building is somewhat small but the architecture is equally as impressive as the collection within. Admission is free.
9. Mingle among the wealthy in Viña del Mar
Considered a Chilean Miami, this city next to Valparaiso serves as a hot spot for casinos, upscale cafes, and seaside restaurants. Even if you don't have money to burn, it's a great place to spend an afternoon wandering down the beach promenade, taking in the sights and smells of the ocean. There's plenty of people watching to be done here, and a variety of food to keep you satisfied while doing so.
10. Tour Pablo Neruda's homes
One of the world's most famous poets used to call Chile home, but yet he couldn't seem to decide on just one residence. With homes in Valparaiso, Santiago, and Isla Negra, this Chilean icon stuffed a lifetime of knick-knacks, literature, and interesting maritime architectural pieces into his three pads. All of them are open to the public. Even if you're not a huge fan of his work, his homes alone are an interesting glimpse into Chilean culture. Admission to each home will cost around 4,000 CLP.
11. Get off the beaten path
Some lesser-known treasures are Frutillar (a beautiful lakeside community in southern Chile's Los Lagos Region), Lonquimay (another gorgeous lakeside town in the Malleco Province of southern Chile's Araucanía Region), and Coyhaique (a less pricey Northern Patagonia city that's a hub for great nature adventures).
12. Swim in the world's largest pool
The Crystal Lagoon is located at the San Alfonso del Mar resort and is the size of twenty Olympic swimming pools. It's the biggest recreational swimming pool in the world, requiring 66 million gallons of water. Good luck swimming your laps!
Typical Costs
Accommodation
– Dorms in a youth hostel start around 6,500 CLP and private rooms come in at around 20,000 CLP. Free breakfast and free WiFi are common, and many hostels also offer self-catering facilities. It's my favorite hostel in the city. Budget hotels are also inexpensive throughout the country with prices starting from 25,000 CLP per night for a double or twin bed (though expect to pay closer to 35,000 CLP for a nicer budget hotel). Many budget hotels include free breakfast and free WiFi (though not all, so be sure to double check!). Airbnb is available in the larger cities, with prices as low as 10,000 CLP per night for shared accommodation. If you want a private home or apartment, expect to pay at least 19,000 CLP per night. For those traveling with a tent, camping is possible. There are a handful of campgrounds scattered around the country where you can pitch a tent for as little as 7,000 CLP per night. My suggested place in Santiago is:
Food – Food in the country isn't too expensive, though prices get a lot higher the further south you go. Most places in the country offer a set menu for lunch with a starter, main, dessert and drink for about 5,000 CLP. A steak dinner with wine and an appetizer will cost around 20,000 CLP. Starbucks is around 2,500 CLP while a domestic beer can be as cheap as 1,200 CLP. Grocery shopping can save you a lot of money if you have access to a kitchen. Expect a week's worth of groceries to cost around 25,000 CLP. As everything has to be shipped south, food prices in Patagonia are about 30% higher than elsewhere.
Transportation – Public transportation, especially in Santiago, is reliable and affordable. Expect to pay around 550 CLP per ride. In the non-summer seasons, the local buses (micros) become less frequent, especially in tourist areas.For intercity travel, buses are the cheapest way to get around. Expect to pay at least 22,000 CLP per person from Santiago to Antofagasta. From Santiago to Punta Arenas, expect to pay at least 50,000 CLP (this is an incredibly long distance, and you will be better off breaking into stages or flying). Flying around the country is possible, though not cheap. Expect to pay around 70,000 CLP per person for a flight from Santiago to Antofagasta. Taxis are available in the major cities and towns, with prices starting around 300 CLP. Round-trip flights from Santiago to Easter Island will cost at least 230,000 CLP per person. Additionally, there is a backpacker hop-on/ho-off bus called Pachamama that is really good. While more expensive than local transportation, they include a lot of activities and it's a good way to meet other travelers.
Activities – Entrance to National Parks and museums can vary from around 3,500-18,000 CLP (Entrance to Torres del Paine park is 18,000 CLP for foreigners, in the high season). Cycling tours are available around the country, covering all the various terrain Chile has to offers. Expect to pay 2-3 million CLP per person for a multi-day excursion. White-water rafting in Patagonia is also a great, adventurous way to spend a few days. Most companies offer 8-10 day tours, usually costing around 3,000,000 CLP per person.
Suggested daily budget
30,000-45,000 CLP / $40-65 USD (Note: This is a suggested budget assuming you're staying in a hostel, eating out a little, cooking most of your meals, and using local transportation. Using the budget tips below, you can always lower this number. However, if you stay in fancier accommodation, spend more time in Patagonia, or eat out more often, expect this to be higher!)
Money Saving Tips
Buy wine at the supermarkets – Surprisingly, buying wine from the vineyards can be slightly more expensive than in the supermarkets. You can pick up nice a bottle of wine for just 2,000 CLP in most stores.
Take the bus – Bus service is inexpensive and efficient here. Night buses are quite comfortable and also a good way to save on a night's accommodation. With such vast distances, you'll have to take the bus at least once.
Buy food from La Vega Market – La Vega Market in Santiago sells everything you could possibly need and all sorts of local ingredients from Chile and Peru. Shop here for your veggies, fruits, and to get a really authentic experience.
Eat at the local fish markets – The local fish market is usually the best place in any city for a seafood meal, though the restaurants look very cheap and thrown-together. Don't be fooled — it will be the best fish you'll eat in Chile!
Don't haggle, just shop around – Haggling is not common and vendors stick to their guns even when called out for price discrimination. So if you're quoted an inflated price for being a tourist, it's best to just move around and find alternatives where the prices are already set and visible. Otherwise, you'll just be wasting your time and energy.
Ride in a micro or colectivo – Regular buses are for intercity transportation. "Micros" are intracity, and "colectivos" are taxis that drive a specific route once they get 4 people in the car, and charge a very low rate. If you want to go somewhere, chances are there's a micro or colectivo that can get you close — just ask a local and they'll know where to point you.
Couchsurf – Chile doesn't have a huge couch surfing community, but you can still give it a shot and try to find a host (and get a local friend and a free place to stay). Just be sure to send your requests early!
Take a free walking tour – There are some great options available when it comes to free walking tours in Santiago, like Tours 4 Tips or Free Tour Santiago. If you want to explore the city while learning about its history, architecture, and people then be sure to take a free tour!
Stay at a Hola Hostel – Hola Hostels is a network of hostels predominantly in South and Central America. They offer 10% off to their members, as well as other local discounts for food and activities. Joining is free, and their hostels are also committed to environmentally sustainable practices.
Save money on rideshares – Uber is way cheaper than taxis and are the best way to get around a city if you don't want to wait for a bus or pay for a taxi. The Uber Pool option is where can you share a ride to get even better savings (though you can get your own car too). Currently, Uber is available in Santiago. You can save $15 off your first Uber ride with this code: jlx6v.
My Must Have Guides For Traveling to Chile