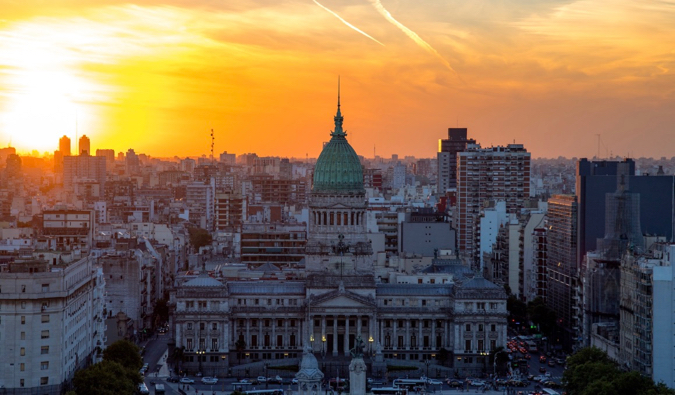 Updated: 02/04/20 | February 4th, 2020
Argentina is a notoriously expensive country. Years of economic mismanagement and economic depression has led to rampant inflation, a black market for currency, and high prices for just about everything. In a country that used to be a bargain, I had low expectations for "doing Argentina on a budget."
However, I was pleasantly surprised and found that, while expensive, Argentina still had plenty of opportunities to save money.
Yes, the country is not as cheap as nearby Chile, Peru, or Bolivia, but Argentina doesn't need to break the bank either.
On my last visit, I found plenty of opportunities to balance my budget without breaking the bank — you just need to get creative. To help you save money on your next trip to Argentia, here are a few destination-specific travel tips that will help you keep your budget intact as you explore this incredible country:
(Note: The country's economic fortunes change rapidly and the currency and prices are constantly in flux. We keep this post as updated as possible but, when you land, there will likely be a difference in prices.)
12 Ways to Save Money in Argentina
1. Hitchhike – While not common in the north of the country, if you're in Patagonia, you'll see many locals and tourists alike hitchhiking, as long-distance buses in that part of the country can be very expensive and infrequent. It's simply more convenient to hitchhike.
This common way to get around is highly recommended. In fact, our solo female travel guru Kristin has hitchhiked all the way from Bariloche down to Torres del Paine!
2. Find the cheap eats – Looking to eat cheap? Empanada, choripán (sausage on bread) stands, and local hole-in-the-wall burger and pizza shops are your best options. It's not the healthiest food, but it's economical and tasty! Empanadas go for around 100 ARS (less than $2 USD), and pizza and burgers lunch specials for around 250-290 ARS ($4-5 USD).
3. Eat out at fancy meals – Argentina was a weird paradox. What is cheap elsewhere is expensive here, and vice versa. At 250-400 ARS for a sandwich and drink at a cafe, lunch is not cheap. That's not going to break the bank, but you can dine on expensive steaks, wine, and sides for around 1,500 ARS! A full, delicious, filling meal vs. a sandwich? Easy. You get more value on the higher end! Splurge on steaks and fancy dinners in this budget tip turned upside-down.
For everything else, go for the cheap eats or make your own sandwiches (and given the lack of veggies in restaurants around the country, it's a lot healthier to make your food!).
4. Buy your wine – You can find bottles of wine in the supermarket for around 230 ARS. It's a phenomenal deal — and it's great wine too! Additionally, stick to wine while you're here. Liquor and beer are much more expensive here!
5. Rent a bike – You can rent bicycles from hostels and rental shops for around 700 ARS a day in most major cities. It's an inexpensive way to get around and also out of the cities. This is especially useful when you're in Mendoza's wine country and you're trying to get from winery to winery. Most hostels rent bikes or can direct you to the cheapest bike rental shop.
6. Camp – As you start to travel south to Patagonia, accommodation costs get higher and higher. Hostels are often 1,100 ARS or more per night here (as opposed to as cheap as 450 ARS per night in Buenos Aires). Look for camping opportunities as often as possible. When you aren't in the national parks (where you can obviously camp), many hostels will let you pitch your tent for a small fee.
7. Try out Airbnb – If hostels or camping aren't your thing, I found a ton of Airbnb options throughout the country starting at just 1,100 ARS a night for your own apartment.
8. Explore the outdoors – Hiking is free, and throughout the country you'll find plenty of opportunities to enjoy this and other outdoor activities since Argentina is blessed with many city parks and nature reserves where you can spend the day wandering around and relaxing. (And, of course, there are a plethora of national parks where you can do multi-day treks!).
9. Dance for free – If you find yourself in Buenos Aries on a Sunday, you can find free tango events in San Telmo at 8pm on Sundays. (On Monday, there's the famous La Bomba de Tiempo, a music and dance event. It's 258 ARS but completely worth every penny! It was an unreal dance and music show!)
10. Stay at a Hola Hostel – Hola Hostels is a network of hostels predominantly in South and Central America. They offer 10% off to their members as well as other local discounts for food and activities. Joining the network is free and their hostels are also committed to environmentally sustainable practices so be sure to check them out to save money and the environment!
11. Travel off-season – March-June and September-November are the low seasons in Argentina. That means you can often find cheaper accommodations and enjoy fewer crowds at attractions. if you have a flexible schedule, consider visiting during the low season to save money and beat the crowd.
12. Use discount cards – If you're a student or teacher, you'll be able to enjoy tons of discounts in Argentina. Be sure to keep an eye out for these discounts when you're visiting tourist attractions. And if you're an expat here, you can also use the La Nacion Club and La Nacion Premium Club Cards, associated with La Nacion Newspaper, for discounts. Every week, the La Nacion Club Card website lists participating establishments who give discounts to card members. This is good for travelers spending a long time in the country as you have to sign up for the newspaper.
***
Argentina was tremendous and I was sad I didn't get to see more of the country but with direct and fairly cheap flights from the United States, I suspect I'll be back. I gorged on steaks, became a slight wino, and unstressed myself in the mountains!
This isn't the cheapest country in South America, but through smart spending, there's no need to blow your budget in the land of steak, wine, and tango.
Note: All Pesos to USD conversions were rounded to the nearest whole number. And as people pointed out in the comments, there's a lot of inflation in Argentina so be sure to double-check current prices before you!
Book Your Trip to Argentina: Logistical Tips and Tricks
Book Your Flight
Use Skyscanner or Momondo to find a cheap flight. They are my two favorite search engines because they search websites and airlines around the globe so you always know no stone is left unturned. Start with Skyscanner first though because they have the biggest reach!
Book Your Accommodation
You can book your hostel with Hostelworld as they have the biggest inventory and best deals. If you want to stay somewhere other than a hostel, use Booking.com as they consistently return the cheapest rates for guesthouses and cheap hotels. My favorite places to stay are:
Don't Forget Travel Insurance
Travel insurance will protect you against illness, injury, theft, and cancellations. It's comprehensive protection in case anything goes wrong. I never go on a trip without it as I've had to use it many times in the past. My favorite companies that offer the best service and value are:
Looking for the Best Companies to Save Money With?
Check out my resource page for the best companies to use when you travel. I list all the ones I use to save money when I'm on the road. They will save you money when you travel too.
Want More Information on Argentina?
Be sure to visit our robust destination guide on Argentina for even more planning tips!