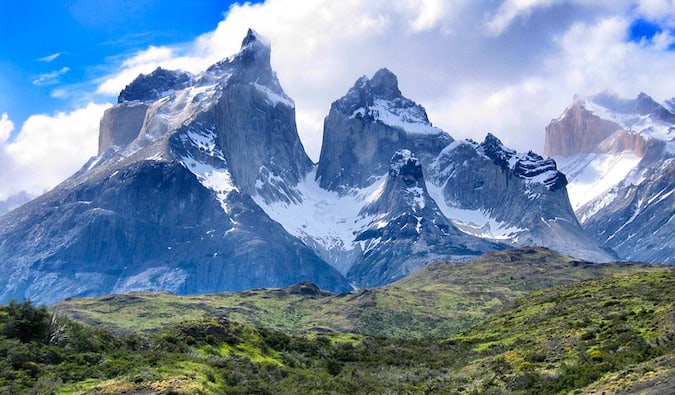 Posted: 8/6/16 | June 8th, 2016
Each month, Kristin Addis from Be My Travel Muse writes a guest column featuring tips and advice on solo female travel. It's an important topic I can't adequately cover, so I brought in an expert to share her advice for other solo female travelers! Here she is with another awesome article!
When I think about the perfect vacation spot for outdoorsy types, Patagonia is pretty high on the list. This region has gripped me ever since I first saw photos of it years ago, thanks to those unique, jagged peaks and the incredible color of the glacial waters. It looked pristine and wild. This year I finally got to live my dream and visit.
I spent two months hiking and hitchhiking around the region. I couldn't believe how many glaciers and tiny, remote villages there are scattered all throughout Patagonia.
When I think about my favorite places, it is pretty hard to narrow it down, but here's a list of 18 of the very best natural spots (because 17 is simply too few):

1. Cerro Tronador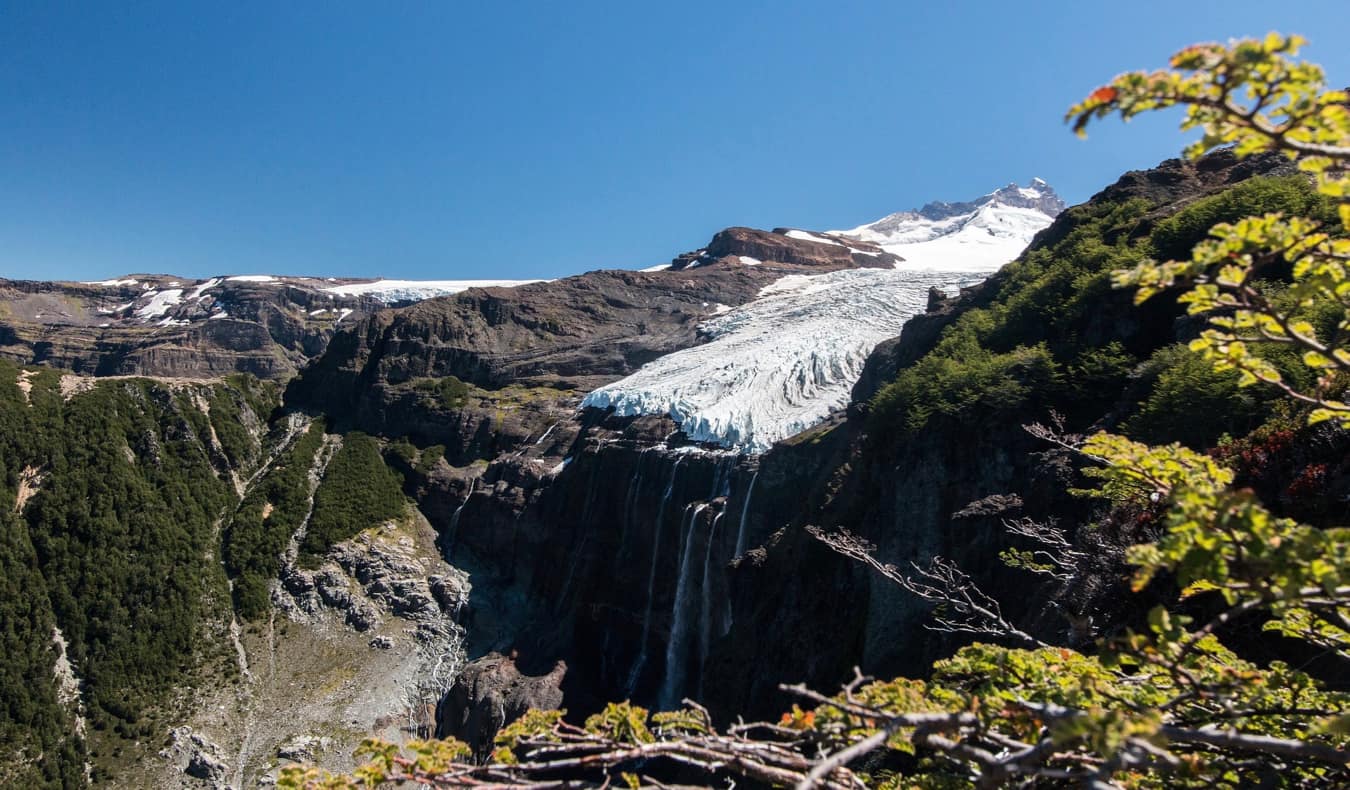 The 18km trek to Cerro Tronador glacier is located on the outskirts of Bariloche, Argentina, the northern gateway to Patagonia. It's one of few glaciers you can truly sleep right next to and watch the sunrise over.
Leave early enough in the day to make it up there with plenty of time to walk around the rocks and the glacier. The glacial melt forms pools and tiny lakes all over the surface of the rock, which reflects the sunsets and sunrises over the mountaintop. The panoramic view is the best in the whole area at any time of day.

2. The Hike to Hotel Refugio Frey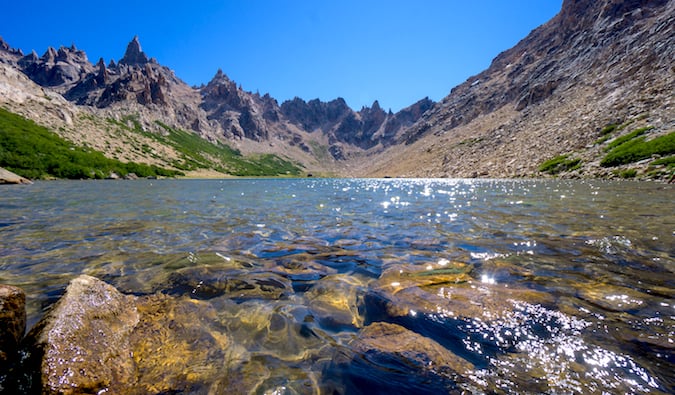 There are two ways to get to Refugio Frey: either you can walk up a forest path or climb over rocks to get there. It's a full-day hike from the ski resort in Bariloche, and I'd rate its difficulty as moderate.
The view of some of the lakes in the distance from the top is magnificent and it's so much fun for those who love climbing hand and foot.
Plus, the Refugio Frey has a chilled-out atmosphere, a big lake to hang out around, and nice, cold drinks. Even in the summer months, there's plenty of space for everyone — hikers and rock climbers alike.

3. Chaitén's Haunting Beach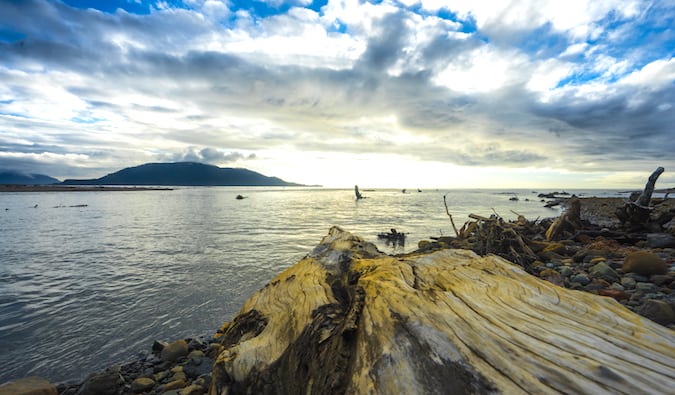 From Bariloche, most head down Ruta 40, straight south through Argentina. There's a better way through Chile, however, that goes through the rural Carretera Austral and the heart of Patagonia.
One of the more northern towns along that road is Chaitén, which was covered in ash and debris after a volcano erupted in the vicinity in 2008. The town was evacuated in time to rescue the residents, but the population is still a fraction of what it used to be.The ash and eery remains of trees still cover the beach. Some of the houses nearby are still buried in ash, but they're slowly rebuilding and it's a very quiet and peaceful spot for a sunset.

4. Puyuhuapi's Bay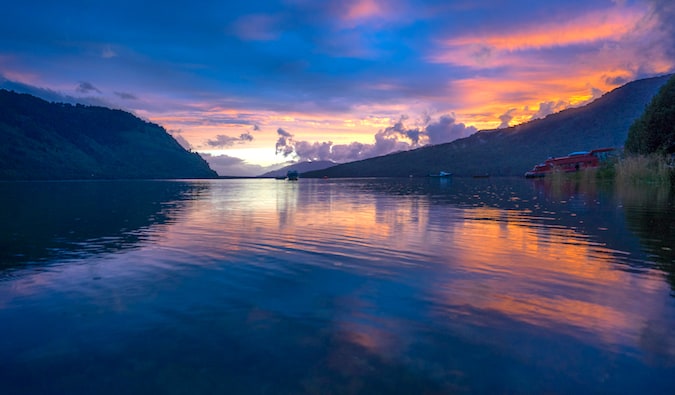 Puyuhuapi, a town in the Chilean fjords along the Carretera Austral, is rural, quiet, and the kind of place I could get stuck in for a while. It's mostly farms, small campsites, and boats that line the shore. The water is so flat and calm that it reflects the sunsets brilliantly.
You can go fishing there (try to talk a local into taking you on his fishing boat), go on a long walk, or best of all, make it your base to explore the national parks on the outskirts of town.

5. Queulat Glacier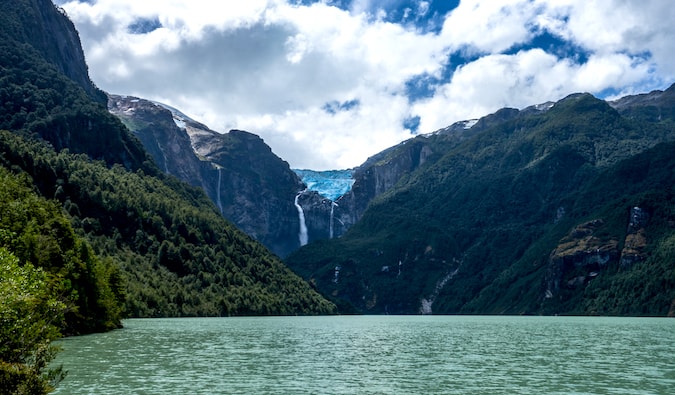 Queulat hanging glacier is at the end of a small ice cap that splits into two waterfalls as it spills down a rock face. Now there are plenty of hanging glaciers in Patagonia, but most of them are hard to access or not as large and raging as this one — that's what makes it special.
Queulat National Park is located 22km outside the town of Puyuhuapi and costs 4,000 CLP to enter. To reach the lookout point, you'll have to trudge through 3km of mud, so bring sturdy and waterproof shoes. You can also camp in the park overnight to beat the crowds to the lookout point in the morning.

6. Cerro Castillo Glacier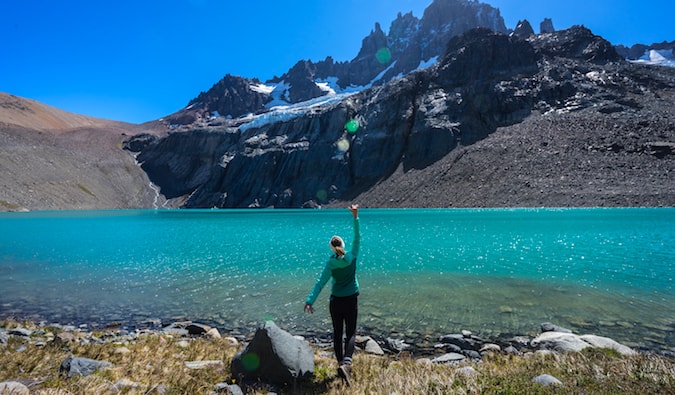 Patagonia has so many glaciers that eventually I stopped counting or even pointing them out, but this was the first time I'd laid eyes on a glacial lake so blue, and that's what made Cerro Castillo so special. The black rock, white glacier, and bright blue lake combined in a unique way compared to other famous hikes in Patagonia that didn't have such dark, rocky mountains.
It's possible to hike there and back in one day, and though steep, the hike provides a gorgeous panoramic view of the surrounding multicolored hills that would make it worth the energy even without the glacier at the top.

7. The Marble Caves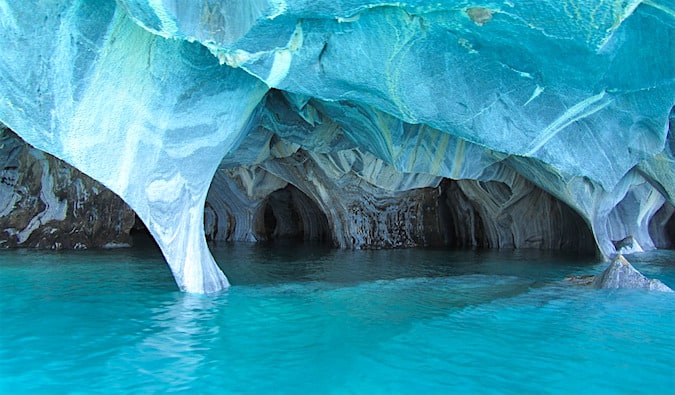 These marble caves over General Carrera Lake (morbidly, the same ones the founder of The North Face passed away in earlier this year) are what made the town of Puerto Río Tranquilo famous.
They've been carved out by the clear blue lake water, and some of them are big enough to take a boat through, giving you a chance to check out the swirling formations and the marble's yellow, white, and gray colors. The boat tour lasts about an hour and costs roughly 10,000 CLP per person.

8. Exploradores Glacier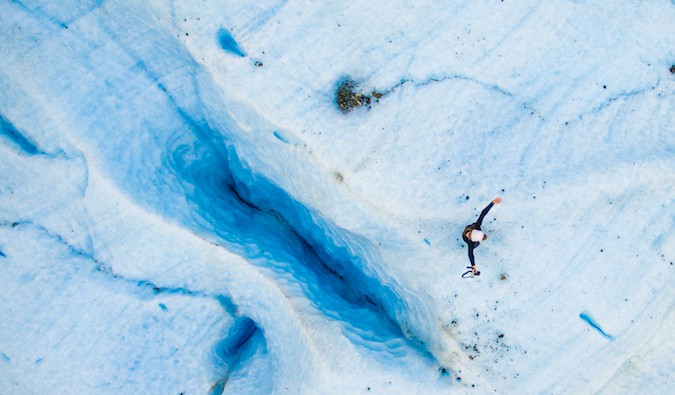 When I asked the local guide how long tours of the Exploradores glacier have been going on, he said it has only been a few years. Then he told me that, even though he grew up right near it his whole life, he only found out about the glacier five years ago. That's what makes this glacier such a cool one to explore: it's still being discovered. Each month or so, a new wave or cave forms in the ice as the glacier melts.
The tour departs from Puerto Río Tranquilo (the same town with the aforementioned marble caves), and it takes about two hours to drive to the trailhead. From there, it's a 2- to 3-hour walk to the glacier moraine and eventually to the ice. The tour only costs 50,000 CLP, about 1/3 of the cost of the more famous glaciers down south, though it requires a bit more fitness due to the long hike in.

9. The O'Higgins Glacier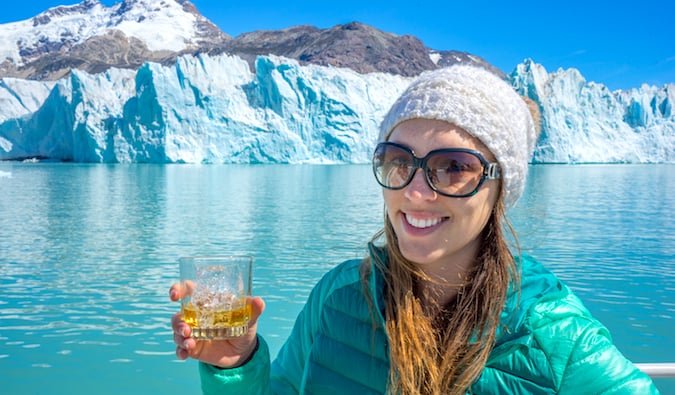 Villa O'Higgins is the last town on the Carretera Austral and where one can take a boat past the O'Higgins Glacier to what is, officially, the most remote border post in Chile.
An attractive feature of this glacier, just like Exploradores, is it's not nearly as visited as Grey Glacier or Perito Moreno down south, so there is plenty of boat space. The glacier is over 300 meters tall, and the boat offers a chance to get up close while enjoying a whiskey with some glacier ice in it.
From there, your only choice is to return to Villa O'Higgins by boat or alight on the Chilean border.

10. No-Man's Land
After leaving the boat and the Carretera Austral, it's a 22km walk into Argentina. So, for most of the day, I was literally in two places at once. Or maybe just in the middle of nowhere. I couldn't figure that one out. Parts of the path are extremely muddy and if you attempt it, you'll have to traverse them carrying all of your stuff — unless you can manage to hire a horse, which I couldn't because they were on a break that day.
The main benefit of doing this, apart from avoiding backtracking to get back into Argentina, is the opportunity to see the famous Mt. Fitz Roy from behind. It's a rare view of a pretty famous mountain!

11. Cerro Torre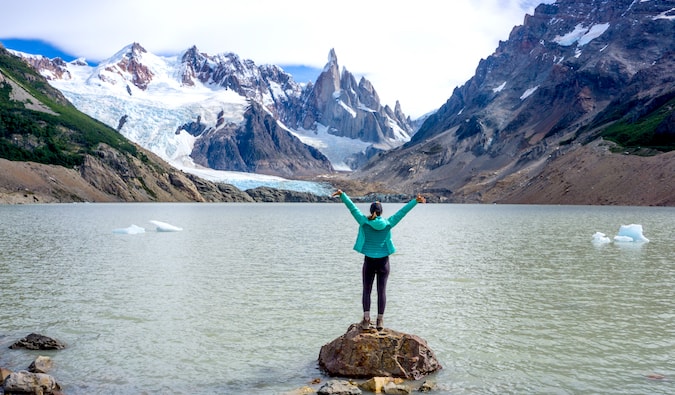 After walking through no-man's land, you'll arrive in El Chaltén, which will have more tourists — but upon hiking the trails, it will become obvious why. The mountains are super unique-looking, huge, and full of glaciers. Plus, this is a much more accessible part of Patagonia, connecting to Argentina's larger and more-traveled Ruta 40.
The trail from town to the Cerro Torre is pretty flat and easy for most of the trek, but it is long, at 22km total. The whole way there, you'll encounter various views and photo-ops of the Cerro Torre before arriving at the lake just before the famous mountain. It's the only one in the area with three continuous peaks, popular with skilled rock climbers.

12. Paso Viento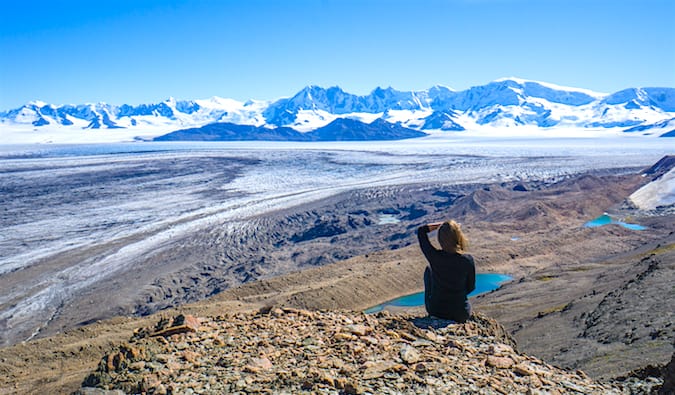 There are five trails in Patagonia that you can see the Southern Patagonian Ice Field from, and the Huemul Circuit outside of El Chaltén, Argentina, is one of them. It offers one of the more impressive 180-degree views of the ice field that you see without having to make an expedition to the glacier itself.
It's not without its challenges: you have to walk over a rocky glacial moraine for hours to get there, which is code for try not to fall into the cracks and die because nobody is around to save you. Plus, you have to rent a harness and pully to traverse a couple of rivers. You also have to carry absolutely everything with you that you'll need, including food, tent, sleeping bag, and cooking gear.
It's a lot of effort, but it's a way to see one of the most complete views of the Southern Patagonian Ice Field from a trail.

13. The Ruta 40 just outside of El Chaltén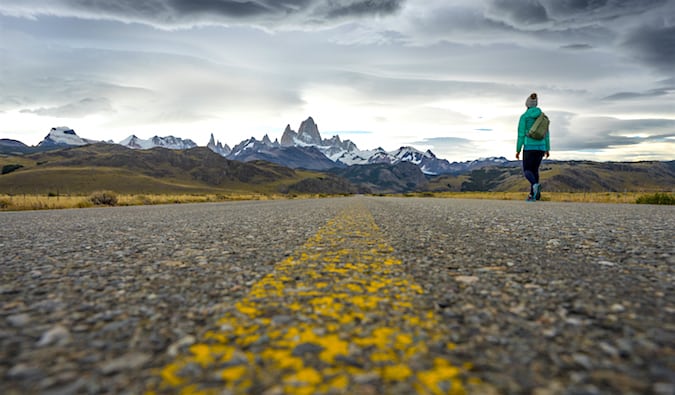 Take a long walk out of town, about a mile or so, along the famous Ruta 40, Argentina's longest road, and you'll see this view of Monte Fitz Roy (the tallest mountain in the middle), the Cerro Torre, and the mountain chain that is on the Patagonia brand label.
It's an incredible spot for a photo to make it look as if you're walking into paradise — and a way to see the entire famous mountain chain all at once. The view gets better as you continue down the road, so bring along a skateboard if you want to make a day out of it and keep going.

14. Condor Lookout
This lookout just above El Chaltén is a great spot to view the sun as it rises and is reflected on Monte Fitz Roy. It's only about a 15-minute walk from the ranger station in town to the lookout point, which makes it so much more accessible for an early-morning hike than trying to reach Fitz Roy or Cerro Torre by sunrise.
Bring along a headlamp and watch, as the mountains turn red when the sun hits them. A true must-do if you find yourself in El Chaltén.

15. Refugio Dickson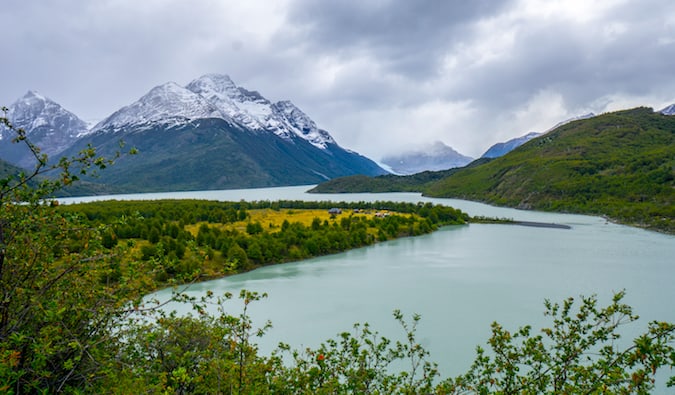 You can't go to Patagonia without visiting the crown jewel, Torres Del Paine National Park in Chile. It's a source of national pride for Chile, and those who visit the park quickly understand why. The rock formations are Chile's answer to those around El Chaltén, with their own three spires over a glacial lake.
The most famous trek there can be taken in three ways, as a Q (the longest), as an O (which takes about eight days), or a W (which takes five). The only way to see this beautiful part of the trail is to take the O. I loved it because it's one of the most tranquil campsites, and the friendly rangers who play soccer there and passed around a box of wine with me only made it more fun.

16. Paso John Gardner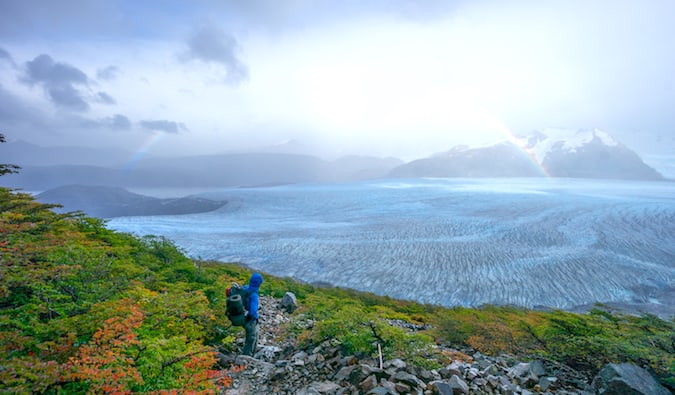 For those who do the O and Q treks, you have to summit the Paso John Gardner at 1,200 meters, which is the toughest part of the trail (but not as tough as the Huemul Circuit!). This is another chance to see the Southern Patagonian Ice Field from a hiking trail, and you're next to it pretty much all day after the pass. I even got a rainbow to guide my way.
It's also the only way to see the Grey Glacier from above, so if you want to hike next to a famous glacier all day, you've got to do the O!

17. French Valley
The French Valley is part of the W trek, and the best thing is you don't have to carry all of your gear along with you for this one since it's a trek up and then back down and out to rejoin the trail.
If you're tempted to just go partway, trust me, you ain't seen nothing yet! The very end is the prize. It's a panoramic view of the surrounding mountains and a closer look at many of the park's glaciers and famous peaks carved out almost like a bowl, with mountains all around you. It's a challenging and rocky hike, so bring along hiking poles to help your knees out.

18. The Torres (of course!)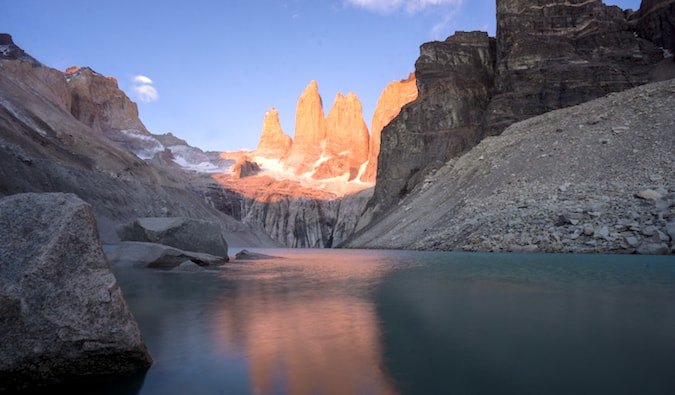 The Torres are what made the park famous, and when you see them for yourself, it's obvious why: they're giant, jagged peaks covered with a glacier and positioned perfectly for the sunrise. The red reflection of the sun on them is amazing, but if you want to get them all to yourself, hike up in the afternoon for sunset. You won't get the amazing glow on the rock, but there won't be many others around, which is a nice benefit. I went up both at sunset and sunrise and was glad to have had a chance to see it both ways.
***
Patagonia is an incredible part of the world, and this list could have easily been double or triple this length. For those who enjoy hiking or those who just want to dabble a bit in the great outdoors, there are options there for just about everyone.
Kristin Addis is a solo female travel expert who inspires women to travel the world in an authentic and adventurous way. A former investment banker who sold all of her belongings and left California in 2012, Kristin has solo traveled the world for over eight years, covering every continent (except for Antarctica, but it's on her list). There's almost nothing she won't try and almost nowhere she won't explore. You can find more of her musings at Be My Travel Muse or on Instagram and Facebook.
Book Your Trip to Chile: Logistical Tips and Tricks
Book Your Flight
Use Skyscanner or Momondo to find a cheap flight. They are my two favorite search engines because they search websites and airlines around the globe so you always know no stone is left unturned. Start with Skyscanner first though because they have the biggest reach!
Book Your Accommodation
You can book your hostel with Hostelworld as they have the biggest inventory and best deals. If you want to stay somewhere other than a hostel, use Booking.com as they consistently return the cheapest rates for guesthouses and cheap hotels.
Don't Forget Travel Insurance
Travel insurance will protect you against illness, injury, theft, and cancellations. It's comprehensive protection in case anything goes wrong. I never go on a trip without it as I've had to use it many times in the past. My favorite companies that offer the best service and value are:
Looking for the Best Companies to Save Money With?
Check out my resource page for the best companies to use when you travel. I list all the ones I use to save money when I'm on the road. They will save you money when you travel too.
Want More Information on Chile?
Be sure to visit our robust destination guide to Chile for even more planning tips!