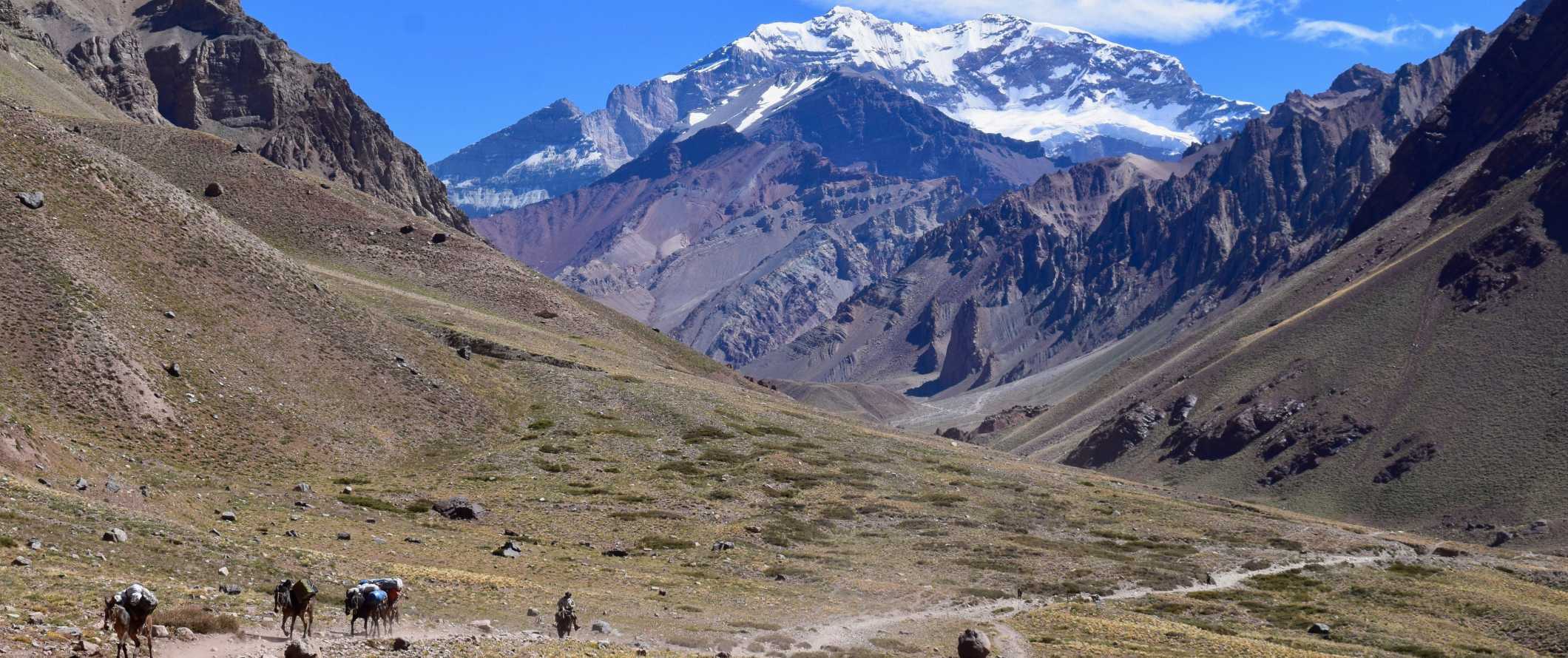 Situated on the eastern side of the Andes and settled in the crest of hilly terrain, Mendoza is famous for its world-class wine, mouth-watering steak, and beautiful landscapes. It's Argentina's version of Napa Valley.
While the city isn't going to win any beauty awards, you don't visit Mendoza for the city – you come for the amazing food and wineries that dot the region.
I spent over a week traveling Mendoza, biking around wineries, hiking mountains, visiting canyons, and gorging on steak and wine. It was everything I thought it would be and more!
The city makes for a good base for lots of activities. Both foodies and outdoor enthusiasts won't want to miss Mendoza. From hiking to rafting to paragliding, there is a ton to do here. And if you love wine, come to this region and drink its famous Malbecs. You won't be disappointed.
This Mendoza travel guide can help you plan your trip, save money, and make the most of your time in this gorgeous region of the country!
Click Here for City Guides
Top 5 Things to See and Do in Mendoza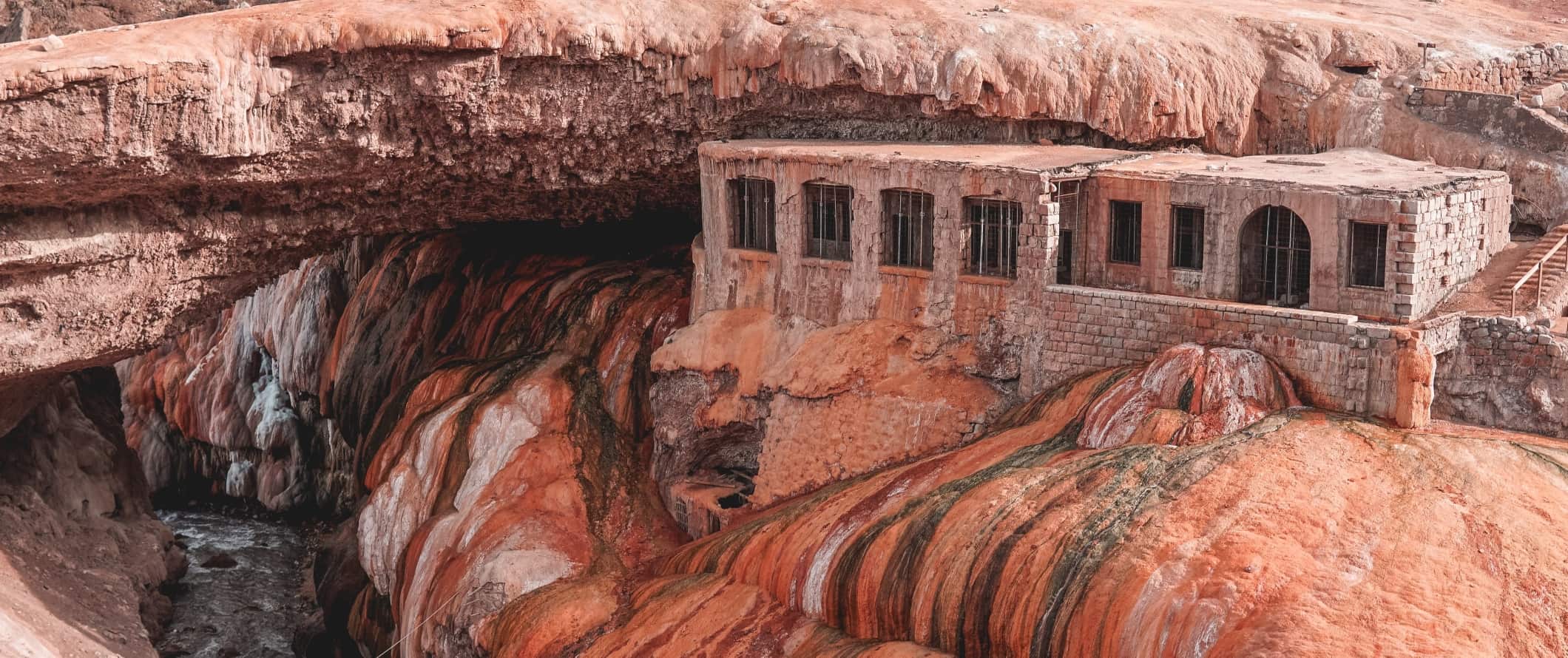 1. Hike Aconcagua
Located on the route to Puente del Inca and Uspallata, Aconcagua stands over 6,900 meters and is the highest summit in North America. It's perfect to climb from November to March and the mountain is also surrounded by over 185,000 acres of gorgeous national parks you can explore.
2. Enjoy outdoor adventures
Beyond hiking, there are boundless opportunities for outdoor fun amongst the glorious backdrop of Mendoza's countryside. Paragliding, climbing, mountain biking, camping, rafting, and long-distance trekking are all popular activities in the region. Tandem paragliding starts at 18,500 ARS.
3. Visit Puente del Inca
Puente del Inca is a natural stone bridge that owes its coppery-gold color to minerals in the Las Cuevas River's water. Puente del Inca is also the name of the hot springs nearby, and a great place to go hiking. It's just under 200 kilometers drive from Mendoza and great for a day-trip or overnight visit.
4. Take a wine tour
Home to more than a thousand wineries, most vineyard day-tours cost around 8,300-12,500 ARS while the half-day tours are around 4,200 ARS. I would recommend taking a bike tour as it's a more scenic way to see the wineries (avoid the YTA tour). You can also take the city tram to Bodega Lopez, which offers free tours.
5. Go biking
Taking a bike trip around the region is an awesome way to see the area. Most days are warm and sunny, perfect for slow rides around the mountains or hilly tours through the vineyards. Consider a tour company to show you around or just grab a rental and get on your way!
Other Things to See and Do in Mendoza
1. Relax in Parque San Martin
After exploring the area, have a relaxing day on the Parque San Martin grounds. This park has become a must-see attraction for visitors and locals alike. Thanks to its French-Argentine landscape architect, Carlos Thays, the 20th-century park is a mix of French and English landscape styles. Its picturesque 971 acres contain forested sections, botanical gardens, a zoo, the city's natural history museum, an amphitheater, a large lake, and restaurants, as well as 34 sculptures and the El Rosedal Rose Garden. You can easily spend a full day here.
2. Celebrate at the Grape Harvest Festival
Fiesta de la Vendimia is Mendoza's largest festival — and one of the biggest in the entire country. It begins in January, though the crux of the festival occurs on the first Saturday of March and continues all weekend. Held in celebration of the winemaking industry, events include the blessing of the fruit, parades, free wine samples, and folklore performances. The event culminates in a performance by hundreds of dancers, a large firework display, and the crowning of the Reina Nacional de la Vendimia (the National Harvest Queen). With origins in the 17th century (though the first official modern festival was in 1936), the final weekend attracts over 40,000 visitors from across the country and beyond.
3. Admire Plaza España
Plaza España, known for its beautiful colored Spanish tiles, is a restful, serene place to visit. Designed like a typical Spanish plaza with a large central fountain and statues, this is your tranquil getaway from the city. The exquisite ceramic tilework and murals depict Mendoza's 16th-century origin story and scenes from famous Spanish and Argentine literary works. On the weekends, there is a charming artisan's fair here with locals selling their handicrafts.
4. Wander the historic center
If you are looking for a diversion from all that outdoor activity and wine drinking, the historic center provides plenty of sights, parks, and museums. Meander around the traditional central market, with its produce and hot food stalls, or peruse the traditional handicraft markets that pop up at Plaza de la Independencia and Avenida San Martin, the main thoroughfare. For an urban winery, head to Bodega Los Toneles, just minutes away from the historic center.
5. Visit Uspallata
To soak up even more of your breathtaking surroundings, head to Uspallata, a village situated in the Andes region heading towards Santiago in Chile. While this is a place to relax and unwind, it is also of historical and cultural significance. This is the site where, in 1817, José de San Martín (the Liberator of Argentina, Chile and Peru) sent his army to fight the Spanish in Chile. At 100 kilometers (62 miles) from Mendoza, the journey takes 1.5 hours by car or taxi and 2.5 hours by bus.
6. Go back in time at Museo Fundacional
This is the perfect museum for buffing up on the history of Mendoza and Argentina. Trace the city's timeline through the descriptive exhibits (though keep in mind that they're only in Spanish). The main highlight is checking out the subterranean original city remnants, which are all that remain of the destructive earthquake of 1861 (the earthquake killed 4,300 of Mendoza's 12,000 residents and destroyed almost every building).
7. Stroll Peatonal Sarmiento
Known commonly as "the pedestrian zone," this tree-lined street offers an escape from the congestion of the city. Open only to those traveling on foot, this is a great place to do some shopping, check out street performers and eclectic street vendors, or just grab a coffee and lounge at one of the outdoor terraces. The street leads right into Plaza de la Independencia, the largest plaza in the city, and another popular place to just hang out and people-watch.
8. Go river rafting
For some of the best rafting in Argentina, head down the Mendoza River. Typically beginning at Potrerillos, this is usually an all-day activity that takes you over some 12 kilometers (7.5 miles) of rapids, and usually includes lunch. A full-day rafting trip costs 12,000-17,500 ARS, including lunch, while a half-day is 4,500 ARS.
9. Soak in Villavicencio
Surrounded by beautiful parks, gardens, and various walking trails, this resort town became popular for its healing hot springs in the 1940s. Beyond the mineral-rich waters lies a protected natural reserve of over 180,000 acres. Enjoy the beautiful scenery, Darwin's Petrified Forest (Darwin stayed here during his world tour and discovered this petrified forest), Los Caracoles viewpoint, and the ancient Inca rock paintings. At 60 kilometers (37 miles) away from Mendoza, it's common (and easiest) to visit via guided tour. Tours start at 3,400 ARS per person for a half-day tour and 16,000 ARS for a full-day tour that includes lunch at a winery.
10. Try paragliding
If you'd like to exercise your adrenaline muscles, Mendoza is a great place to try paragliding. There are many travel companies that offer paragliding tours from the base of the Andes Mountains over the wineries. The entire experience takes around a half-day, with an in-air time of about 25-40 minutes depending on wind conditions. Expect to pay about 18,500 ARS per person for a tandem flight with an experienced professional.
11. Day trip to San Rafael and Canon del Atuel
Just over three hours by bus from the city of Mendoza, San Rafael is a central hub for just about any outdoor activity you can think of. From hiking to kayaking to paragliding, there are countless exciting things to do, all with a stunning backdrop. My biggest recommendation is to head to Canon del Atuel, just outside of San Rafael. This breathtaking canyon boasts unique plant life, lakes, rivers, and natural sculptures, along with panoramic views. Simply take the public bus to Valle Grande, as the route takes you through the sights. Even better is packing a lunch and having a picnic (also be sure to bring lots of water). The bus from Mendoza to San Rafael costs 540 ARS for a one-way ticket.
For more information on other cities in Argentina, check out these guides:
Mendoza Travel Costs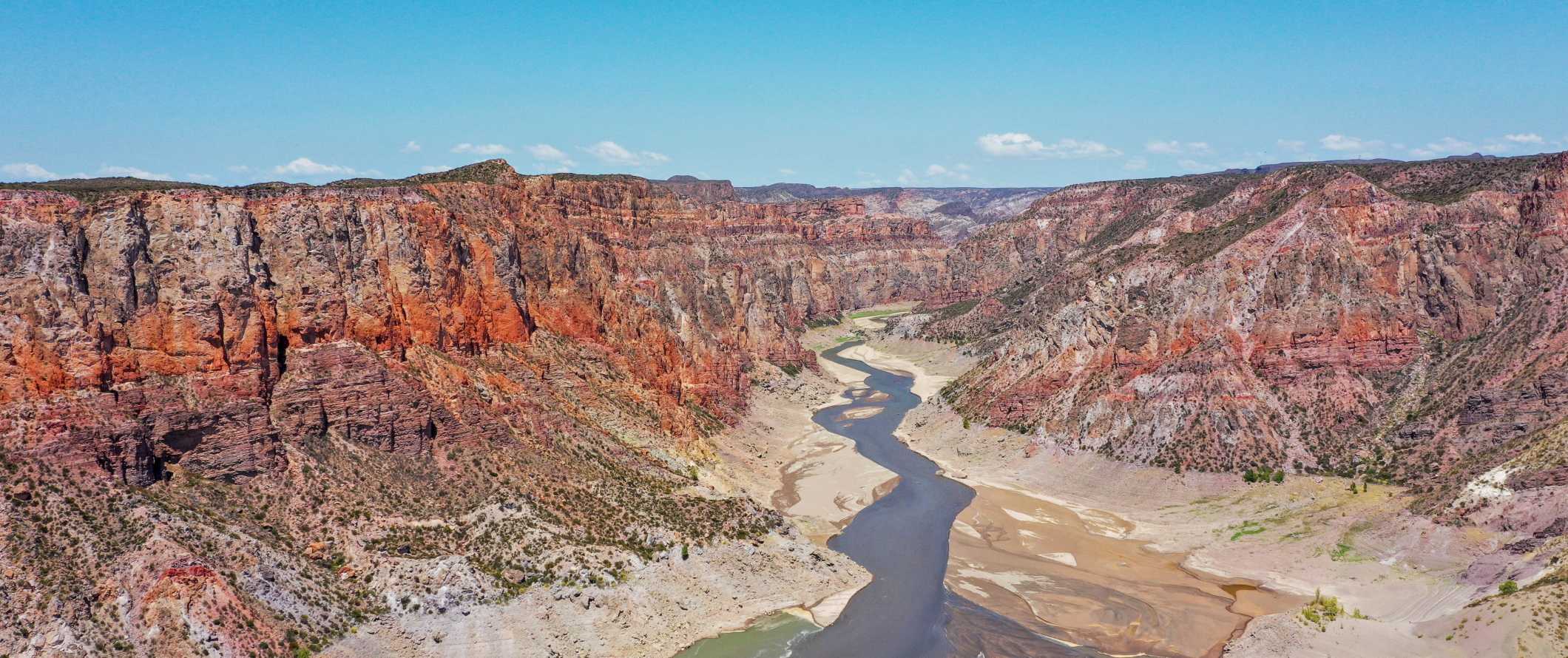 Hostel prices – During peak season, a bed in a 4-6-bed dorm costs around 2,200-3,500 ARS per night, while beds in an 8-10-bed dorm cost 1,800 ARS per night. Private rooms cost 4,500-5,700 ARS per night.
During off-peak season, you can find 4-6-bed dorms for 1,500 ARS per night and private rooms for 4,100 ARS per night. Keep in mind that some hostels close in the off-season.
Free Wi-Fi, kitchens, and a simple free breakfast are usually standard. Some hostels have outdoor bars for socializing and a couple even have outdoor pools.
For those traveling with a tent, there are many campgrounds surrounding the city of Mendoza. Expect to pay around 800 ARS per person for a basic plot. Wi-Fi is usually available and some campgrounds have pools.
Budget hotel prices – Budget hotels start at around 4,800 ARS per night for a double room with a private bathroom. After that, prices go as high as 6,700 ARS per night for nicer accommodations. Free Wi-Fi, air-conditioning, and free breakfast are all standard.
Airbnb has exploded in this town, with private rooms starting at 1,800 ARS per night. You can find entire apartments starting at 3,675 ARS per night.
Food prices – Argentine food has a heavy Mediterranean influence due to its colonial and immigrant history. Empanadas, pizza, polenta, and pasta are all major components of Argentine cuisine. However, Argentines are most famous for their beloved asado (barbeque grilled or on an open fire) and consumption of beef in general, especially steak and ribs. The favorite national dessert is dulce de leche, a caramel spread made from condensed milk.
Unfortunately for the budget traveler, food in Mendoza is expensive. It's a place meant for splashing out. Be sure to take advantage of specials and cheap eats to get the most for your money.
Breakfast deals cost 200-450 ARS and include a coffee and toast, pastry, or eggs. Lunch specials are around 600-900 ARS. For a good cafe, visit Caffe Jack near the main square. It has fast Wi-Fi, good and affordable food, and friendly staff!
Cheap meals at the local burger/sandwich shops cost around 350-500 ARS. In most of the cafes around the city, you're looking at 450-675 ARS per dish. Pizzas are popular in the city and cost 500-600 ARS for a personal pizza or 800-1,100 ARS for a shareable pie. Fast food (think Mcdonald's) is around 470 ARS for a value meal.
Asian restaurants and takeaways are other great options for cheap yet filling meals. A dish at an Indian restaurant is 350-420 ARS, while a takeaway kebab is 300 ARS.
At a traditional yet casual Argentinian steakhouse, steaks cost around 950-1,350 ARS, while vegetable-based pasta dishes cost 580-700 ARS. If you are looking for a nice sit-down meal at a fancier restaurant with good steak and wine, expect to pay at least 3,200 ARS.
In terms of drinks, expect to pay 350 ARS for a beer, 200 ARS for a glass of wine, 850 ARS for a bottle of wine at a restaurant, 400 ARS for a cocktail, and 250 ARS for a cappuccino.
You can buy a week's worth of groceries (including bottles of wine) for around 3,700 ARS. This gets you basic staples like pasta, rice, seasonal produce, and some meat or fish.
Backpacking Mendoza Suggested Budgets
On a backpacker's budget of 6,200 ARS per day, you can stay in a hostel dorm, cook most of your meals, limit your drinking, rent a bike to take public transportation to get around, and do mostly free activities like hiking.
On a mid-range budget of 12,000 ARS per day, you can stay in a private Airbnb, eat out for most meals, enjoy a few drinks, take the occasional taxi to get around, and do more paid activities like wine tours and rafting trips.
On a "luxury" budget of 23,600 ARS or more per day, you stay in a hotel, eat at fancier sit-down restaurants with steak and wine, splurge on a rental car or take tours, and do whatever else you want. This is just the ground floor for luxury though. The sky is the limit!
Accommodation
Food
Transportation
Attractions
Average Daily Cost
Backpacker
2,500
1,200
500
2,000
6,200
Mid-Range
3,500
3,000
1,000
4,500
12,000
Luxury
5,000
4,500
6,500
8,000
24,000
Mendoza Travel Guide: Money-Saving Tips
As one of the most visited destinations in the country, Mendoza isn't a cheap place to visit. Mendoza should be considered one of your splurge cities. Eat the steak, drink the wine, and offset those costs by cooking your lunch. If you buy your own groceries and tour the sights and surroundings independently, you'll save lots of money. Here's are a few ways to save money here:
Bike – To save on taxi and bus fares, bike around the city and to the wineries. You can rent a bike for around 500 ARS a day from companies like Mr. Hugo Bicycle Rental and Maipu Bikes.
Buy wine at the grocery store – If you buy wine at the grocery store, you'll get the same great local varieties for a much better price. Prices start around 350 ARS instead of 800-1,100 ARS in restaurants.
Travel off-peak – You'll find cheaper flights and accommodation in the off-season from April to December.
Get the breakfast and lunch specials – Most of the restaurants and cafes (especially those downtown) offer breakfast deals for 200-400 ARS. Set lunch menus cost around 600-900 ARS (often including steak). If you want to eat at the city's many restaurants, it's best to do it during lunch!
Take a free walking tour – Vivi MZA offers a 2-3-hour walking tour that can introduce you to the history and culture of the city. Just remember to tip your guide at the end!
Stay with a local – Couchsurfing connects you with locals who can give you a free place to stay and share their insider tips and advice. It's the best way to meet locals and save money.
Pack a water bottle – The tap water here is safe to drink so bring a water bottle with a filter to save money and reduce your single-use plastic usage. My preferred bottle is LifeStraw as it has a built-in filter to ensure your water is always clean and safe.
Where to Stay in Mendoza
Looking for budget-friendly accommodation? Here are my suggested places to stay in Mendoza:
How to Get Around Mendoza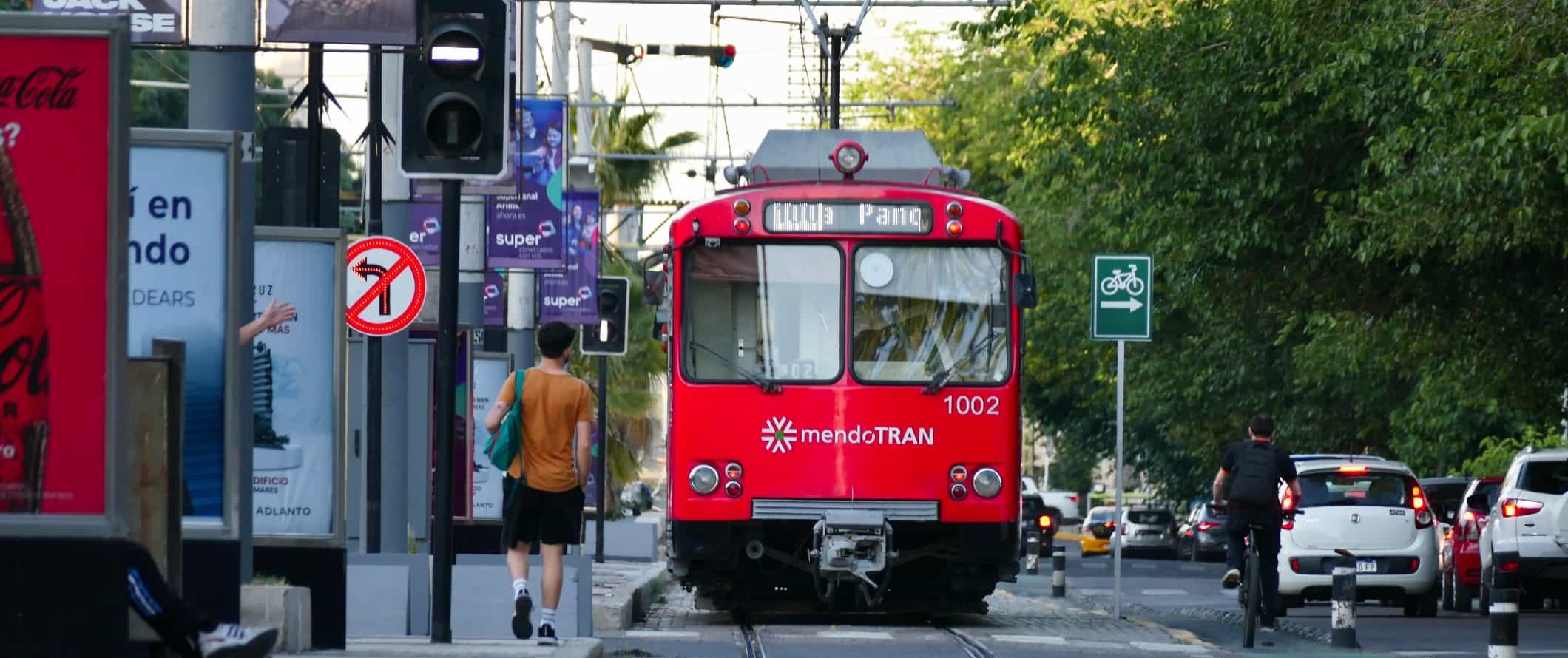 Public transportation – Mendoza has a fairly reliable public transportation system. You'll need to get a SUBE card because you can't pay on the buses or trams. It can be purchased at kiosks around the city. Bus and trams are 20 ARS each ride.
For onward travel to Santiago, the 7-10 hour bus costs between 3,500-5,000 depending on the time and class of service. The bus to nearby San Rafael is 540 ARS.
Bicycle Rental – Renting a bicycle in Mendoza is a very common way to get around, especially for visiting the mountains and the wineries. You can rent a bike for around 500 ARS per day with companies like Maipu Bike Rentals or Mr. Hugo's Bikes.
Taxis – For taxis, the starting fare is 23.50 ARS, going up 23 ARS per kilometer. Airport transfers are around 1,300-2,000 ARS.
Car Rental – Car rentals start at around 5,500-7,300 ARS per day. All the regular rental services, like Hertz and Avis, operate here. While it's not the cheapest, if you're planning to visit a lot of wineries or spend more time in the mountains, a car rental might be cheaper than hopping on guided tours (especially if you can split the cost with other travelers). Drivers need to be at least 21 years old.
When to Go to Mendoza
Mendoza has year-round sunshine, so it's always a good time to visit. It doesn't rain very often, and when it does, it doesn't last for long.
Mendoza is hottest from December to March, where temperatures hover around 30°C (86°F) and go as high as 40°C (104°F). It can cool off in the evenings though, so be sure to pack something warm. January and February can sometimes be rainy as well.
Winter is from June to September, and it's the driest and sunniest time of year but with cold nights. The average temperature during this time is 14°C (58°F).
October to April is considered the best time to visit. Spring (October-November) and fall (March-April) have average temperatures around 21°C (70°F) and the wineries are busy pouring their best stuff. It's also the best time for any outdoor adventure activities.
How to Stay Safe in Mendoza
Mendoza is generally a safe place to backpack and travel — even if you're traveling solo, and even as a solo female traveler. However, petty theft is very common here so you'll need to be cautious. Don't flaunt expensive jewelry or belongings here and always try to blend in when you can.
Cell phone theft is incredibly common in Mendoza, and thieves will sometimes literally snatch the phone right from your hand in broad daylight. For that reason, you need to always stay vigilant. Keep your phone and wallet out of reach and secure in your bag. If you need to bring your phone out, step into a store to look at it.
Lock your bags on overnight buses and make sure your valuables are secure and out of reach as theft can occur.
If you're renting a car, never leave it unlocked and unattended. Don't leave any valuables in it overnight either as break-ins can occur.
Crime has been slightly on the increase in Mendoza in recent years due to its growth. It's not overly serious, but it's a good idea to avoid Plaza de la Independencia and Parque General San Martín after dark (especially if you're alone).
Solo female travelers will want to be vigilant here. Never accept drinks from strangers or leave your drink unattended at the bar. Whenever possible avoid walking around alone just to be safe.
To learn more about potential scams you might encounter, read about common travel scams to avoid here.
If you experience an emergency, call 911.
Always trust your gut instinct. Make copies of your personal documents, including your passport and ID. Forward your itinerary along to loved ones so they'll know where you are.
The most important piece of advice I can offer is to purchase good travel insurance. Travel insurance will protect you against illness, injury, theft, and cancellations. It's comprehensive protection in case anything goes wrong. I never go on a trip without it as I've had to use it many times in the past. You can use the widget below to find the policy right for you:
Mendoza Travel Guide: The Best Booking Resources
These are my favorite companies to use when I travel. They consistently have the best deals, offer world-class customer service and great value, and overall, are better than their competitors. They are the companies I use the most and are always the starting point in my search for travel deals.
Skyscanner – Skyscanner is my favorite flight search engine. They search small websites and budget airlines that larger search sites tend to miss. They are hands down the number one place to start.
Hostelworld – This is the best hostel accommodation site out there with the largest inventory, best search interface, and widest availability.
Booking.com – The best all around booking site that constantly provides the cheapest and lowest rates. They have the widest selection of budget accommodation. In all my tests, they've always had the cheapest rates out of all the booking websites.
Get Your Guide – Get Your Guide is a huge online marketplace for tours and excursions. They have tons of tour options available in cities all around the world, including everything from cooking classes, walking tours, street art lessons, and more!
SafetyWing – Safety Wing offers convenient and affordable plans tailored to digital nomads and long-term travelers. They have cheap monthly plans, great customer service, and an easy-to-use claims process that makes it perfect for those on the road.
LifeStraw – My go-to company for reusable water bottles with built-in filters so you can ensure your drinking water is always clean and safe.
Unbound Merino – They make lightweight, durable, easy-to-clean travel clothing.
Top Travel Credit Cards – Points are the best way to cut down travel expenses. Here's my favorite point earning credit cards so you can get free travel!
Mendoza Travel Guide: Related Articles
Want more info? Check out all the articles I've written on Argentina travel and continue planning your trip: