Situated on the eastern side of the Andes and settled in the crest of hilly terrain, Mendoza is famous for its wine, steak, and beautiful landscape.
The city of Mendoza isn't going to win any beauty awards but you don't visit Mendoza for the city – you come for the mountains and wineries surrounding the region.
I spent over a week traveling Mendoza, biking around wineries, hiking mountains, visiting canyons, and gorging on steak and wine. It was everything I thought it would be. Like Napa Valley but in Argentina.
The city makes for a good base for lots of activities and if you love wine (who doesn't?), come to this region and drink its famous Malbecs.
You can use the tips in this Mendoza travel guide to take what is considered a pricer region and turn it into an affordable destination! Learn what to see, do, and how to save here in Mendoza!
Click Here for City Guides
Top 5 Things to See and Do in Mendoza
1. Aconcagua
While you are on the route to Puente del Inca and Uspallata, head to Aconcagua – at over 6,900 meters and the highest summit in North America. Perfect to climb from November to March, the mountain is also surrounded by 75,000 hectares of national parks.
2. Go Hiking
If water and wine aren't your thing, go paragliding, climbing, hiking, and trekking on Cerro Aconcagua. There are boundless opportunities to have some outdoor fun here amongst the glorious backdrop of Mendoza's countryside.
3. Puente del Inca
Visit Puente del Inca, a natural stone bridge which owes its coppery-gold color to minerals in the river's water. Puente del Inca is also the name of the hot springs nearby, and a great place to go hiking.
4. Take a wine tour
Home to more than a thousand wineries, most day tours start at around 4,200 ARS ($105 USD) while the half-day tours are around 2,400 ARS ($60 USD). I would recommend taking a bike tour as it's a more scenic way to see the wineries (avoid the YTA tour). You can also take the city tram to Bodega Lopez for only 6 ARS ($0.16 USD).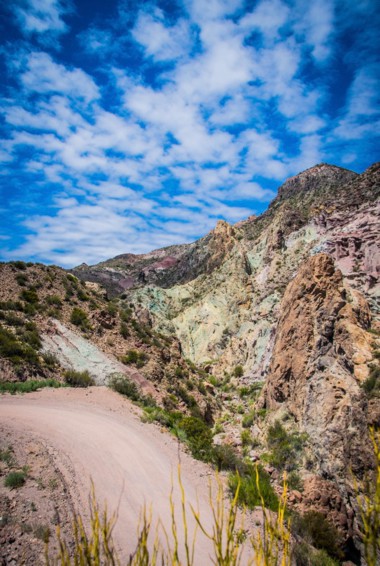 5. Get on a bike
Offering a little bit for everyone, taking a bike trip around the region is an awesome way to see the area. Most days are warm and sunny, perfect for slow rides around the mountains or hilly tours through the vineyards. Consider a tour company to show you around or just grab a rental, and get on your way!
Other Things to See and Do in Mendoza
1. Parque San Martin
After all this activity, have a relaxing day on the Parque San Martin grounds. Complete with its own forested park, zoo, amphitheater, large lake, restaurants, and camping, as well as 34 sculptures and the El Rosedal Rose Garden, it is easy to see why the park has become a must-see attraction for visitors and locals alike.
2. Grape Harvest Festival
Mendoza's largest festival begins in January, with the crux of the festival beginning on the first Saturday of March and continuing until the beginning of April. Held in celebration of the winemaking industry, the event climax is a performance by hundreds of dancers, a large firework display, and the crowning of the Reina Nacional de la Vendimia.
3. Plaza Espana
Plaza Espana, known for its beautiful colored tiles, is considered a restful, serene place to visit. Situated amongst gardens and fountains, this is your tranquil getaway, especially when there is a charming Artisan's Fair with locals selling their handcrafts.
4. Historical center
If you are looking for a diversion from all that outdoor activity and wine drinking, the historical center provides plenty of sights and museums, including the Museo del Area Fundacional on Pedro del Castillo Square and the Museo Nacional del Vino, perfect for learning more about the wine culture. Just outside of Mendoza is the Casa de Fader, an 1890 mansion once home to artist Fernando Fader that is now an exhibit of his artwork.
5. Uspallata
To soak up even more of your breathtaking surroundings, head to Uspallata, a village situated in the Andes region heading towards Santiago in Chile. While this is a place to relax and unwind, it is also of historical and cultural significance as the site where in 1817 José de San Martín sent his army to fight the Spanish royalists in Chile.
6. Museo Fundacional
This is the perfect museum for buffing up on the history of Mendoza and Argentina. Trace back through the city's timeline, and check out displays of the original city remnants, prior to the majorly destructive earthquake of 1861. Admission is 50 ARS ($1.25 USD) and it's open daily from 8am-8pm, but it opens at 2pm on Sundays. It's closed on Monday.
7. Peatonal Sarmiento
Known commonly as 'the pedestrian zone', this area offers an escape from the congestion of the city. Open only to those traveling on foot, this is a great place to do some shopping, check out street performers and eclectic street vendors, or just grab a coffee.
8. River rafting
For some of the best rafting in Argentina, head down the Mendoza River. Typically beginning at Porrerillos, this is an all-day activity. For those that are more adventurous, consider going on a full moon trip. The options are endless—check out a variety of adventure companies until you find the right fit!
9. Villavicencio
Surrounded by beautiful parks, gardens, and various walking trails, this hot spring is an ideal getaway. Beyond the mineral-rich waters lies beautiful scenery, 'Darwin's Petrified Forest', Los Caracoles, and ancient Inca rock paintings.
10. Paragliding
There are many travel companies that offer paragliding tours from the base of the Andes Mountains over the wineries. Expect to pay bout 1,450 ARS ($36 USD) per person.
11. San Rafael and Canon del Atuel
Just over three hours by bus from the city of Mendoza, San Rafael is a central hub for just about any outdoor activity you can think of. From hiking to kayaking to paragliding, you'll find something exciting to do with a stunning backdrop. My biggest recommendation is to head to Canon del Atuel, just outside of San Rafael. This breathtaking canyon boasts unique plant life, lakes and rivers, and natural sculptures along with stunning views. For cheap, you can take the public bus to Valle Grande and it'll take you through the sights. Even better is packing a lunch and having a picnic (also be sure to bring lots of water).
Mendoza Travel Costs
Hostel prices – While some hostel dorms begin around 200 ARS ($5 USD) per night, though the average is closer to 400 ARS ($10 USD) for a 6-8 bed dormitory. Private rooms with a shared bath are generally triple the price of dorm rooms. There are a lot of HI hostels in the city and, if you're a member, you'll get 10% off your stay. They all come with a simple free breakfast.
Budget hotel prices – Simple budget hotels start at around 635 ARS ($16 USD) per night for a single room and 1,080 ARS (28 USD) for a double room with a private bathroom and breakfast. After that prices go as high as 2,600 ARS ($65 USD) per night. Airbnb has exploded in this town and you can find entire apartments starting at 1,075 ARS ($27 USD) a night.
Average cost of food – Food in Mendoza is expensive. Cheap meals at the local burger/sandwich shops cost around 200 ARS ($5 USD). In most of the cafes around the city, you're looking at 200-275 ARS ($5-7 USD) per dish. Pizzas are really popular in the city and cost 320 ARS ($8 USD). Steaks begin at 400 ARS ($10 USD), bottles of wine at 320 ARS ($8 USD), and pastas at 280 ARS ($7 USD). If you are looking for a really nice sit-down meal with good steak and wine, expect to pay 914 ARS ($23 USD). You can buy a week's worth of groceries (including bottles of wine) for around 1,300 ARS ($33 USD). Fast food like McDonalds or Burger King is between 240-290 ARS ($6-7 USD) for a value meal. For a good cafe, visit Caffe Jack near the main square. Fast wifi, good and affordable food, and friendly staff!
Backpacking Mendoza Suggested Budgets
On a backpacker's budget, you will spend between 1,600-2,400 ARS ($40-60 USD) per day. On this suggested budget, you're staying in hostel dorms, cooking most of your meals but allowing for fast food, and walking everywhere around town while occasionally using the public transit (or a quick taxi ride). You can also visit historical sites and museums on this budget.
On a mid-range budget of 4,000 ARS ($100 USD) per day, you can afford a private room at a hostel/cheap Airbnb/hotel, eat fast food (or plenty of pizza), travel around town on public transit and taxis, and do an occasional tour (like a half-day wine tour).
For a luxury budget of 19,000+ ARS ($230+ USD) per day, you can do quite a lot. You will enjoy nicer hotels or Airbnbs, fancier sit-down restaurants with steak and wine, splurge on a rental car, and hop on some really nice wine tours.
Accommodation
Food
Transportation
Attractions
Average Daily Cost
Backpacker
$5-10
$10-20
$10
$15-20
$40-60
Mid-Range
$30
$30
$20
$20
$100
Luxury
$100
$50
$30
$50
$230+
Mendoza Travel Guide: Money Saving Tips
Mendoza doesn't have a ton of cheap options. If you buy your own groceries and do your own bike tours, you'll save lots of money but Mendoza should be considered one of your splurge cities. Eat the steak, drink the wine, and offset those costs by cooking your lunch! For a few ways to save money in the city, here's what I found:
Bike – To save on taxi and bus fares, bike around the city and to the wineries. You can rent a bike for around 320 ARS ($8 USD) a day.
Buy wine cheap – If you buy wine at the grocery store, you'll get the same great local varieties for a much better price. Prices start around 180 ARS ($4.50 USD) instead of 400-600 ARS ($10-15 USD) in restaurants.
Travel off peak – You'll find cheaper flights and accommodation in the off season from April to December.
Get the plate of the day – Most of the restaurants and cafes (especially those downtown) offer a set lunch menu for around 250 ARS/$6.50 USD (often times including steak). If you want to eat at the city's many restaurants, it's best to do it during lunch!
Free walking tours – Tours for Tips Mendoza offers a 2-3 hour walking tour that orients you to the city and gives you the history and culture behind Mendoza. At the end of the tour, you pay what you can, based on your budget.
Couchsurf – Nothing's cheaper than sleeping for free. Couchsurfing connects you with locals who will give you not only a free place to stay, but also a local tour guide who can introduce you to all the great places to see.
Where To Stay in Mendoza
Here are some of my favorite places to stay in Mendoza:
How to Get Around Mendoza
Walking – Mendoza is easily walkable if you don't want to take public transportation! Of course, if your primary purpose is visiting the wine region, you'll have to find other means to get around.
Public Transportation – Mendoza has a fairly reliable public transportation system. You'll need to get a Redbus card because you can't pay on the buses or trams. It costs 10 ARS ($0.25 USD) and can be purchased at kiosks around the city. Bus and trams are 5 ARS (0.15 USD) each ride.
For onward travel to Santiago, the 7-10 hour bus costs between 1,600-2,200 ARS ($40-56 USD) depending on the time and class of service. The bus to nearby San Rafael is 280 ARS ($7 USD).
Bicycle Rental – Renting a bicycle in Mendoza is a very common way to get around, especially for visiting the mountains and the wineries. You can rent a bike for around 320 ARS ($8 USD) a day with companies like like Maipu Bike Rentals or Mr. Hugo's Bikes.
Taxis – For taxis, you won't pay more than around 60 ARS ($1.50 USD) for a ride around town, although a longer ride will cost up to 160 ARS ($4 USD) and to the airport is around 280 ARS ($7 USD). You can also easily hire a taxi driver to visit the wineries and the mountains, which shouldn't cost more than 600 ARS ($15 USD) per hour.
Car Rental – Car rentals start at around 1,800 ARS ($45 USD) per day and is an excellent option if you want to get beyond the city. Plus parking is easy and cheap in Mendoza. You'll find all the regular rental services here, like Hertz and Avis. If you're planning to visit a lot of wineries or spend more time in the mountains, a car rental might be cheaper than hopping on guided tours (especially if you can split the cost with other travelers).
When to Go to Mendoza
Mendoza has year-round sunshine, making it always a good time to visit. It doesn't rain very often, and when it does, it doesn't last for long.
Mendoza is hottest from December to March, where temperatures start around 86°F (30°C) and go as high as 104°F (40°C). It can cool off in the evenings though, so be sure to pack something warm. January and February can sometimes be rainy as well.
Winter is from June to September, and it's the driest and sunniest time of year but with cold nights. The average temperature during this time is 58°F (14°C).
October to April is considered the best time to visit. Spring (October and November) and fall (March and April) have average temperatures around 70°F (21°C) each day, and the wineries are busy pouring their best stuff. It's also the best time for any outdoor adventure activities.
How to Stay Safe in Mendoza
Mendoza is an incredibly safe place to backpack and travel – even if you're traveling solo, and even as a solo female traveler. Your biggest worry will be petty theft. Don't flaunt expensive jewellery or belongings. Cell phone theft is incredibly common, and thieves will sometimes literally snatch the phone right from your hand in broad daylight. Just watch your stuff at all times! Lock your bags on overnight buses.
Crime has been slightly on the increase in Mendoza in recent years, due to its growth. It's not overly serious but it's a good idea to avoid the main square area after dark (especially if you're alone).
Always trust your gut instinct. If a taxi driver seems shady, stop the cab and get out. If your hotel is seedier than you thought, get out of there. Make copies of your personal documents, including your passport and ID.
If you don't do it at home, don't do it when you're in Mendoza. Follow that rule and you'll be fine.
The most important piece of advice I can offer is to purchase good travel insurance. Travel insurance will protect you against illness, injury, theft, and cancellations. It's comprehensive protection in case anything goes wrong. I never go on a trip without it as I've had to use it many times in the past. You can use the widget below to find the policy right for you: