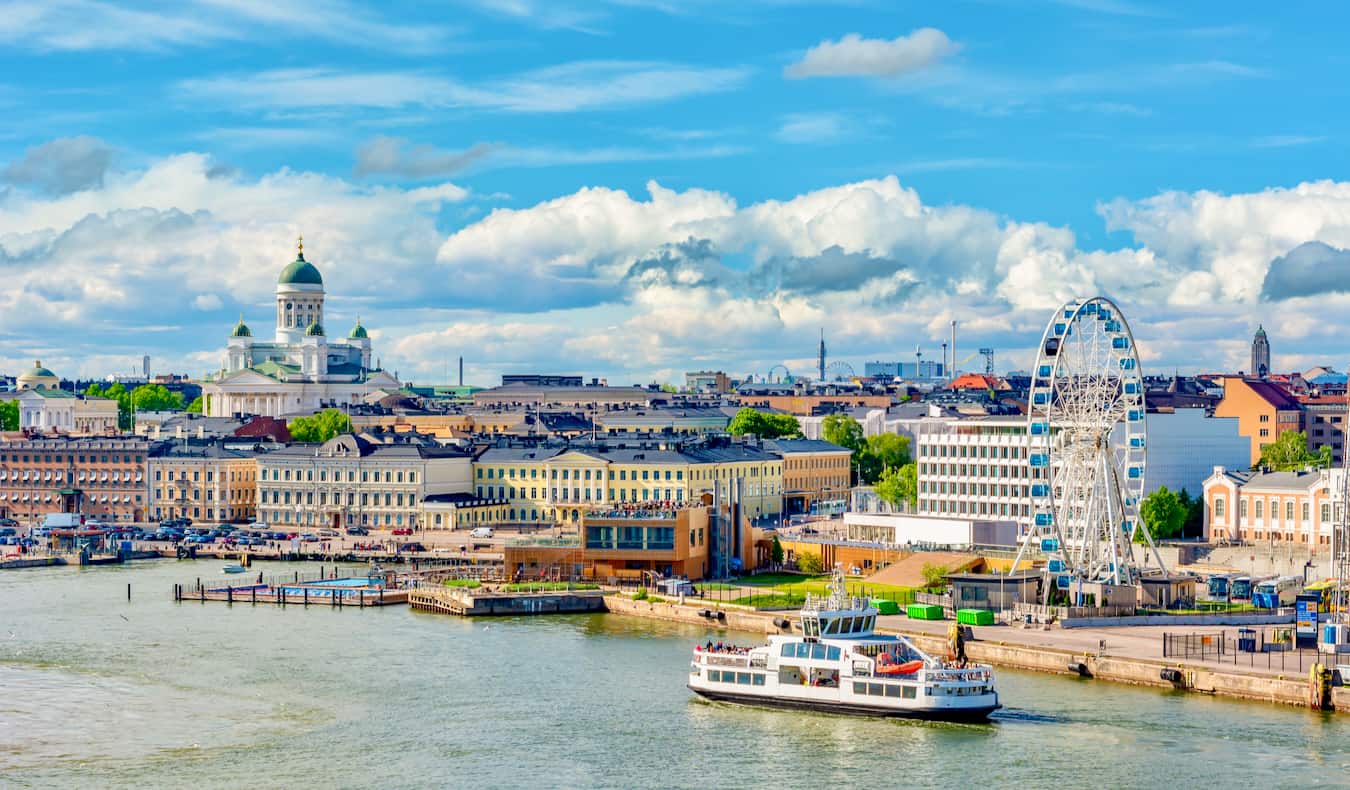 Last Updated: 5/22/23 | May 22nd, 2023
When it comes to visiting Northern Europe, most travelers aim for Copenhagen, Stockholm, and occasionally Oslo (if they can afford it). Maybe they visit the cities in between, like Malmö and Gothenburg too.
But they often stop there.
Admittedly, Helsinki is off the standard "Scandinavian tourist trail." The city never seems to be on the travel radar of most travelers I know. It's a bit out of the way, and the city just doesn't get the raving press that other places do.
Which is a shame, because Helsinki was a pleasant surprise for me.
Founded in 1550 by the King of Sweden, Helsinki was established to rival the bustling trading port of Tallinn (which was part of the Hanseatic League, an alliance of merchant guilds and trading ports). The city didn't take off as expected, a problem compounded by the devastating plague of 1710, which killed much of the city's residents. It wasn't until the Russians annexed the region in the 19th century that it started to develop and grow into the city it is today.
Like most people, I was only planning on passing through Helsinki on my way to somewhere cheaper (Tallin, Estonia).
But Helsinki was surprisingly beautiful, had good food, and the locals were lively and very friendly. Considered one of the world's most livable cities, Helsinki boasts mesmerizing islands (the Helsinki Archipelago consists of over 300 islands!) and some awesome green urban spaces. It's super easy to walk and bike here and the laid-back vibe just makes it all the more enjoyable. Helsinki has nothing to prove.
While I think Helsinki deserves more visitors, since the city isn't cheap, budget travelers can only really spend a few days here before they break the bank.
With that in mind, here is my suggested itinerary for how to spend three days in Helsinki:
Helsinki Itinerary: Day 1
Free Walking Tour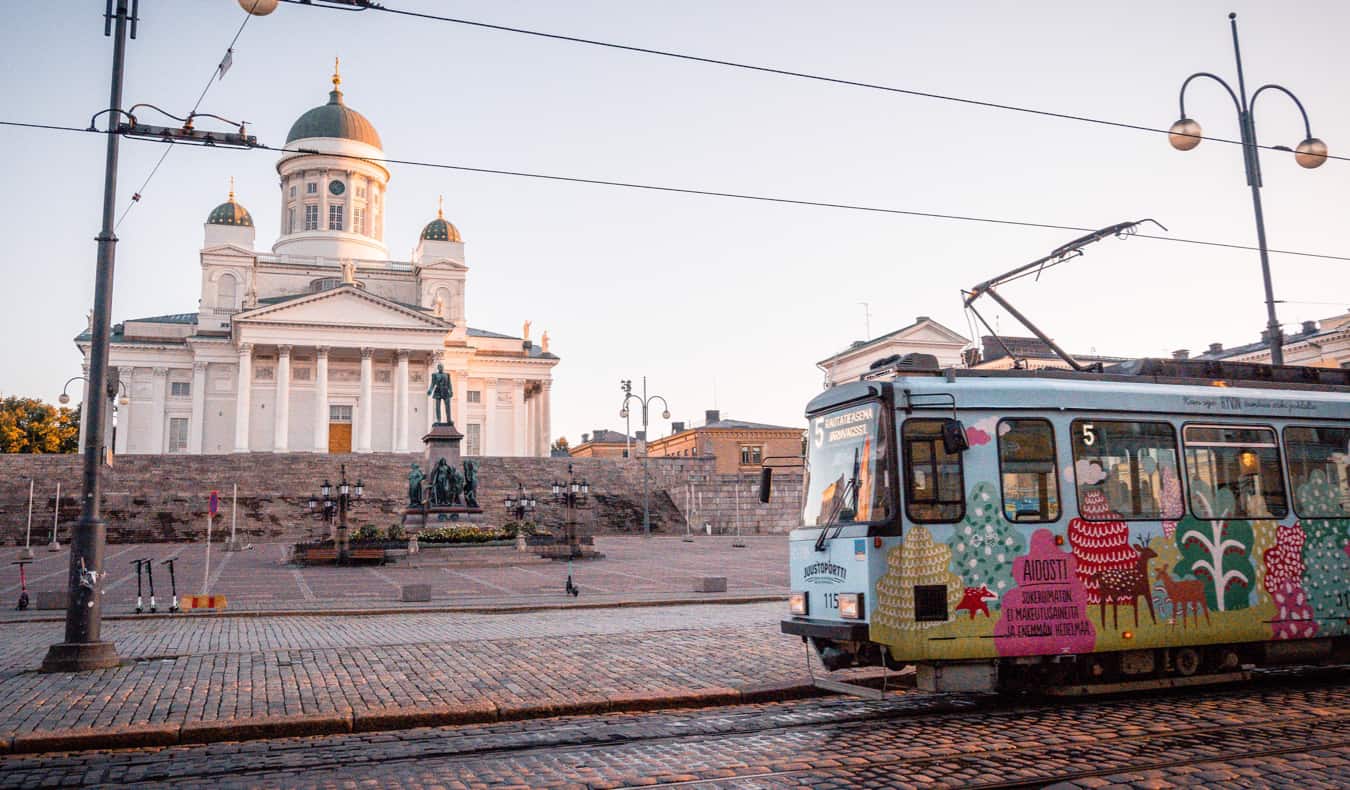 The first thing I do when I arrive in a new city is take a free walking tour. For me, it's the best way to get my bearings while seeing the main sights. I get to learn about the history and experience some of the culture from a local expert who can answer all my questions. It's the best budget-friendly way to start any trip.
Guru Walk and Green Cap Tours both offer a free 1.5-2 hour tour that acts as a solid introduction to the city. Just be sure to tip your guide at the end!
Post Museum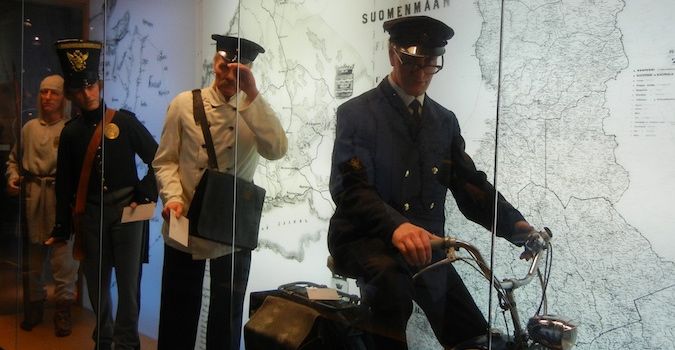 This museum showcases the history of the postal service in Finland. It may sound like a truly boring museum, but I thought it was actually quite interesting to see the evolution of mail service from sleds and ships to a modern postal service. Since Finland is sparsely populated and has a cold, rugged terrain the postal service had to get creative. There's also a lot of detail here about how it evolved under Swedish rule, then Russian, and then to modern Finnish.
Alaverstaanraitti 5, +358 03 5656 6966, postimuseo.fi/en. Open Tuesday-Sunday from 10am-6pm. Admission is 15 EUR.
Kiasma Museum of Contemporary Art
I can't say I like contemporary art. I have never understood how sticking a shovel in cement or slashing paint on canvas is "art." Give me the classic impressionists or Dutch masters and I'm a happy guy. But contemporary art? No thanks. That said, this museum is right up the street from the Post Museum, and from what I've been told, it has a great collection if you're into that kind of thing. It opened in 1990 and is housed in a really unique modern building. There are more than 8,000 works in its collection, which is part of the Finnish National Gallery.
Fun fact: Kiasma is Finnish for "chiasma" a word that describes the crossing of nerves or tendons.
Mannerheiminaukio 2, +358 29 450 0501, kiasma.fi/en. Admission is 20 EUR. Admission is free on the first Friday of the month.
National Museum of Finland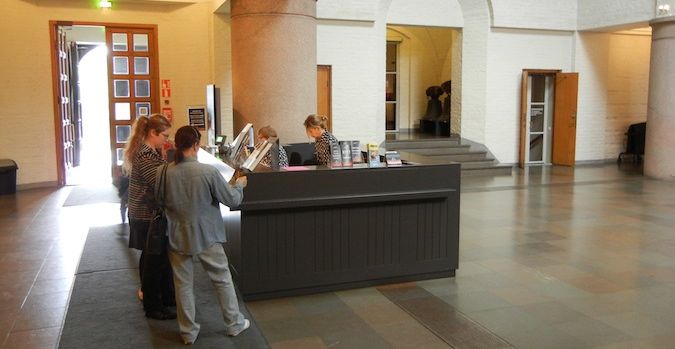 I'll admit that I'm a snob when it comes to history museums. I was a history major in school and I get annoyed when museums lack descriptions or leave gaps in the story. But I was really impressed with the National Museum of Finland. It has a large collection of artifacts, does a good job of providing lots of detail, moves the story along chronologically from the Stone Age to the present, and everything has a decent description so you know what you are looking at. I highly recommend this museum. It's fantastic.
Mannerheimintie 34, +358 29 5336000, kansallismuseo.fi/en/kansallismuseo. Open daily from 11am-6pm (closed Mondays in winter). Admission is 16 EUR but it's free on Fridays between 4:15pm-6pm.
Finnish Museum of Photography
The photography museum is located on the far western edge of town, a bit removed from the center. It's worth the walk though, as it houses a strong collection that focuses mostly on Finnish artists. The museum also has rotating displays plus exhibits by new and emerging photographers so there's always something interesting to see. The website can tell you what's on while you're in town.
Tallberginkatu 1, +358 9 68663610, valokuvataiteenmuseo.fi/en. Open Monday-Friday 11am-8pm and weekends from 11am-6pm. Admission is 12 EUR.
Sinebrychoff Art Museum
This museum, located in a historic 19th-century building, is the only museum in the city that focuses on older European paintings and portraits. The bottom floor has a lot of photos and more modern works while the top floor has older paintings from the 14th-19th centuries. There are around 4,000 items in this collection. In addition to the incredible and historic works here, part of the museum is composed of the Sinebrychoff residence itself. Walk through the old Sinebrychoff estate and see what life was like for Helsinki's wealthiest people during the 19th century.
Bulevardi 40, +358 29 4500460, sinebrychoffintaidemuseo.fi/en. Open Tuesday-Friday from 11am-6pm (8pm on Wednesdays) and 10am-5pm on weekends. Admission is 18 EUR.
Sinebrychoff Park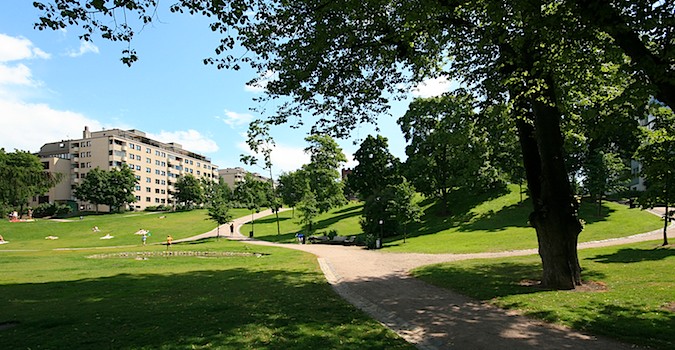 Right near the Sinebrychoff Museum is a nice little residential park worth hanging out in. There are a lot of little coffee shops around, so you can grab a snack and just relax, have a picnic, or just sit and people-watch. After a day of walking around so much of Helsinki, you might need it. There are lots of events here in the summer too.
Hit the Sauna
The word sauna is actually a Finnish word. There are over 3 million saunas in Finland (which is a lot considering there are only 5.5 million people in the entire country) so to come here and not visit one would be a waste! There are lots of public saunas in Helsinki, most of which cost around 10 EUR and you can usually rent towels as well. Almost all have separate sections for men and women. While going nude is the traditional method there's no shame in wearing a towel either. Kotiharjun, Hermanni, Allas Sea Pool, and Löyly Helsinki are all popular saunas.

Helsinki Itinerary: Day 2
Bank of Finland Museum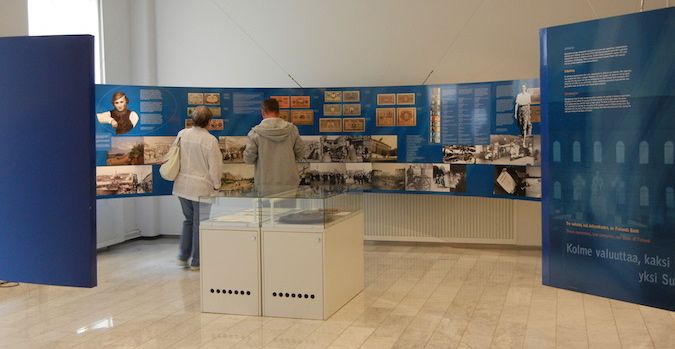 This museum was one of the coolest museums I've seen in a long time. While it does a good job describing the history of money in Finland, what it really does well is clearly and concisely explain the history of modern finance. It offers up a detailed background and has some great exhibits. They also host rotating exhibitions on all sorts of related topics (such as counterfeit money). It was quite a learning experience and I highly recommend a visit.
Snellmaninkatu 2, +358 9 183 2626, rahamuseo.fi/en. Open Tuesday-Friday from 11am-5pm and 11am-6pm on the weekend. Admission is free.
Helsinki Cathedral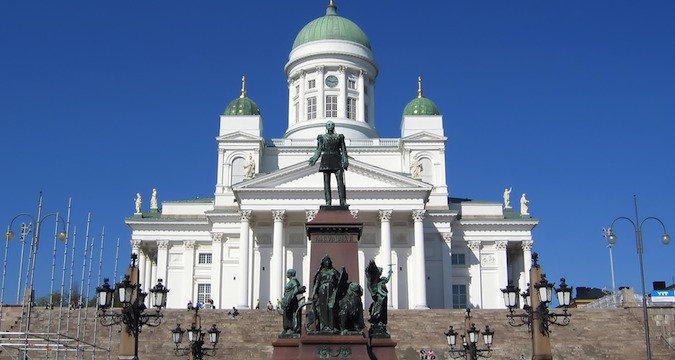 Right next to the bank museum is Helsinki's giant cathedral. Built in the Neoclassical style, it towers over the surrounding square and inspired a few "wows." You won't walk away thinking this is one of the greatest cathedrals in Europe, but I did think it was one of the best in Scandinavia. What makes the cathedral even more interesting is that it was built in the 19th century as a tribute to Czar Nicholas I (who was the Grand Duke of Finland at the time).
Unioninkatu 29, +358 9 23406120, helsinginseurakunnat.fi. Open most days from 9am-11:45am and 12:30pm-6pm (11am-6pm on Sundays) but times can vary so check the website. Admission is free and there is a (free) short organ recital every Wednesday at 5pm.
Uspenski Cathedral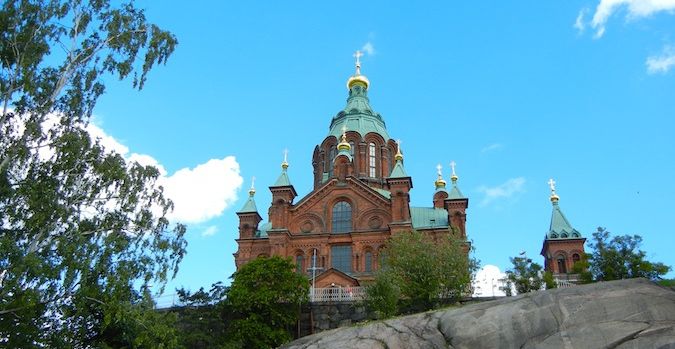 Consecrated in 1868, this large red church is hard to miss, as it sits on a hill overlooking the city. An Eastern Orthodox church, its massive boasts impressive large domes and gold crosses. It's actually the largest Eastern Orthodox church in all of Western Europe. The interior is lavishly decorated too, with typical Eastern Orthodox icons and a large vaulted ceiling (sadly, some of the most famous icons and artifacts have been stolen).
Kanavakatu 1, +358 9 85646100. Open Tuesday-Friday from 9:30am-7pm, Saturday from 10am-3pm, and Sunday from 12pm-3pm. Closed during ceremonies. Admission is free.
Helsinki City Museum
Like the Finland history museum, the Helsinki version is excellent. Opened in 1911, it has plenty of descriptions and great exhibits and photos that explain how the city has changed and evolved over the centuries. It's the third-best city museum I've come across in Europe (after the Amsterdam and Barcelona museums). You shouldn't miss it.
Aleksanterinkatu 16, +358 9 31036630, helsinginkaupunginmuseo.fi/en. Open weekdays from 11am-7pm and weekends from 11am-5pm. Admission is free.
Central Market
Right down by the harbor is a market where you can do lots of souvenir shopping, eat some local food, and buy fresh produce (and lots of fresh berries in the summer). This place is usually swarming with tourists, but I heard enough Finnish there to know it isn't a complete tourist trap. In fact, the herring market, a huge local event, is held here (it starts in October). There's also a covered portion of the market where you can find pastries, fish, meat, and cheese. Eat at the Soup Kitchen if you're hungry (have the seafood soup). It's a fun place to visit even in winter as it has heated tents for when it gets cold.
Open 6:30am-6pm Monday-Friday, 6:30am-4pm on Saturdays, 10am-5pm on Sundays. Admission is free.
Esplanade Park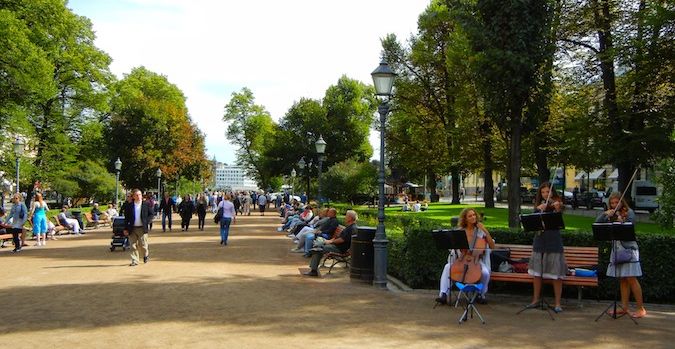 When heading from Central Market down Pohjoisesplanadi Street, this park (also known as Espa to the locals) is a popular place to spend a lunch hour (though in winter, it might not be so great). With lots of green space and benches for anyone looking to lounge with a book or a picnic, this long park is a good place to relax. In the summer there are a number of street musicians and performers around and a few eateries nearby.

Helsinki Itinerary: Day 3
The Island of Suomenlinna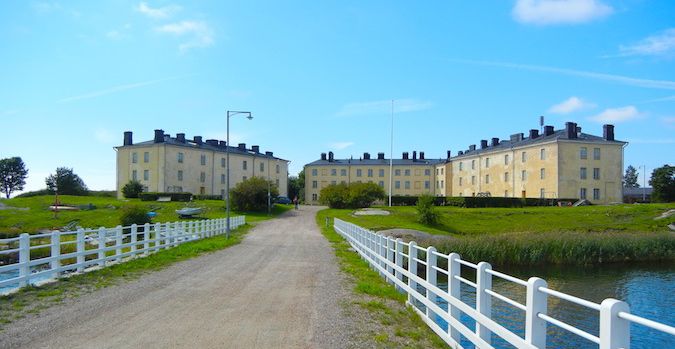 Spend half a day walking around the old bastion fort on this island just off the coast. It was first constructed by the Swedes in 1748 as a defense against the Russians (it was originally called "Sveaborg" which means "Castle of the Swedes"). When the Russians took over Helsinki in 1808, they used it as a garrison. It was eventually taken over by Finland in 1918 and renamed Suomenlinna" (Castle of Finland). It's now a park and a functioning residential area. It's also a UNESCO World Heritage Site.
There are a lot of interesting buildings here (including six different museums), a lovely walking tour, and some out-of-the-way beaches and parks. Lots of Finns come here to hang out during the summer and relax. I think it's a perfect place to walk around or have a picnic.
Suomenlinna Fort: +358 29 5338410, suomenlinna.fi/en. Open daily from 10am-6pm (limited hours in the winter, see website for details). Admission to the fort is free, though each of the six museums has its own charge.
Visit the Harbor Islands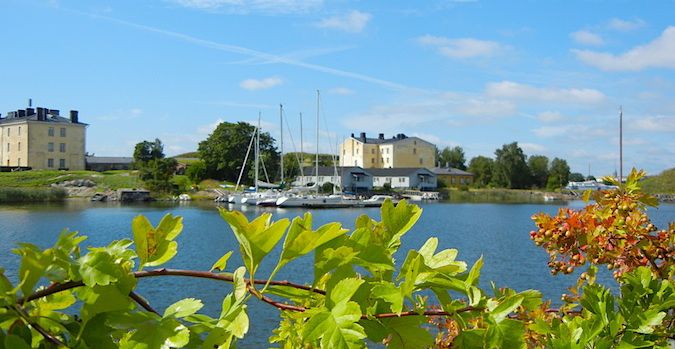 If you don't spend a whole day hanging out and lounging around Suomenlinna, be sure to take a tour around some of the other islands in the harbor. Vallisaari and Kuninkaansaari are two of the islands worth seeing as they are former military bases that have been turned into parks with abandoned forts all over them. Seurasaari is home to an open-air museum with buildings from the 17th-19th century that highlight how the Finnish lived during that time (the buildings aren't replicas either, they were brought here from all over the country).
Kaivopuisto Park
This huge park located at the southeast end of Helsinki is a good place to relax after a day of exploring. During the summer, residents and tourists alike flock to this park to hang out, play sports, have a picnic, and take in the amazing view of the harbor. During the winter, the largest hill in the park is a favored slope for tobogganing.
On Vappu Day (May 1st), Kaivopuisto is packed with tens of thousands of Helsinkians who come to picnic with friends and family, listen to loud music, and consume lots of alcoholic beverages. It's so out of the way which is great; you hardly ever see tourists here!
Take a Food Tour
I'm a foodie so I love a good food tour. It's a great way to see the sights and get some local intel while sampling some of the city's best dishes. In Helsinki, food tours have you tasting everything from fresh fish to craft beer to Finnish porridge, as well as many other traditional foods.
Heather's Helsinki offers a 4-5 hour tour including 9 different stops for just 85 EUR per person and includes a beer tasting.
***
I'll be honest, I didn't feel that three days was enough time to truly see Helsinki. For a small capital, it packs a punch and can easily keep you busy for twice as long.
That said, three days is enough to see the main highlights and get a feel for this unique — and often ignored — capital.
Note: You're probably thinking this is a pretty touristy guide. You're right. With such little time and such great parks and informative museums in Helsinki, there wasn't much time to do other things. Of course, if you have locals to show you around, follow them! But if you don't, then this is what I'd do with my time.


Get Your In-Depth Budget Guide to Europe!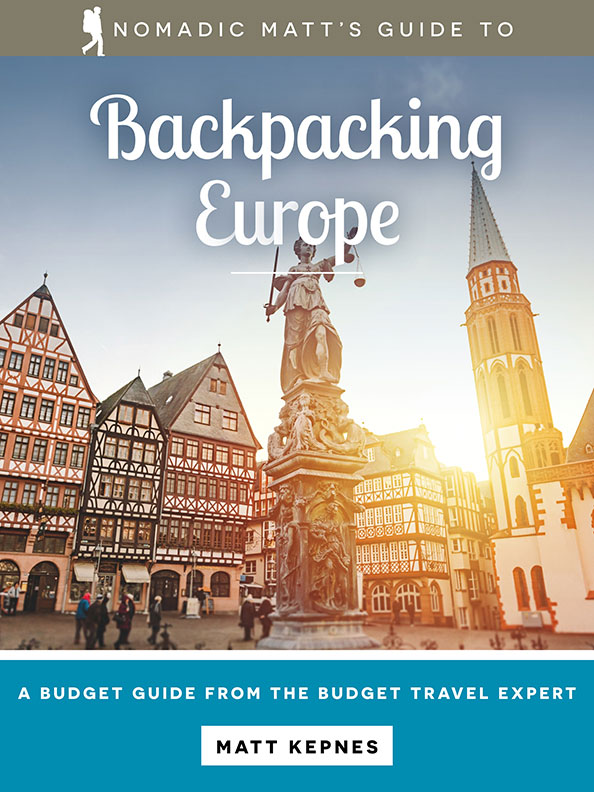 My detailed 200+ page guidebook is made for budget travelers like you! It cuts out the fluff found in other guides and gets straight to the practical information you need to travel while in Europe. It has suggested itineraries, budgets, ways to save money, on and off the beaten path things to see and do, non-touristy restaurants, markets, bars, safety tips, and much more! Click here to learn more and get your copy today.
Book Your Trip to Helsinki: Logistical Tips and Tricks
Book Your Flight
Use Skyscanner to find a cheap flight. They are my favorite search engine because they search websites and airlines around the globe so you always know no stone is left unturned.
Book Your Accommodation
You can book your hostel with Hostelworld as they have the biggest inventory and best deals. If you want to stay somewhere other than a hostel, use Booking.com as they consistently return the cheapest rates for guesthouses and cheap hotels. My favorite places to stay in Helsinki are:
Don't Forget Travel Insurance
Travel insurance protects you against illness, injury, theft, and cancellations. It's comprehensive protection in case anything goes wrong. I never go on a trip without it as I've had to use it many times in the past. My favorite companies that offer the best service and value are:
Looking for the Best Companies to Save Money With?
Check out my resource page for the best companies to use when you travel. I list all the ones I use to save money when I'm on the road. They save you money when you travel too.
Want More Information on Helsinki?
Be sure to visit our robust destination guide on Helsinki for even more planning tips!